TRN-Flat Reconstruction Features A Hidden Bedroom Behind A Bookcase
A secret door is used to access the bedroom of this small apartment.
Some buildings may no longer be used in for the purpose that it was built. That is why there are many structures that end up demolished while the luckier ones are merely renovated or reused for a different purpose. In some cases, these are turned into residential spaces just like old churches, barn houses, warehouses and more. What we have today is a former monastery that was transformed into an apartment. We will get a glimpse of one of its interior spaces.
The TRN-Flat Reconstruction project is a transformation of a Pauline monastery, built in 1719. It was converted into an apartment with a usable area of 100 square meters. The designers stripped the existing structure layer by layer in order to give it a new look. After the renovation, it serves young childless couples. The living room features a monumental ground clearance of 3.6 meters. In the second plan, it has a library which has a separate part for a bathroom and a wardrobe. It also has one bedroom with its own bathroom. Built-in furniture is used so that it can also fit for families with children. Design firm JRKVC have designed this apartment interior in Slovakia that features a hidden bedroom behind a bookcase. Let us take a look at the apartment below.
Location: Trnava, Slovakia
Designer: JRKVC
Style: Contemporary
Number of Levels: Apartment
Unique feature: A beautiful apartment interior which has a unique secret door that leads to the bedroom.
Similar House: McLeroy Residence Features A Pool, Central Courtyard & Seamless Indoor-Outdoor Spaces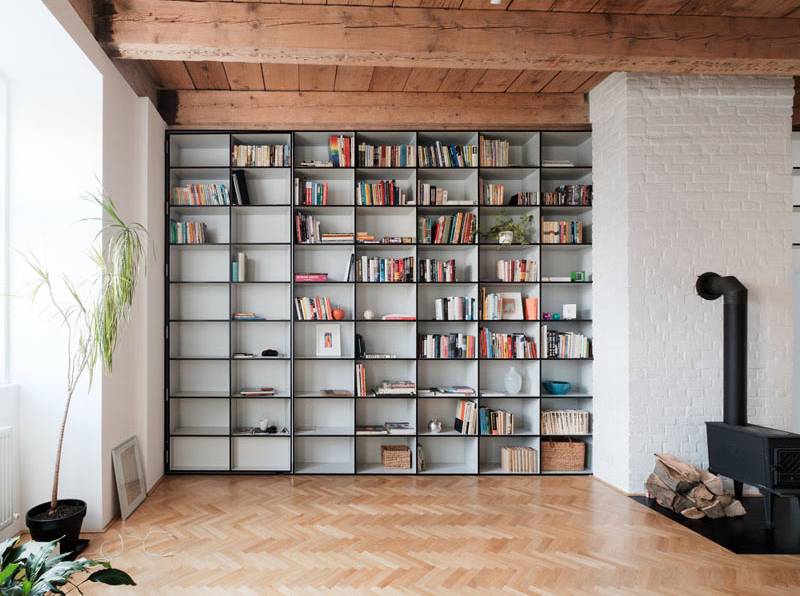 At first glance, what you will see is a simple bookcase. It does look good as it occupied the entire wall. It also seems to double as an attractive wall decor because of the manner of arrangement of the books. But this isn't an ordinary bookcase.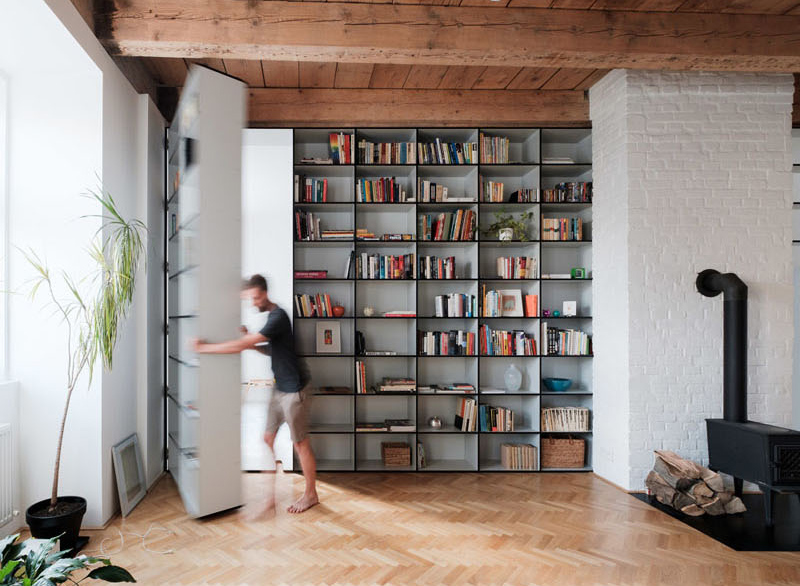 Seamlessly hidden in the design of the bookcase is a door. To make sure that it will not be obvious that it's a door, it is the full height of the shelving. The hinge of the door is at the wall part to ensure that it is stable and sturdy.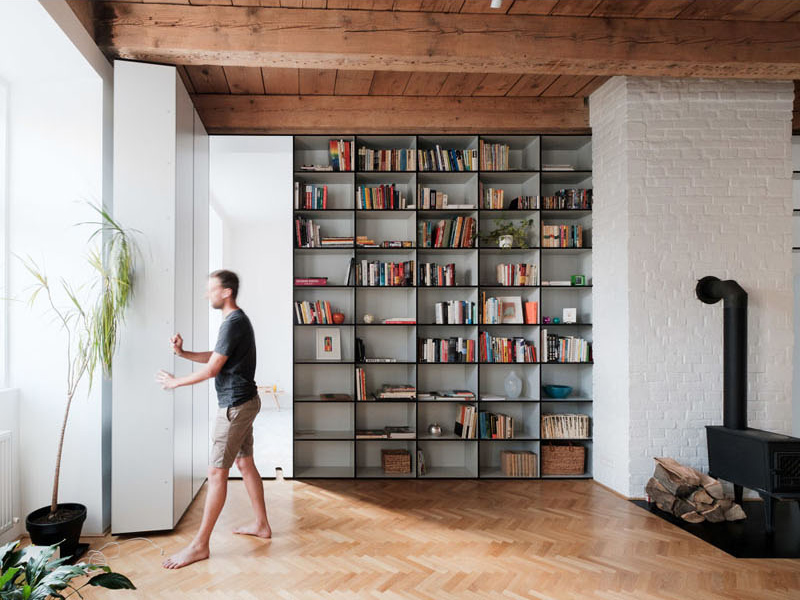 The two columns of shelving on the left swing open to reveal the bedroom. And when the door is open, it doesn't look misplaced or something because it still looks good on the wall with a glossy white finish and black lines around it.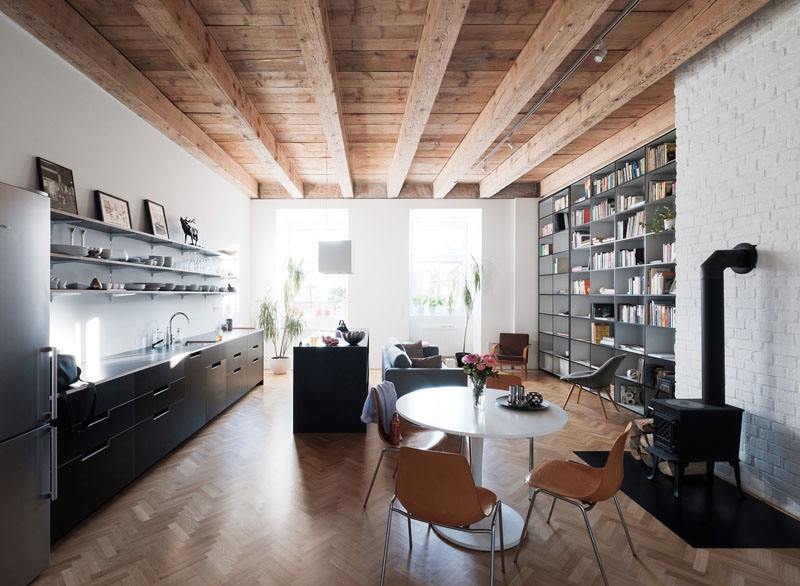 Seen here is the interior of the house that has a lovely mix of textures in it from the ceiling to the walls. You can also notice that it used a contrast of black and white in here. It is also flooded with natural light from the windows at the end of the room.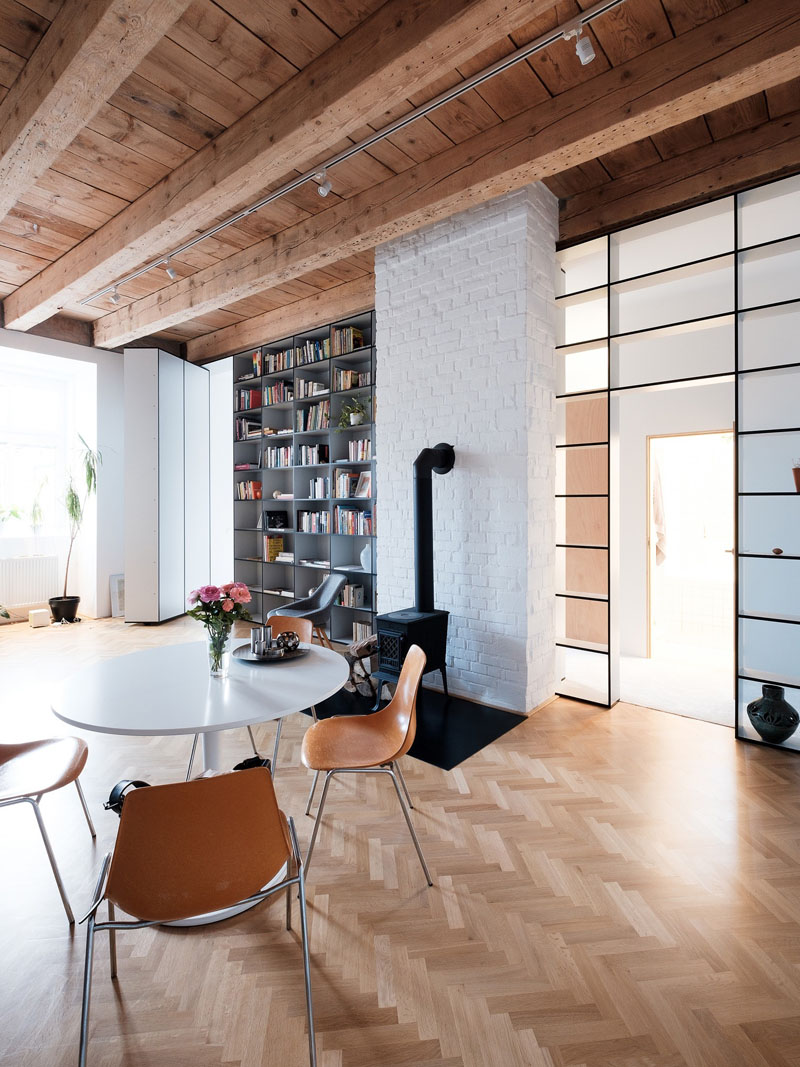 A simple yet beautiful dining area is seen here which could be small but functional. Aside from that, you can also notice that there is a classic fireplace which could be part of the old monastery.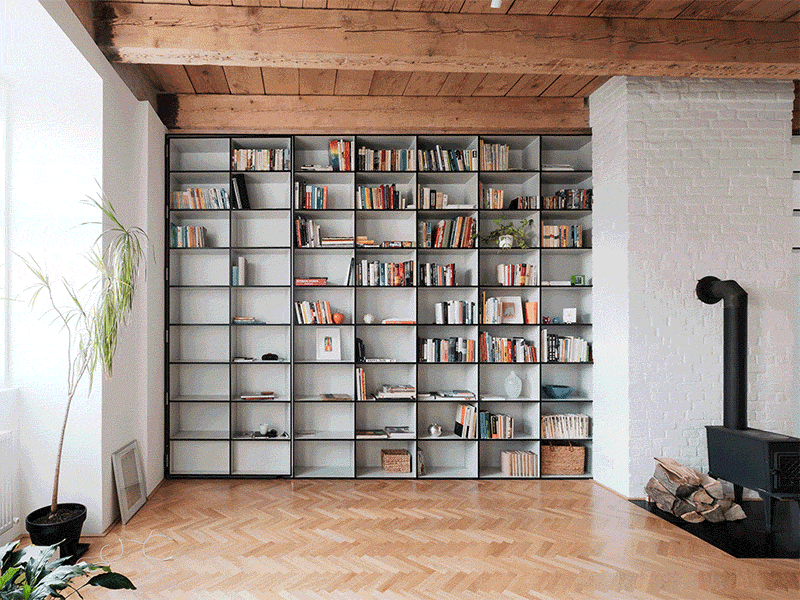 So if you are curious about how this secret door works, you can see the man in action in this photo showing us how he opens and closes it. Very nice, right?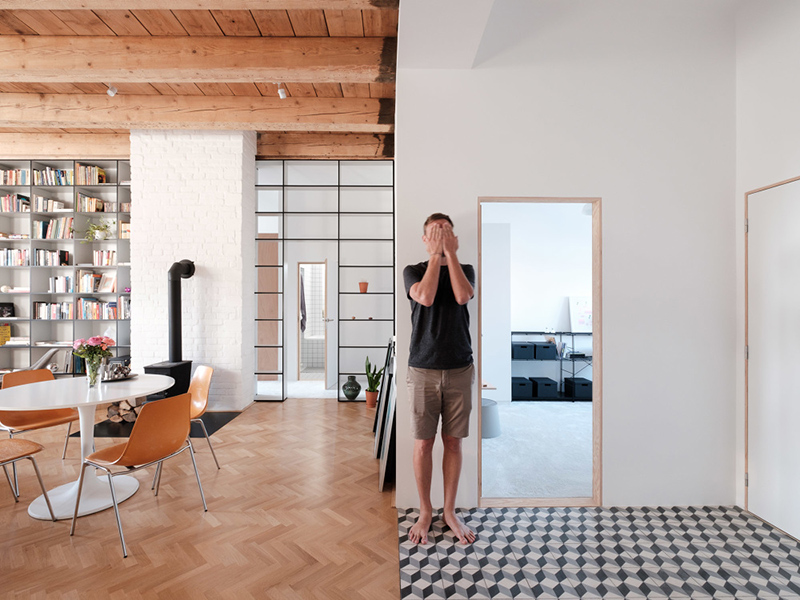 What you can see here is not just the dining area but also how the foyer is decorated. Although it looks simple with white walls, geometric tiles were used to cover the flooring in order to define the area.
Read Also: Fazenda Boa Vista: Families Enjoy Outdoor Living in this Contemporary Home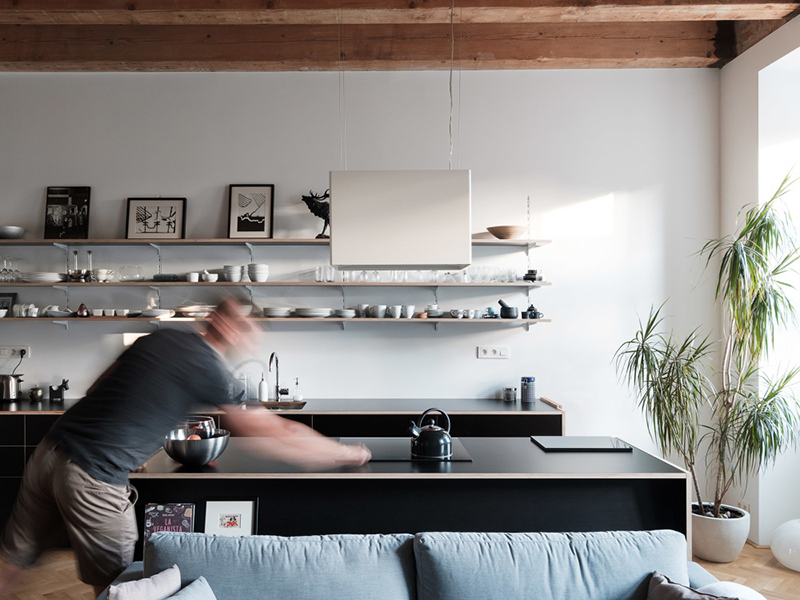 And this is the home's kitchen area which sits in the open layout of the apartment. It is seen at the back of the living space. It also features a long open floating shelving instead of hanging cabinets.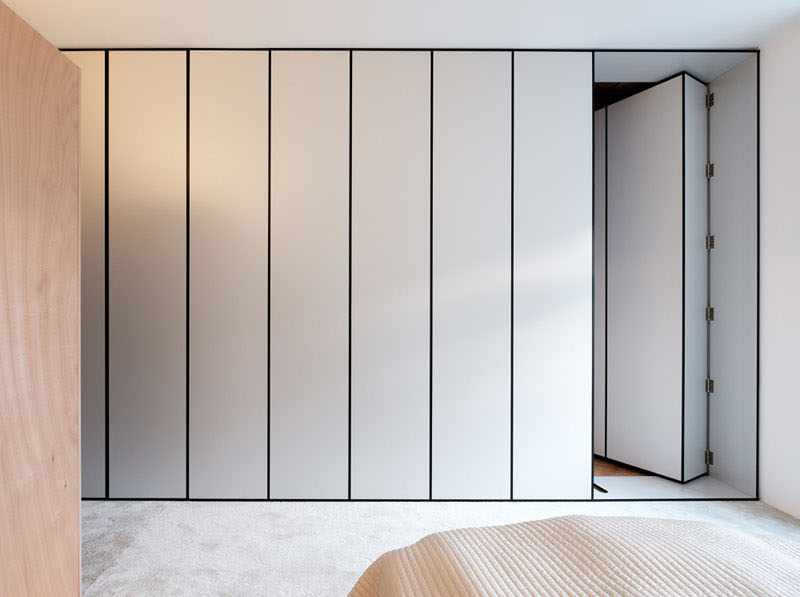 Wonder how the secret door looks like inside the bedroom? From the bedroom, the view of the door matches the other doors of the wardrobe. A little gap is added to make it easy to open.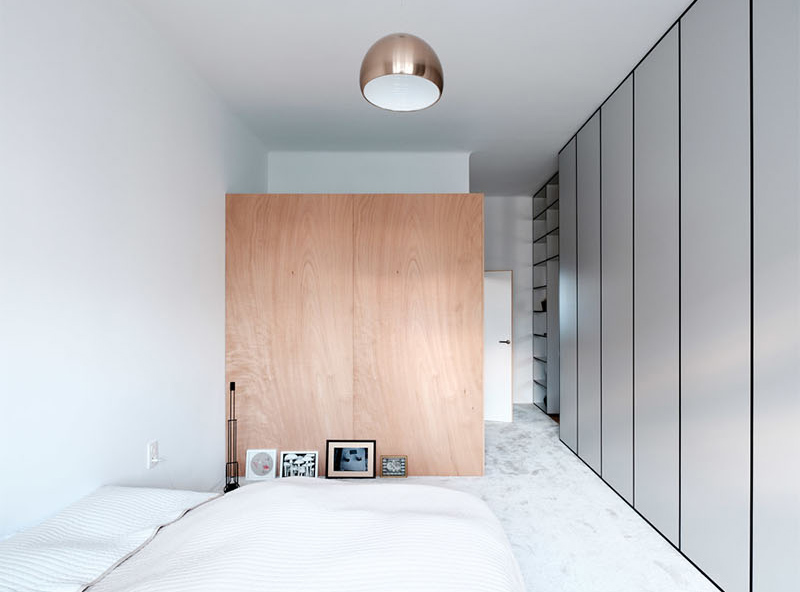 Finally, this is the bedroom. Yes, it looks simple with mostly white colors in it but it is very beautiful.
This is indeed a beautiful apartment! For sure you loved all the elements on it from the flooring to every detail in the interior. Of course, we are impressed by the secret door that leads to the bedroom which actually makes me think of using such technique for my own home, just to add some unique touch to it. This lovely apartment interior is a project of design firm JRKVC who happens to have many other stunning designs both for the interior and architecture. This project is another proof that nothing is impossible when it comes to design and that whatever space it is, it can be turned into something livable and beautiful as long as the right design is applied to it. Can you tell me what features do you like best about this apartment?