20 Nursery Room Painting Ideas for Your Little Loves
Are you preparing the nursery room? Here are some painting ideas for you.
When a family is expecting an additional family member, everyone gets so excited and one thing that the family would do is prepare the nursery. With a new baby coming, parents will make sure that everything is perfect once the baby arrives. Decorating and designing the nursery is one thing that the parents would do which includes choosing a theme, color palette, and others. After deciding on the theme, it would be easier to buy decors and other accessories to add to the nursery but make sure not to over crowd it.
One thing that you need to consider when designing the nursery is the color of your wall's painting. This will have a huge impact on the feel and aura of the space as well as to the theme that you want to achieve. If we talk about wall colors, using white is the safest and will allow you to bring in more colors with your furniture and decors. But you can also use other colors for your wall painting like pink, green, gray and others. The color may also vary if the nursery is for a girl or a boy or you can also create one that is gender neutral. If you are looking for inspiration regarding nursery room painting ideas, you can check this list.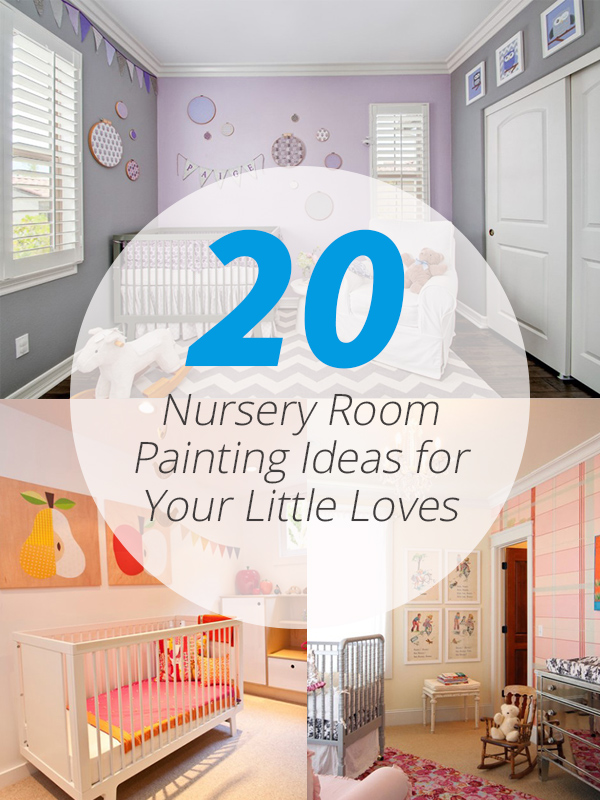 1. Gender neutral nursery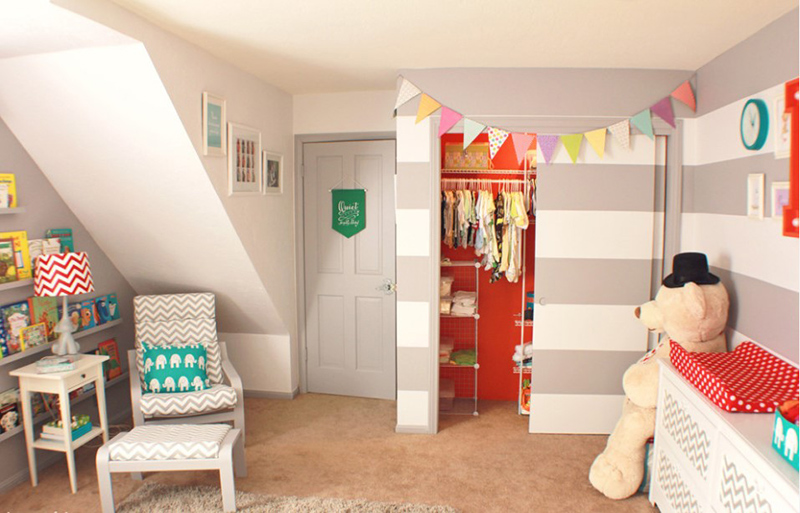 This circus themed nursery is really nice especially because of its gender-neutral design and colors. You can notice that it used gray and white for the walls which are perfect for the overall appeal of the space.
2. A Timeless Nursery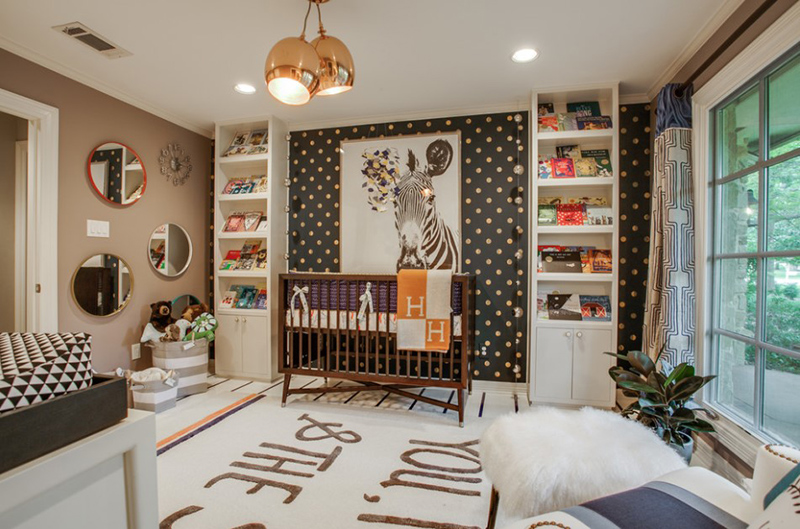 Isn't this a nice nursery with different shades of brown in it? I love the lighting as well as the combination of blue and brown.
3. House Maida Vale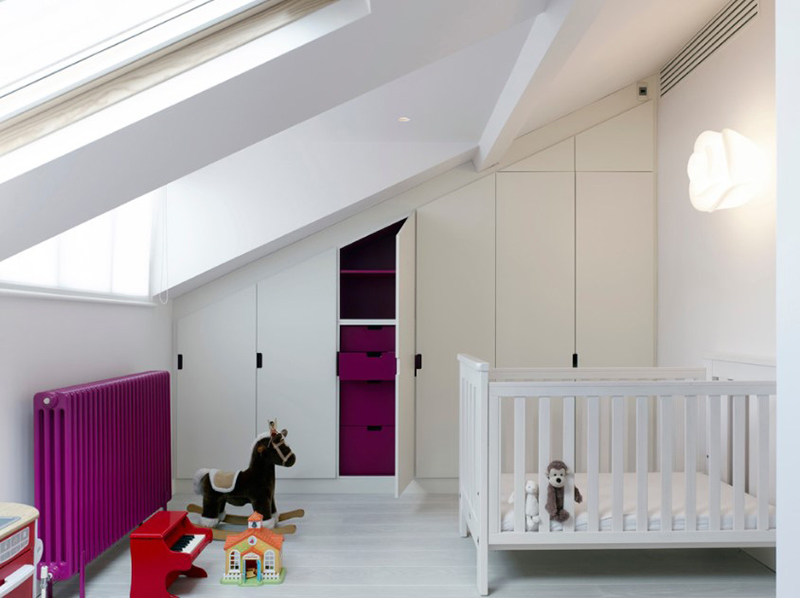 You can also keep it simple like this room which use white for the walls and ceiling. Then you can just add more color if you want through the accessories and furniture.
4. Modern Rustic Custom Langley Estate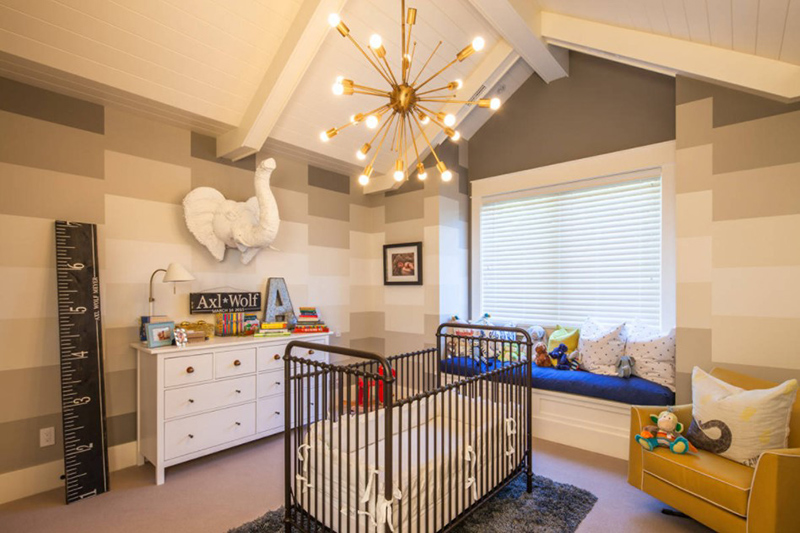 Don't you love the colors of this bedroom? It looks really amazing, right? And it sets the mood of the nursery.
5. Jen Talbot Design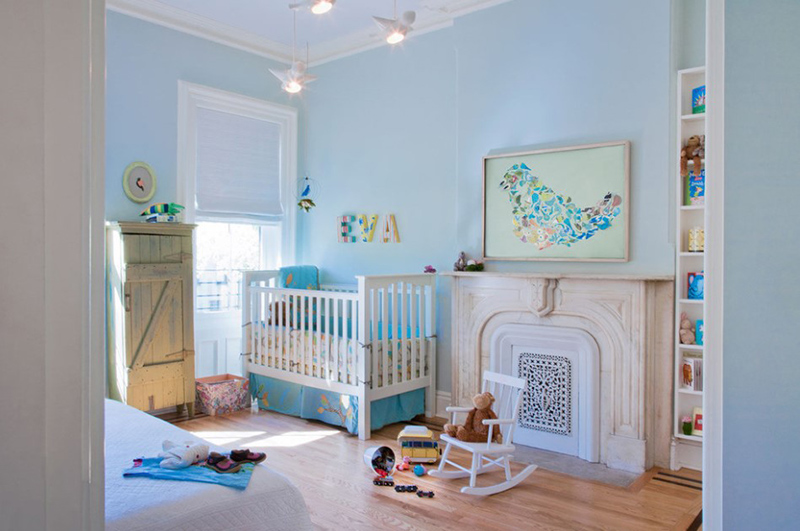 A modern mix nursery with light blue walls and white painting on the moldings. One item that caught my attention is the barn style free-standing cabinet and the classic etching on the fireplace.
6. The Columbia Residence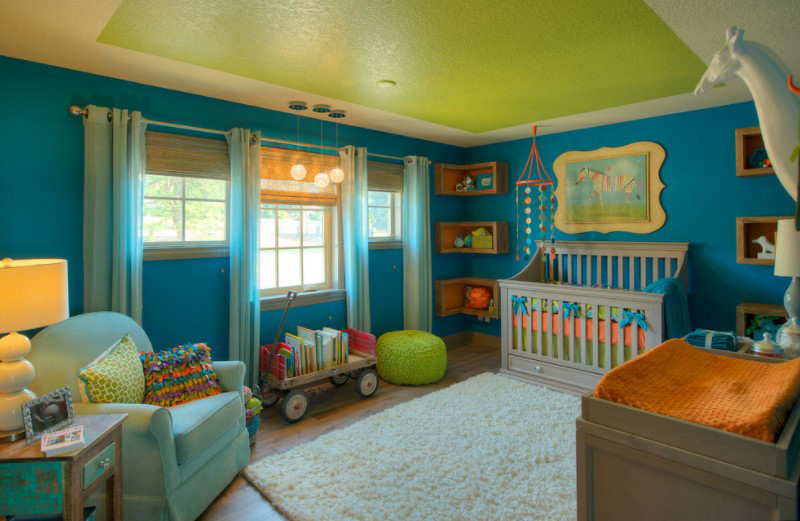 If you want something colorful for the nursery, this one would be a nice inspiration. At first look, it made me think that this is a modern jungle themed space.
7. Kid's Oasis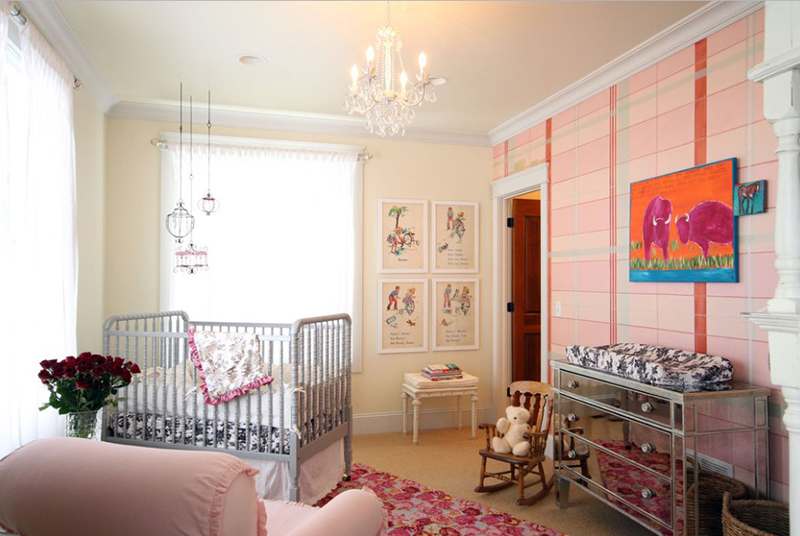 This eclectic nursery with a classic touch is very lovely! Its cream walls and a plaid accent wall looks great together.
8. Lenny's Room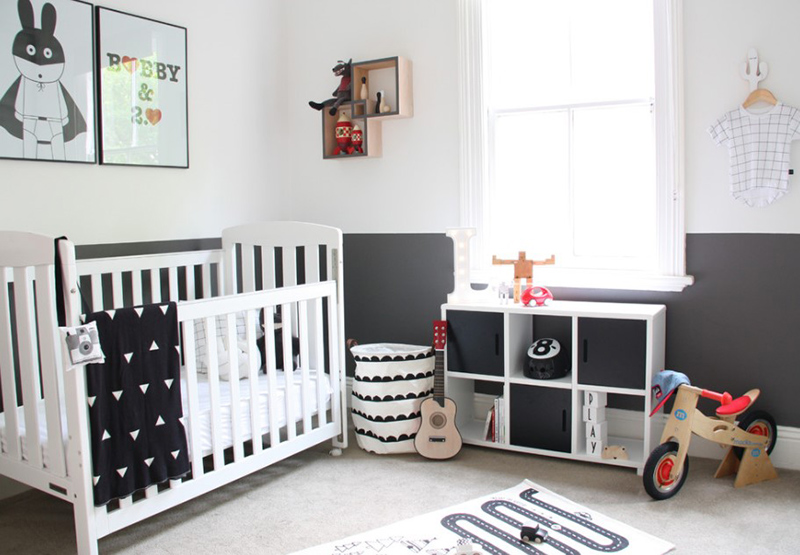 Who wouldn't love this Scandinavian nursery? Although it used black and white, it still looked really beautiful. Also, notice that half of the wall is painted gray.
9. Balmain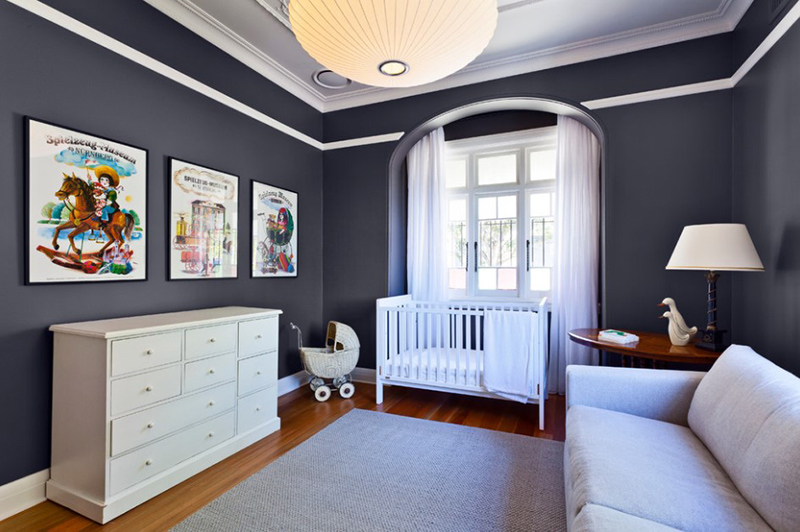 Who says dark walls won't look nice in a nursery? This transitional space definitely nailed the look!
10. My Nursery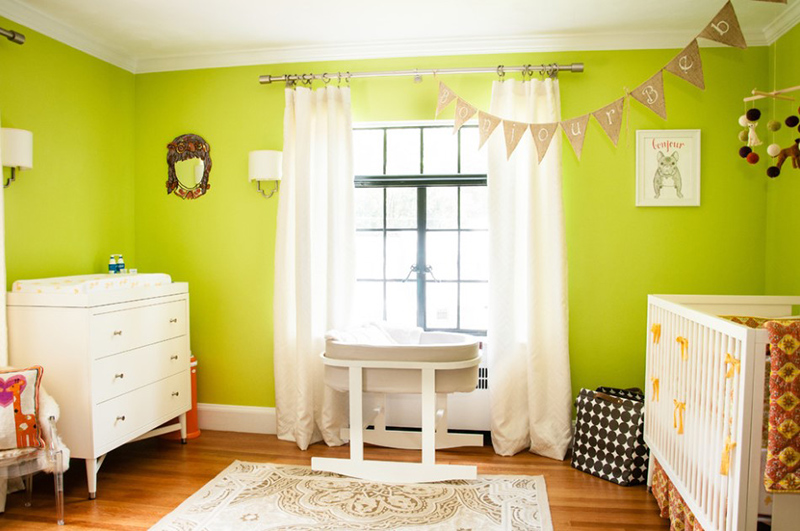 You will surely agree with me that this nursery room's wall added brightness to the space because of its choice of apple green.
11. Updated Tudor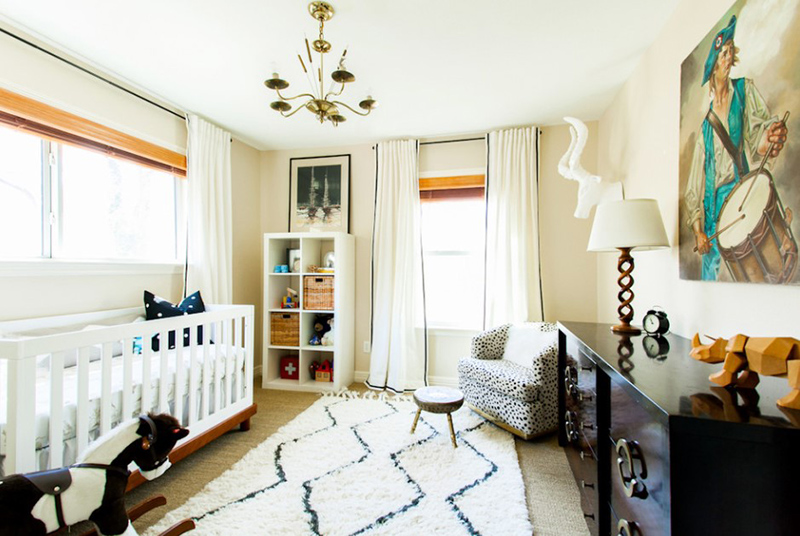 The carpet in this space is so plush and would be perfect for you and your baby's playtime. It also matches with the cream walls.
12. Rustic Hollow Log Flower Bed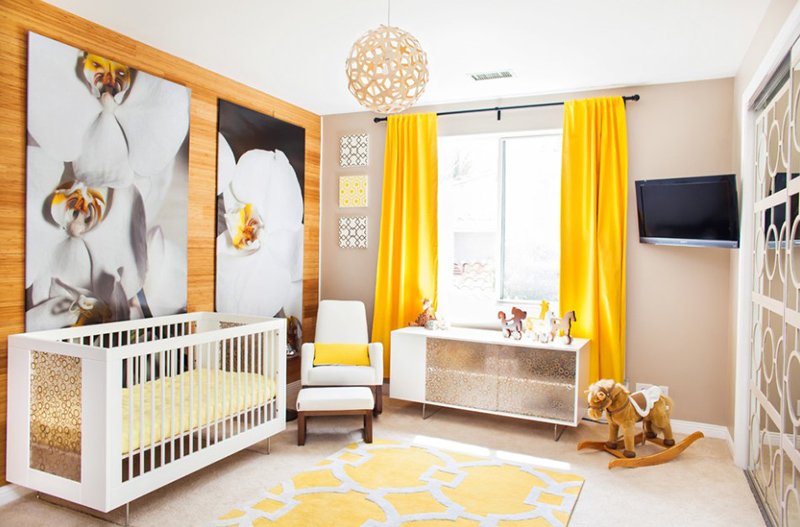 Aside from the beige walls, this one has one side of the wall covered in wood to give the midcentury space a natural touch. Love the yellow colors here and all the modern patterns.
13. Carrick – Nursery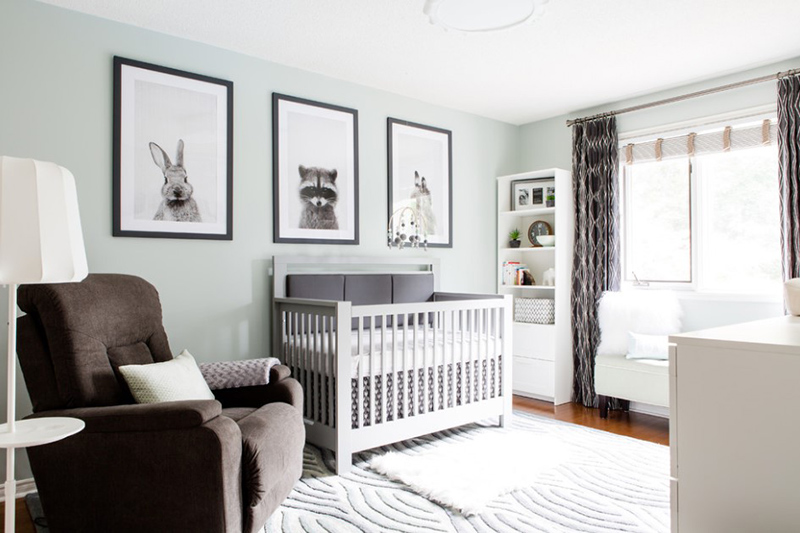 You will admire the urban feel of this nursery as the designers used a combination of pale blue and green with gray colors.
14. Pioneer Square Condo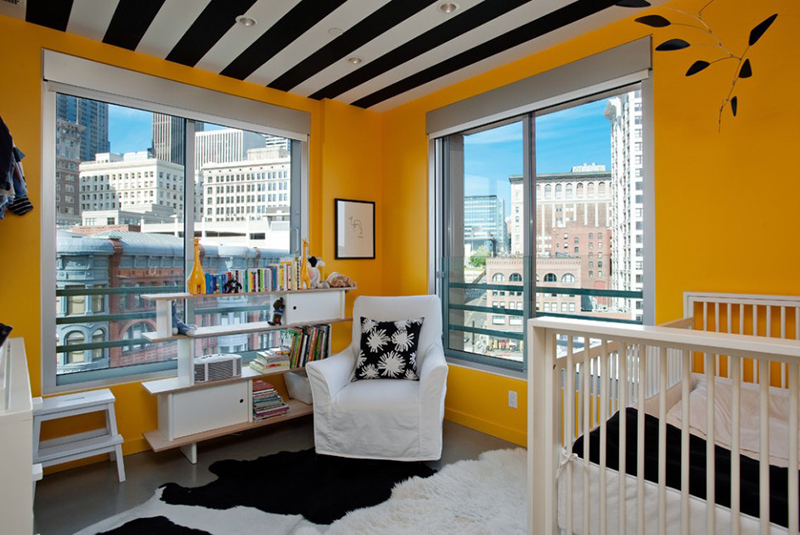 Apart from the black and white colors in the space, you will surely notice the yellow walls that gave the nursery a modern look.
15. Modern Nursery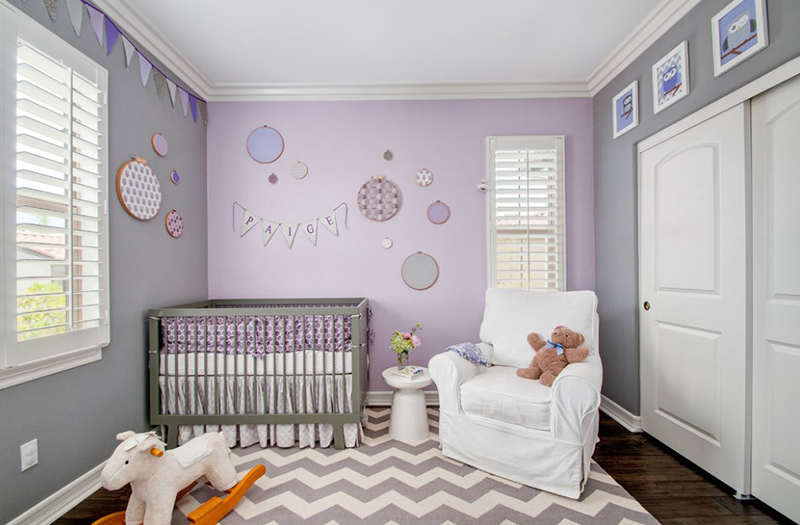 Put together a purple wall and chevron area rug and you'll get a stunning space like this! For sure your little one will feel relaxed in here.
16. Naylor Ct: Residence/Studio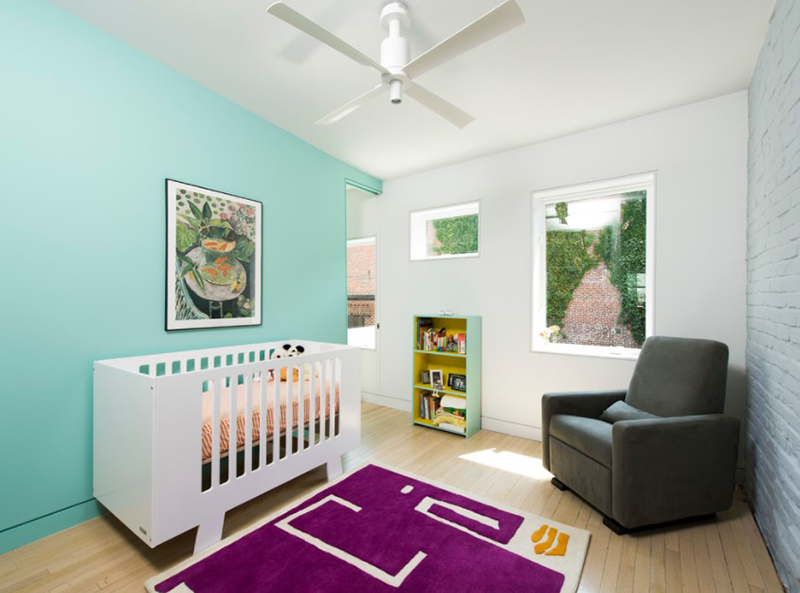 For sure your attention was drawn to that purple area rug that is a good compliment to the green and white wall.
17. Manor Homes Parade House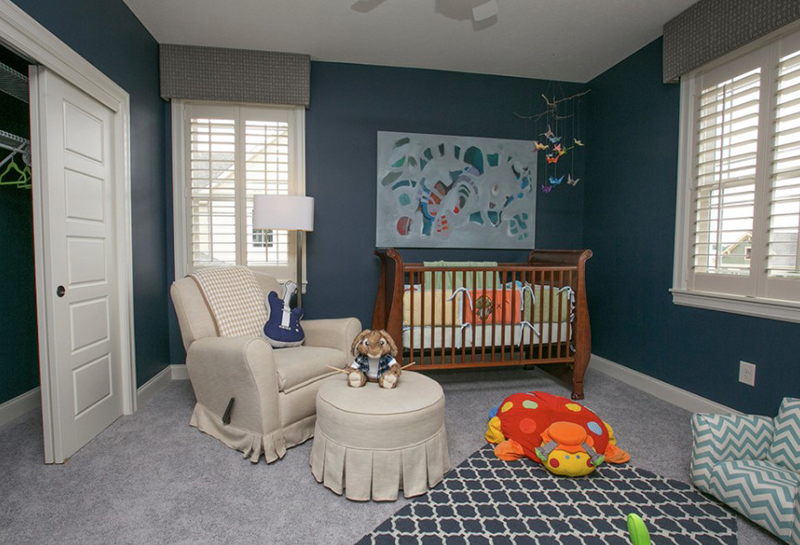 Blue walls, carpet, and gray floors- all these made the nursery look really beautiful. And yes, despite the gray walls, it worked well for the space.
18. Clipper Street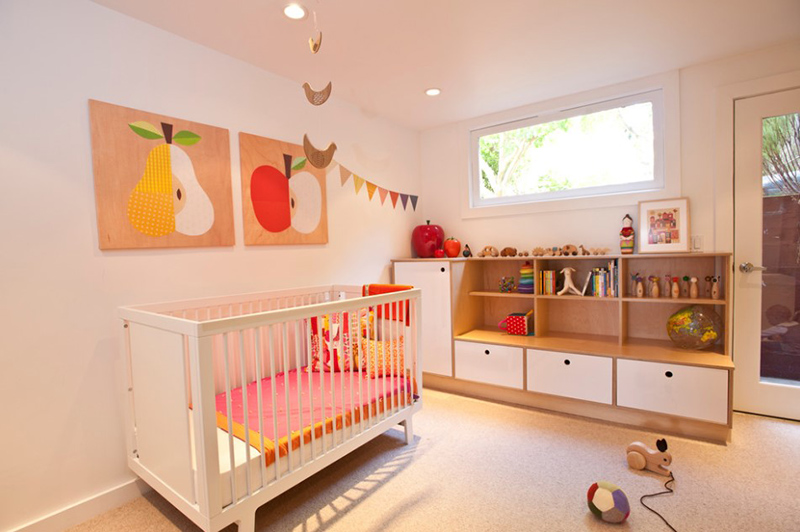 Scandinavian interiors are indeed lovely just like this one! I like what they did to that wall decor mounted on white walls.
19. Point Grey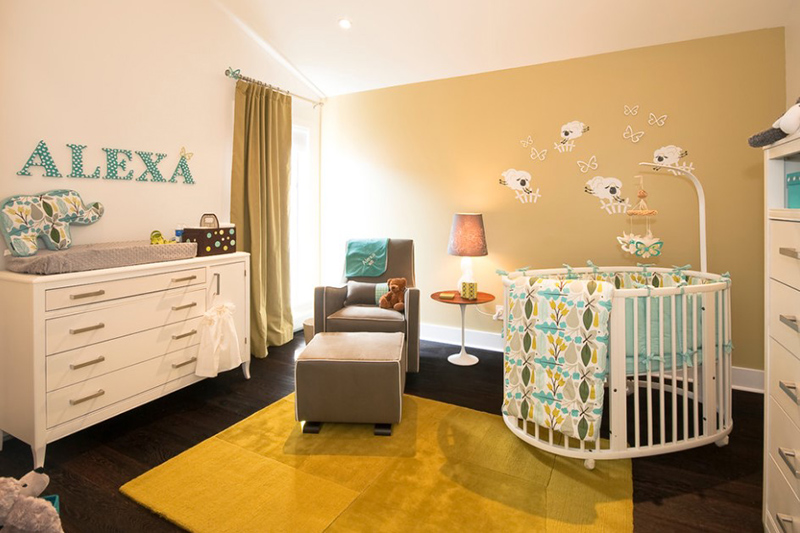 This gender neutral nursery has beige walls and dark hardwood floors that look great together. For sure you are also digging the sheep decors on the wall.
20. Hasan Project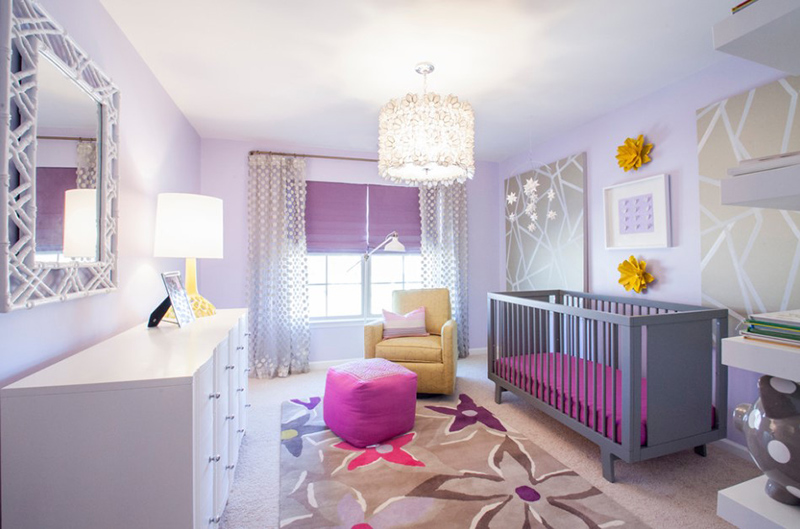 Anyone who loves purple will surely fall in love with this nursery! Everything in it is just stunning!
All of the nursery designs above will certainly capture every parent's heart. If you are still uncertain about the colors that you will use for your nursery, this list will surely give you ideas. Apparently, using white makes it a lot easier to decorate the space but if you want to totally personalize the look of the nursery, go for whatever color you have in mind. Just remember that when you use dark colors, add some white contrast so it won't look too dull and too dark. Now can you tell me which of the above nursery room painting ideas do you love the most?