20 Well-Designed Contemporary Home Cinema Ideas for the Basement
Why don't you turn your basement into a home cinema? That would be very exciting!
Do you have a basement in the house? How do you use it? Well, there are many ways to make use of a basement. Sadly, there are homes that only use it as a storage space but there are also some who use it in a better way like a game room, a home library, a caveman, home theater and others. Some would even use it as a bedroom or another living room. You can use it in whatever manner you like as long as it is functional and also aesthetically pleasing. Since we have mentioned about what you can do with your basement, you can try having your own cinema or home theater in this area.
Having a home cinema would be very fulfilling on your part since you can watch movies with the entire family in your own house. You have the option of following the cinema style of arranging the chairs or just use a sofa instead. You can be creative with the design of your cinema too. So, speaking of design, you can choose a beautiful design through this list of inspiration we are going to give you. For sure, you will be able to get some ideas on what to do with your home theater after seeing this list.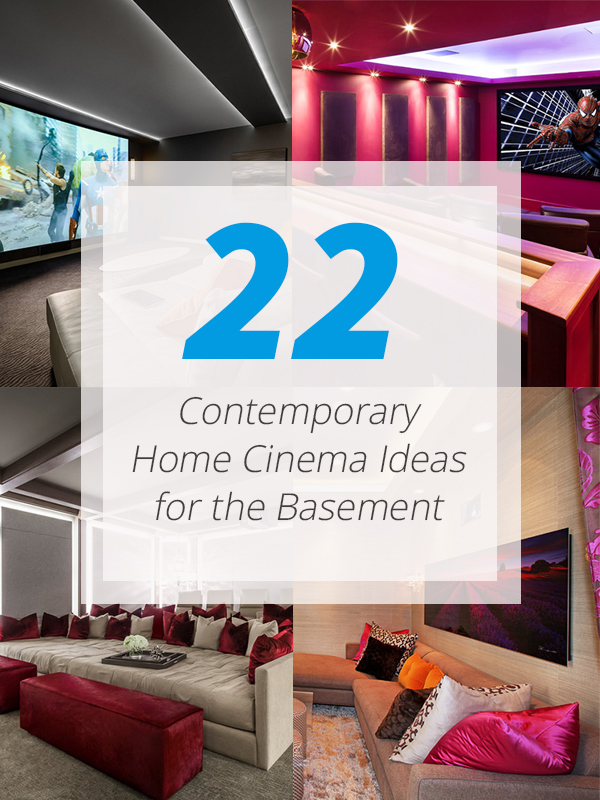 1. Family Cinema Room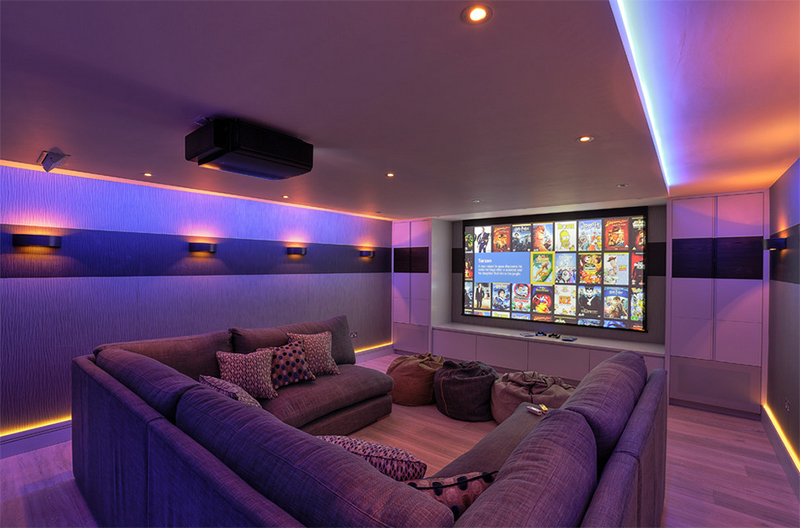 Love the lights on the sides of this home cinema that looks very comfy because its sofa. Its ambience also has that movie-feel all around it.
2. Home Movie Theaters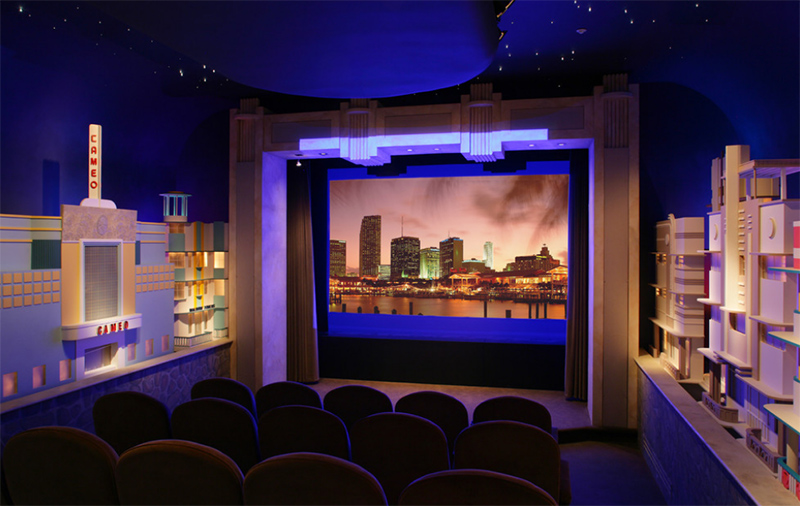 Aside from the movie theater like design here, the miniature structures on both sides look very pleasing. On the ceiling, you can see that it has some lights too giving it an impression of being under a star-lit sky.
3. Sagaponack Estate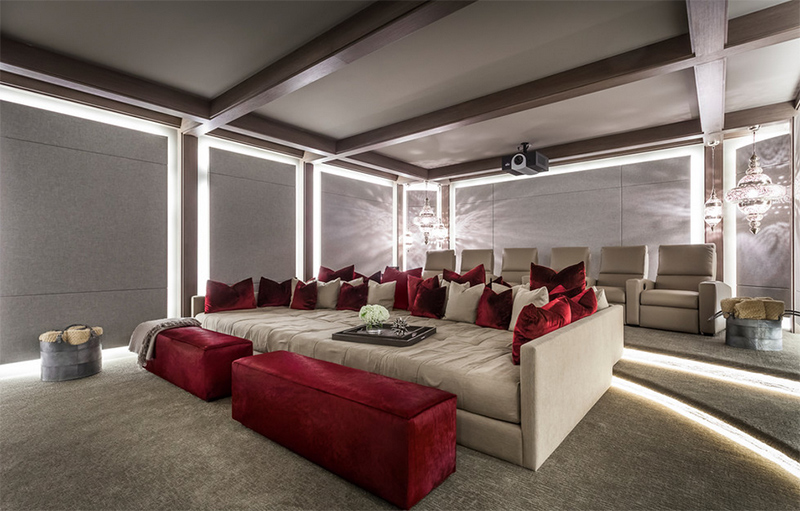 Beautiful mix of colors! I like the velvet maroon throws and benches here. This is indeed one relaxing space to watch a movie!
4. Home in the Woods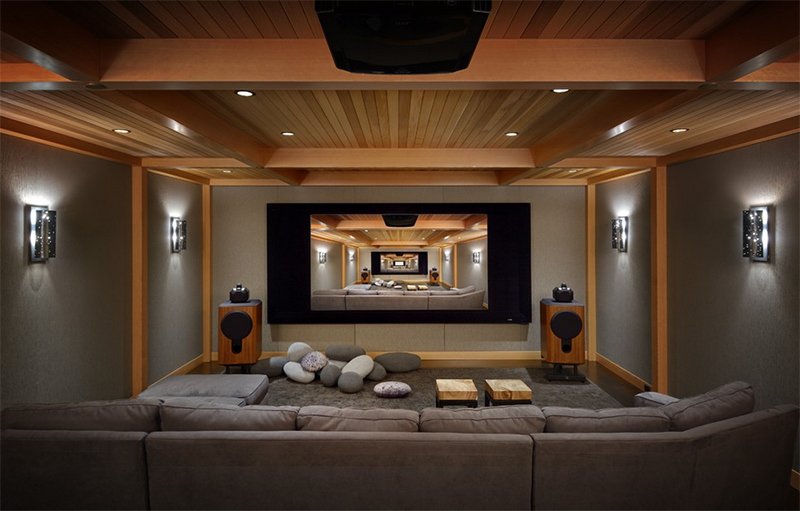 A home with a solid and rustic nature was remolded and a few additions to the space just like this home cinema which is just part of the cave man. Apart from this theater room, there is also a kitchen, game room, and bathroom.
5. Dwell on Despard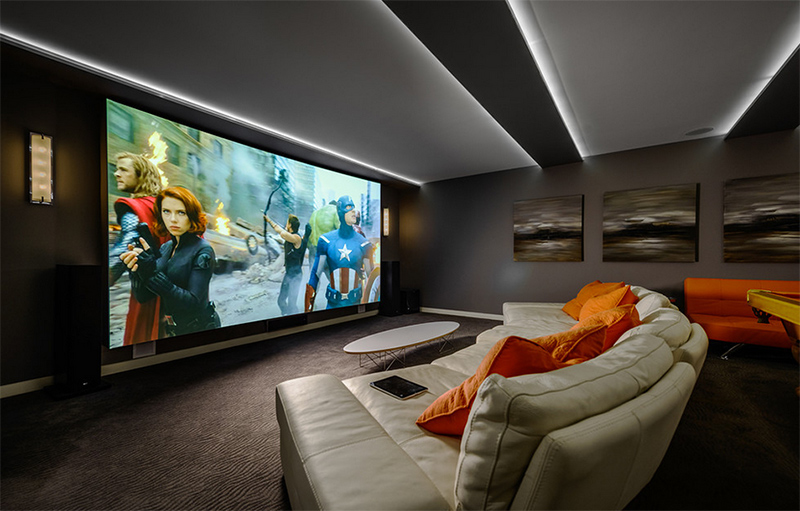 I know you'd love The Avengers but it would even be more awesome to watch movies like this while lounging on that soft sofa!
6. Contemporary Home Theater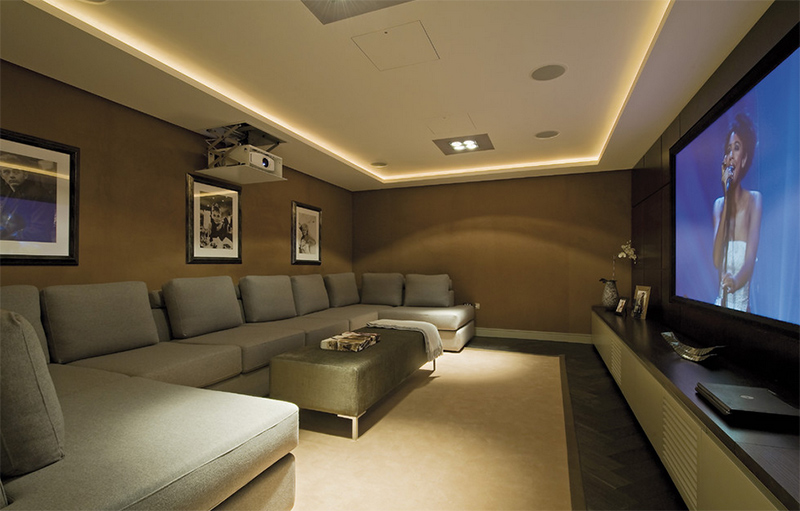 Invite family and friends to watch some classic drama or some modern action films in this neat contemporary space.
7. West 14th – Media Room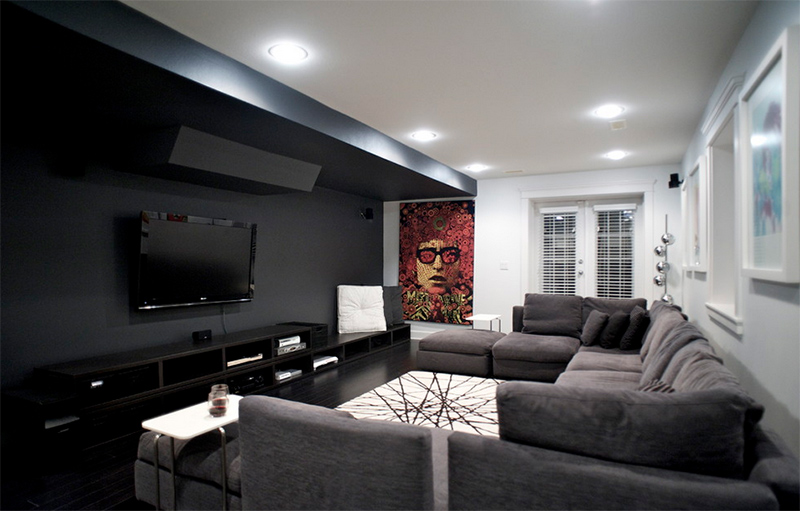 That wall decor provides a retro appeal to the home but aside from that, the area rug as well as the contrasting colors here are lovely.
8. Pudleston Home Cinema – Seats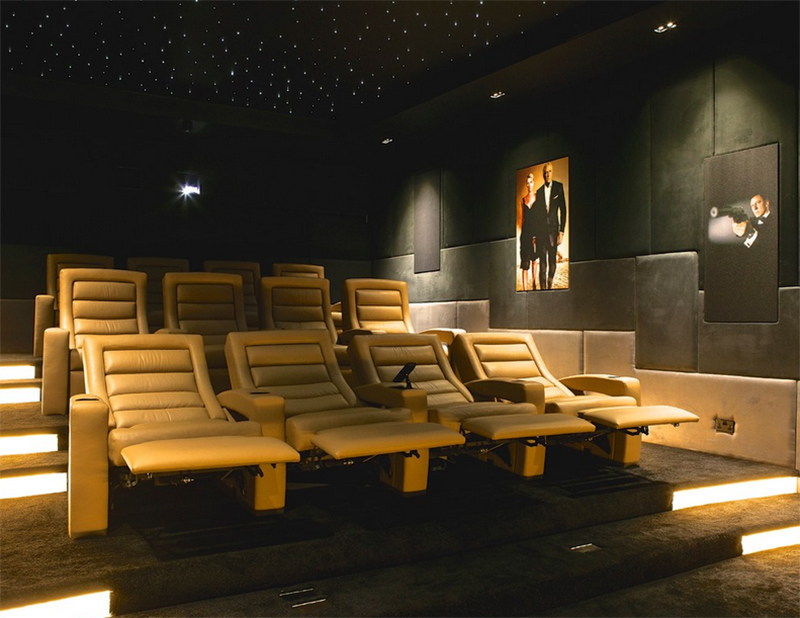 Look at how comfy these chairs are! Fortress custom leather cinema chairs that could recline were used in this home theater to provide the best comfort during the showtime.
9. Oriole Way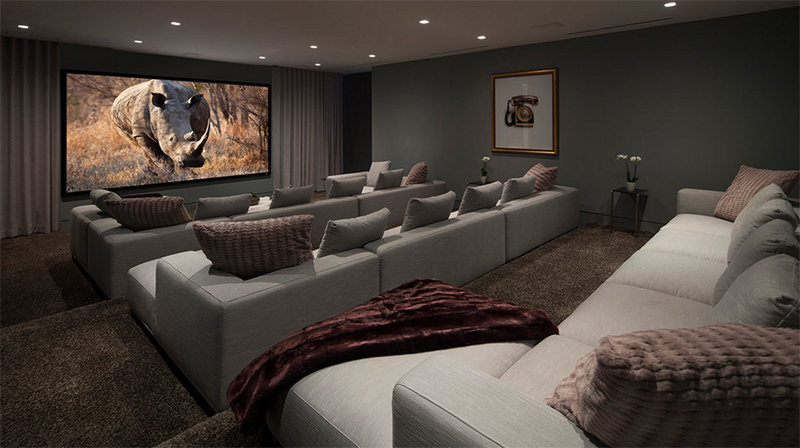 You could also add three sets of long sofa on a flooring of various levels just like what you can see in the photo.
10. Arabella Loop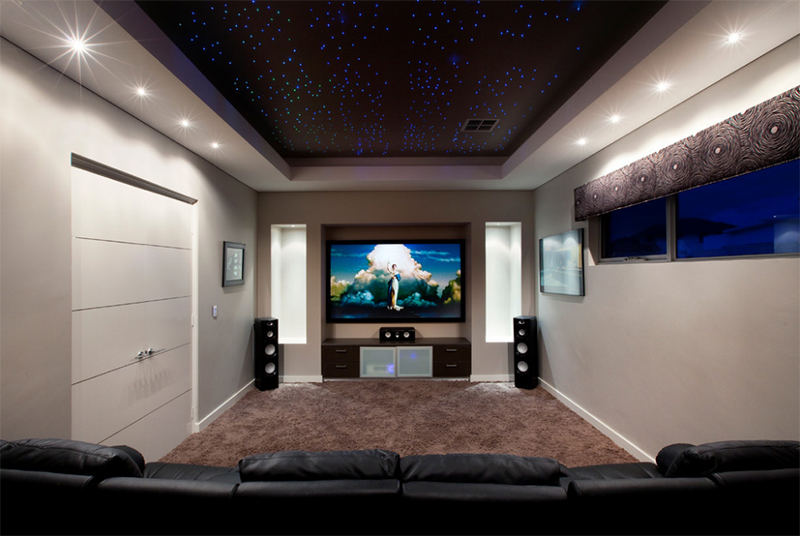 Apart from the lights on the ceiling, the window treatment here looks very interesting too.
11. Southampton Beach House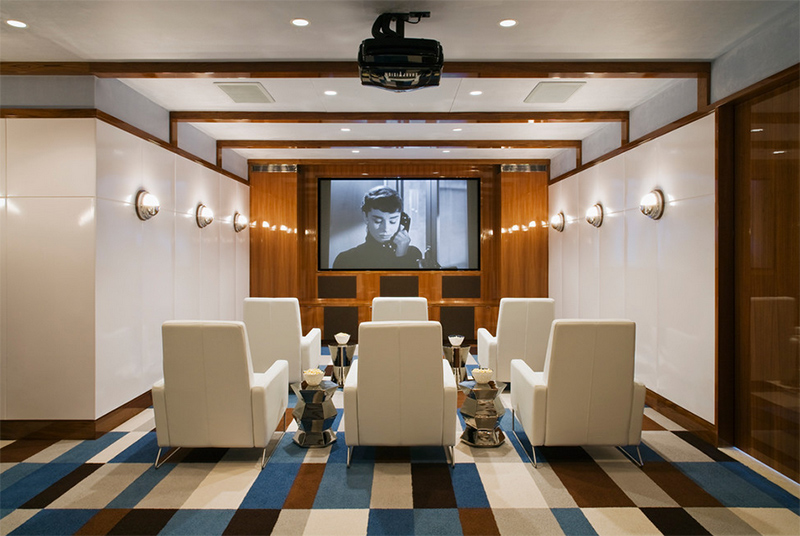 You can also add chairs for the theater like this one. Like the idea of using mirrored small tables that were placed in between the chairs. I also like the colors of the carpet as well.
12. Townsend Theater Room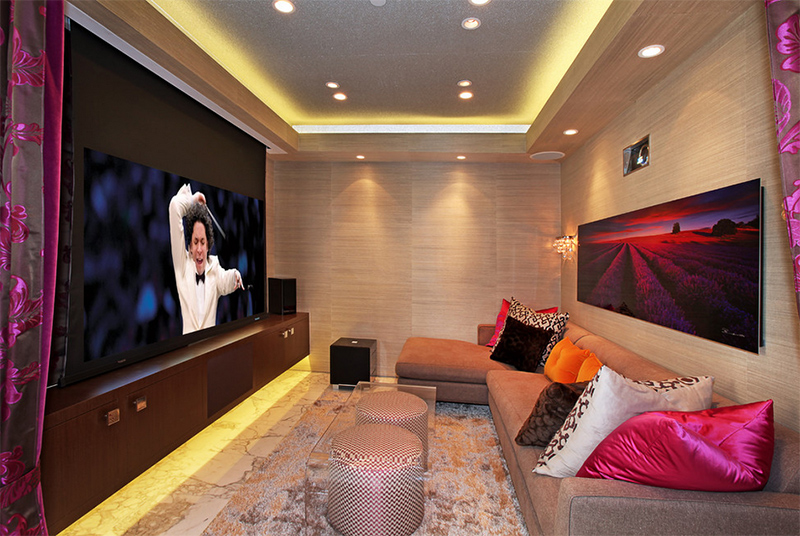 This space brings together a feature-rich audio/video and automation system with elegant integration into the area. Simple control and automation of the lights, climate, audio/video, security, video surveillance, and door locks are being provided in this cinema. The homeowner can use their iPads or iPhones to control everything in this home.
13. Entertainment Haven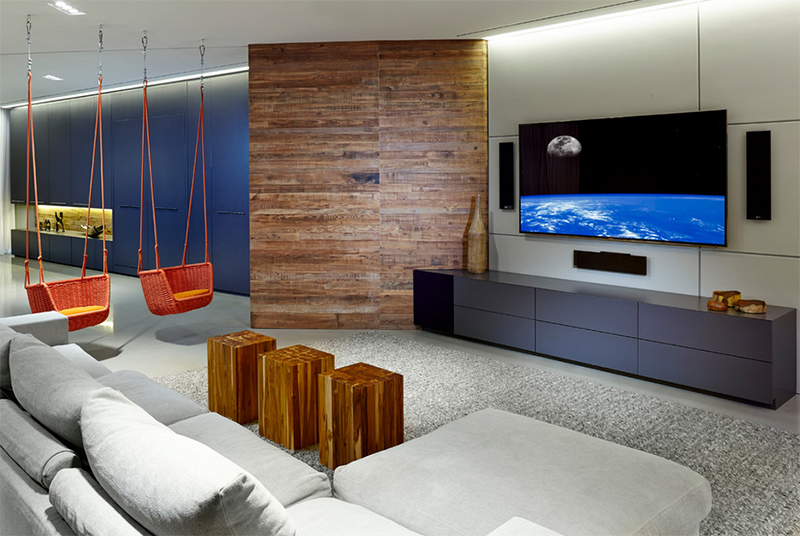 Oh those swing chairs! I just like that fun addition to this space even those wooden ottoman too that matches with the wooden divider.
14. Burnett River House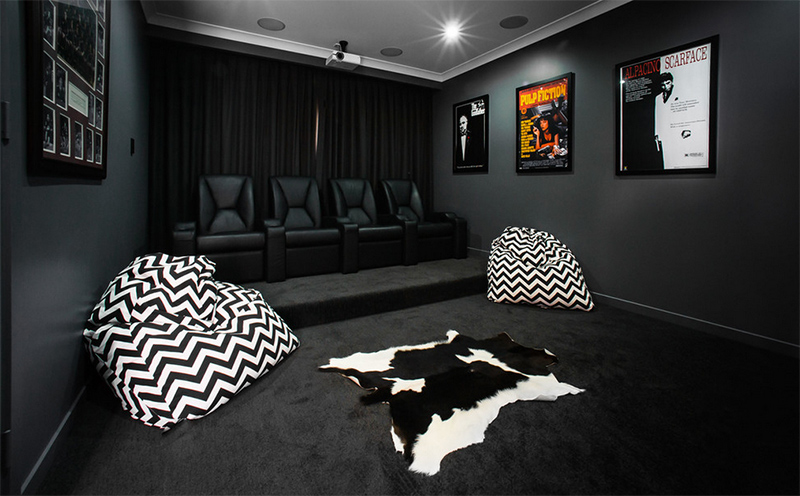 Nothing beats the beauty of black and white just like what we can see here. It is a nice idea to bring in those bean bags and that cowhide.
15. East Yorkshire Cinema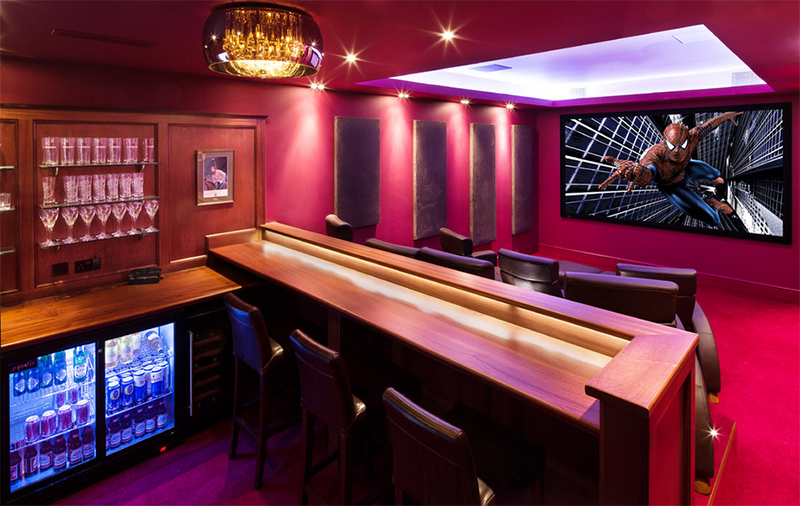 Aside from a home theater, this space also has its own home bar as well complete with all the drinks you need while watching!
16. Upper Wimpole Street | Marylebone | W1G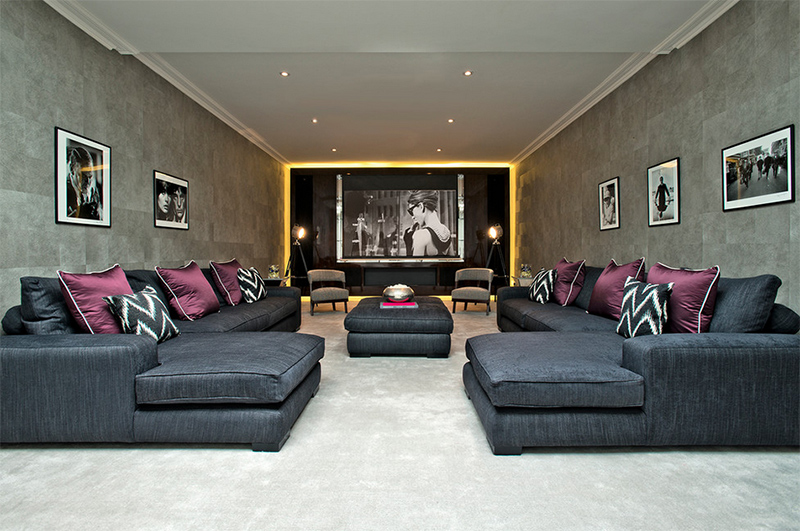 If you have a spacious home cinema, you can add two L-shaped sofas on both sides like what they did to this one.
17. Exquisite New Media Room featuring CINEAK Strato Seats.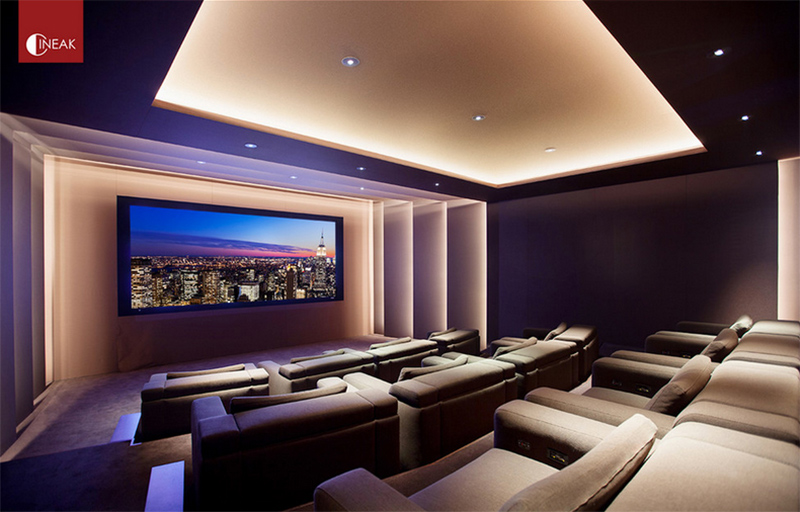 The lighting here is amazing! It gives the space a taste of luxury and sophistication.
18. Firerock Country Club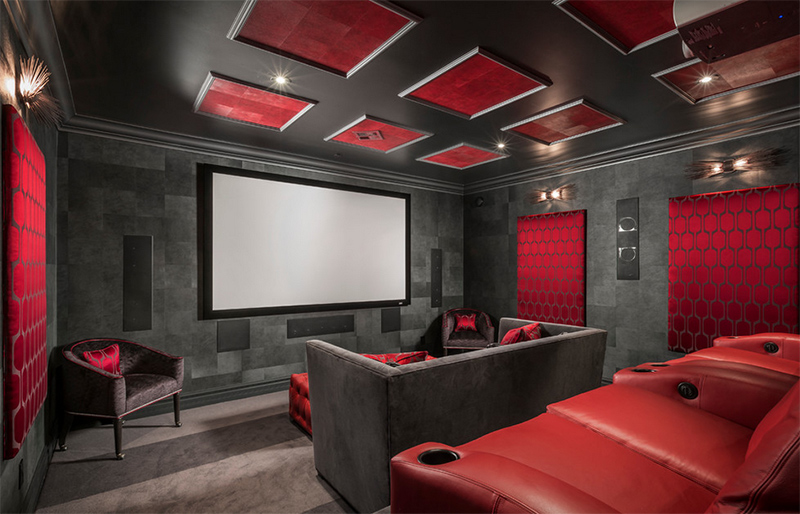 Elitis vinyl wall covering were used for the walls and ceiling of this charcoal, red and gray home theater. You can see here a mix of different seating too. Love what they did to the ceiling!
19. Contemporary Family Room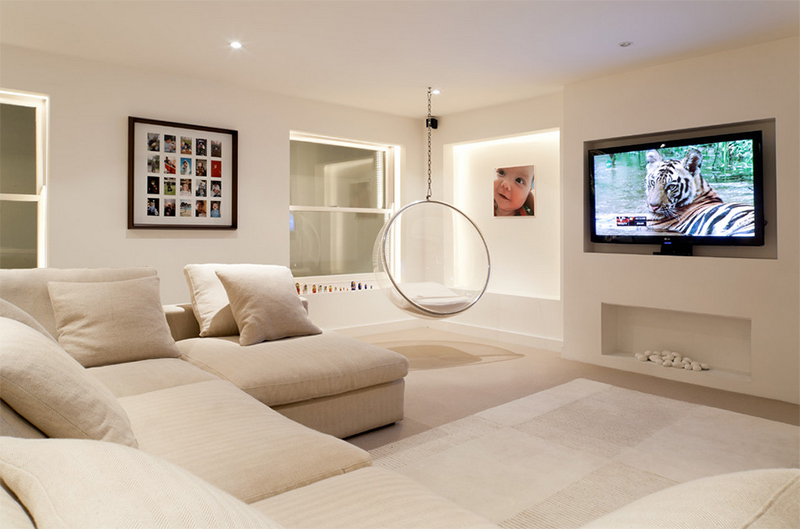 A very neat and relaxing basement theater with an added transparent egg hanging chair!
20. Cockfosters House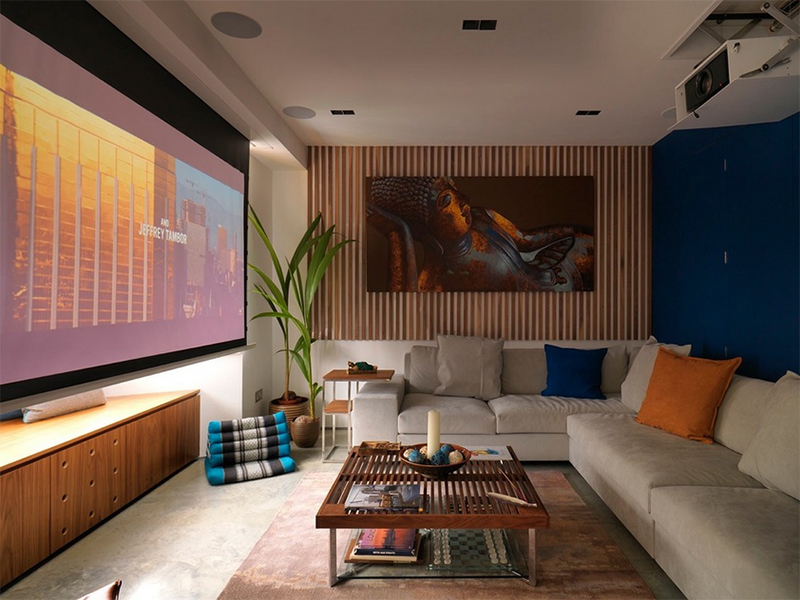 This one has an Asian feel because of that wall decor as well as its use of wood and the addition of plants.
21. Arthur McLaughlin & Associates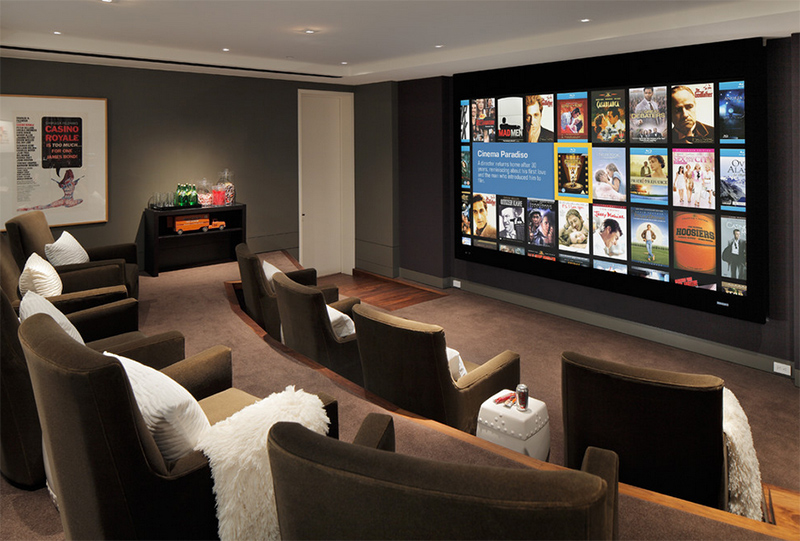 The TV monitor here used the Kaleidoscope System which is a movie and music solution you can use for your cinema. Notice that there is an elevated part of this cinema with steps on the sides.
22. College Green University Cinema Room (Bristol, UK)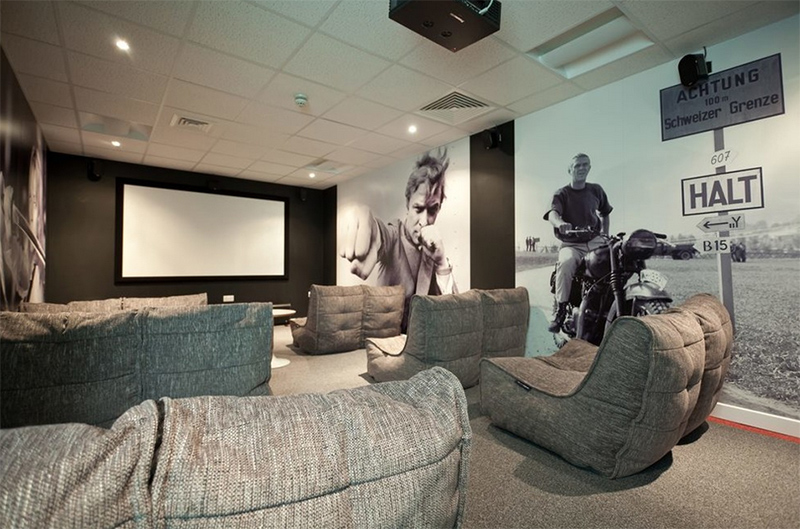 Comfortable and stylish floor level couch were added to this indoor cinema that is perfect for movie nights.
This list will surely make you feel excited! There are indeed a lot of designs that one could come up for a contemporary home cinema or home theater. It would depend on your needs, style preference, and kind of space as well as your budget for decorating it too. I would guess that you were already able to choose which space you prefer to use as an inspiration for your home's cinema. Can you tell me why you chose it?