22 Warm Wooden Home Office Designs
Wood can give your home office a warm cozy aura.
It would really be nice to have your own home office where you can work at home. There are people who have home based jobs which mean that they spend their time working at home, thus, they would need a working area. Others work in offices but still need their own space in the house where they can work when they need to bring some tasks at home. That is why, it is really important to have a well-designed working area in the house.
The design of your home office depends on your personality and how you work. There are some who prefer a simple and small space while others wants to use an entire room for an office space. Whatever that is, it has to have everything one needs for a home office. Today, we are going to show you a list of home offices that used wood in it. It varies from a contemporary space to traditional ones but at least, you will be able to compare how wood was used in the area. Now take a look at the list below.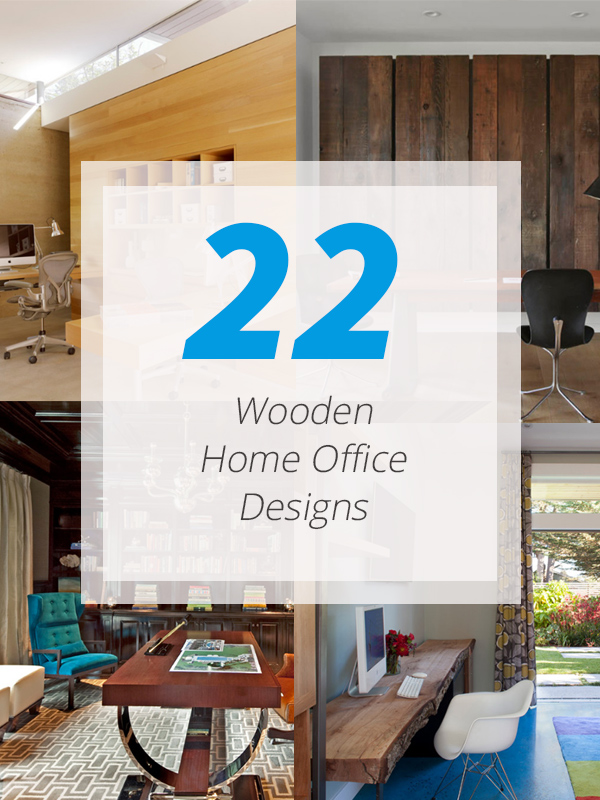 1. Edenvale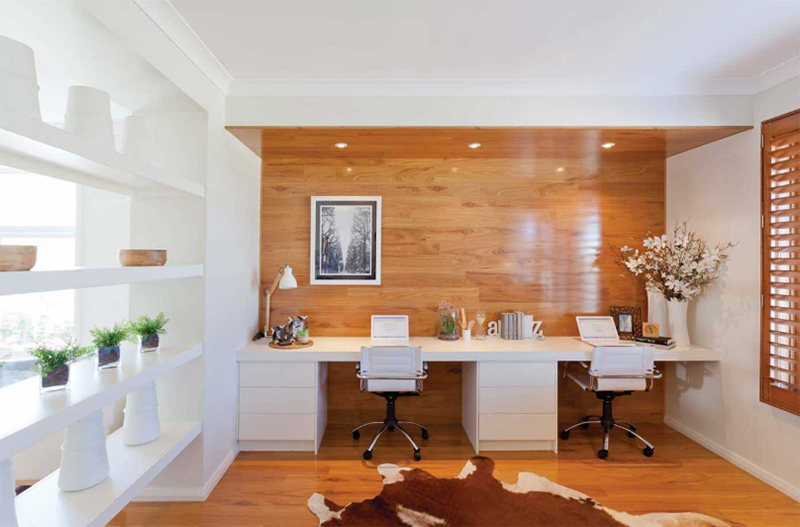 This contemporary home office looks really beautiful as it combines wood and white on it. I like that tall white shelf that is adorned with white decors and plants.
2. Carmel Residence
This space used many wooden elements in it and it is creative that they used natural wood for the table top of the desk. Such a beautiful modern home office indeed with all the unique designs integrated in it.
3. CEO Construction – Woodside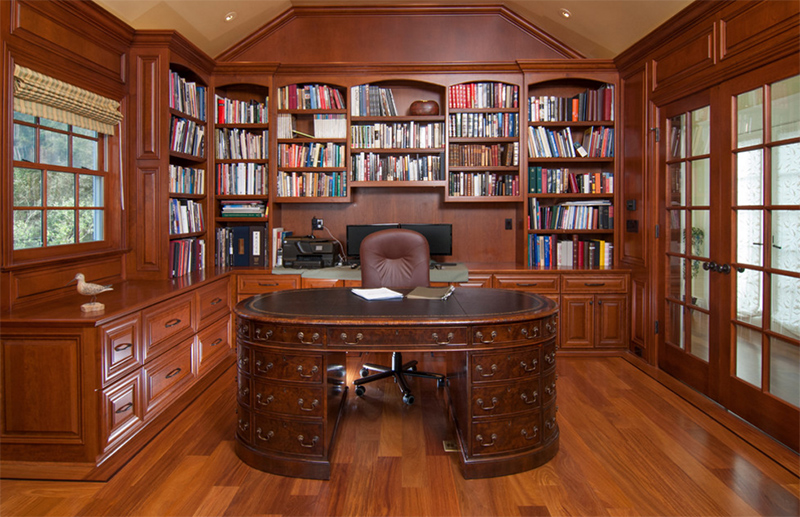 A traditional home office with a tall bookcase at its back and an oval shaped table that has drawers all over it.
4. The Montecito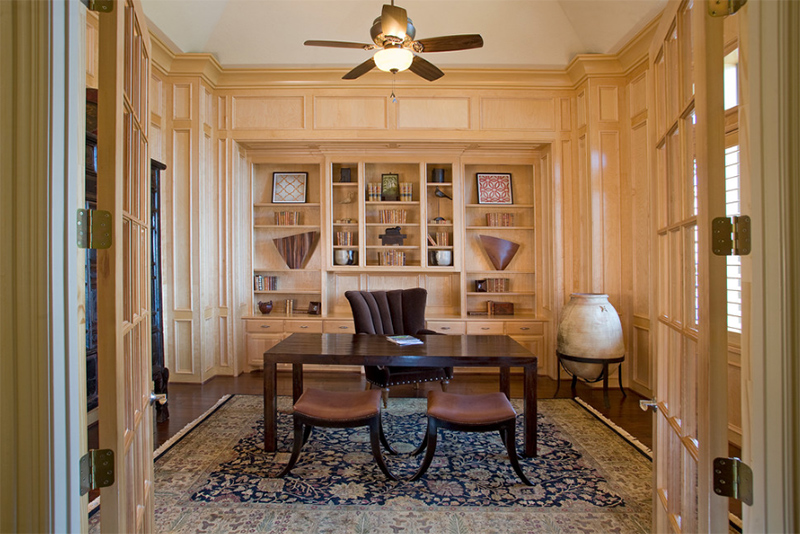 Although the walls look sophisticated because of its use of crown and molding, the office table is just simple with a beautiful office chair and a pair of ottomans.
5. Lovell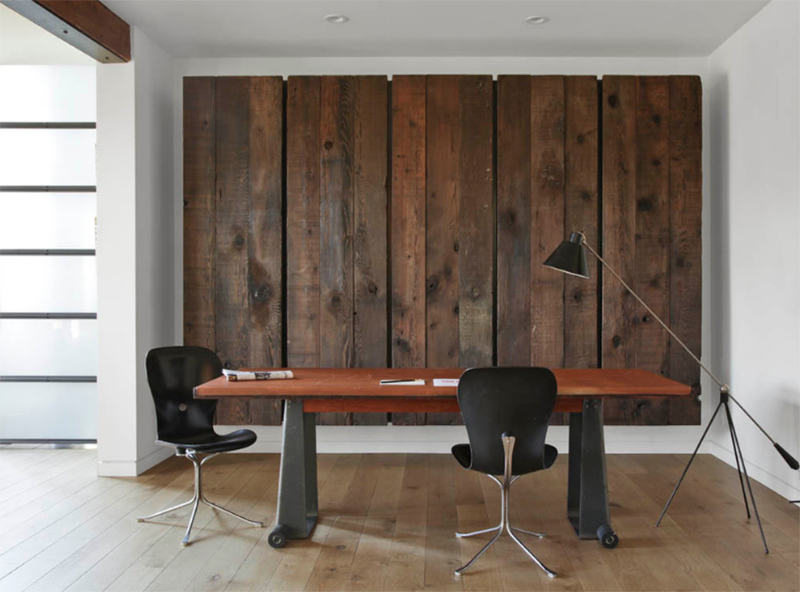 Planks of wood were added on the wall in this home office with an industrial looking long table and some black plastic chairs.
6. 235-2-10001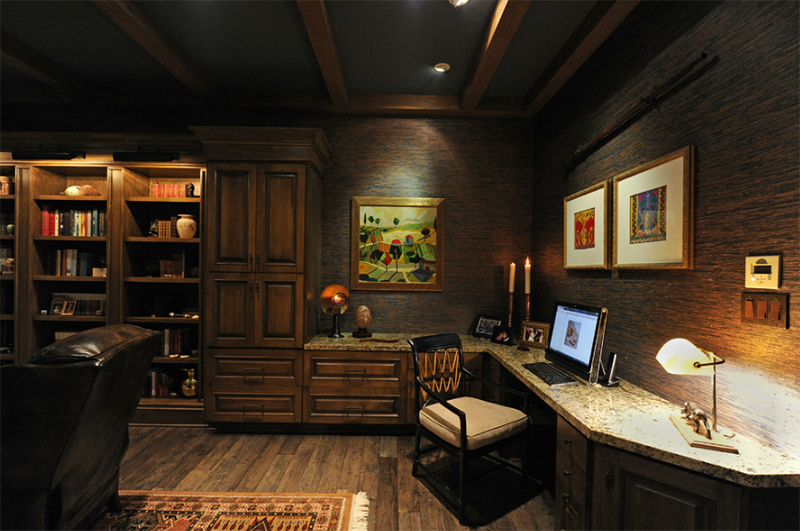 The space looks dark because of its wallpaper and the dark wood in it but it for sure it looks nicer when more lights are added. But this way, the area has looks dramatic.
7. Laureldale Road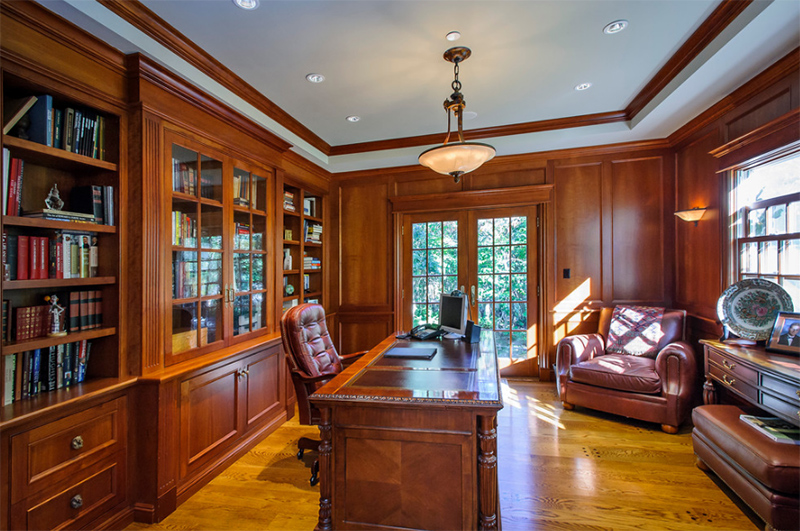 This home office has leather chairs in it which compliments with the wooden shelf and cabinets in the area.
8. Logan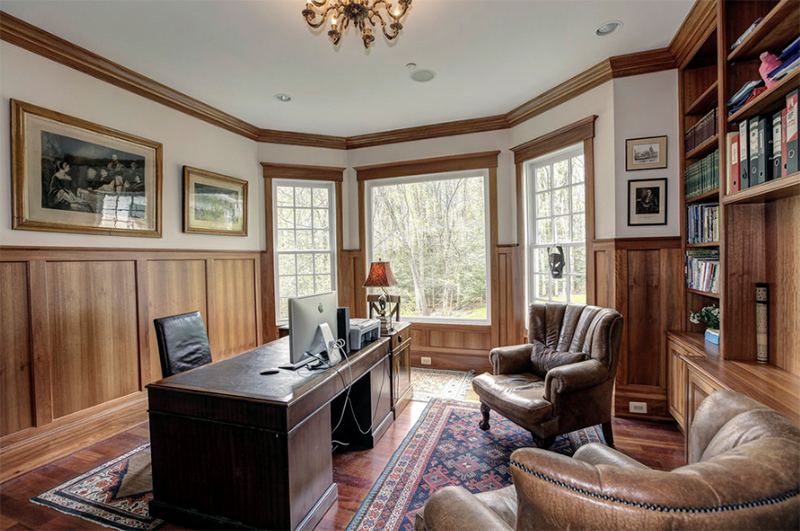 Aside from the natural light that gets into the space through the glass windows, it also looks nice with the combination of white and wood as well as the added area rugs.
9. Calm, Cool and Collected in Downtown Toronto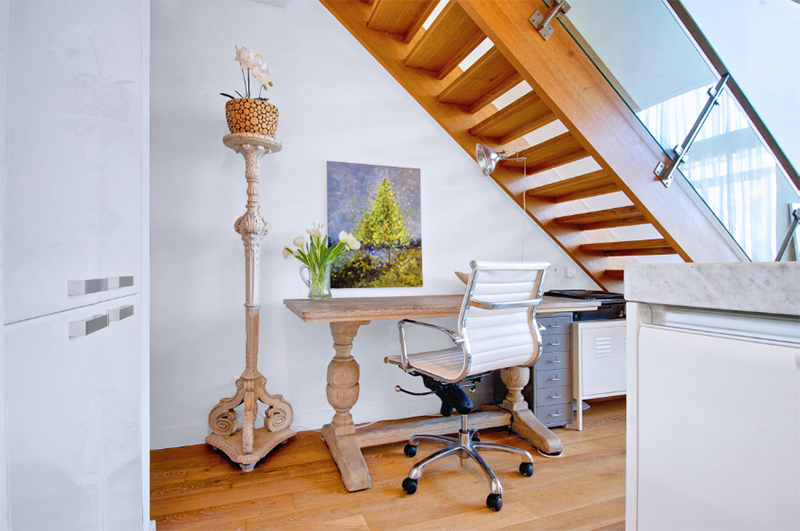 I so like this home office even if it's small. It looks so chic and beautiful.
10. Highpoint Road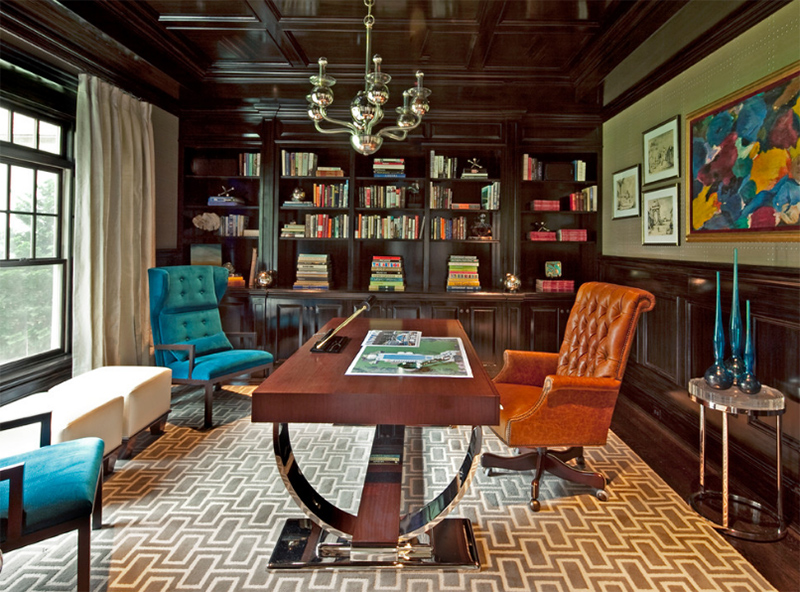 Although wood is used everywhere, what looks really nice here is that soft blue chair in the office as well as the area rug and the design of the office table that brings a contemporary charm into the space.
11. Fig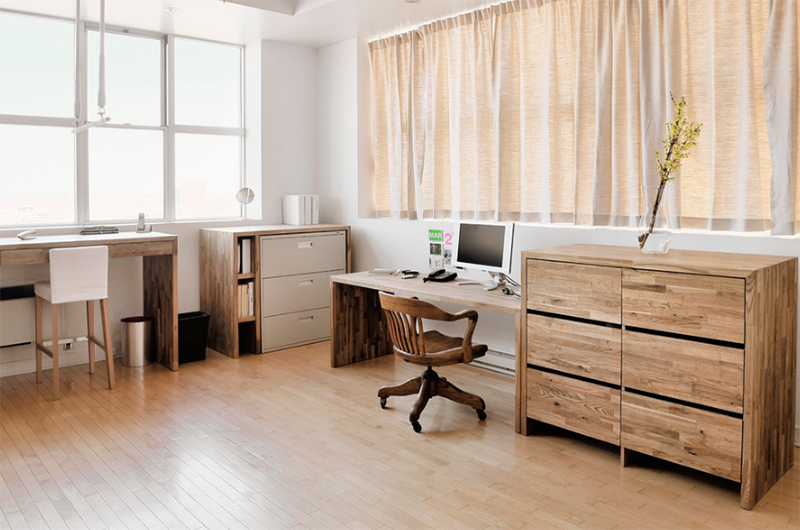 Love this space! It is simple with a very relaxing aura from its curtains to the wooden furniture. You can see that it has more than one desk in here which means that there are two people using this area for working.
12. Santa Cruz Haus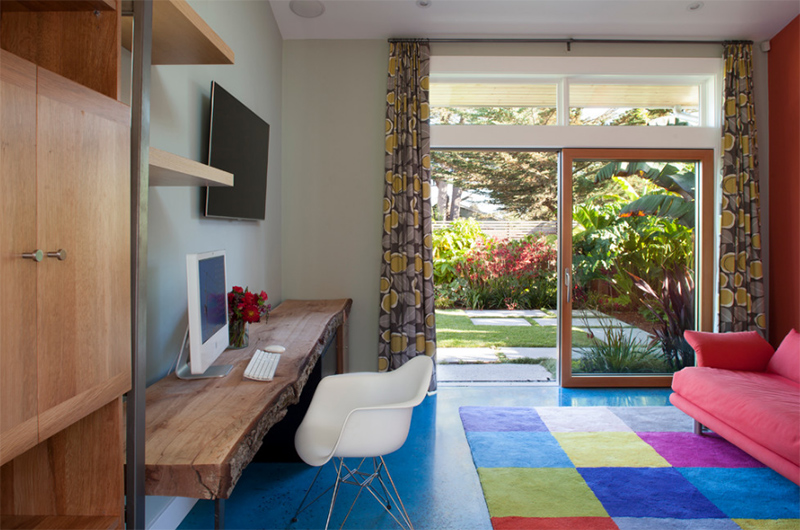 Who wouldn't love the burst of color in this office? Of course, we would all love it because aside from the colorful area rug, it also has blue flooring and a chic pink sofa.
13. Dunvegan Avenue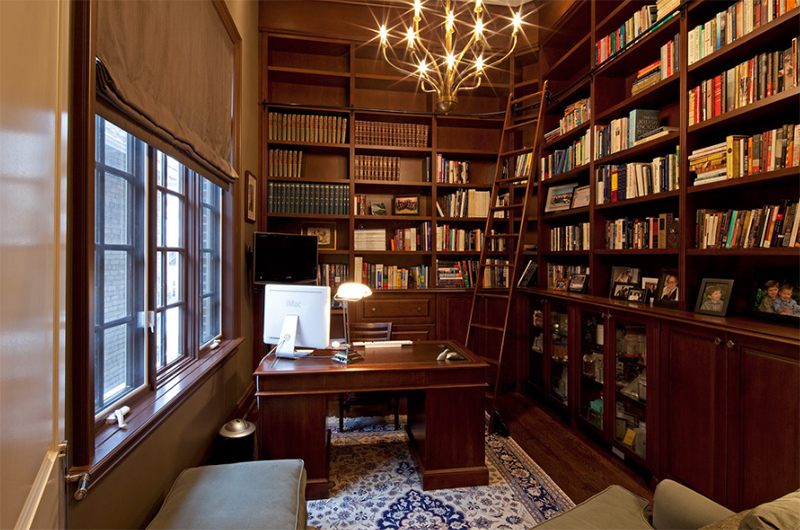 Even if this office space is just small, it has everything that the owner needs and apparently, it works well for him.
14. Georgian Colonial Custom Home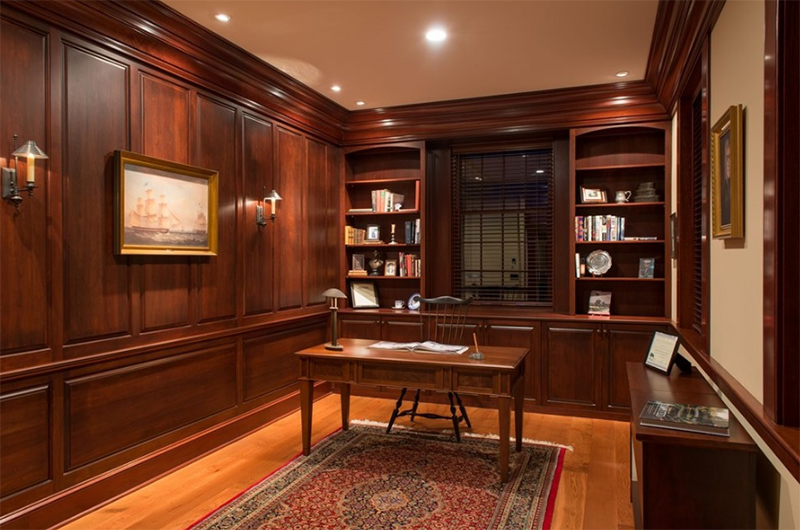 Another traditional looking office that is graced with lovely lighting and an area rug.
15. Modern Home Office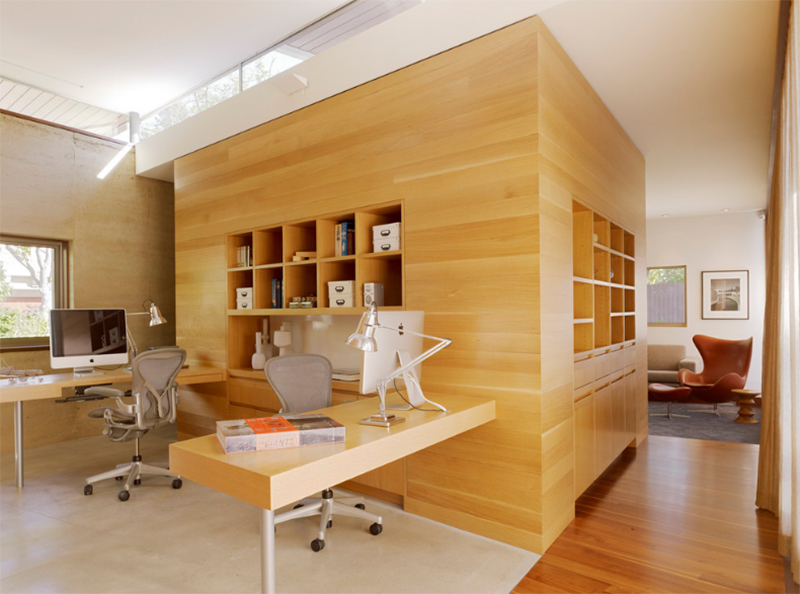 A contemporary home office with a wooden box in the center that also served as a storage space for the office. It is interesting to note that its desk is cantilevered from the wall.
16. Rapson | Redux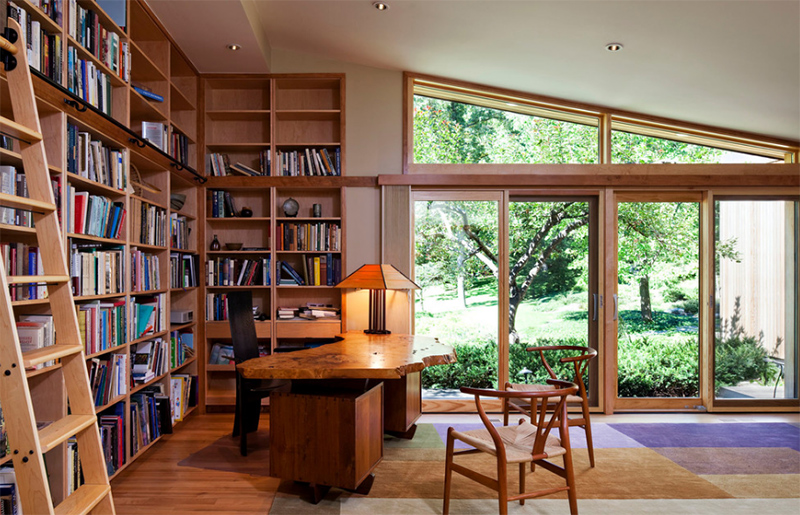 The table for this office also used natural wood for its table top. Aside from the tall bookshelf, this space looks nice because of the glass windows and doors.
17. Quartz Residence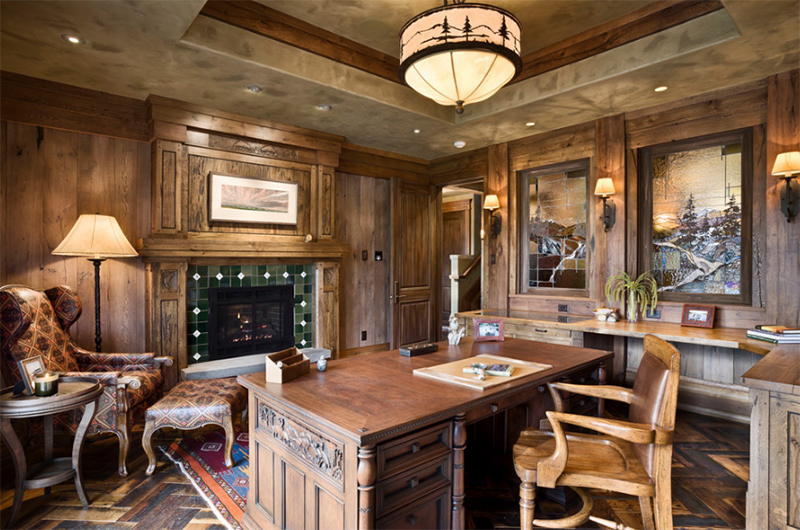 A classic space with classic patterns everywhere and intricate wood work. But I have to admit, that does look nice this way.
18. Well Studied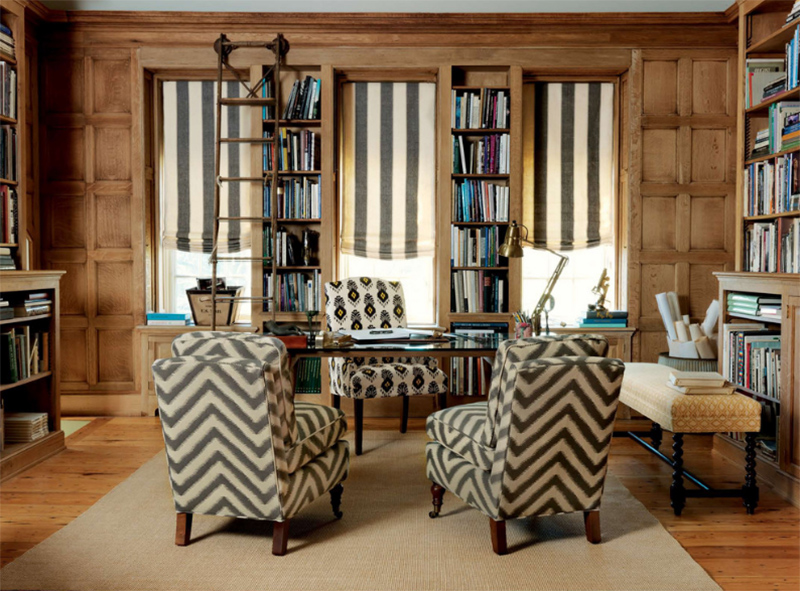 Modern patterns are seen in this home office through its fabric. Indeed, fabrics have a huge impact to every space just like what we can see here.
19. Parade 2012- Hacienda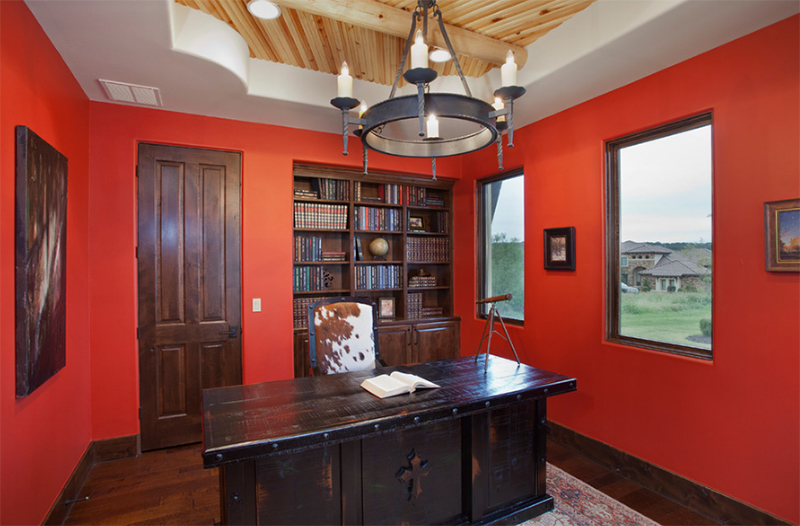 For sure, you first noticed the red walls in this home office but also take note of that lovely wood work for the ceiling as well.
20. Shingle style home on Keowee
A spacious home office with crowns and moldings on the wall and an industrial light.
21. Private Residence in Southwest Florida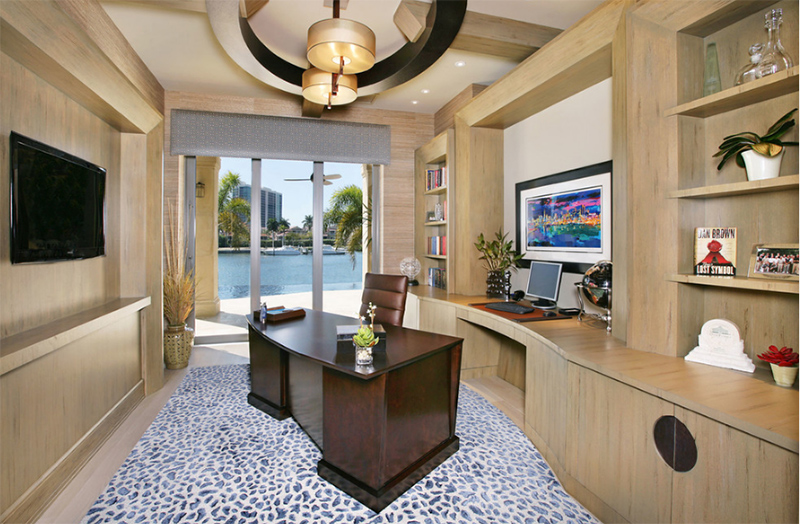 For sure, you will love this home office because of its contemporary appeal. And it is nice that one can easily access the waters from here as well as the pool area.
22. Vialetto Lot 1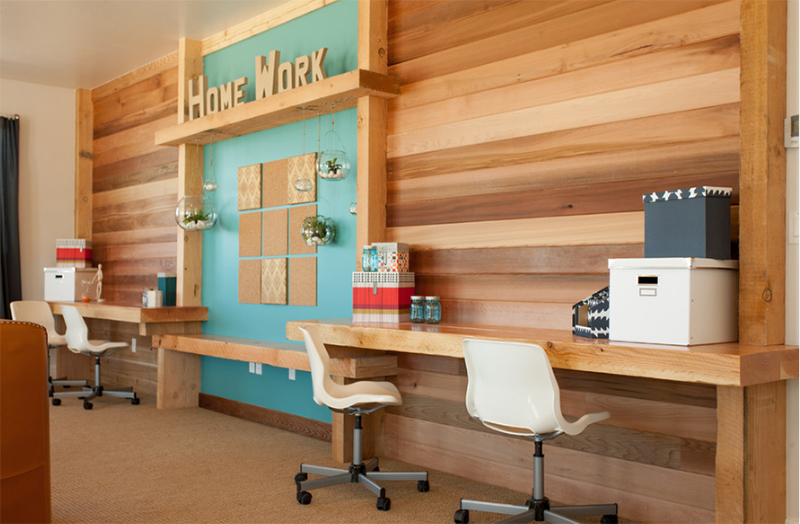 Wood is used here not just for the walls but even for the built-in desks and it is a good idea to do it this way. The area between the desks is really cute with those letters on it, plants and cork boards.
Well, we already expected that wood would look nice in the above spaces because it always works well anywhere! But in this list, what I like most are the contemporary ones wherein they used wood in a simple yet sophisticated manner. You can also notice in the above spaces that wood is used in various ways from walls to furniture. And whatever the designers did to that material, it still turned out really lovely. So how about you, which is your favorite wooden home office?