15 Different Living Room Ceiling Treatments
According to definition, a ceiling is an overhead interior surface that covers the upper limit of a room. It is not generally considered a structural element, but a finished surface concealing the underside of the floor or roof structure above. Ceilings are classified according to their appearance or construction but designing your ceiling may seem odd considering that they were intended to hold off heat from the sun or the cold weather but at the same time be aesthetically pretty. But, like any part of our homes, we like to think and consider making the entire place feel like heaven.
Today, we will be showcasing pictures of living rooms with different types of ceiling designs.
In the start of construction history, ceilings were usually designed or decorated with fresco painting or mosaic tiles, achieving certain events or symbolism. Even when the 15 Different Living Room Ceiling Treatments may seem of the same kind when you look at them, but you will be interested to know that they can serve the same purpose and be of the same material but was created to be as unique as it can possibly be. Check out the pictures below.
34th Street House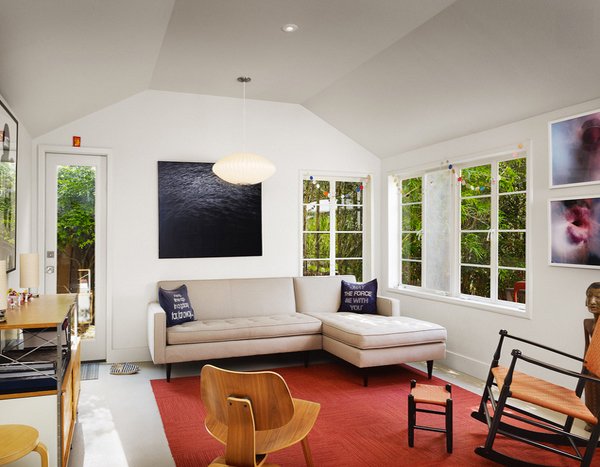 This house has a usual design for it ceiling, looking at it, it actually follows the shape of the roof. With that, adding a Nelson Saucer Pendant Lamp gives illumination below and above it which is a good touch.
Boston Traditional Living Room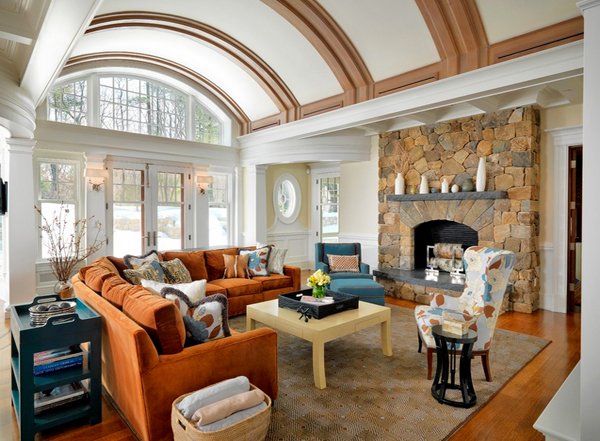 A traditional Boston home with all the right furniture and decorations look definitely stunning because of the unique barrel ceiling in white with mouldings in brown.
Cape Shores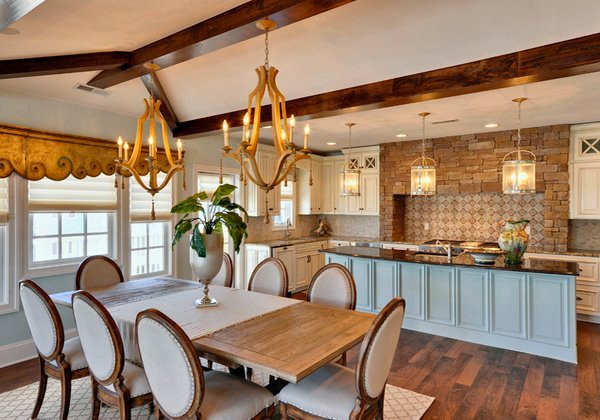 Echelon Custom Homes has designed this space aiming to maintain a huge space for fun and games. The ceiling on the other hand seems simple and quiet with light brown paint and looks recessed because of the mouldings added to it.
East Edina Home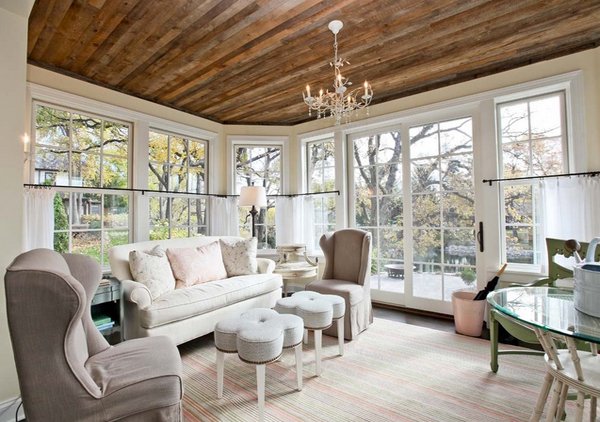 East Edina's paint for the walls is Benjamin Moore 288 North Star which complements the reclaimed wood ceiling this space has. It's definitely a stunner and reusing old materials to accent a certain space is a charm.
Gothic Apartment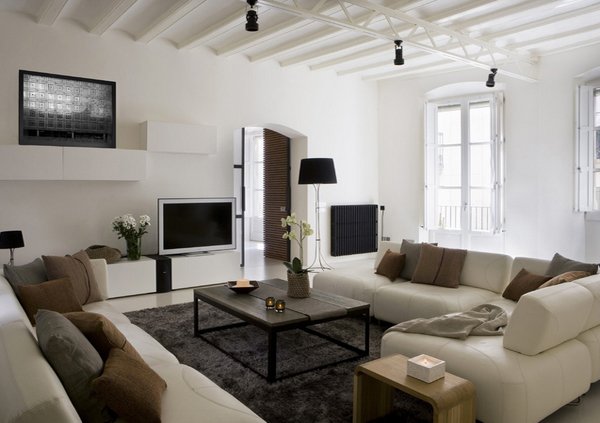 Even when this living room is painted all white and showcase its contemporary glory, it still gives off an industrial charm because of the casement windows, exposed beams and trusses which serves a track lighting for modern lighting treatment.
Greenwich Showcase House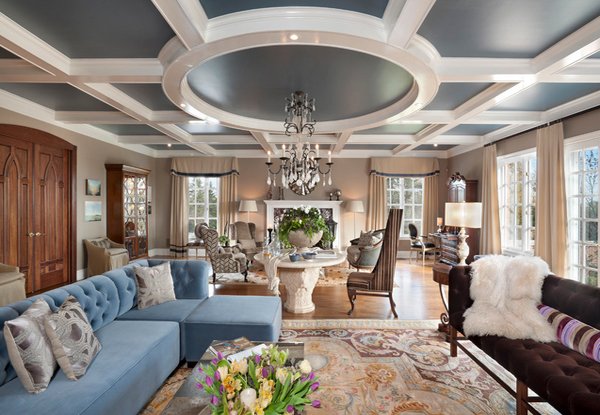 Fascinating as this living room already is – with all the classy furniture, decor and lighting, what makes this living room rather unique and special, is the coffered ceiling with great color that looks stunning paired with white.
Hillside Slope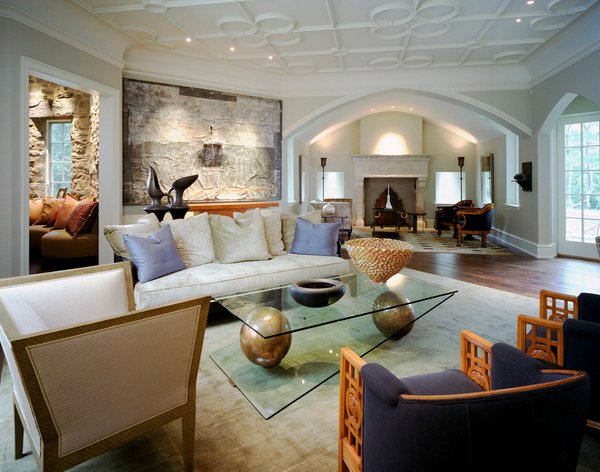 Taking into consideration that this living room has modern pieces of furniture and fascinating furnishings, notice the accent ceiling – it seems like ceiling medallions except that they are only made up of the rings. It gives the ceiling drama and charm too.
Lithuania Condo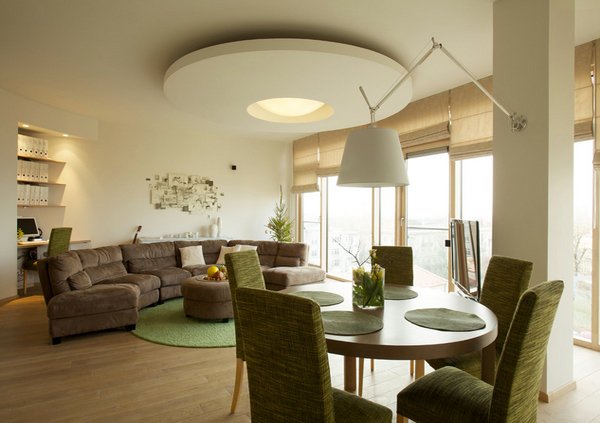 This ceiling may seem ordinary because at some point, it's actually flat, but thanks to the circular light on the ceiling, it made the space rather classy and sophisticated.
Mod Redux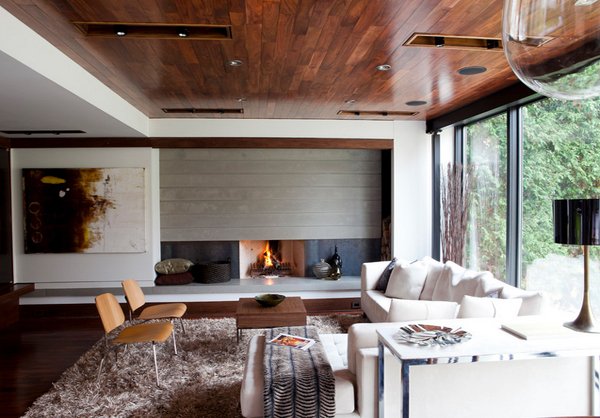 Here is one example of hardwood ceiling used for a contemporary family room. The designers glossed it a little to make it pretty and when dust sticks to it, it wouldn't really show because of its dark color.
Ragley Hall Residence Living Room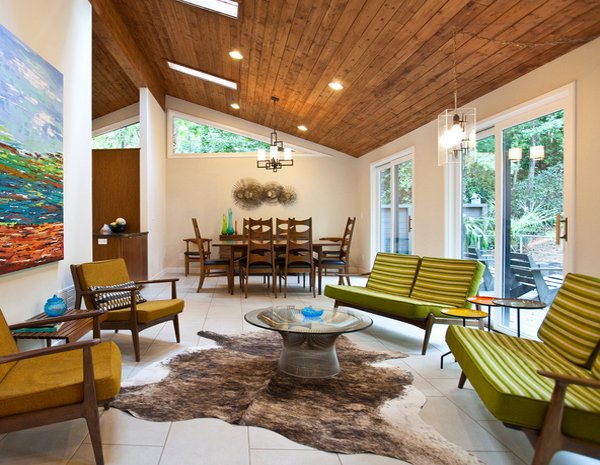 In this living room, we can see that the ceiling is actually sloping instead of the usual flat surface which is a good thing because it creates a wider space for this Atlanta living room. The colors used for this space is all earth tones – beige, brown, green and dark orange.
Spring Hill House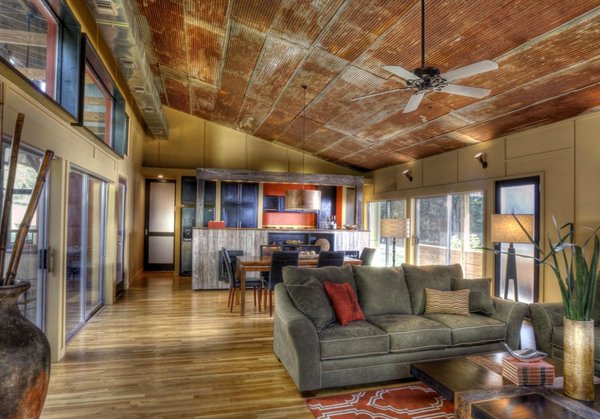 Homes like this one in the picture is really interesting – it's a mix between old rusty stuff which is paired with new items but looks rustic too. In this case, the designers used naturally oxidized (rusted) 5-V crimped metal panel which is salvaged of course but looks definitely perfect with the furniture inside this living room.
Sun Room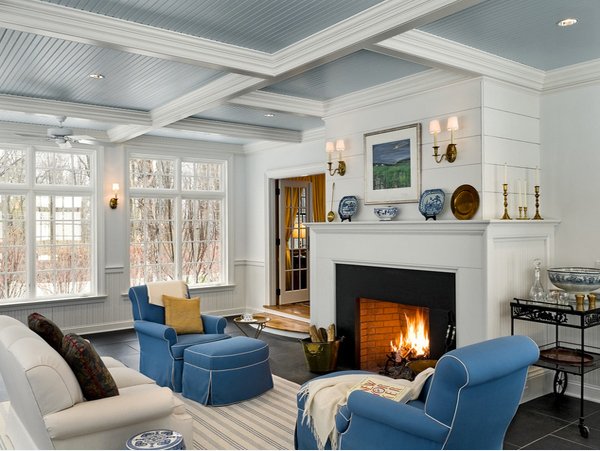 The color of this living room is awesome. Different shades of blue look great with white, just the best combination yet. It feels like winter in New York. We like the coffered ceiling because the depth is actually different from each other, the feel is unique.
Surf Road Residence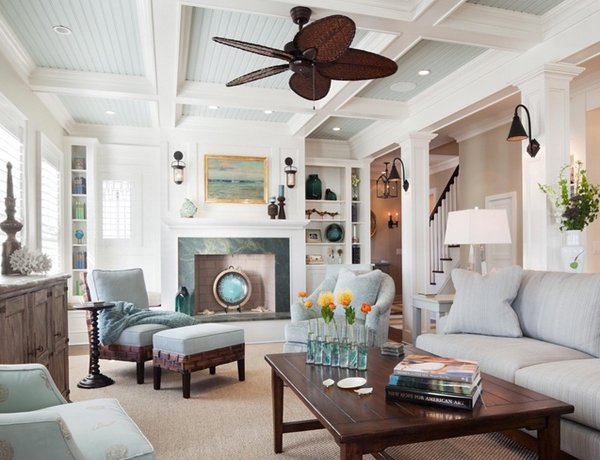 This is a beautiful coastal style living room in the heart of New York. The living room is occupied of bluish grey furniture and of fascinating coffered ceilings that complement the browns like the center table and the ceiling fan.
Water Mill House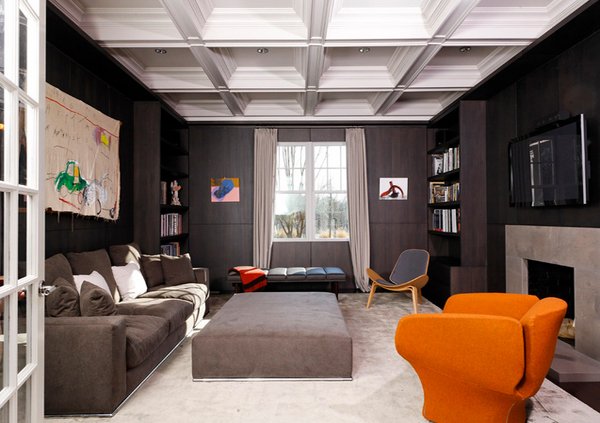 Another example of a living room with coffered ceiling. The great touch that this ceiling has is that it's white! Nothing like anything inside the room – blacks, greys, and orange!
Westport Island House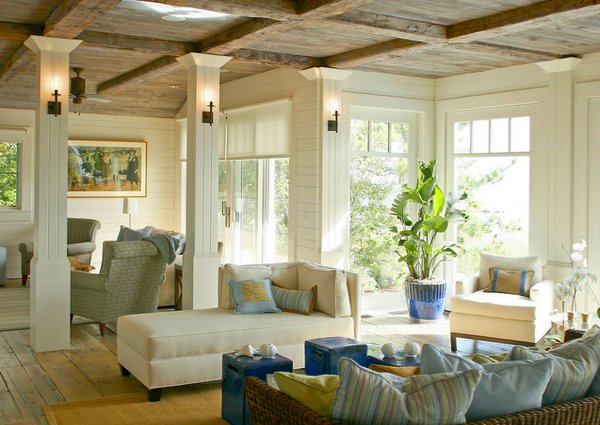 Here is yet another example of a living room ceiling made from reclaimed wood. It gives the room a rustic feel which is achieved from using such material and matching it with wooden columns and flooring.
How did you like the 15 Different Living Room Ceiling Treatments that was shown above? They sure were interesting since we learned that we can essentially make one room really funky and pretty just by creating different textures with our ceilings. There might be tons of consideration in designing homes, like fire resistance and whatnot, but we're pretty sure that your designers will make sure that your ceilings will not just be pretty but functional too. Also, we'd love it if you can check out living room furniture arrangements that would be able to help us a lot!