20 Gorgeous Gray and White Contemporary Living Room Designs
The living room is where we entertain guests and because of that, we want to make sure that it is not just inviting but also well-designed.
Do you also think that way about your living room?
For sure, you want your living room to look great! One way to do it is to choose the perfect colors that will suit your personality and the kind of space you want to achieve.
Are you looking for living room design inspiration?
Today, we collated contemporary gray and white living rooms to add to your long list of interior design inspiration. And if you love these neutral colors, you will no doubt love the spaces that we will show you below.
Here we go:
1. Key Biscayne Residence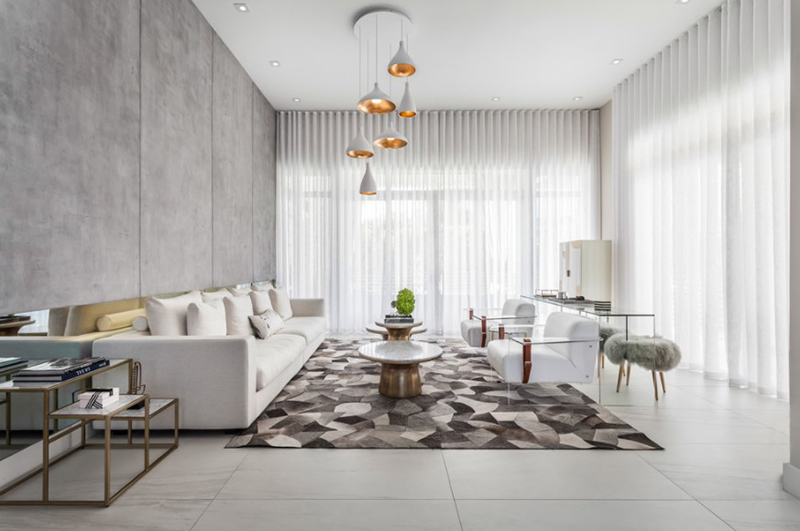 One thing that I love in this living room is the pendant lights with golden colors as well as the patterns on the area rug that brings character to the living room.
2. Camden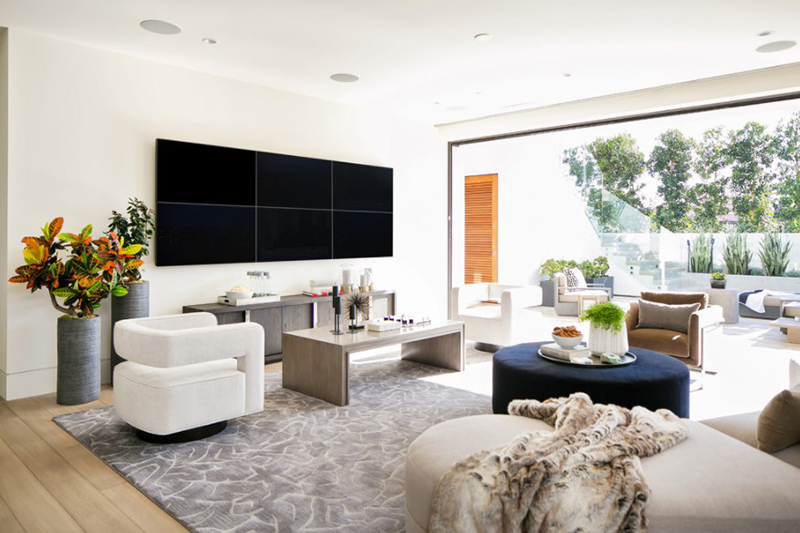 This one has a mix of different furniture designs but they look great together. It is also nice that it is connected to the outdoor space.
3. Midtown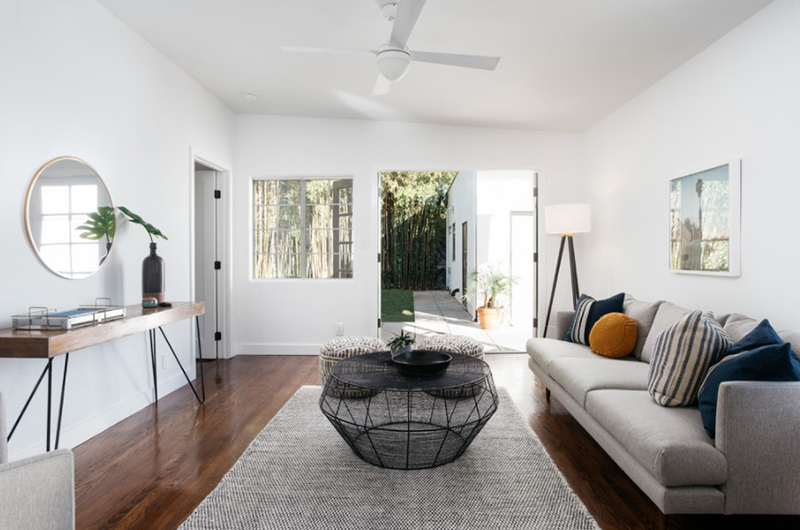 The white walls and ceiling seem to frame this space with gray furniture in it. Using wooden flooring brings warmth to the area. The throw pillows of different sizes and colors add a creative flair to the living area.
4. 448 Beacon Street: Living Room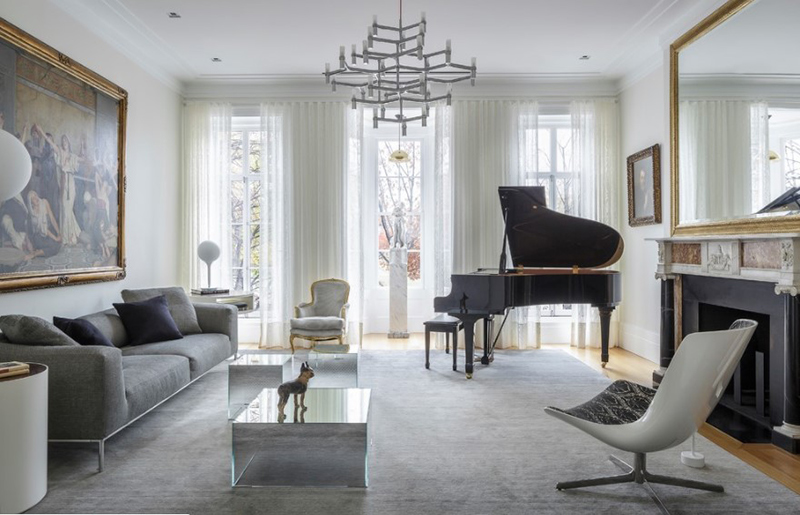 The grand piano is a dramatic feature in this living room. With the looks of it, the owner loves arts which can be mirrored by her choice of painting and accessories.
5. Sunrise House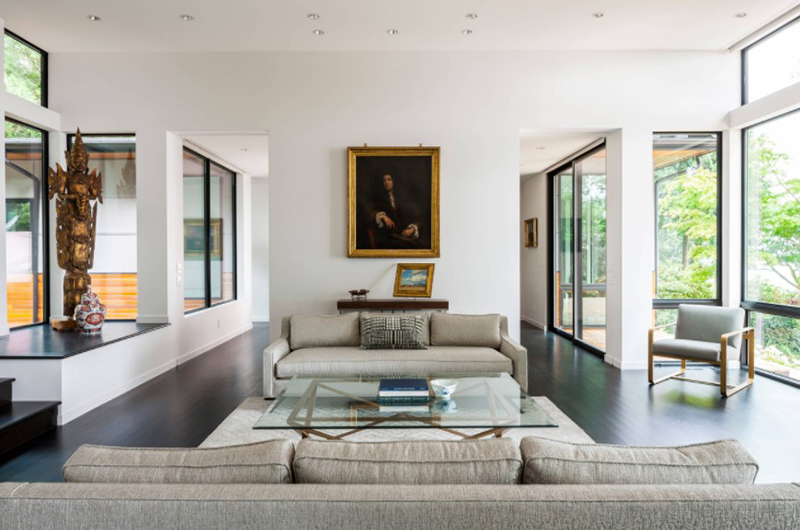 Glass window surround this living room. There are gold decors around it as well that brings an antique touch to the space.
6. The Crafted House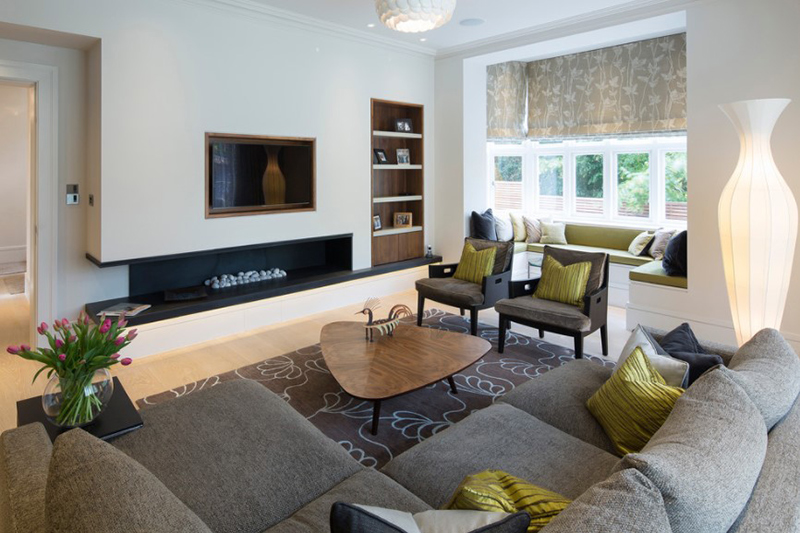 It is apparent that the inspiration of this space is nature because of the colors used in it. This reminds me of our other post which was the indoor plants on living room. Aside from grays, there are also brown, black and green accents, making it look warm and homey.
7. Farnswood Circle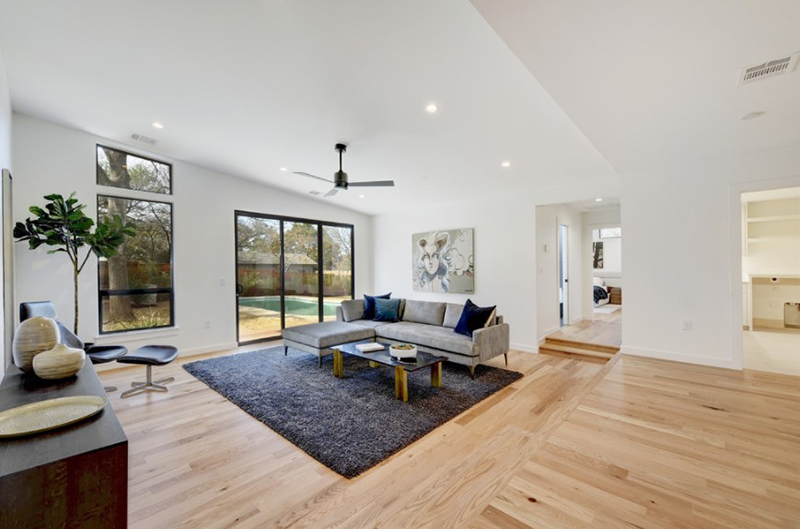 At first glance, you will no doubt notice how spacious this living area is with wooden flooring. A dark gray area rug defines the living area while the ceiling and walls are all in white. From here, one can get a good look at the pool area and garden because of the glass doors and windows.
8. 169 Ansley Forest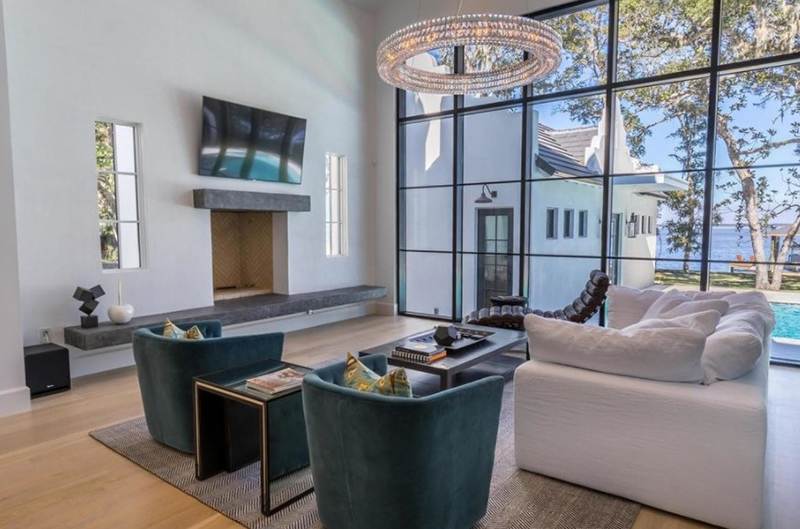 Aside from the gray and white colors, you can also spot a pair of muted green chairs that bring a sweet appeal to the space. The living area is also filled with natural light while the round crystal chandelier adds a glamorous flair to it.
9. Phoenix Living Room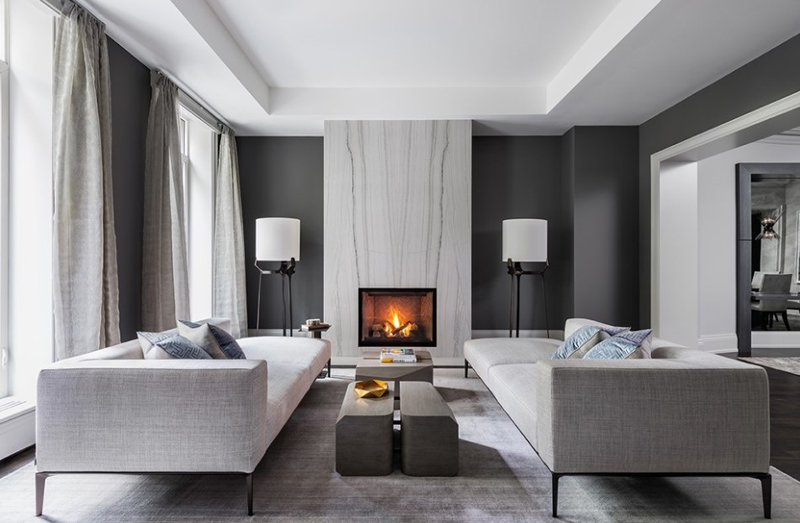 Although this living room is all gray, there is a lot of drama in it from the curtains and all other areas. The fireplace is also one feature that brings beauty to the space.
10. Ambelside, West Vancouver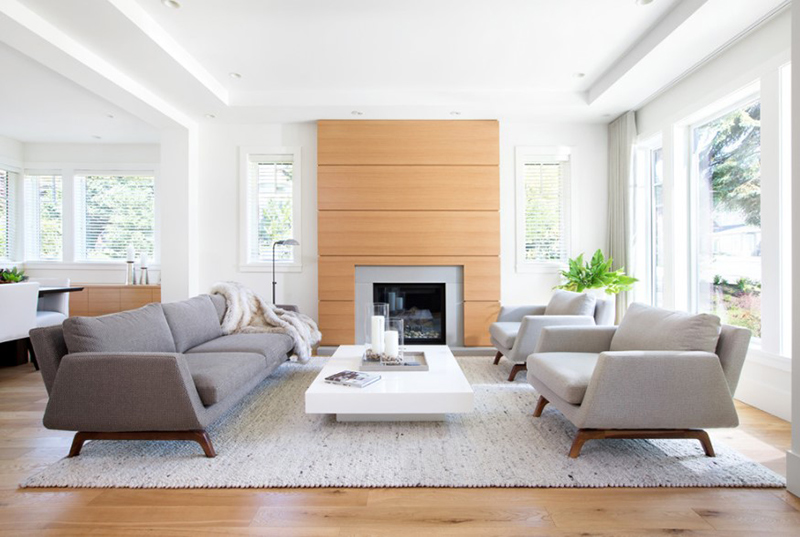 For this one, it used a combination of white and gray as well as wood not just for the flooring but also for the fireplace. The white colors make the area bright.
11. Austonian Penthouse Residence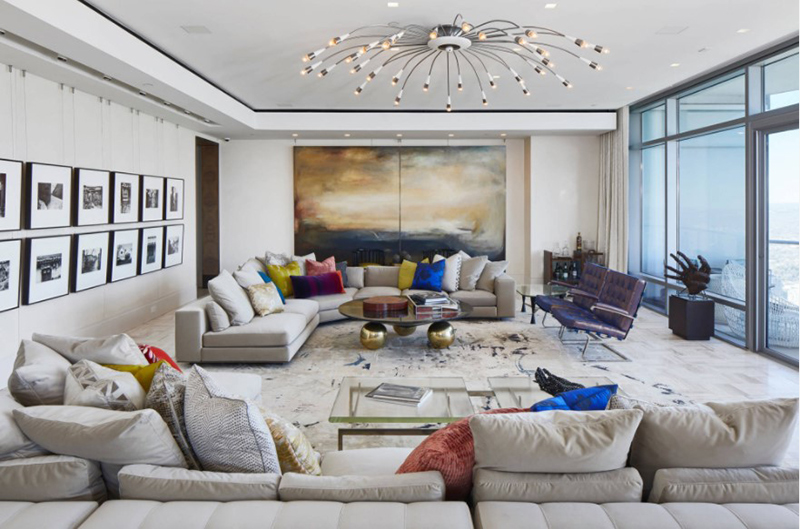 This gray living room has a beautiful spider-like chandelier and a huge wall painting. There is also a gallery of black and white images that line one side of the wall. Apart from the gray sofa and throw pillows, colors pillows add a spark of life into the space.
12. Tribecca NY, Vly Studio Interiors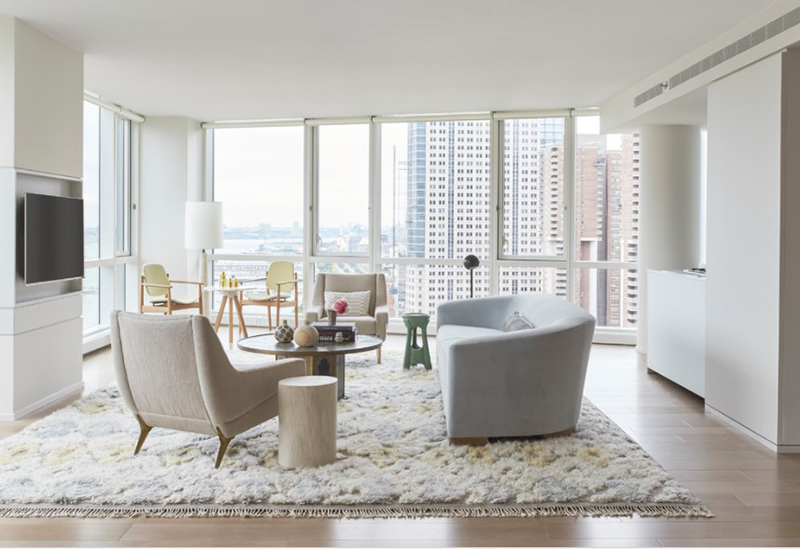 You can see that this space is beautifully designed with glass windows around it. What I love in here is the soft area rug and the mismatched chairs that look good together because of their color.
13. Grade II Listed, Hertfordshire Home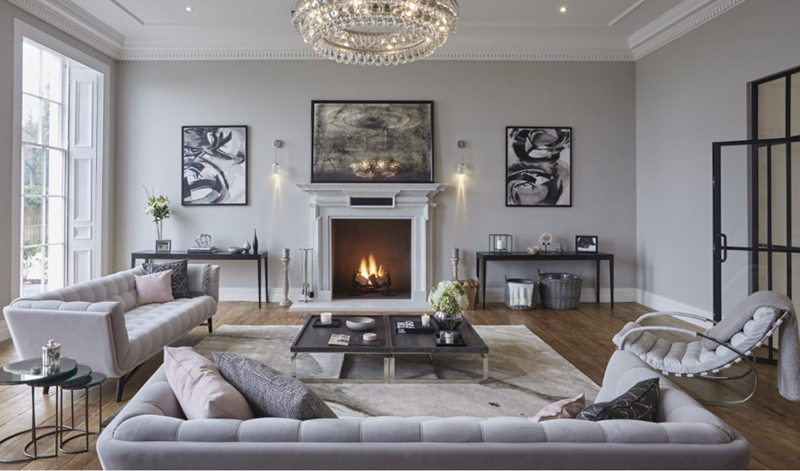 This spacious living room has many different decorations in it from the wall decors to the coffee table. Of course, who would miss that lovely round crystal chandelier on the ceiling?
14. Virginia Waters – Octogan Developments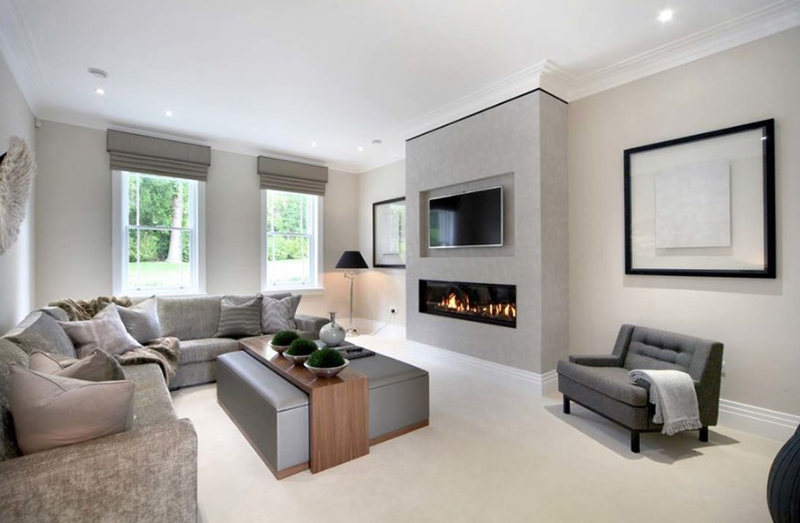 A living area wherein the sofa occupied the corner to give more space. It is apparent that the owner is not a fan of prints.
15. Industrial Loft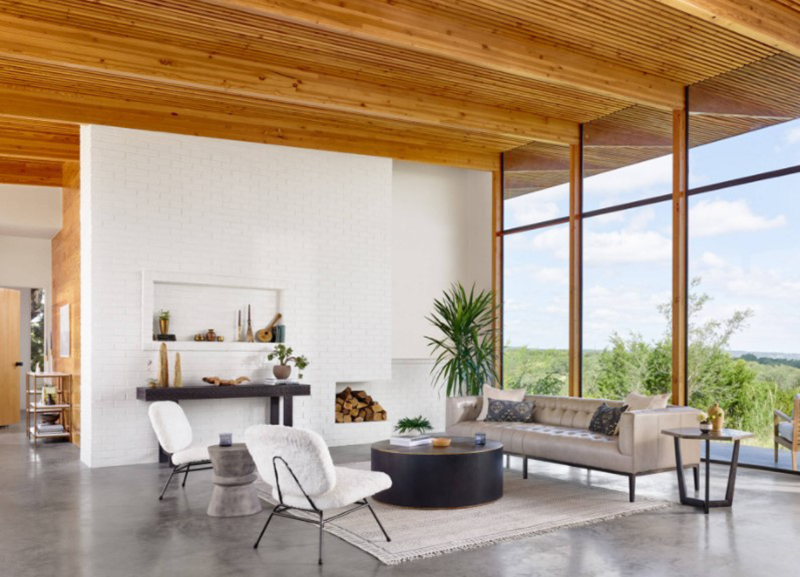 Don't you love the industrial feel of this space? It is very nice, right? The combination of wood, concrete, and glass is impressive. But what really draws my eyes into the space is that white brick wall.
16. West Circle Residence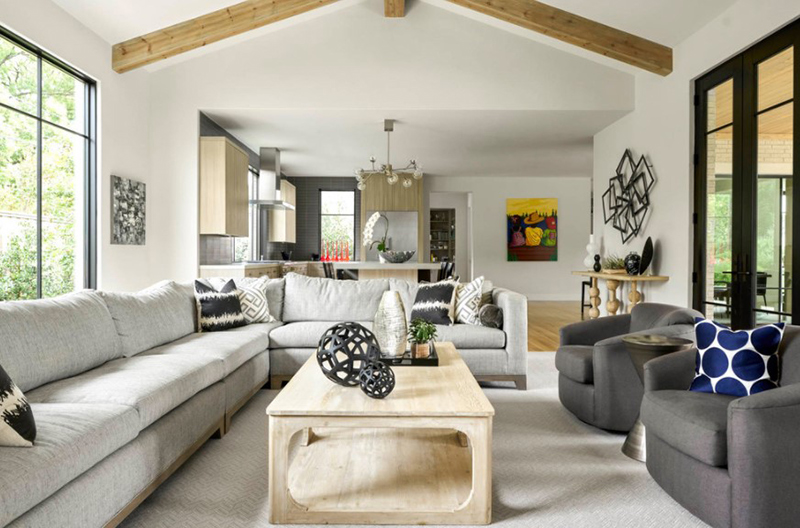 Love the feel of this space! If you look around, there are many interesting features in the area including the coffee table and the decorations. It is nice that aside from the grays in it, there are pops of color from the wall decor and that sole blue throw pillow.
17. Smith Street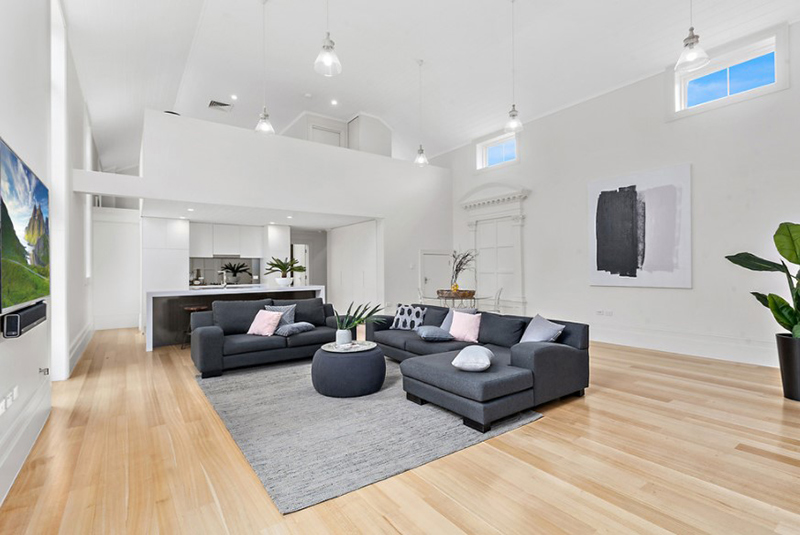 One can easily get that modern minimalist feel in this living room with a dark gray sofa set. The effect of using a light wood flooring and white paint for the walls and ceiling gives the living area a relaxing and inviting aura.
18. Spaces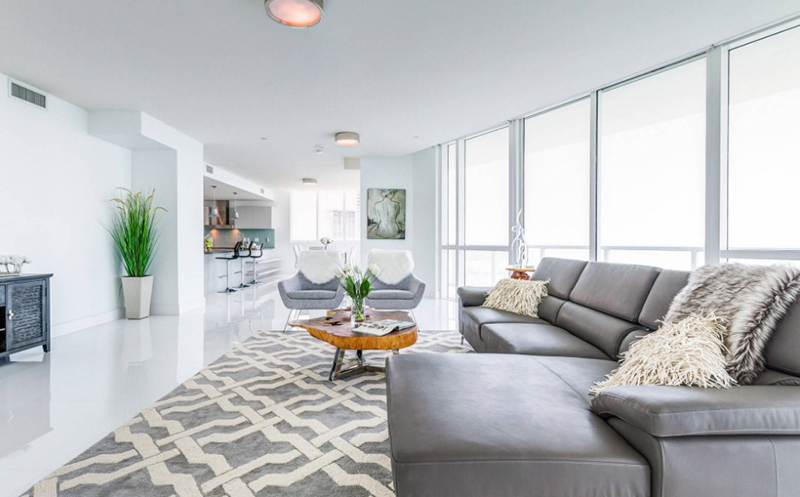 Apart from the beautiful combination of white and almost silver gray, the sudden pop of green from the plant and the coffee table made of natural wood is too strong to miss! We cannot deny that these had a great impact on the entire space.
19. Del Mar Residence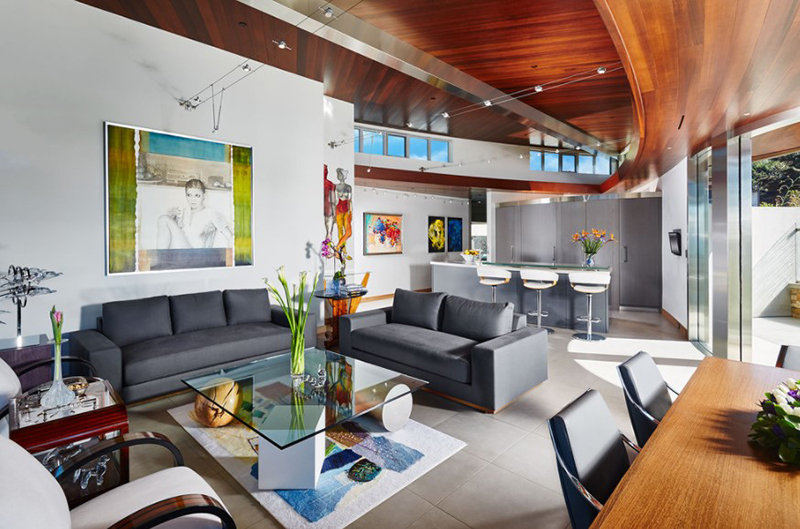 Although this one is not that spacious, it was done in a very creative manner with function in mind. Notice that this open living room contains the kitchen and the dining area too.
20. The Wasley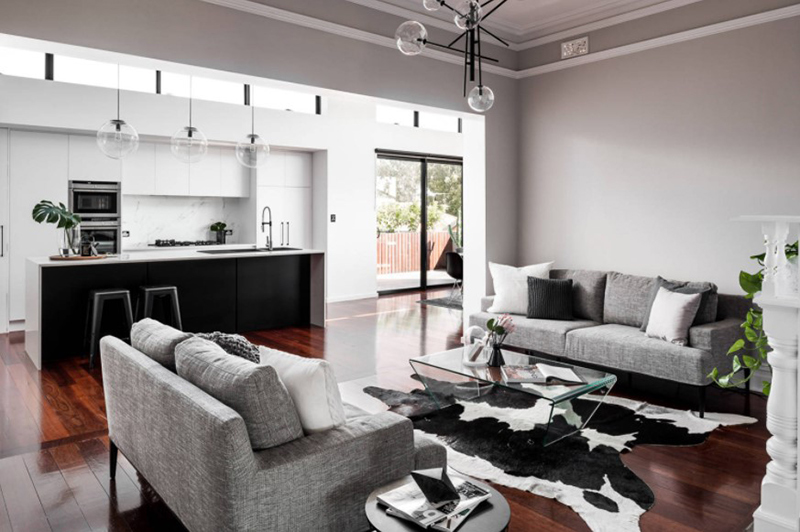 The contrast of colors in this living space and the warm appeal of the dark hardwood flooring creates a stunning interior. This would no doubt qualify to be part of an idea book of contemporary living rooms!
The real advantage of using gray and white is that it gives the home a relaxing aura and it allows the homeowners to add colorful decors into it. It is easy to pick certain colors that you want to add to your space because gray and white are both neutral colors. This means that they work well whatever is the color or pattern that you would like to add to your space. The gray and white contemporary living rooms above will surely inspire you to use this color scheme for your home.