15 Mansion Living Room Ideas Overflowing with Sophistication
Once we hear the term mansion, what comes to our mind is luxury, glamour, sophistication and all the glittery elements that we will find in a home. Well, that can be right but there is more to that. Whatever that is, you will see that in this post where we have gathered some mansion living rooms. You will see various living rooms in mansions that have different themes and styles from traditional to modern ones.
We enjoyed looking at these mansion living rooms and we noticed that what really made them shine with sophistication is the furniture in it adorned by the other decors in the space. But the lighting has a big role too as it seeming wrap the entire living area with stately appeal. You can all see that from the list below. For sure, you will be inspired to do a makeover once you see this list!
Mansion in May 2012 – Glynallyn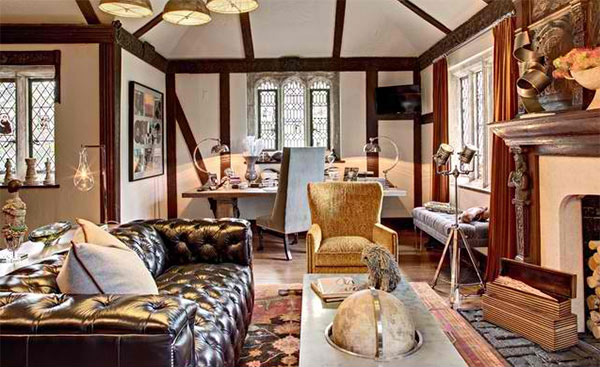 The furniture layout the living area with a combined office area is definitely smart! You can see that the living room has warm tones in it with some accents of silver and gold from the decors.
Living Room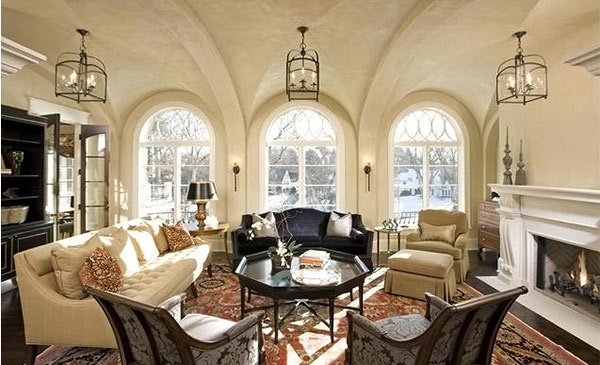 The walls are Valspar's Bleached Wheat in color, Valspar's Snowcap White is used for the trim. Pale gold matches well with the colors in this living room. The cathedral ceiling is a plus for is luxurious look!
Traditional Living Room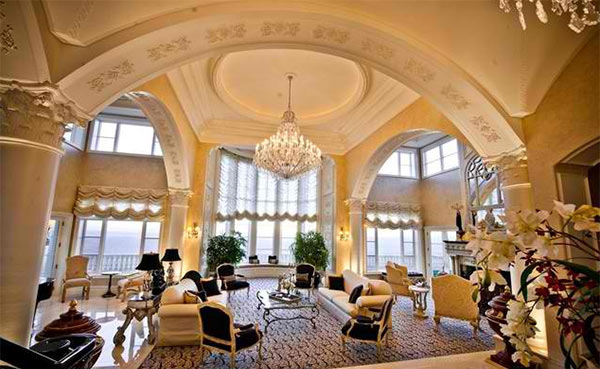 Austrian shades made from a very silky sheer fabric that is very "drapey and droopy" are used for this living room which has a great contribution to its grandeur. The black with gold accents furniture pieces are bold additions to this mansion.
Markham Mansion Living Room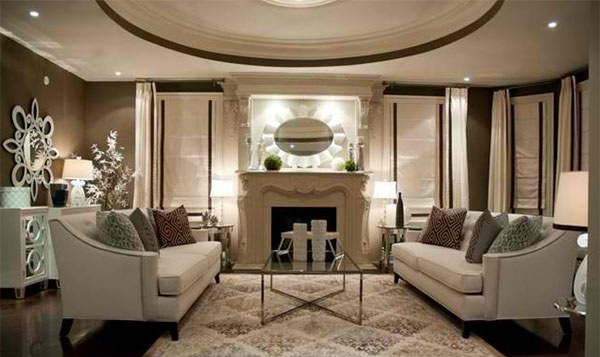 Not all mansions are blessed with spaces just like this one with a small living room but is sure has that mansion feel in its choice of colors and furnishings.
Predator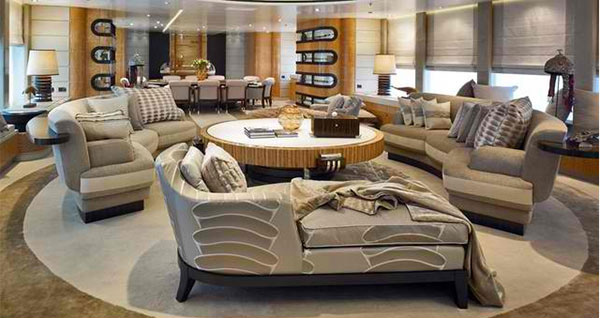 If you think this room is round, you are wrong! The oval display cabinets add a strong "curve" theme as it echo curves found in the other pieces in the room.
Fontana Interior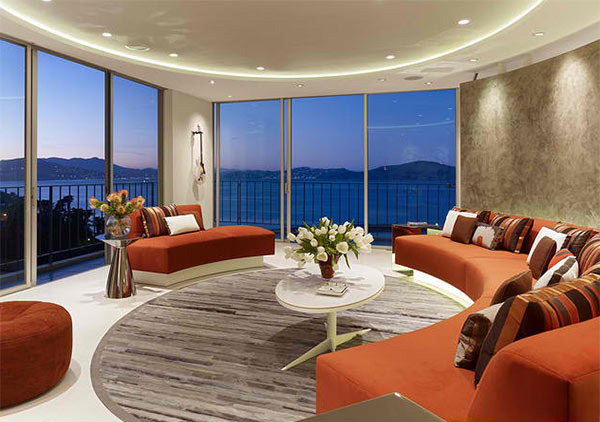 That Kyle Bunting area rug brought the space into a different level of beauty as it sits on top of Polar white marble tiles. The orange furniture speaks more than just beauty but also fun!
Los Altos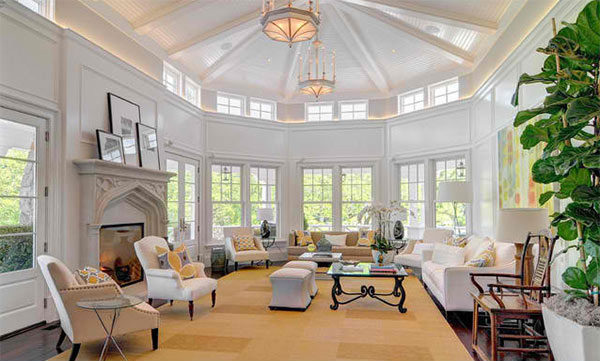 The color palette of this living room is so relaxing! Its high ceiling, clerestory windows and French windows that surround it brings a tone of openness.
Greystone Mansion Solarium Lounge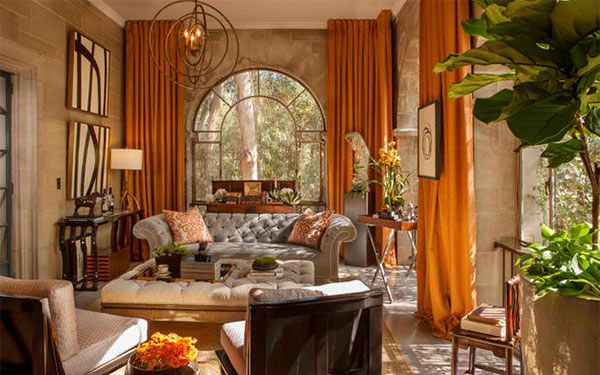 The magnificent sofa in this living room is from Randolph + Hein. It really is an eye candy as well as the other adornments from the lighting to the wall decors. Even the drapes are true charmer!
Elegant Living Room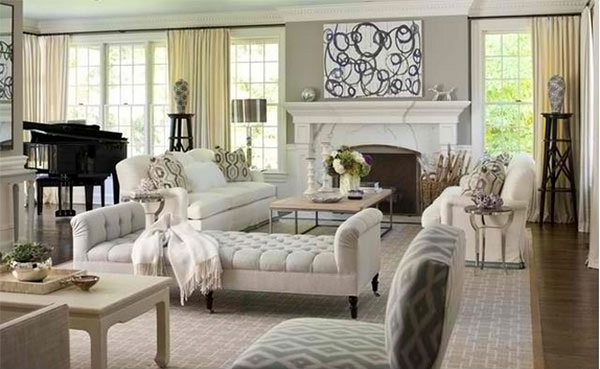 This transitional space has geometric patterns all around from the area rug, wall decor, throw pillows and chairs. Lovely!
Greenwich Showcase House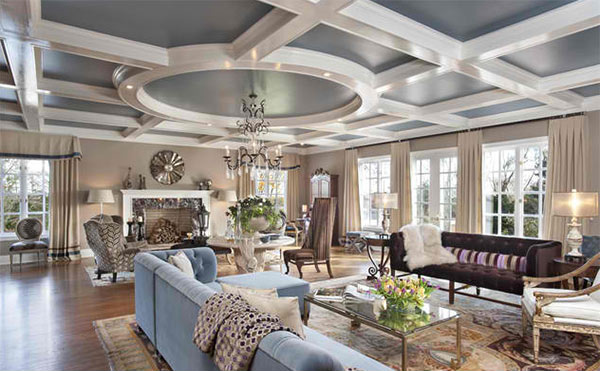 An eclectic mix of furniture is seen here. The white chair is an Alfonso Marina chair from Ebanista in NYC that has beautifully carved detail on the arms and legs. The entire living room is a stunner as it exemplifies beauty under coffered ceilings.
Harbor Hill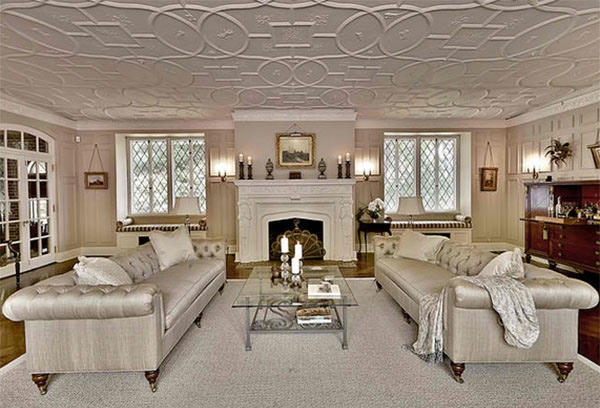 Anyone will notice the fantastic ceiling design that is done in plaster in early 1930's. Indeed, it contained so much details no one can miss seeing it! It seemingly blankets the living room with glamour!
Ironwood Estate Redux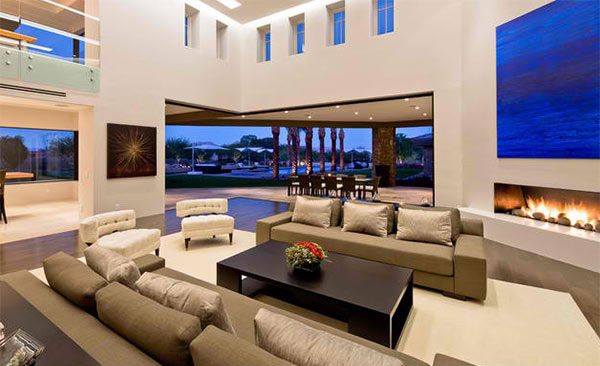 The open sliders provide an L-shaped opening to this dashing living room that connects the indoor and outdoor spaces.
Living Room, Mansion, Old Greenwich, New York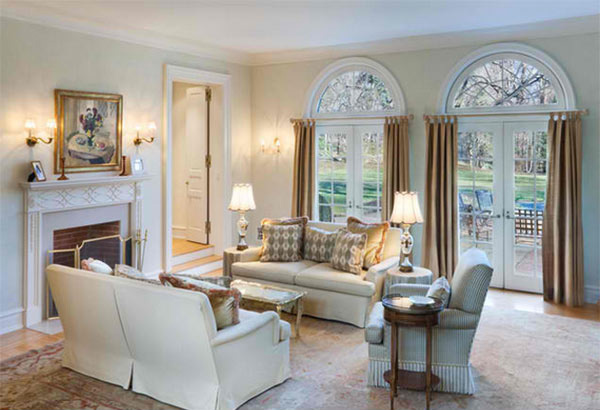 A grand and graceful room! Its drapery has loops and buttons that add more sophistication to it despite its plain color. Lighting is one best feature of this living room especially the wall sconces.
River Oaks Residence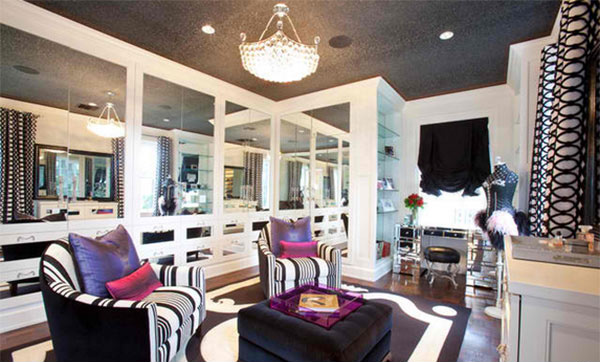 A 270 square feet living room has a personality that is more than what the space can take! It is exploding with charm as it combined lovely colors and patterns. The mirrors on the wall seem to make the living room shine!
Jupiter Real Estate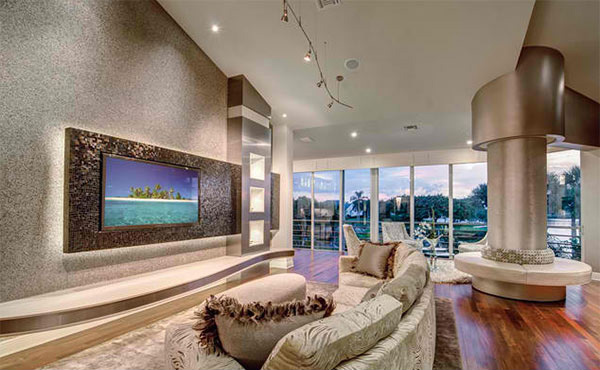 Whoever said that a mansion's living room should be filled with so many furniture is wrong. Take it from this living room with sophisticated details from the wall to the flooring! That TV wall looks overly grand!
We know that you will love this list! We did it on purpose to combine different styles of mansion living room so that you can compare their look. Even if you don't have a mansion, you can always do the same to your own living room. But if you want one that has a minimal look, you can try using a combination of white and gray for your living room. It will turn out lovely especially if you are into a modern design!