20 Appealing Corner Fireplace in the Living Room
A fireplace is an architectural structure designed to contain a fire. Fireplaces are used at the present time mostly for the relaxing ambiance they create. Historically they were used for the practical purposes of heating, cooking, and heating water for laundry and domestic uses.
Fireplaces have variable heat efficiency. Organizations like the Environmental Protection Agency and the Washington Department of Ecology warn that, according to various studies, fireplaces can pose a significant health risk. The EPA writes "Smoke may smell good, but it's not good for you." Check out the pictures of fireplaces below.
1. 210 Cranston Gate SE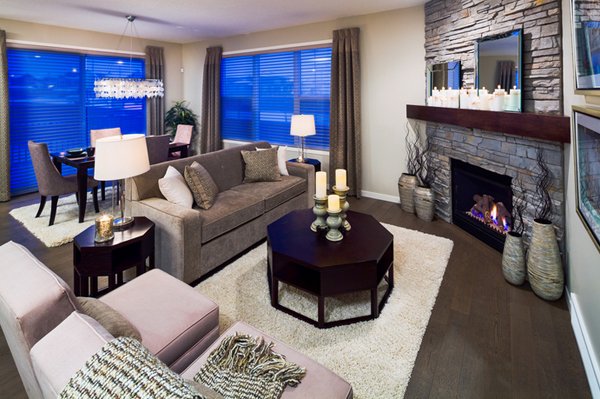 This is a contemporary living room with a stone fireplace and a simple mantle. How do you like this?
2. Art Deco Influence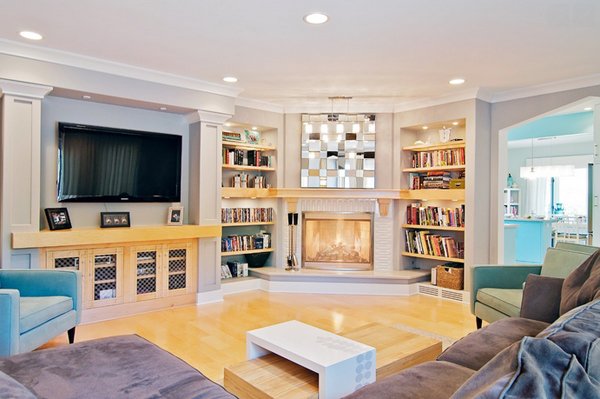 Flanked by dual bookcases, this corner fireplace vies for attention with a flat-screen television. But because it sits on a pedestal and upholds a beautiful mirrored panel, it's a winner each time.
3. Beachaus II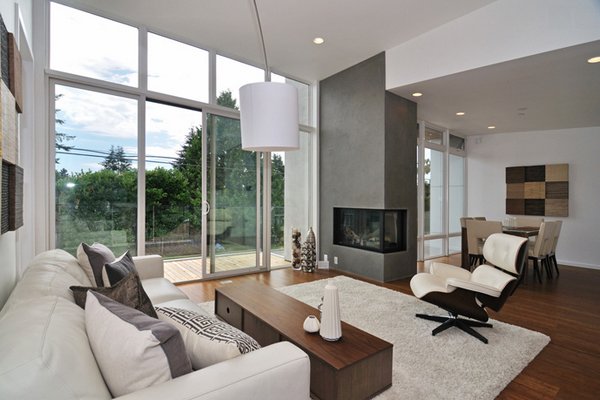 Look at the clean feel of this Vancouver living room – modern corner fireplace!
4. San Francisco Living Room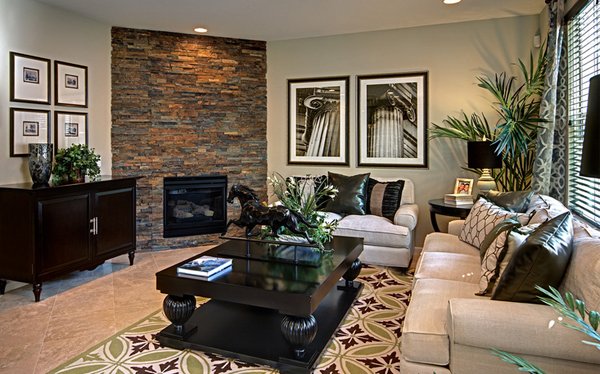 This living room has a fireplace made of rock, we have a beautiful carpet and the rich colors blended in this space.
5. Contemporary Living Room in Chicago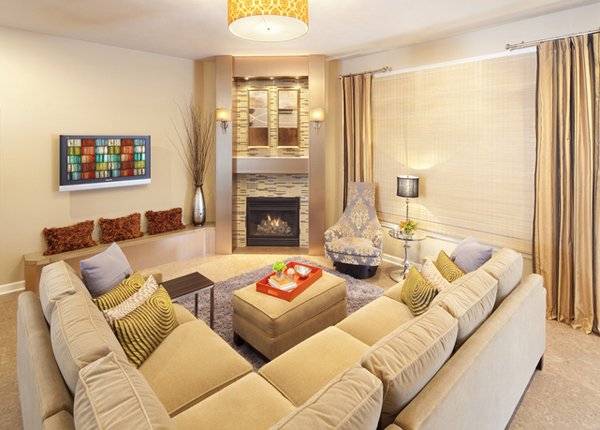 Try something as simple as adding a colorful tray to the center of your coffee table or ottoman. I love the colors of the Lacquer Wood trays at West Elm. For large coffee tables, get two to place side by side.
6. The Fiesta II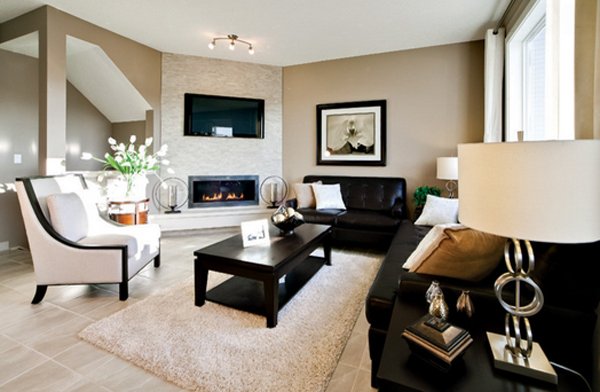 Like the stone all the way to the ceiling, but no mantle? Kind of interesting, don't you think?
7. Traditional Family Room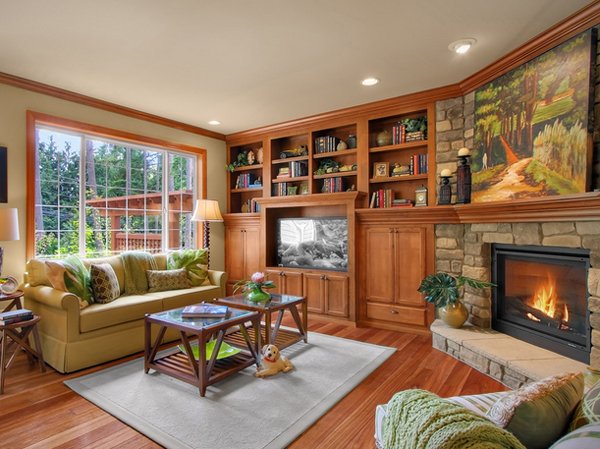 The color of this living room is Sienna Sand by Parker Paint.
8. Danish Revival Luxe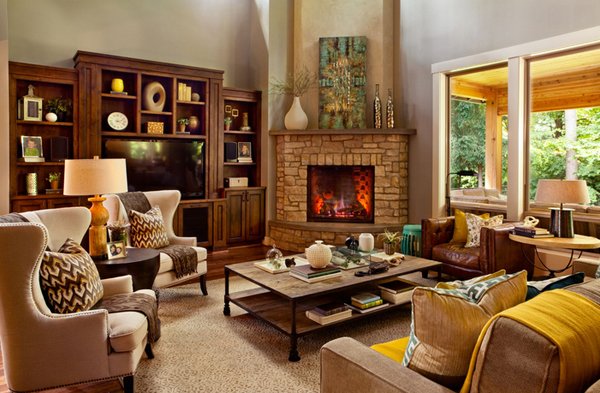 The different textures around fireplace is really beautiful. It complements well with the flat walls.
9. United States Showcase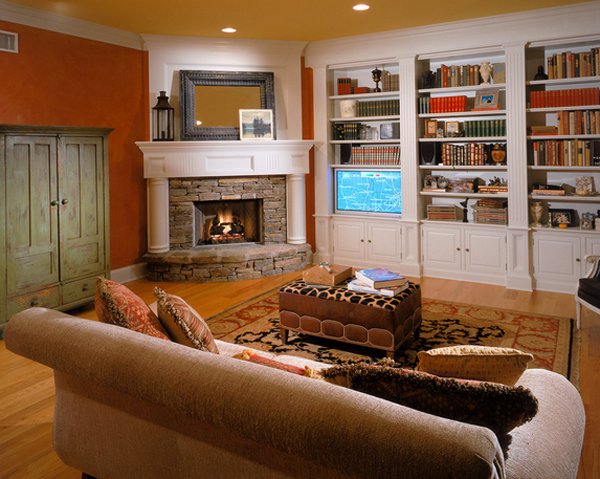 The possible addition of curve in fireplace is a unique move for the designer; and the creation of hearth lightly raised is nice too.
10. Villas of Colleyville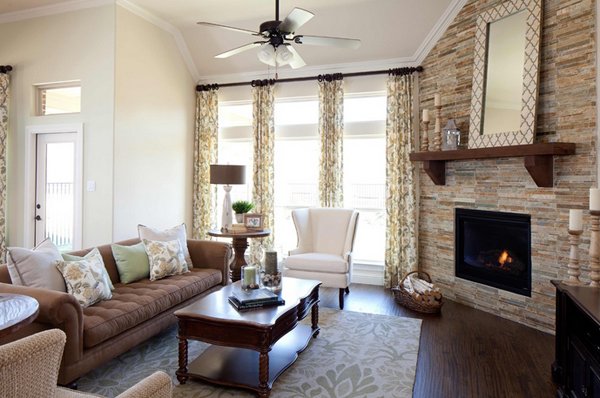 The color palette of this living room is really classy and sophisticated.
11. House 16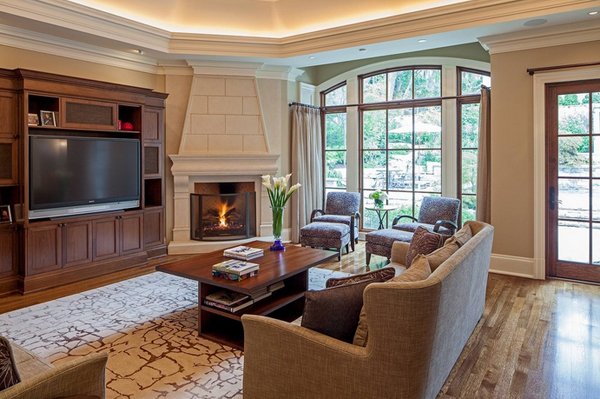 How do you like the finish on the fireplace?
12. Kinsman Signature Home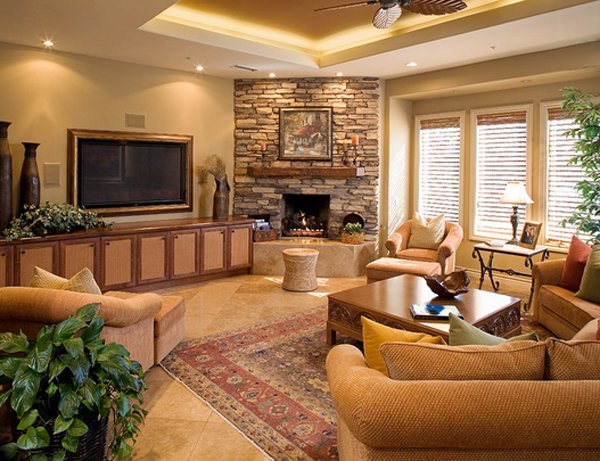 A stacked stone fireplace draws the attention when visitors aren't watching the 60-inch framed inset plasma TV screen.
13. Modern Condo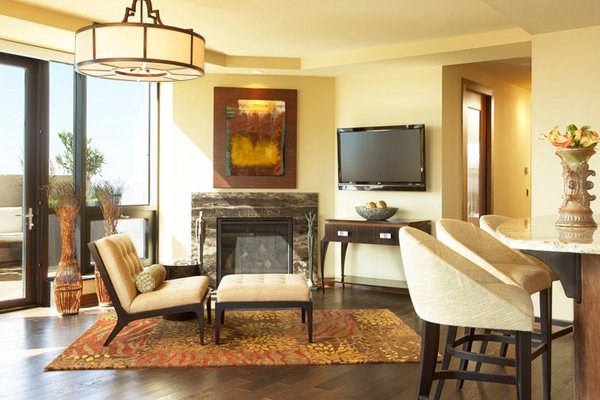 Modern family room with elegant custom lighting, modern area rug, modern chair and ottoman and zebra wood console table.
14. Needham Home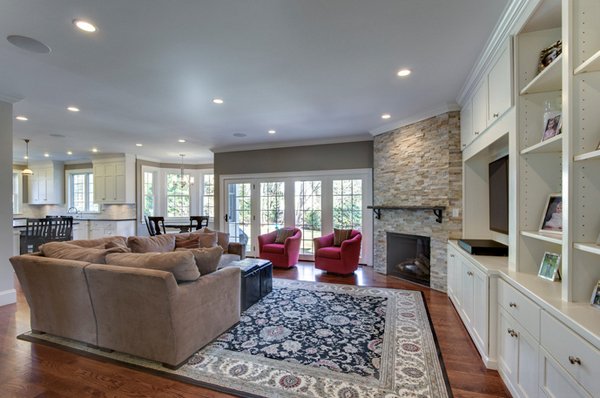 The furniture arrangement of this living room is spectacular!
15. North Metro Basement Remodel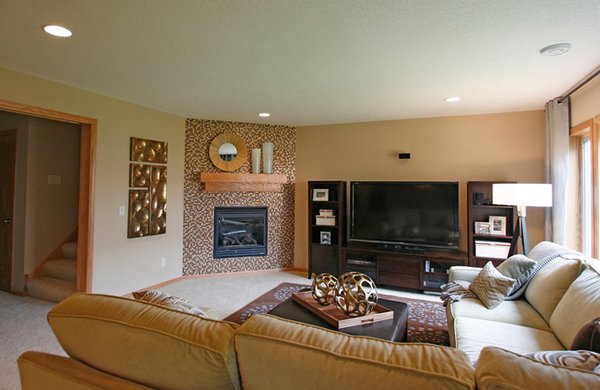 Have a corner in your home that just seems like wasted space? Do what was done here – build out a fireplace from one wall to the other.
16. Northwest Hills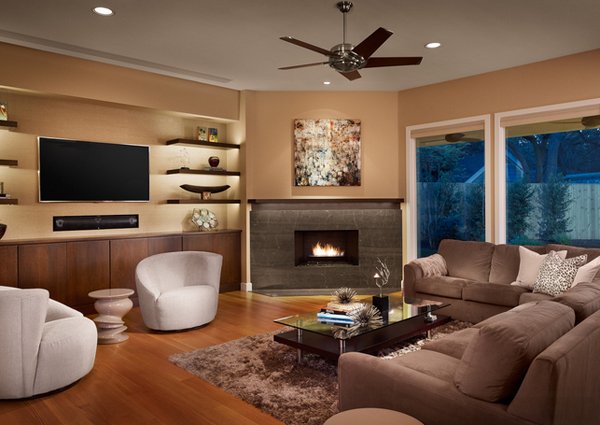 Sometimes the best way to deal with these two focal points is to separate them. This design makes great use of an angled wall while still making it easy to enjoy the fireplace and the TV at the same time.
17. Wallace Residence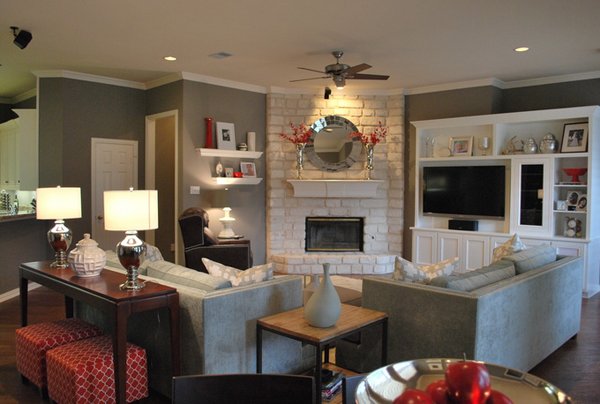 Modern and airy family room with nail head accents and rich grey and pale blue palette, accents of persimmon.
18. Plan #3765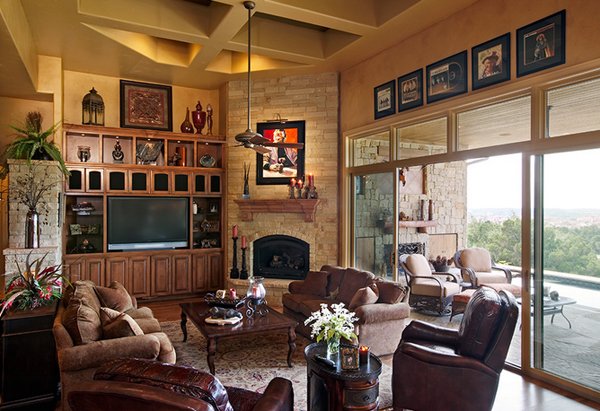 I like the mantle here. Windows come right up to edge of chimney.
19. Ridge Home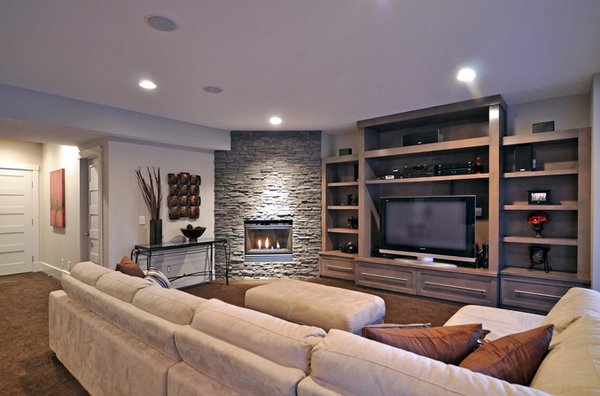 I really like the way this looks. I'd prefer a larger firebox, a raised hearth and travertine.
20. River House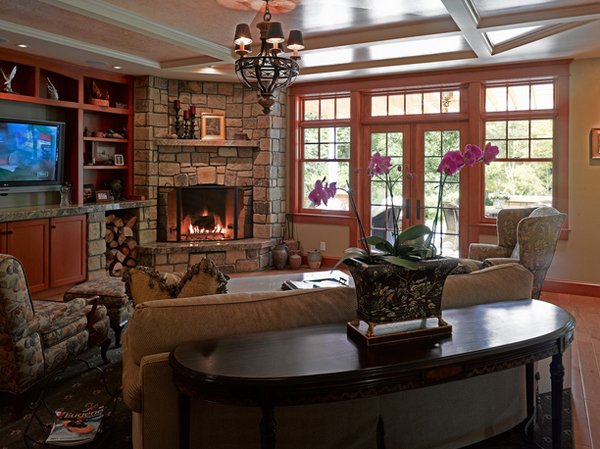 I like the way they've done the fireplace but also the room set up.
Fire pits developed into raised hearths in buildings, but venting smoke depended on open windows or holes in roofs. The medieval great hall typically had a centrally located hearth, where an open fire burned with the smoke rising to the vent in the roof. There are different ways to position a fireplace in the living room which depends on the size and shape of your space.