20 Living Areas Charmed With Simple Roman Shades
We all know that a window treatment has a huge impact to the entire look of your space. Aside from blocking too much sun light and reducing glare, it can also add privacy to an area in your home. But it can also be a lovely decoration that could give your home a more stunning appeal. There are different types of window treatments and each of them could give your interior a different visual impact.
Today, we will show you living areas with Roman shades. If you are not aware of what Roman shades are, these are a type of window covering that is used to block out the sun. These are different from standard window shade because with they are open, they are visibly smooth and don't stack up evenly. They aren't bumpy or ribbed like conventional vertical shades. If you wonder how they look like, here are 20 living areas that are charmed with roman shades.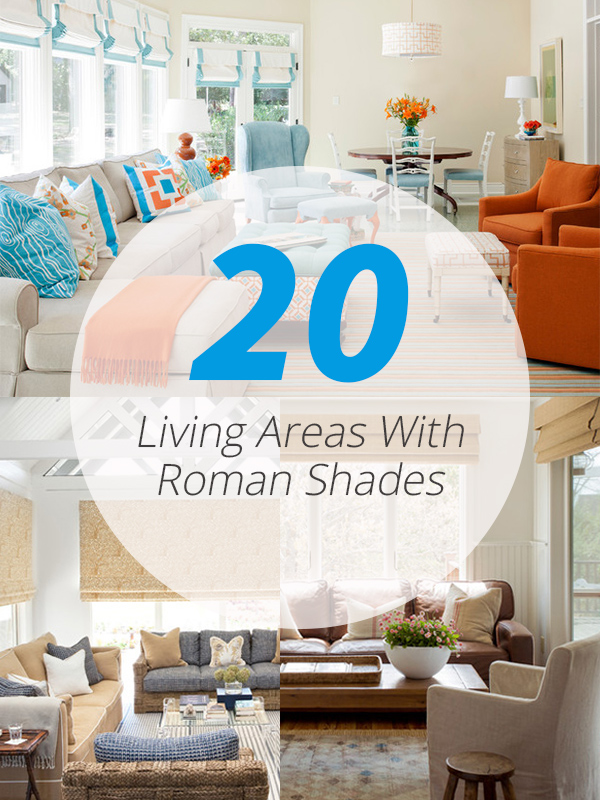 1. Antigua House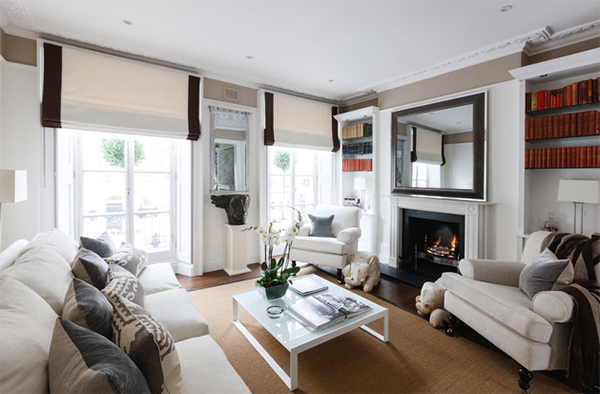 These roman blinds would be perfect if you want a minimalist yet stylish window treatment.
2. Family First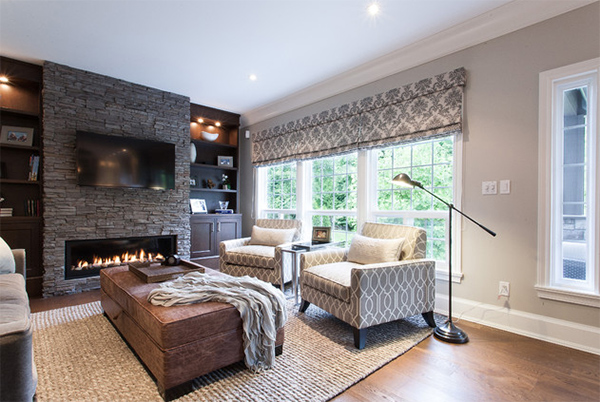 Love the damask print of these blinds! It is a lovely match to the print of the furniture.
3. Pacific Heights Home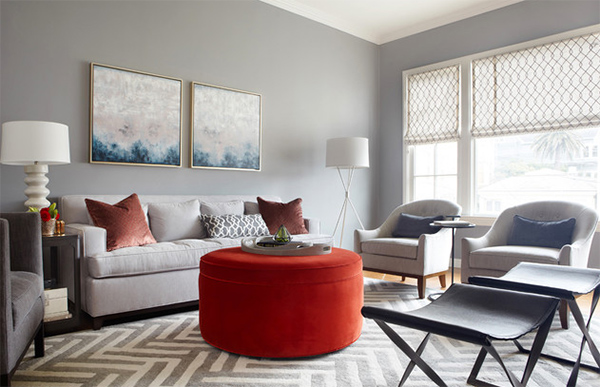 This living room has geometric lines everywhere from the blinds to the area rug.
4. Hamilton Residence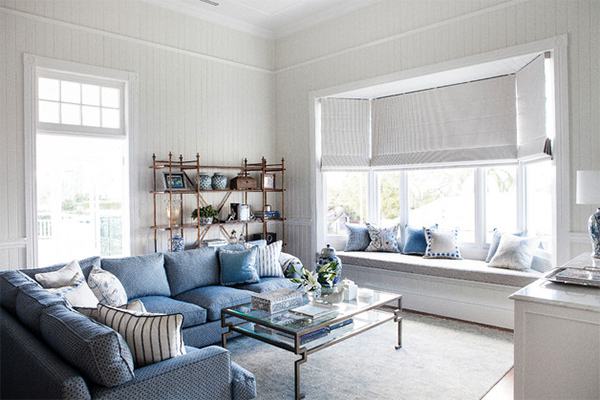 Have a window shaped like this? You can still use blinds like this manner.
5. Bucktown Beauty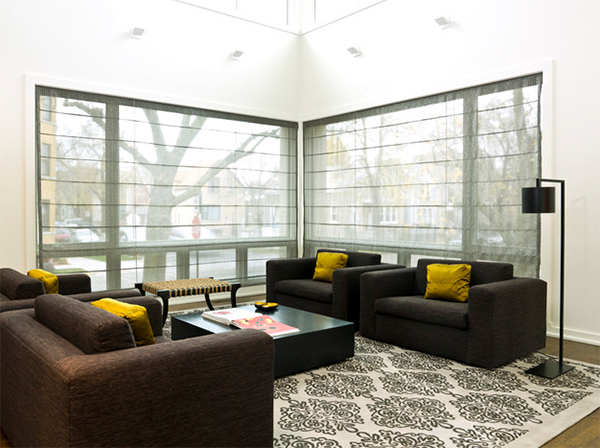 Cynthia Lynn Photography
I didn't know that there is such a thing as sheer roman blinds!
6. Enviable Designs Inc.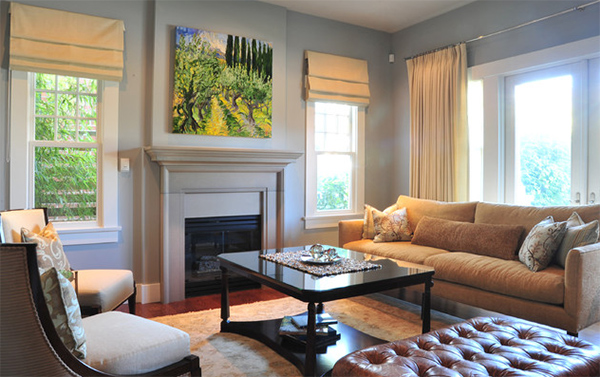 Cream color drapes and roman shades look great against the blue gray wall.
7. Sao Paulo – Brazil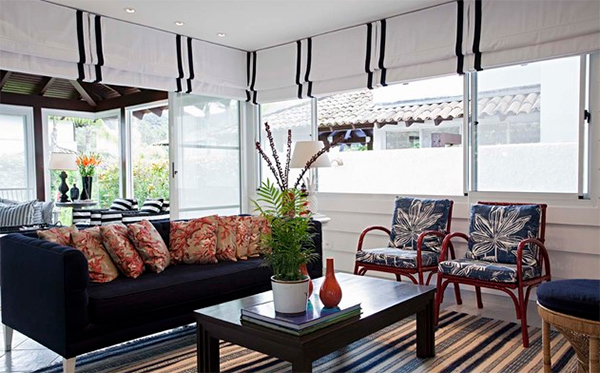 Roman shades can be installed this way right under the ceiling. Beautiful!
8. Spring Lake- Living Room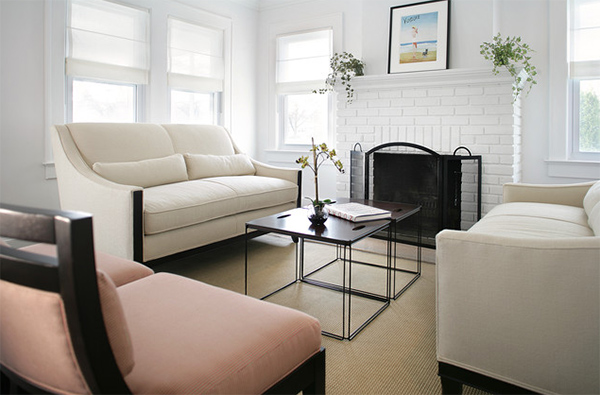 Adding white roman shades will give your space a neat look like this one!
9. Enviable Designs Inc.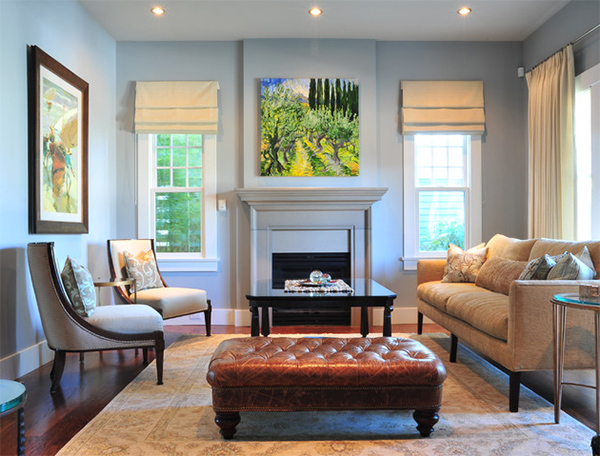 A spacious and simple living room where simple roman shades.
10. Hollywood Residence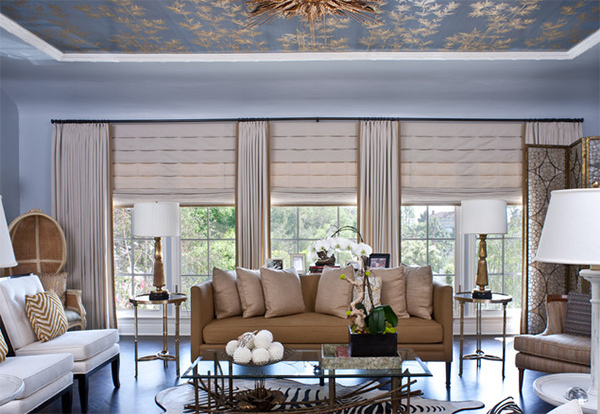 I like it that they used a silky fabric for the curtains. Lovely!
11. Art&deco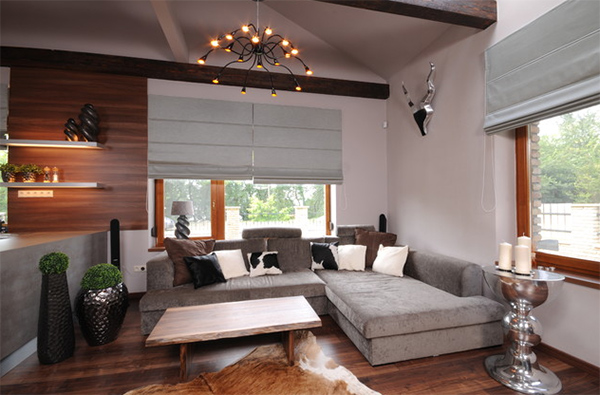 A small living area with gray roman shades. Isn't this simple but beautiful?
12. Kensington Home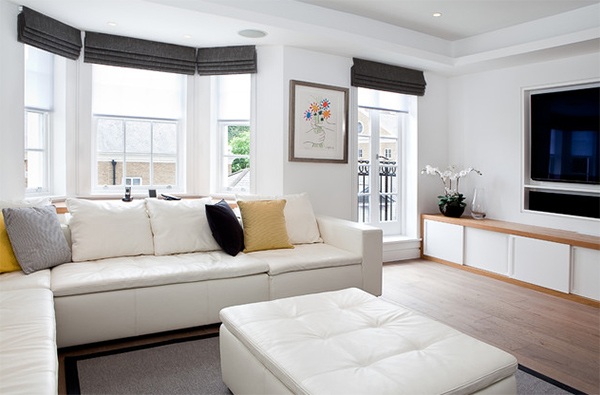 Simple contemporary roman blinds can actually add charm to a space!
13. Living Room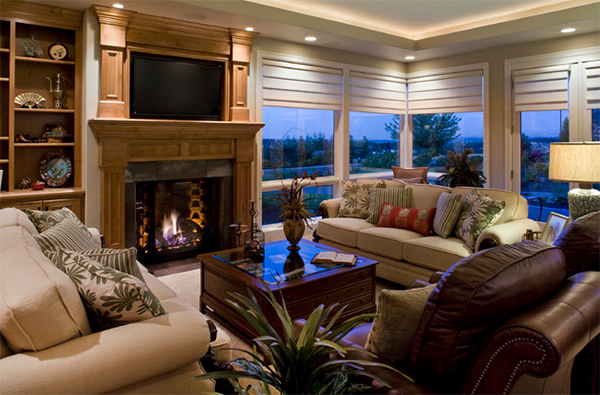 You can see many decorations in this living area. Adding a simple window treatment can balance the look.
14. Chicago Interior Design Gray Sitting Room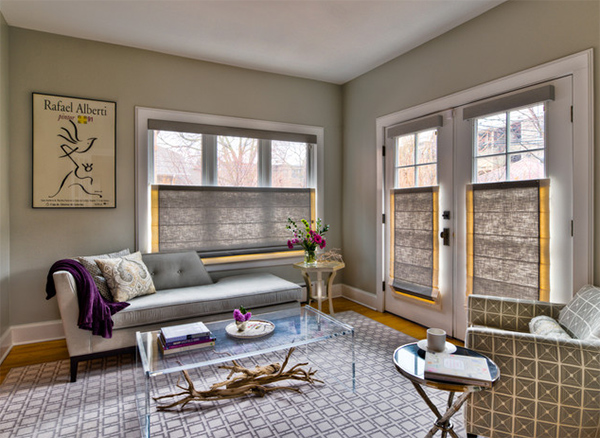 I honestly love the color of the shades they used for this living area!
15. Hillsborough Residence 1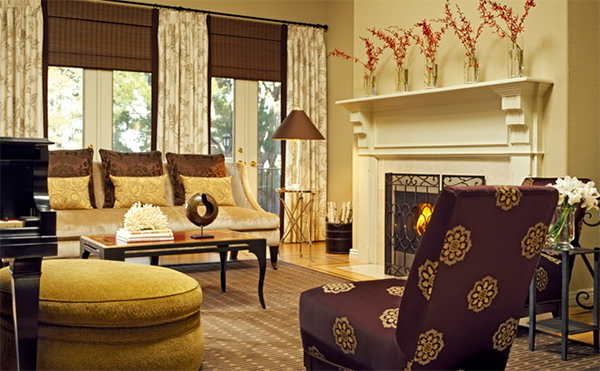 You can also combine roman shades with drapes like what they did to this one. The doors open to the outside that is why they were able to add the shades.
16. Balnarring Beach House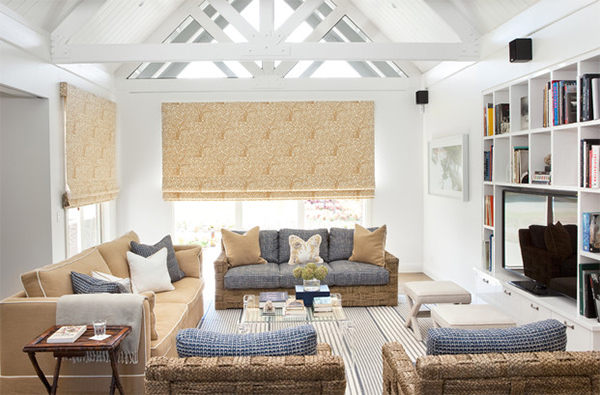 I love the print of the roman shades! It added more warmth and charm to this living area.
17. Southern Traditional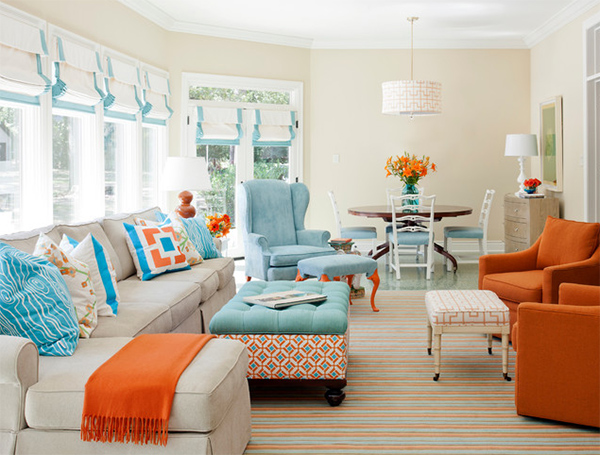 I so love the combination of teal and orange in this living room! And yes, even the Roman shades are beautiful too!.
18. North Haven Residence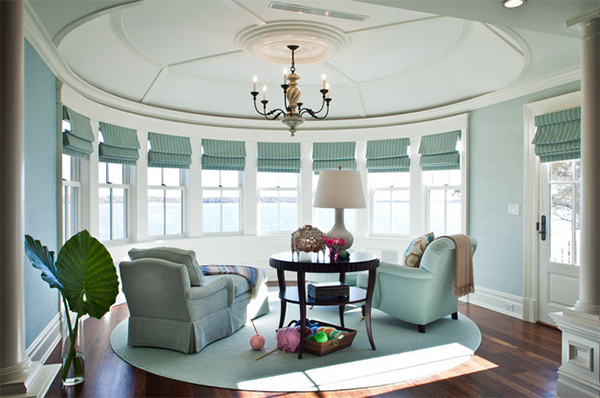 This traditional living room is actually a sunroom too with striped green Roman shades.
19. Cape Cod Renovation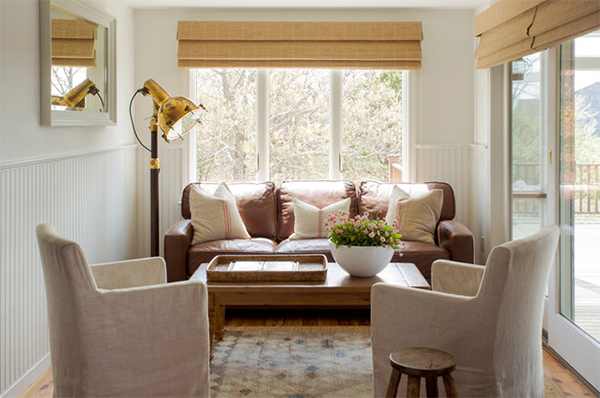 Leather couch + Persian rug + roman blinds + industrial floor lamp= a sweet beach style living room!
20. Rosebery Road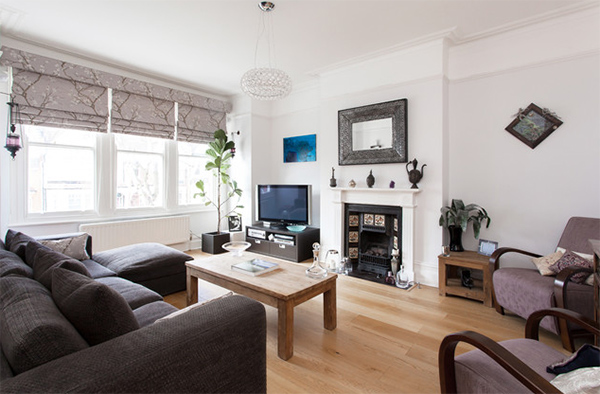 The sofa has a plain color and it is just a nice idea to use printed roman shades.
A window treatment could indeed add beauty to you living area. Even the simple ones can bring the look of your space into a different level. I actually love the ones with plain colors. They are like humble beauties that bring much charm to the living areas we have featured above. Can you tell me which one is your favorite?