A Collection of 16 Charming Living Room Curtains
In interior design and the arts, curtains are made to look pretty and complementing for the entire design or color a specific space has. But all in all, curtains are intended to block or obscure light or in some instances like in bathrooms, water – in this case, it is called a shower curtain.
Today, we will be showing you A Collection of 16 Charming Living Room Curtains which may look plain in some pictures, but when you look closely, they sure do complement the living room spaces they are in. They may serve as illusions to make the room taller or they simply look stunning and all matching in the space that you will be seeing.
Aqua and Pink Living Room Country Home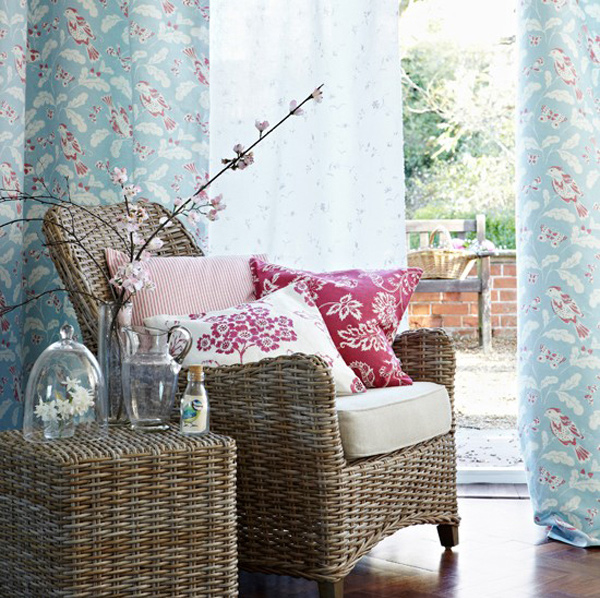 A breezy bird print fabric in duck-egg blue and pretty pinks is perfect for long door curtains.
Blue Living Room with Yellow Highlights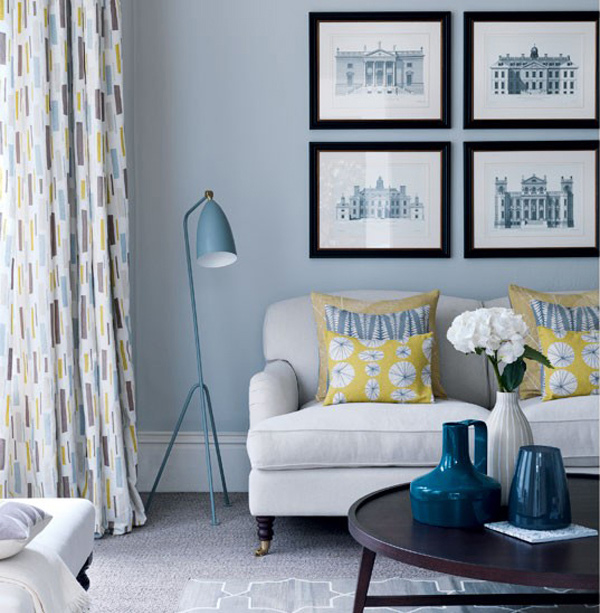 Using a palette of sharp yellows and utilitarian greys is reminiscent of pioneering post-war schemes.
Country Living Room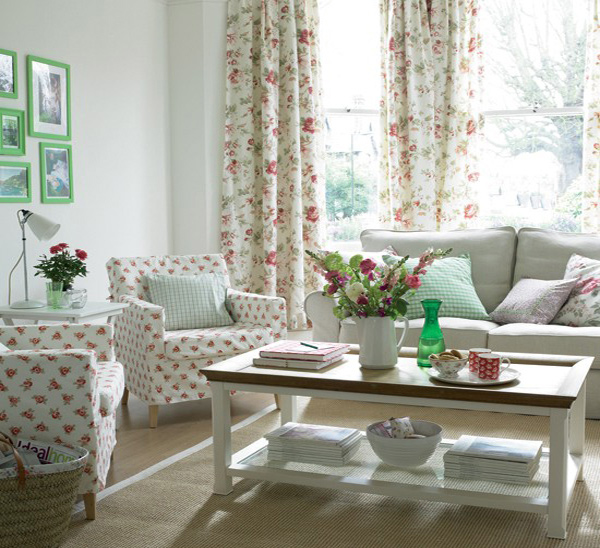 Create a fresh and inviting living room by choosing white teamed with delicate florals. Chalk-white walls and oak flooring give the perfect backdrop for accessories in rose red, delicate pink and leafy green. Then add a sisal rug for a pretty country look.
Cost Effective Living Room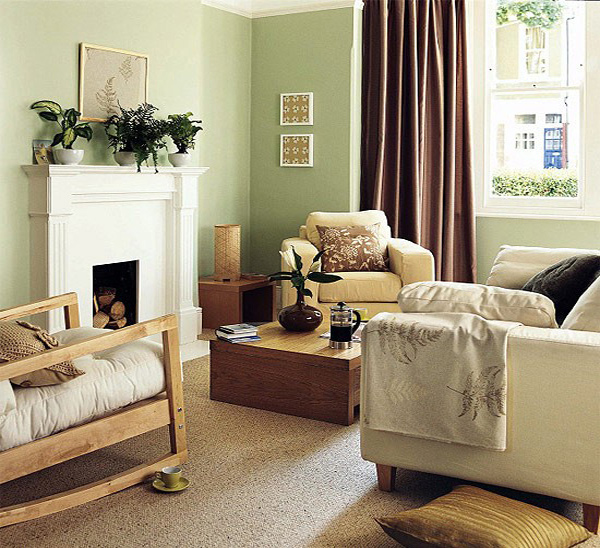 Decorating on a tight budget doesn't mean you have to compromise on style. Choosing a hemp carpet can cut down the cost of carpeting a room whilst still looking great. Curtains made from calico or a pol-cotton mix cut expense down even more, and accessories from IKEA finish the look without breaking the bank.
Tweeds and Linens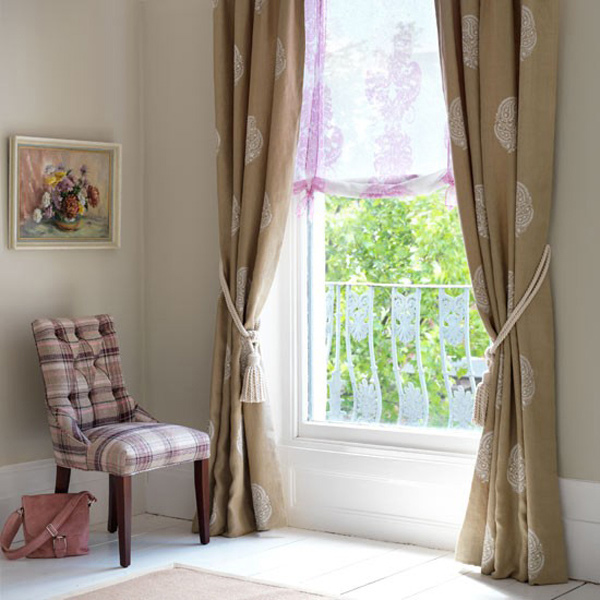 A modern take on a traditional print, this chair offers a twist to conventional tweed. The curtains and blinds tie the look together.
Graphic Living Room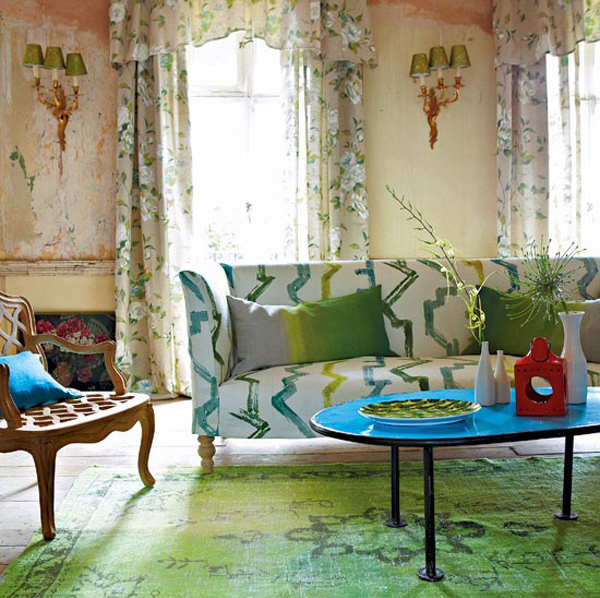 Graphic sofa fabric and floral curtains in the same palette counterbalance each other in this Bohemian scheme.
Yellow Brown Living Room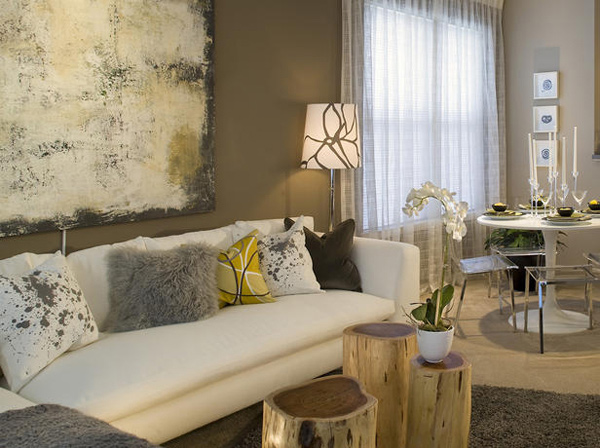 This space has the three F's – fun, fresh and funky with a sophisticated edge. It is earthy-modern with its mix of crisp whites, fresh grays, acidic green accents and natural wood elements. It's all about layering textures with sheer curtains, fur pillows, metal details, a shaggy gray rug and glass and resin elements, all adding to this unique design.
Large Living Room Window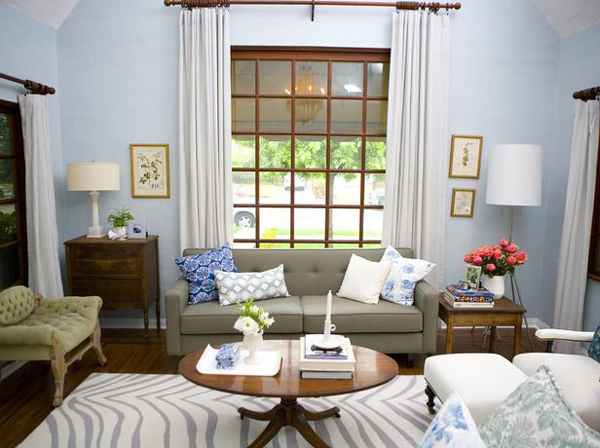 The ticking stripe curtain fabric complements the striped area rug in this cozy living room. A small dresser adds storage space and the dark gray sofa is kid-friendly.
Library and TV Room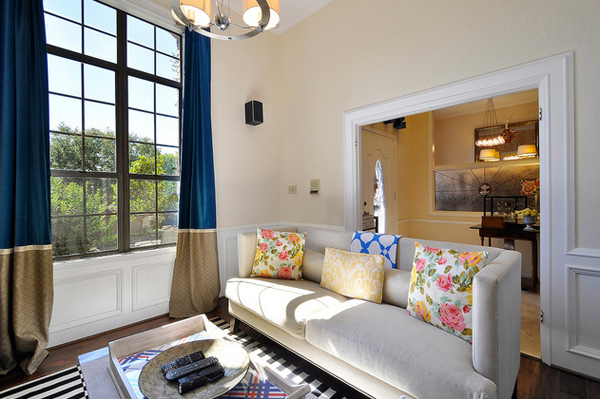 Look at how lovely this long blue and gold curtain in this living space with high ceiling. One trick to heighten a room visually is to use long curtains.
French Style Living Room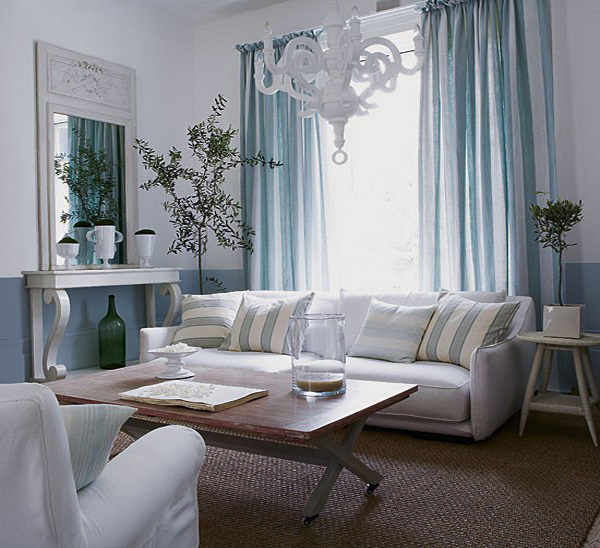 Simple, large-scale furniture, set against a palette of white and pale aqua, evokes the casual elegance of southern French houses. Accessories with a modern twist, such as the paper chandelier, add a stylish edge.
Family Friendly Living Room
A family-friendly room needs lots of seating, so try an L-shaped sofa for the whole family. Storage room for toys is important, so these cupboards with doors are perfect, and to store technology we feature this TV cabinet.
Formal Living Room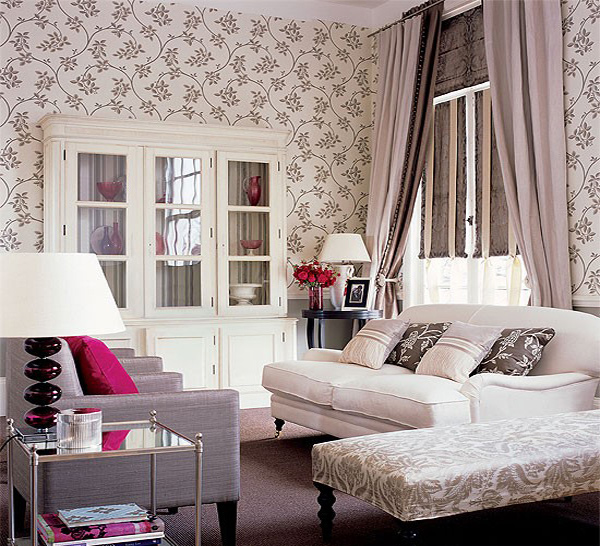 This formal living room uses chic grey and cream tones and traditional furniture with a modern twist. Leafy Farrow & Ball wallpaper is a decorative backdrop to a plain cream sofa from Sofa Workshop and club chairs by Jim Thompson at Fox Linton.
Seaside Living Room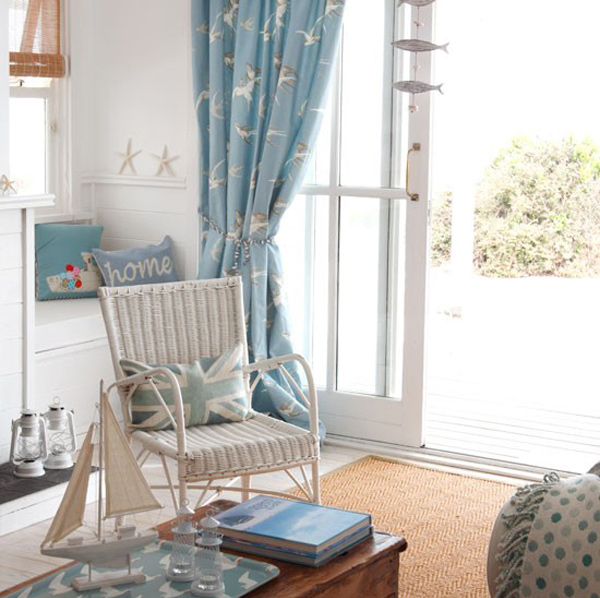 Create a casual linen look at French windows with this beautiful swallow design in washed blues. Use a shell garland as a tie back for a seaside feel.
Sumptuous Living Room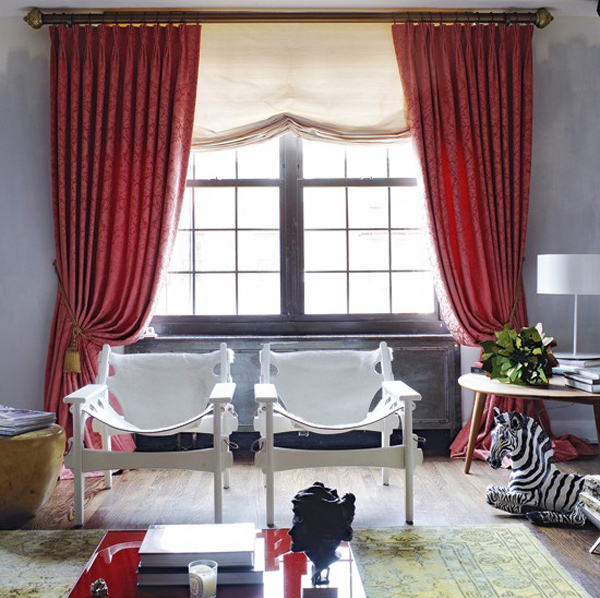 Mixing pieces and styles from different eras create an eclectic and rich look. The deep red curtains mirror the colour of the coffee table, and highlight the blend of modern glossy furniture with classic fabrics.
Traditional Living Room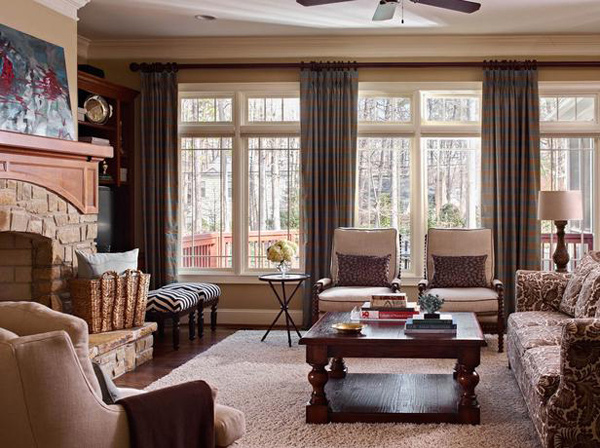 Striped curtains highlight the beautiful view outside this clean, classic living room. Abstract art, graphic ottomans and leopard pillows add color and pattern to the neutral space. Designed for entertaining, this living room features plenty of seating, built-in bookcases and a large coffee table.
Modern Family Living Room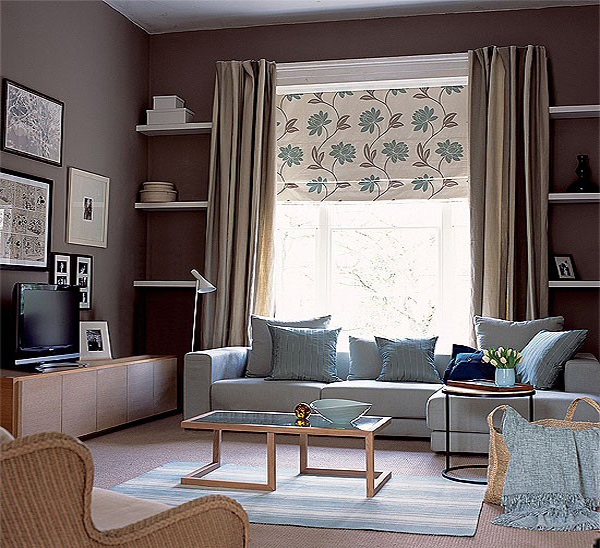 This family room in warm taupe tones teams a modular sofa from The Conran Shop with a Vincent Sheppard wicker butterfly chair to provide versatile seating. Occasional tables in different styles create an informal feel, while a Channels sideboard and built-in shelving provide lots of storage. A Romo blind in a stylized floral print framed by striped linen curtains from Nobilis turns the large window into a feature.
Whether curtains serve as block for sunlight or water, or maybe movable drapes in auditoriums in cases of theatre plays, people who likes decorating sure makes it as stunning as possible because it directly says a lot about the space it belongs to – may it be in a living room, dining room or even the bedroom. Take a look at our 15 Fab Living Room Designs with Yellow Accent and share them to your friends!