20 Sparkly New Year's Eve Tablescapes
Here are glittery tablescapes to celebrate the New year.
It is the time of the year again when we bid goodbye to another year and say hello to a new one. As we do that, let us also say goodbye to the bad memories of yesterday and say hello to better times for the new year. Yes, we all want a better year every time January 1 comes and you can do that not just by starting the year right but also by doing the right things the whole year round! And the best way to celebrate it is to have a sumptuous dinner in your home or in a friend's house.
Of course, when it is New Year, everything is glittery, glamorous and sparkly. We can even see that on tablescapes too. Since many have parties, the dining table becomes the favorite part for eating sweets, drinking wine, and even for chatting with friends. With that, we have collated some New Year's Eve tablescapes that will always make you feel excited about the celebration. Also, you can use the ideas even if it isn't New Year.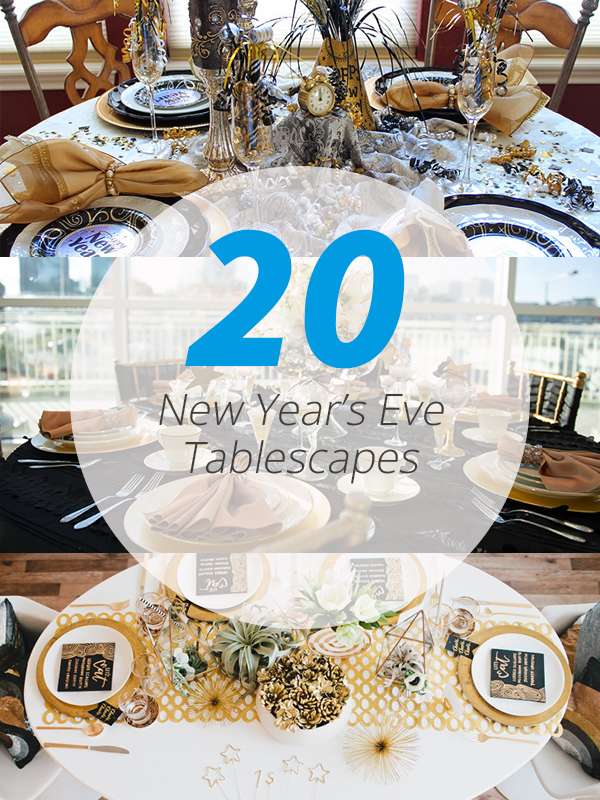 1. New Years Eve tablescape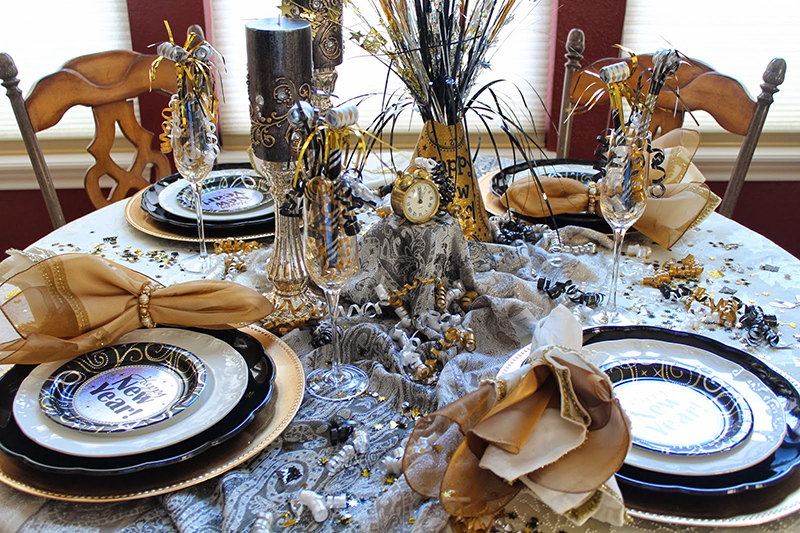 Full of sparkles of gold and silver! It looks even better that it used white and black with it. Such a festive tablescape indeed!
2. New Year Wedding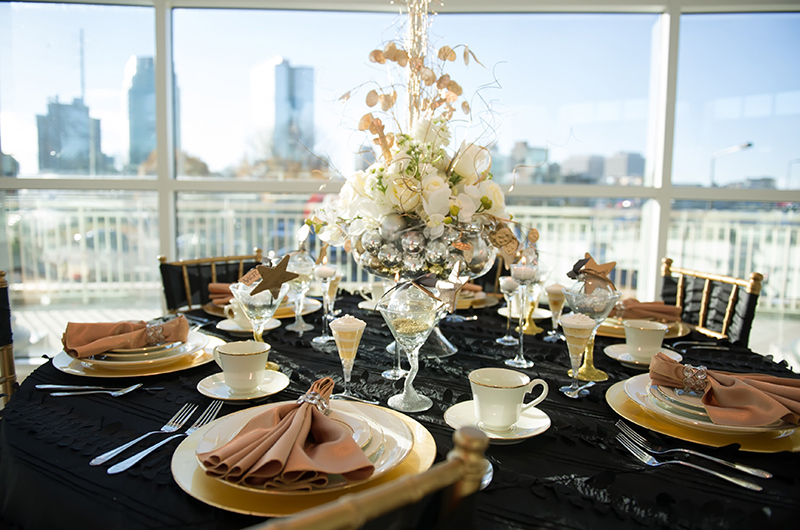 Whether it is for a wedding or not, this is a nice ideas on how to make your dinner table inviting for a celebration.
3. Aesthetically Speaking: New Year's Eve Tablescape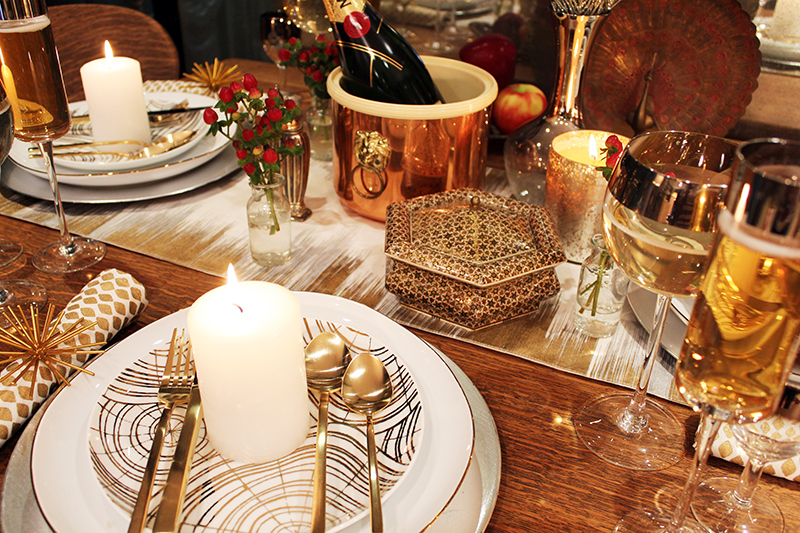 The home owner loved gold and she opted for a more traditional color palette and kept it mostly in a monochromatic white and gold theme with a few other accent colors to celebrate the new year. They used a silver and gold ikat runner to tie in their favorite gold flatware with our wine and champagne glasses.
4. The Horn Blows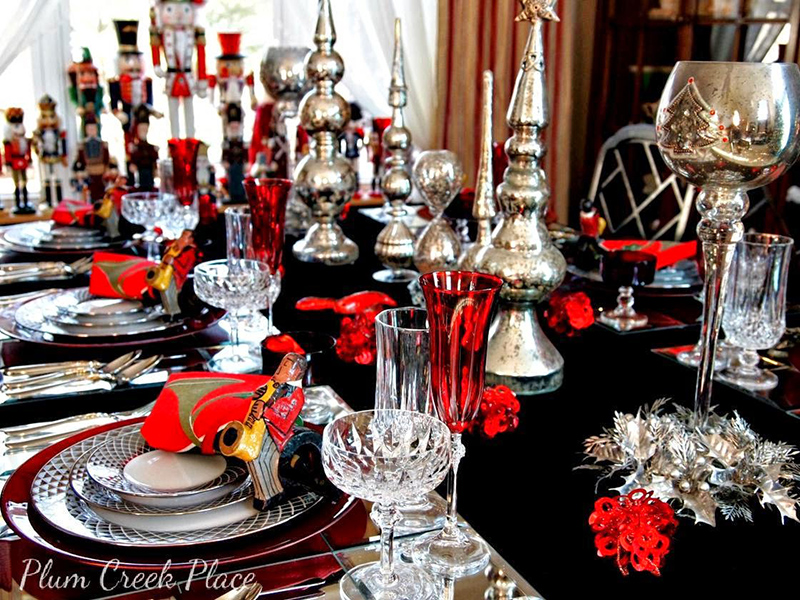 One of the highlights of the tablescape is the napkin rings with a jazz musician playing the saxophone, reflecting entertainment and celebration.
5. A New Years Tablescape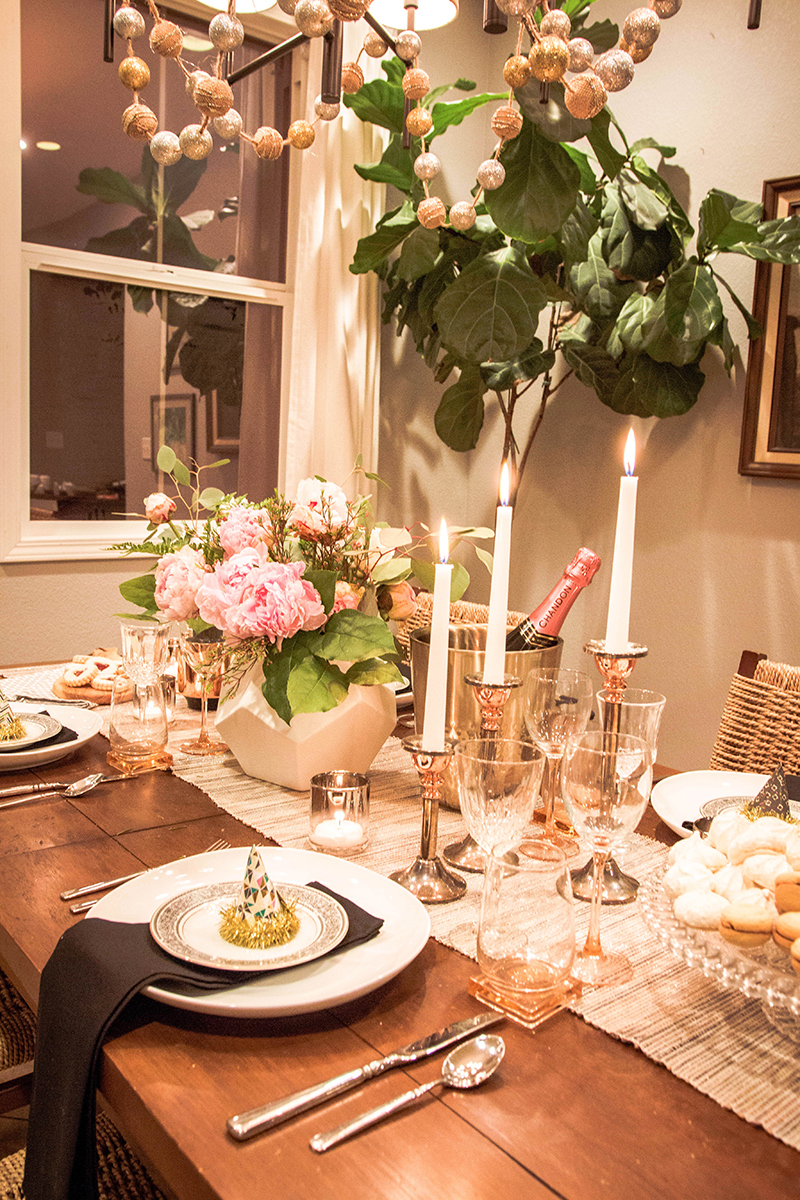 This one is indeed lovely as it added flowers and leaves into the design. On each plate, colorful hats were placed instead of napkins with rings. Just beautiful indeed!
6. Mix and Match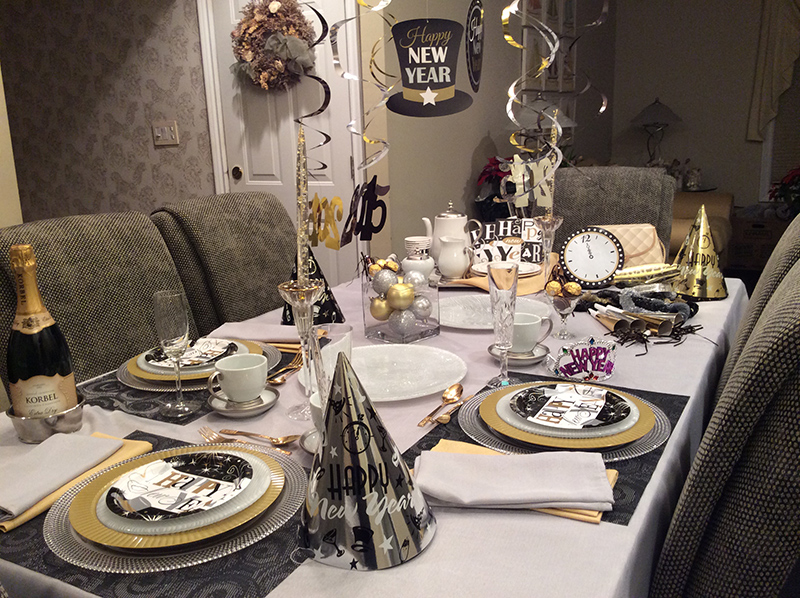 The idea of this table is merely mixing and matching. With a concept in mind, the designer took anything with the colors she needs for the tablescape as well as lovely dinnerware too.
7. Peacock Inspired New Year's Eve Tablescape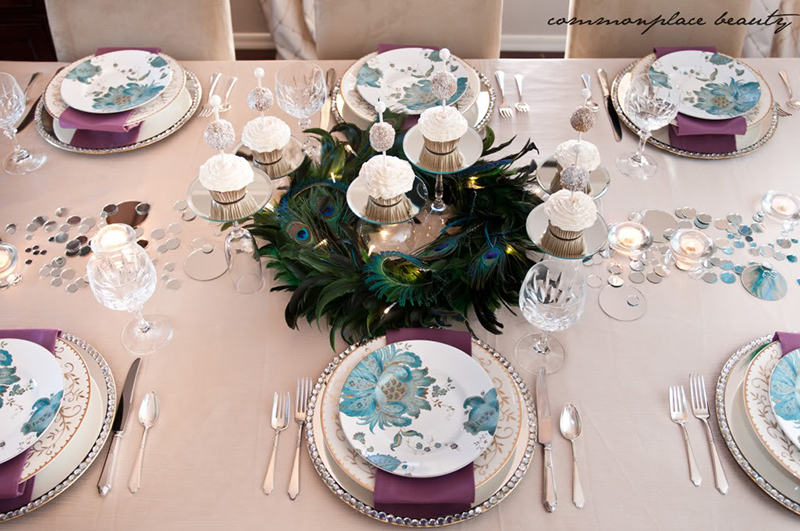 In the centerpiece, peacock feathers were used to give it a glamorous appeal. It looks nice too with those goblets turned upside down to hold cupcakes.
8. Glittering New Years Eve Party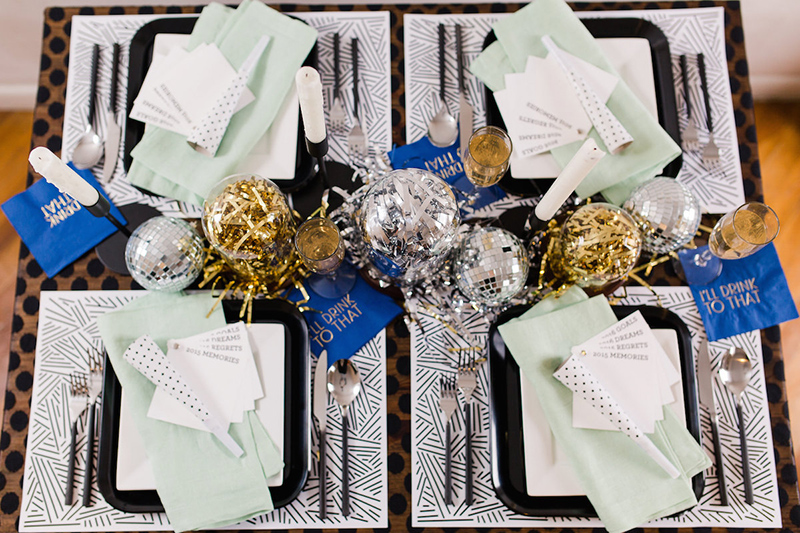 Now this is something you can DIY. Yes, you can also use this idea even if it isn't for New year's eve. I like all those gold foils they cut and scatter on the table.
9. Celebrate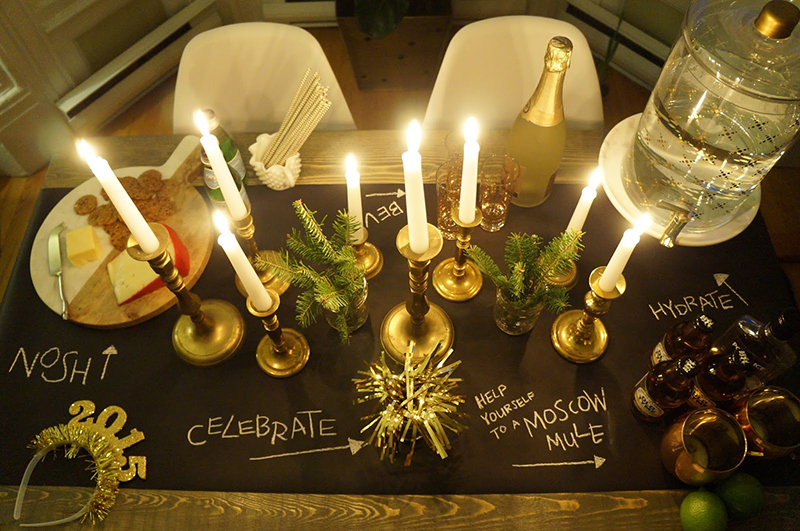 It would also be a good idea to use a chalkboard under your tablesape so you can scribble some words on it. It would look nice with gold accessories too.
10. White Tablescape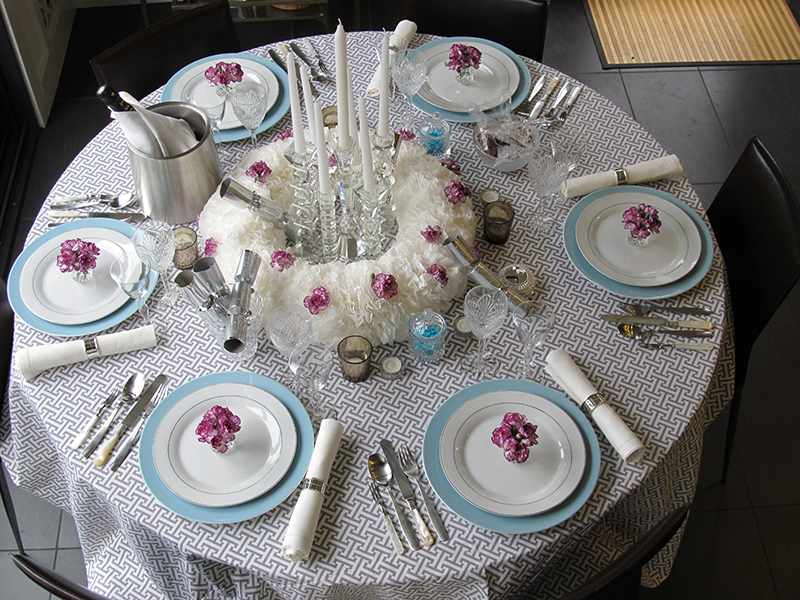 The highlight of this tablescape is the coffee filter centerpiece as well as the purple flowers too. Looking really nice!
11. Beijos at the Cream 2015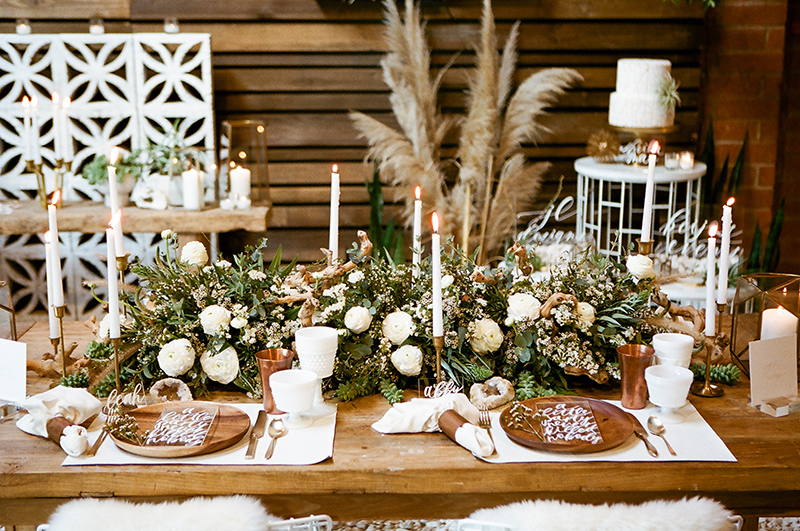 You can ask your florist to work on a lovely centerpiece like this one but of course, you can do that on your own too. I love every detail of this table setting especially if you will see the entire design of the area!
12. NYE Wedding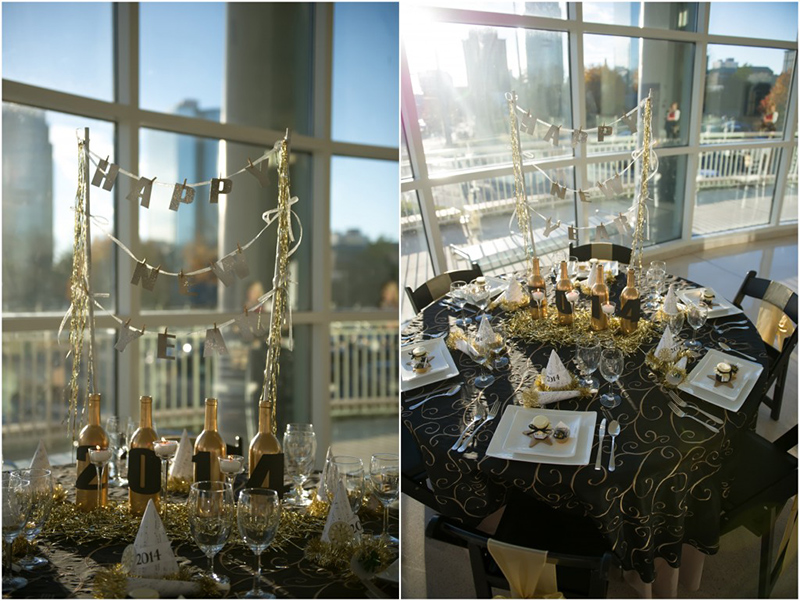 Spray some wine bottles with gold and let it hold some letters to greet the new year. Add some sparkly decors to it on top of a black table cloth with gold designs. It will turn out really lovely!
13. Megan Welker NYE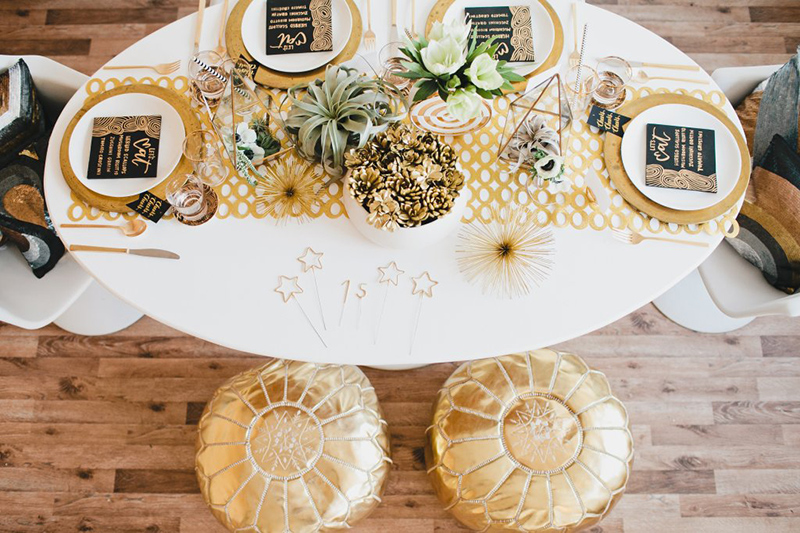 What a stunning tablescape indeed! Aside from that, the furniture also added appeal into it. I so like how this one turned out with all the gold colors!
14. New Year's Eve Dinner Party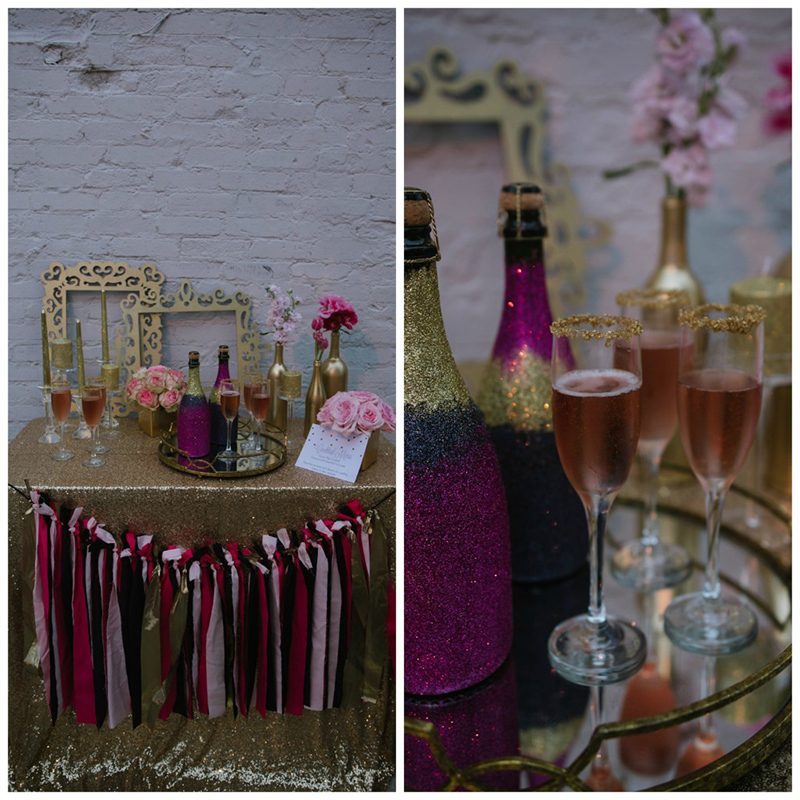 You can make the dining table simple if you like then bring another table which will add style to the party just like this one. Notice that the bottle of the wine is covered with glitters!
15. Diamond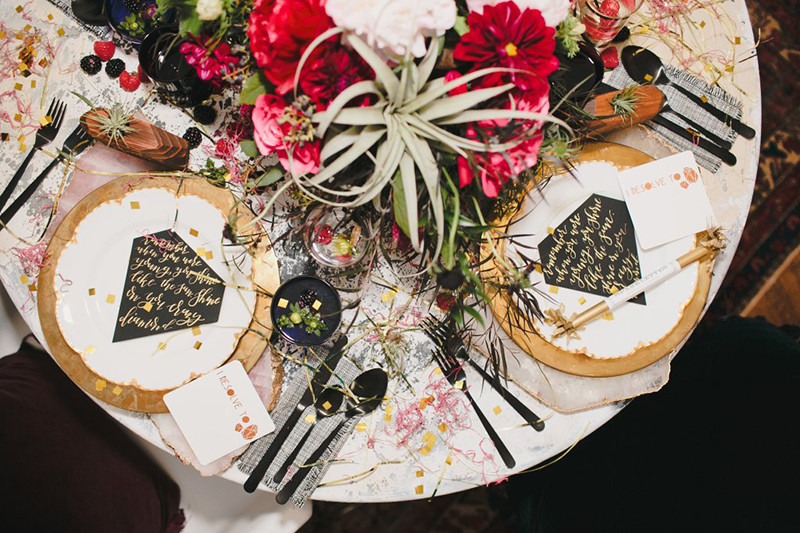 The set up of this one is indeed perfect for a party! I like that diamond they added to the table as well as the beautiful floral centerpiece.
16. New Year Table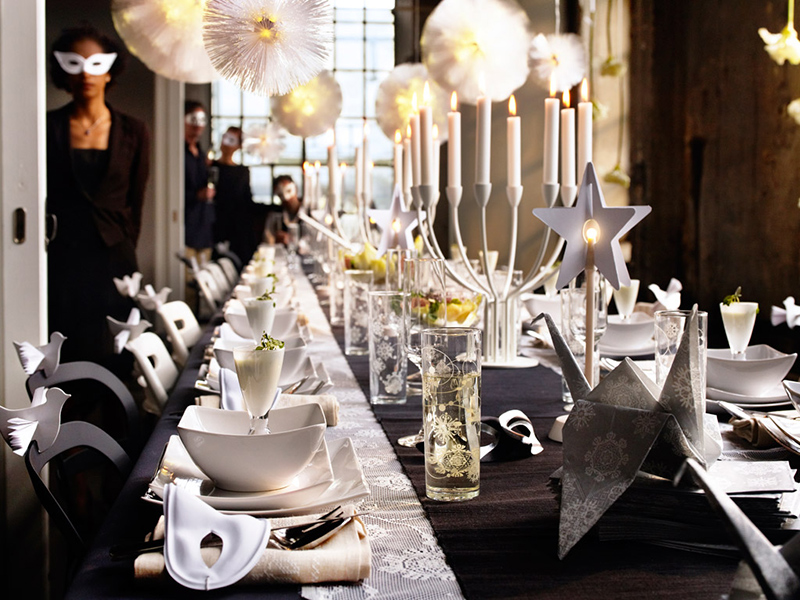 For instant effect, you can layer different size of candles and supports on your table. This will be a lovely last minute hack for a dining table setting.
17. New Year's Eve Table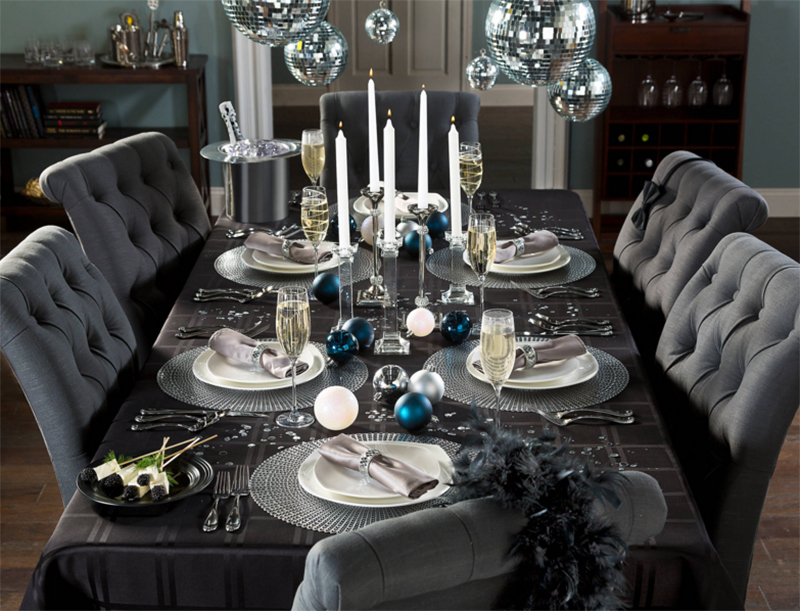 Such a gorgeous setting with blues and silver as well as black colors. Add some silver balls on the ceiling for a fun disco like effect.
18. Glam Black & Gold New Year's Eve Party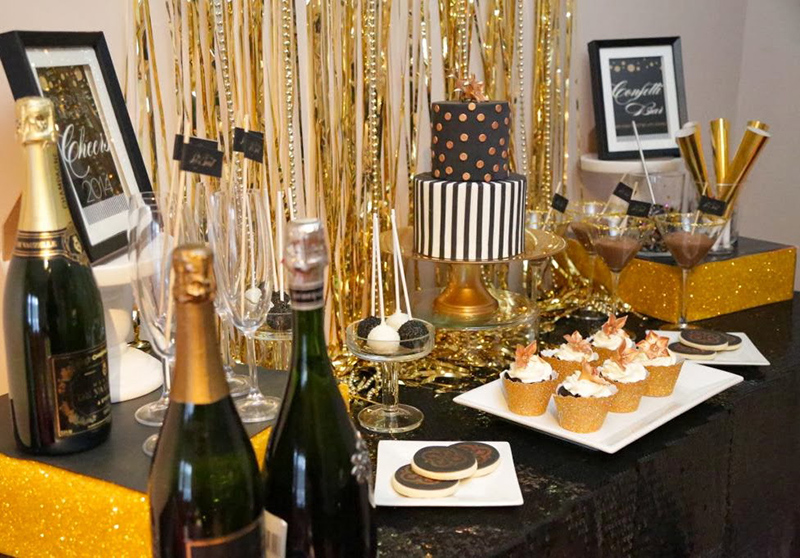 If you are having a party with friends, then you can set a table like this one for a buffet or cocktail party and all the goods are there plus the gold and black colors.
19. Masquerade Dinner On New Year's Eve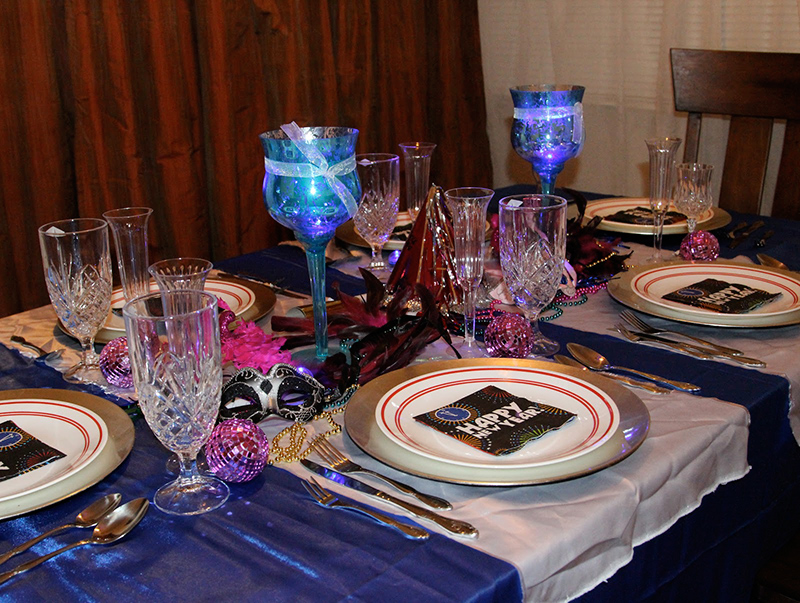 Want a masquerade party? Why not? You can even add that to the look of your dining table just like the one you can see above. It will also bring glitter to your dining table for sure.
20. Countdown NYE
This one looks simple but beautiful! You can just add white flowers and a tall vase with numbers. Of course, don't forget to add a silver disco bal on top of the table to complete the party feel.
All of the tablescapes above look really nice especially because of the gold and silver colors in it. But aside from that, they were all creatively arranged too. I guess you really need to plan ahead in order to come up with a tablescape as lovely as the ones above. Well, even if it isn't New Year, you can still mimic a tablescape with sparkly details for family gatherings and other parties. Which of the above tablescapes do you love the most?