23 Artistic DIY String Art Home Decors
Tired of the usual wall decor? Why not make your own using strings and nails?
Did you know that you don't need to spend a lot of money for your home's decor? Did you know that you can actually personalize your decors and that you can make your own spending a little money while having fun and cultivating your creativity? Yes, you can do all that with some DIY home decor projects like the ones we have featured before. But you actually have a lot of choices when it comes to home decors because there are different ways to make one.
Today, we are going to show you one good way to make your own decors for your home and this is by using string art. There are various string designs that you can use from heart shaped ones to animal shapes and even for some words too. You can do that by using forms of different types and just follow its outline with a nail and then start winding the string around the nail in whatever way you want. It is indeed a fun project and for sure, you will be inspired to make one after you will see the finished projects below. Come take a look.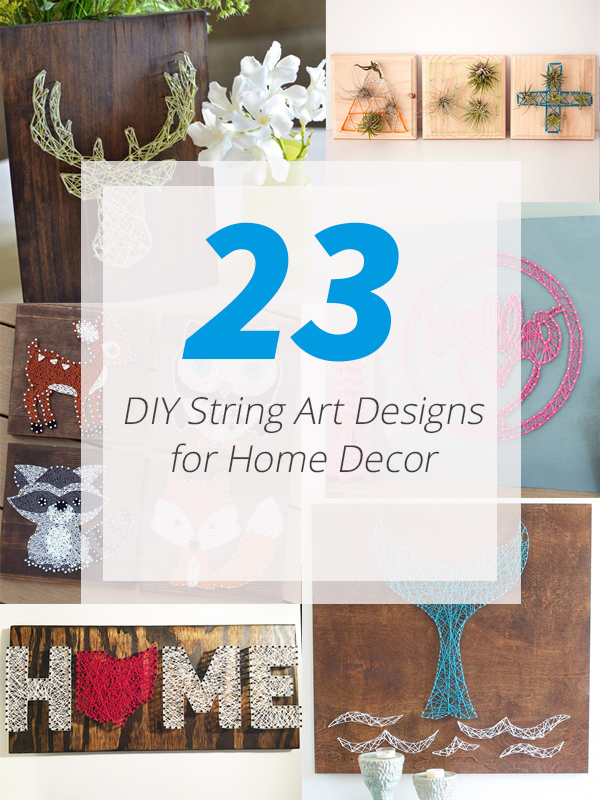 1. Skull String Art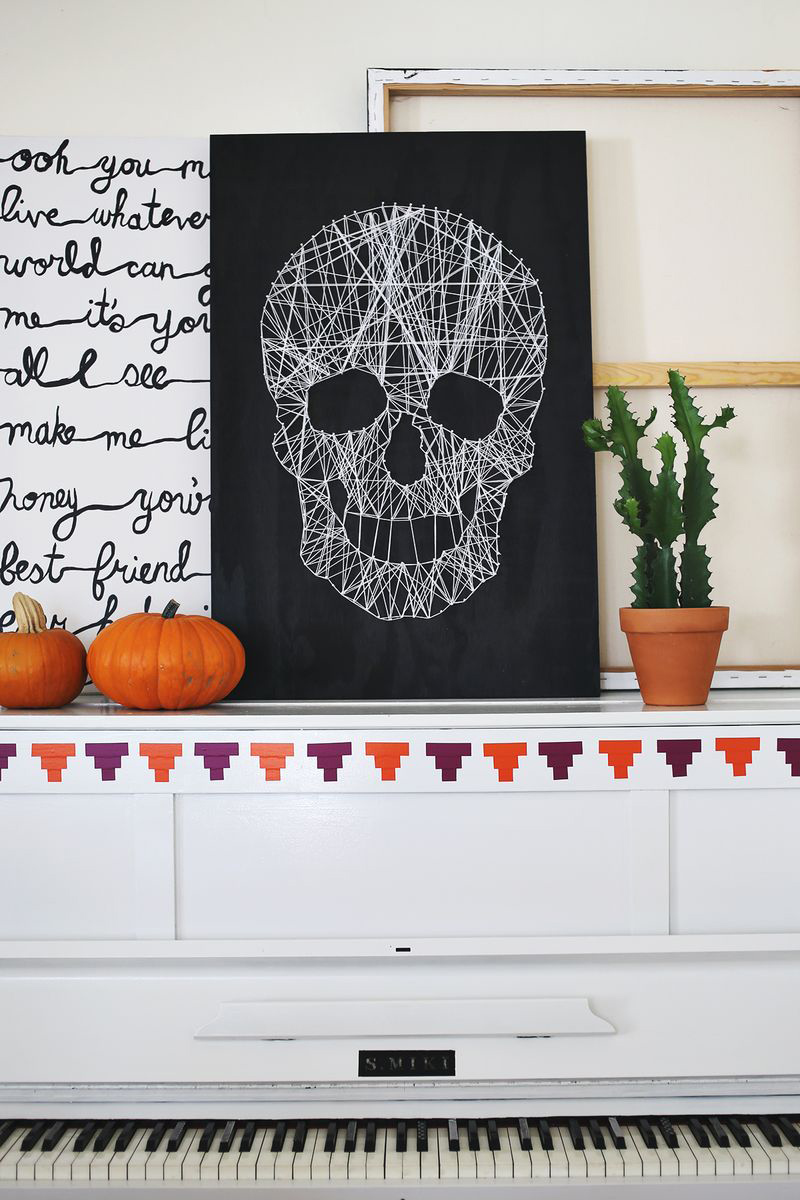 I know that you will think that this one is for Halloween but if you are into skulls, you can actually use it even if it isn't Halloween!
2. Teckel Doble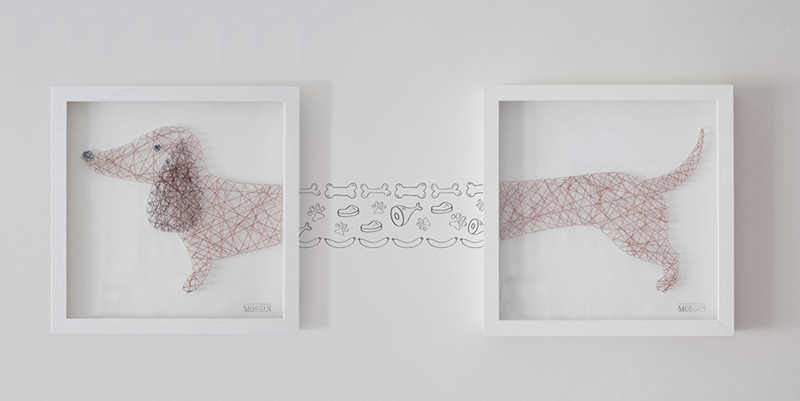 I love what they did to this two wall arts by adding some drawings in between. Very creative right?
3. Kitchen Wall Art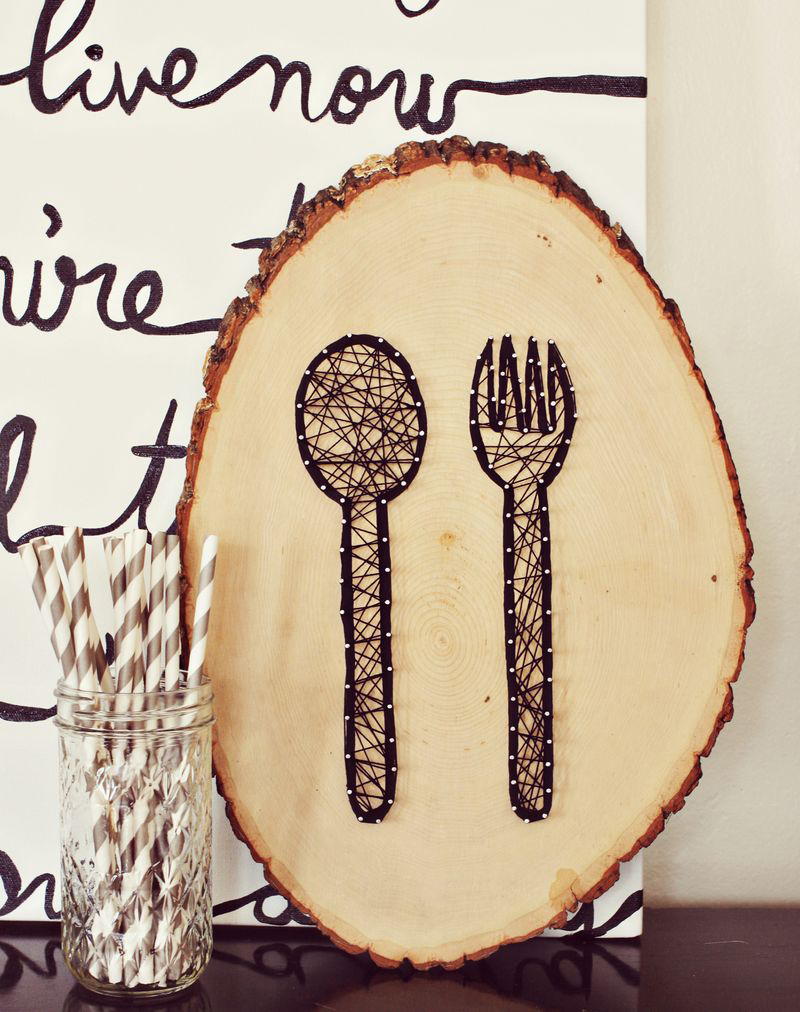 If you want a rustic decor for your kitchen, this would be a great idea. Of course, you can also use other forms that are perfect for the kitchen.
4. Live Creatively Nail String Art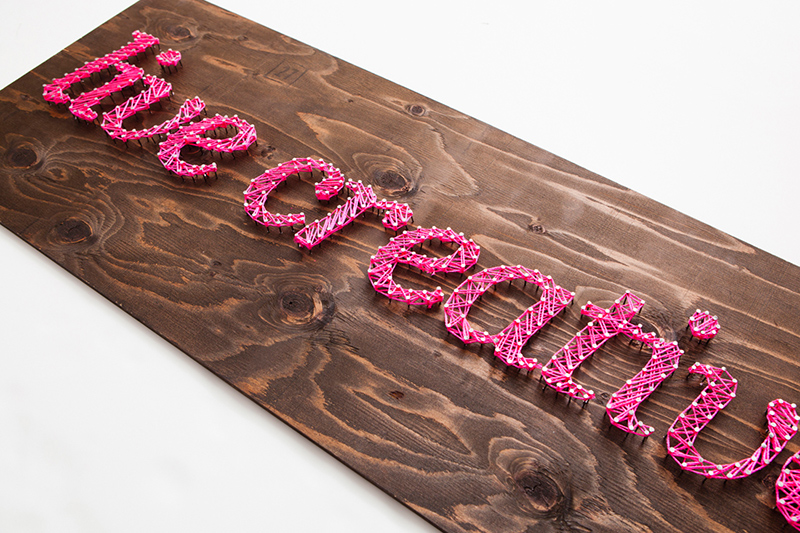 You can also work on strings and nails in whatever font style. Just print it from your computer and work along its stroke.
5. Ohio HOME String Art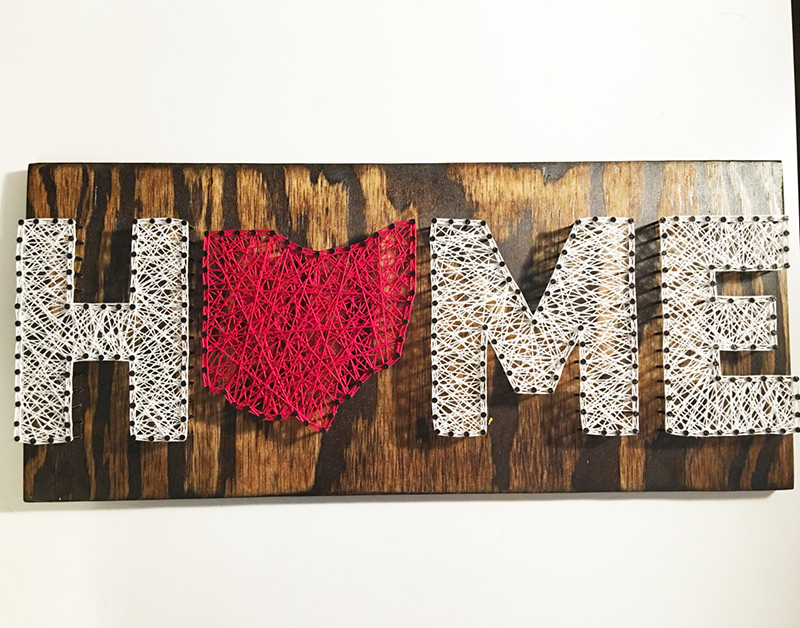 For this "HOME" sign, instead of the letter "O" for the word, it used a map of Ohio where the family lives.
6. OK String Art
This one is an inverted way by using strings of various colors around the letters. It also looks really nice, right? It sure does appear very nice!
7. State Nail and String Art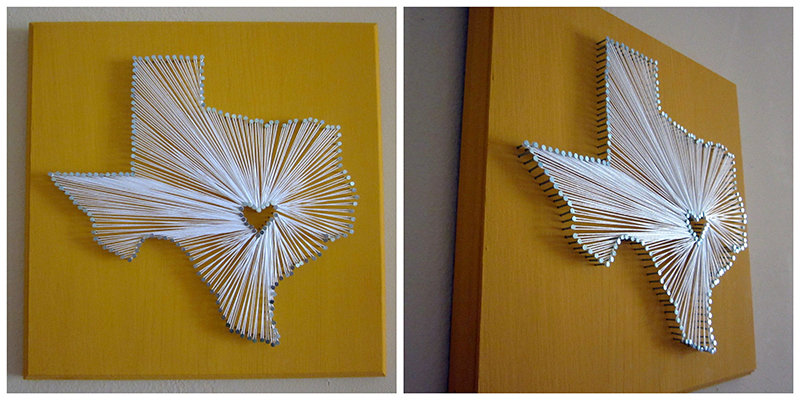 It would also be a good idea to use maps for your string art. And yes, why not add a heart in the middle to express your love for the place?
8. Elephant String Art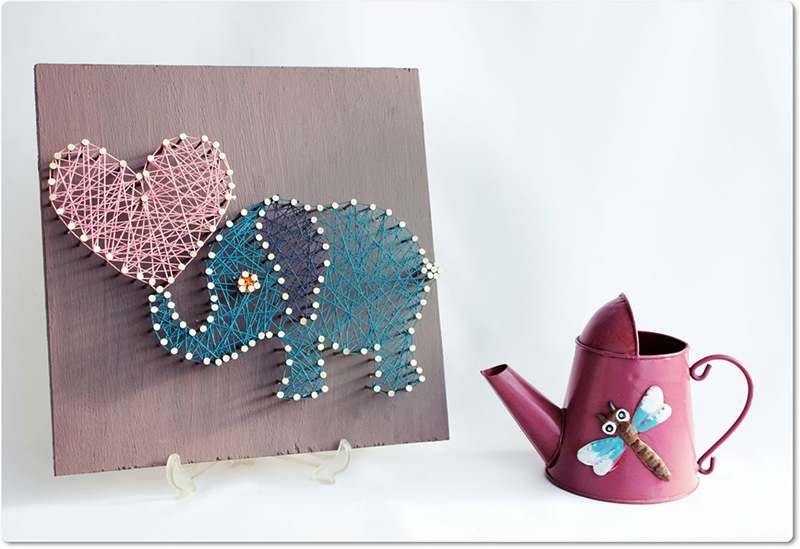 Oh this is so adorable! Such a cute nail art for a lovely elephant. This would be lovely for the nursery room or maybe even for the class room.
9. Love: Modern Typography String Backdrop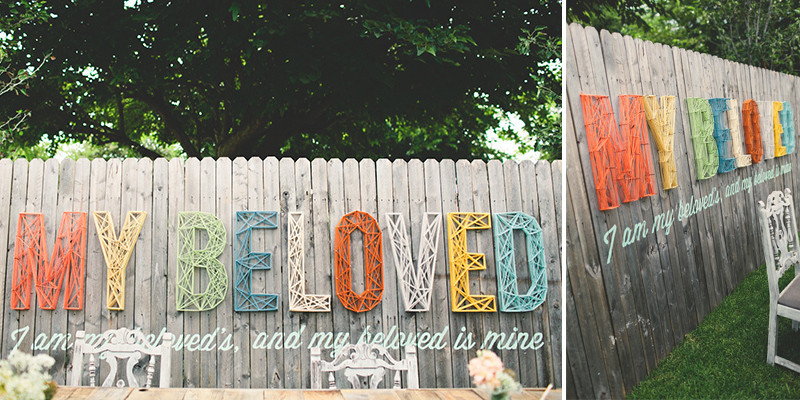 This one is actually for a backdrop of a wedding but yes, this can also be a good addition for your home since the words "My Beloved" can be a constant reminder to us that we are indeed loved each and every day!
10. Nail & Yarn Wall Art Pt. 2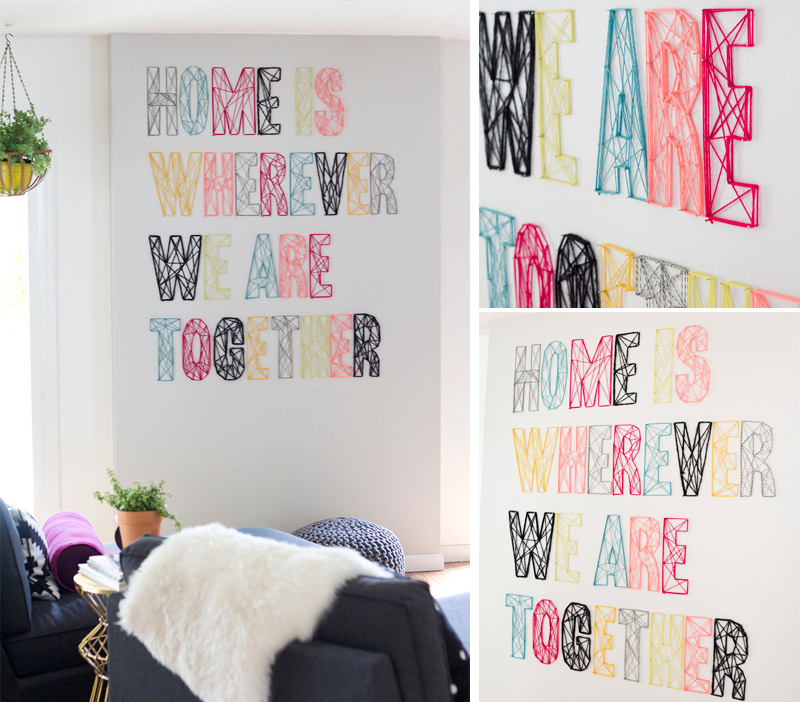 If you have a boring wall, why not get those nails and start hammering some letters? Choose whatever words you want to place on the wall and pick different colors of string for each letter. It would look really nice.
11. String Art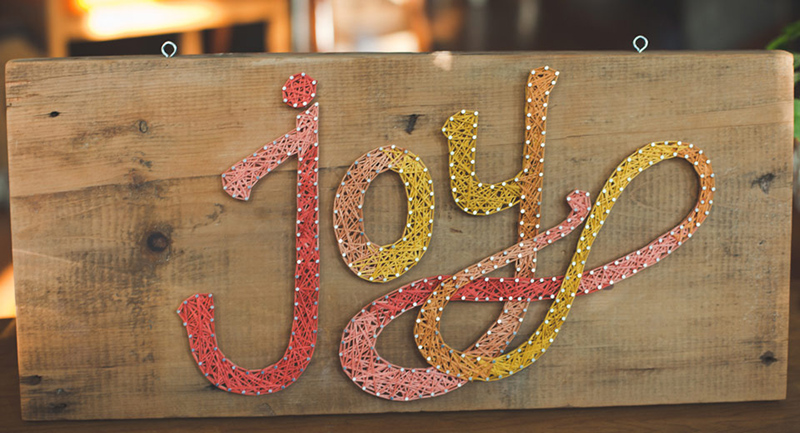 You can also use different string colors for a single letter. It will look prettier this way as if you are applying gradients to it.
12. Air Plants + String Art = Living Wall Art!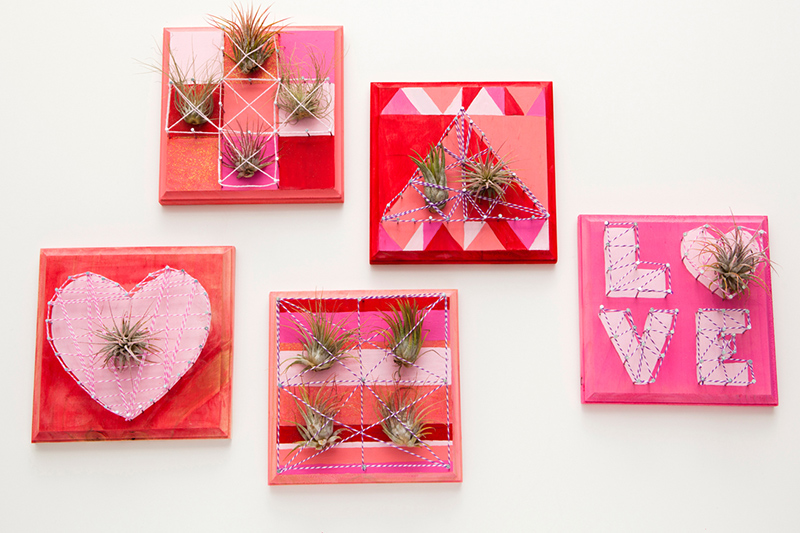 For this one, you have to paint the wood first before you add the nails. When your string art is done, add some air plants! I honestly love this idea.
13. Comic Book Party: DIY String Art
Want a retro decor for your home? Why not try this one? It can also be perfect for a comic book themed party.
14. DIY Nursery String Art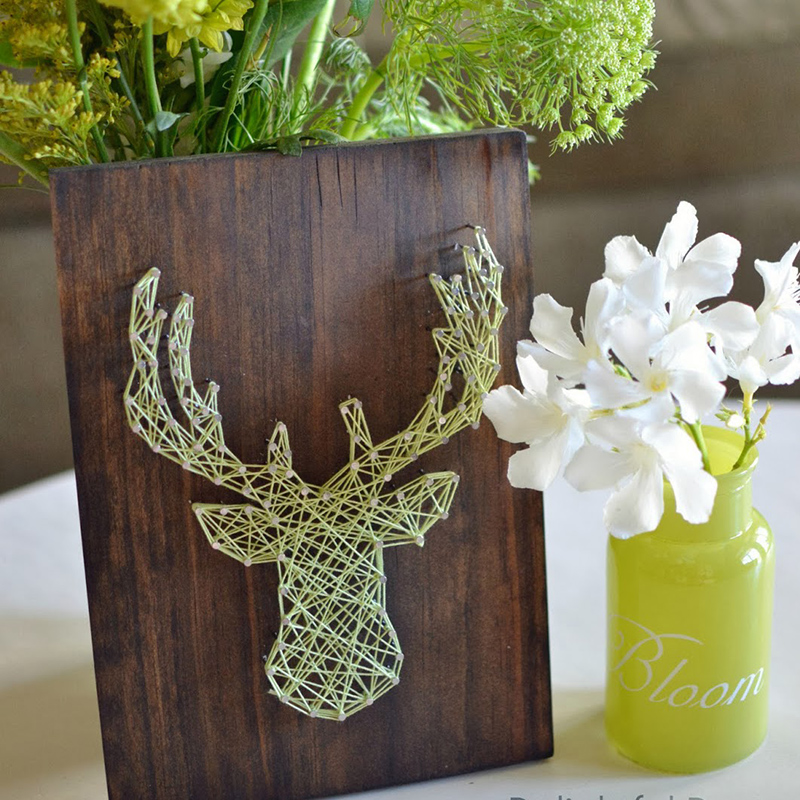 Love deers? Well, there are really some people who are into deers so instead of deer heads on the wall, why not make one like this? It sure is more economical and it looks more creative as well.
15. Whale Tail String Art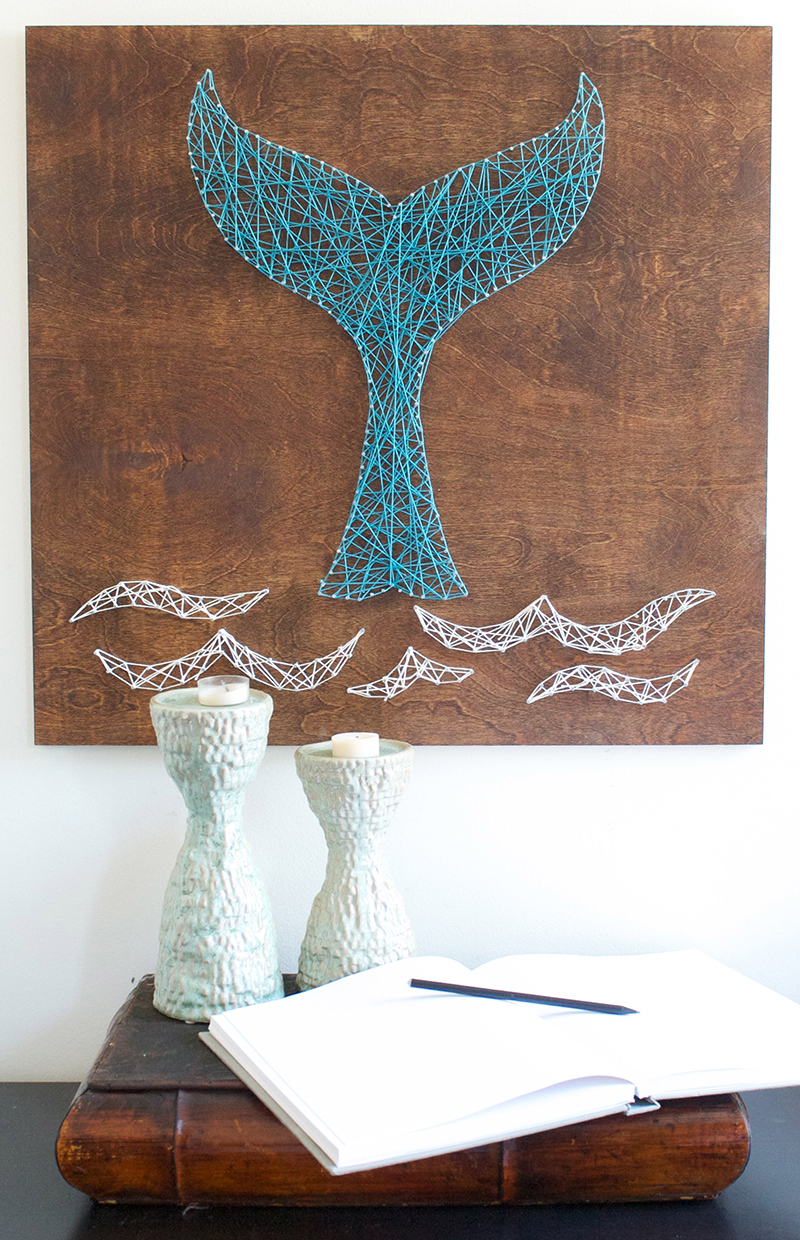 Look at this whale! I would say that this is an abstract representation of the ocean and the whale coming out from it. Very lovely despite its simplicity.
16. String Art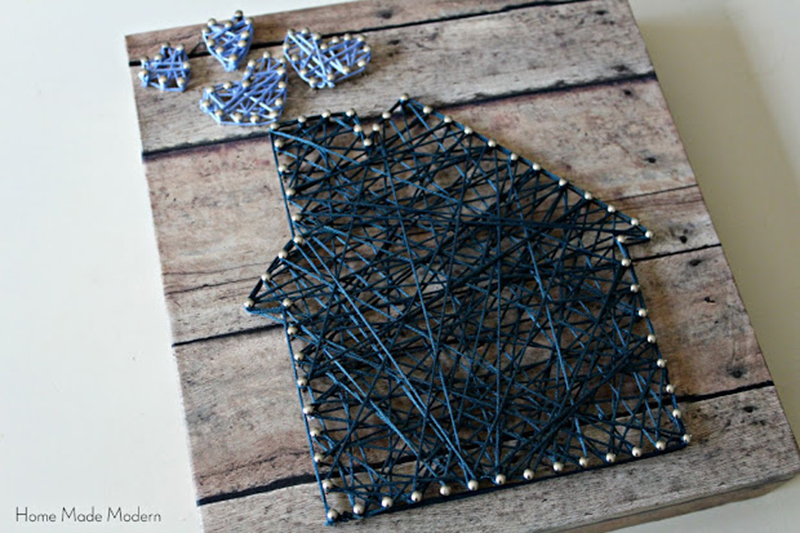 Now this is another way to say that "home is where the heart is" by using strings and nails.
17. Woodland Animals String Art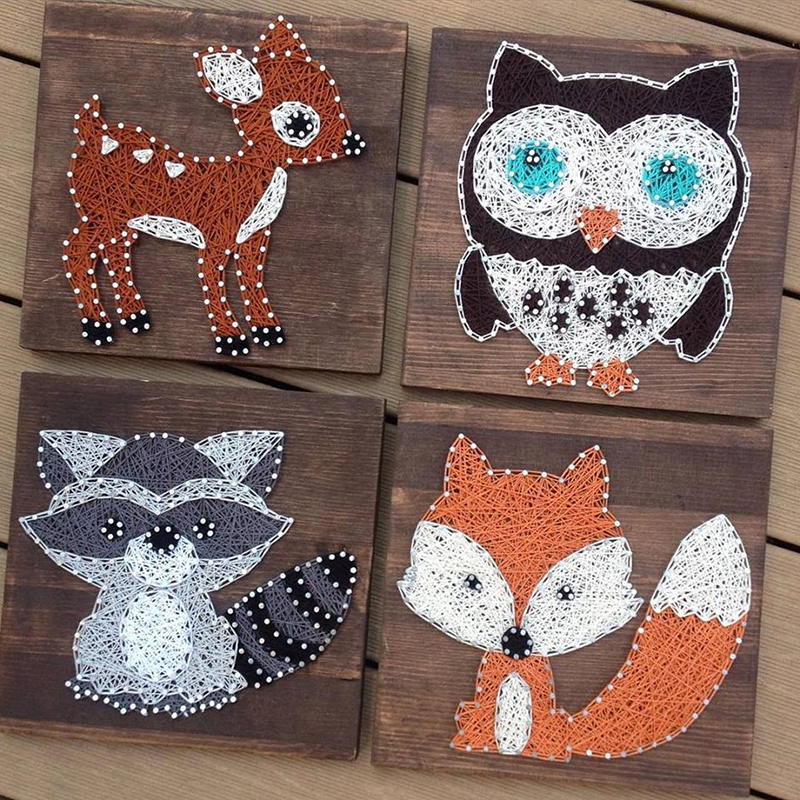 Cute animals, right? Yup, these are indeed very cute! This one features four woodland animal babies- a fox, raccoon, deer, and an owl.
18. 4 panel Octopus Nail and String Art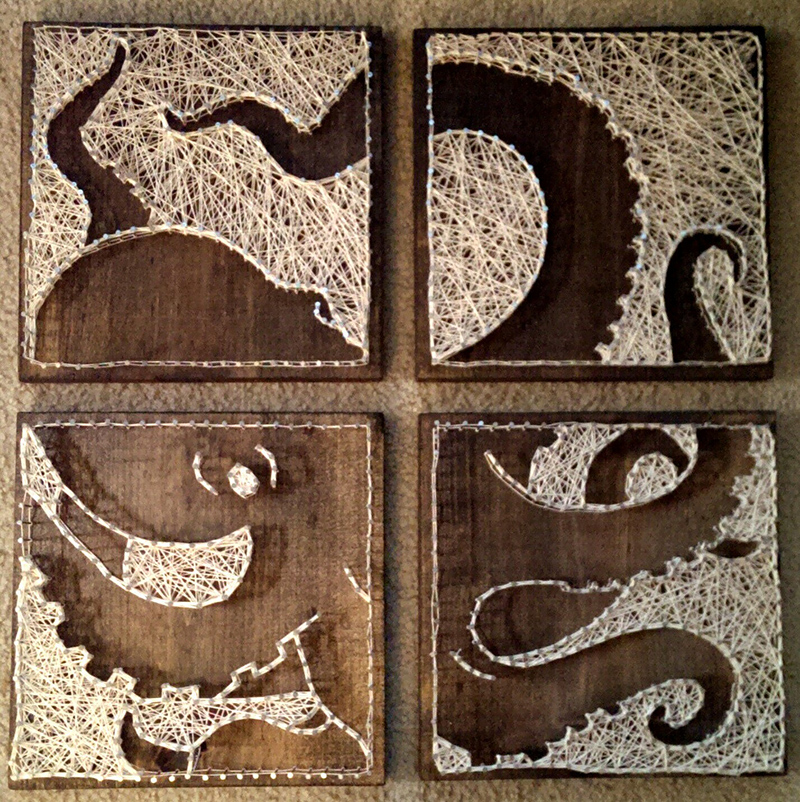 Isn't this very creative? yes, you can also make one like this using four different panels and then hang them side by side to complete the form.
19. DIY String Art Wall Decor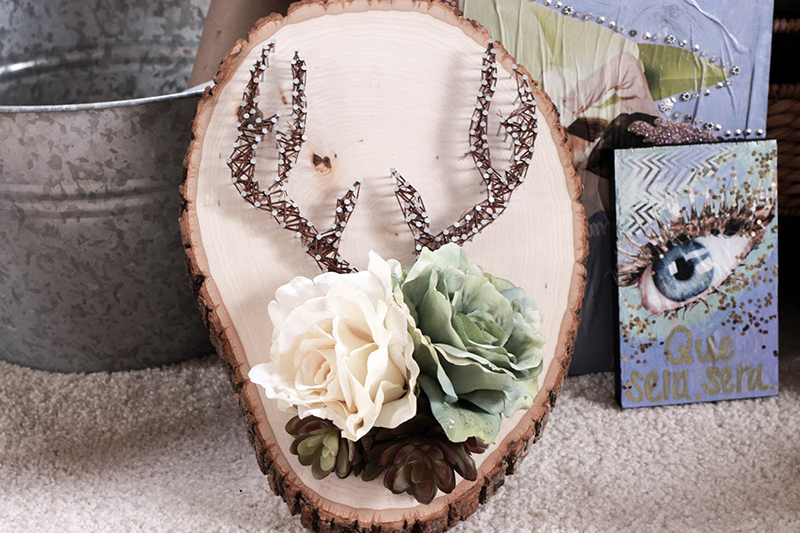 Another idea for a deer string art by using the method only for the horns. Flowers were added for the part where the head is supposed to go. But I actually love it this way because it looks more creative, chic and of course, rustic.
20. Home Deco by Me, String Art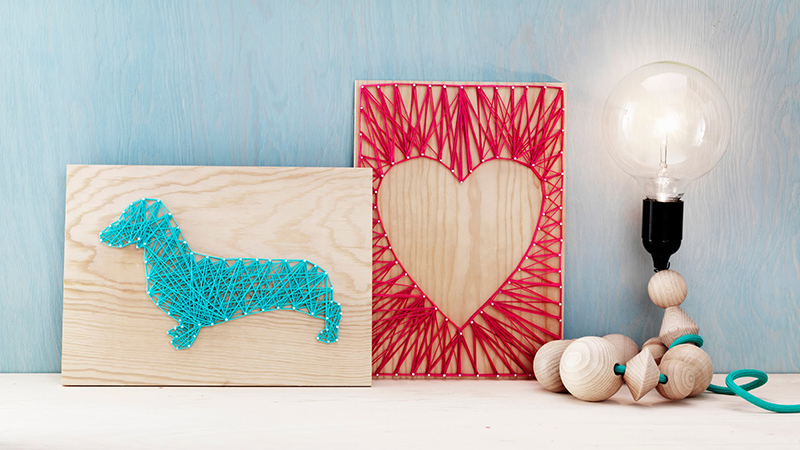 You'd see a tutorial on how to make this two nail art wall decors but honestly, this isn't really hard to do.
21. DIY String Art Hello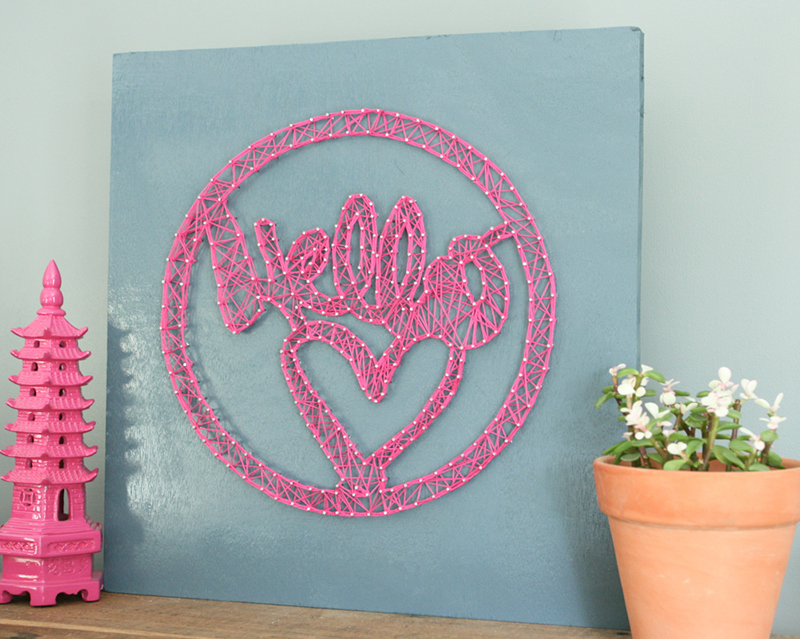 Isn't this cute? With the word "Hello," this would look great for the wall or even on your buffet table.
22. DIY Snowflake String Art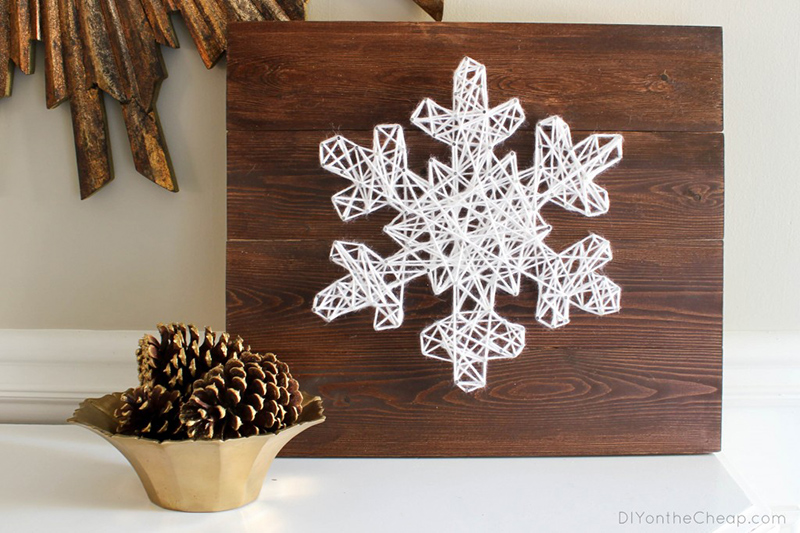 Whether it is fall, winter or whatever season, you can always add a snowflake wall decor if you want to. And yes, you can try different snowflake designs too.
23. DIY Air Plants String Art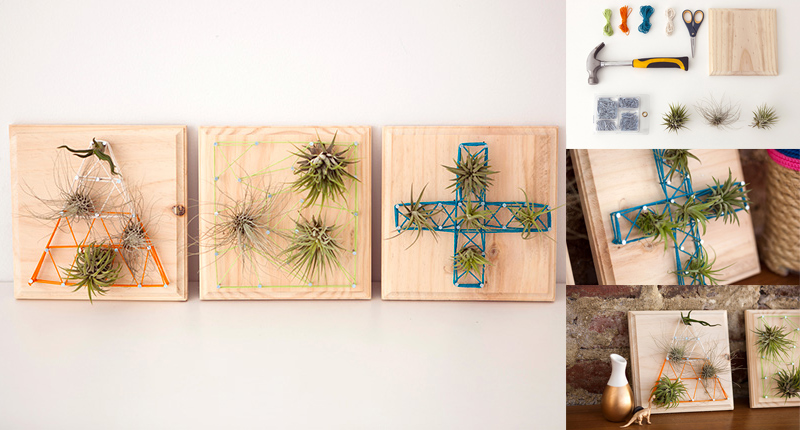 This one is another version of the string art that added air plants in it. It does look really lovely, right?
Isn't it amazing that you can actually make some fun stuff that could be used as a home decor using nails and strings? It sure is nice that you can do this in your own home and you can even choose the design that you like. There are so many ideas that come to my mind for this DIY project. I am sure that you are thinking what to make too using strings. And I even think that you already feel really excited about this! Can you tell me what you would make if you will try this home decor? Or would you use some of the above outputs as an inspiration for your own project?