20 Easy DIY Carved Pumpkins for Your Halloween Decor
Are you currently decorating for Halloween? Well, if you are, you will no doubt add some pumpkin decors into your home.
As we all know, pumpkins and Halloween go hand-in-hand. Its either we are eating them or they are added as a decor.
Well, pumpkins are all over the place when it's Fall and Halloween. So, if you are planning to decorate your home with pumpkins, you can get creative by carving them.
Pumpkin carving isn't new to us. As a matter of fact, any artists managed to create very detailed and impressive pumpkin carvings that are used as home decor.
For sure, you want to see what you can do with your decors this here. Hence, here are some super unique carving ideas that will no doubt inspire some seriously creative DIY Halloween decor:
1. Glitter Candle Carved Pumpkins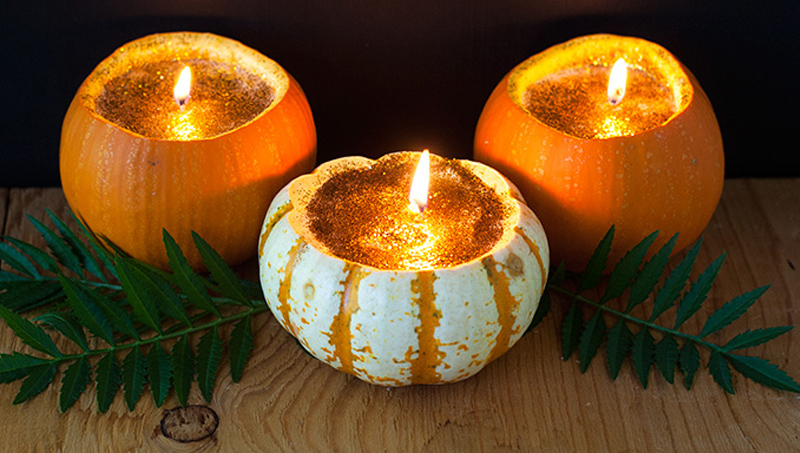 Love glitter? Then why not add a tone of glitter to your carved pumpkin? Up the game by adding a candle on top of it!
2. Constellation Carved Pumpkins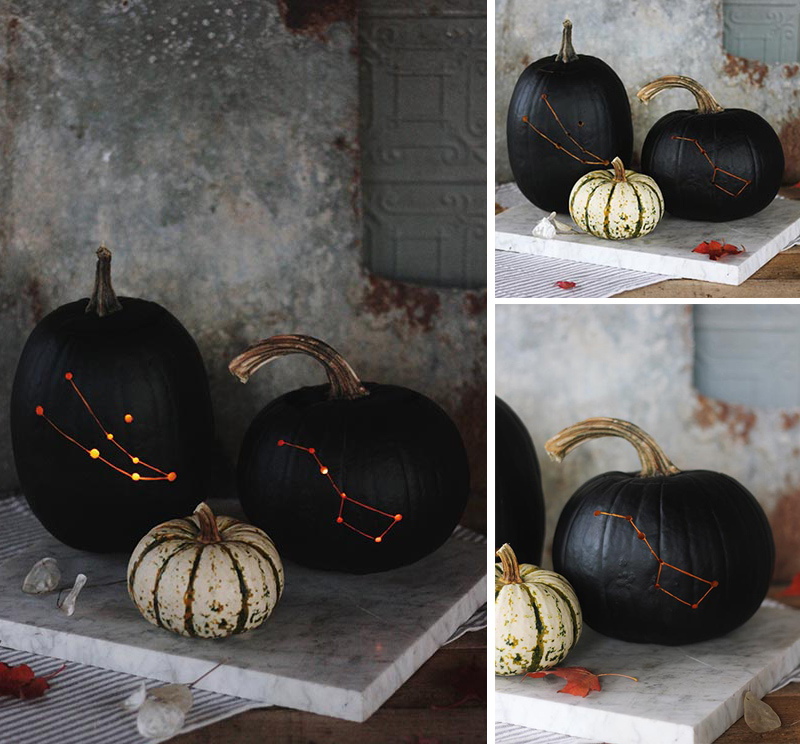 If you love stars and constellations, you can actually bring the night sky right to your home by making this. This sure is an easy minimal approach to carving!
3. Diorama Carved Pumpkin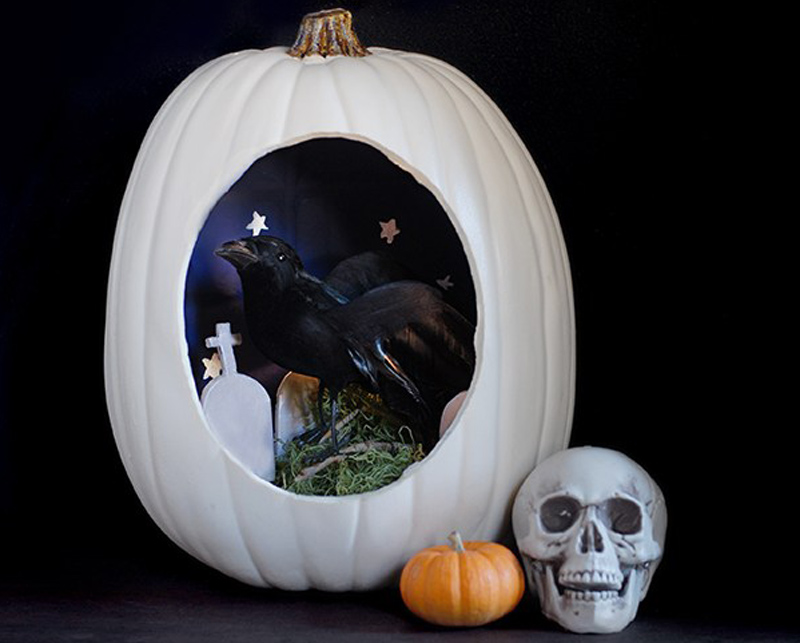 Isn't this graveyard diorama a brilliant idea? This decor will surely bring your creativity to the next level. You can also use plastic pumpkins to decorate it. And grab lots of scary props that you can use to complete your diorama.
4. Gold Geometric Pumpkin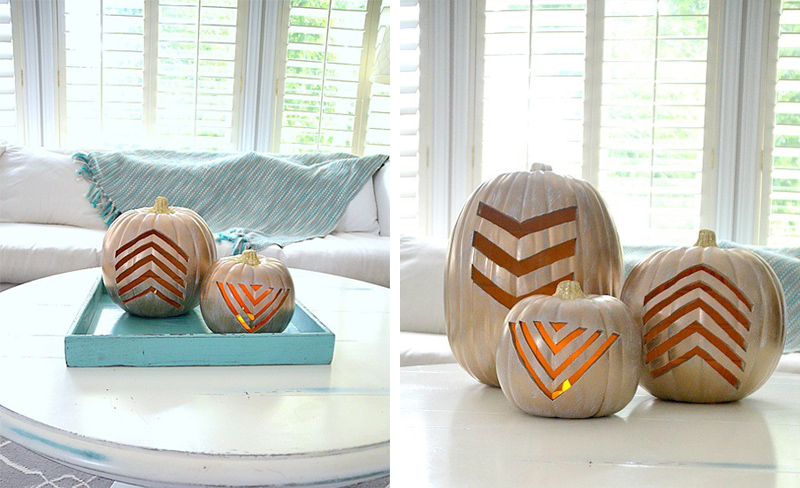 For those who want a chic modern pumpkin decor, this one would be a good idea. It looks really beautiful despite its simple design.
5. Peekaboo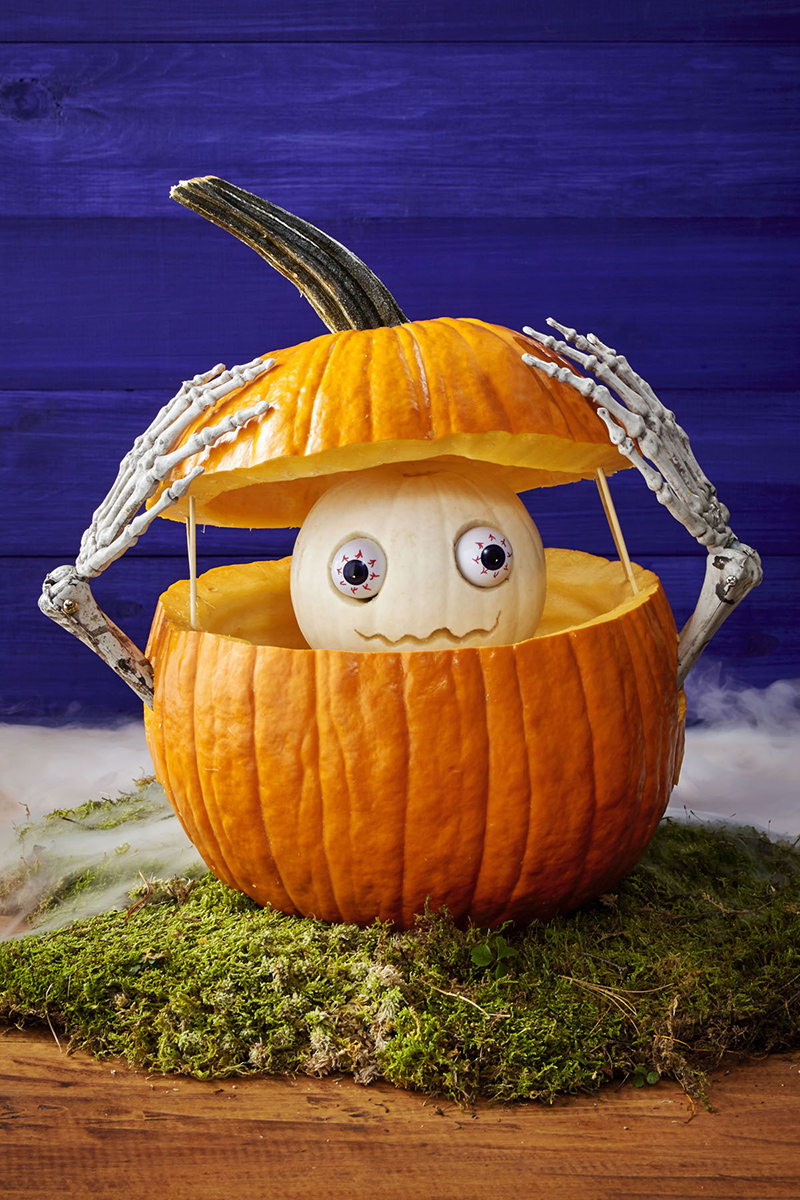 This is so cute! After carving your pumpkin, add a smaller pumpkin inside with eyes. Then add plastic skeleton hands on the hands so it will look like a little guy saying, "Peekaboo!"
6. Lantern Pumpkins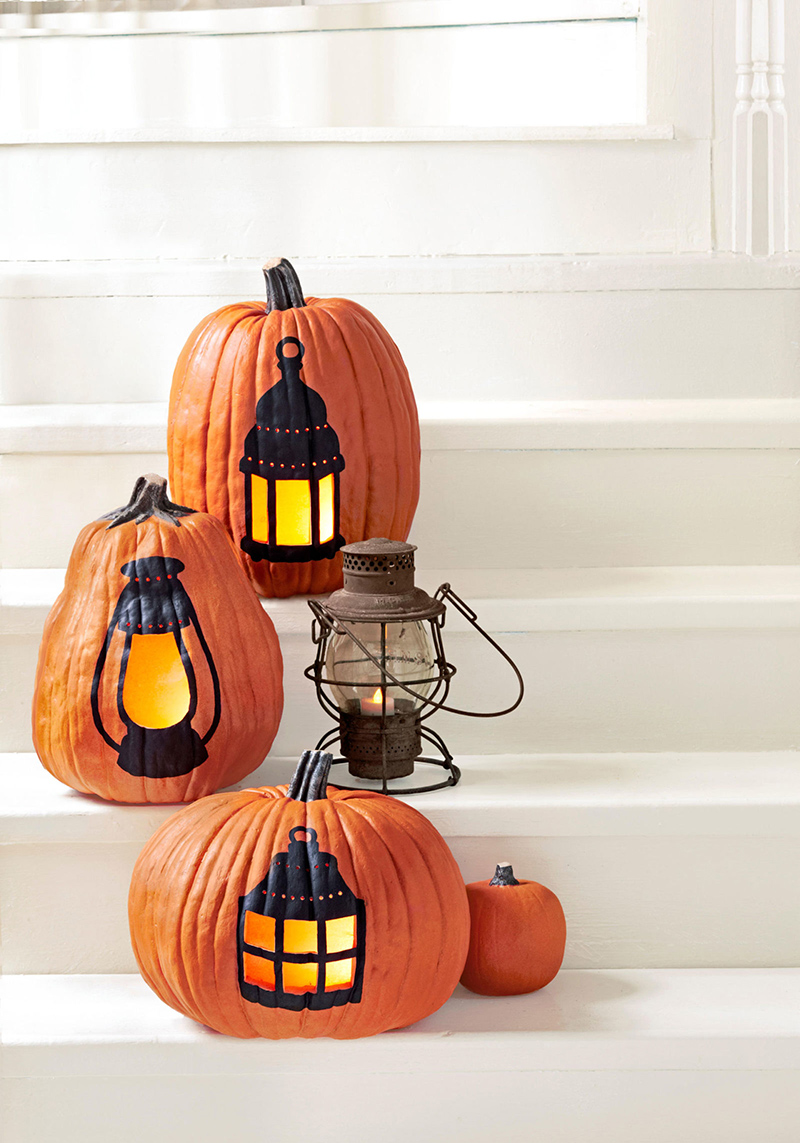 This one is also simple. Just carve some rectangle holes on your pumpkin then paint some lamps on it. And add a tea light to achieve this look!
7. DIY Pumpkin Craft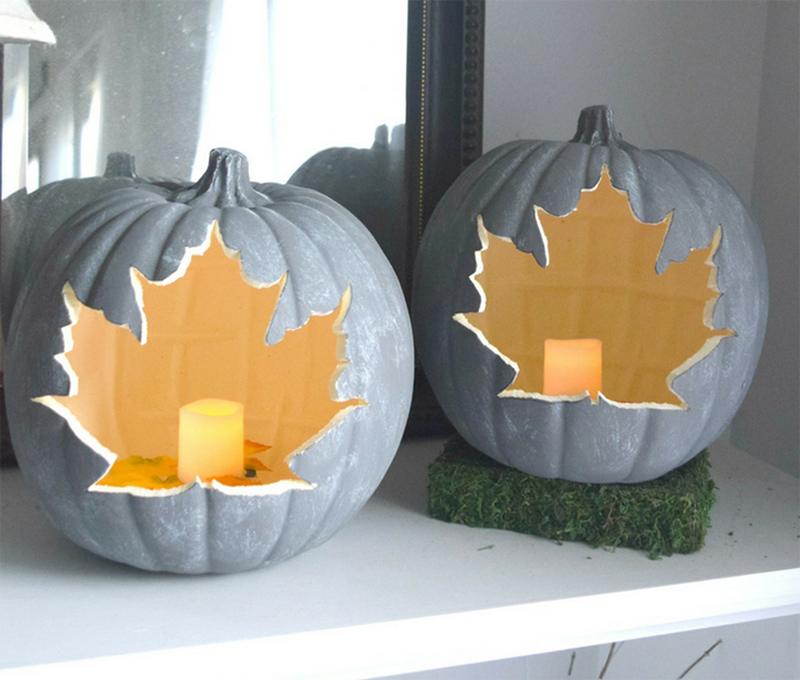 If you want a pumpkin that will also be a perfect fall decor, then carve out a leaf shape before adding candles in it. Don't forget to paint it first before carving.
8. Skeleton Carved Pumpkins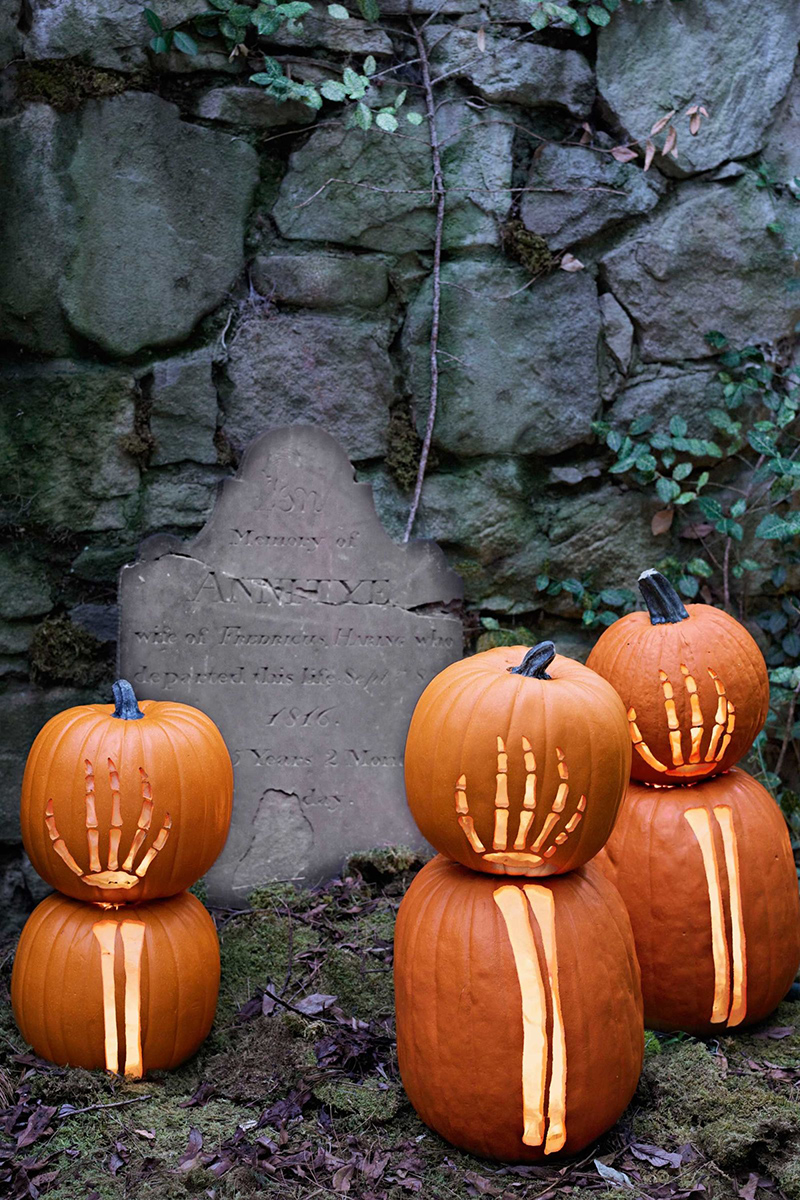 This one looks a little creepy but pretty interesting! These graveyard-inspired pumpkins would look amazing when they are all light up during the night!
9. Pumpkin Teeth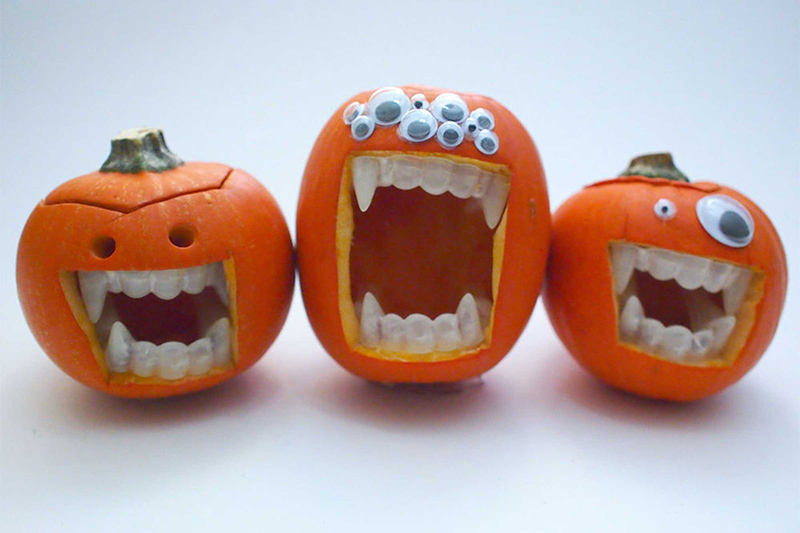 Got some glow-in-the-dark plastic vampire teeth? Why not use them for your pumpkins! Add some googly eyes too!
10. We See You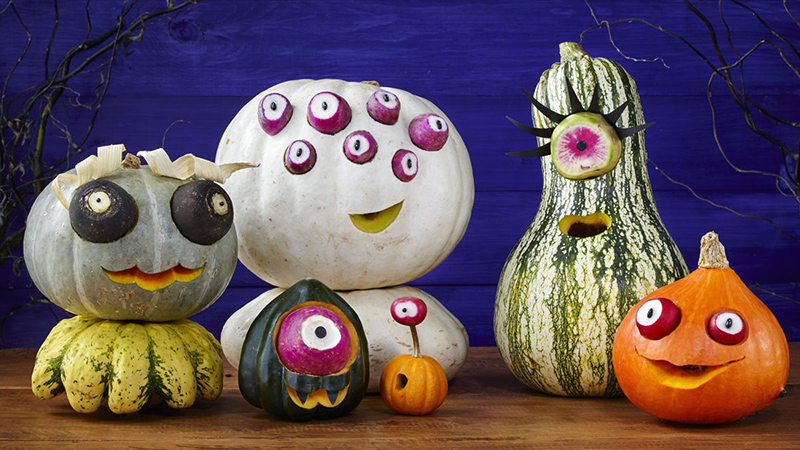 How about a group of monsters? Bring out your pumpkins and shapely gourds so you can decorate them with radish and turnip peppers.
11. Lollipop Pumpkin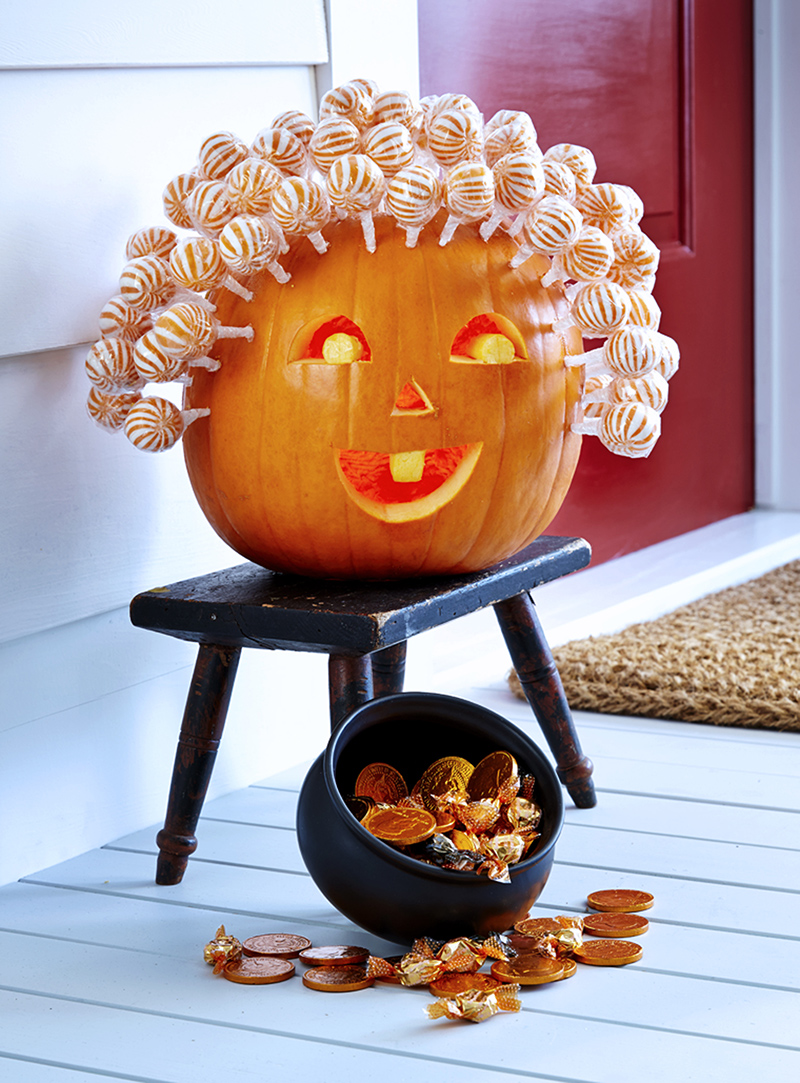 Such a creative way to hold treats! The orange lollipops are the pumpkin's hair.
12. Kitty Pumpkin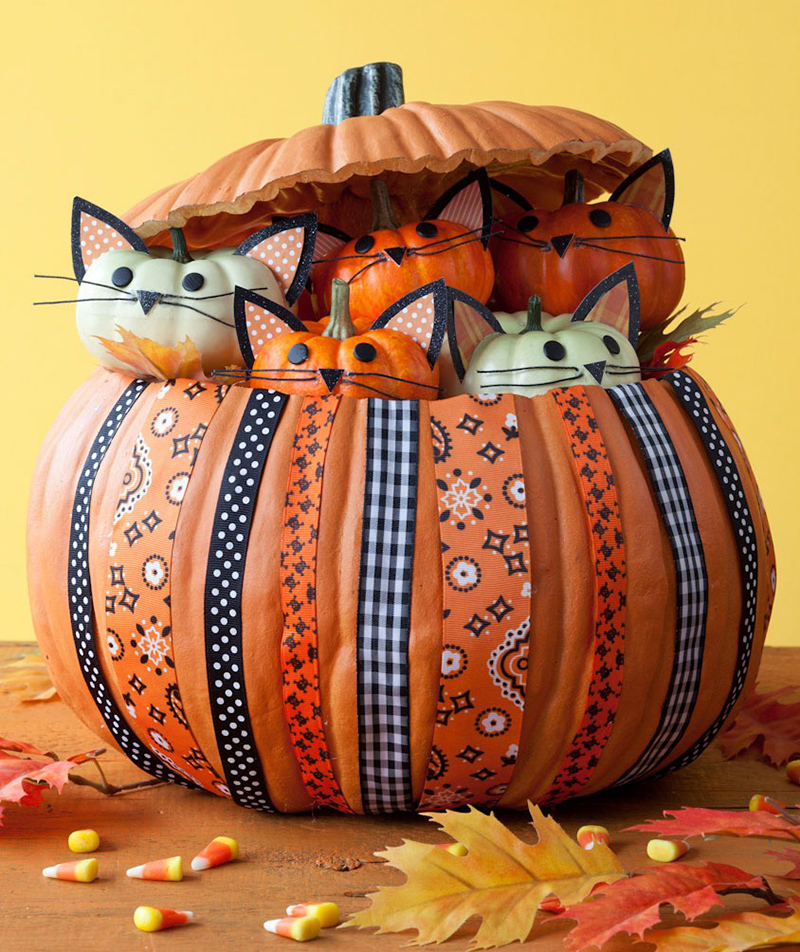 This is such an adorable pumpkin craft that will last more than one season. You can use a large pumpkin and some smaller faux pumpkin. Be creative with your ribbon prints too!
13. Vampire Pumpkin Candles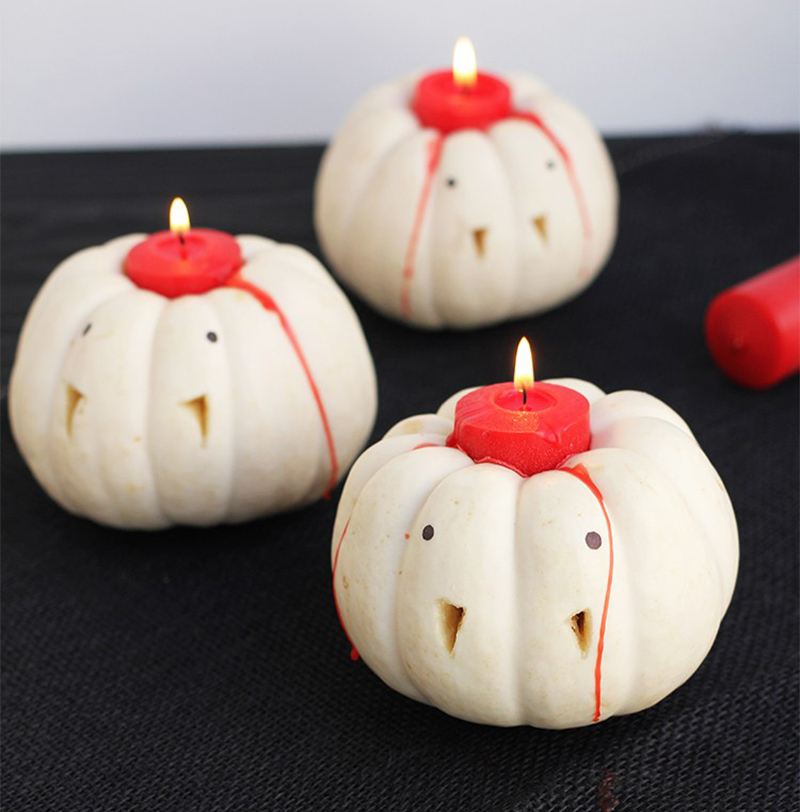 Double up your decor game by creating these devilish fanged pumpkins. Aside as a mere decor, it can also be a votive holder or a dining centerpiece too.
14. Pumpkin Carving With a Drill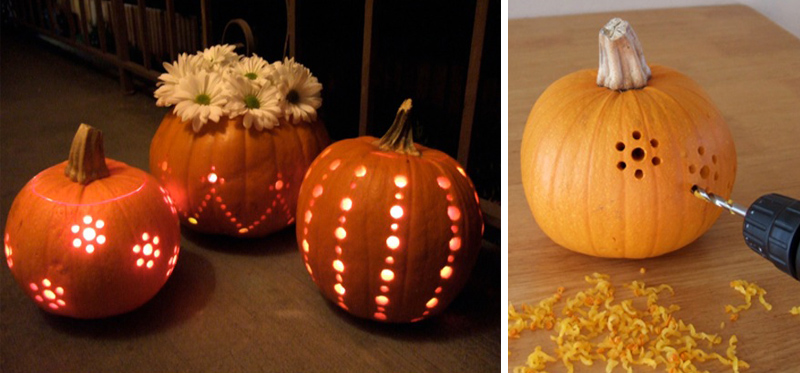 Take out your drill and create some holes on pumpkins then add a tea light inside. This would look nice on your porch, backyard or even your stairs.
15. Vine and Leaf Carved Pumpkin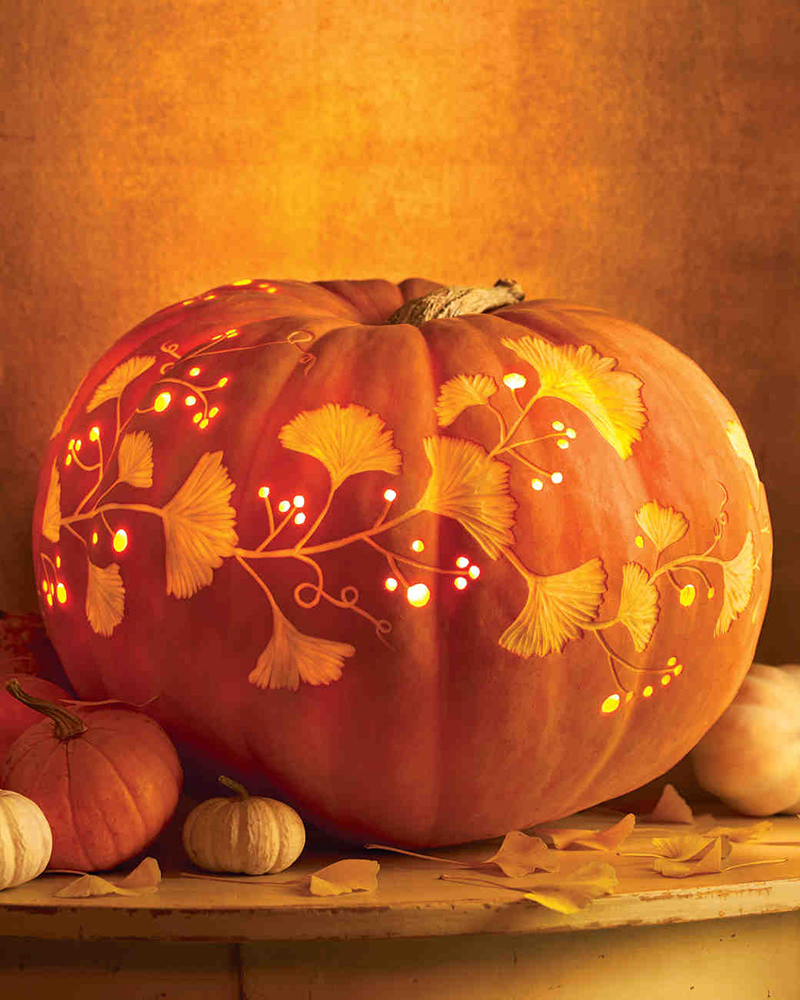 If you want one that has a fall design but would also be a perfect decor for Halloween, try this one with beautifully twisting and coiling vine, accented with berries and ginkgo leaves.
16. Happy-Go-Quirky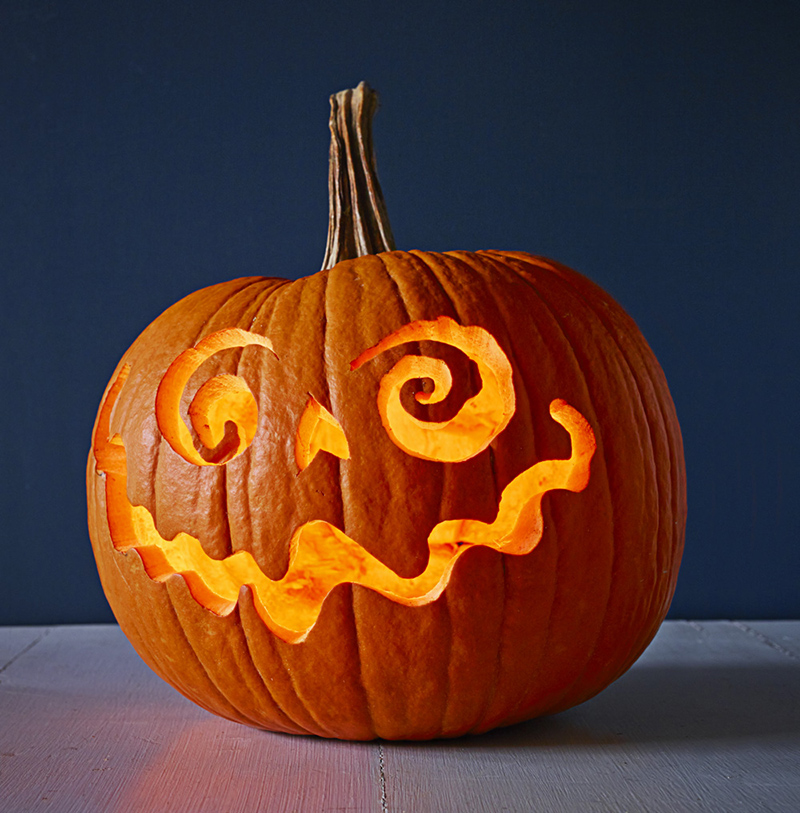 A simple quirky design for a carved pumpkin. You can actually make different faces too to make it even more fun!
17. Illuminating Fall Leaf Pumpkin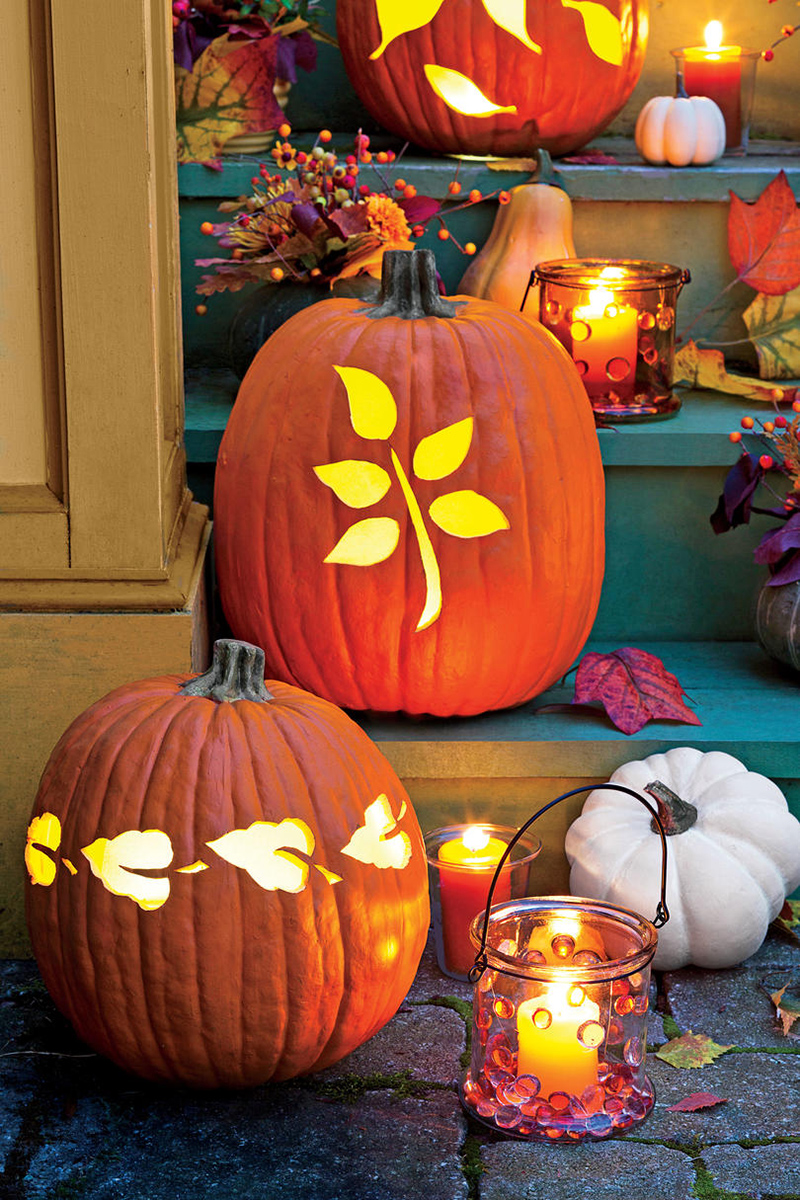 Using a leaf template, carve these leaves onto the pumpkin then cut pieces of yellow vellum, and pin them to the inside of the pumpkin over the leaf openings. To light it up, add a battery-operated candle.
18. Pumpkin Carving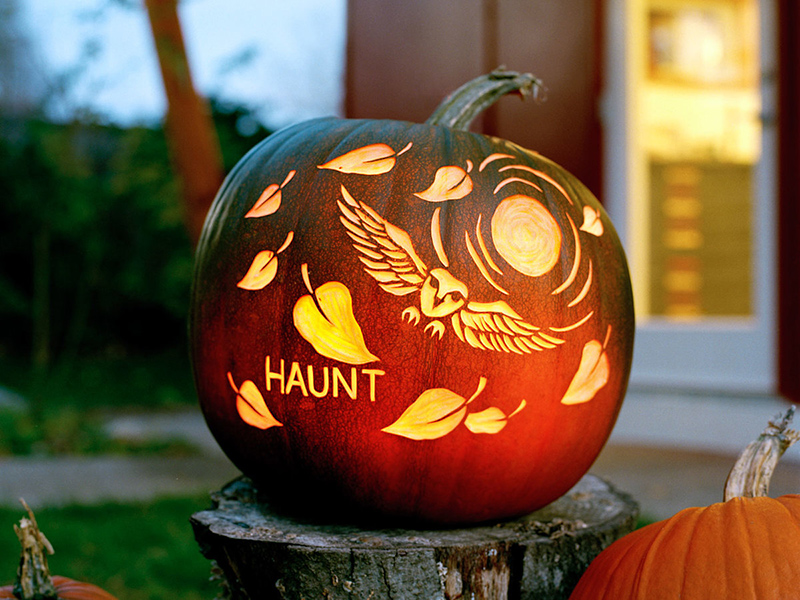 This one seems to have a Harry Potter feel because of the owl and I love the swirling designs on it. Very artistic!
19. Halloween Town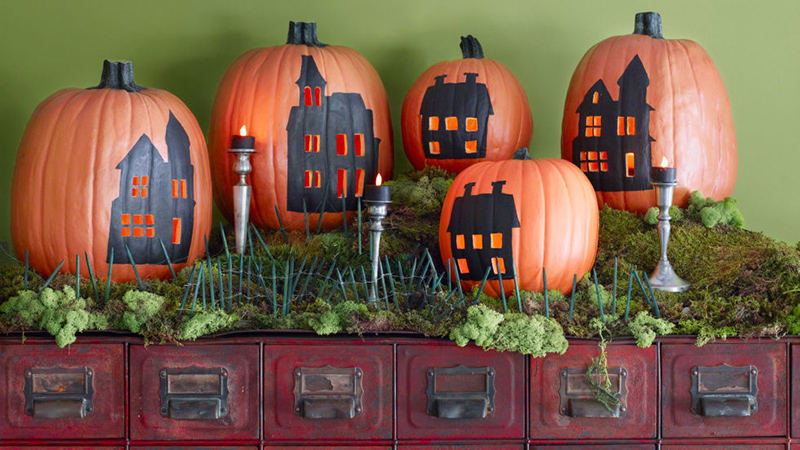 You can also make a flickering town square using pumpkins simply by cutting windows and doors then draw silhouetted buildings on it.
20. Sweetheart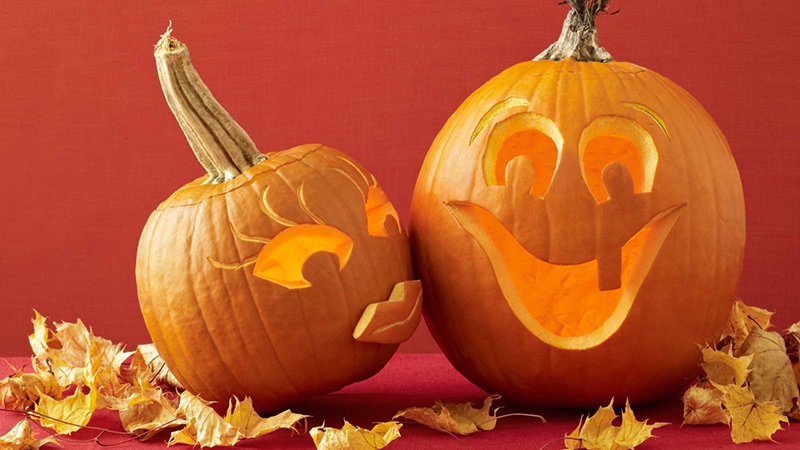 This is cute! Even pumpkins can fall in love! Get two pumpkins with one larger than the other and make this cute decor.
After seeing the list, you will surely feel very creative and inspired to make a carved pumpkin decor for your home! But if you hate carving, you can try non-carve pumpkins which also look very beautiful. Have you tried carving your gourds for Halloween? If not, this year might the right time for you to give it a shot. Which of the above designs would you try?