20 Astonishing Halloween Decors in the Dining Room
According to Wikipedia, 'the word Halloween or Hallowe'en dates to about 1745 and is of Christian origin. The word "Halloween" means "hallowed evening" or "holy evening". It comes from a Scottish term for All Hallows' Eve (the evening before All Hallows' Day). In Scots, the word "eve" is even, and this is contracted to e'en or een. Over time, Hallow Eve evolved into Halloween. Although the phrase "All Hallows'" is found in Old English (ealra halgena mæssedæg, all saints mass-day), "All Hallows' Eve" is itself not seen until 1556.
With this information in mind, we have created a list about how you can decorate your dining room table during this festive season! If you have checked the list we have created for fall, the designs here are pretty similar only that this is creepier and has more spider web, skulls and candles.
1. Amazing and Simple Halloween Table Setting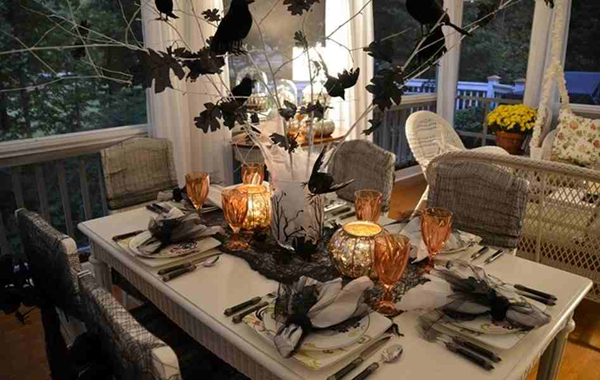 Old Halloween decorations were used in the dining table and overhead. Adding the bats added a creepier feel to the space.
2. Black and White Spooky Tablescape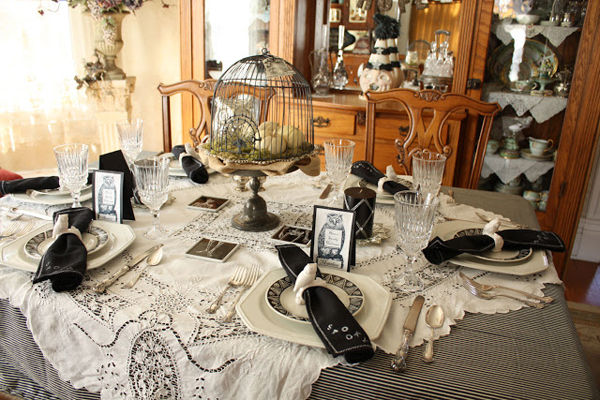 This black and white tablescape is not super spooky but sure is charming.
3. Dallas Traditional Dining Room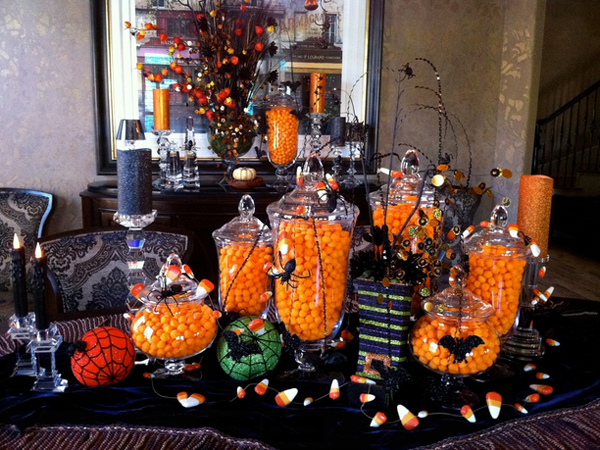 Stringed candy corn winds around spider de´cor and cheese puff filled glass jars to delight the inner child.
4. Halloween Dining Room Decor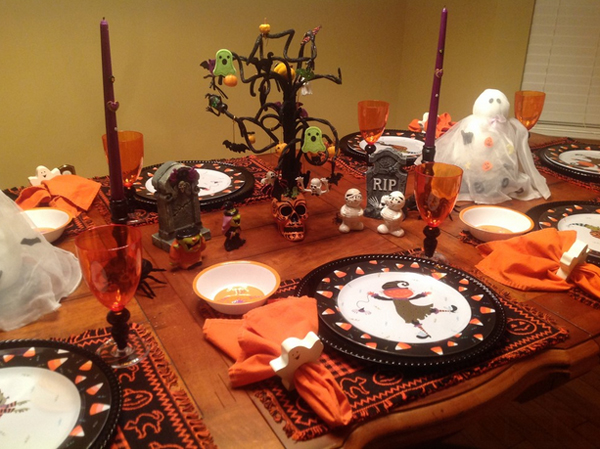 Create your own Halloween table with orange and black placements, goblets, ghosts, tombstones, miniature mummies and goblins ,a skull tree, orange napkins in ghost napkin ring and Halloween dishes.
5. Inspiring Halloween Dinner Party Design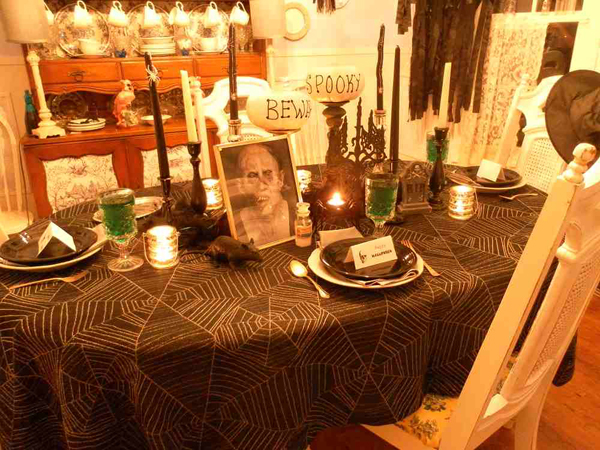 Adding a scary picture on the table may not be something I would want on our Halloween table setting but this set up sure is neat!
6. Marvelous Halloween Dining Room Idea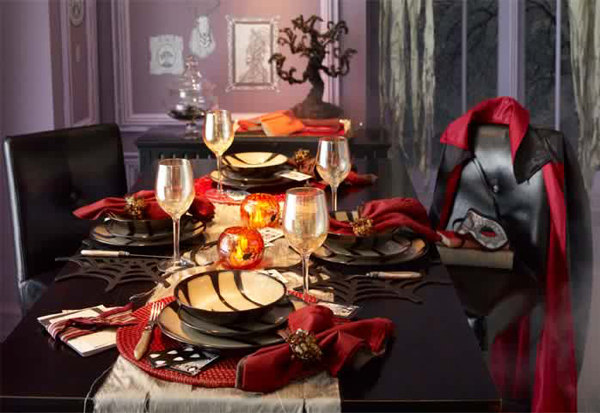 The black and red concept for this dining table is catchy and chic. I like this one. Very minimalistic and fancy.
7. Max Greg and Nancy Dining Table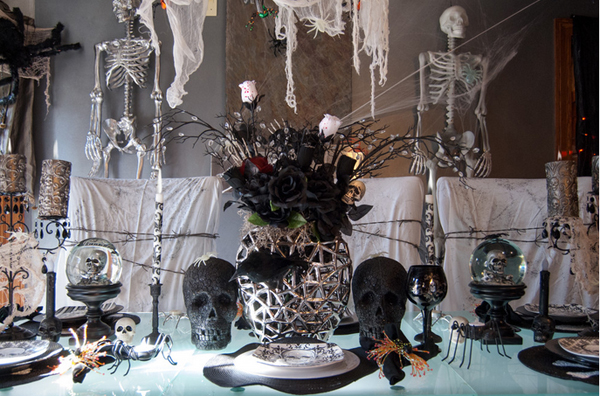 Symmetrical needn't mean static, as this breakfast table shows. By keeping the color palette to a minimum, the Smiths have set a table that is equally spooky and chic.
8. Halloween Decor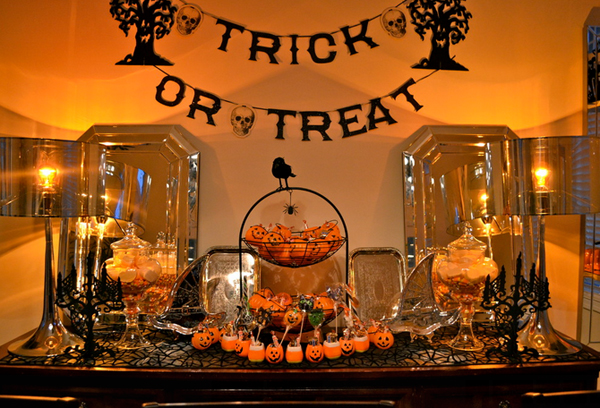 "It's mostly just for fun. I like doing it, and I love the expressions on my kids' faces when I reveal the décor to them," says Criste. "I mean, the only time they really appreciate my décor is during Halloween. When I hear them say 'Wow' and 'I'm so excited for Halloween,' I've succeeded already."
9. Fun Halloween Tablescape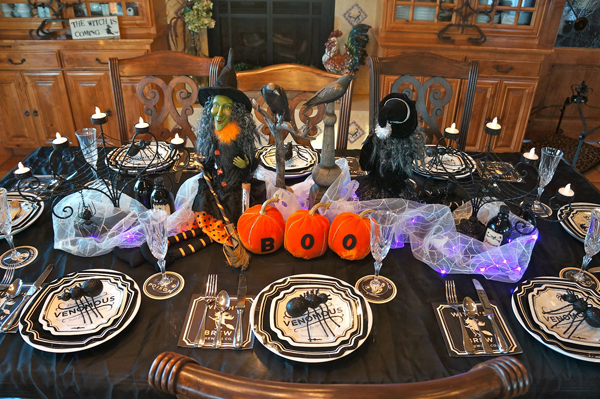 I like the small pumpkins with B-O-O in it, not to mention the witch.
10. Halloween Decor for the Dining Room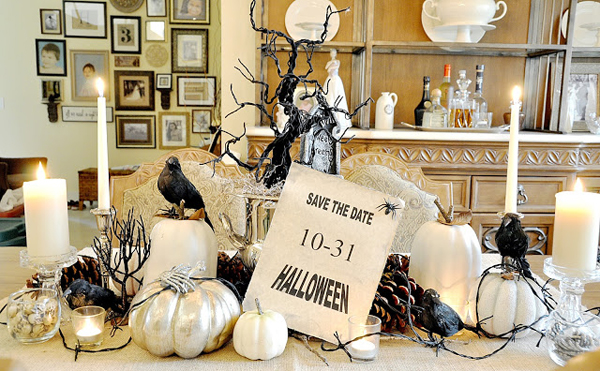 White pumpkins and candles complement well with black accents of tree branches and crows – simple and classy.
11. Halloween Tablescape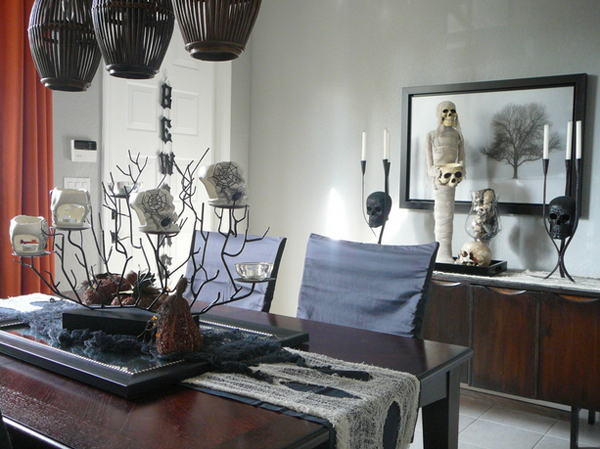 Black and white Halloween decor is an elegant way add a festive feel.
12. Handsome Dining Room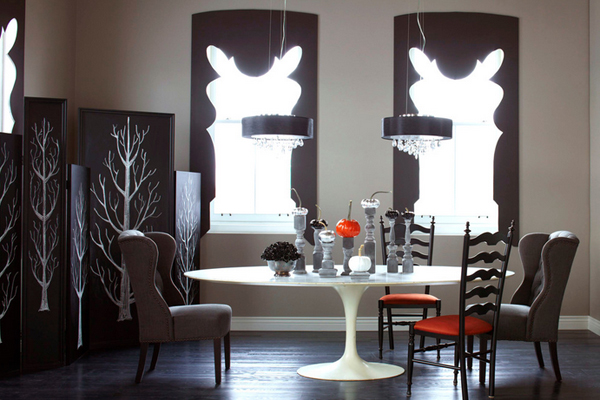 Stylish contrasts evoke Halloween charm in this dining room. A pair of elegant pendant lights, bold ebonized flooring, and soft gray walls work year-round, while spooky window treatments, DIY pumpkin pillars, and orange-and-brown chairs create a seasonal mood.
13. San Francisco Halloween Decor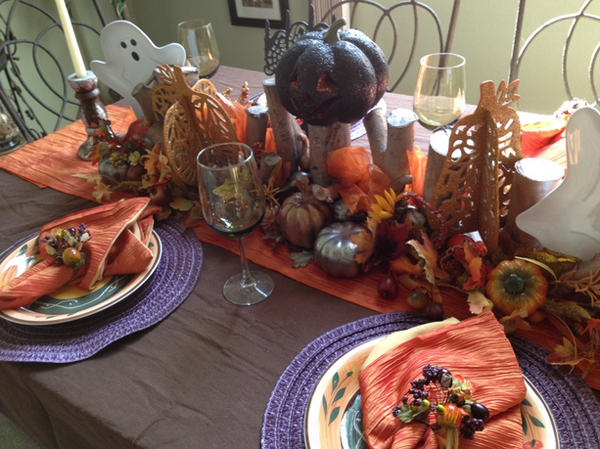 How do you like the colors used in this tablescape?
14. Semi Spooky Setting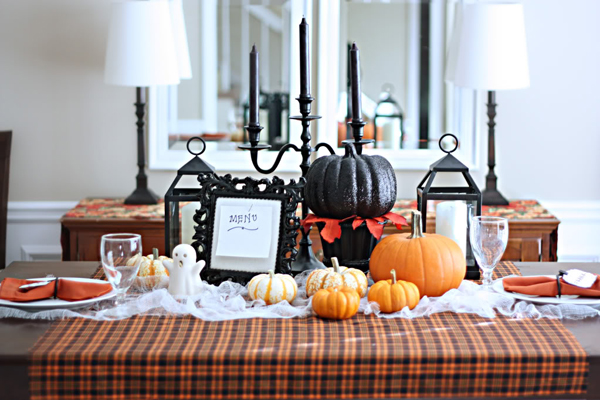 Pumpkins may be a staple decor during Halloween – look at the cute pumpkins on the table; but also notice the cute ghost figure that may possibly be a salt shaker.
15. Halloween Interior Decorating Ideas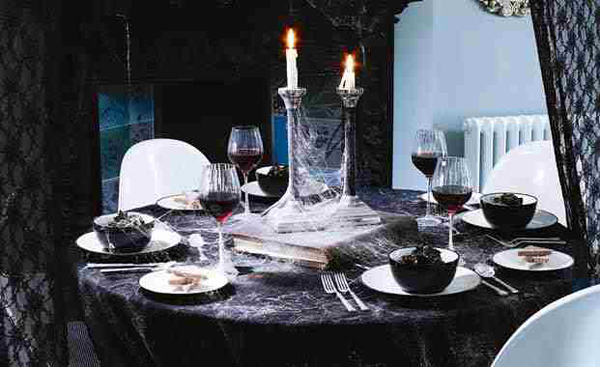 This space looks like all the bad energies of the world is in it. Creepy to the highest level!
16. Spooky Indoor Halloween Dining Room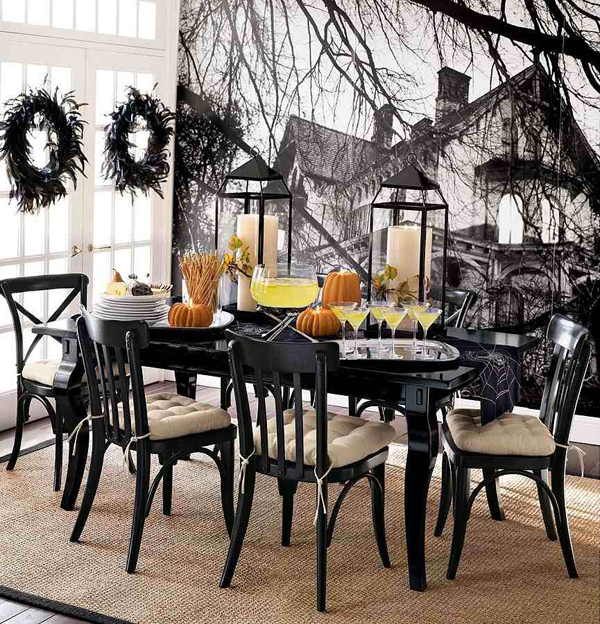 The wallpaper on the wall is a charming addition to a dining table setting – it adds more drama and spookiness to the space.
17. Table of Treats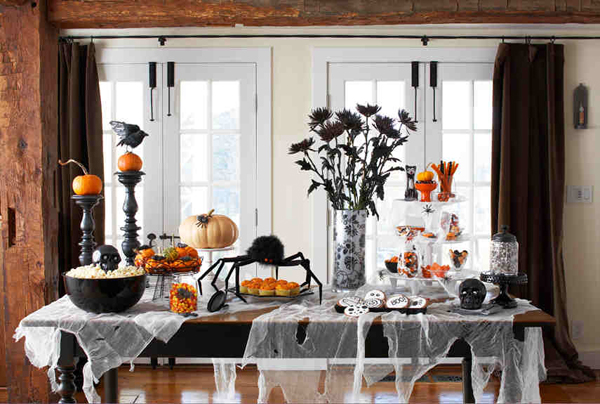 The dining room looks really sinister when the sun goes down with only candlelight and flickering chandelier lights.
18. Dining Room with Halloween Table Runner Design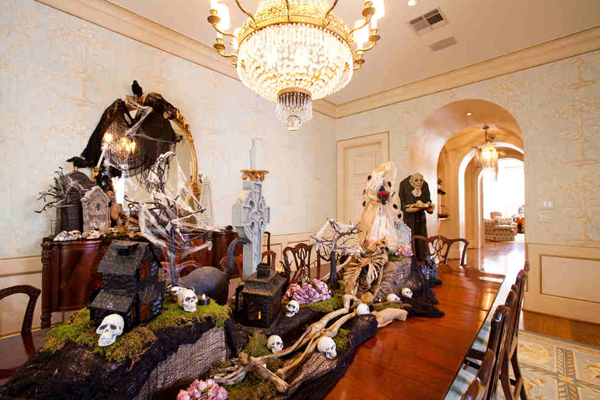 Look at this 3D table runner design! This just happens during holidays like this – totally awesome!
19. Boo-tastic Tablescape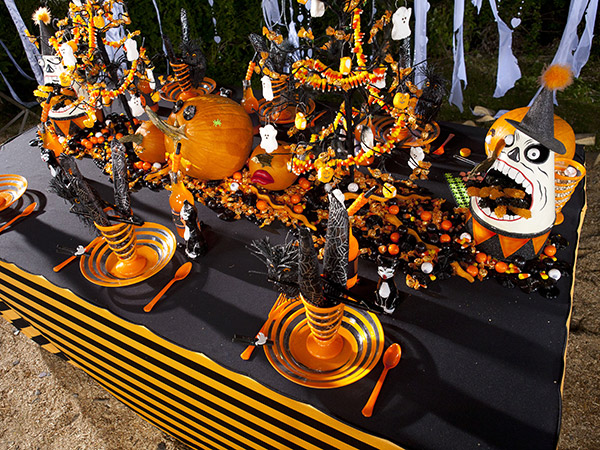 Don't have time to carve pumpkins this year? Paint them instead! Play with different colors, textures, and add glitter or rhinestones for some sparkle.
20. Halloween Table Setting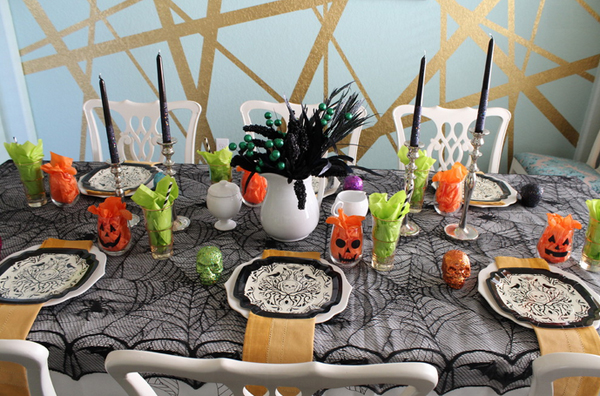 This table is setting is more friendly than spooky, I like it!
There you have it Home Design Lover readers! It is indeed exciting and fun to add some spooky halloween decorations to any part of our home! So today, you have more options as to how you can decorate your spaces during Halloween, also, you have a few to do that!