20 Living Spaces with Outdoor Chandeliers
Even if your living space is outdoors, add a chandelier for more charm and appeal.
Our patios are sometimes disregarded – we just add a seating area and we're okay with it; but like any area in our homes, our patios need a little bit more tender loving care – not only because there are plants there for us to take care of it but because it is the first thing you see when you come home or when people come over to visit. If that is not enough reason for you to care for your yard, then I don't know what is. Haha!
Outdoors is comprised of the front yard, the left and right side service areas and the all-popular backyard! We know all know that there are a lot of things we can do and add to our backyards. Aside from a seating area, one can always add a swing set, a fountain or even a swimming pool! With that in mind, I like you guys to check out the list that we have below that will show you things that we can do with our backyards and make sure not to forget that in every space, a beautiful chandelier was used. Check them out!
1. Mid-century Modern Redo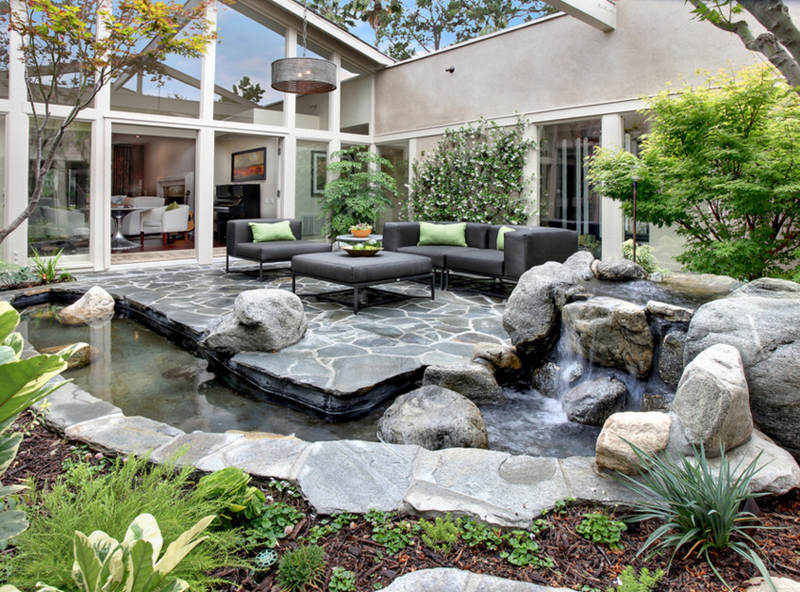 When I saw this picture, I remembered one mall that I visited once that has a restaurant in the middle of the mall that was designed with tons of plants and water features – this space reminded me of a forest with a pretty seating area; note the beautiful drum chandelier.
2. Ayres Avenue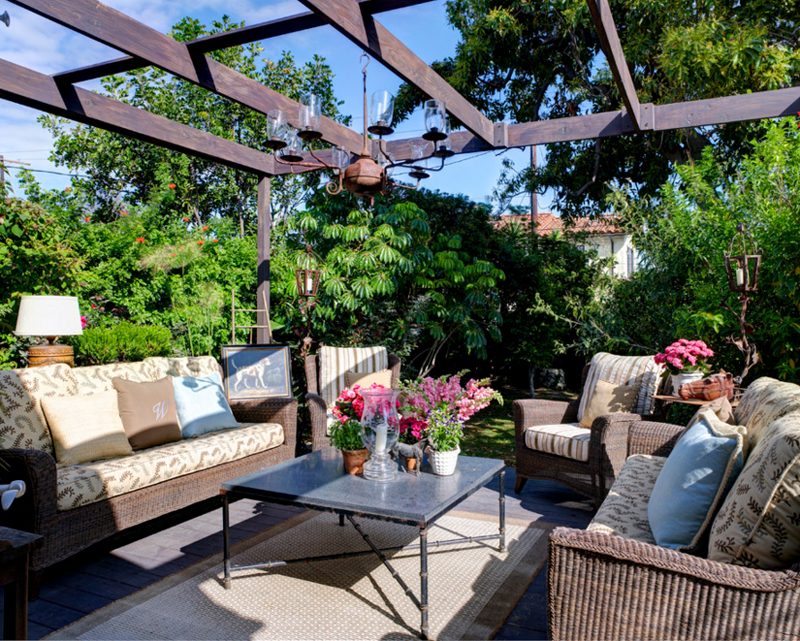 This open to the sky space is super pretty. I am not sure though if there is something attached to it especially when it rains because of how pretty the seating area in it – don't think that the home owners have the time, patience and strength to move this entire set every time it rains.
3. Beverly Hills Residence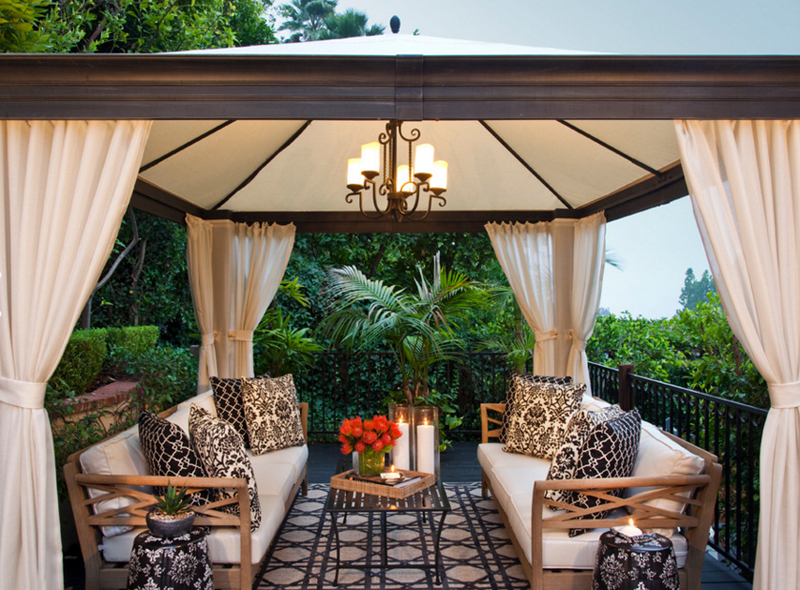 Here is a covered outdoor space that is ideal for events! It sure is not done and arranged in a rush because it turned out really pretty. The seating area is simple but comfortable and is adorned with eye-catchy throw pillows, Asian-themed side tables and a beautiful chandelier.
4. Columbus Residence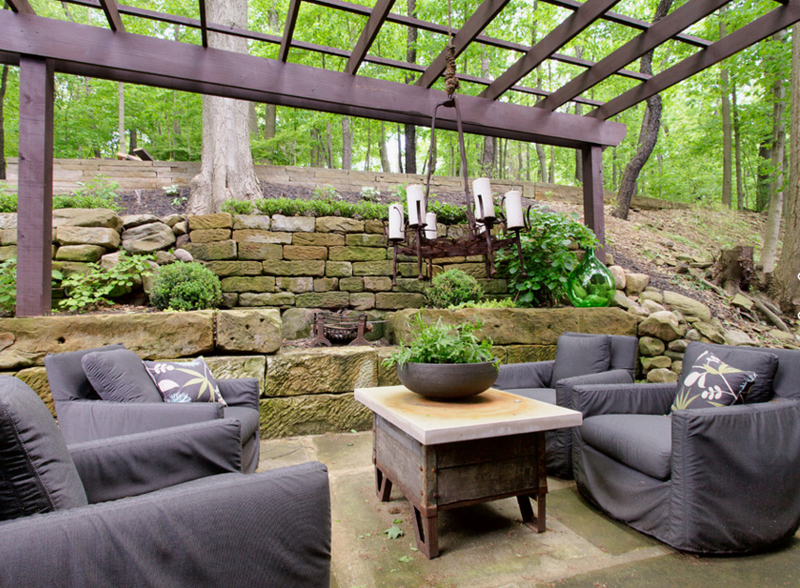 Just a comfortable setting in a backyard close to the woods. The look of this space is beyond words because of how much Into-The-Woods-feel I get when I look at this picture. Imagine wanting to sing because of the look and the aura of this space. Pretty cool, I guess.
5. Toronto Contemporary Outdoor Space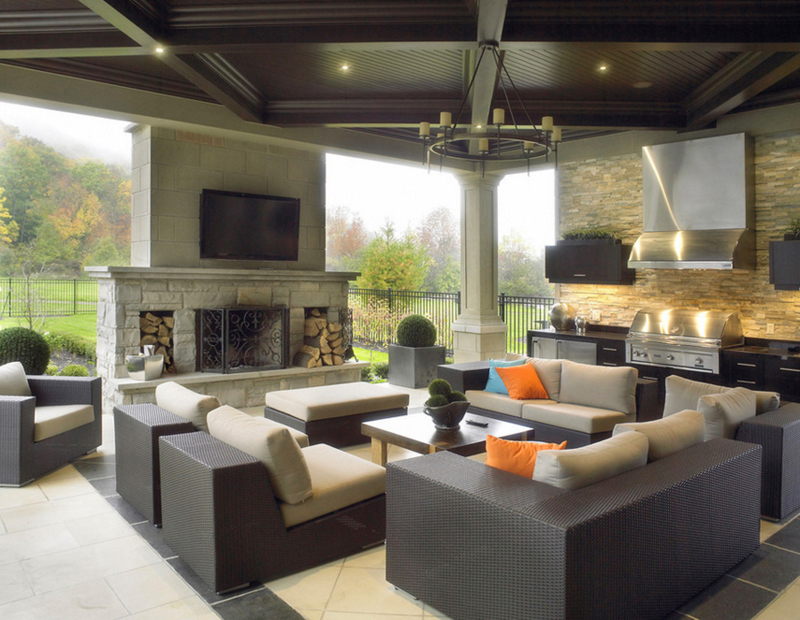 I really love how awesome rattan furniture is! Whether indoors or outdoors, I think that it really goes well with anything – plus if you use it in open spaces, they are more weather-resistant; they have a longer life span than those furniture made from fabric or leather that will surely not weather the storm.
6. Dressel Porch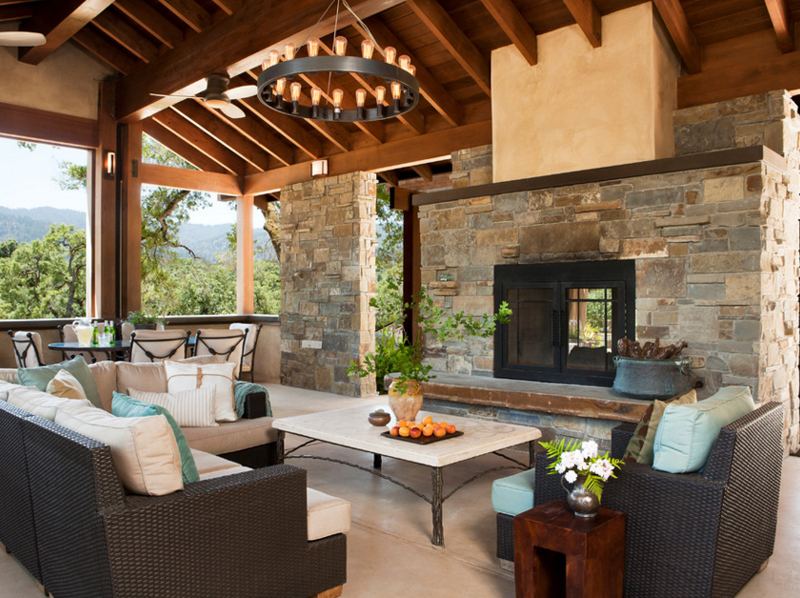 Here is another example of an outdoor space that showcases rattan furniture and a lovely chandelier! Notice how the materials in this picture is similar to some of the spaces in this list – the use of water-resistant furniture, non-slip tiles and stones for walls is not 'really' common, but rather ideal for open spaces like the ones on this list.
7. McConnell Drive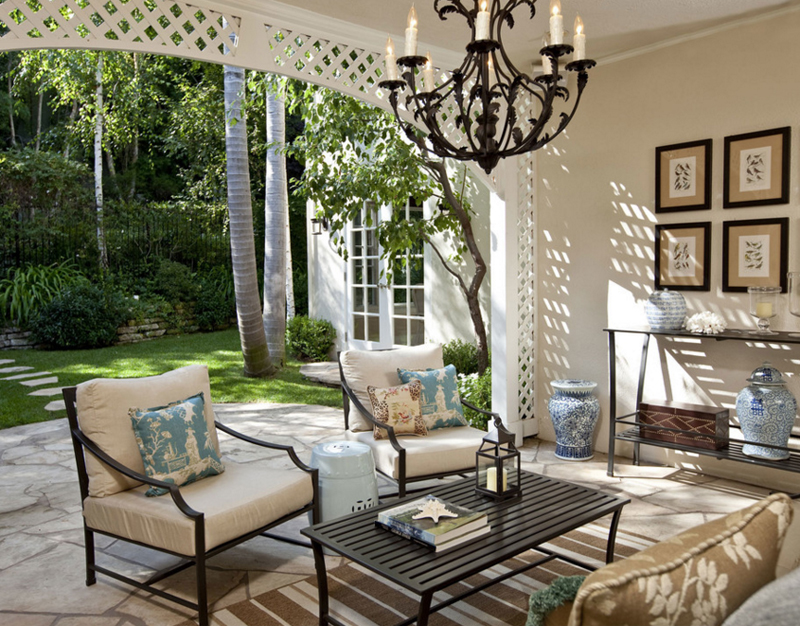 The color combination used in this patio is quite common for a home close to the beach but then of course, the use of white, blue and neutrals make spaces more homey and comfortable. The pretty candle chandelier in this space is rustic and quite antique-looking too.
8. Birmingham Patio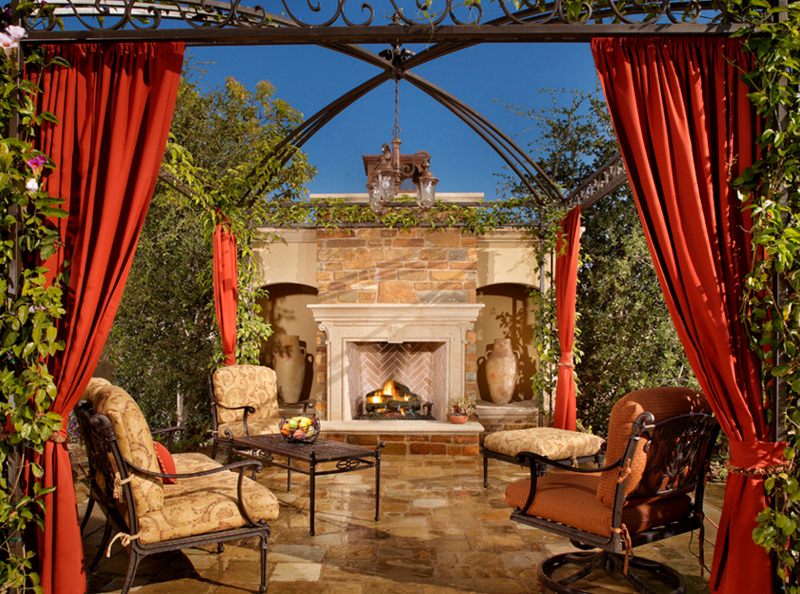 This patio looks really Roman-like. Imagine all those old movies with a Roman theme or setting and this is the color and somehow the look of some of their spaces in there. From the chandelier (only that this one is simpler than the ones in the movies) color of the tiles to the color of the drapes, need I say more?
9. Seattle Patio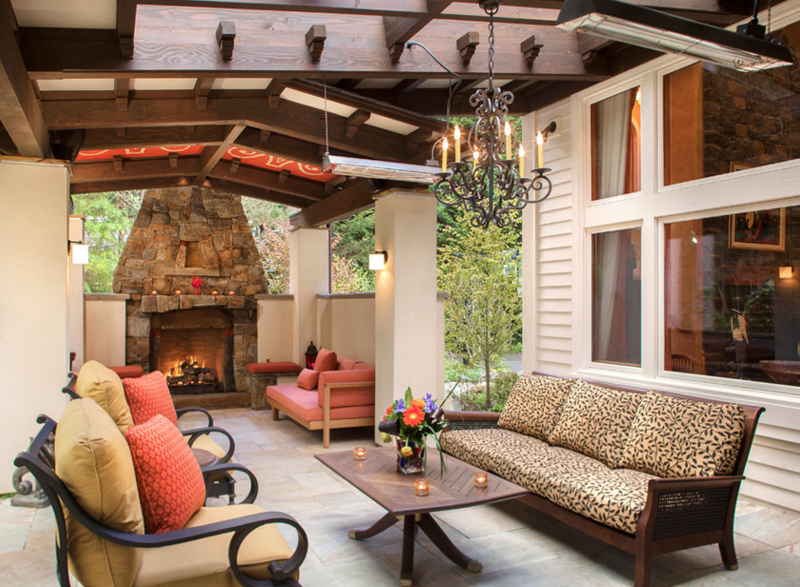 The chandelier in this cute and comfortable patio is like something that I have seen before – it sure is pretty and very old school that its charm is really prominent. It's too big to overpower the look and aura of the space but it sure looks beautiful enough for it to still stand out.
10. Pool House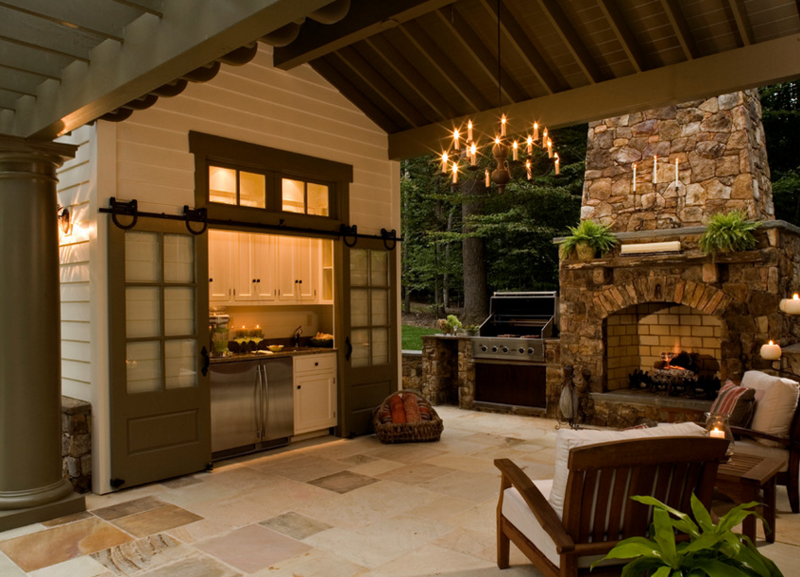 There is a small kitchen that is definitely not the 'dirty' kitchen in this home. It may be small, but it sure looks like it has all the needs anyone would need in a regular kitchen. The space looks large enough for gatherings or small get-togethers and cooking close enough would mean convenience for everyone.
11. Silverleaf Ranch Hacienda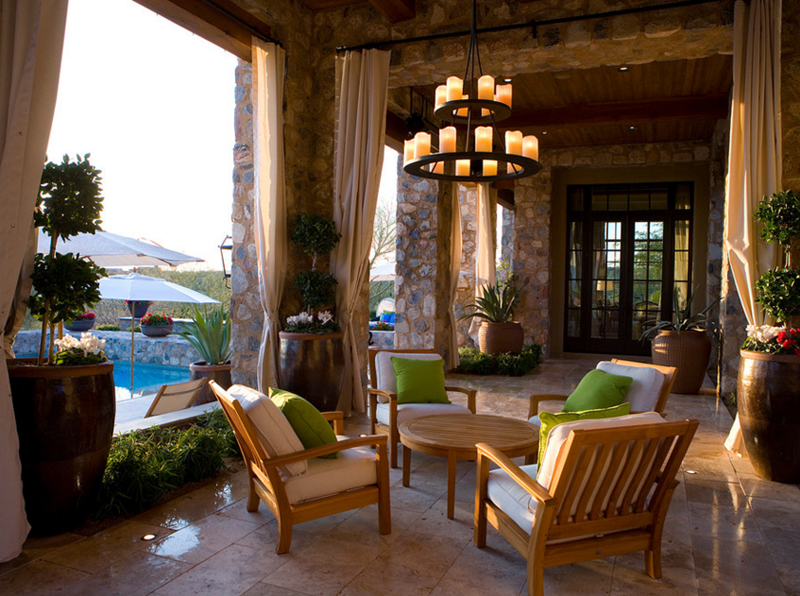 This is another space in this list that I think is in fact a charmer! From the view of the pool to the sky, this seating area will surely be one space that anyone would be able to really relax and chill. The simple candle chandelier complements the simple seating furniture in this patio.
12. Southwestern Patio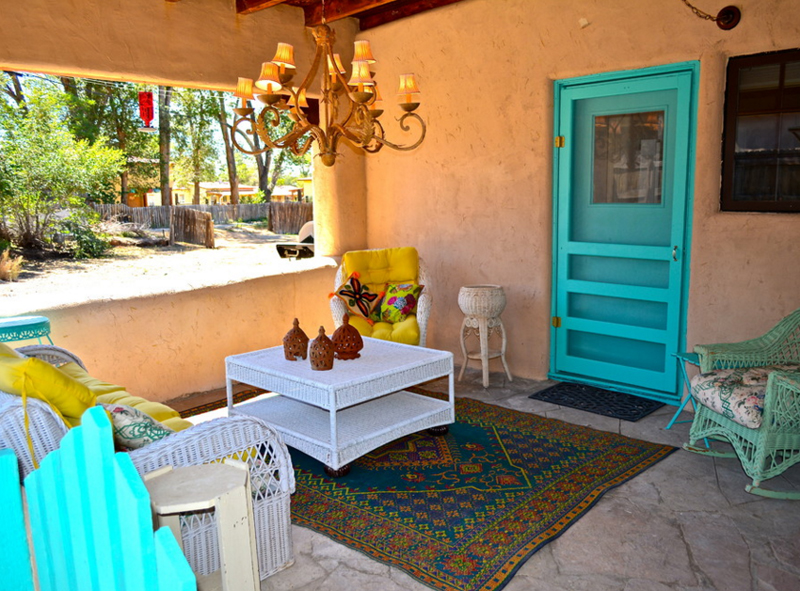 This is indeed one fun space! You will see a lot of colors in it and from the looks of this space, you'll know its south western – with or without the name! Haha. I can truly say that however homey DesignCents wanted this to be, they made sure that it would still look beautiful and welcoming.
13. The Allure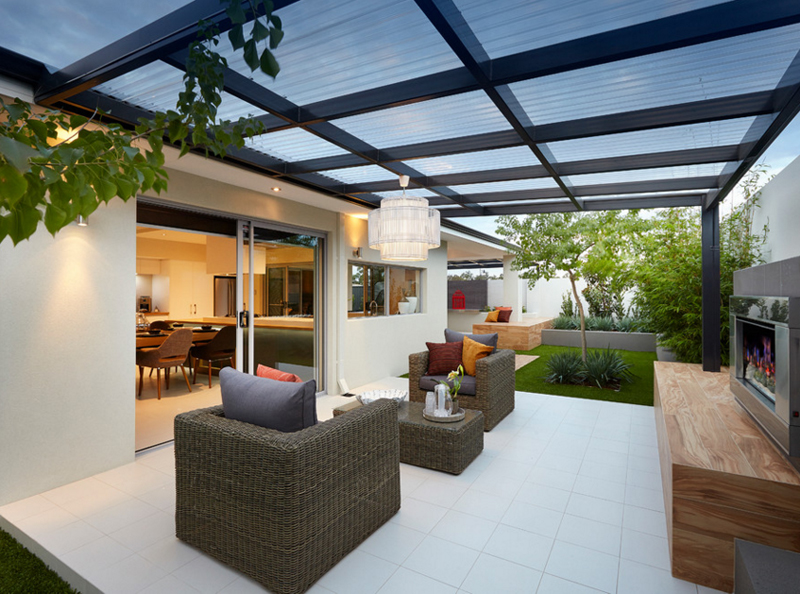 Now this is what the modern home patio would look like if you see one – of course, you will notice that they used rattan furniture in here and complemented the wood and tile inspired fireplace that will surely keep you company when you just want to drink your favorite Chardonnay.
14. Houston Pool and Landscaping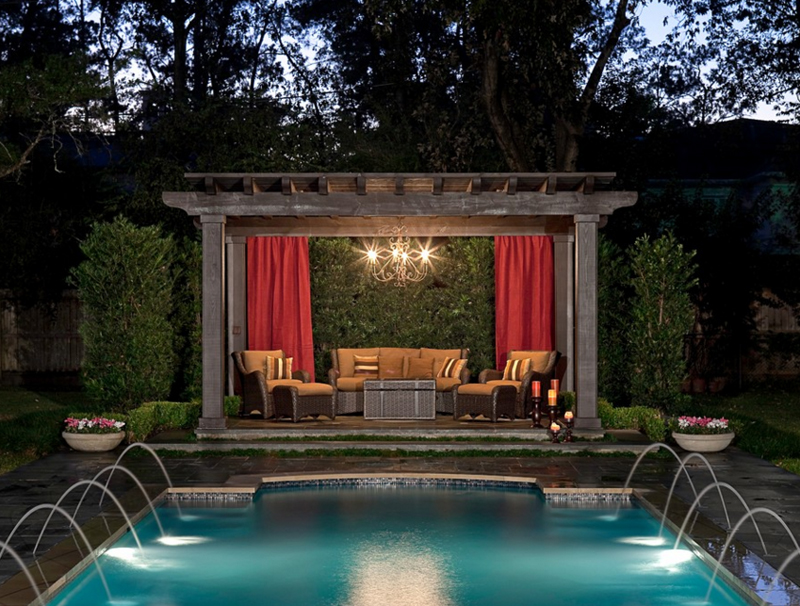 If you had a swimming pool at home, I'm pretty sure that you'd like to have an area to chill, to sun bathe or even to hold events like small barbecues or Margarita nights; the small covered area in this home sure fits those things that we were just talking about. What do you think about it?
15. Vincennes Court Residence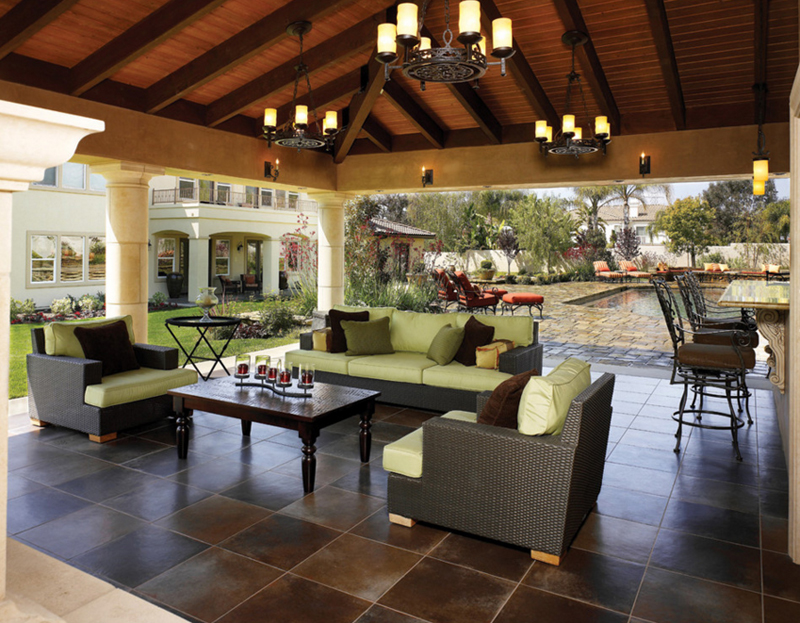 The colors of the cushions in this rattan furniture set is quite refreshing and great to look at; the mini candle chandeliers in this home area cute too, they may be small but they complement well with the color of the ceiling and that of the material of the bar chairs.
16. Italian Villa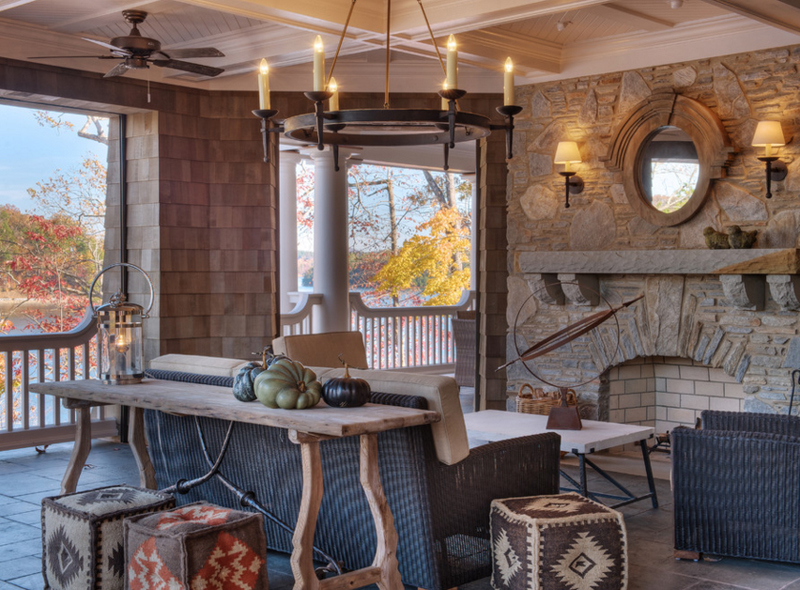 I have always wanted to see pictures of those poufs I have written about before – and in this picture I was able to see three at once! Haha. Of course that is not the point of this picture but the living space that has a simple and rustic chandelier that truly adds pizzazz to this Italian villa.
17. Mediterranean Patio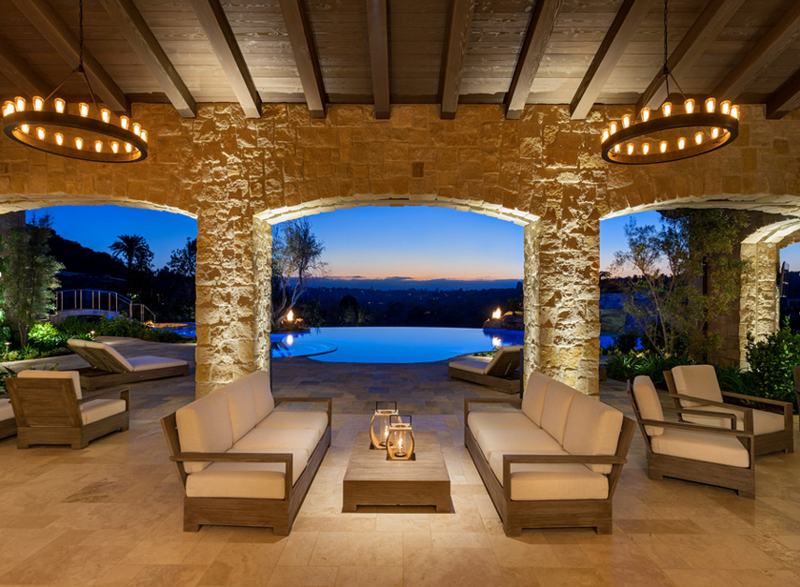 Tell me that you agree that this is in fact a fabulous outdoor space with a couple of living room furniture and has a view of the infinity pool and a stunning front row with the glorious horizon. I bet that this space is indeed a party or get-together area for the home owner and their friends and colleagues.
18. Dallas Outdoor Living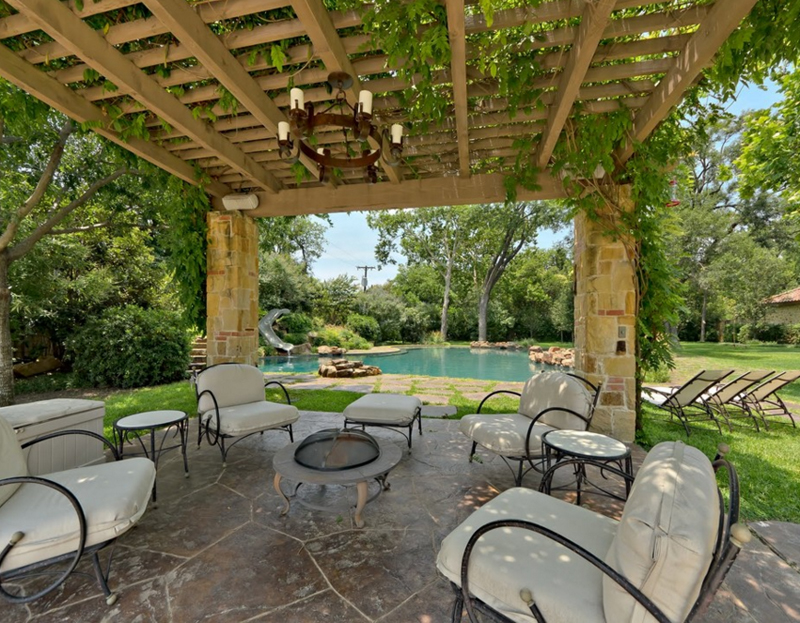 A beautiful outdoor living space that is covered with a trellis which is already filled with vines that makes this space a bit legit when we talk about a living outdoor space. From the large cushions on these chairs, we can be sure that the home owners sure want to make sure that even when outdoors, it is still comfortable and very homey.
19. Timeless Traditional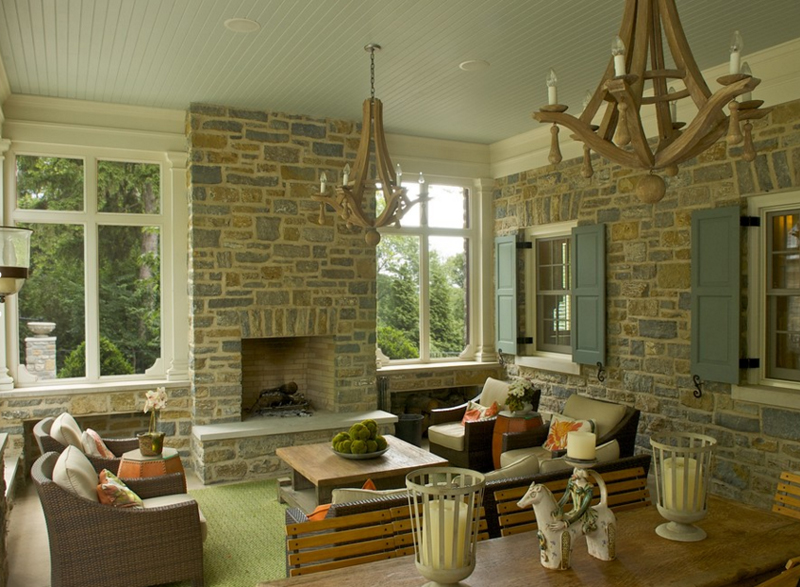 If I am not mistaken, the chandeliers in this space are made from wood; it's a refreshing yet earthy approach to timeless traditional designs and decor. The color of wood complements with the entire space since there is a lot of wooden furniture in here.
20. Traditional Orange County Home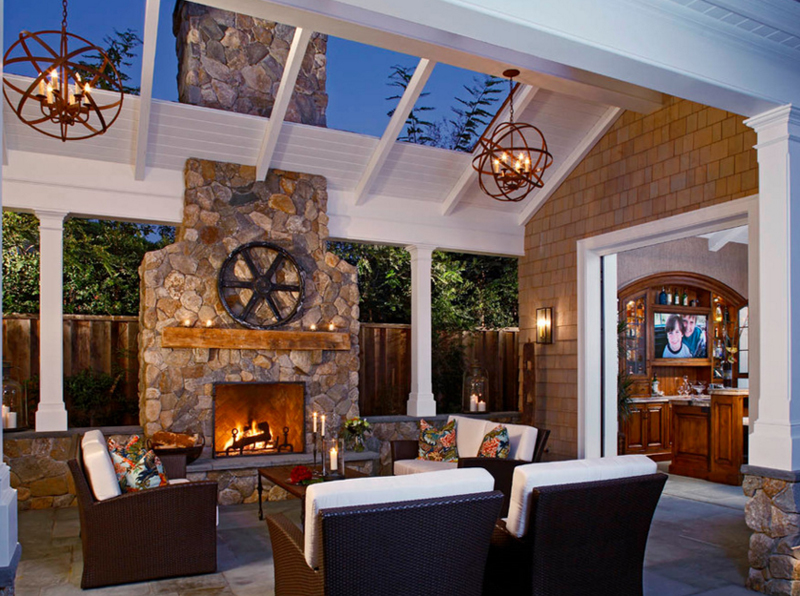 What about those lovely chandeliers just hanging in there making this space even brighter and prettier? I know that I have featured this chandelier design before in one of my chandelier lists – simple but pretty awesome right? It is because of the cylindrical bands it has.
This is indeed one of those lists that might not seem necessary for inspiration but then again, compilations like this makes it easier and quicker when we want to look for certain things – in this case, 20 Living Spaces with Outdoor Chandeliers; just like the 25 Beautiful Candle Chandeliers Fit for the Living Room, I think that this list we have for you is a quick and witty list to check out when you need it.