20 Fun and Spooky Halloween Porch Decorating Ideas
There is no better way to give your home the Halloween feel than to welcome guests with anything spooky!
No, you do not need to let them scream in fear. Just make them feel that it is indeed just a few days before Halloween.
How would you do that?
Well, decorating your yard would be a good idea but if you do not have a lawn or a garden, you can actually decorate your home's porch!
Yes, you got that right.
Your porch will be a perfect way to welcome guests with a big "boo" by using your home decors.
So, if you are looking for ways on how to do that, we have collated some awesome porch designs that will no doubt inspire you to start decorating!
Come take a look:
1. Bat Decorations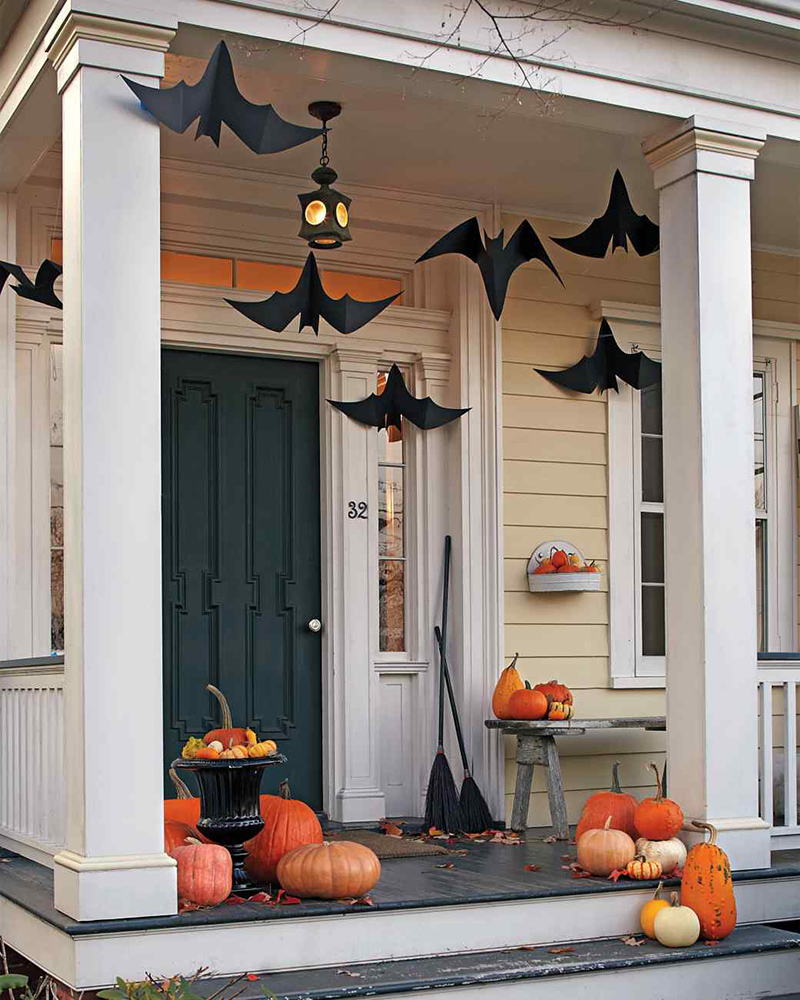 For a simple porch design, you can try something like this. Just use a simple bat template then cut them out to make realistic looking bats. The two brooms add a bewitching feature while the presence of bats could mean Count Dracula is visiting. Complete your decor with an array of pumpkins on your steps or porch in different sizes and colors.
2. Front Porch Frost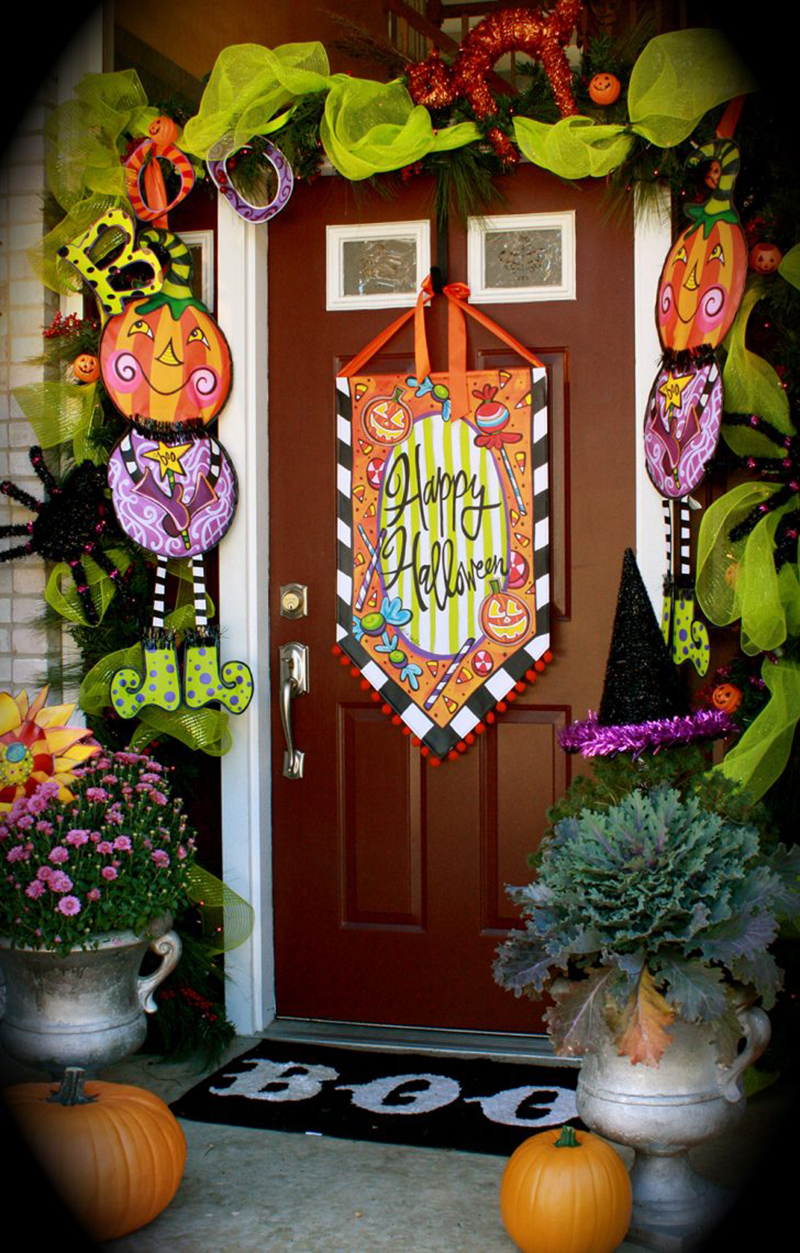 If you want a colorful porch, you can use this one as an inspiration. Aside from the festive banner in the middle, there are other colorful decors around it too like the pumpkins on both sides of the door.
3. Spider and Bat Invasion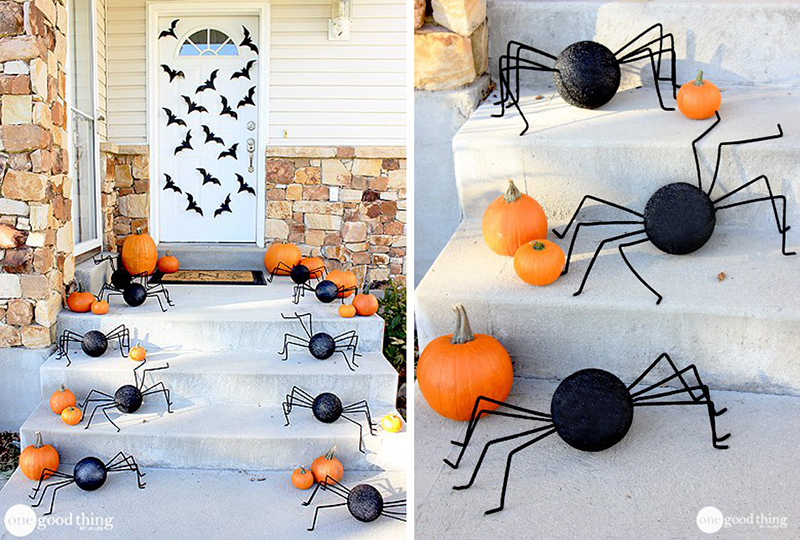 This one is all about spiders and bats which is very easy to achieve. All you have to do it to make it look like they are invading your entire home. Use black poster board for the bat and black painted Styrofoam balls for the spider. Then scatter some pumpkins for an orange touch!
4. Ding-Dong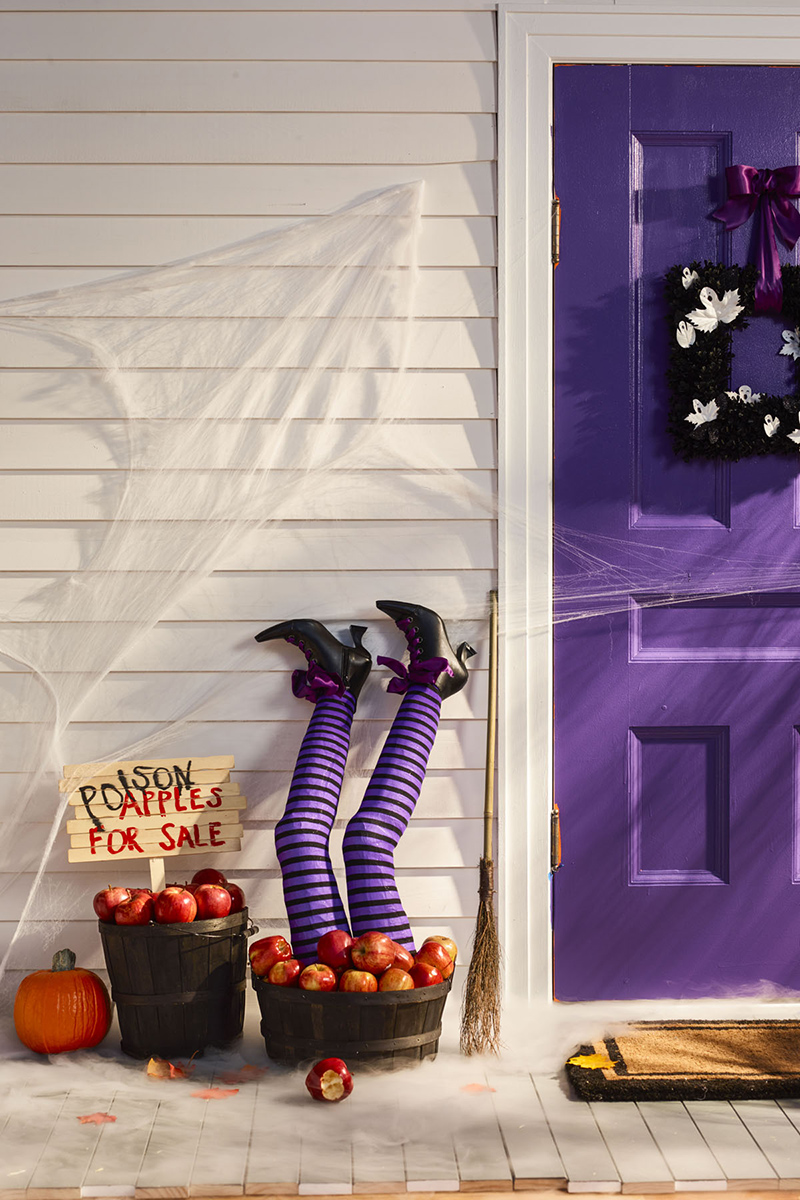 You can copy this style simply by flanking your front door with apple barrels. Cover pool noodles with striped stockings and add pointy heels to achieve this witch-themed porch.
5. Halloween Front Door 2012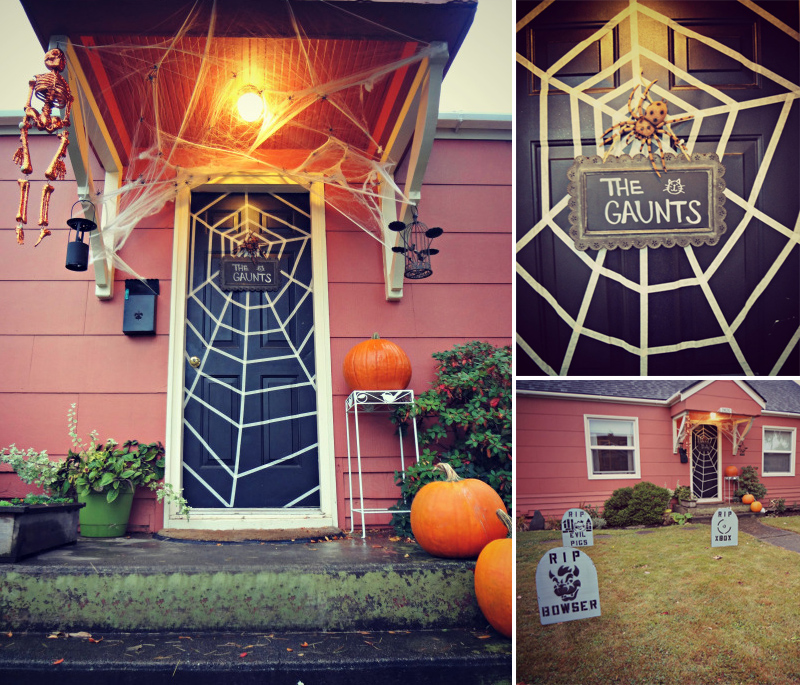 That sure is an interesting door! But do you know that it is actually very easy to make? Just use a masking tape to form the web. Then add a toy spider in the middle. Be creative with your other decors too.
6. Batty Front Door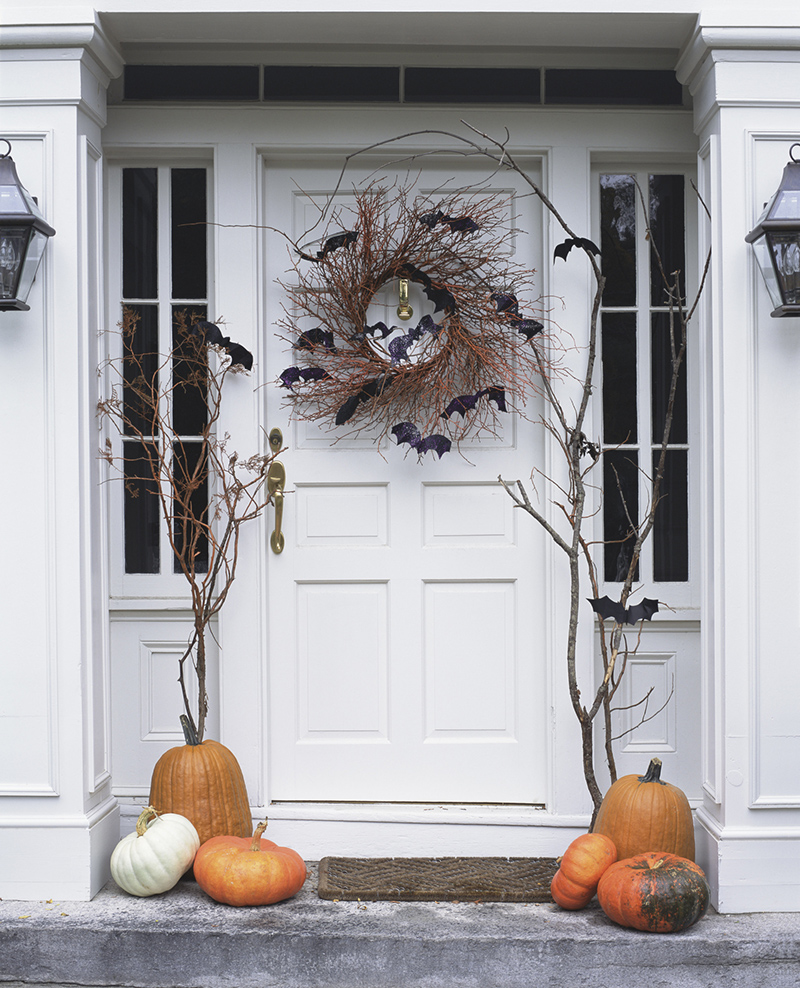 A simple porch wherein you will just put together twigs and felt baths to make a wreath. Then decorate it with pumpkins.
7. Days Before Halloween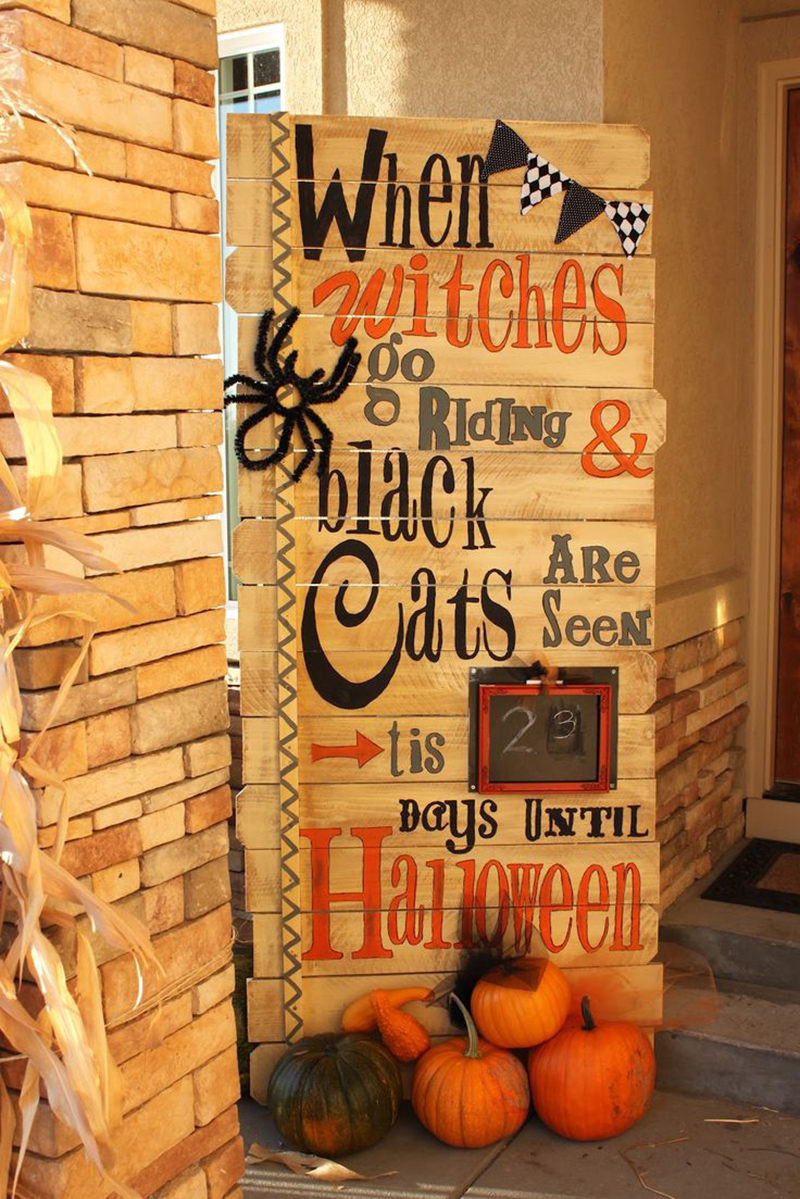 This is a big countdown sign on the door but it looks really nice with all those typography play being done on it.
8. Front Porch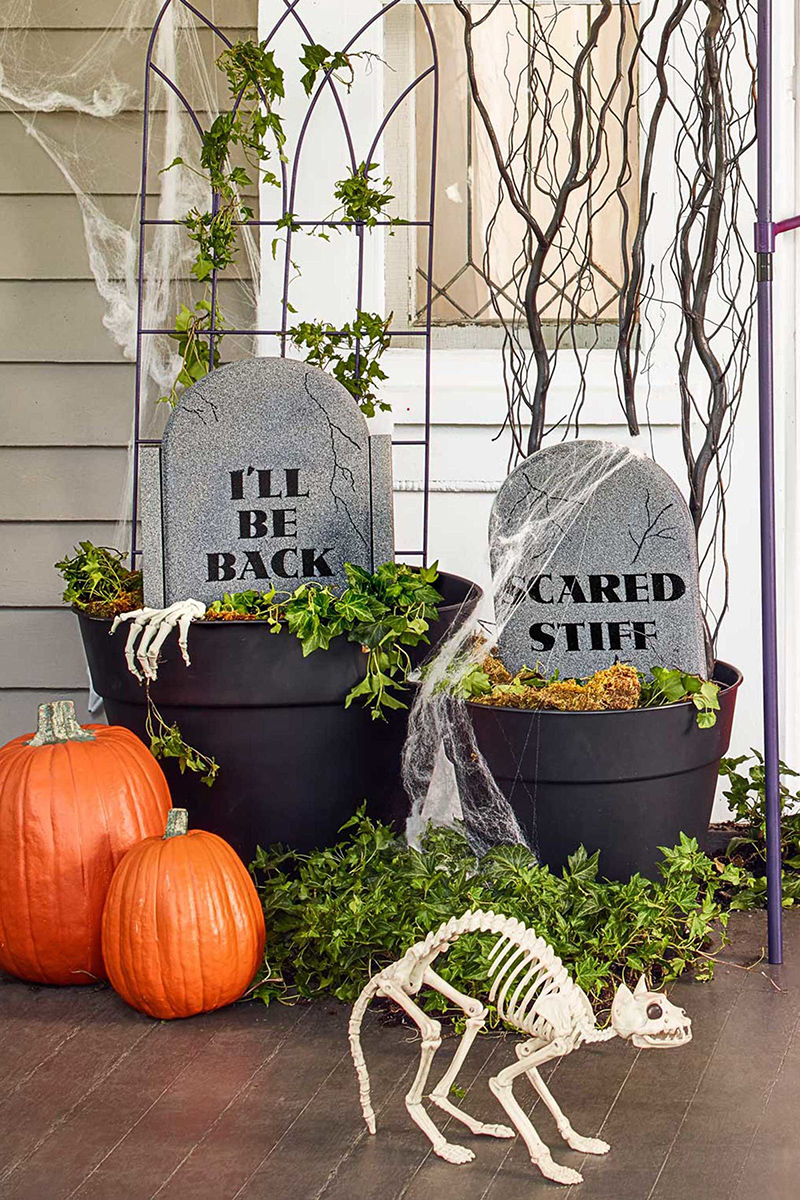 Buy some black kickboard and paint it with stone spray paint. Then adhere some letters on it to spell spooky words. Then be creative in other decors.
9. Halloween Home Décor Tour
For this one, it simply used black paper bats around a fall-themed burlap wreath. You can even add some carved pumpkins on the steps too instead of a Jack-o-lantern pot.
10. 5 Steps to a Spooky Halloween Front Porch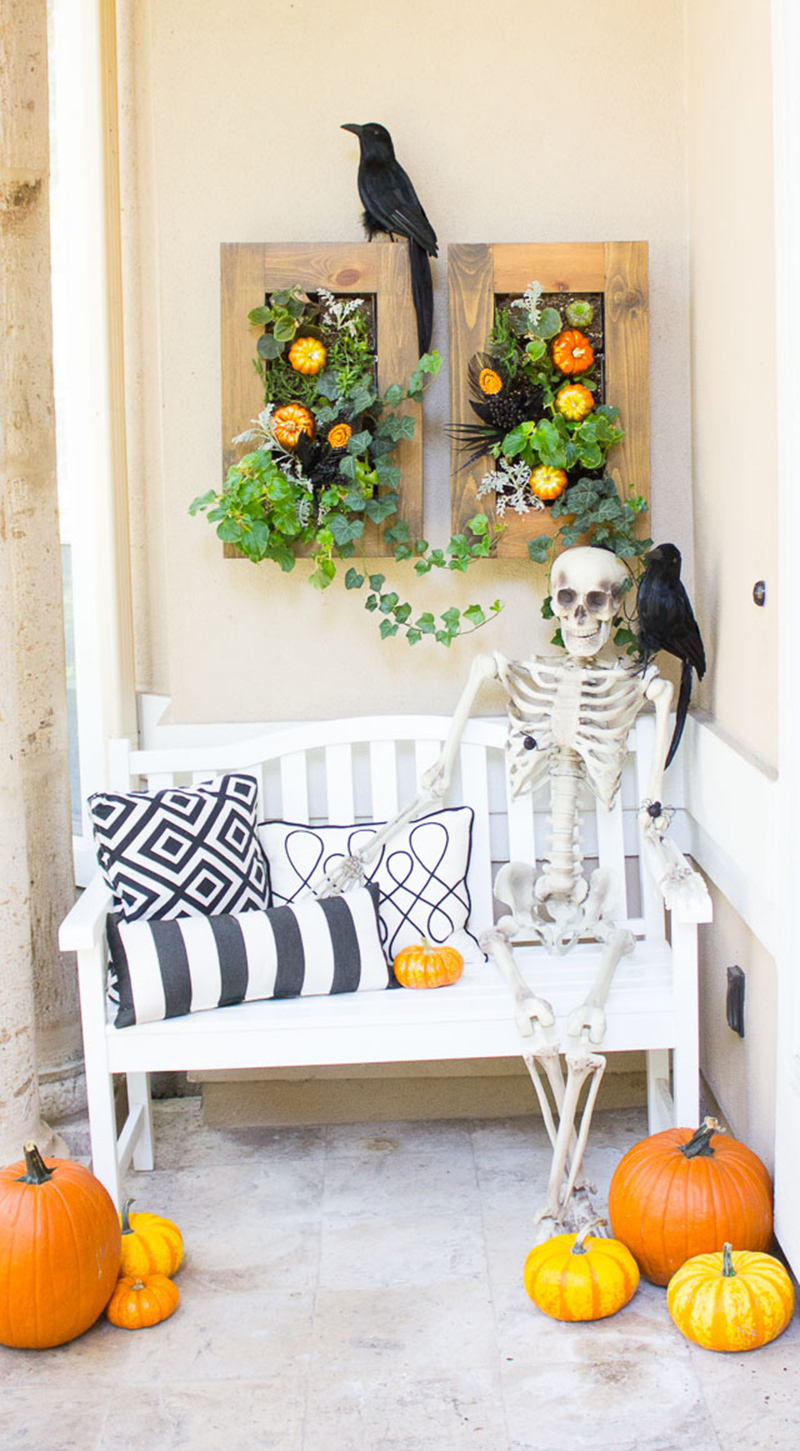 I like the idea of adding some framed plants on the wall. This could use real plants but synthetic ones will also work. For a spooky look, crows are added on the porch as well as a large skeleton which appears like taking a rest in the area.
11. Decorating Your Outdoor Space for Fall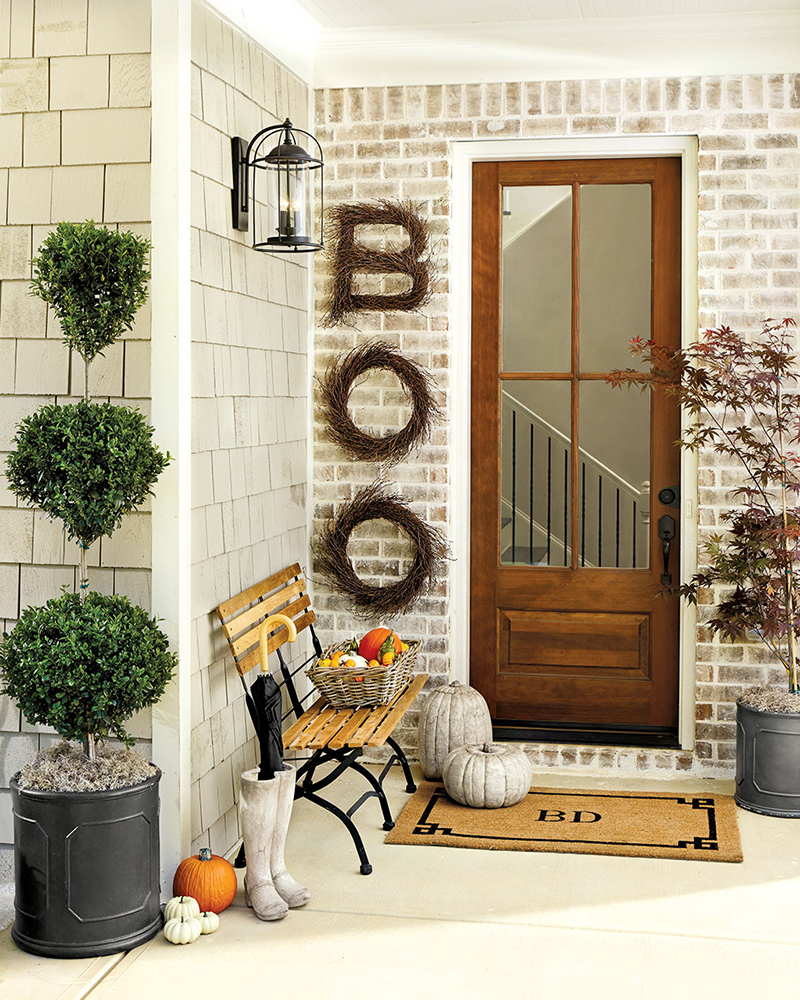 Simply gather some twigs and form letters to spell BOO. After mounting that to the wall, add some pumpkins to complete the look!
12. Frost Porch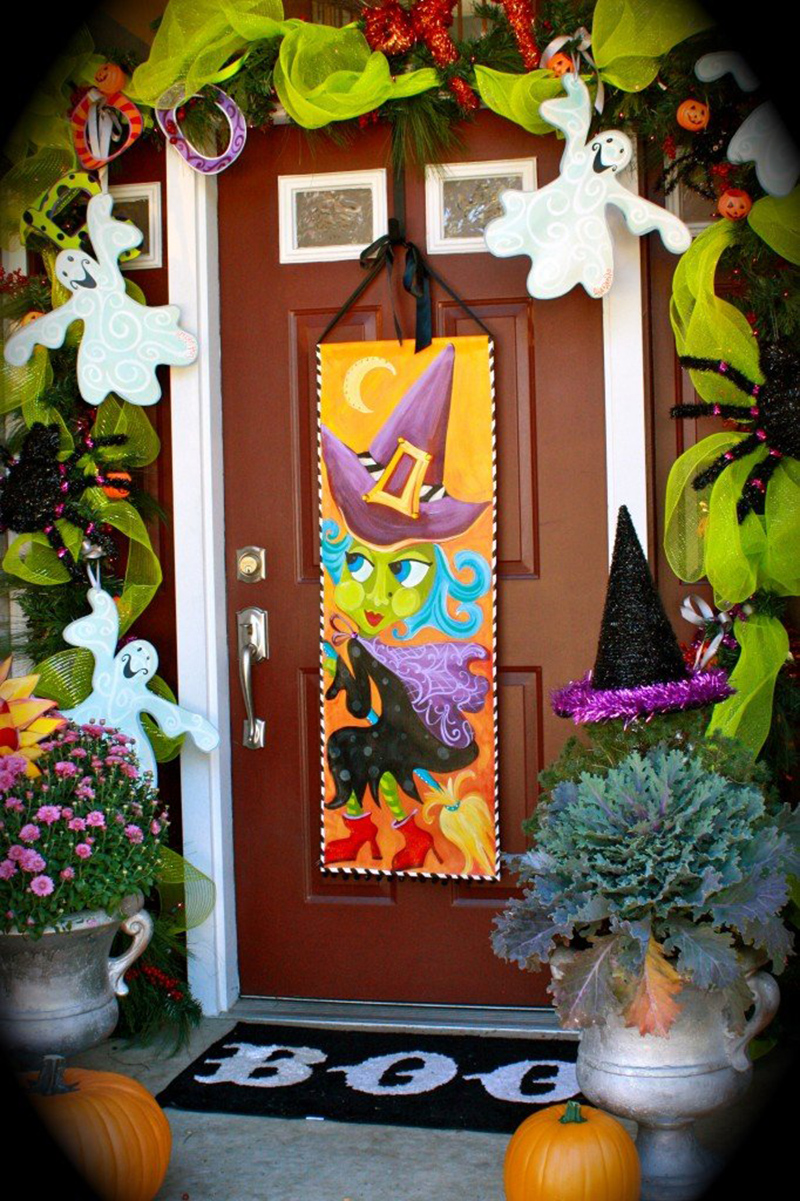 Another version of a festive porch with colorful banners. Isn't that a lovely witch? Even the ghosts around it looks cute too!
13. Twenty Ways to Decorate Halloween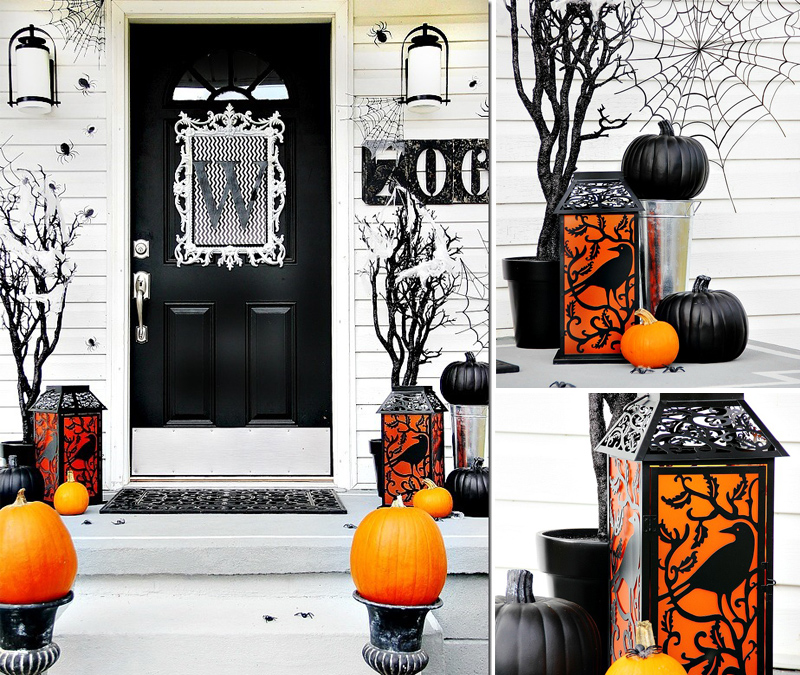 This one looks very nice in black, white and orange! That framed letter W looks attractive too but what I like most here is the black lamp with orange paper inside.
14. Halloween Porch Decor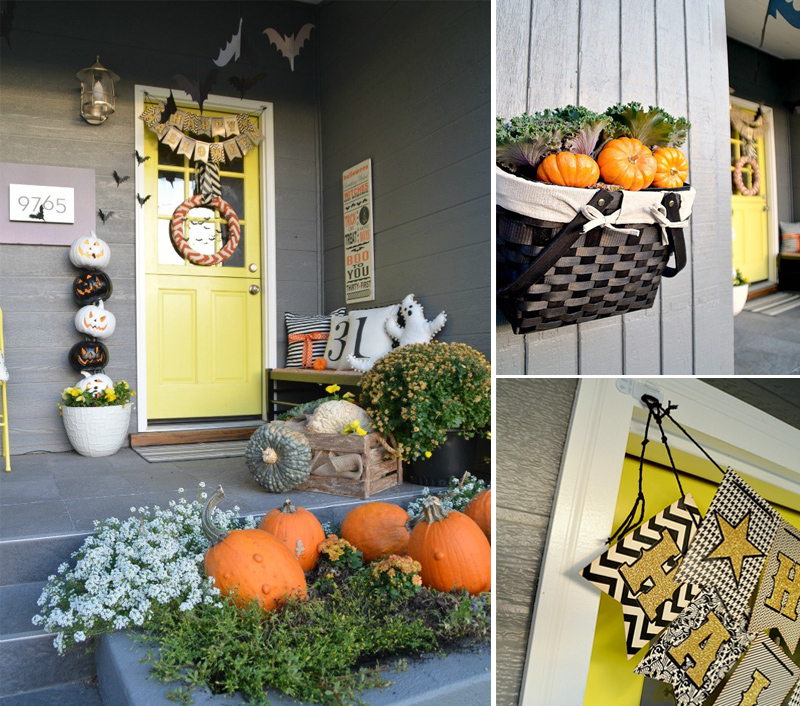 Aside from the pumpkins and gourds here, notice that it features a black and white painted pumpkins stacked on top of each other. Another cute feature are the throw pillows and the gold and black buntings!
15. Enter at Your Own Risk
Two rows of Jack-o-lanterns guide cautious guests toward the door of this home. A soccer goal netting is draped halfway over the roof where webs are attached giving one spider a fun way to greet newcomers.
16. Skeleton Greeter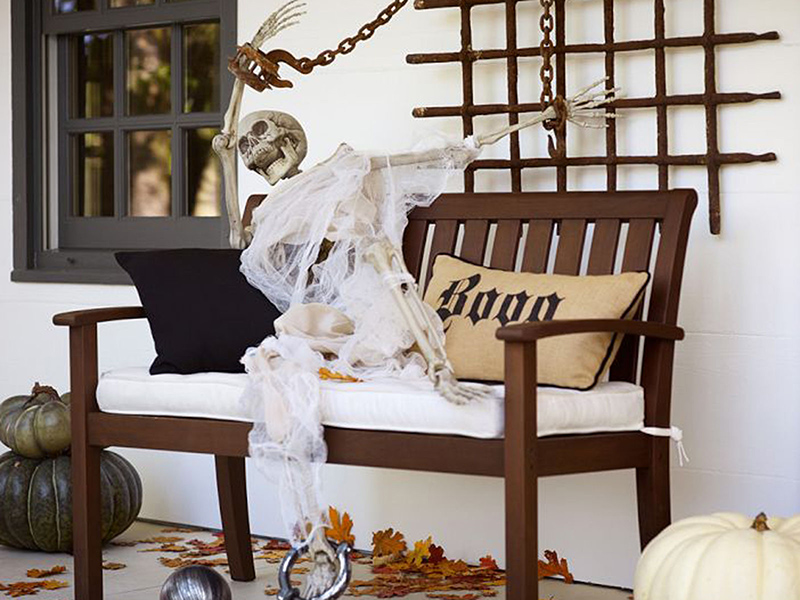 Similar to the 10th porch idea, this one also used a large skeleton but it looks creepier with its hands chained. Poor thing!
17. Witching Hour Halloween Porch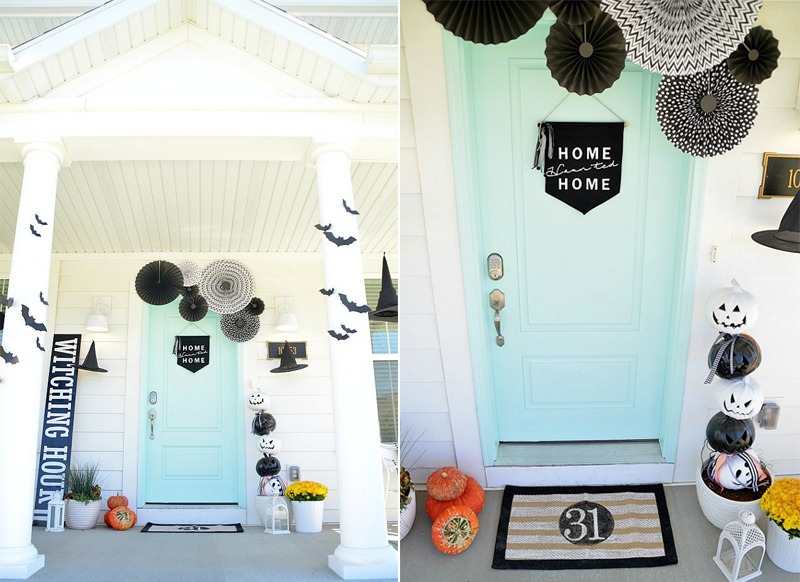 For this porch, black and white Jack-o-Lanterns were stacked on top of each other for an eye-catching twist both day and night. It is also nice that other black and white decors were added to it like the pinwheels.
18. Festive Halloween Porch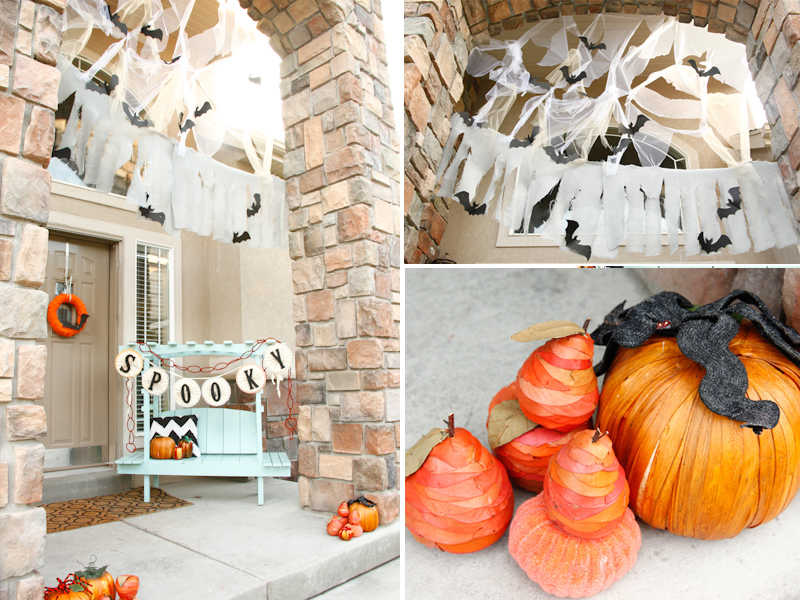 Everything you see are made by hand from the bats to the pumpkins! And the result is very creative and artistic.
19. Spiders and Bats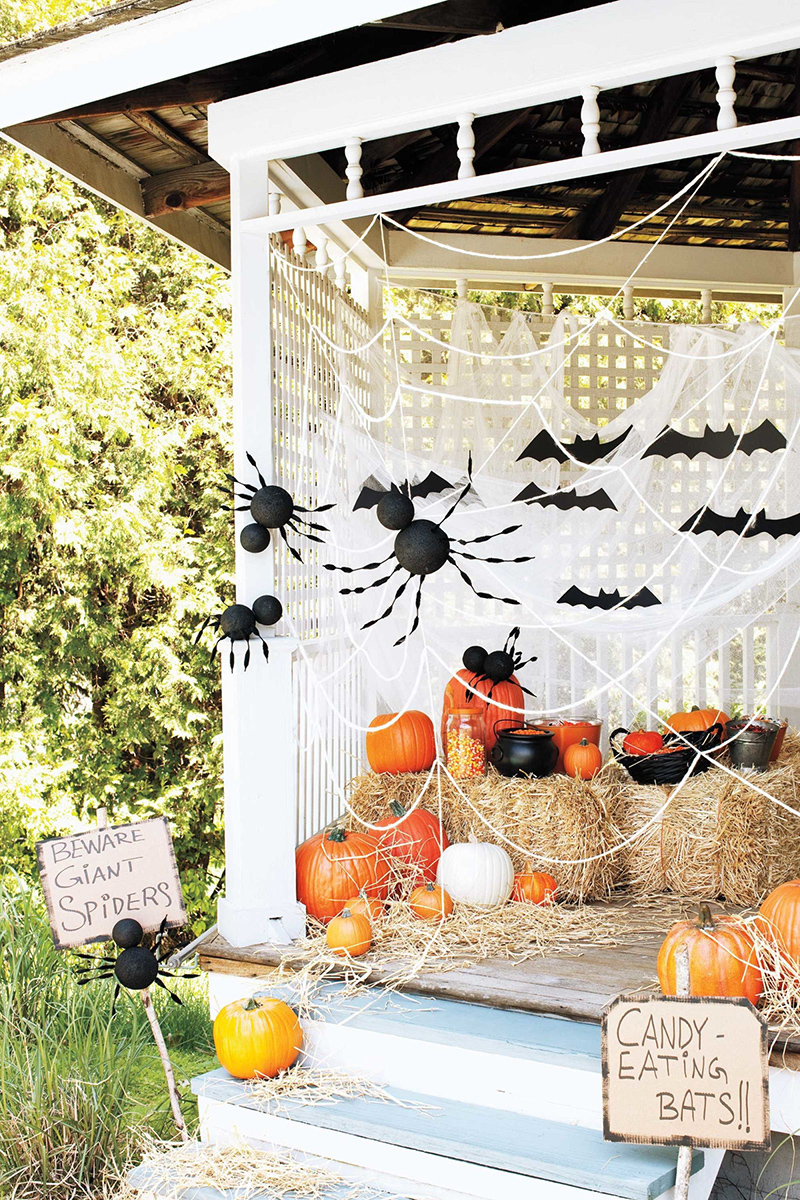 This one looks fun! Your guests can carefully maneuver through the web of giant spiders in order to reach a bowl of prized treats. The spiders, which are made from foam balls and chenille stems, will try to catch candy thieves in their web!
20. DIY Halloween Countdown Board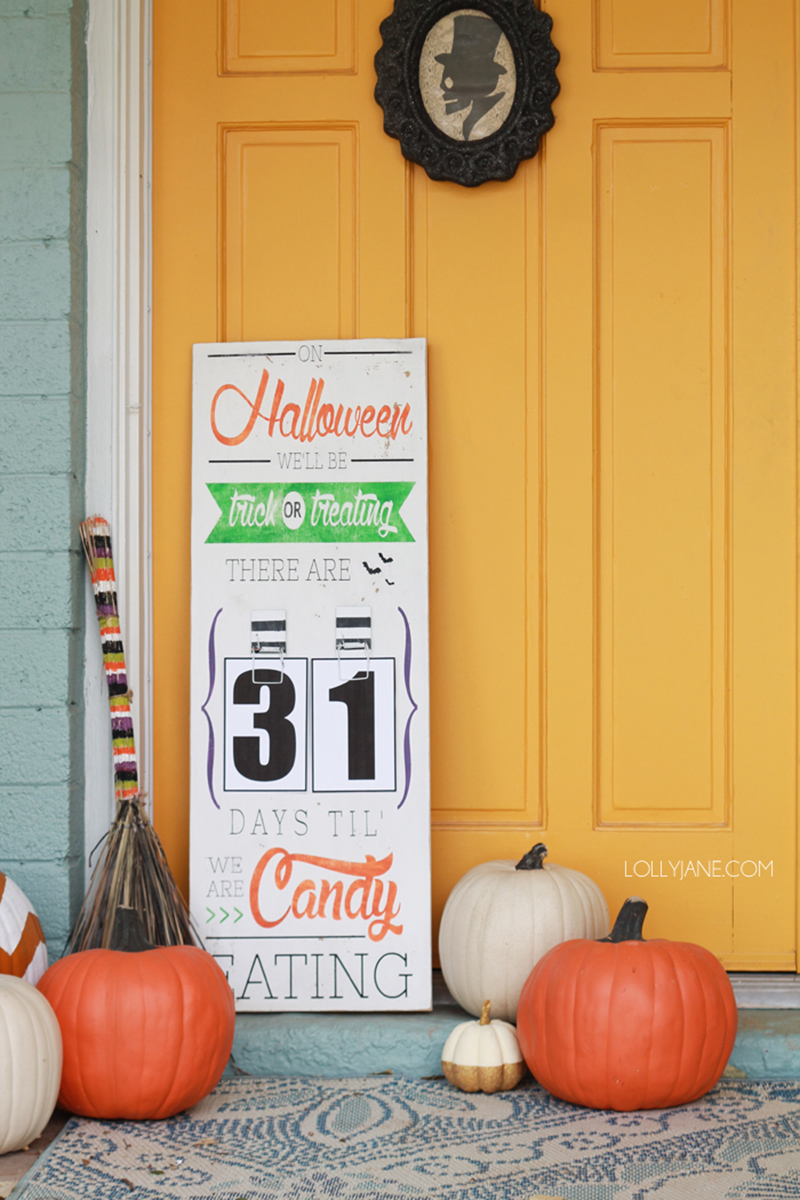 Another Halloween countdown board idea that you can try. I love the typography work here!
Isn't this a very inspiring list? This roundup will surely encourage you to be very creative in your porch designs. You might also want to check out some DIY ideas on how to make Halloween decor for your home. You can use these items to decorate your porch too. Or if you do not want to add those bats, skulls or spiders, you can simply do a fall decor instead. It will still alleviate the look of your porch and add to your home's appeal! Can you tell me which of the above porch designs do you like the most?
Bonus Video: Halloween Garage Makeover