25 DIY Spring Wreaths You Can Make to Adorn Your Home
Bring in the lively aura of Spring into your home with these lovely wreaths!
One type of home decor that is so common in homes is wreaths. You can see this in different celebrations, holidays and even for various seasons as well. What is lovely about wreaths is how they are made in a creative manner using various materials. It is indeed amazing how moms and other creative people make wreaths from just anything they can think of! Now that it is spring, it is once again time to see beautiful home decors related to this season of the year. Expect flowers, butterflies, nests, eggs and more!
We are going to show you some pretty DIY Spring Wreaths today and I am sure you will be amazed with the variety of designs that you will see using a wide range of materials from paper to branches! So, if you are planning to make your own wreath this spring, I am sure that you will get a bunch of ideas from this list. Scroll down below and fuel your mind with inspirations and ideas. I know that after seeing this list, you might start making your own decor too!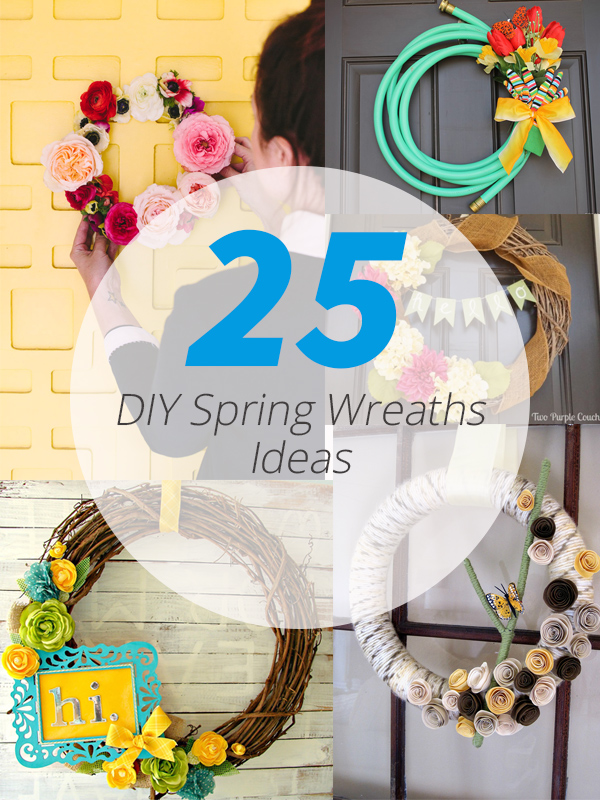 1. Pom Pom Spring Wreath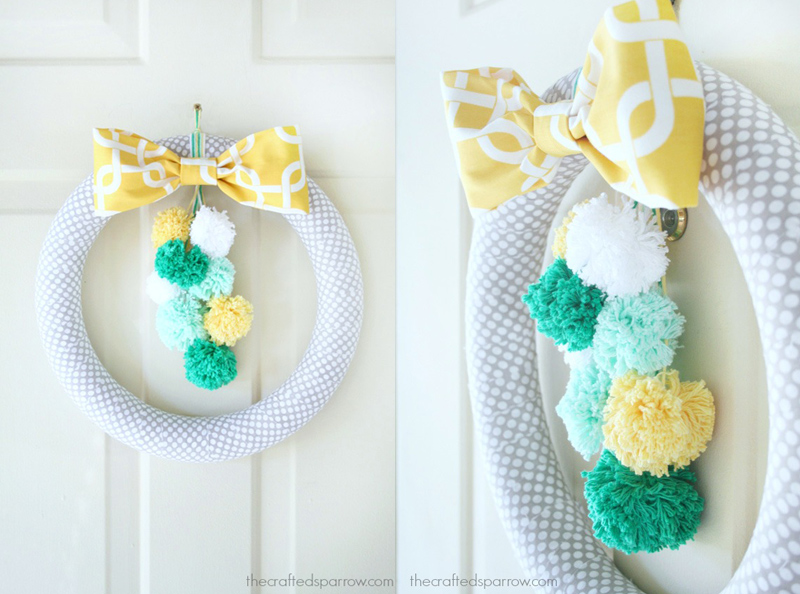 A modern approach to a wreath using yarn pom poms and patterned fabric. It turned out really nice!
2. Geometric Floating Flower Wreath DIY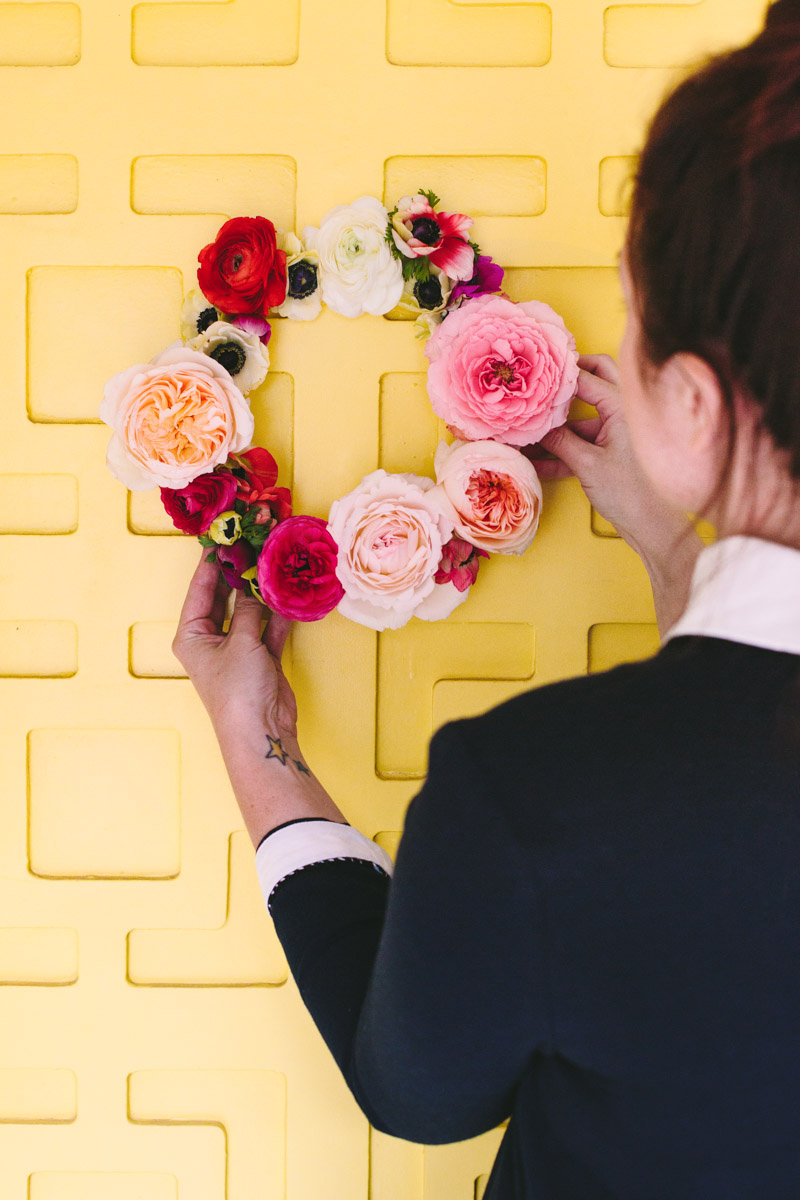 Beautiful spring blooms were used to make this live wreath with a wooden frame. Did you know that this wreath actually floats?
3. Garden Hose Wreath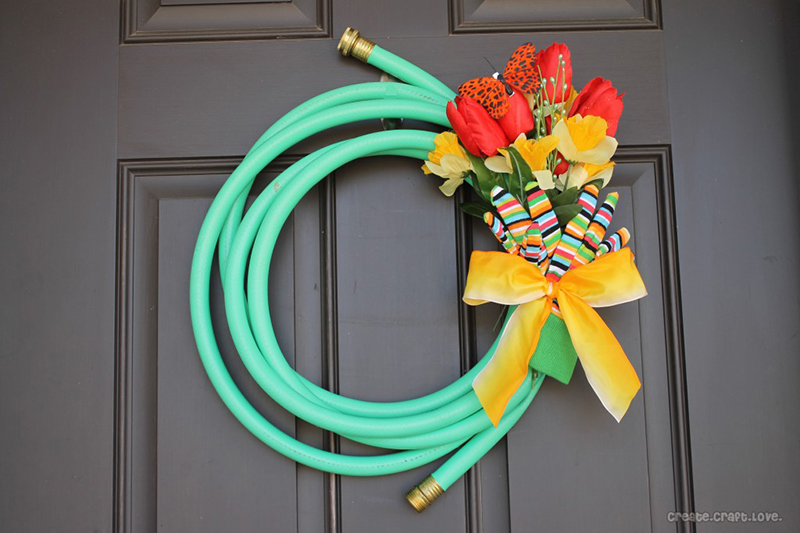 Now this one is indeed unique! Well, you have to buy a new garden hose because the ones in your garden are surely dirty already. So, use a new garden hose for this one. Just be creative with your design to come up with a gardening themed wreath.
4. Mini Spring Banner Printable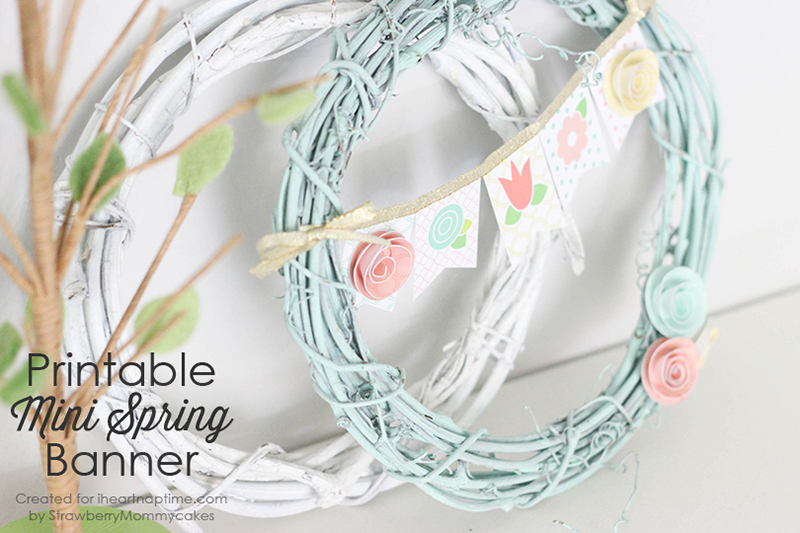 Guess we can buy wooden wreaths like this. Spray paint it with whatever color you like and then add some printable banner on it. Also, make paper flowers which are very easy to create.
5. Duck Cloth Wreath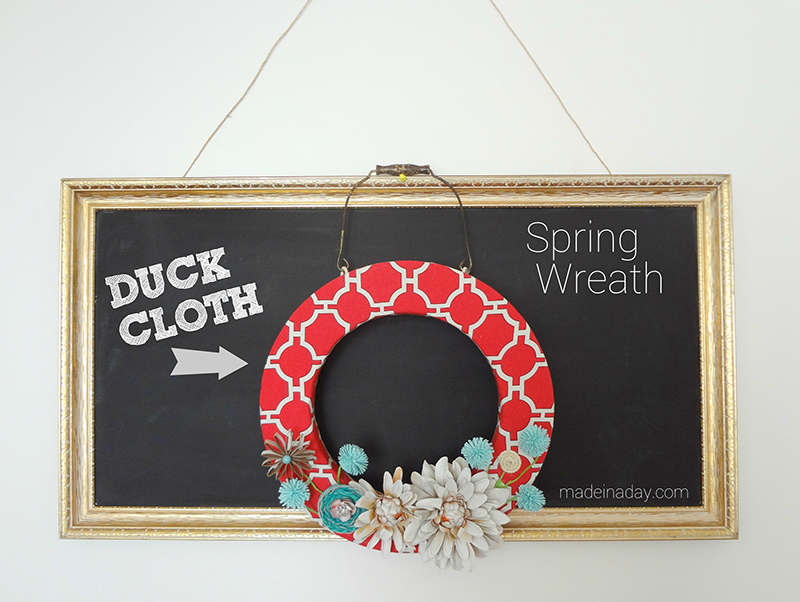 This one used various recycled items from toilet paper flower, duck cloth and others. Take a look at how this one is made.
6. Moss Rock Wreath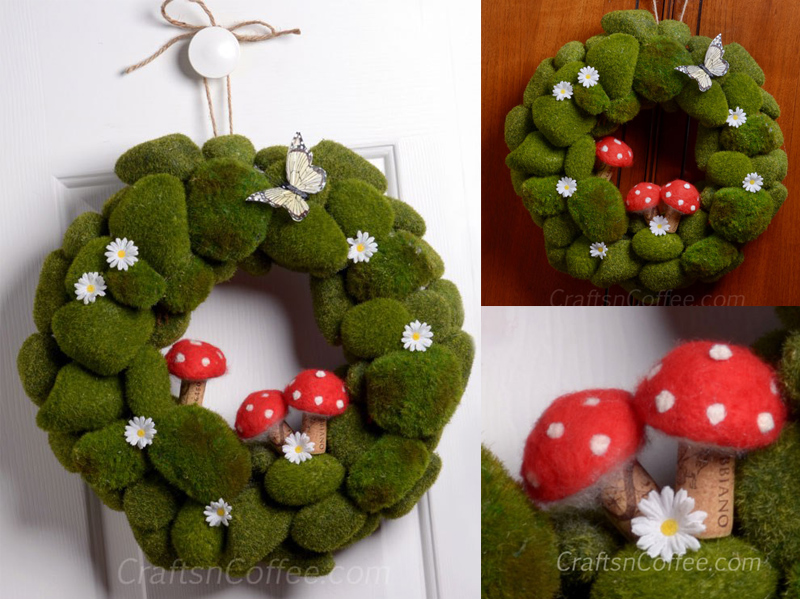 I feel like a dwarf is about to peep from the mushrooms! This looks really cute!.
7. Fabric Scrap Wreath with Felt Flowers
After wrapping a printed fabric around your wreath, wrap some lace on both sides then add felt flowers and plastic leaves. That's all and you are all done!
8. Easy Flower Pot Wreath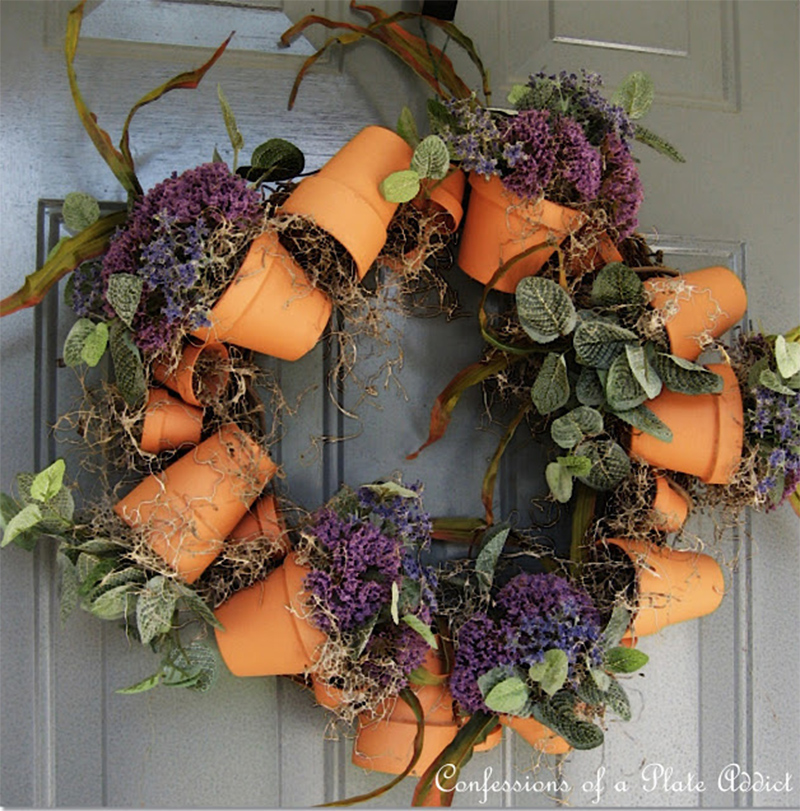 Another unique design for a spring wreath using pots of various sizes. Just make sure that you tie the pots really well so that they will not fall.
9. Paper Wreath DIY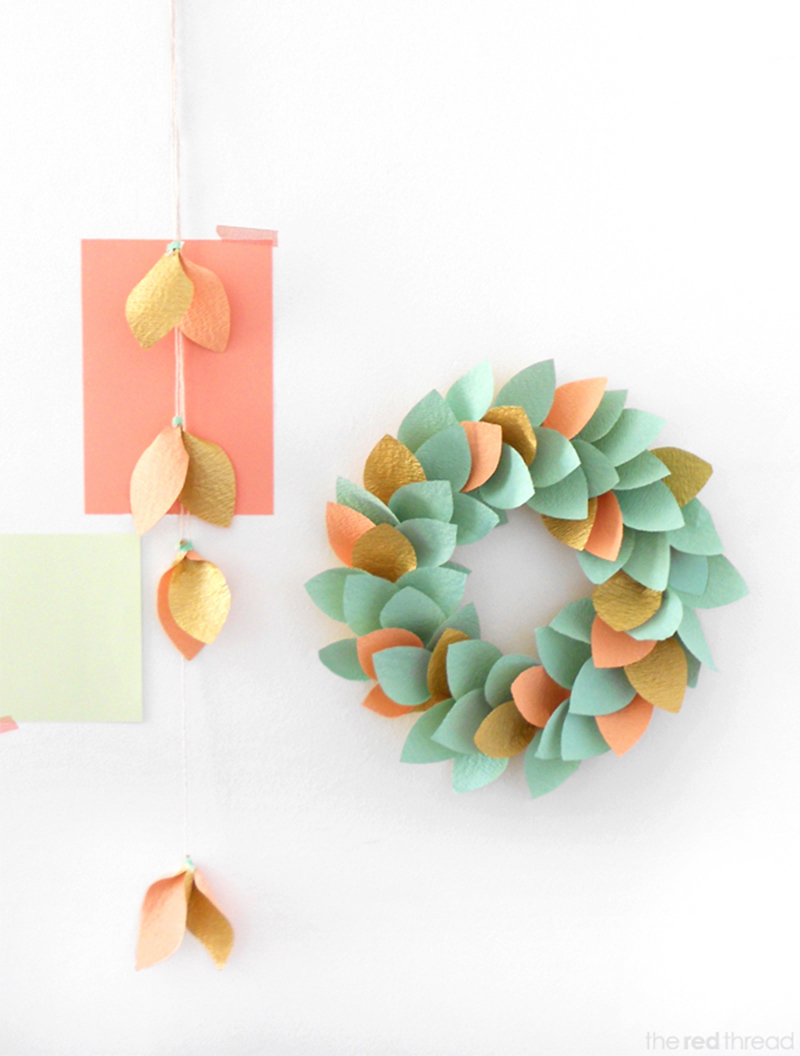 A simple paper wreath that anyone can make. You can actually use any kind of paper for this one like old newspaper, tissue paper or wrapping paper.
10. Easter Wreath Rescue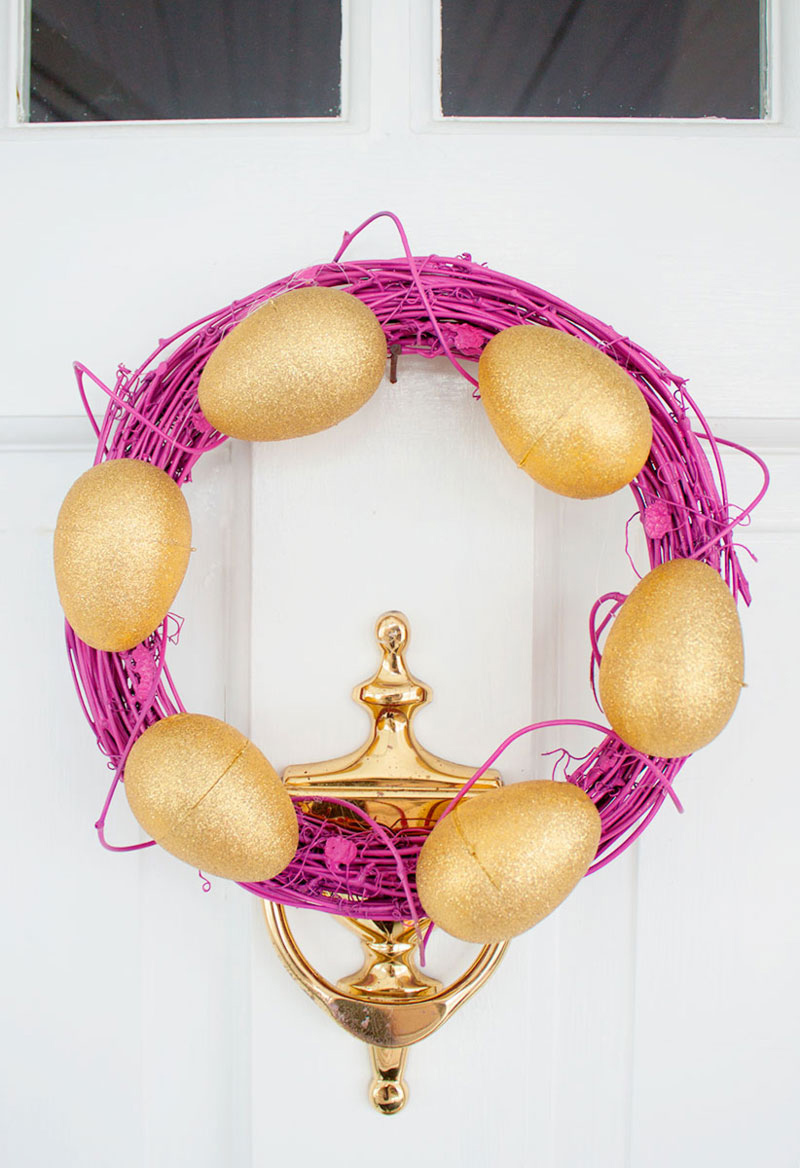 A modern approach for a wreath which is actually simple. Just grab some spray paint and you'll get something like this.
11. Ruffled Muslin Wreath Tutorial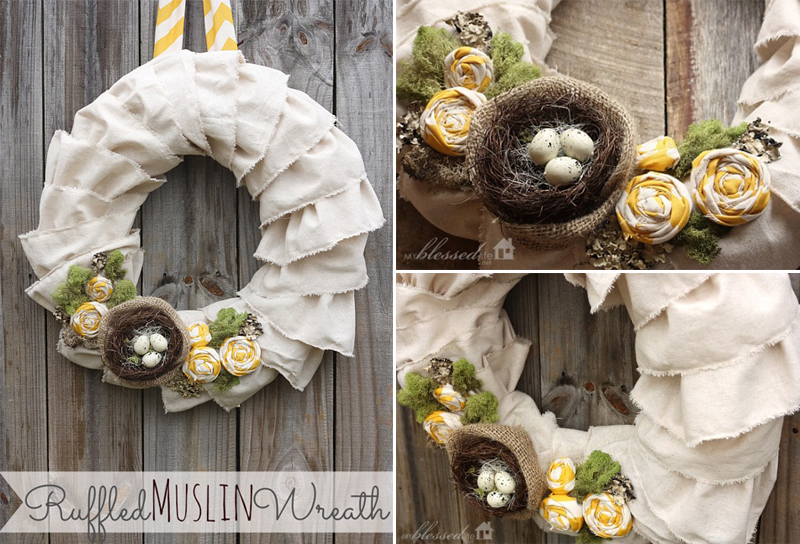 I like the cute nest detail on this wreath as well as the yellow fabric flowers. This looks lovely for a rustic themed home. But yes, it would look nice even in your home too!
12. DIY Fringed Yarn Wreath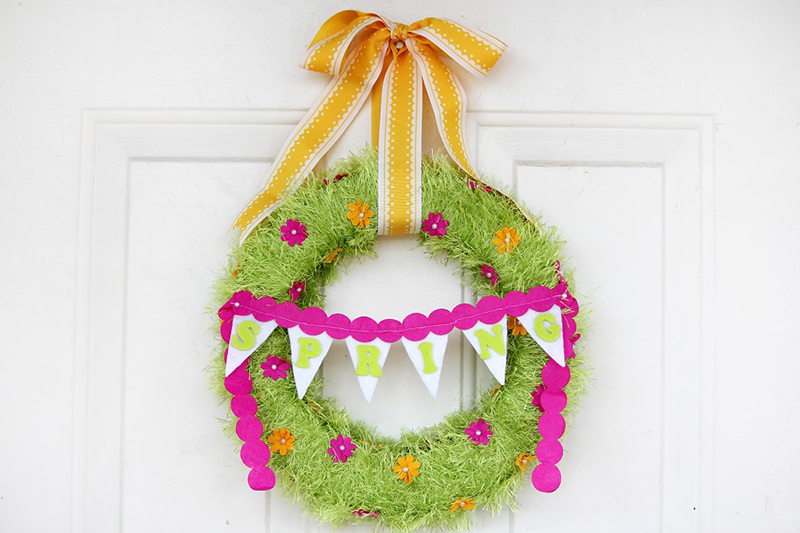 The fringed yarn "grass" used here look super festive for spring and you can just change the banner when summer comes and add some summer related items on it.
13. Spruce Up a Wreath with a DIY Banner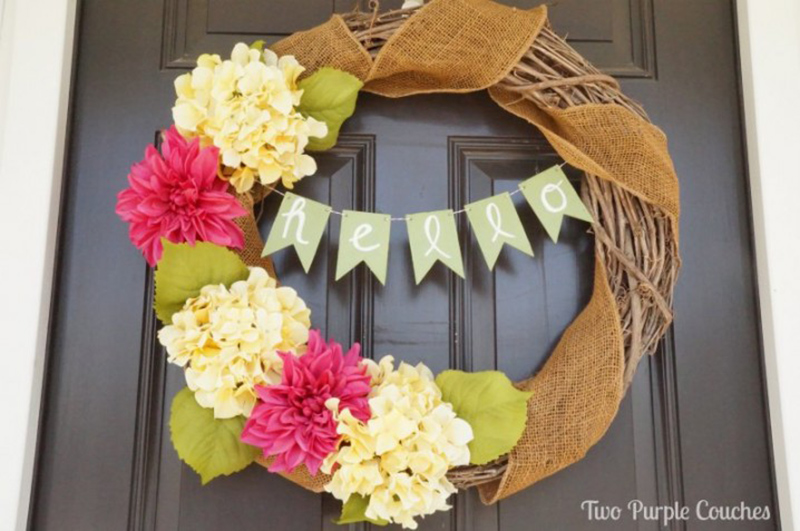 I like that banner on the center as well as the huge flowers used on this wreath. Looks easy to make, right?
14. Spring Wreath Tutorial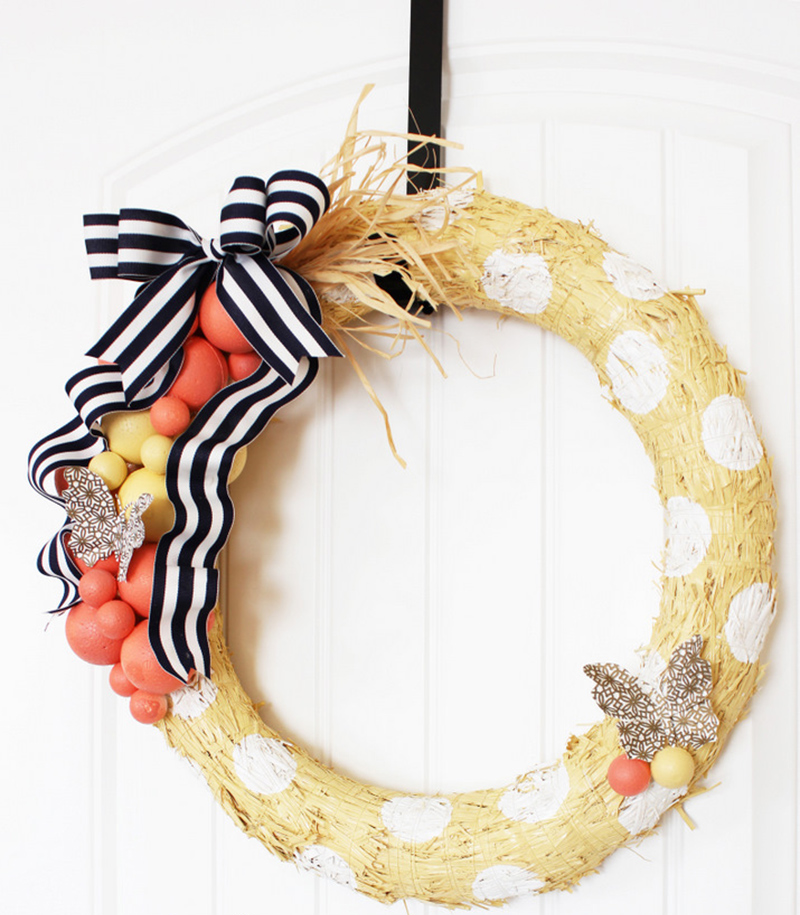 Dots were painted on this one while the balls were spray painted, glued together and then added a bow and butterflies. That's all folks.
15. Make A DIY Paper Hydrangea Wreath for Fall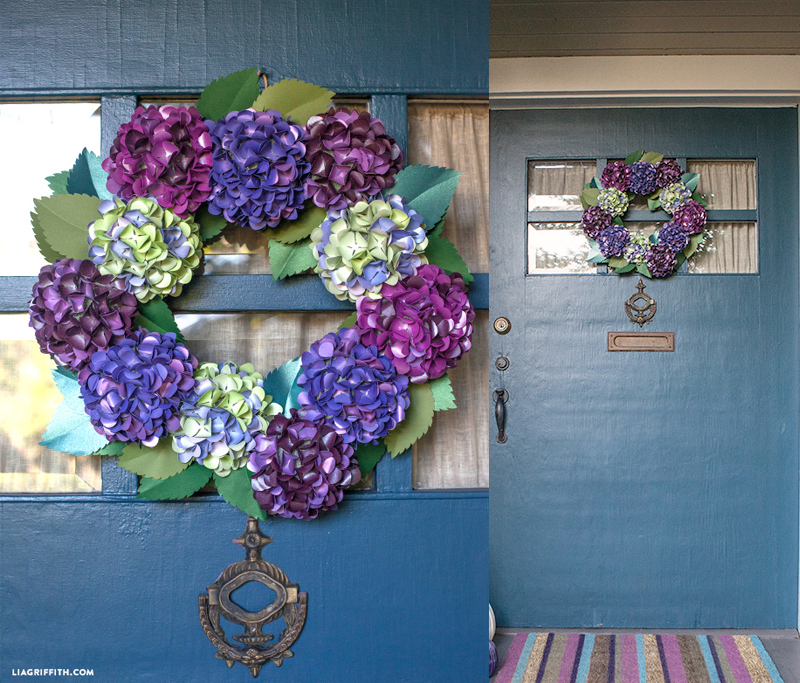 Now this one is for patient people because you would need to do a lot of cutting and then coloring and then gluing. But it will be all worth it because the result is very beautiful!
16. The World's Easiest Spring Wreath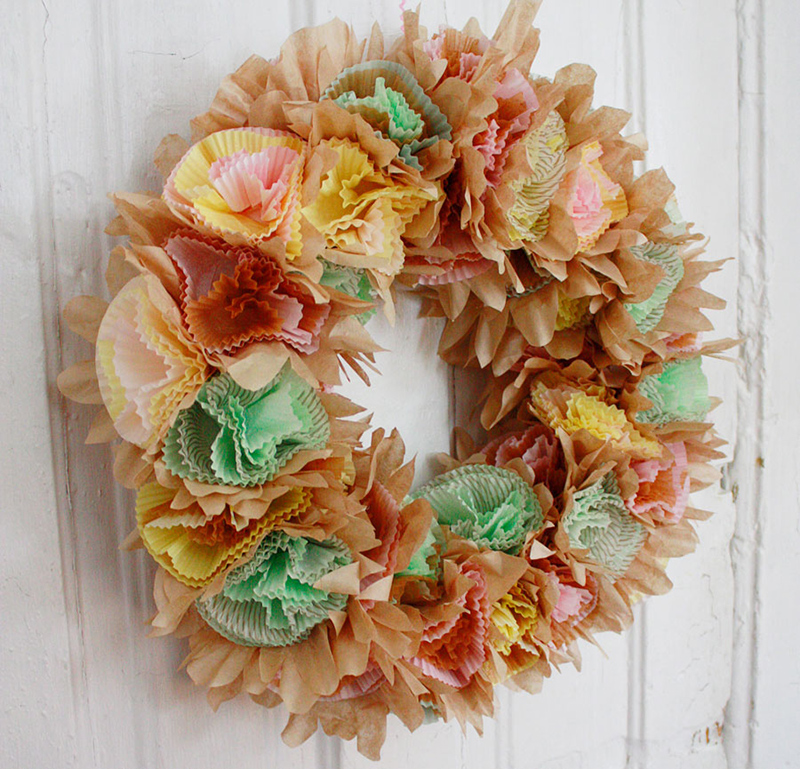 True to its name, this is indeed an easy wreath because all you need are coffee filters, cupcake liners and a stapler. Then you can complete this lovely wreath.
17. Quick DIY Spring Wreath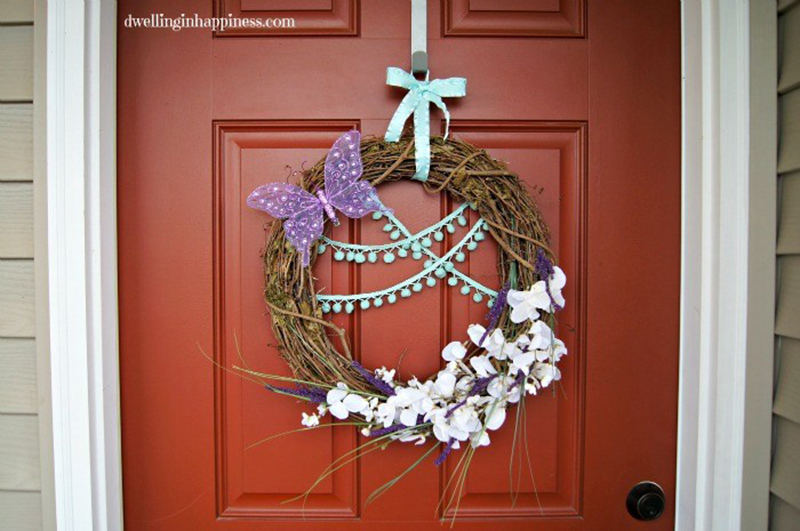 What are cute about this wreath are the pompoms! And of course also the flowers and the butterfly as well. Looking good despite its simplicity.
18. Spring and Summer Pink and Green Wildflower Wreath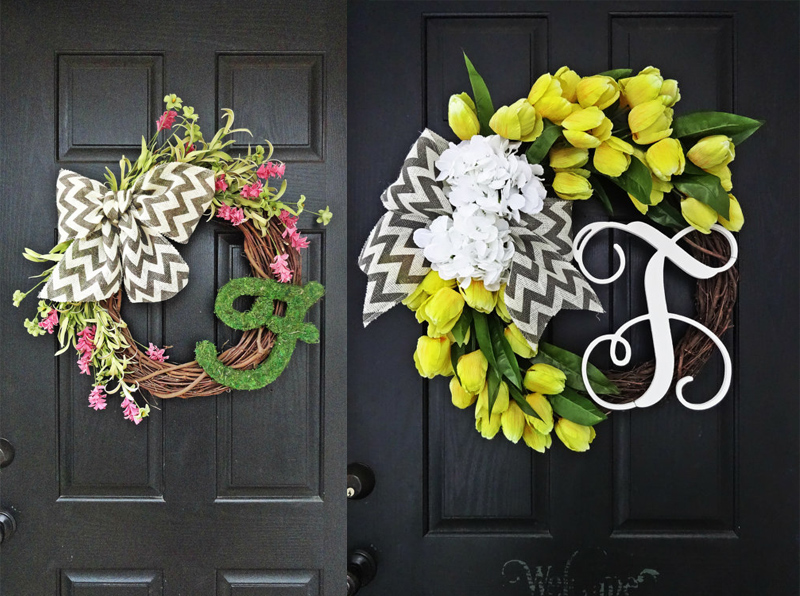 These wreaths are designed by an Etsy seller, Annabelle Eve Designs. She actually has tons of stunning wreaths on her listing and what you see above are just examples. You can choose those with various bows, flowers and style for the monogram.
19. Super Easy DIY Spring Wreath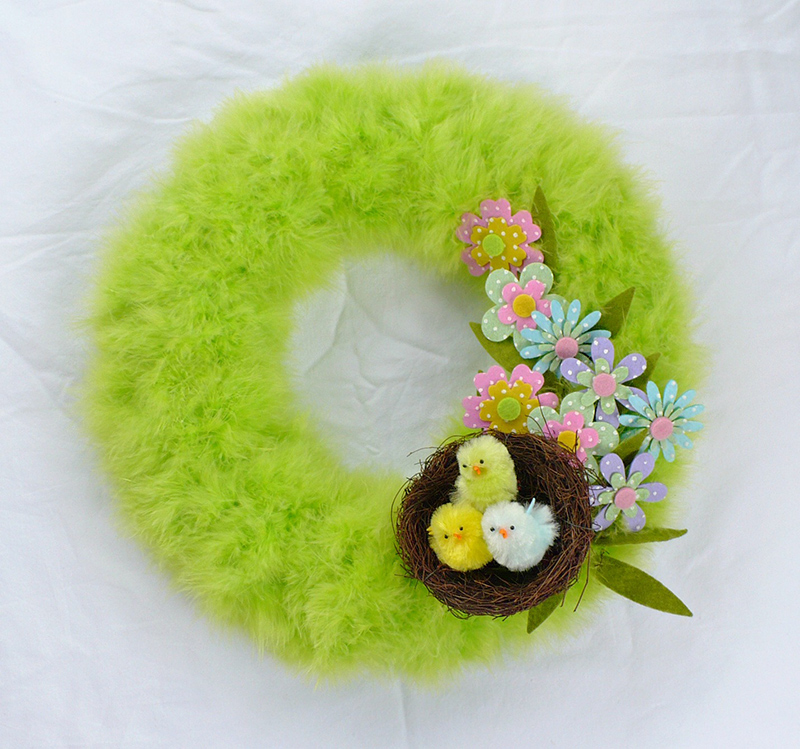 Those newly hatched birds look extremely cute! Just wind a feather boa around the wreath form then add the details. It sure is super easy.
20. Burlap Spring Wreath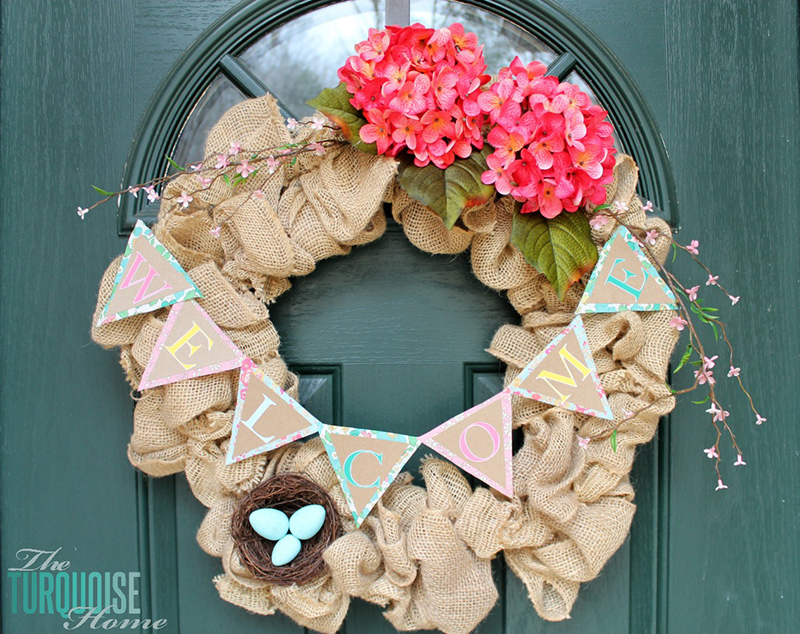 I have seen many wreath designs that used burlap and this is one of those that impressed me. It looks really nice with that easy to make banner and the nest and flower details.
21. Craft It Forward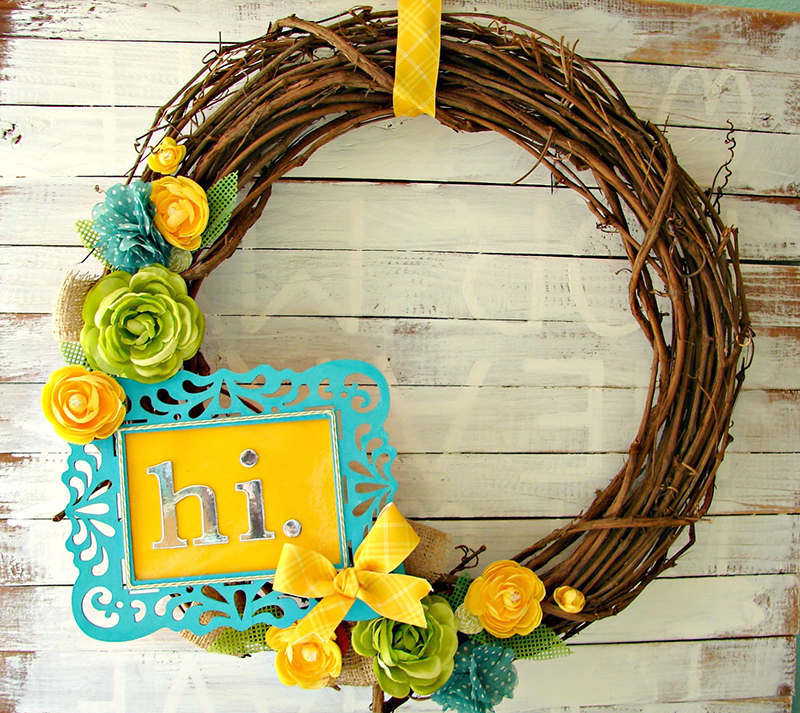 I have been dying to own a frame like that so I can use it for my crafts. Unfortunately, I haven't found one yet. Anyway, this looks gorgeous with those flowers and that frame.
22. Carrot and Bunting Wreath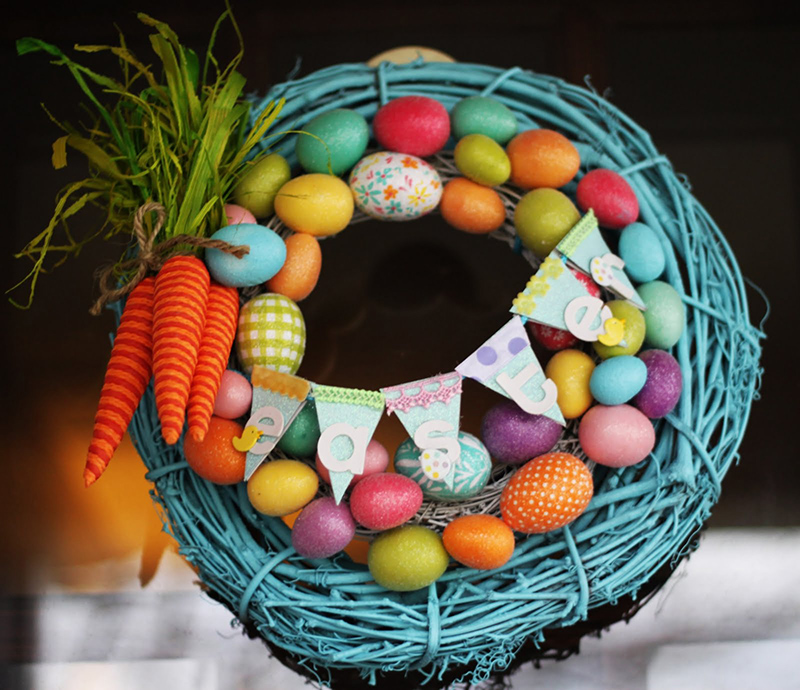 Isn't this super cute? I know the word Easter is here because Easter occurs on spring so the owner made a wreath that will be perfect for both occasions. The eggs look really cute as well as the carrots!
23. Spring Wreaths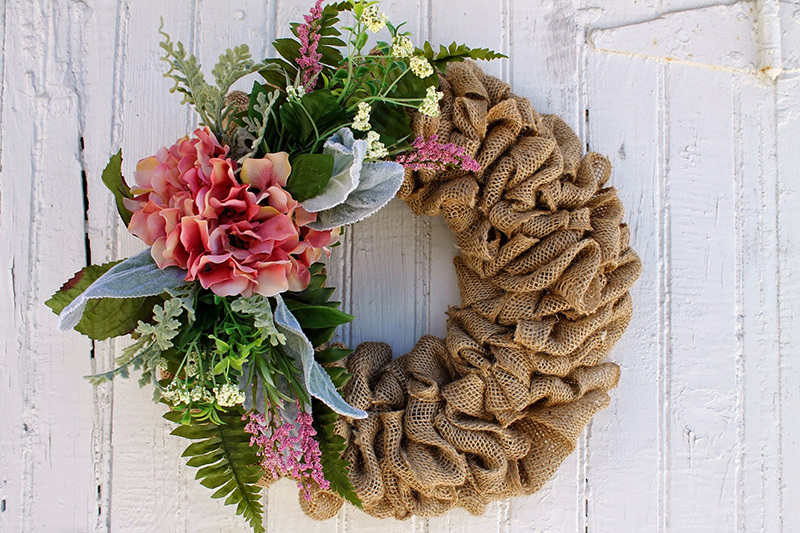 Another burlap wreath with a different bunch of flowers added into it. Yup, it is like any kind of flower will look lovely with burlap.
24. DIY Spring Wreath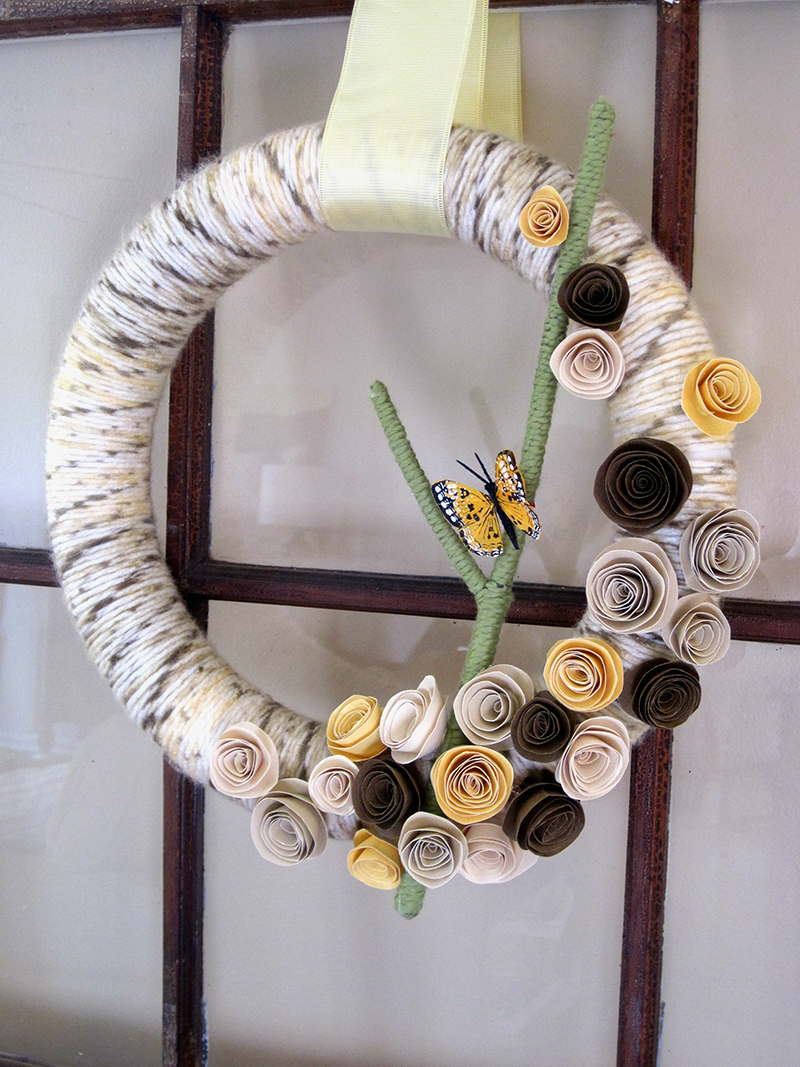 The wreath form is wrapped with yarn that has different colors and it has some paper flowers on it as well as a cute lovely butterfly.
25. Double Wreath – Yarn Wrapped
Who said you cannot use two circles for one wreath? It does look unique this way and I love those flowers!
All the wreaths above very beautiful! Just choose which ones suit your taste and style. And take a look at what you have at home and use them as materials for your DIY Spring Wreath. Before we end this post, did you know that the wreath has a deeper meaning? The circular shape of the wreath actually refers to God since He has no beginning and no end. Hence, a wreath isn't a mere decor but it is something that has a spiritual inclination. Although not all people believe in things like this. But nevertheless, the wreaths above are indeed lovely! Why don't you start making your own Spring wreath? Or try to make one for other important events and holidays too.