20 Creative Things to DIY For Your Home Using Teacups
Cute and creative ways to upcycle teacups for your home decors!
There are people who love collecting dinnerware. You can see that in their cupboard or cabinets with glass doors. We can see the lovely prints of the items which might even inspire us to begin our own collection. But for those who want to try something more adventurous using dinnerware, there are many DIY stuff to do which could give your dinnerware a new function. Today, we will show you some lovely ways to change the usage of your teacups.
Of course, tea cups are for tea parties or merely drinking those hot beverages at home. But aside from that, these usually look cute in various prints and designs. If you want to use it as a home decor, there are many ways to do it aside from merely propping them on top of a shelf or inside a cabinet. And we have created a roundup of how you can use those teacups that you have been keeping for years. For sure, you will enjoy these projects while adding a new decor to your home!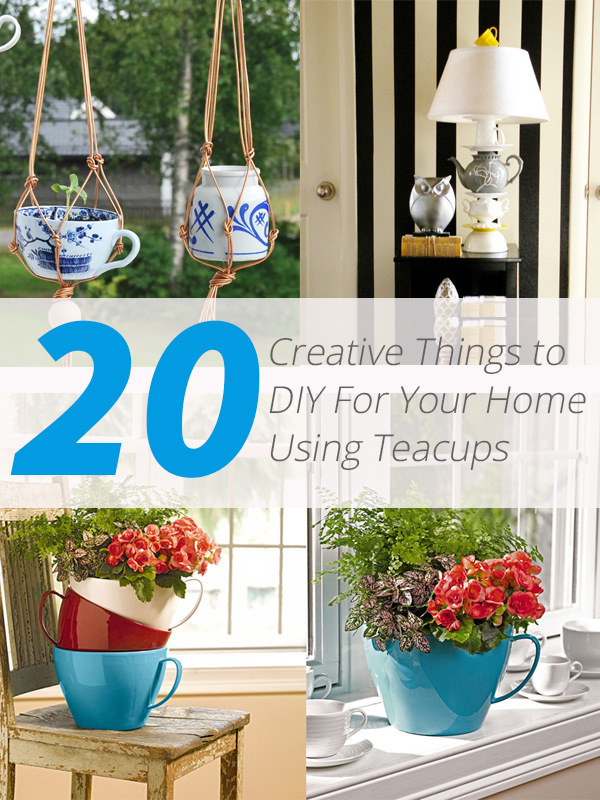 1. DIY Vintage Teacup Candles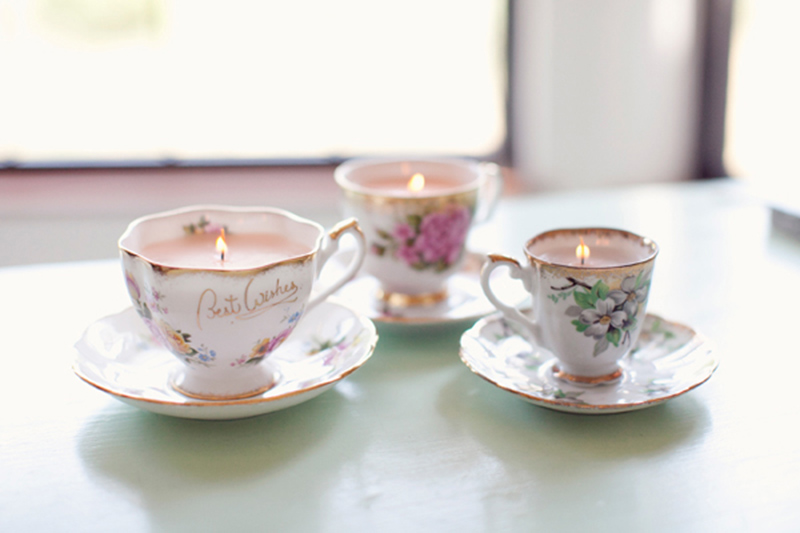 A vintage teacup with floral prints is already a cute item to add in your home. If you turn it into a candle, it would look even a lot cuter! It can also be a perfect home decor, gift, favors and others. And you will surely have a great time making them!
2. DIY Teacup Bird Feeder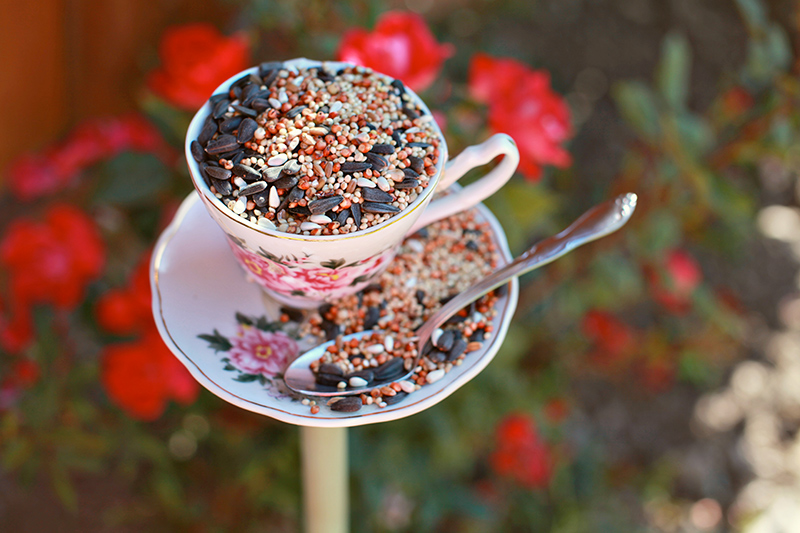 Merely using a set of teacups and saucers, spoons and a dowel, you can make your own decorative bird feeder for your yard! There are tons of ideas too in making a teacup bird feeder. You can also hang them on a tree if you want to.
3. Spring Decoration Idea: Vintage Tea Cup DIY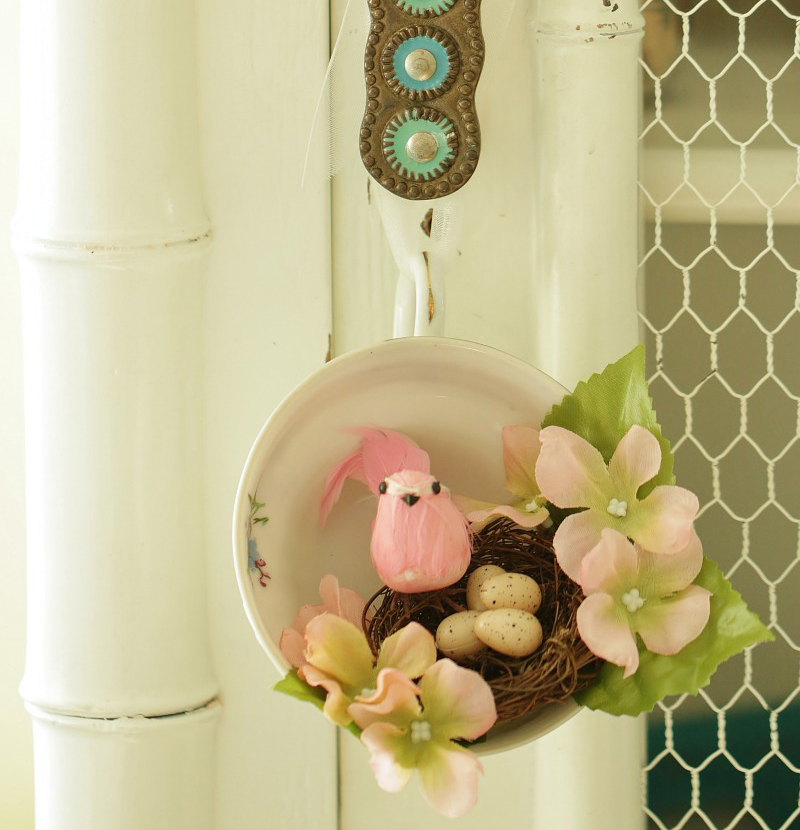 What an idea for spring decor? Embellish a vintage tea cup with a bird and nest, you can easily make a delightful spring decoration for your home! All you need is a vintage tea cup, tiny bird's nest, Little plastic eggs, fake flowers, fake little bird, ribbon or lace. Take a look at this image and you can easily get how it is made.
4. Diy Flower Amp Teacup Centerpieces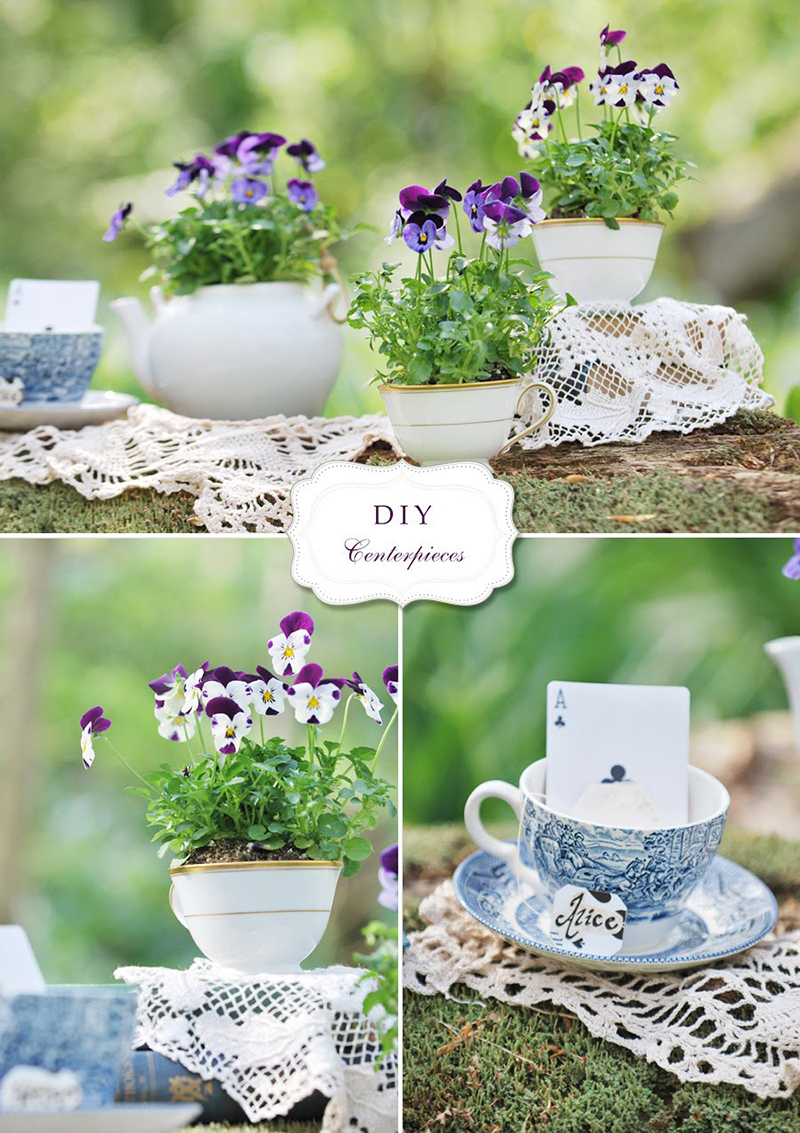 Teacup centerpieces! Well, you can be creative with your teacup centerpiece by turning it into a planter, a vase or a holder of just anything you can think of.
5. Hanging Teacup Wall Art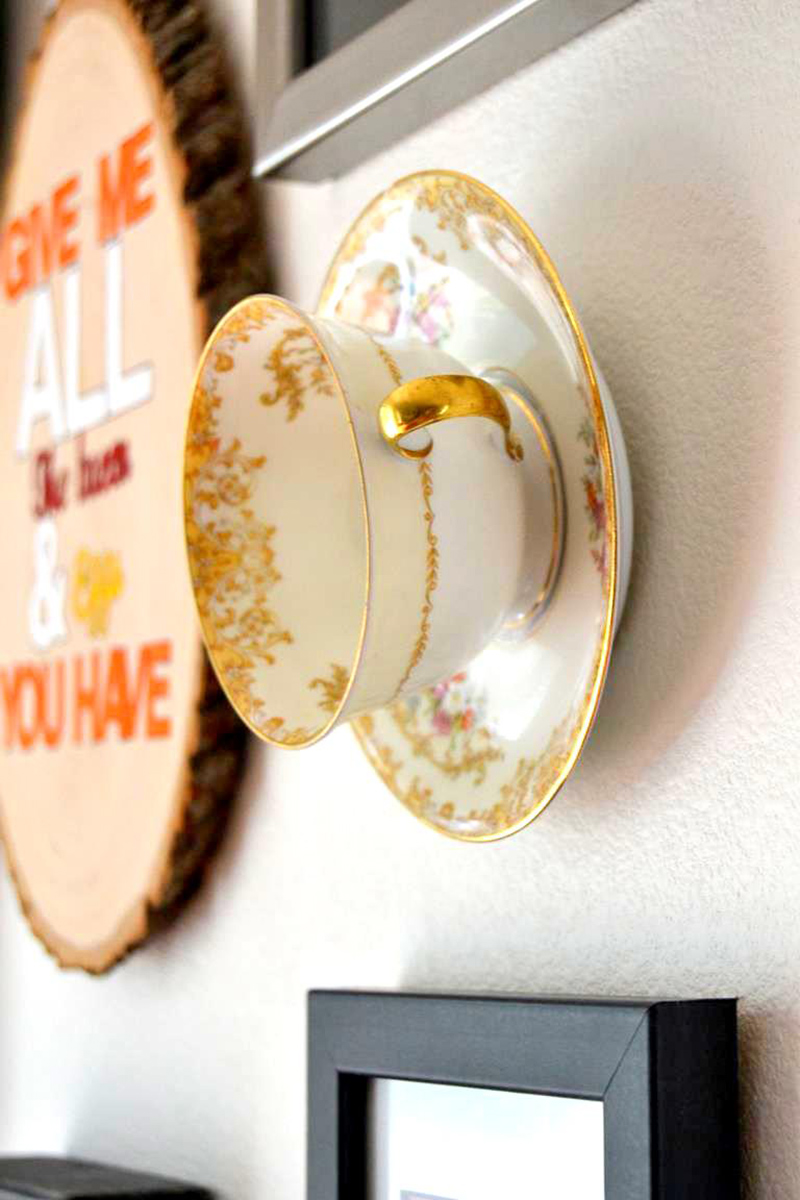 A creative way to add some lovely decor on the wall is by putting a pretty teacup as part of your gallery or wall decor. Well, with the looks of it, you already know how to make it. Just glue and install on the wall!
6. Succulent Plants in Tea Cups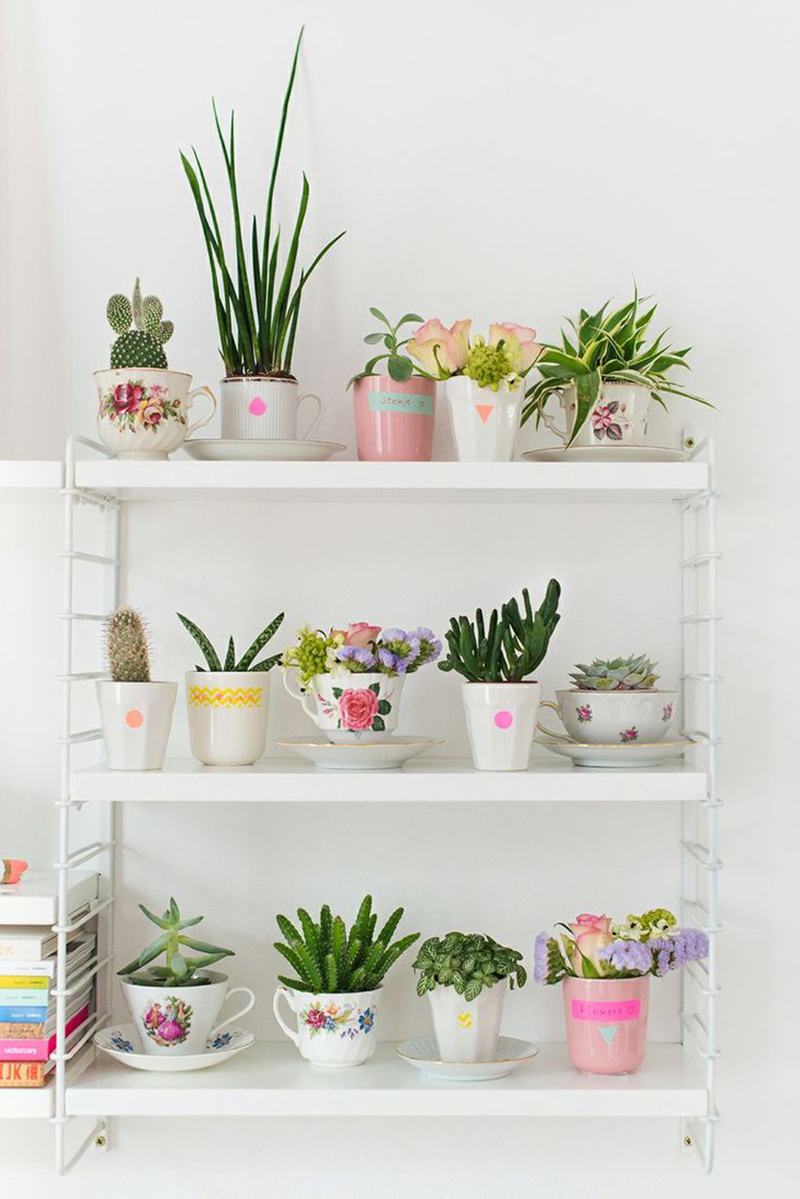 I always wanted to try collecting some succulents in my bedroom but just didn't have the chance to buy. When I saw these cute teacups with succulents, it made me want to get these stunning greens even more! For these teacups, others have those lovely flower prints on them while some had added washi tapes. Cute!
7. Needle Felted Fox and Forest Pincushion in a Teacup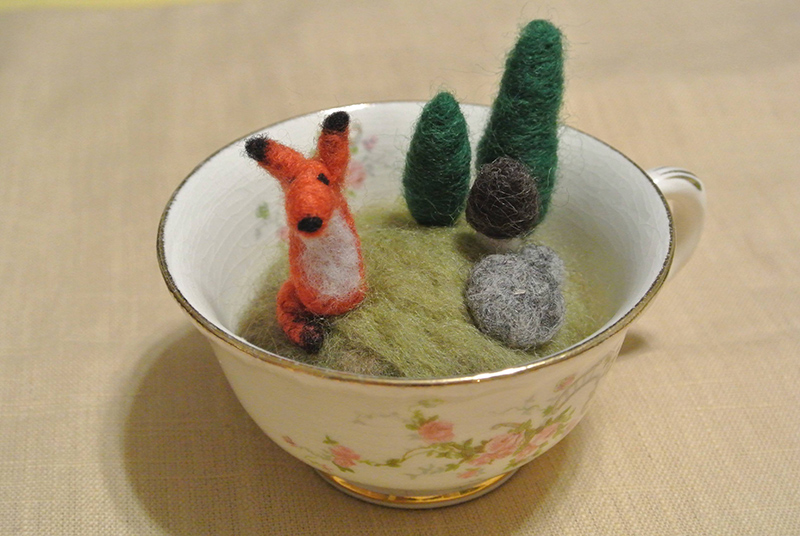 One cute idea for a pincushion teacup that can also be a decor as well. This one was made from needle felted wool featuring a cute little fox with mushrooms, rocks, and trees for a miniature forest pincushion. Super cute indeed!
8. Hanging China Teacup Planters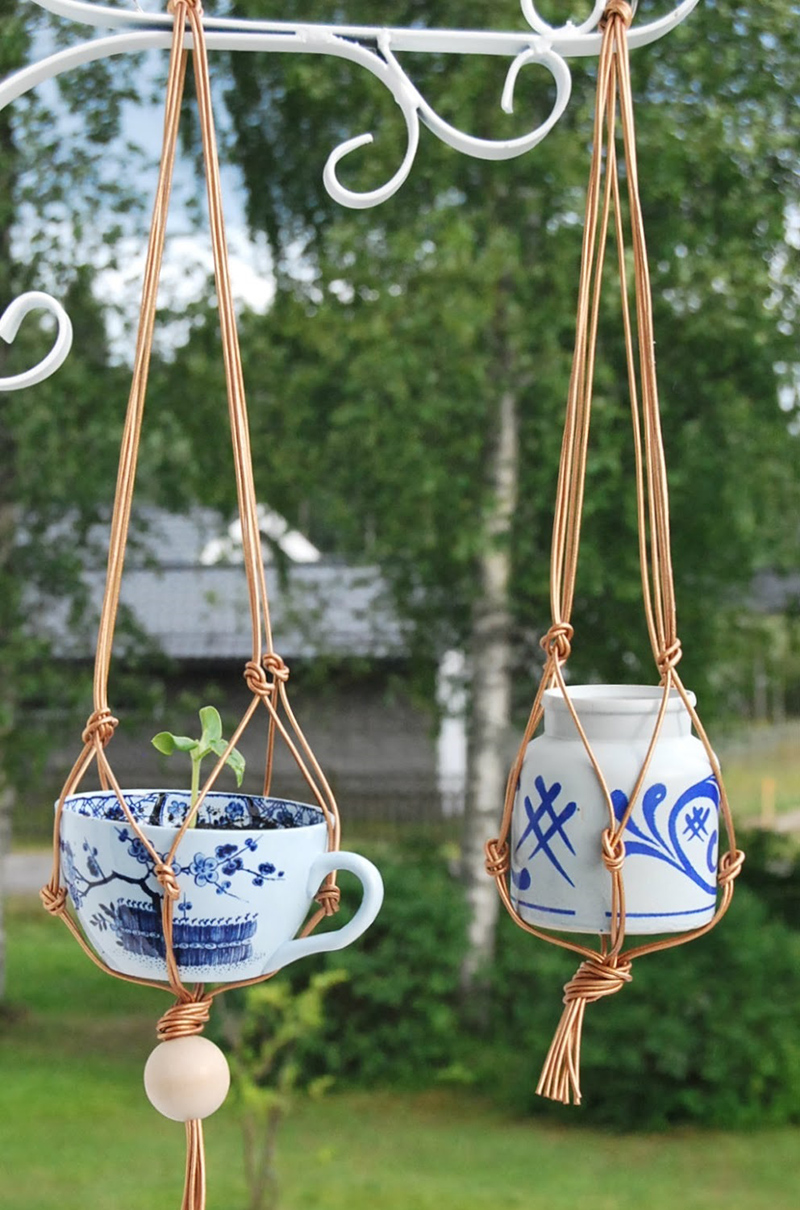 Beautiful ceramic pieces! Use some wire to hold the cups and hand them on the air. It isn't just a planter but it is also a decor too. Ideal for outdoor use or maybe even near your window.
9. Tea Cup Topiary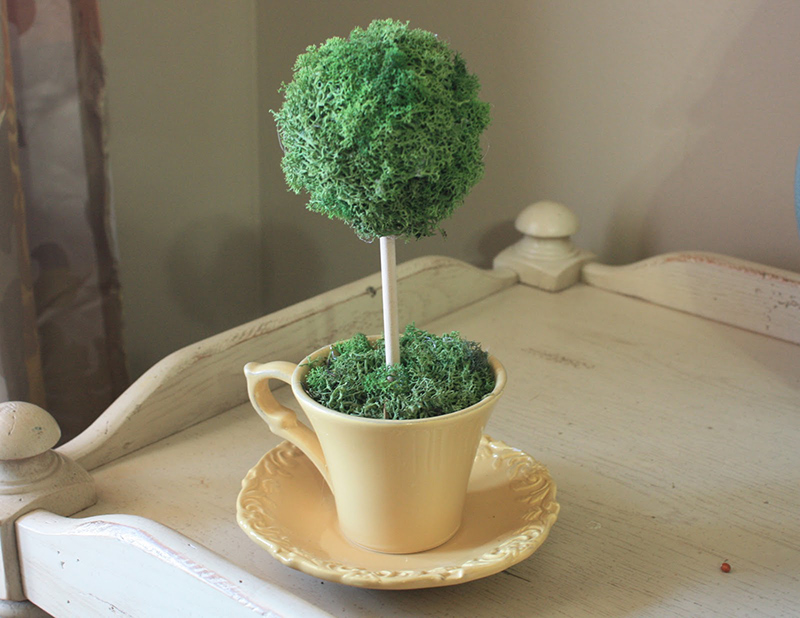 Combine teacups and topiaries for a cute home decor! All you need is a wooden dowel, craft moss, a clear plastic Christmas ornament, and hot glue. Then you will have a cute topiary like this! So love this one! adding some more decors to this would even be cuter!
10. Tea Cup Planter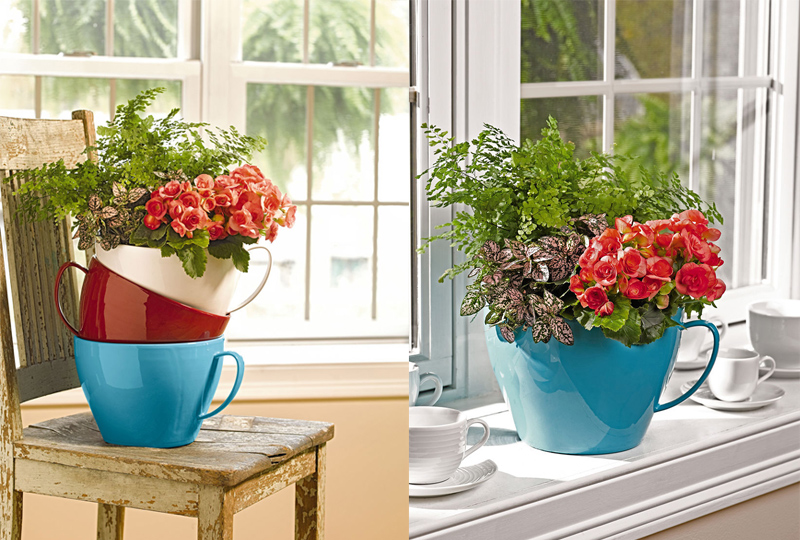 What we can see here are two ways to use a teacup as planters. The other one has three cups on top of each other while the other one is just a single cup. I know you can observe that these are large cups. There are cups like this that you can buy from the market for decorative purposes.
11. DIY Fab Tea Cup Pedestals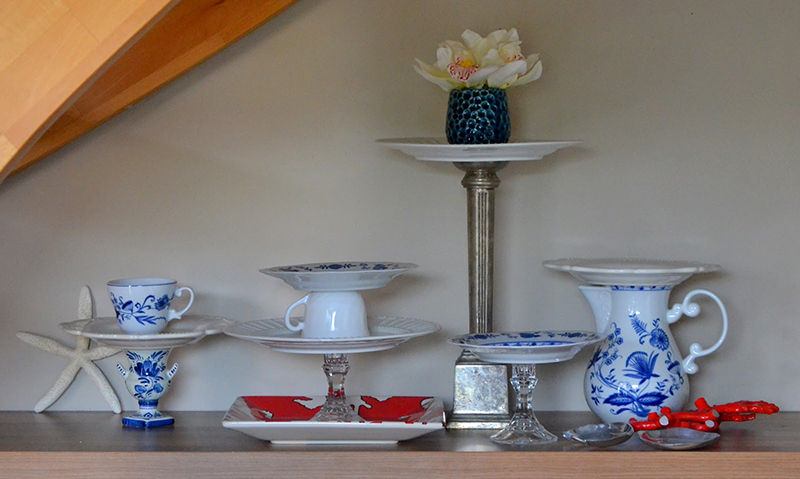 Your dining table will look more interesting with a tea cup pedestal like this. Be creative with the patterns you make. This dinnerware was glued together. Hence, they will stay like this and could be use whenever you have parties at home or even for daily family dinners.
12. Teacup Pendant Light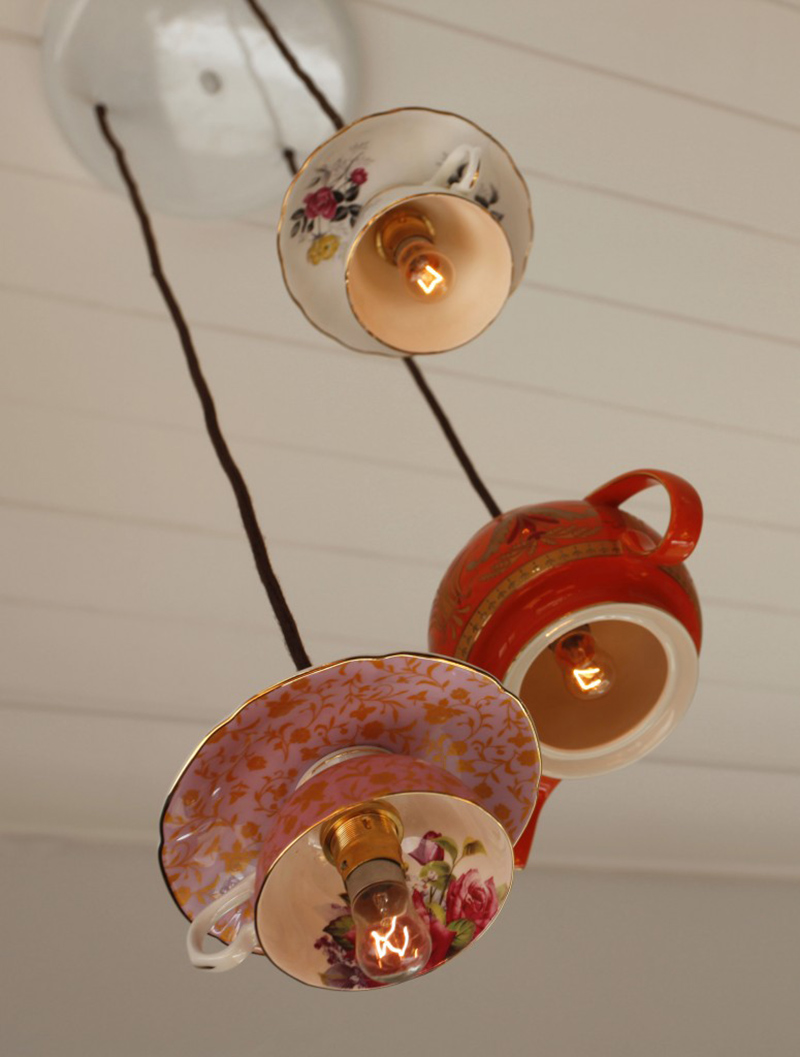 Get some teacups with lovely prints and create a hole under the saucer and the cup. Then add the wire and the bulb. Hang them wherever you want to add some dramatic illumination! Such a nice idea indeed!
13. Teacups As Curtain Tiebacks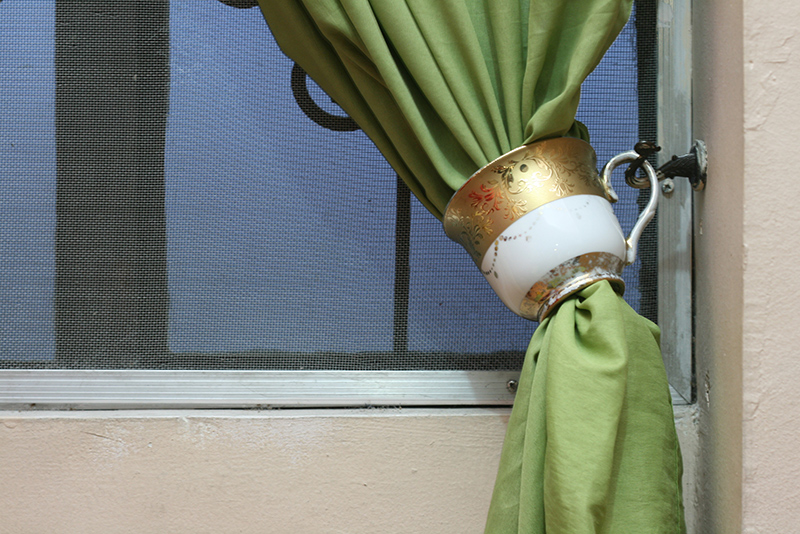 Use a teacup for an elegant and unique way of tying back curtains or other drapery. Get some delicate teacups with pretty patterns to enhance and complement your curtains. The only tool you will need is an electric drill and diamond drill bit in order to make a small hole in the bottom of the teacup.
14. Jewelry & Makeup Holder with Dinnerware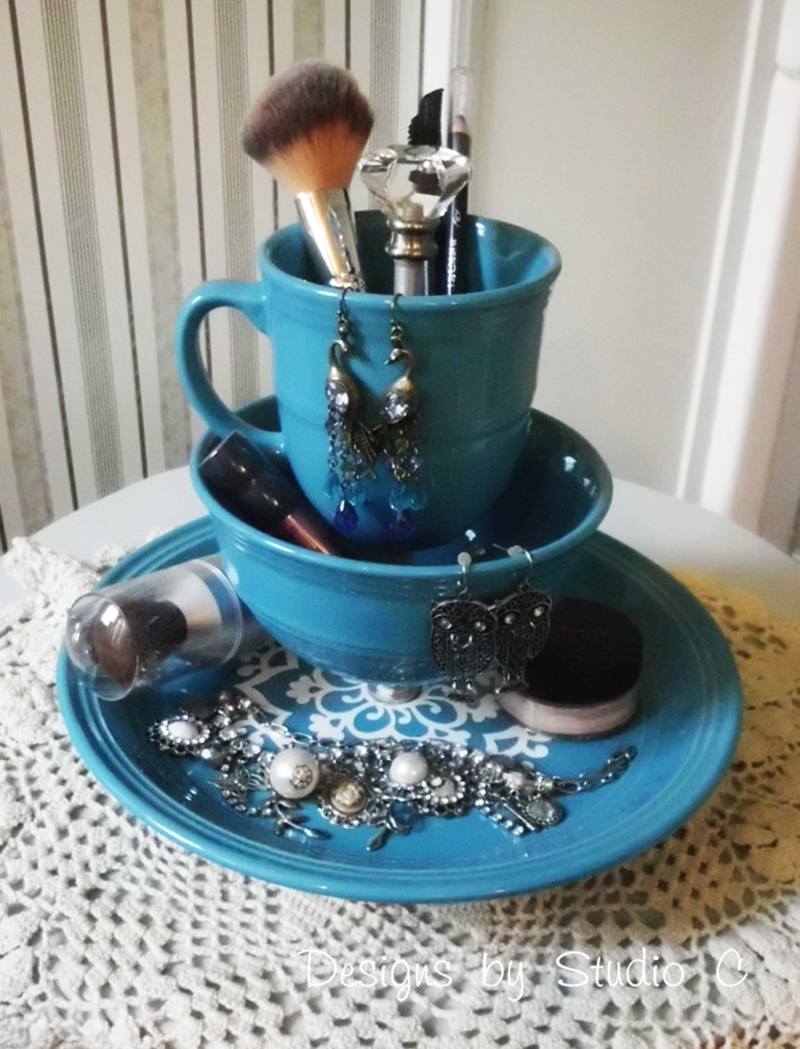 Put a teacup and plates together to be create a jewelry and makeup holder. It is easy to make and the result turns out really cute and artistic. Plus, your jewelry will not be scattered anymore.
15. Teacup Clock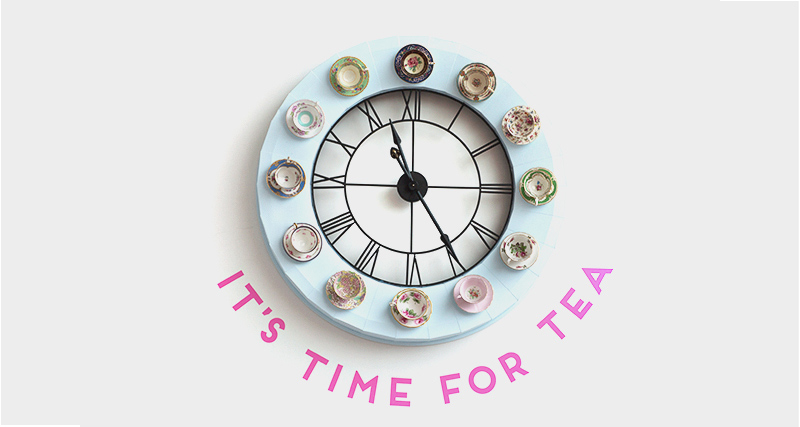 Want a big creative looking clock in your house? Using teacups would be fun! I love the fairytale feel of this clock. You can also be more creative with this. Add some personal touch into it.
16. Polka Dot Teacup Pincushion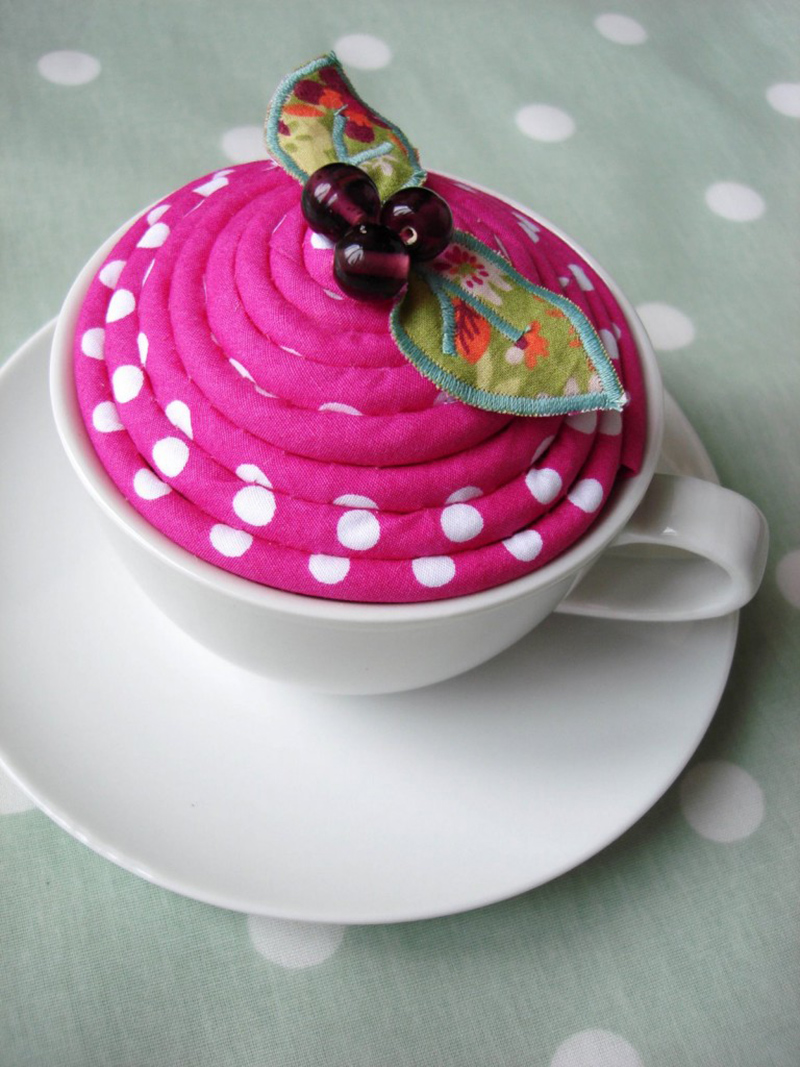 You can make a pincushion as well with a teacup. Just add some cotton and scrap fabric and it could look really nice! There are different ways to add some beauty to your pincushion. Just be creative and make use of what you have in the house.
17. Anthropologie Inspired Teacup Lamp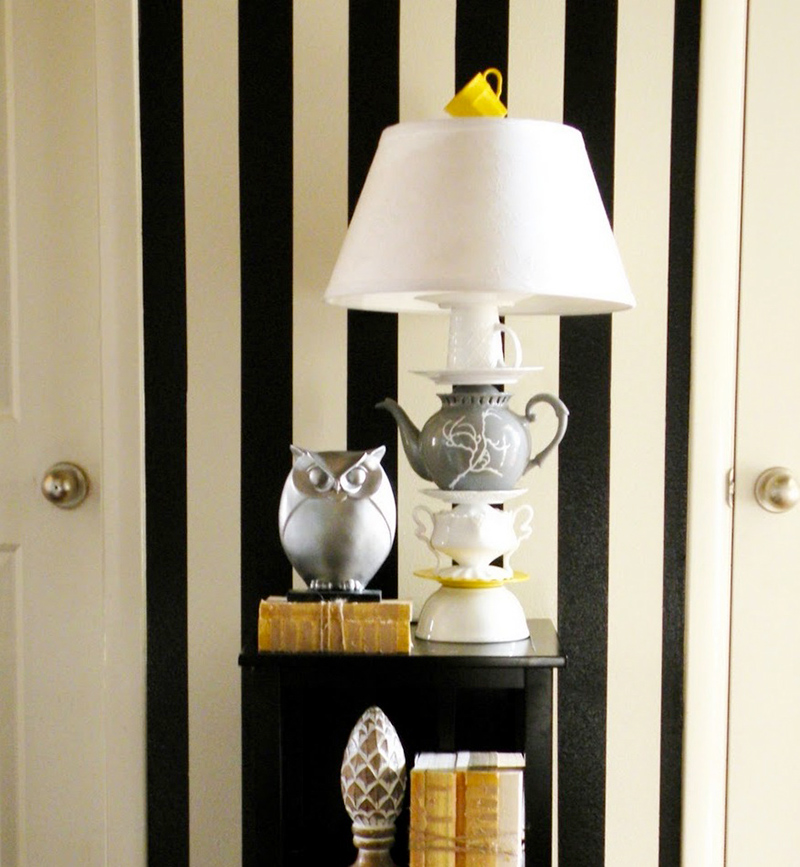 When I saw this, what came to my mind is Alice in the Wonderland. Make a lamp stand out of teacups and bring a whimsical touch to your homes. Very creative, right?
18. Downtown Abbey Inspired Tea Tower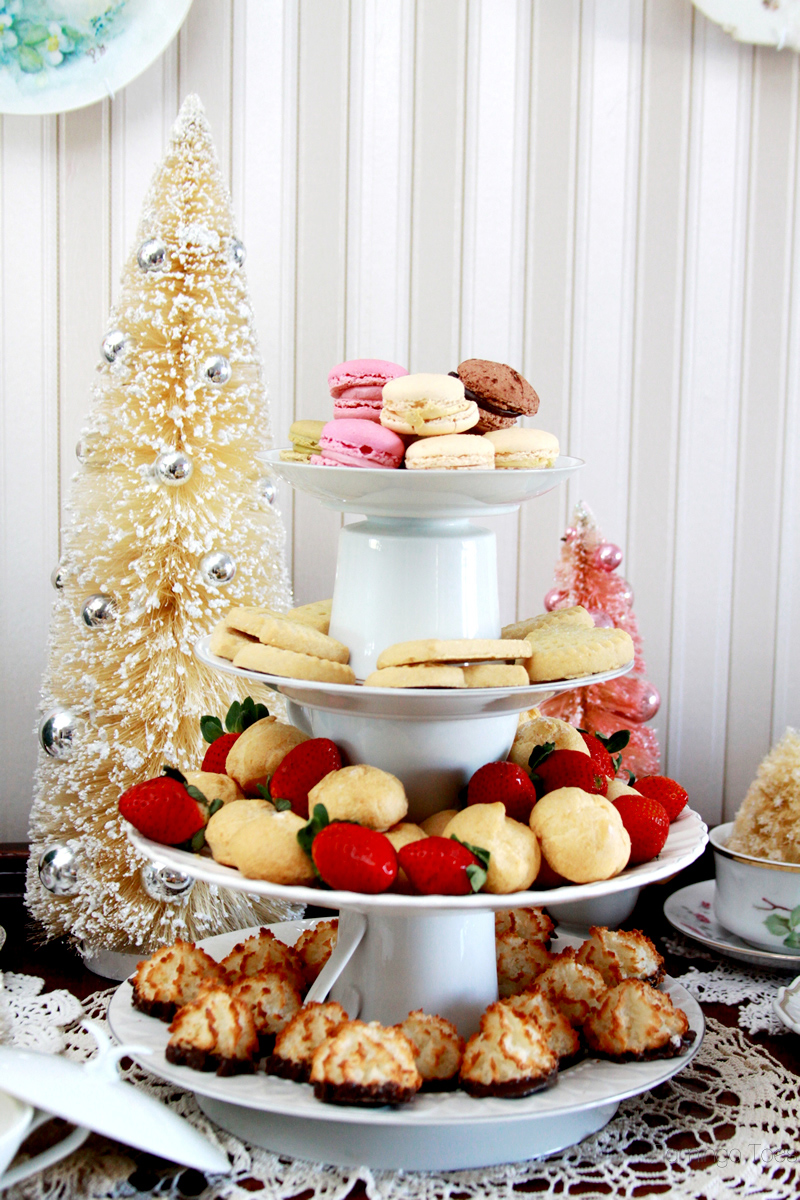 A cute way to arrange desserts is to use cups and plates. You don't have to glue these together because the teacup in the middle could balance the plates. You can use different colors for the dinnerware for a more lively appeal.
19. Tea Cup Sconce Planter Repurpose Project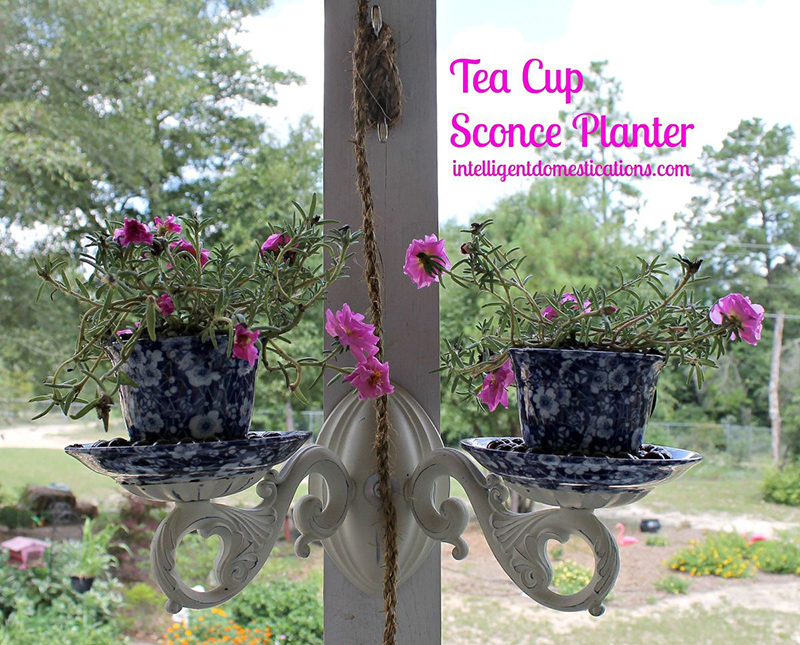 If you have a wall sconce that you want to give a new looks, try this one. The designers repurposed an electric wall sconce into a beautiful Tea Cup Planter which was added to their front porch makeover project. Lovely, isn't it?
20. Wall Art Tea Cup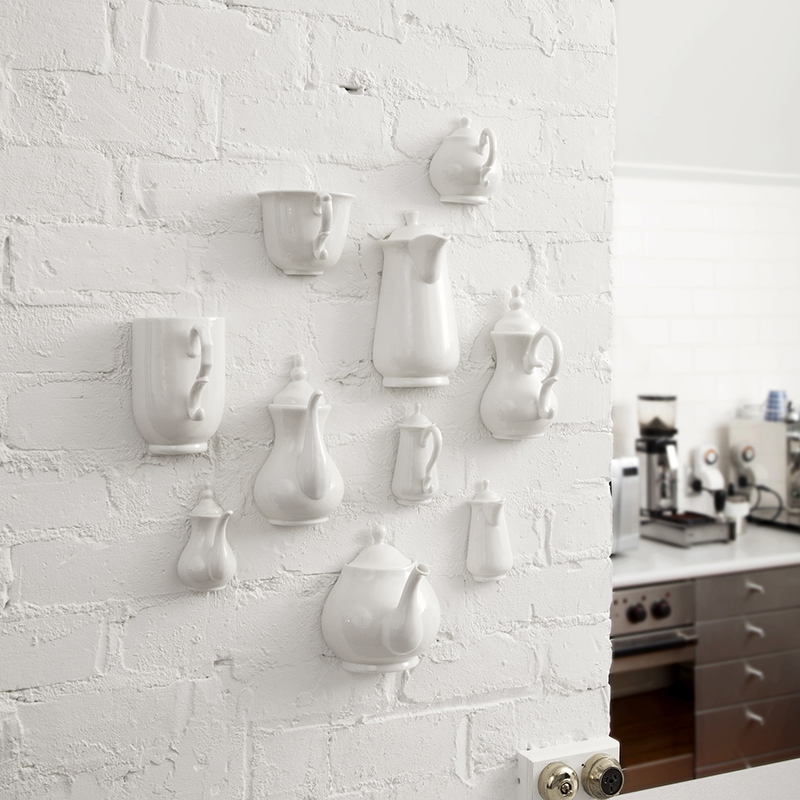 Got a broken tea cup? Why not mount them on the wall like this? The one you saw above are all in white but you can try colorful teacups too. It will surely add some decorative flair to your home!
These are all cute! I know you love this list the same way as I do because there are indeed creative and gorgeous! Such a fascinating list that could give us ideas on what we can make with old tea cups. Or we can actually buy one and turn it into a masterpiece. This list goes to show that whatever items you have in the house can actually be useful in so many different ways. Who would have thought that teacups could be this useful when they are no longer in use? Yep, old stuff can be totally something new when you up cycle them! Which of the above items would you possibly do?