15 Living Room Pleated Drapes
Have you ever seen lovely living rooms without drapes? Well, there maybe a few alternatives for them but when we think about it, most of the lovely living rooms or homes that we see, even in magazines have these huge curtains, the ones that are usually pleated – they brighten up the entire space. It makes the room much more homey and full of life. Drapes are fabrics that usually fall or hang from above. Check out the 15 Living Room Pleated Drapes below and admire how beautiful drapes has become, thanks to great manufacturers and designers.
Although the words curtain and drape are commonly used interchangeably, drapes distinguish themselves by containing lining sewn onto the reverse side of the fabric. The purpose of lining is to protect drapes and interior spaces from damaging UV rays, the rotting of silks, adverse light conditions and fading colored dyes. Added weight helps to anchor the drape and creates a more full and luxurious window treatment. Here goes the 15 Living Room Pleated Drapes.
Barry Private Residence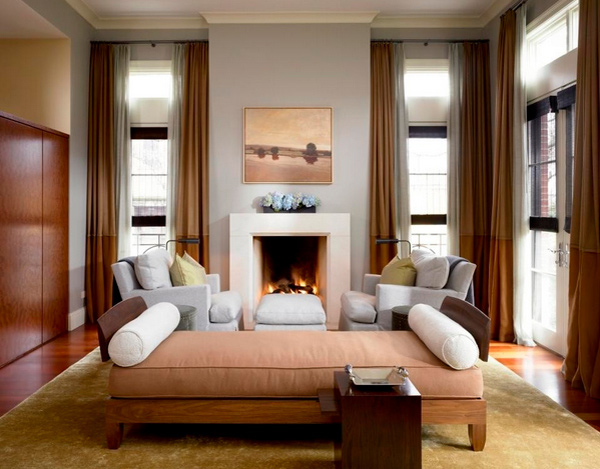 This city home has a traditional exterior design utilizing brick, limestone, and French doors with transoms on the first floor. The interior of this 5,000 sq. ft. home is intended to provide a tailored aesthetic that is classical in its organization and use of symmetry. Notice the high windows with the fab drapes that came with it.
Blue Draperies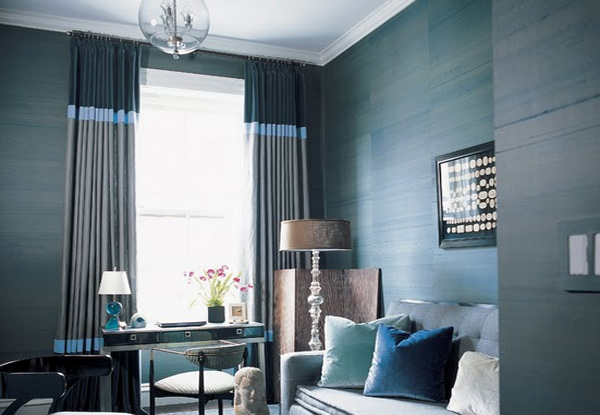 Elle Decor did a great job in making this entire room feel so homey and calm from making the entire room feel so blue. Adding grey made it more modern and refreshing to the eyes.
Boston Common House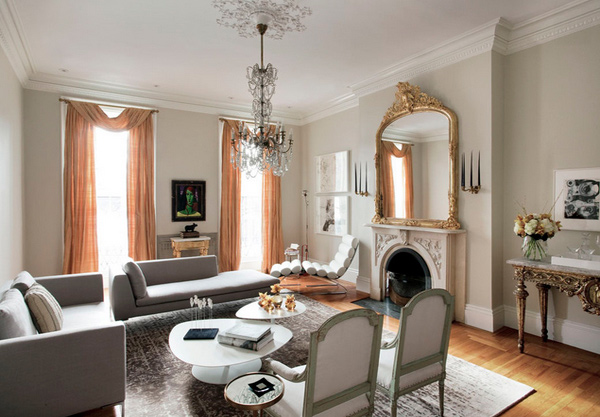 When you think about it, this common house sure is not common. With unique and wonderful furniture, decor and stunning coral drapes, how common can it be?
Chicago Living Room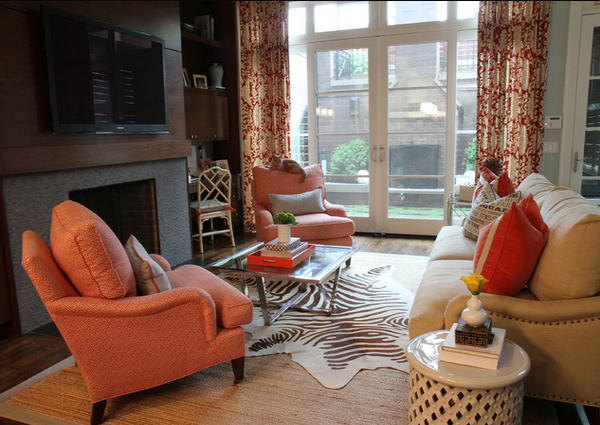 This contemporary living room is a bit simple but definitely with intricate and fun items in it. From plain comfy sofas to printed drapes and newsprint design for some of the pillow cases.
Contemporary Cape In Bucks County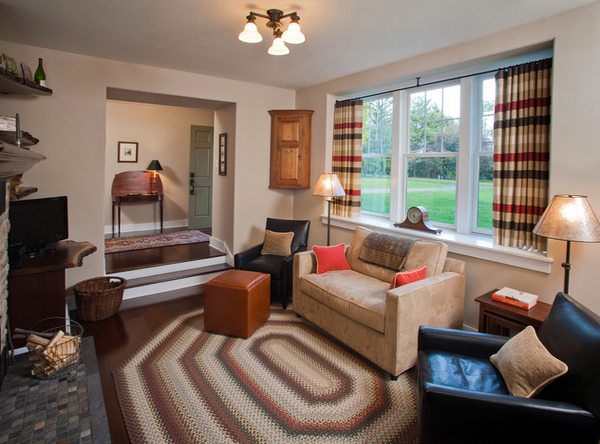 Unique octagon shaped wool braided rug, handmade in New Hampshire, is focal point of cozy "away" room, left corner of photo shows walnut bark end grain floating shelves and counter topping a copper lined firewood box (hidden from photo), boldly striped drapes and solid pillows add a contemporary edge, while remaining faithful to color scheme.
Davis Street
Simple and white, this living room is indeed an epitome of grace and beauty in its simplest form. The simple drapes make the space seem wider and look clean and bright.
Georgian Rowhouse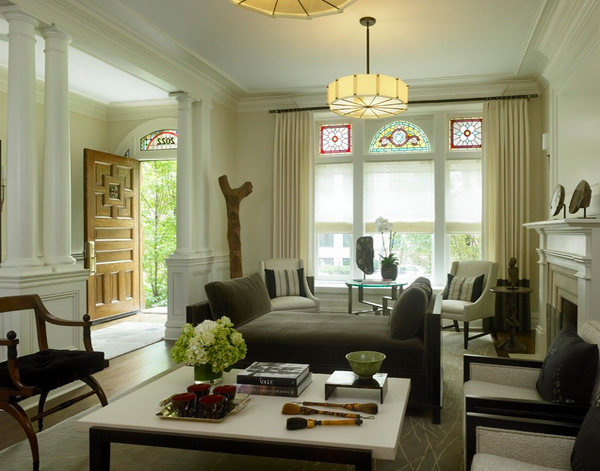 Large windows, long drapes and skylights are a must because natural light is available only from the front, back and above. Tall ceilings, often 10 feet or more, provide a spaciousness that compensates for the narrow floor plan.
Kaplan Wright House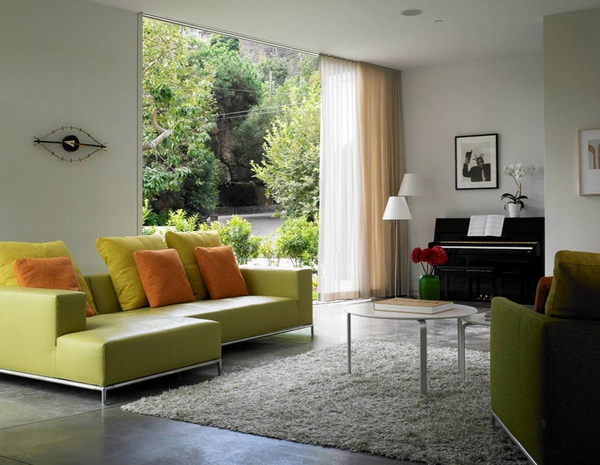 The brilliant infusion of green through the sleek furniture adds drama and vibrancy through color while drawing the outdoors in and creating a great continuity.
Manotick Living Room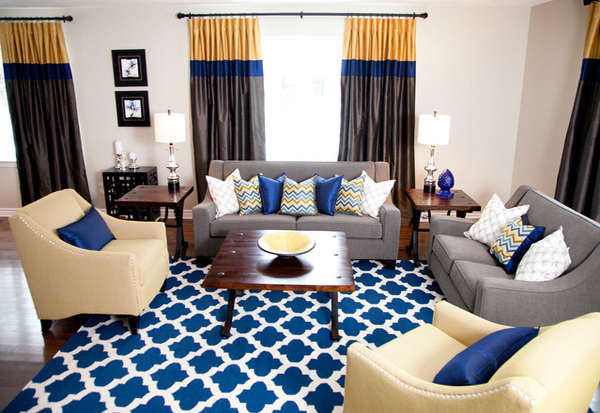 The wonderful color blocking done for this living room sure is stunning! The blues, mustard and greys look great together and definitely fun for the eyes.
Munroe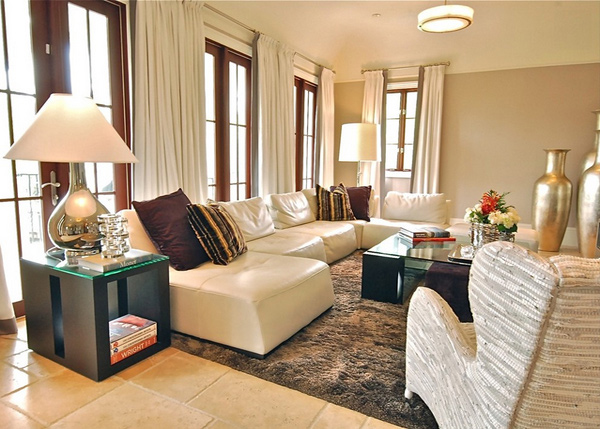 Another example where white drapes were used for yet another contemporary living room. This Miami home exemplifies beauty in white and carries out the sleekness in the decorations used for the room.
Northwest Portland Condo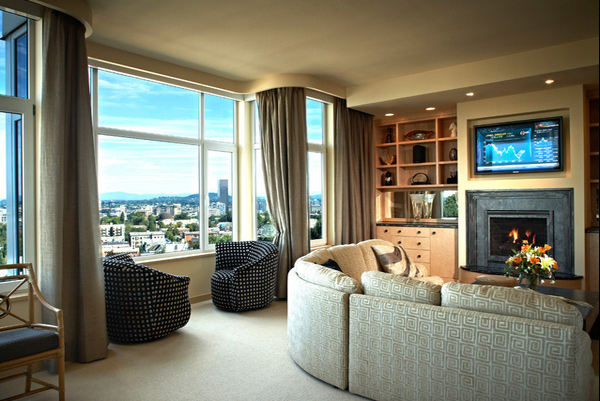 Large open living room with large windows for terrific views, custom hand-crafted steel fireplace surround, and matching steel bar countertop for the kitchen. Automated curtains with concealed track made it even more modern even when the clients wanted a traditional look for their space.
Rough Hollow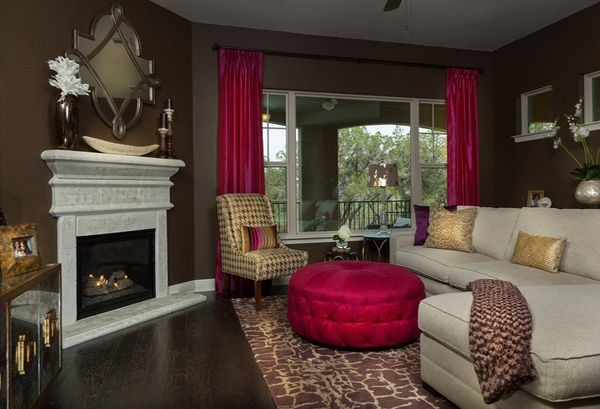 Using bold colors such as the ones used for the drapes and the round ottoman created a great impact at how chic this Austin living room looks! Very eye-catching and contemporary!
San Diego Downtown Condo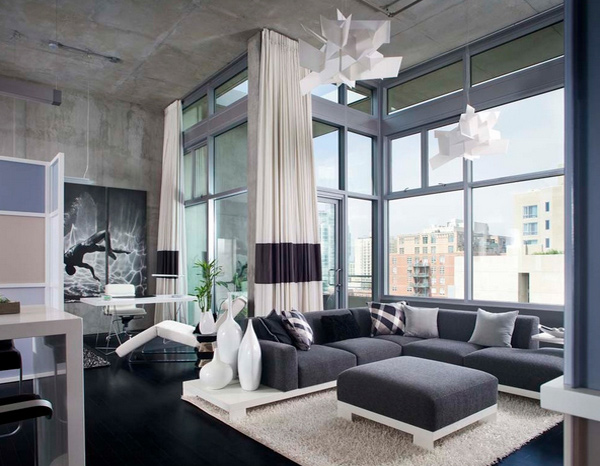 This space sure has a great view of the city and the industrialized look for this space is really remarkable. From unfinished surfaces, matched with modern and comfy furniture – this living room is indeed a Zen space. The high ceiling added great length to the space too. The drapes helped this room look extra gorgeous.
South Residences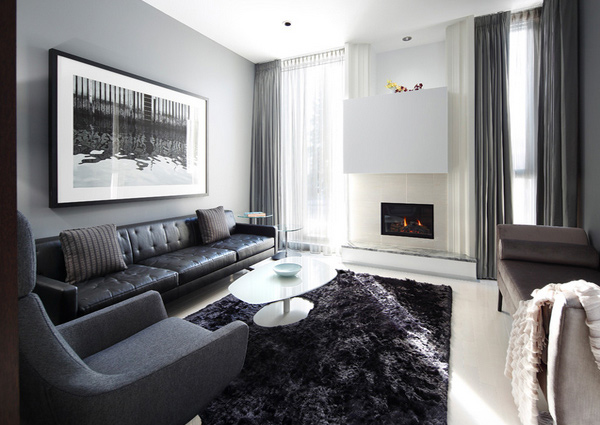 This Calgary living room, aside from looking extremely classic – because of the colors and the design in itself, it looks like you are staring at a black and white photo but definitely stunning!
Suburban Contemporary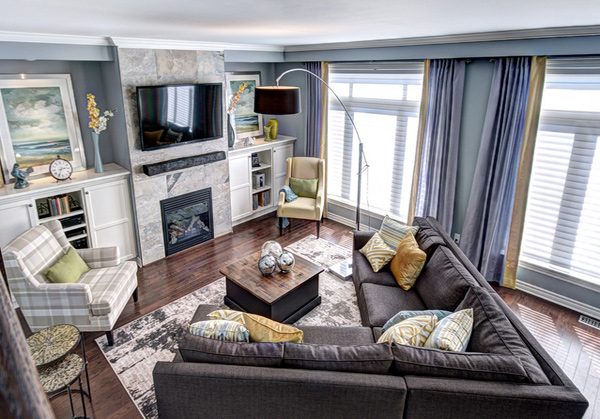 Custom made Barn board and pine Coffee table, reclaimed barn wood mantel, and custom drapes with gorgeous porcelain tile on the fireplace. Light cheerful palette of blue, grey, green, and yellow.
That was our 15 Living Room Pleated Drapes that sure gave us more knowledge in creating and continually recreating our dream homes. Whether it'll be major changes or simple re-arranging and maybe a adding a stunning set of drapes for the windows, this constant thing called change makes our dream homes more ideal and wonderful to live in! Take chances and experiment! Also, please check our different living room ceiling treatments and we're sure you'll be having a great Monday!