20 Fall Themed Tablescapes to Amaze Dining Guests
Bring the warmth of fall to your dining tables with these tablescapes!
Seasons change and when they do, we can't leave our house decorations behind let alone the dining area. This part of the house is where everyone gathers to eat and fall isn't an exemption for that may they be simple or even a huge get together. The pressure is on each time we are to host events at home yet even when it's a challenge to think of how to make the house look appealing according to the occasion especially fall celebrations, the passion for home design will always be there. Count fall tablescapes in.
While you have to worry about other details, not to mention the fallen leaves that needs raking at the backyard, it would cheer you up looking for the perfect inspiration to make your fall gathering an event to remember. Fall is the time of the year when everyone gets to relax from too much heat or too much cold although it doesn't stop us from getting the banquet table done according to the season. It's usually filled with the beautiful colors of the spring and the awesome creativity just comes out. That's what we are going to be inspired of in today's post. We have gathered fall-themed tablescapes to give ideas on how to set up that dining table when guests are coming for a fall dinner or party in your house. Well, impress them with your tablescape like the ones on the list below! Scroll down and be inspired!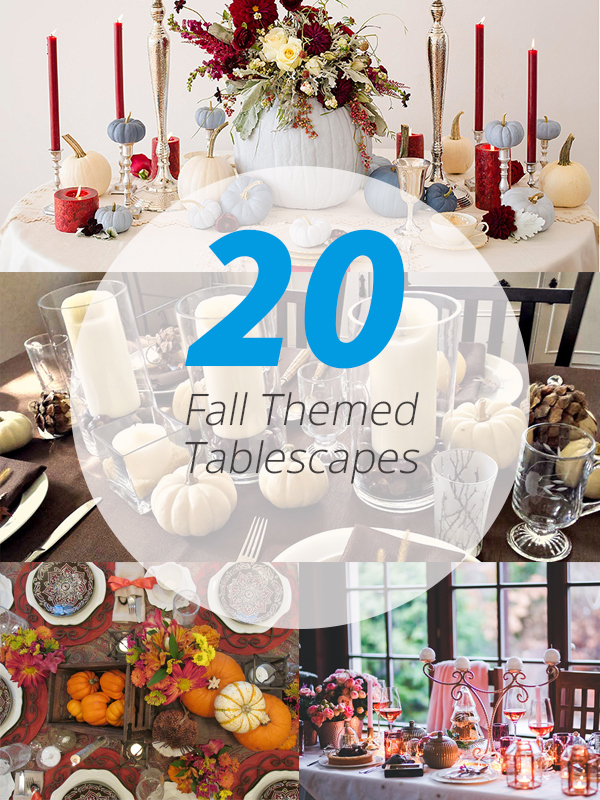 1. Creating a Fall Tablescape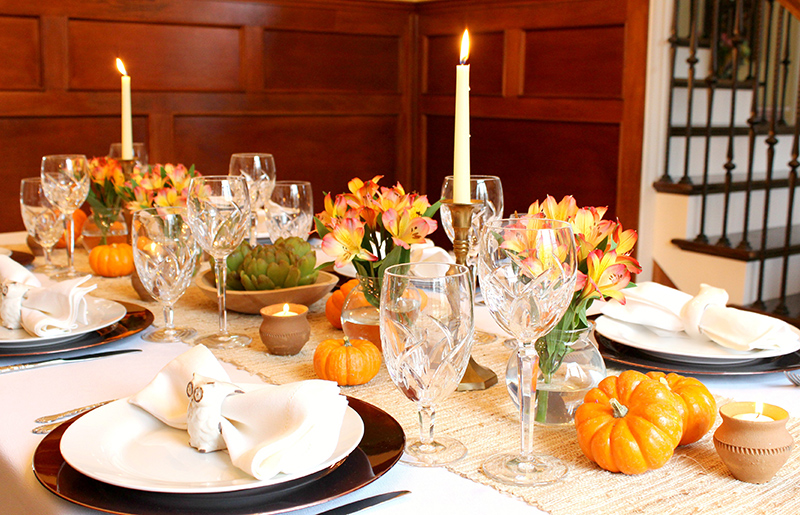 Isn't this a sweet tablescape? Aside from the pumpkins, I am sure that you have noticed the pretty flowers on it too. Very nice, right? Guests will feel very welcomed for sure.
2. Fall – Thanksgiving Tablescape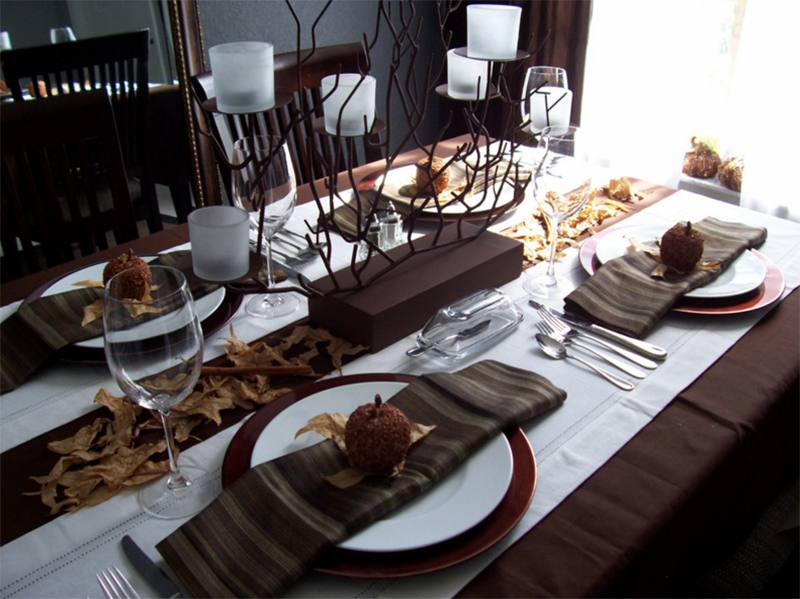 A more modern approach for a tablescape wherein the leaves and branches are added to it in order to give it a beautiful fall look despite the modern colors used in it.
3. Thanksgiving Dinner Tablescape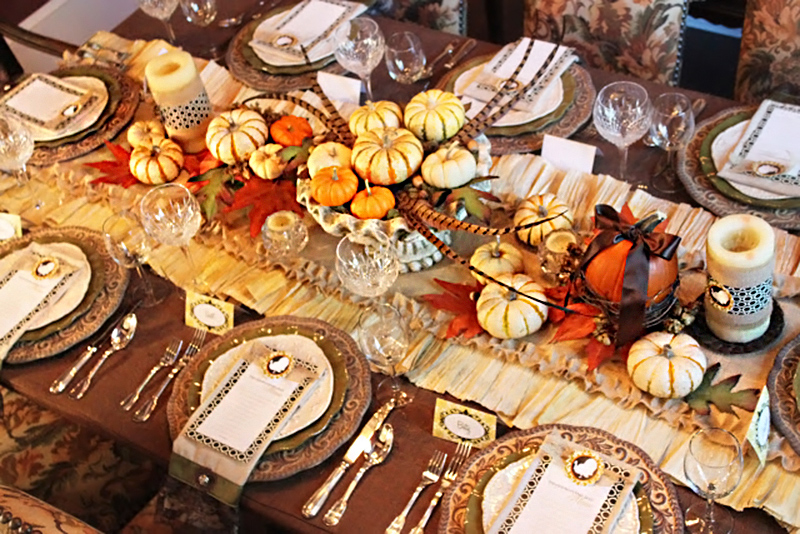 Get a fancy looking table runner and use it cover your table before adding feathers, pumpkins, leaves and more!
4. A Melange of Autumn & Thanksgiving Transferware Tablescapes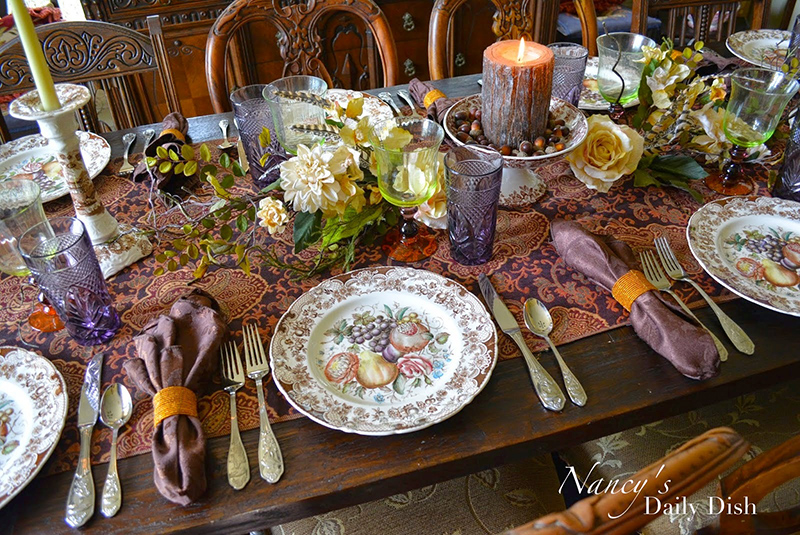 A long needlepoint rug runner is used here in lieu of a traditional runner or tablecloth which is used in this dining table, giving it a nice texture. The black and amber tones used here really make a strikingly elegant and warm setting.
5. DIY Fall Tablescape Ideas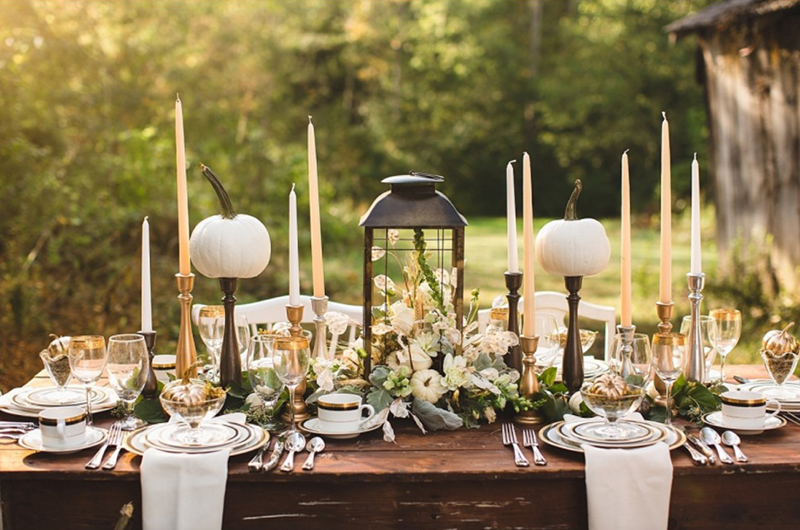 This tablescape used pumpkins and candles on it with some lovely flowers too! Aside from that, I so love that lantern on the middle. So beautiful while adding a romantic feel to the area.
6. Holiday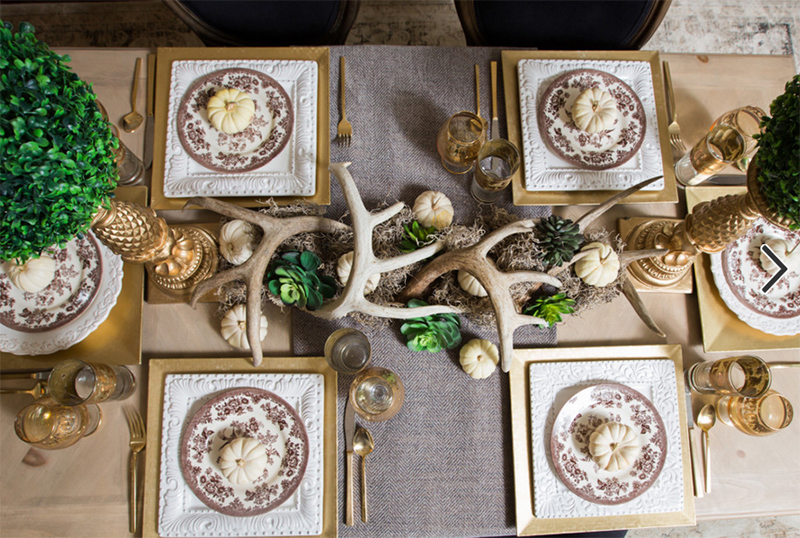 I honestly love that centerpiece! Old wood with little white pumpkins- what can be cuter than that? And the gold accessories look really nice too.
7. Bountiful Centerpiece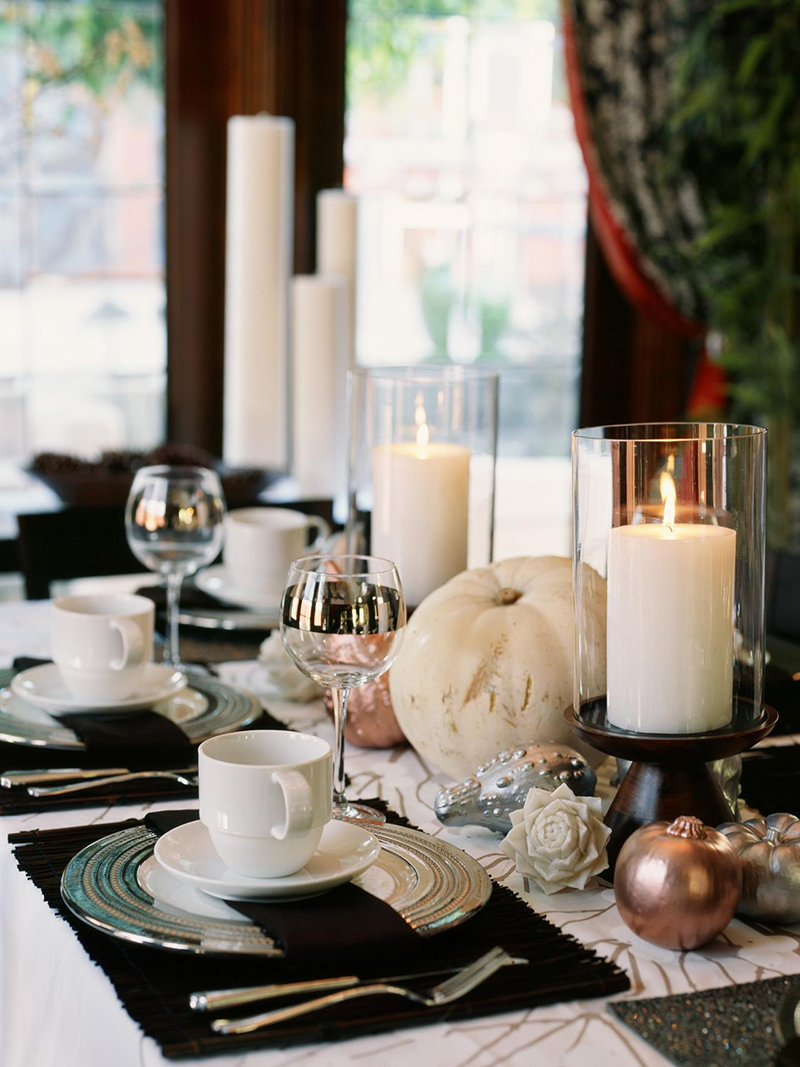 Set the stage for an unforgettable feast adding ghost-white pumpkin, chunky pillar candles and metallic-painted gourds to create a centerpiece that exemplifies bounty.
8. Thanksgiving Tablescape and Thankfulness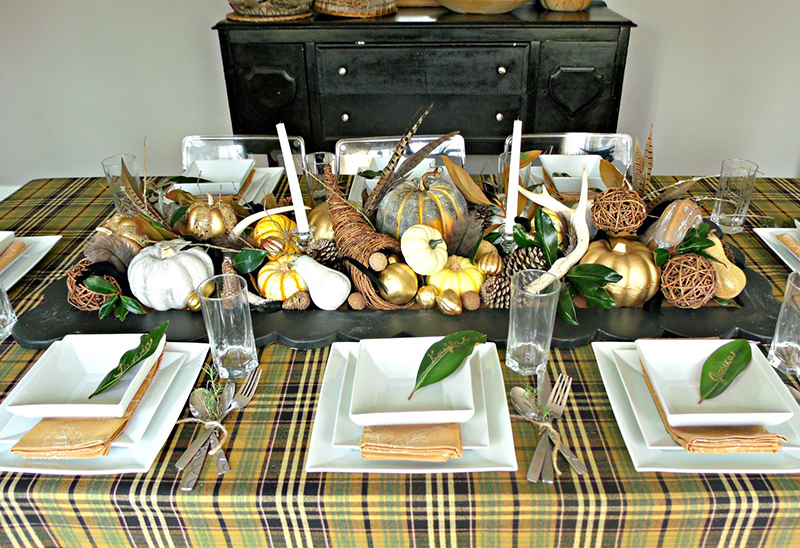 A tartan table cloth seems to lift the look of this table to a different level. A bunch of gourds, pumpkins and more were added on the centerpiece with leaves as place holders-isn't that sweet?
9. Thanksgiving Tablescape with Juliska and Pumpkins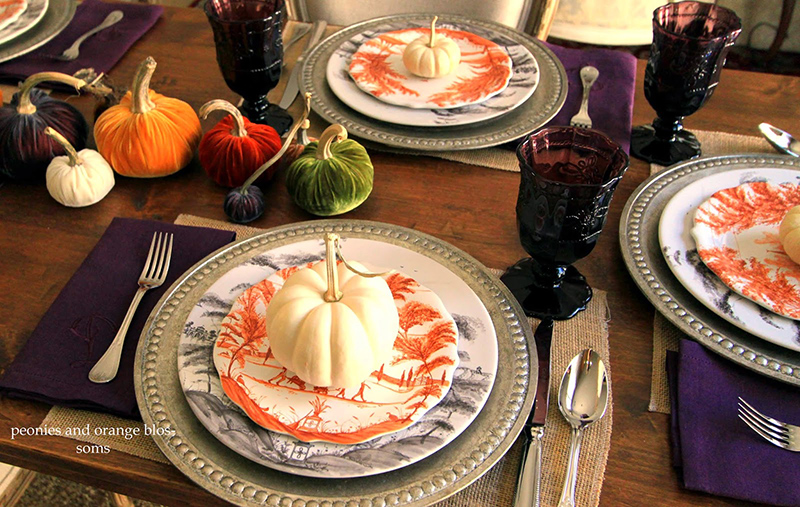 I like those velvet pumpkins in various colors used here. And those china wares are lovely too especially their prints.
10. Thanksgiving table a great first impression
Used here are battery operated mystique LED candles which is a good option if you don't want to use real fire and you don't want to see smoke going around the house. The fruit centers look very fresh as well.
11. A Ducky Thanksgiving Tablescape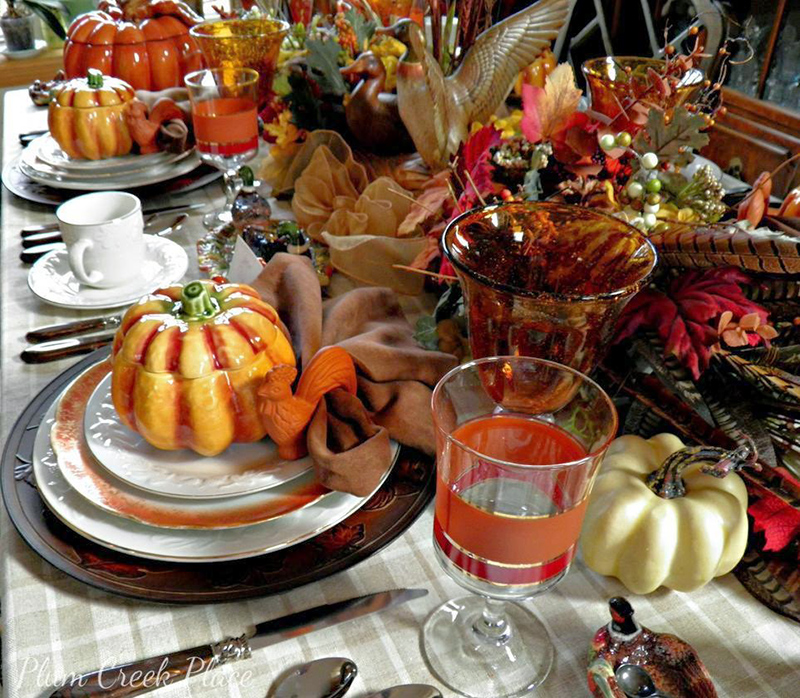 Isn't this full of lovely orange and yellow colors? And yes, other fall colors are seen here too. Another cute thing here is the ceramic pumpkins.
12. Dusty Blue and Cranberry Fall Tablescape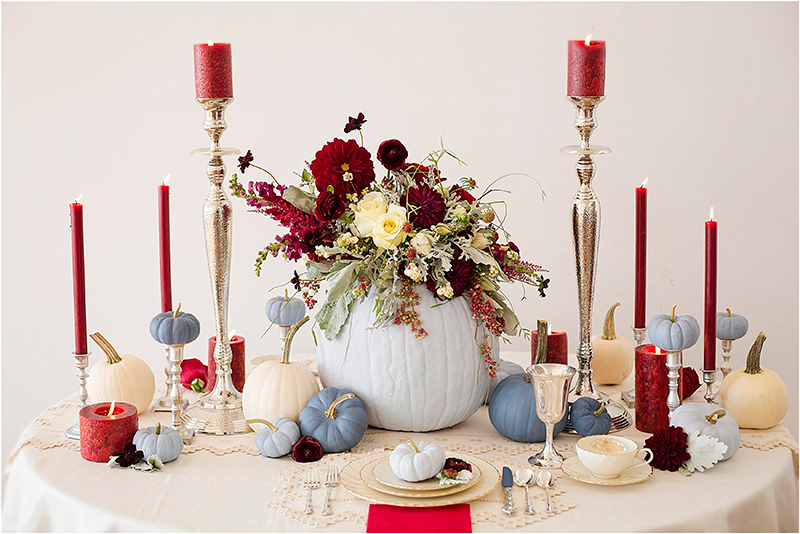 I so love this! The color of dusty blue ad cranberry fall combined together is indeed very stunning! Plus the flowers as well. This is indeed something I would love to have in my wedding or merely on a table for a special occasion. Gorgeous!
13. My Fancy Frugal Fall Table Setting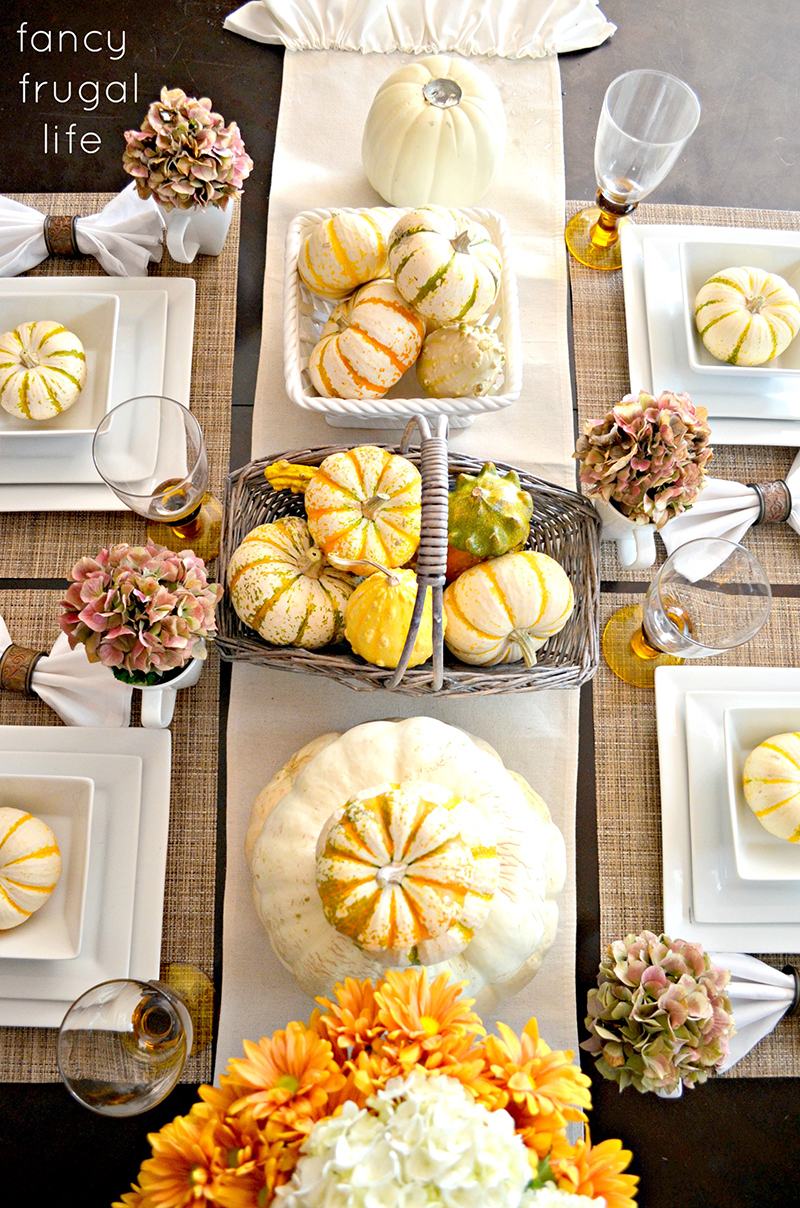 Those pumpkins are very nice! I like it that they are arranged that way and the flowers are so very flattering as well that it will make guests feel that they are indeed special.
14. Thanksgiving Tablescape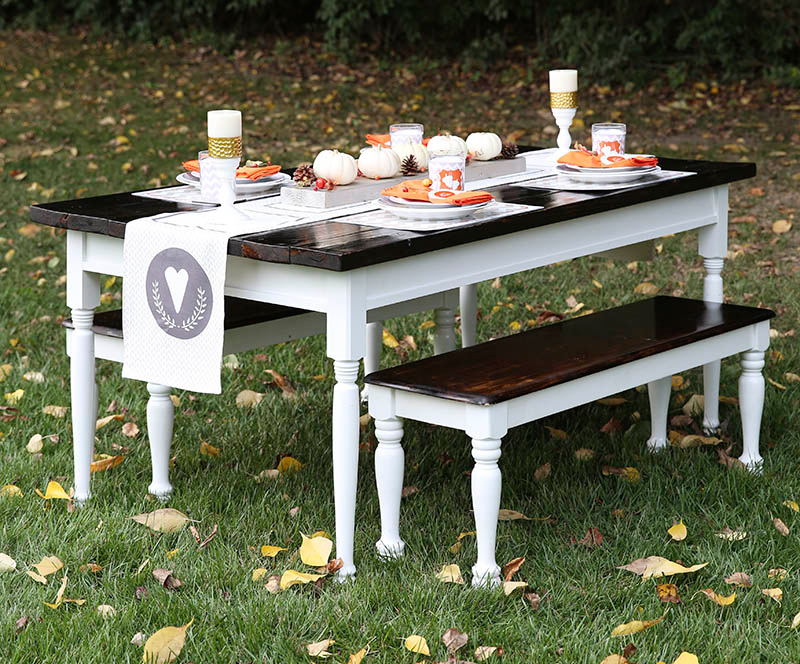 Vintage furniture is used here for an outdoor dining party with a fall theme. Look at that table runner with a heart, isn't it nice? It is very cute. And this one is also a nice wedding idea as well.
15. Pumpkin Gourd Centerpiece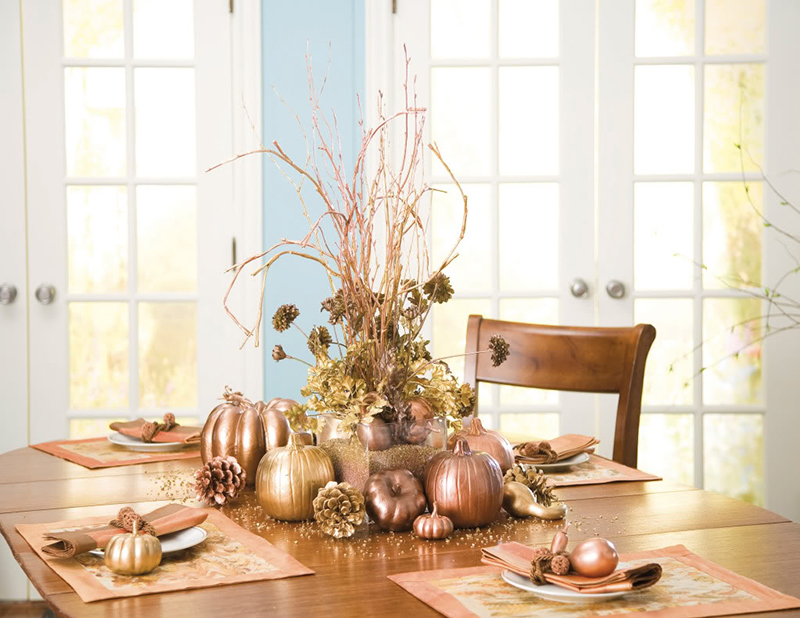 If you want something glittery and golden, then this is the perfect fall tablescape for you! And look at all those branches on the centerpiece, looking really nice that adds depth to the table.
16. Thanksgiving Tablescape 2013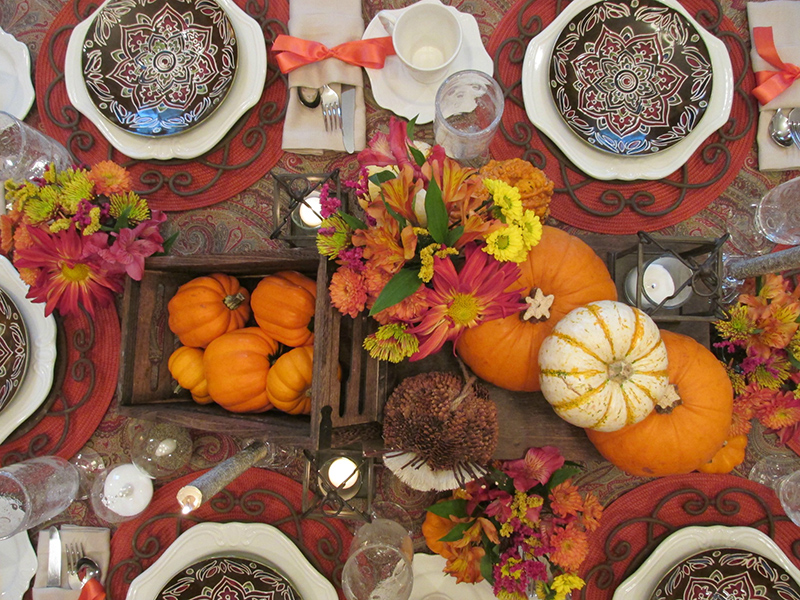 If you want a rustic touch to your fall tablescape, this one will surely inspire you. You can see here flowers and pumpkins and everything nice! Even the designs of the plates look really amazing too.
17. Ultimate Fall Dinner Party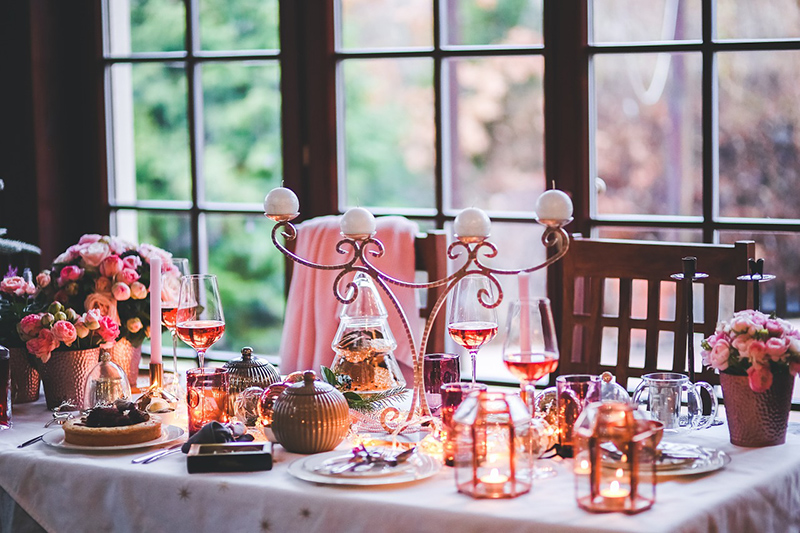 Such a romantic table set up indeed! It does look simple but because of the knick-knacks added it, it looked dashing and sophisticated. The flowers added more romantic appeal to it.
18. Fall Dining Story
If you want something fall themed that has a simple look, then this one could be perfect for you. Just add some leaves and a candle, then you are good to go!
19. Autumn Leaves and Honey Crisps: Thanksgiving Table Setting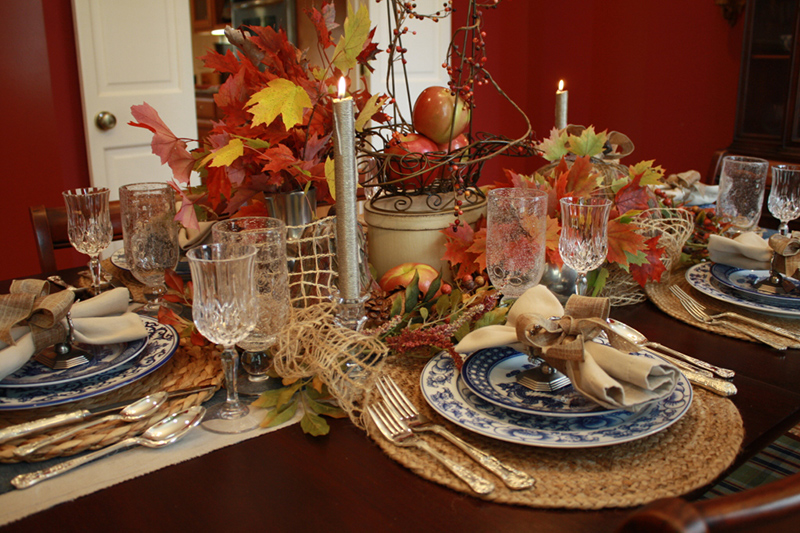 This table is lovely for anyone who wants something more intricate and decorative. Seen here are fall leaves in yellow and red colors that you will surely love to see right on your very table while you dine with family and friends.
20. Pottery Inspired Fall Table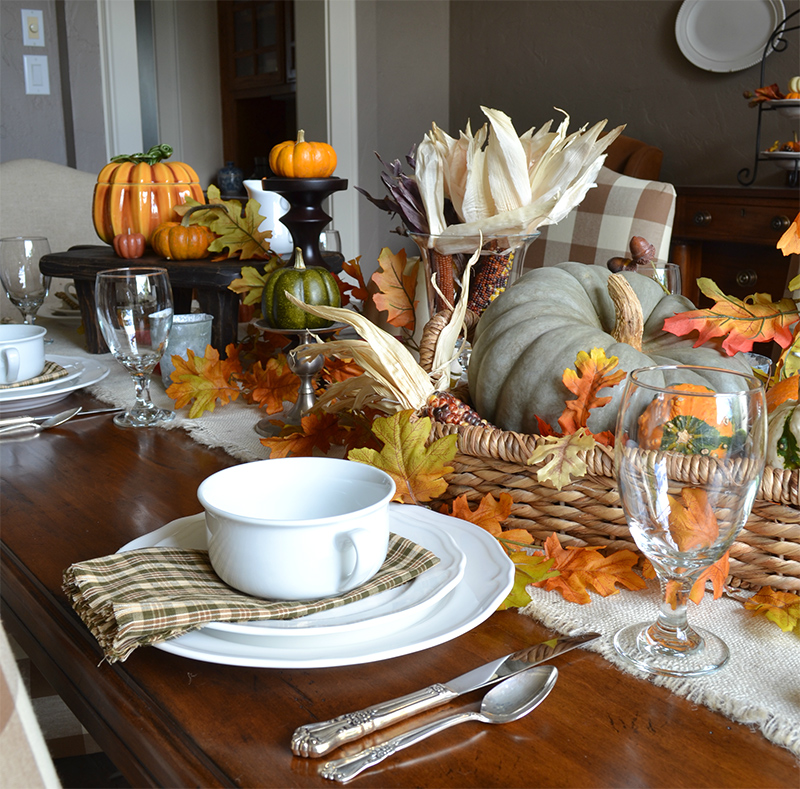 This one combined pumpkins and corns in one table with fall leaves and other lovely fall items. The print of the chair also adds beauty to the area as well.
You may be one of those wondering how to make your fall gatherings look different with such beautiful fall tablescapes. It'll be now up to you to either do a creative combination of your own from those listed above or perhaps follow each one for every occasion. There's always an excuse or let's just say a reason to be creative! Fall into these tablescapes and make this season as perfect as today's post. So which among the featured designs do you fancy the most? Feel free to let us know!