20 DIY Ideas for Decorating With Fall Leaves
When I was younger, I used to collect leaves. There is something about leaves that are special. I am amazed of their different shapes and colors that made them as one of my favorite things to use when crafting. I also used to tape leaves on my scrapbook and write their names. I am also fond of inserting leaves into a book and use them to make cards and just whatever I can think of. It is a fun activity for me. But now, since my childhood days are over, I am into more mature crafts and I am happy to see lovely crafts using leaves just like this list we will be showing you today.
Fall is a great time to gather dried leaves and turn them into masterpieces. During this time of the year, leaves have beautiful colors and they would really be lovely as pieces of decorations for the home. Well, we cannot blame these 20 creative people who have made used of leaves for fall decoration. They aren't hard to make too which means you can also make one for your own fall decor. Check this out!
1. DIY Painted Fall Leaves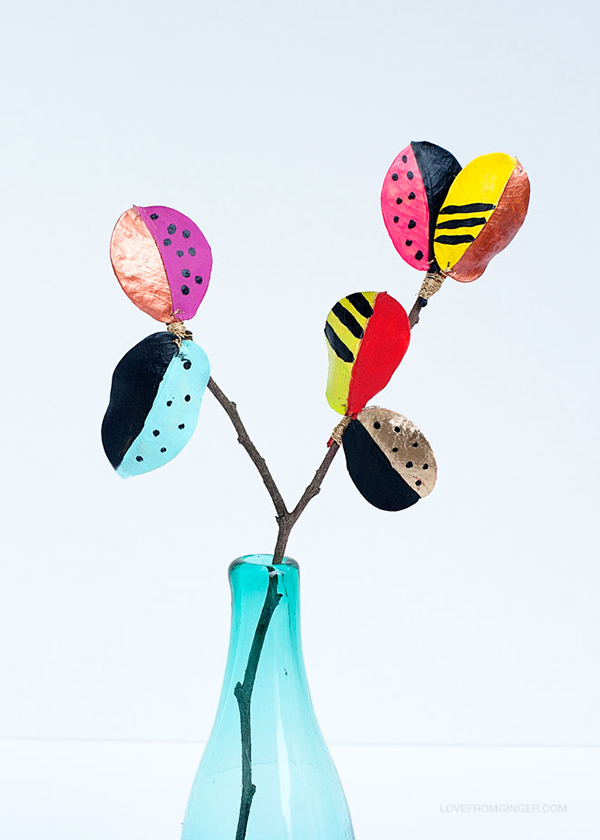 Gather some dried leaves of any shape and size. Paint them in a creative manner and tie it with gold string to a branch. Lovely!
2. DIY Fall Decor: Leaf Bowl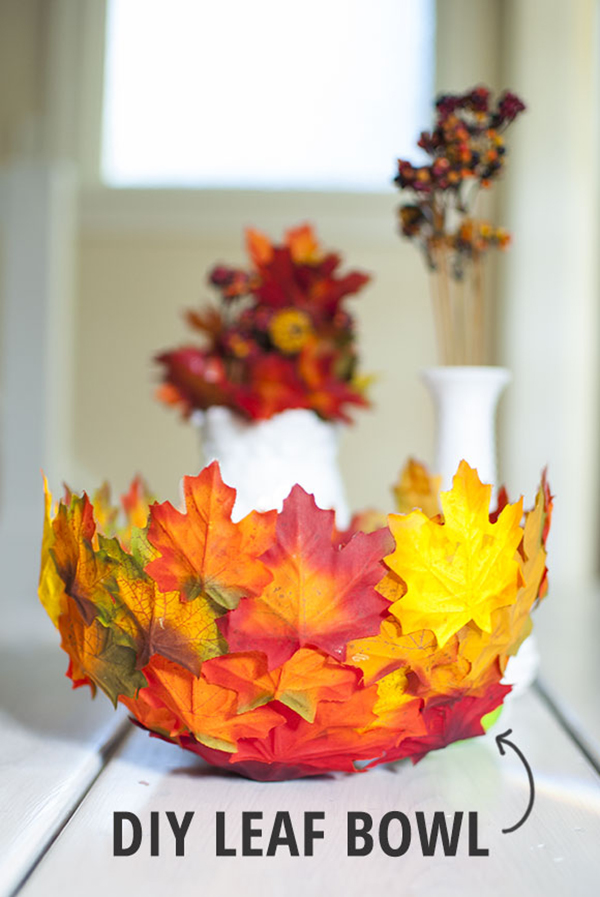 It isn't hard to make a leaf bowl. Just Modge Podge leaves around a ballon and then pop the balloon when the leaves are dry.
3. DIY Fallen Leaf Lantern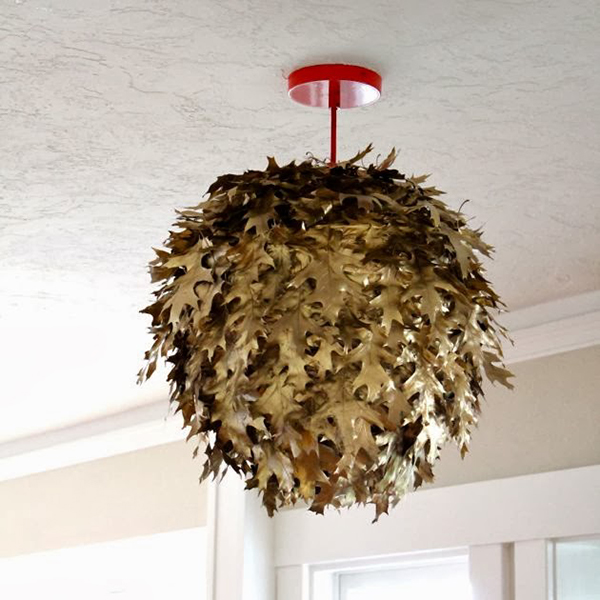 Get a paper lantern and glue leaves that are sprayed with gold to create a dramatic fall themed lighting.
4. Autumn Leaf, Mason Jar Candle Holder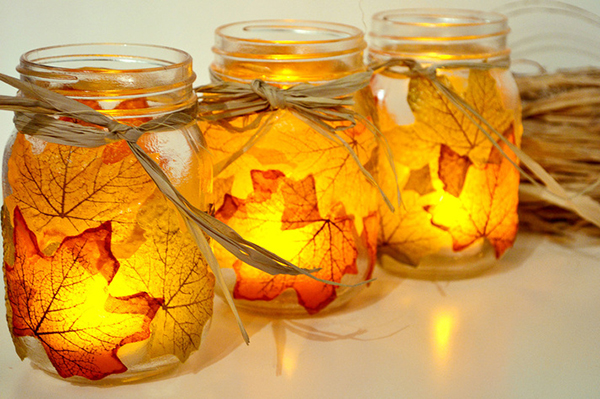 Modge Podge leaves into mason jars and you will get a stunning candle holder like this.
5. Make a Fall Leaf Wreath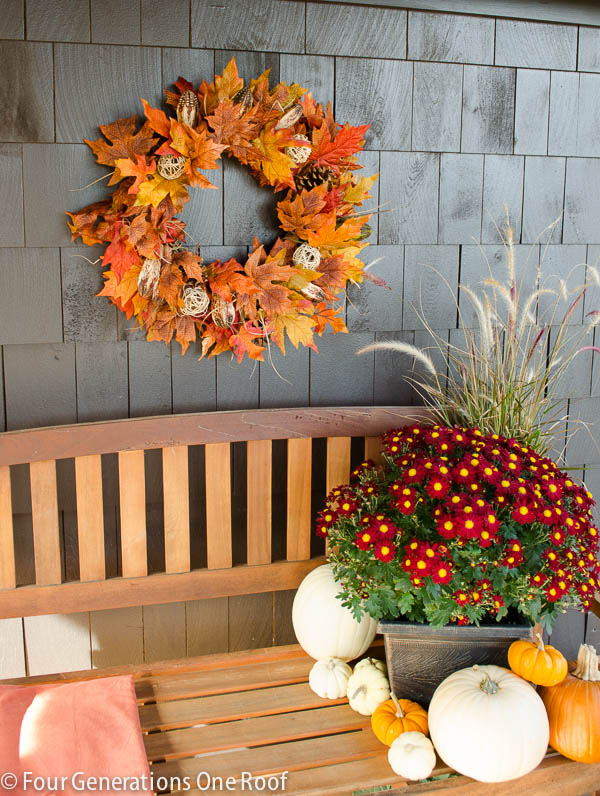 Use grapevine wreath and cover it with leaves and some other fall themed items.
6. Fun with Fall Leaves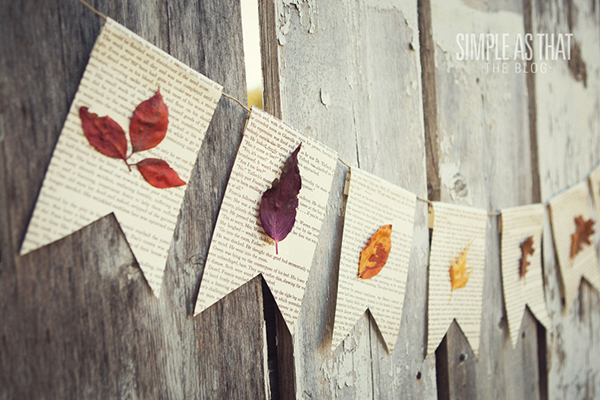 Book pages and leaves are used to create this cute banner.
7. Apollo 1 Light Wall Sconce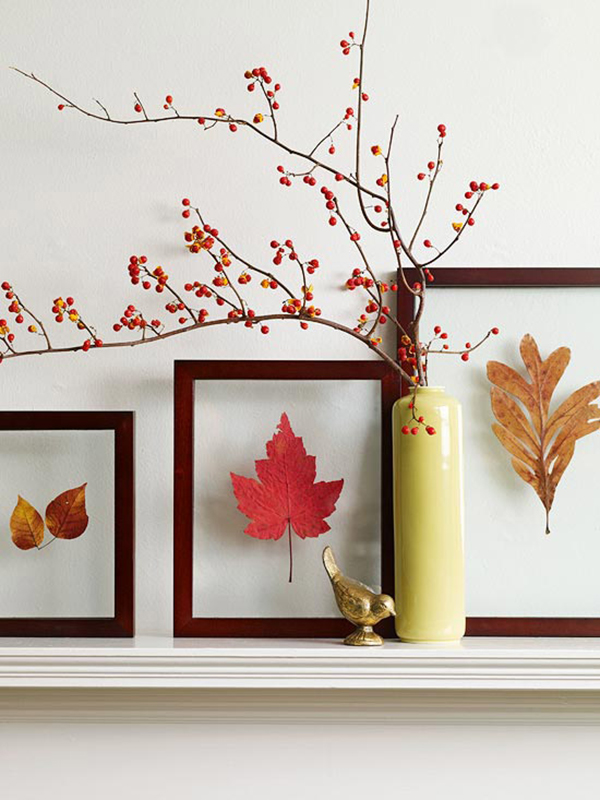 Frame some leaves by using a transparency or a glass. You can attach to leaves to it to get this effect.
8. Celebrate Fall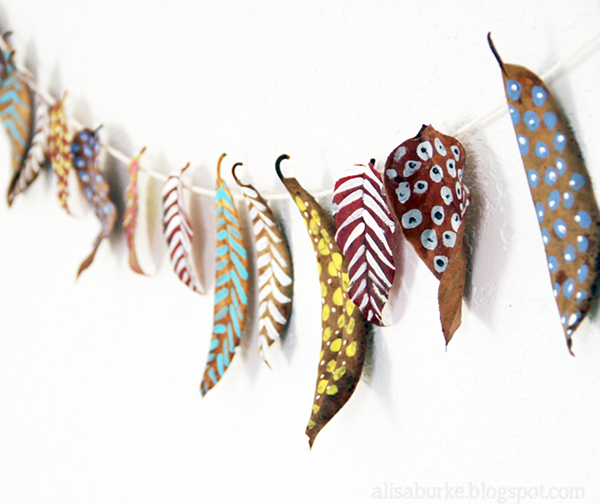 Pretty leaves in different prints as these were painted to create an artistic bunting.
9. DIY Autumn Home Decor Falling Leaves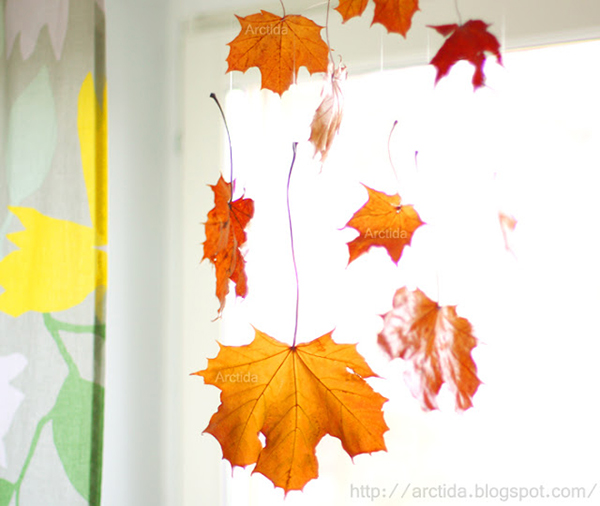 Tie some leaves on a thin string and you will get the effect of falling leaves right into your very home.
10. Fall Window Art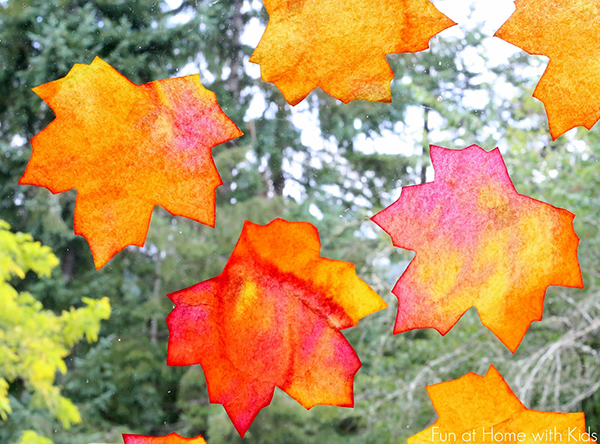 This gorgeous suncatcher is not made from real leaves. These are coffee filters painted with water colors.
11. Fall leaf mobile
Gold leaves are threaded and tied into a branch for a pretty fall mobile.
12. Coffee Filter Fall Leaf Garland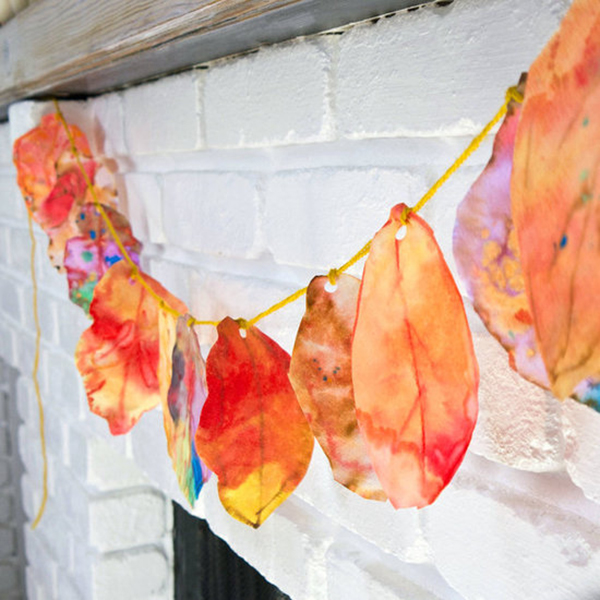 This one used coffee filrer and watercolor too and was used to create a garland.
13. Autumn Luminarias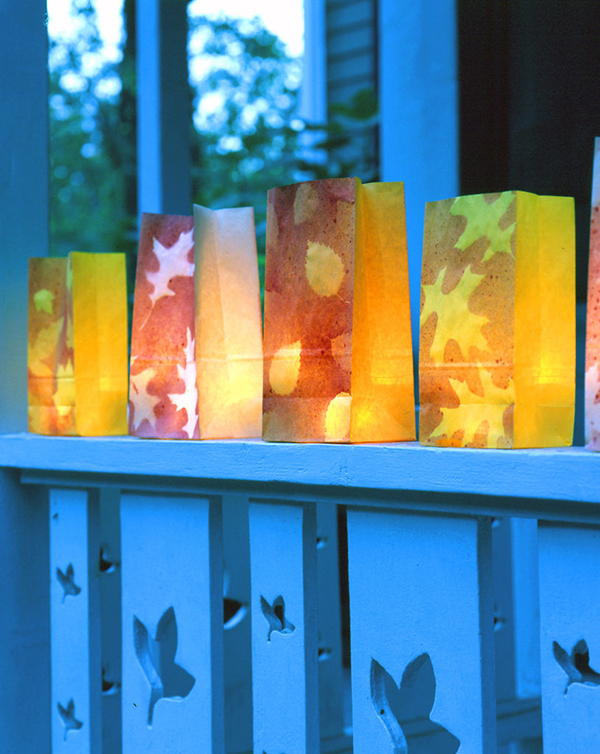 Overly cute! Place some leaves on top of brown paper bags and spray it with paint and you will get this look.
14. Fall Leaf Initial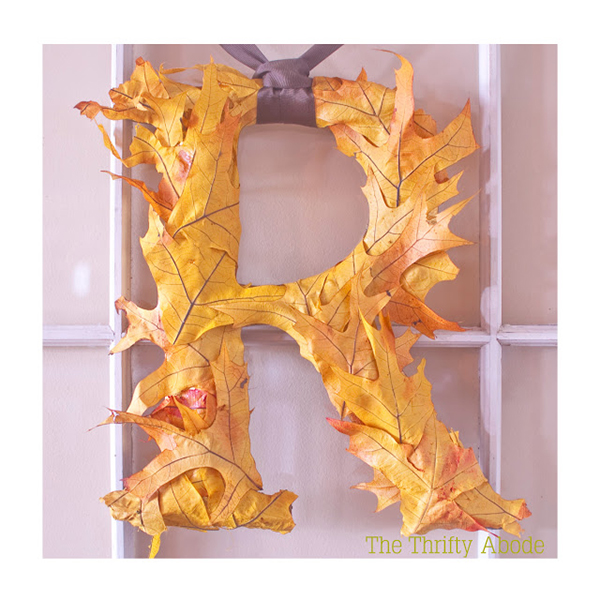 Cover a letter with leaves that represents your initials for a pretty decor like this.
15. Fall Leaves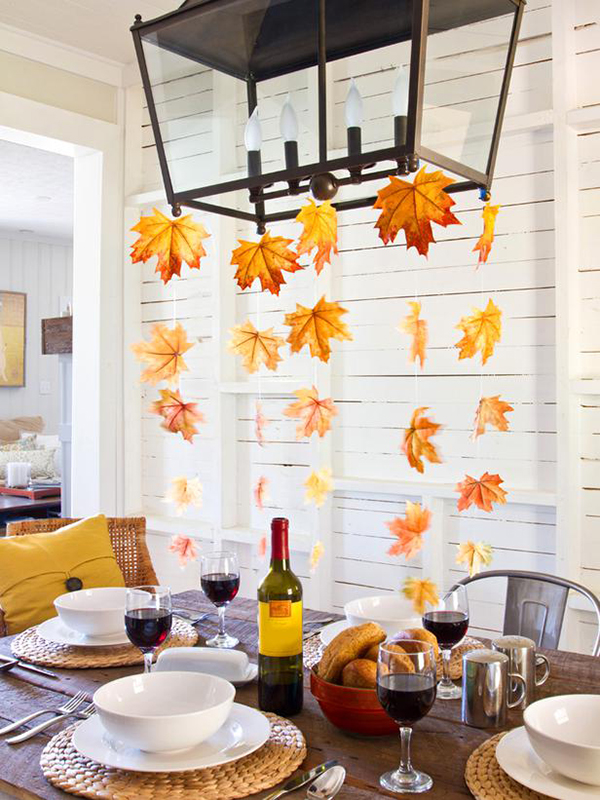 Add more drama to the dining table with leaves that hang from the lightings.
16. Fall Themed Candles Embedding Real Leaves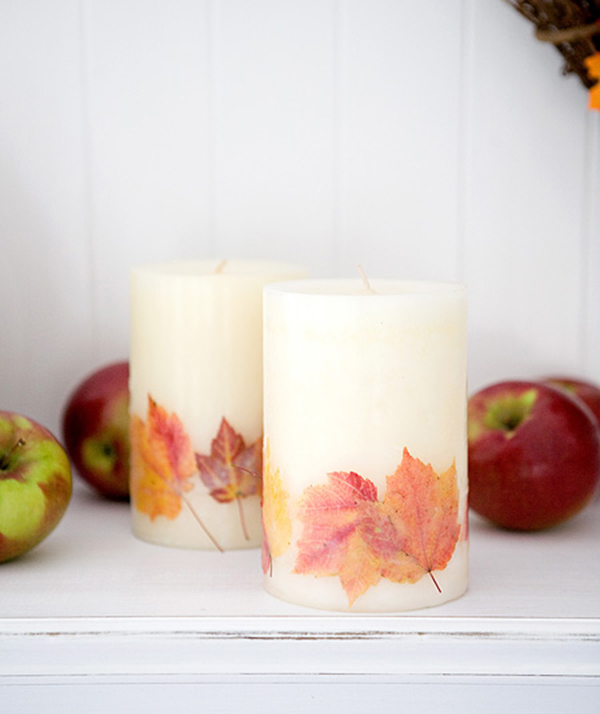 Gather real leaves and embed it to the candle using wax to get a candle that you can still burn despite the design.
17. Door Garland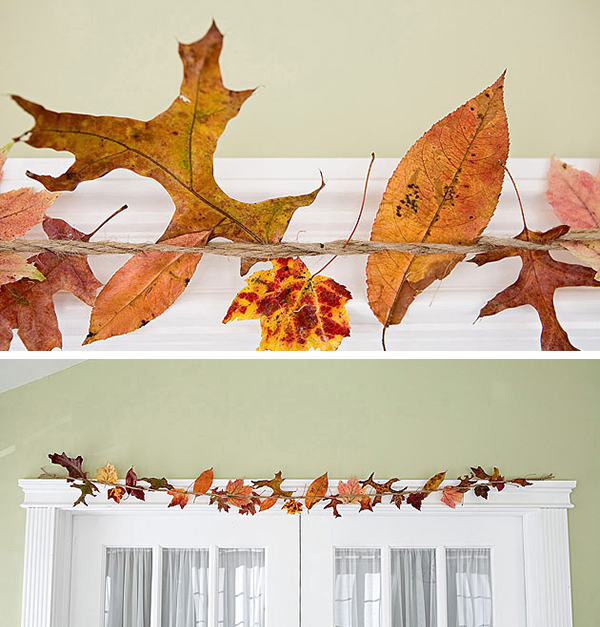 This one is pretty easy. Tie that twisted string on and tuck the leaves into it. Simple yet pretty.
18. Hearth-Warming Leaves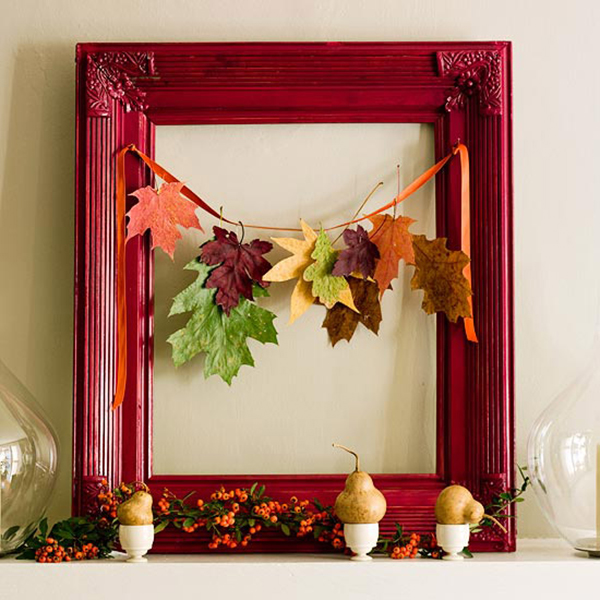 Another way of framing the leaves is like this one. Instead of actually putting glass on it, just tie it like a bunting on the frame.
19. Heritage 1 Light Wall Sconce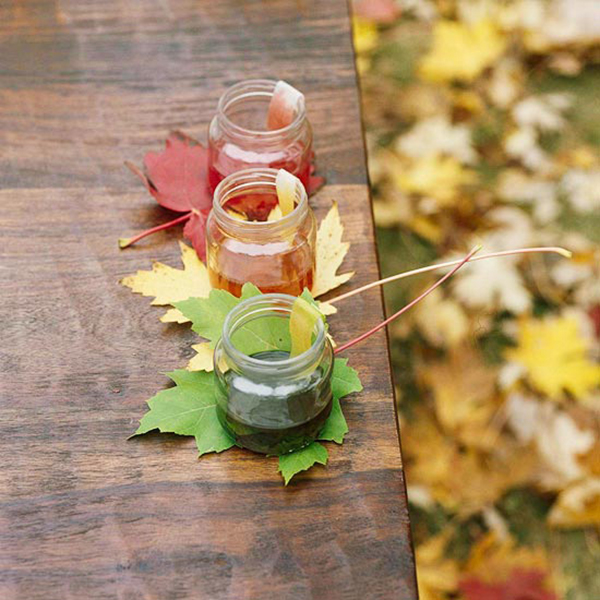 Place fall-tone candles in clear votive holders then get real leaves with the same color and set it under the it.
20. DIY Fall Coffee Table Centerpiece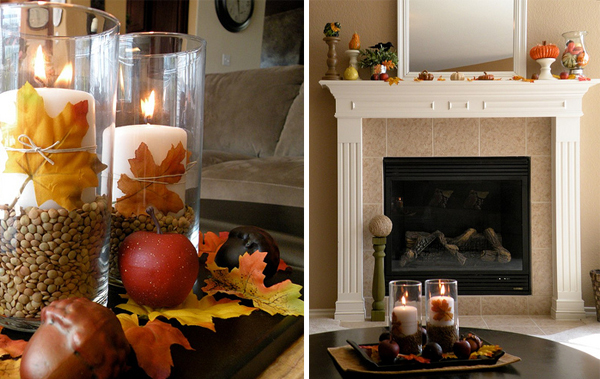 A beautiful fall-themed centerpiece where a leaf is tied around the candle.
Very creative indeed! It is amazing how we can make so many lovely stuffs from leaves or those that are shaped as leaves. There are crafts that would need synthetic leaves while there are others that can look good with real leaves. Which is your favorite fall leaf decor? And among the list, which would you like to try? I like the painted leaves as well as the leaf votives which are very easy and cute!