20 DIY Map Home Decor Projects for a Travel-Inspired Interior
Who would think that you can actually do a lot of fun home decors for a map?
If you love to travel, then it would be nice to see that in your home. A travel inspired space isn't just beautiful but it will bring out the adventurer in you. Aside from that, your guests will also see that happy-go-lucky side of you who wants to see the whole world. Well, you don't really have to pull-off a complete travel-inspired home. You can just add some travel themed decors no matter what is your home's motif and style.
Today, I have collated some DIY map home decor projects that you can do for your home. They are easy and quick. Of course, you can also add your own style into them to make it look even more personal. But at least, you already got all the instructions on how to do it. The projects we have here are mostly wall decors but there are some that aren't like votives and vases. For sure, after seeing this list, you will come up with something unique and lovely too.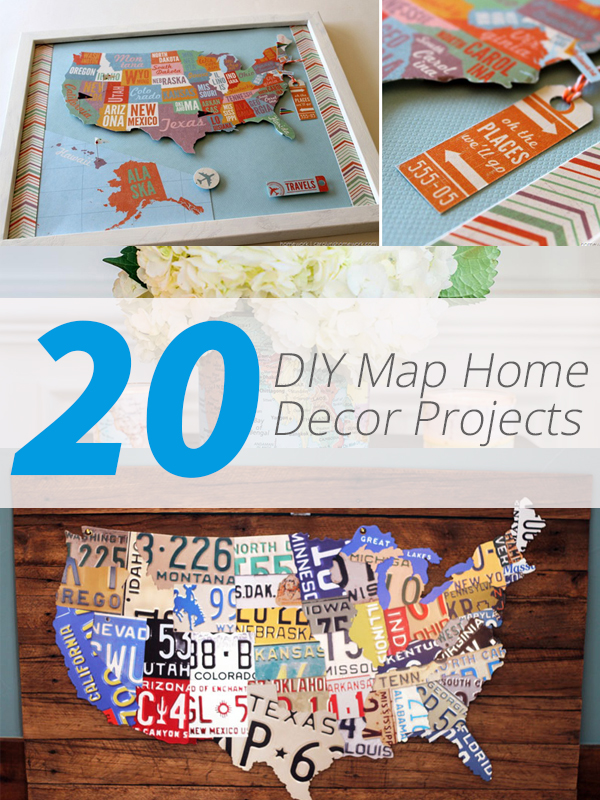 1. DIY Cork World Map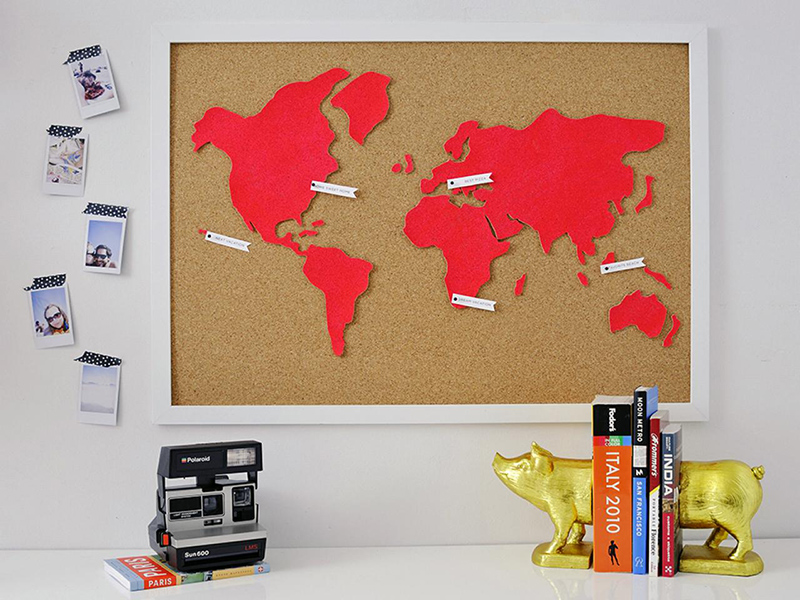 If you want to get a board where you will mark where you've been and where you are going, this is a fun and creative way to do it. Just cut a world map from a cork and spray paint it. The possibilities are limitless for the maps design!
2. DIY Wooden World Map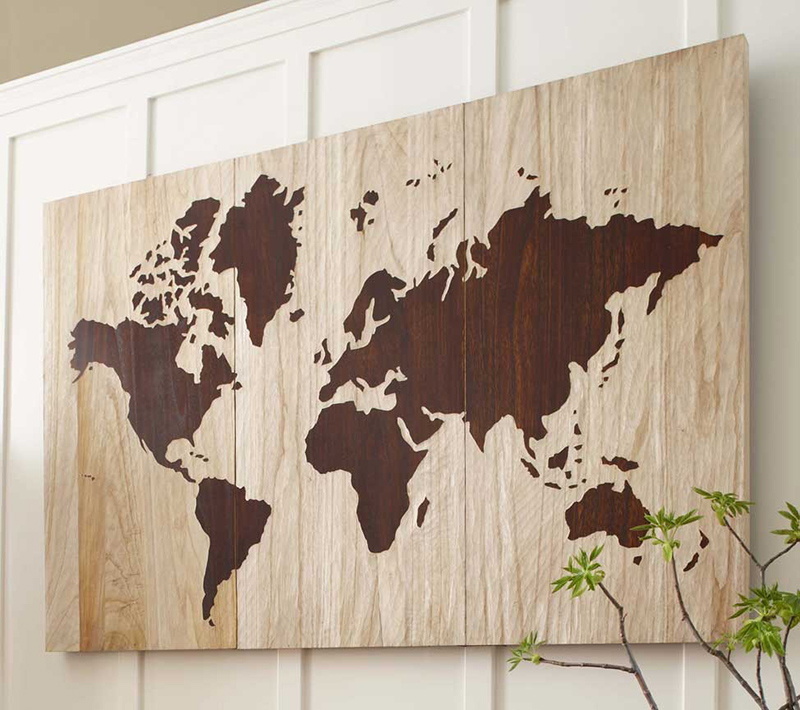 For this, wood was put together and then using carbon paper, the world map is traced into the wood. The next steps? You can check out the tutorial for the critical steps.
3. DIY Map Art Meets Church Missionary Display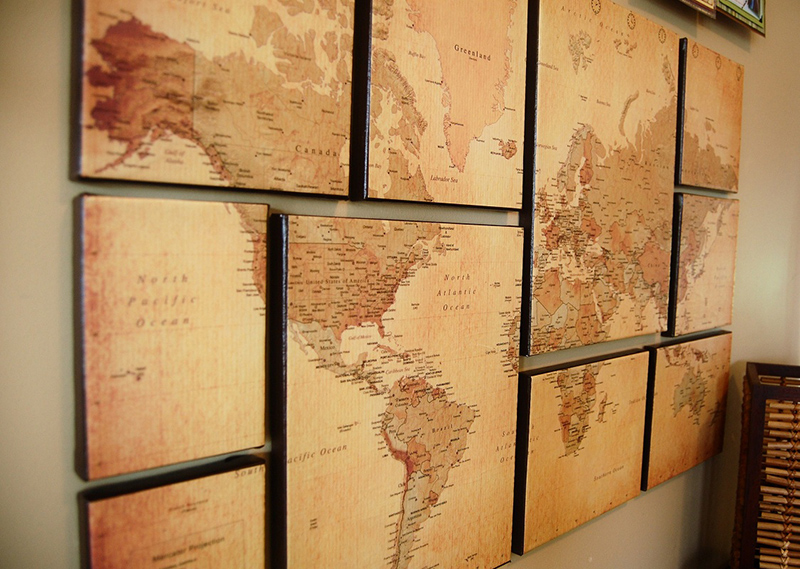 Sepia toned world map was Mod Podged onto 10 canvases. That simple but look at how it turned out. Simple project but could do big for your home decor.
4. DIY Map Coasters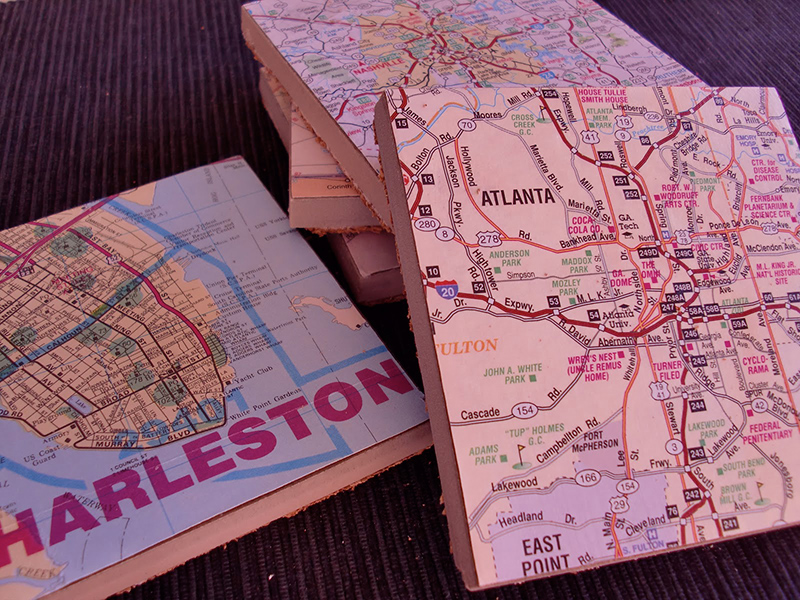 Coasters! One of the easiest projects to make are coasters. You can make coasters with different designs. But for this one, it used maps. Cute, right?
5. United States Pin Map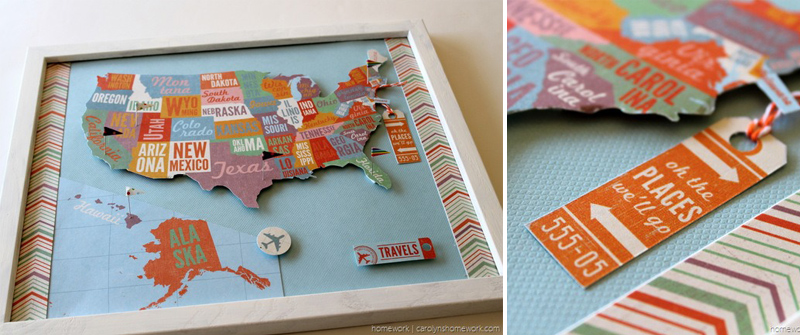 This one looks really cute. Aside from the colors, I love the small details like the tag with the words "Oh the Places We'll Go!" from Dr. Seuss. And that cute airplane is lovely too.
6. Easy Map Heart Bunting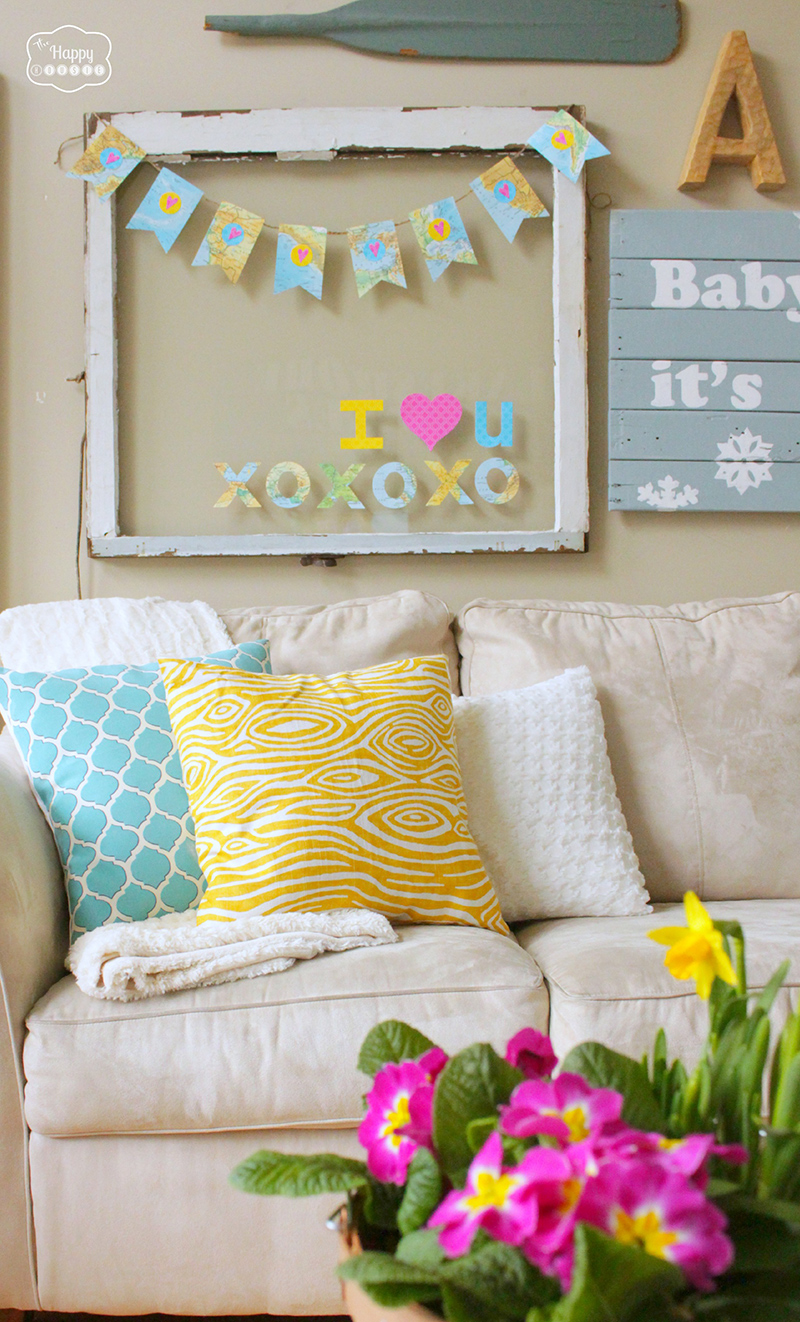 Oh this is very cute! Just cut shapes from a map for the buntings and add the colorful hearts. Then cut those XOXO letters and mount them on a board. Lovely! I like the shabby chic details of this one.
7. Gold Leaf Map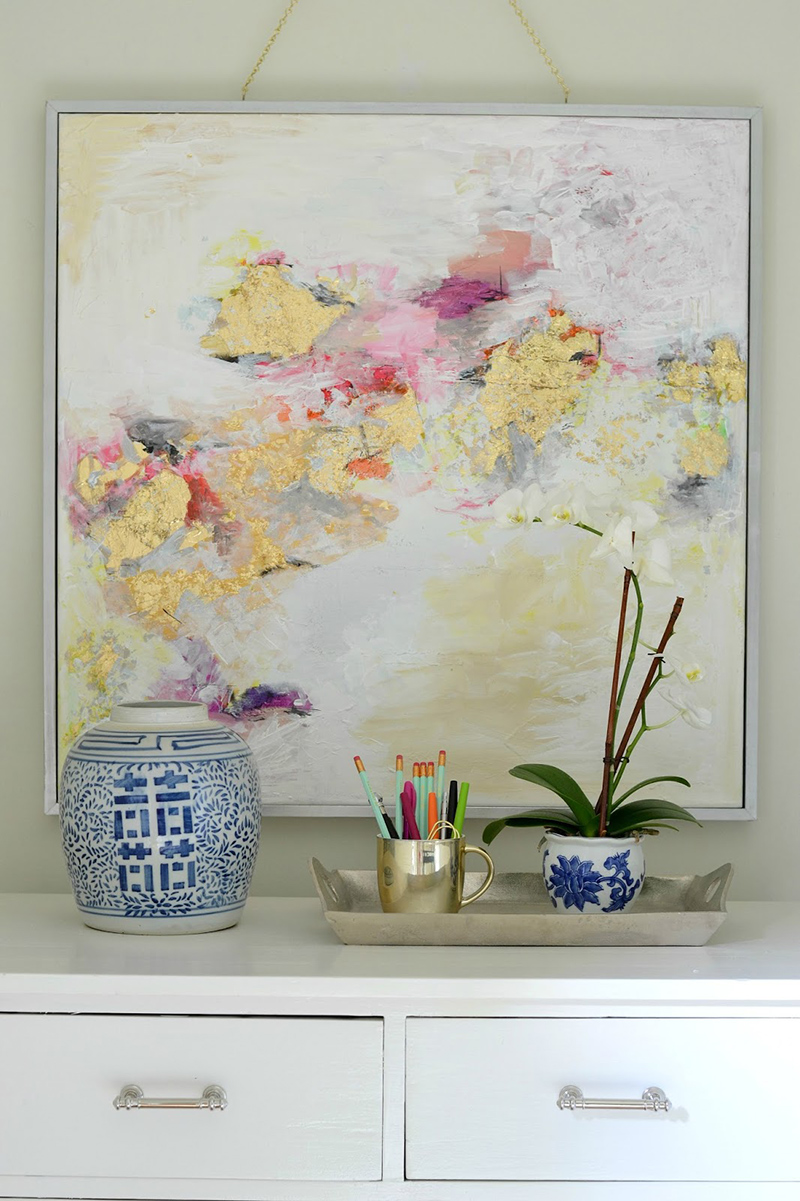 Well for this, some painting is needed but just a mix of some colors. I guess acrylic was used for this one. And then gold leaf was added for a better look!
8. DIY Antique Map Wall Clock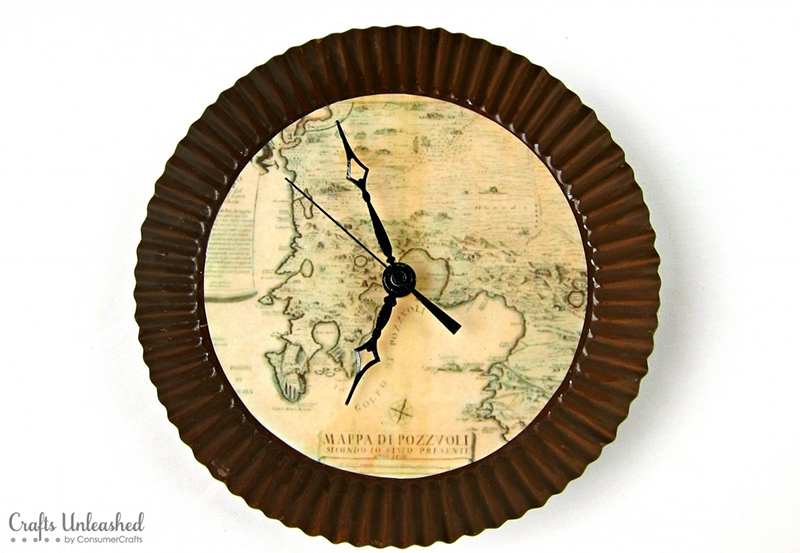 You can buy a new clock or use an old one. Simply add the map into the clock. You will just insert it on the top part. You know what I mean when you get your clock. Lol!
9. Upcycle Pallet World String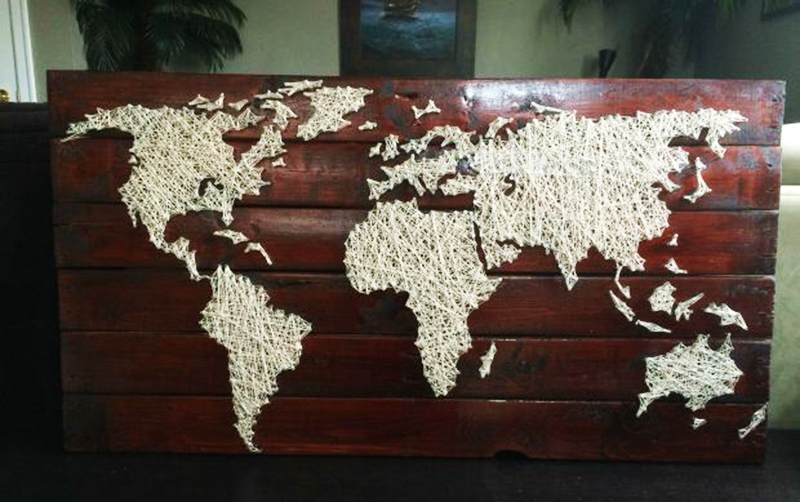 Using wood again, put them together and then trace the world map. Then hammer some nails around the form. This is where you will start tying the string. Just be creative. You can use different colors for the string too.
10. License Plate Map Wall Art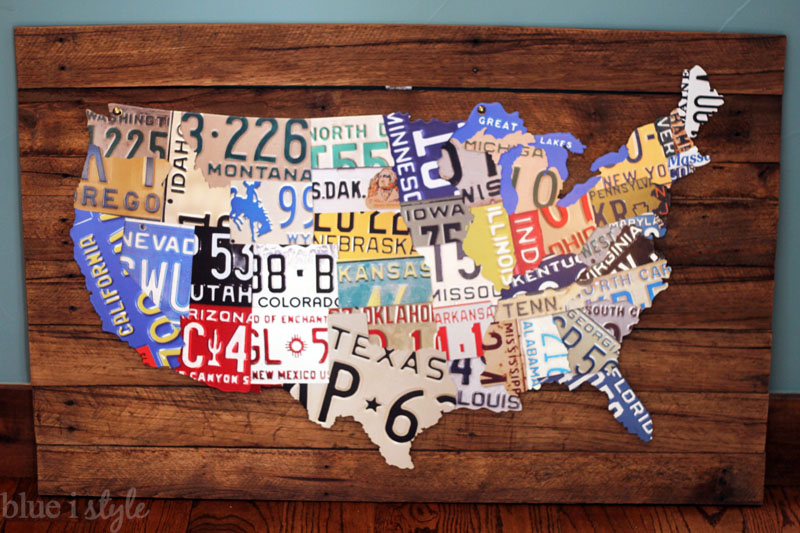 This looks nice but you have to cut different plates and put them together. Get those with different colors and numbers for a more exciting look. This would be perfect for a man's bedroom or even for the living room too.
11. DIY Map Votive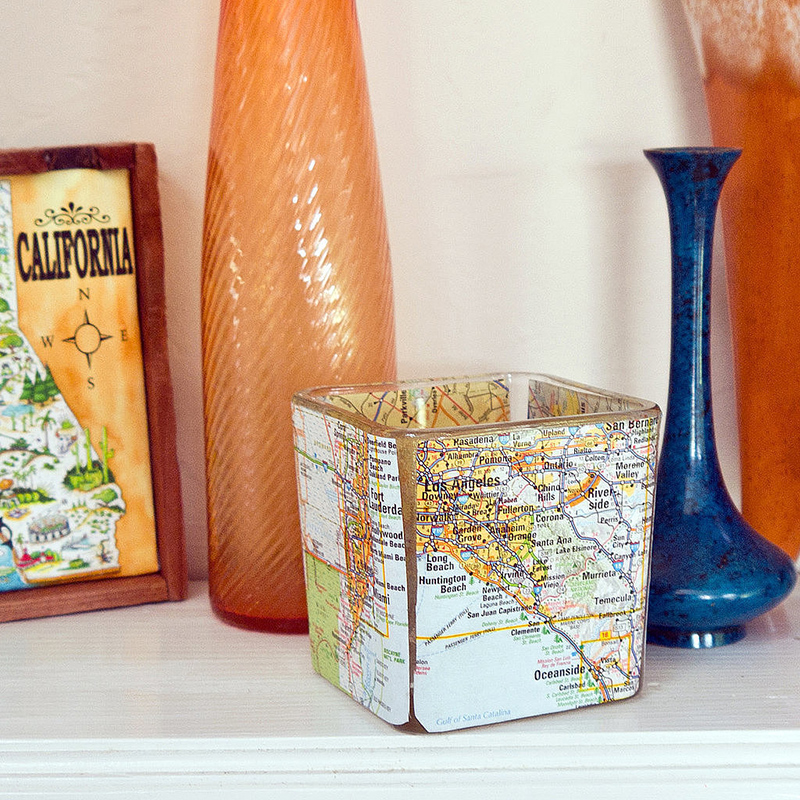 Love travelling? These map votives are an ideal decor. It is very easy to make and you can give them away to your friends as a gift too. All you need are dollar-store votives and an old atlas or some maps.
12. Embroidered United States of America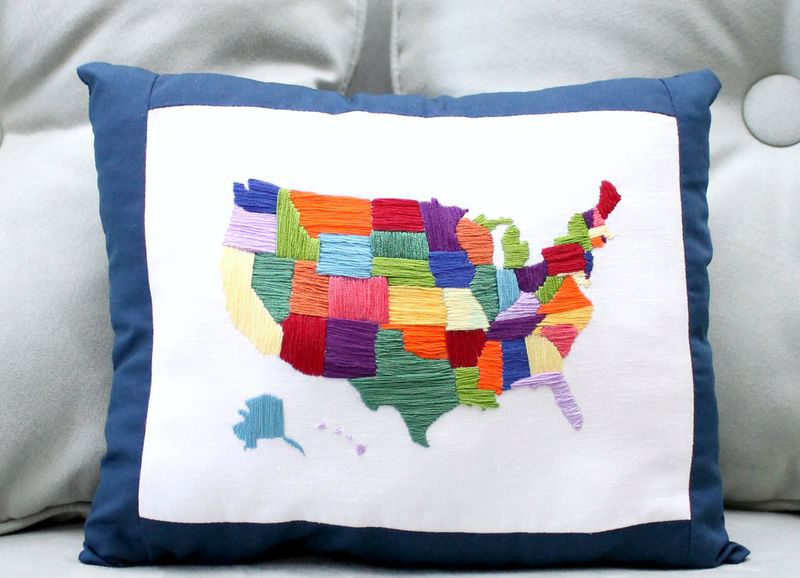 If you have some embroidery skills, then you can make a pillow cover like this one. Use different colors for each state for a more beautiful pillow case.
13. Easy DIY Travel Quote Map Art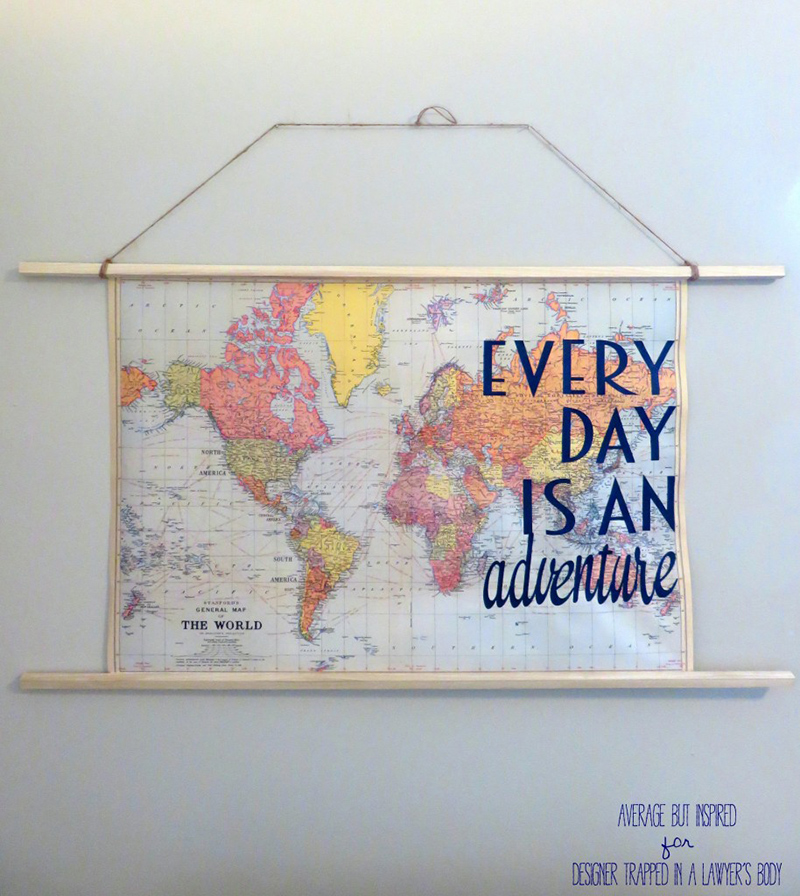 Buy an inexpensive world map and then glue the ends to two wooden dowels where you will tie the string. Cut some letters and glue them to the map. And that's it!
14. DIY Map Heart Art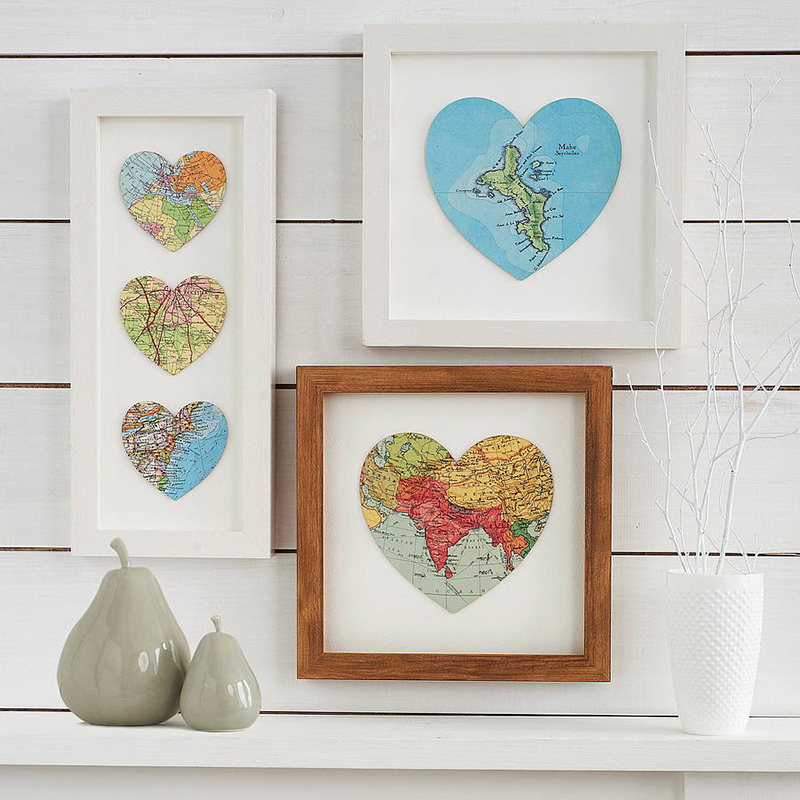 Cut a map into hearts then paste them on a white paper. And then frame it! It is that simple to get these beautiful wall decors. It is just a matter of how you arrange them on the wall.
15. Map Covered Monogram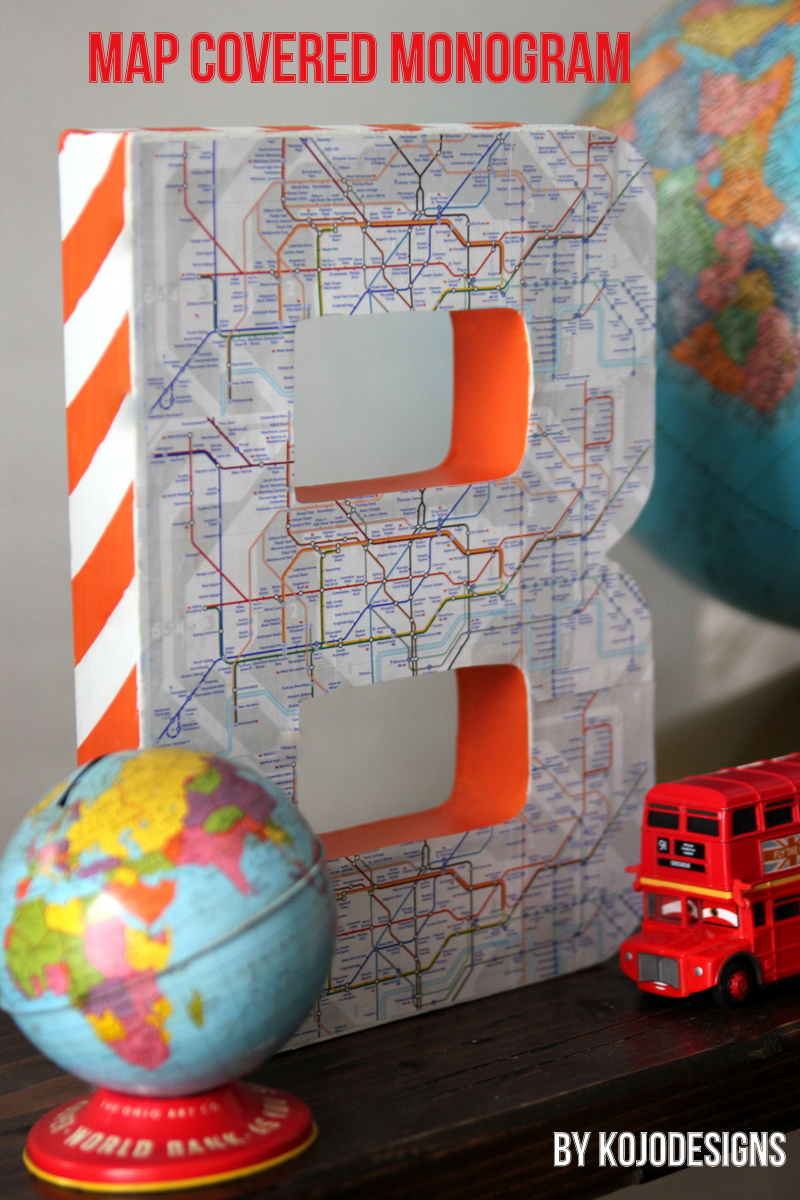 Buy or make a letter monogram and wrap it with a map. That's all! You can either install it on the wall or just let it stand on a shelf.
16. US Map Wall Art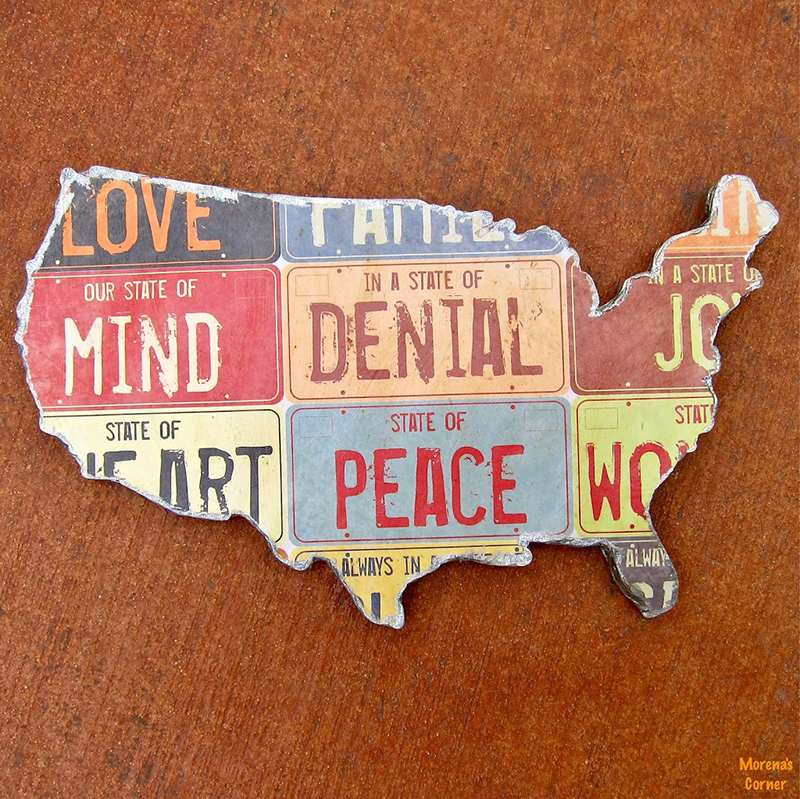 Cut a styro foam to form a map then wrap it with whatever wrapping paper you have. Paint the sides with silver and that's it! Install it on the wall wherever you want for some travel theme decor.
17. Map Artwork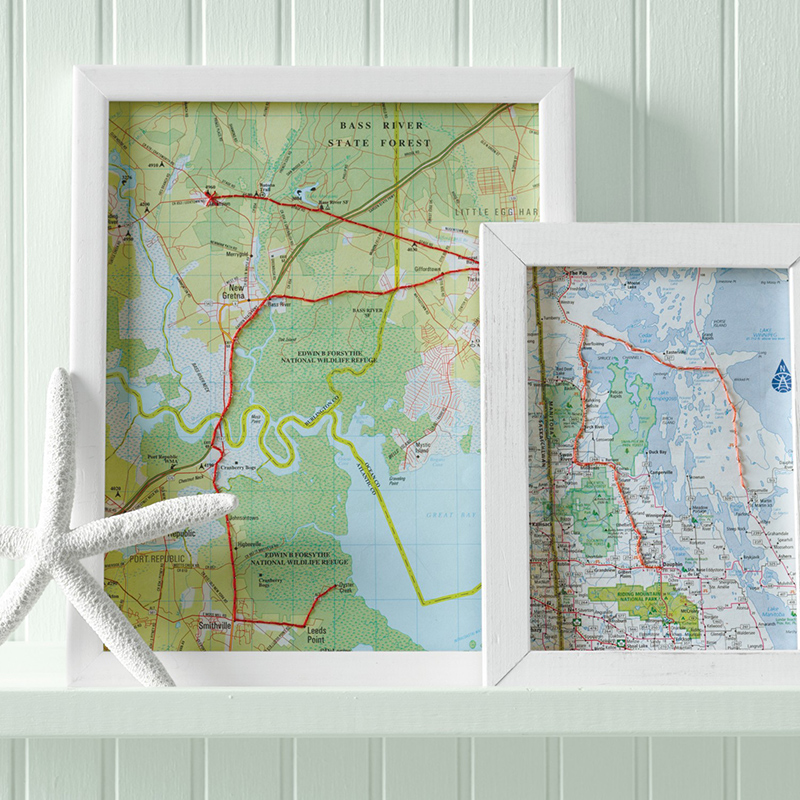 Using a thread, sew a trail on the map of where you want to go or where you have been. Then frame it! Done!
18. Fractured, Framed Map Art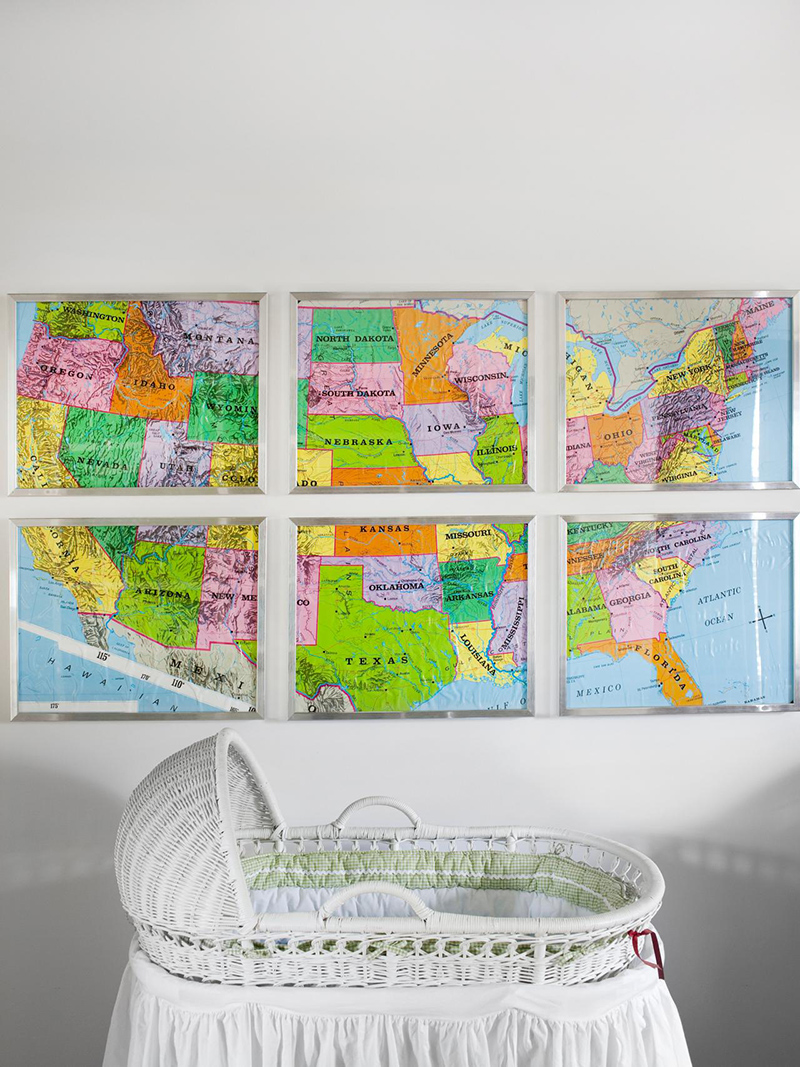 Buy a huge world map that is full of colors. Cut them to fit 6 frames of the same size and frame design. Put them together on the wall. Looking great, like?
19. Recycled Map Drawer Makeover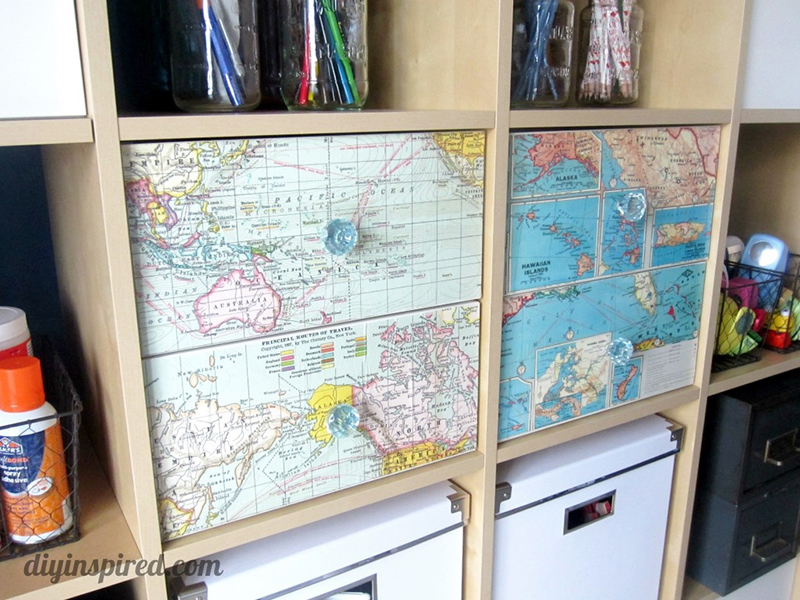 The drawers of this cabinet is covered with a map. Simply cut a map to fit the size of the drawer and glue it to the cabinet or use double adhesive tape. Then add new handles.
20. Map-Embellished Vase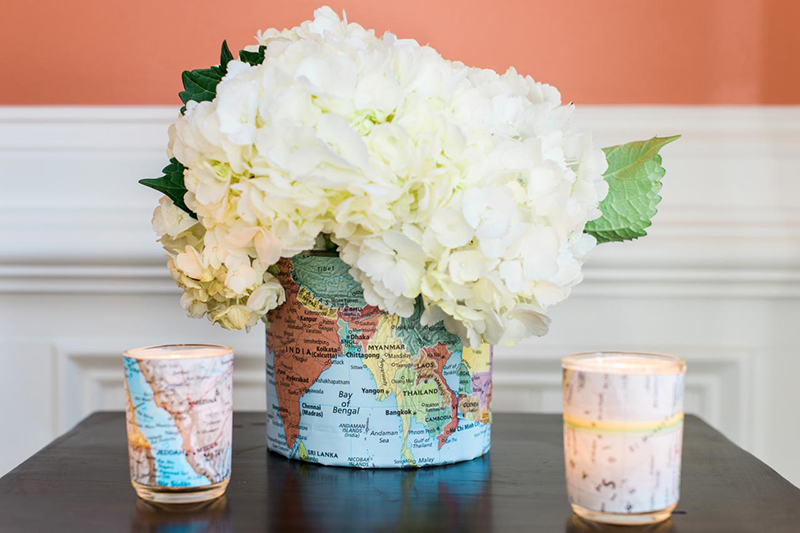 Simply looking at these will give you an idea of how to make them. Wrap a vase and glass votives with maps for a travel-inspired tables cape!
Such fun crafts indeed! And they all turned out really beautiful. These home decors aren't that hard to make but the impact it has to your home is really huge. Merely adding them to your space could already bring a different level of beauty into it. And what makes it even better is that you actually made them and you have poured your whole heart into it. That is what made them really special! Love this list? Go ahead and share it with friends.