20 DIY Ways to Personalize Your Candle Glass Holders
My favorite item to DIY are glass because you can do so many things with them without so much hassle. I had made many different souvenir items, candle holders, centerpieces and others from glass with varying themes and motifs. It is just fun to do it and would only take a little time to finish. That is why, I am certain that no matter how busy you are, you will be able to steal a few minutes to beautify your glass candle holders.
Well, you really don't have to if you are already happy with your plain glass votive holders but if you want to add some personality to it or you want it to go with the theme of your interior, then you have to do something. It is for you to decide if you will resort to the more complicated DIY or just the simple ones like merely wrapping a paper around the glass. I'm sure you'd be able to decide once you see the list below.
1.Glitter Votive Holder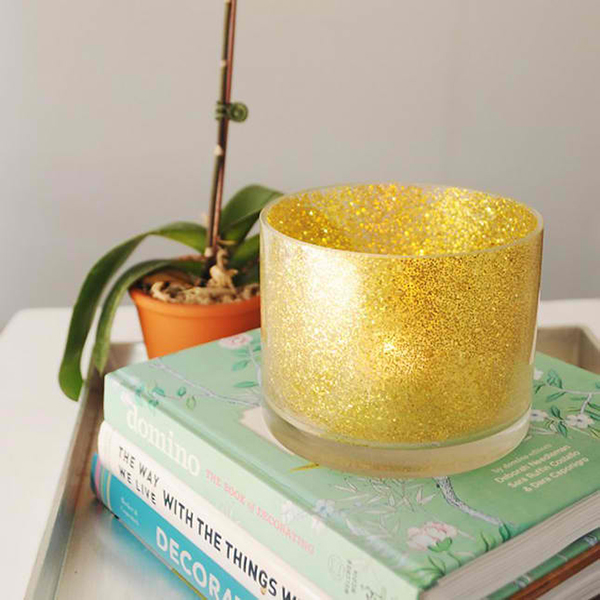 You'd get a super sparkly holder once the candle gets lighted with a glittery votive holder. I know you get already have a hint of how this was made.
2. Cut Paper Candle Holders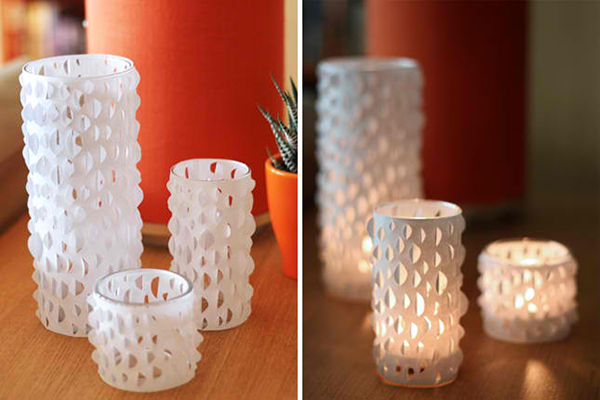 It would take time to do this but yes, it is very easy. Just use bond paper and cut U shapes into it. Trim to the size of the glass and use double adhesive to stick it. Done!
3. Washi Tape Candle Votive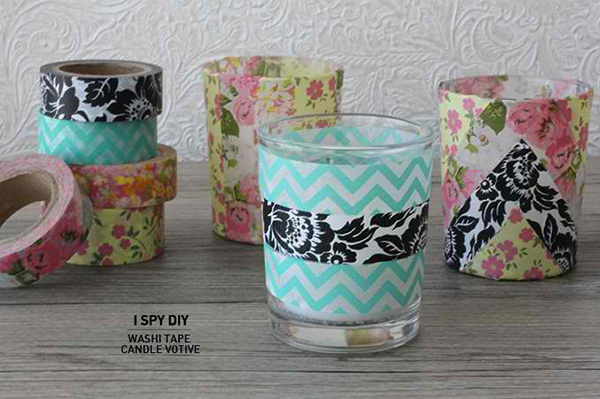 Oh washi tape! Who will not love these tapes??? You can washi tape almost anything just like what they did with these glass holders. The colors and patterns are just swooning!
4. Sweet Lavender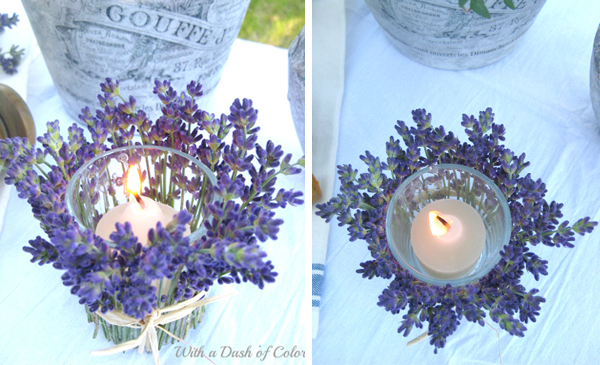 Wrap around lavenders around your glass and you will be surprised of how gorgeous it will actually look. You can do this with other flowers too as long as it is has long stems that can stick from the bottom to the top of the glass.
5. Mercury Glass Candle Holder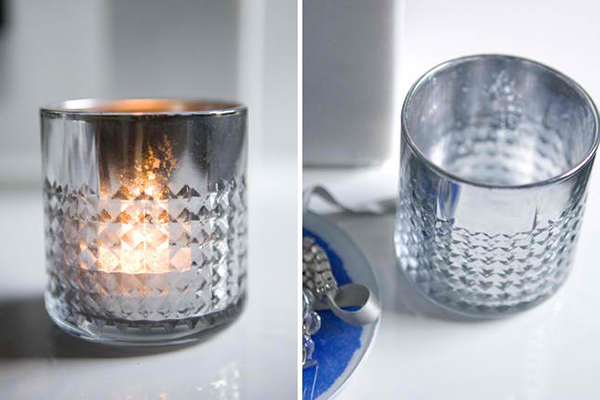 A boring clear glass holder will turn into this lovely piece using some mirror like paint and a little technique to get that weathered look.
6. Film Negative Candle Holders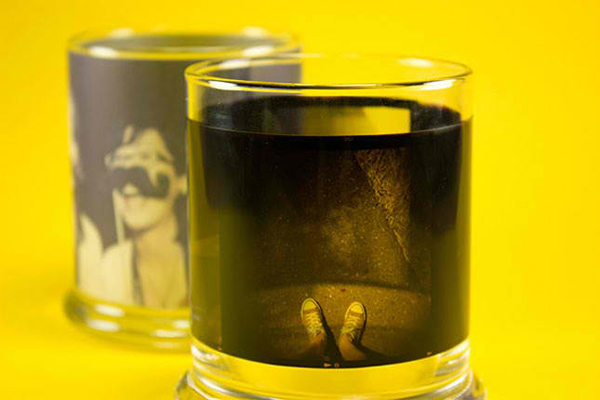 If you have negatives at home, you'll love to make this one, but there is a substitute to negative too like transparency or stickers.
7. Cathrineholm Candle Holders: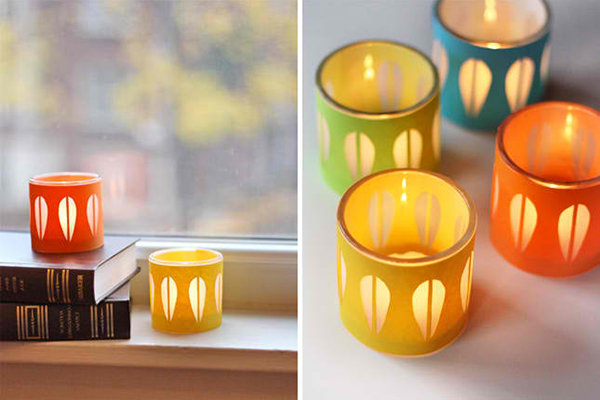 Need to add a pop of color to your living space? Of course you do! Geometric cutouts let the light shine through on these colorful copy paper votive covers.
8. Marble Painted Votives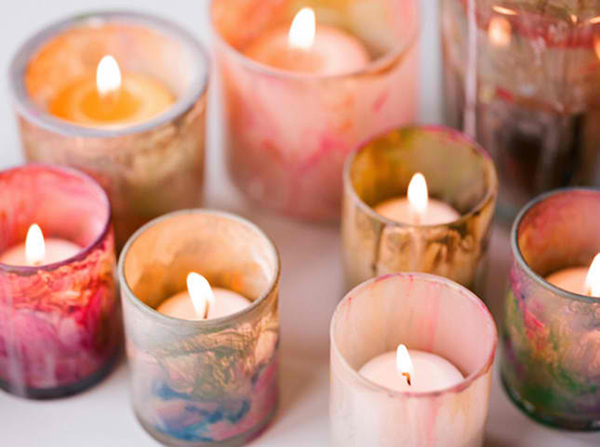 Not much effort is needed for this one. Just quickly scribble watery paint around the inside of clear glass votives and you're done!
9. Stained Glass Candle Holder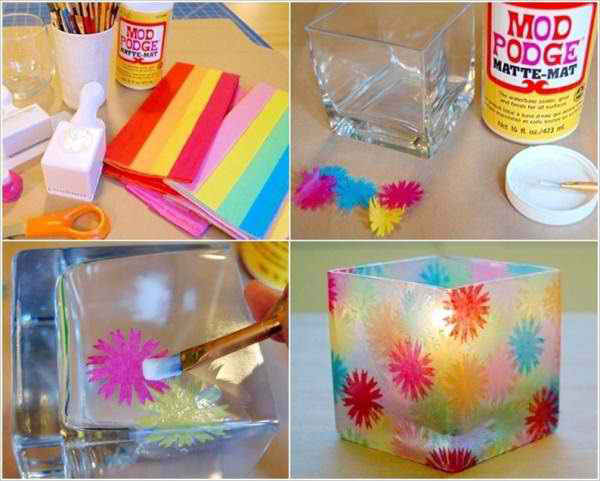 You'll be doing some cutting and modge podge for this one but the result is so worth the effort!
10. Clothespin Planter & Candle Holder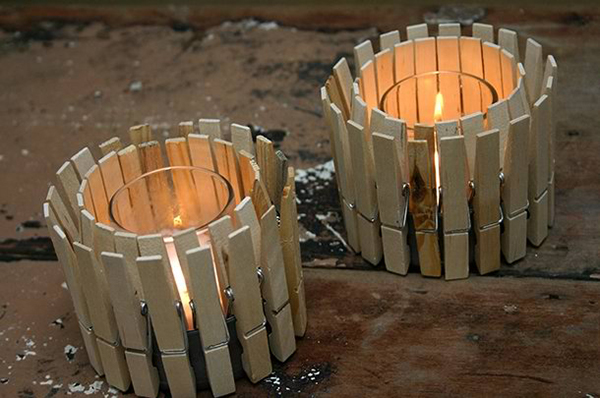 Grab a can and clip some wooden clothespin around it then place your glass candle holder inside. Piece of cake!
11. DIY Spooky Hurricane Glass Candle Holders
You can do this with other designs too. Just print it on some transparent sticker and you'll get this look.
12. DIY Moroccan Candle Holders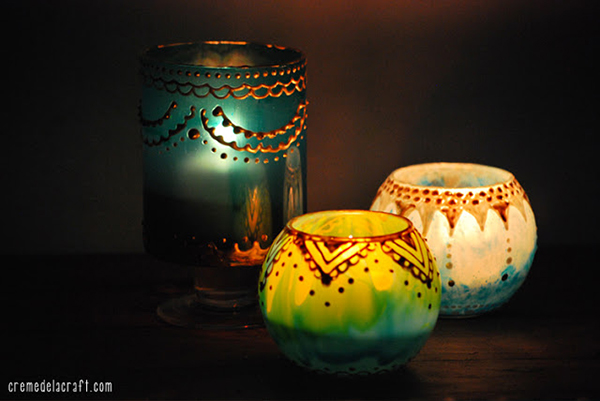 One of my favorites is this Moroccan candle holders where you have to paint inside the glass using glass paint and then put those details around the glass.
13. Martha Stewart Glittered Glass Jars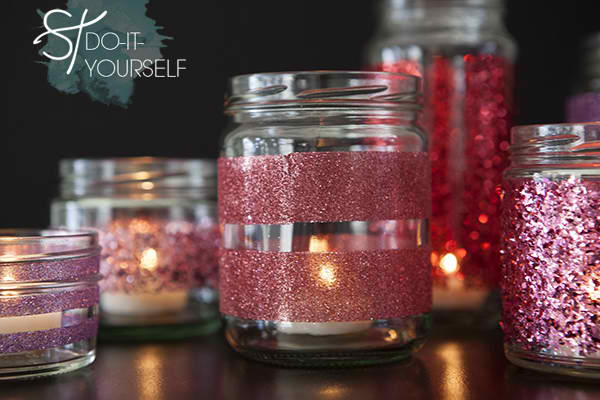 Grab a double adhesive and play around your glass then cover it with glitters. You'll get these sparkly pieces!
14. Stenciled Burlap Candleholders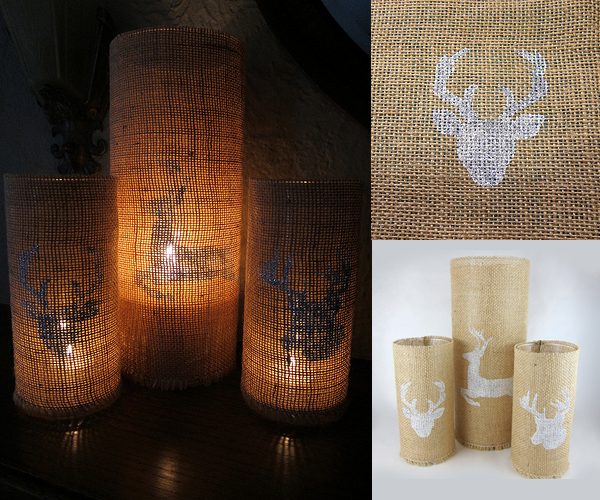 Perfect for a rustic interior, these are animal stenciled burlaps inserted into glass.
15. DIY: Frosted Glass Jars & Candle Holders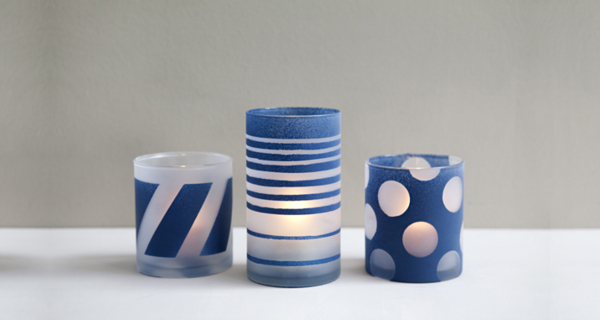 Stir your ideas on what you can do with a glass before spraying it to create this awesome candle holders.
16. Leaf Candle Holder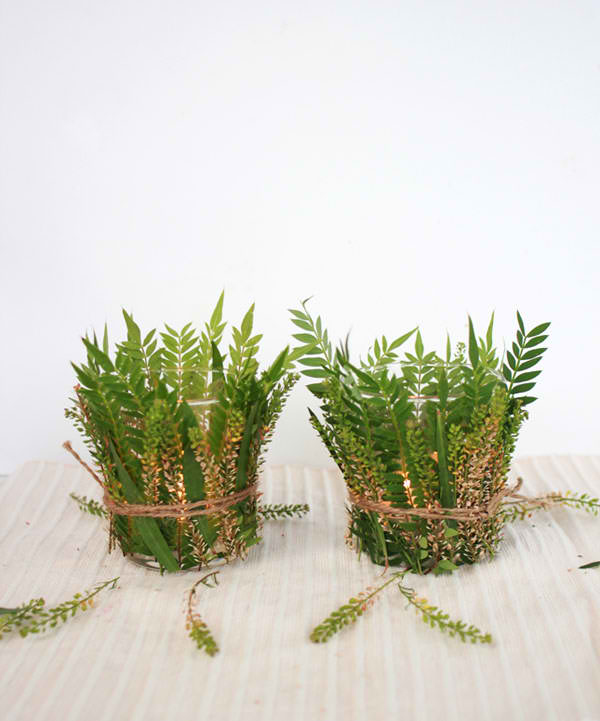 For a fresh look to your table, grab some leaves and hot glue them on a glass then tie it with some thin rope. It will look absolutely lovely!
17. Doily Stenciled Glass Votives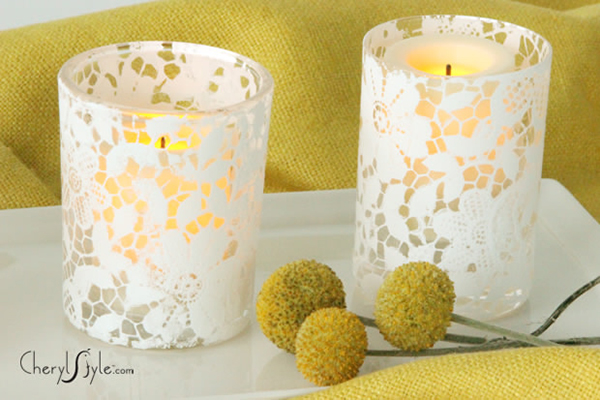 I love doilies! I have a bunch of them in different designs and sizes because you can create so many stuffs from them just like this candle holder.
18. Sea-inspired DIY Candle Holders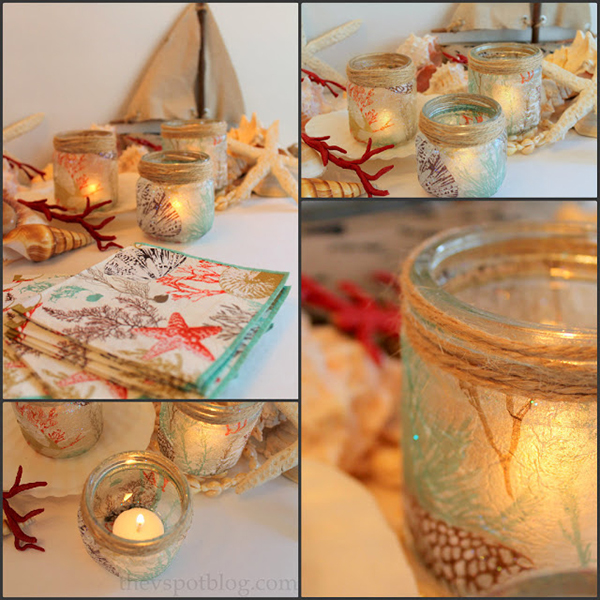 Modge Podge that sea themed table napkin into glass and your home will be enveloped with the beauty of the sea!
19. DIY Project: Retro-Chic Twine and Glass Candle Holders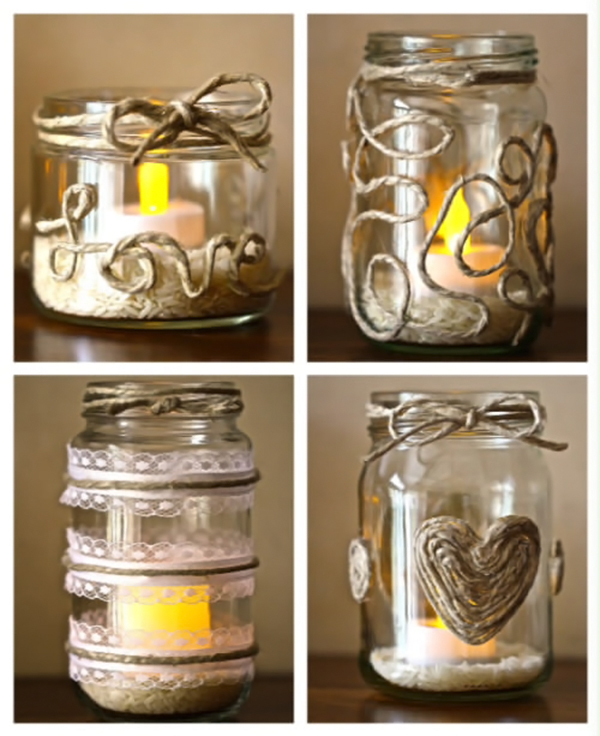 You can do a lot of stuffs using twine for your glass candle holder. There sure is a long list of possibilities on what shape or form you can create with twine.
20. DIY Candle Holders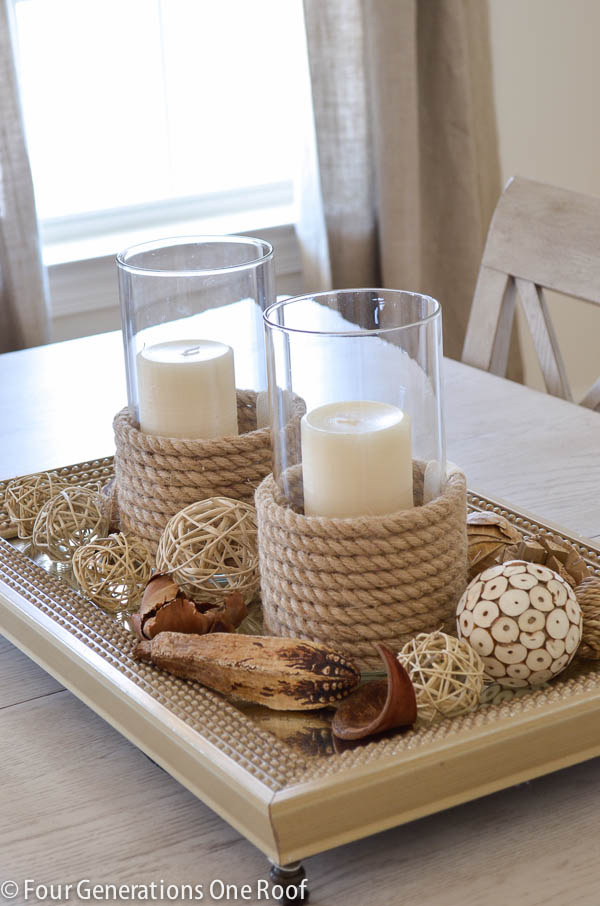 Easy. Just hot glue that rope around the bottom of your glass and voila! No tricks or techniques needed.
Most of the DIYs in this list will only take 5 minutes or less except for the ones that need more time and effort to finish up. But I assure you, you will not regret stealing some time from your busy schedule just to make one of these adorable candle holders! Then, you might really enjoy making stuffs for your home that you would move to a higher level and make a DIY pendant light! Why not? Then let is complement with your candle holders too!