20 DIY Switch and Outlet Cover Ideas You Can Try
Tired of your boring switch and outlet covers? Why not make one?
There are some important items in our house that we need in order to make things work and function like a switch for our lights and convenient outlets where we plug our electric powered items from laptops to televisions. But did you know that you can actually change the covers of your switch and outlets? Yes, you can make it look even more creative and appealing and suitable for your space's theme. So, if you are tired of the plain and boring switch and outlet covers, it might be the right time to do something about it.
And when I say do something, I mean make something! It isn't that hard to update the look of your switch and convenient outlets. You can merely paint it, add washi tape, and many other ways. I actually think that it is a fun activity. You don't need to buy new stuff too in order to change the cover's look. You can just use whatever you have at home or you can even recycle some wrappers, fabrics and others. So, if you are curious of what you can do to you switch covers, here are some ideas and how-tos that will inspire you.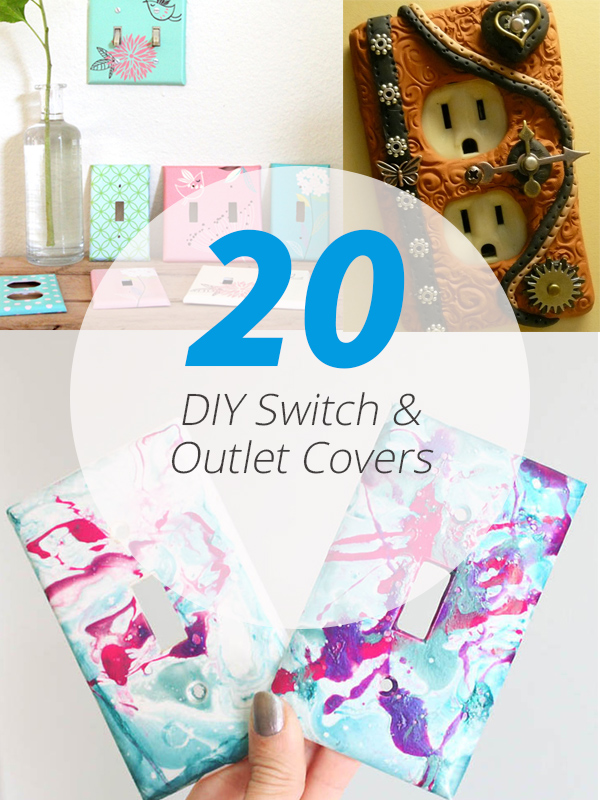 1. Make Your Own Designer Switch Plates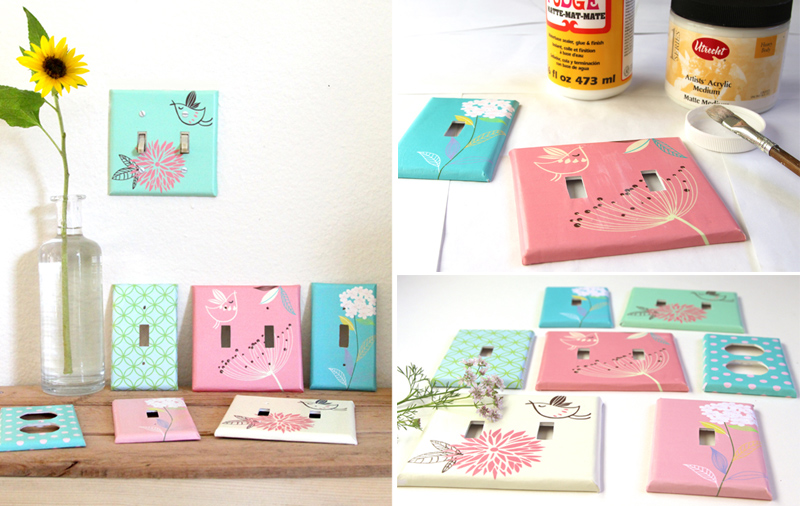 After making a beautiful design and some patterns on your computer, print them on a medium weight cardstock and you'll get lovely switches like this one!
2. Southwestern Outlet Plate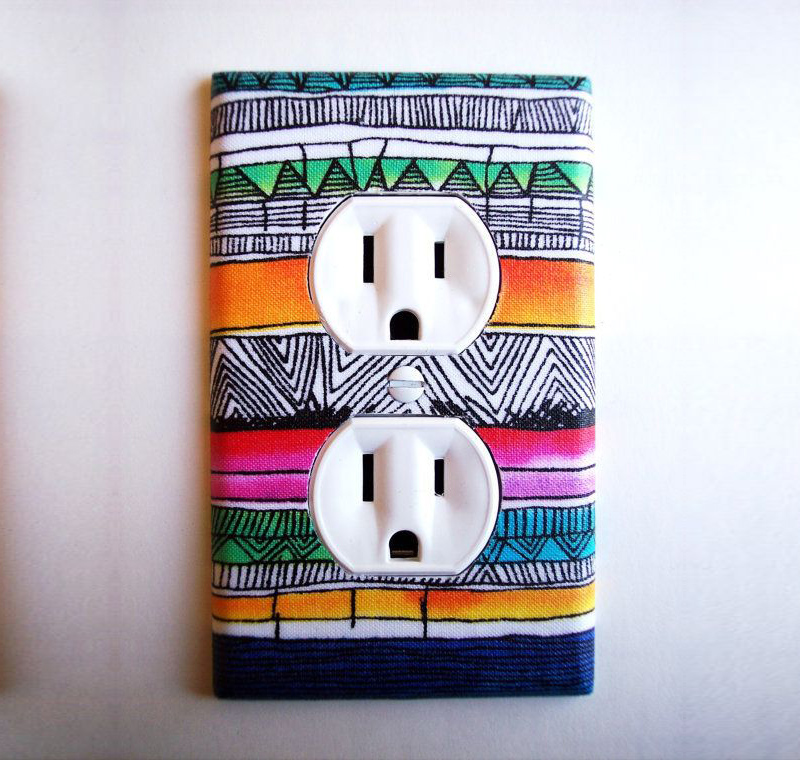 This one is made from fabric. The outlets are covered with beautiful tribal themed fabric. But I think you can also make this using Sharpie.
3. DIY Light Switch Plates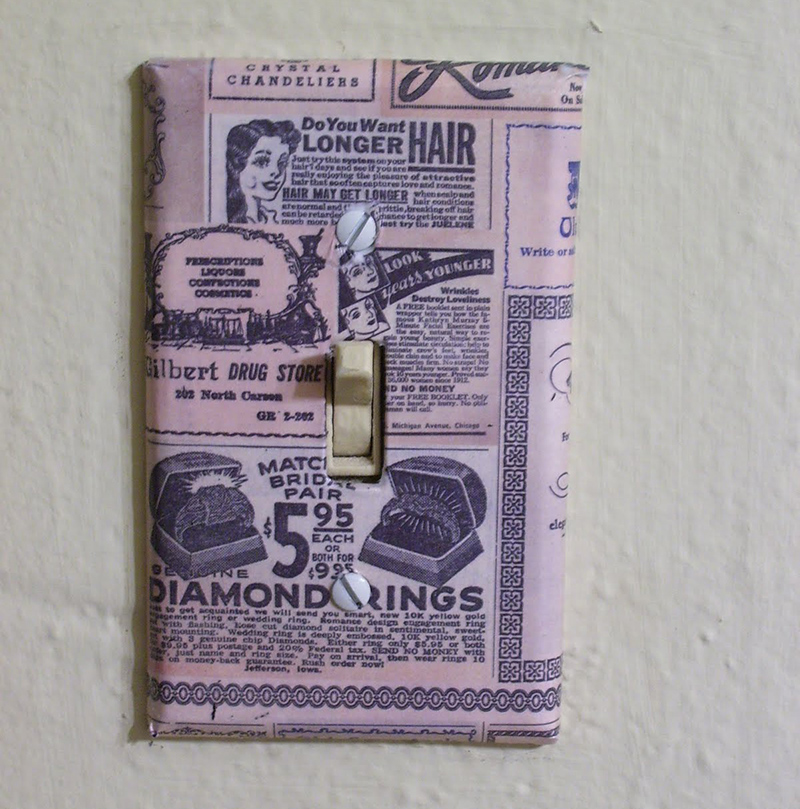 If you want a classic look, try doing this one using old newspaper or magazine clippings. Simple cover your plate with this and you'll totally change its look.
4. Light Switch Frame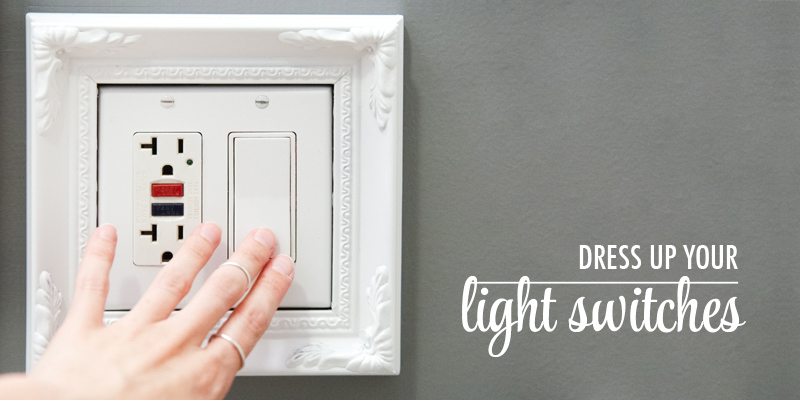 A simple way to bring some decor to your walls is to make this easy light switch frame. It will add a little pop of texture and personality to your space by merely adding a frame!
5. Switchplates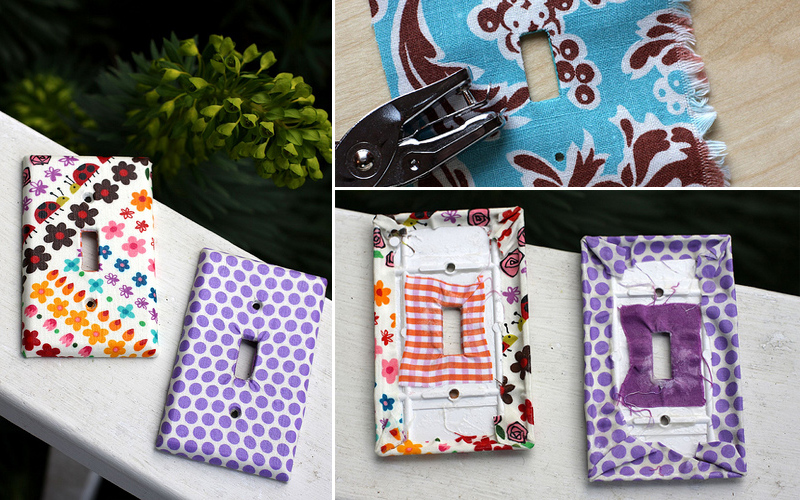 The creative maker of these switch plates used standard white plastic switch plate for the base, Yes! paste and Mod Podge Gloss Lustre. Choose your fabric prints that will suit your taste and your style.
6. Decoupage a Map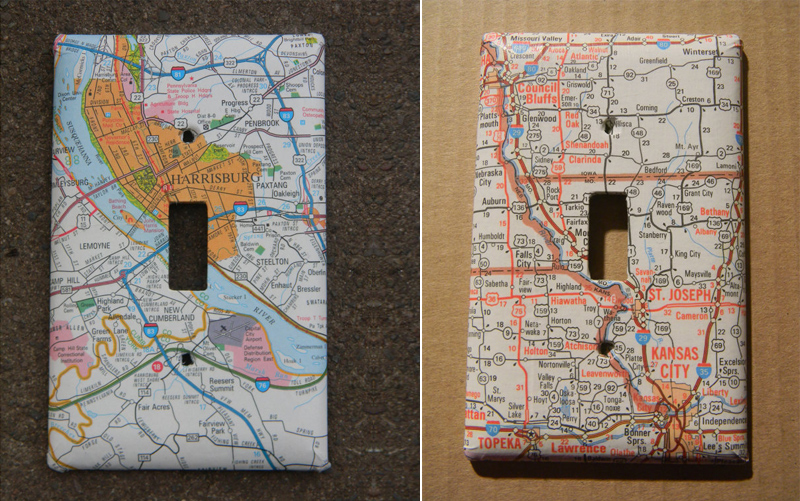 Do you have a travel themed bedroom? Why not add a light switch like this? This one is easy to make!
7. DIY Gold Leaf Light Switch Cover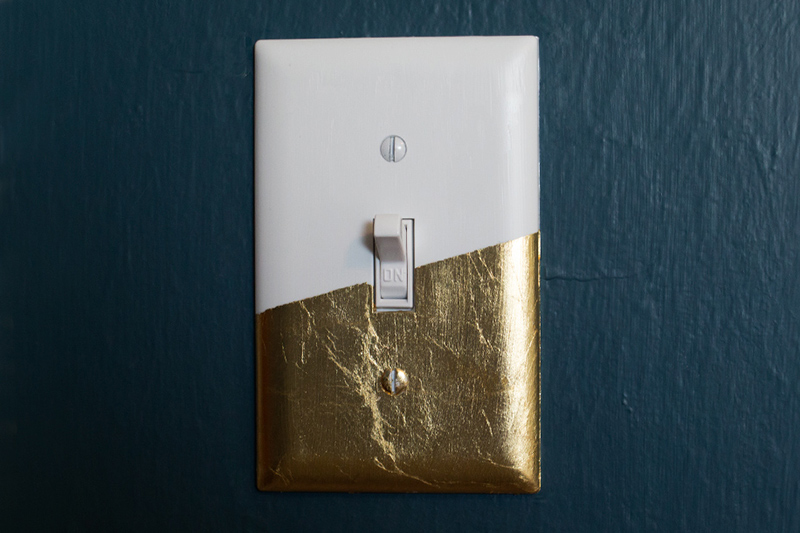 If you want to experiment with gold leaves, you can try using it for your switch cover like this one. Interesting, right?
8. Make: Cover Switch Plates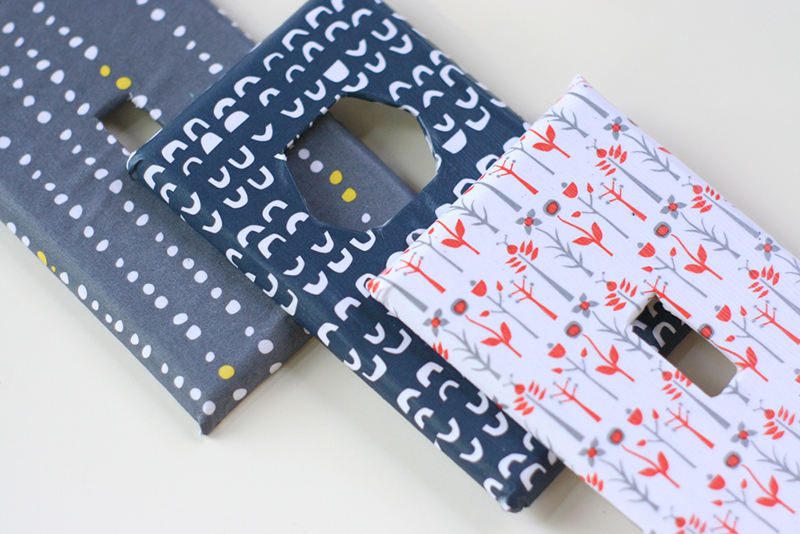 Lovely patterns, right? This one used paper and Mod Podge for both the under layer and top layer. You can choose different prints of wrapping paper for your plates.
9. Switch Notes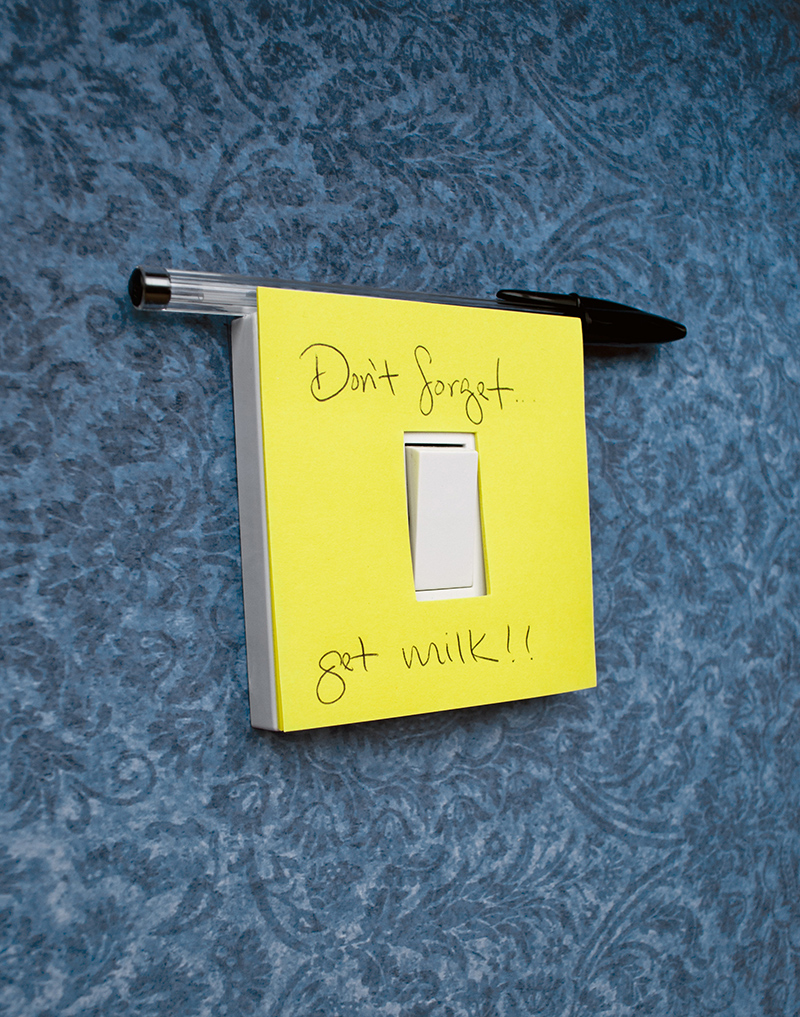 Did you know that you can also buy some sticky notes and put it over your plates so you can write some notes on them? I'd love to use this!
10. Washi Tape Light Switch Cover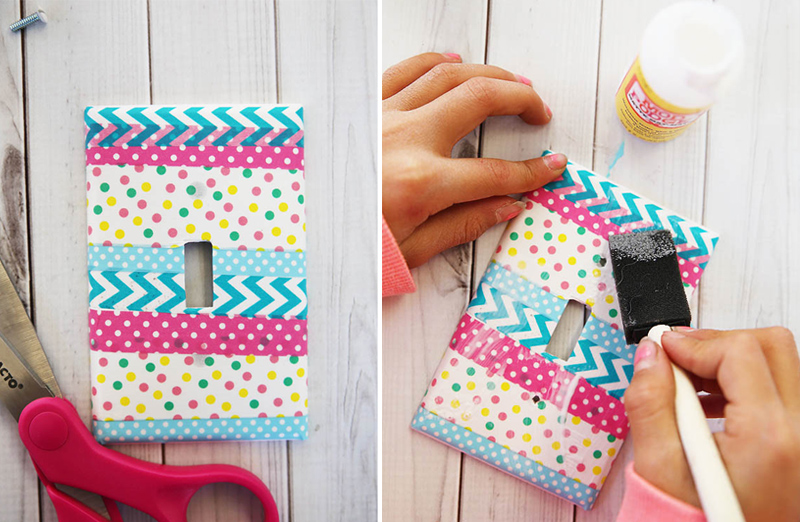 Gather different prints of washi tapes and combine them for a single plate for an interesting mix of patterns and colors. Look at how lovely it turned out! Don't forget to seal it with Modge Podge.
11. Mosaic Light Switch Cover – Bronze and Teal Stained Glass Switch plate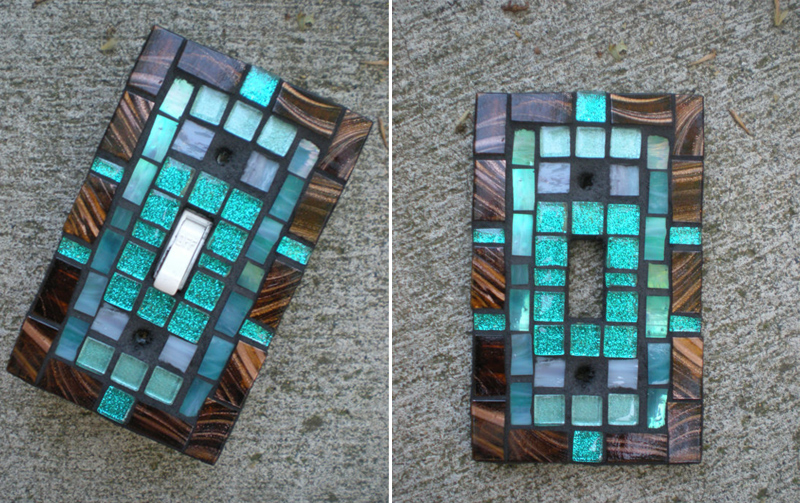 Got some glass or beads or whatever items you can use to create a mosaic? Go ahead and gather them then glue them on the plate to get a switch cover as appealing as this one!
12. Unique Polymer Clay Light Switch Covers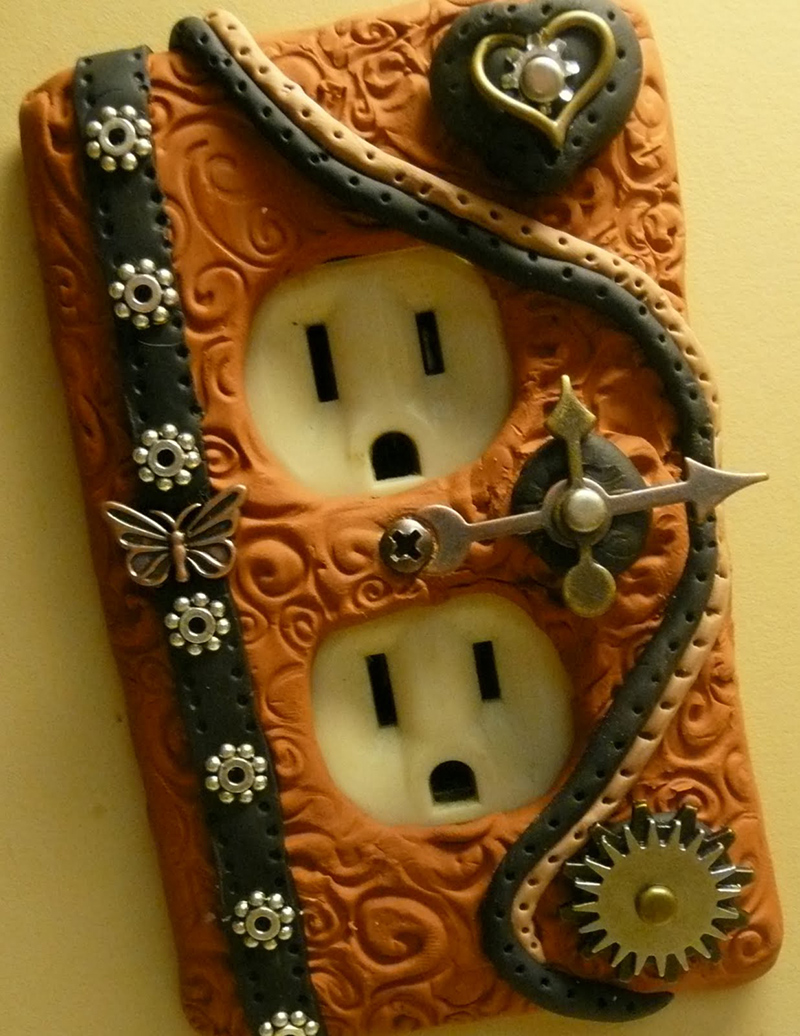 So if you are into polymer clay making, you can try making one for your switch just like what Sandys Creations did. Interesting details, right?
13. DIY Marbled switch plate covers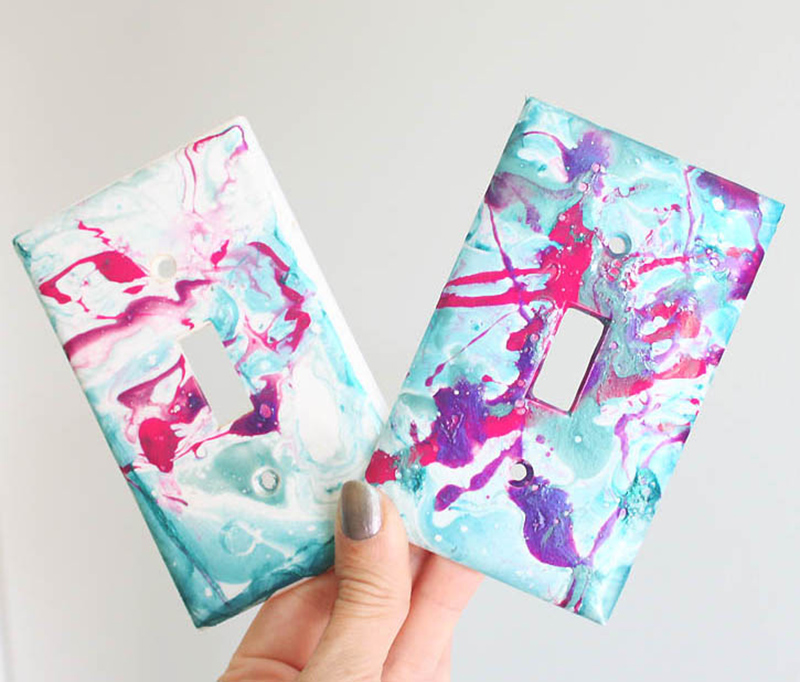 I am digging this look! It is very easy to make this one using nail polish of assorted colors. The effect is very stunning creating a marbled look! I'm sure ladies out there would love to give this a try.
14. DIY Light-Switch & Outlet Plates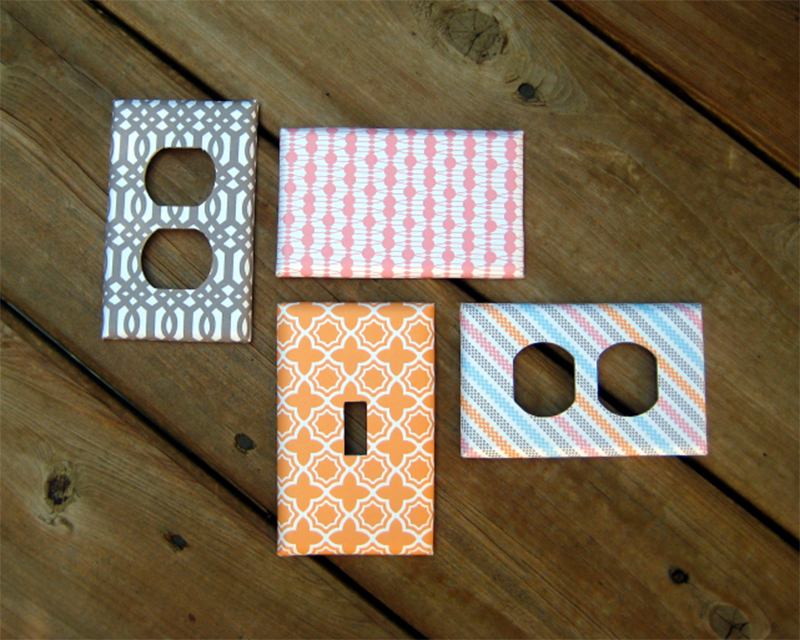 Beautiful wrapping paper designs were used for these plates. I'm sure you already know how to do it. Yes, you can use a different pattern for every plate for an eclectic appeal.
15. Light/ Dark Switch Plate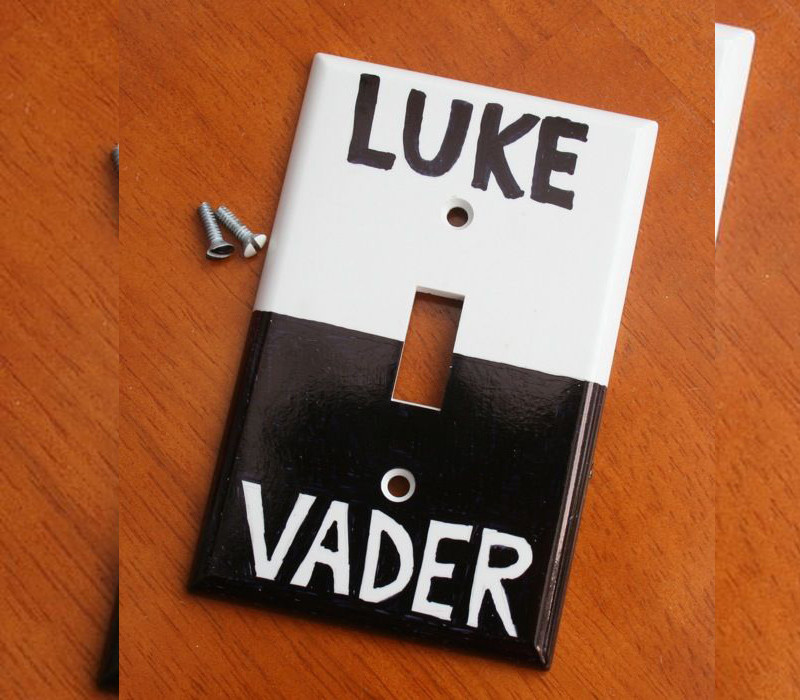 The creator of this one said that she just quickly made this light/dark switch plate a last-minute addition to a Star Wars theme space. She merely used a Sharpie for this one.
16. Steam punk Home Decor – Light Switch Plates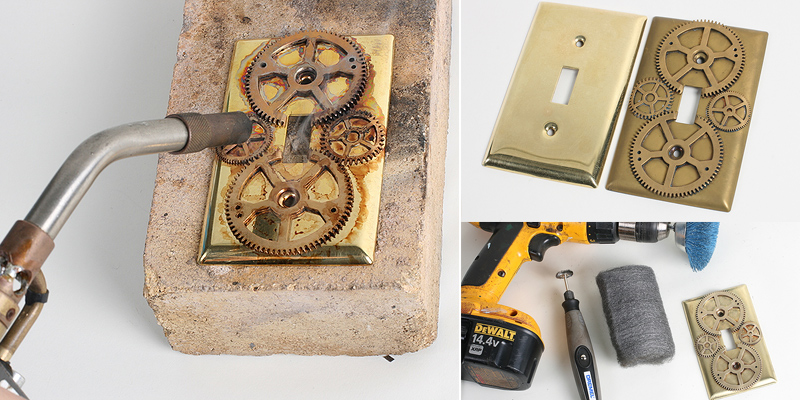 For this kind of cover, you would need some soldering and some tools that will help you with it. Of course, you would need to gather some pieces first before you start making it. You have to be comfortable using a torch and other equipments to complete this detailed plate cover.
17. Easy DIY Project: Customize your Light Switch and Outlet Covers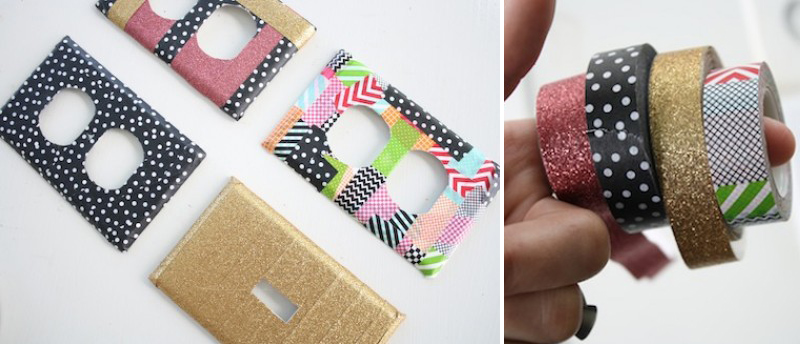 Another one with washi tapes. Just gather whatever washi tape you have and you can create pretty covers like this one. You can also make one that looks like patched together.
18. Make a Sparkly DIY Light Switch Cover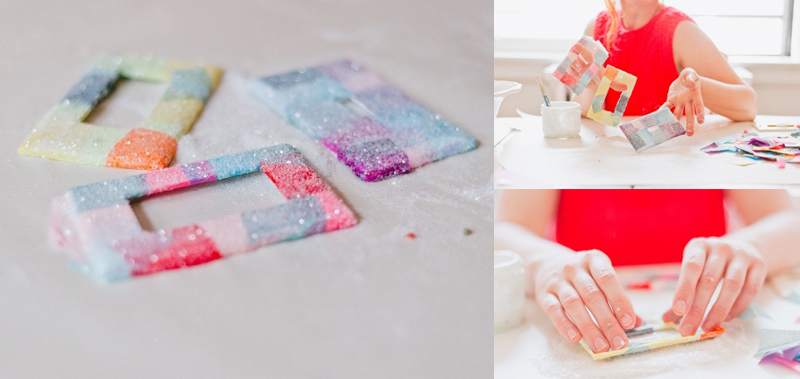 This one looks really fun to make. Just some paper tissues of different colors were glued on the cover and then sparkles were added into it.
19. DIY Personalized Switch Plates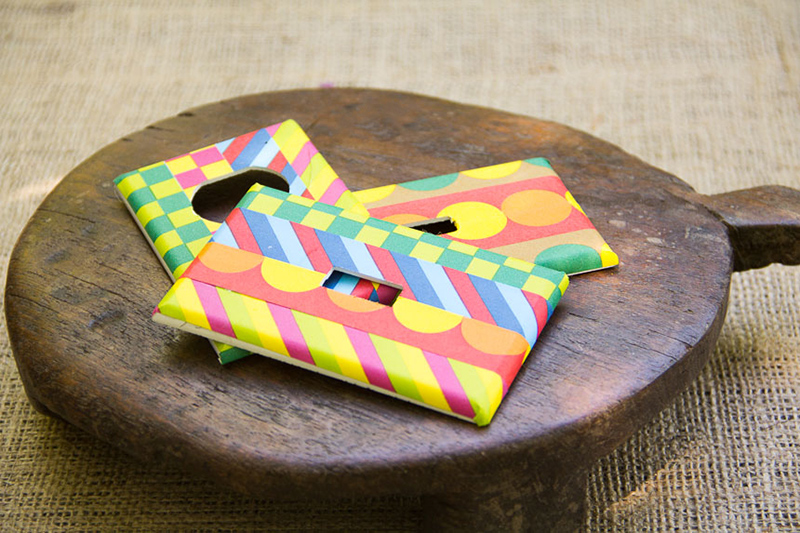 This also used washi tape but with a more exciting result because of the colors and prints of the tapes she used. So, what are you waiting for? Gather your washi tapes now!
20. Fabric Outlet Covers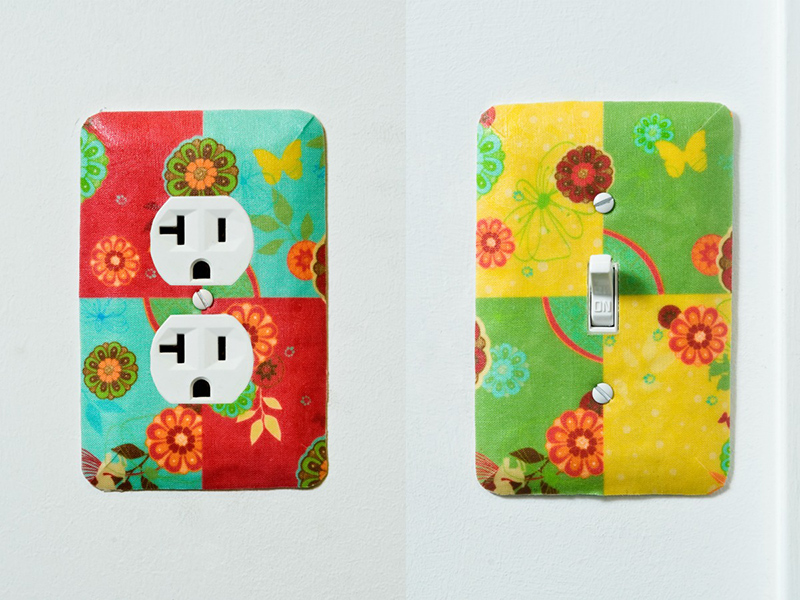 One good way to freshen up the look of a room is through outlet covers like this easy DIY fabric outlet cover that adds pops of color to the space and is very easy and inexpensive to make. The fabric used here is printed but you can also use fabrics with prints already.
Definitely inspiring, right? It sure is! After making this list, I had been eyeing my light switch and I am thinking of what to do to make it look more beautiful and catchy. Well, my plain light switch looked totally boring after seeing this list! Maybe, it is indeed the right time to update its look. Do you feel the same way after you saw this list? I can't blame you because the above switch and outlet covers look really amazing!