20 Lovely Nordic Inspired Christmas Decor Ideas
Christmas is just around the corner and compiling lists with the themes of Christmas – white or blue or even red Christmas is so common for us here, especially for me. I mean, why not? Christmas is the most loved holiday all around the world. Today, let us go ahead and look at the list we have here that is Nordic-themed – mostly is white, red and green.
Wait, did you just notice a rhyme there? But, let's be honest, this is the time of year when we get to really decorate our house with all the trimming we can put up for the holidays; not everyone really decorates for Halloween or Thanksgiving right? With that in mind, let us remember, that decorations or the food during this season is the reason why we celebrate it, but let us still go ahead and check the pictures below.
1. Charleston Contemporary Family Room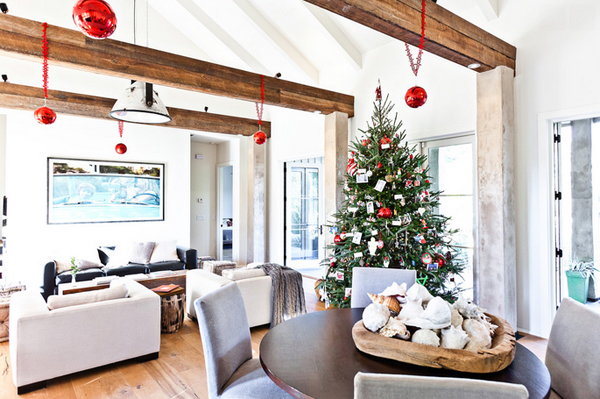 Hanging ornaments from a tree is so typical. Instead, use ceiling beams (if you have them) to display these sparkly globes, but be sure to use strong wire or ribbon so nothing falls from the sky.
2. Excellent Scandinavian Living Room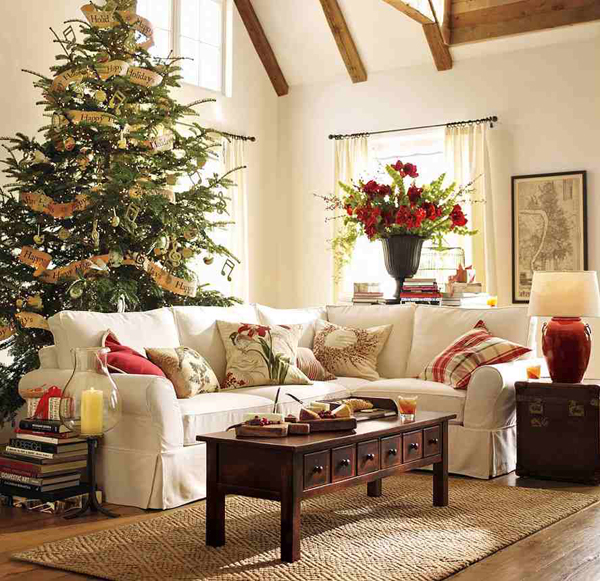 Simple and traditional living room that showcase a homey space for your family – pretty Christmas tree too!
3. Hill Section Residence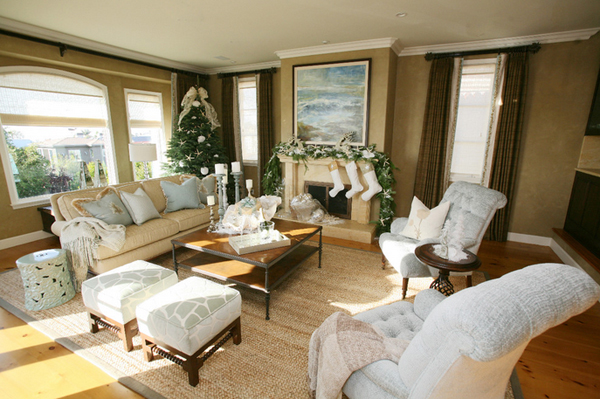 The layout of the room is similar to the living room of my friend and it is really homey and stunning!
4. Houston Christmas Interior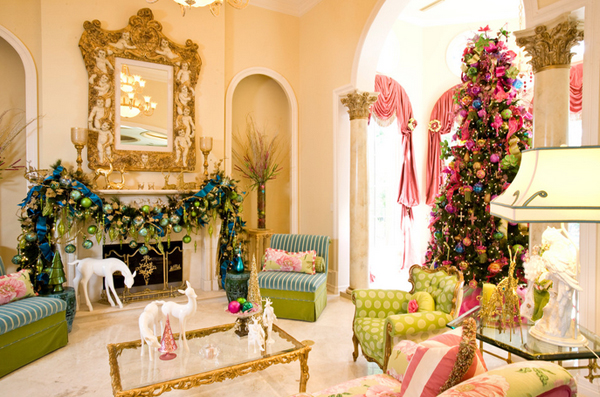 If you just can't decide on a color scheme, why not integrate a few? This colorful, quirky room somehow manages to make mixing blue, green and pink look good.
5. Linden Hills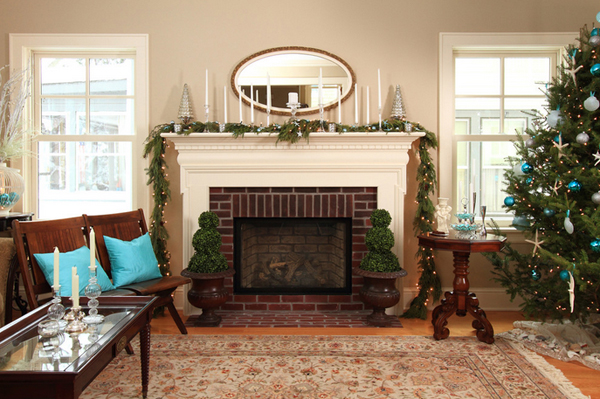 The large mantel is a great place for seasonal or holiday displays. Even though this is gas fireplace, the brick veneer was laid out and installed to emulate an aged soot pattern of an old wood burning fireplace.
6. Little Rock Holiday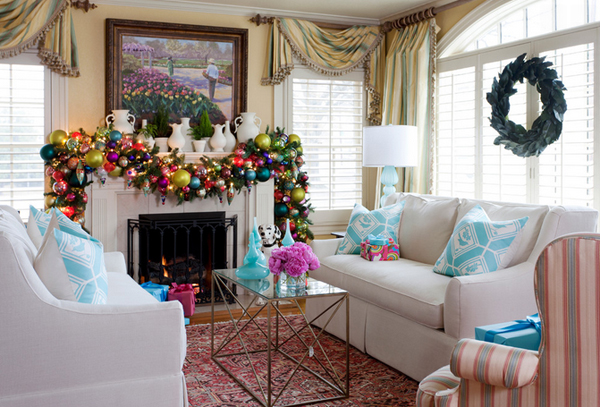 The festive ornamented garland on the mantle is a representation of how fun and colorful the Christmas of this home is.
7. Fiesta Inspired Christmas Living Room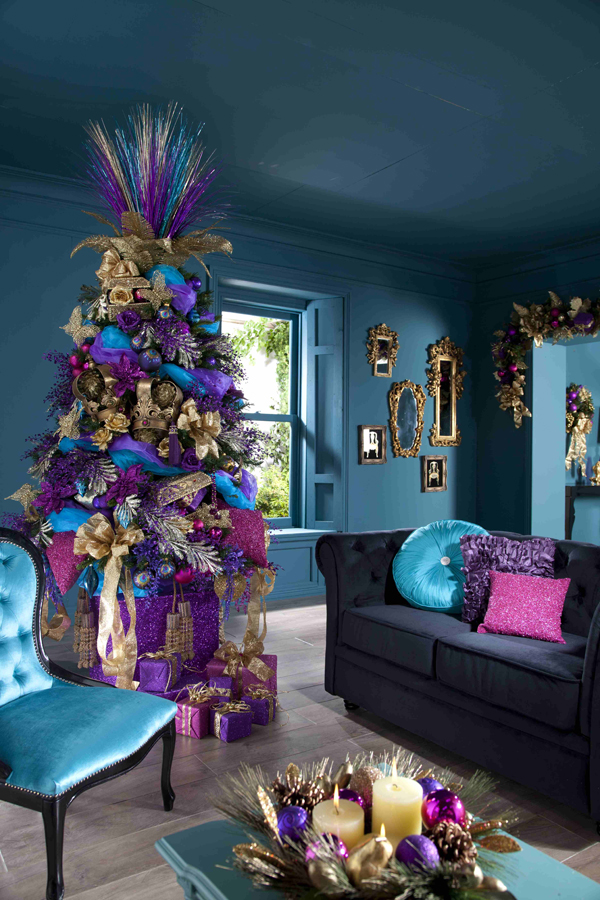 Perhaps I'll go for a contemporary-style meets Mardi Gras-chic look for my living room for my Christmas living room, what do you think?
8. Private Residence in Gulfport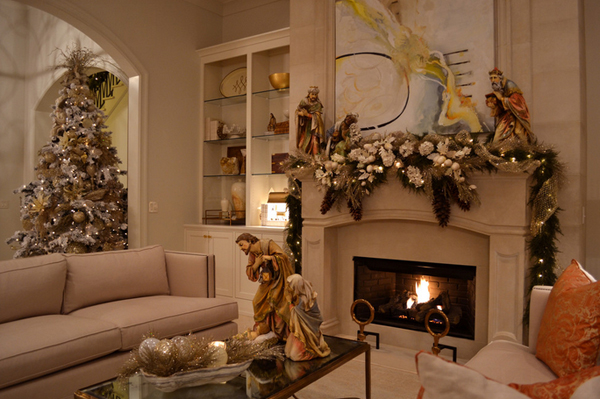 Classic and Christ-centered, just as Christmas was intended.
9. Sacramento Christmas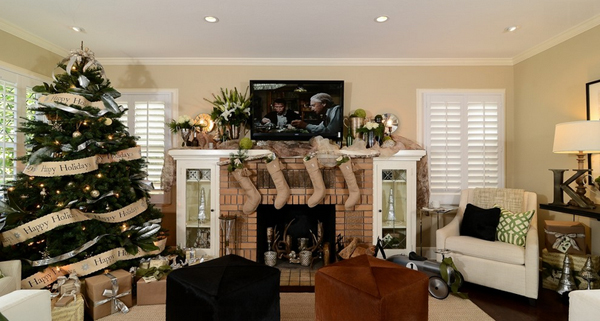 Gold and silver accents add a touch of shimmer, but the only real color Kelly added is green – mostly derived from evergreens and foliage. Kilmer had some pieces of mercury glass already, so the designer incorporated them into the decor and augmented them with more.
10. Scandi-style Red and White Living Room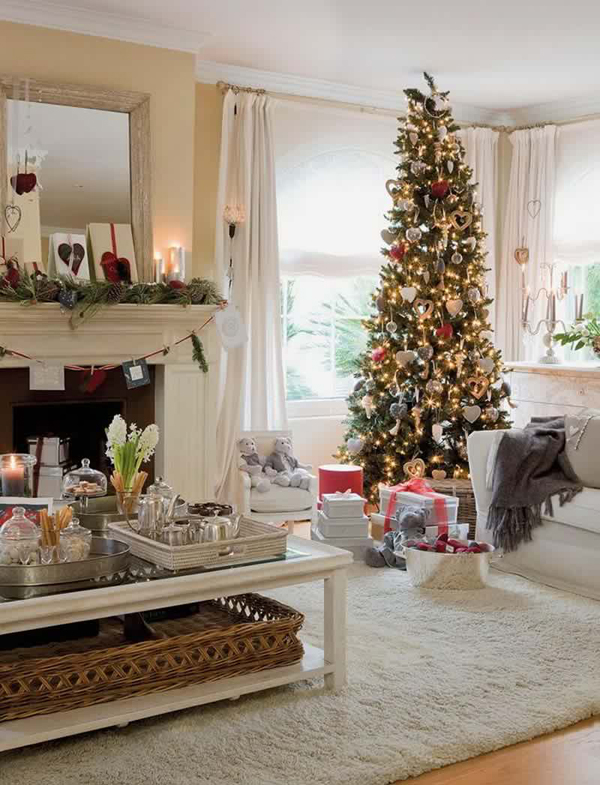 A fresh Scandi-style living room with white furniture, white and red accessories for a modern take on Christmas decorating.
11. Blue Nordic Christmas Living Room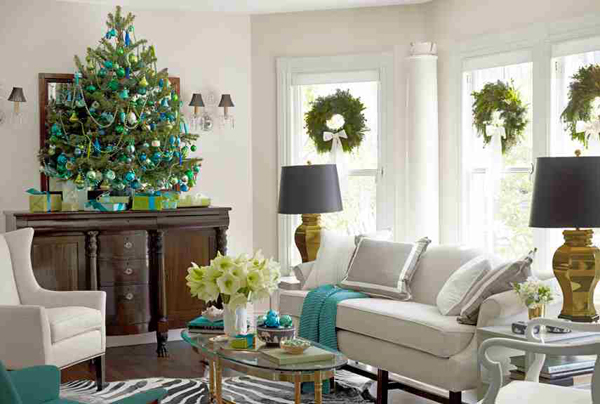 For the living room's tree, the homeowners of this Connecticut home limited themselves to basic glass ornaments in a handful of shades: blue, green, and gold. The presents beneath it benefit from a similar restraint.
12. Scandinavian Style Home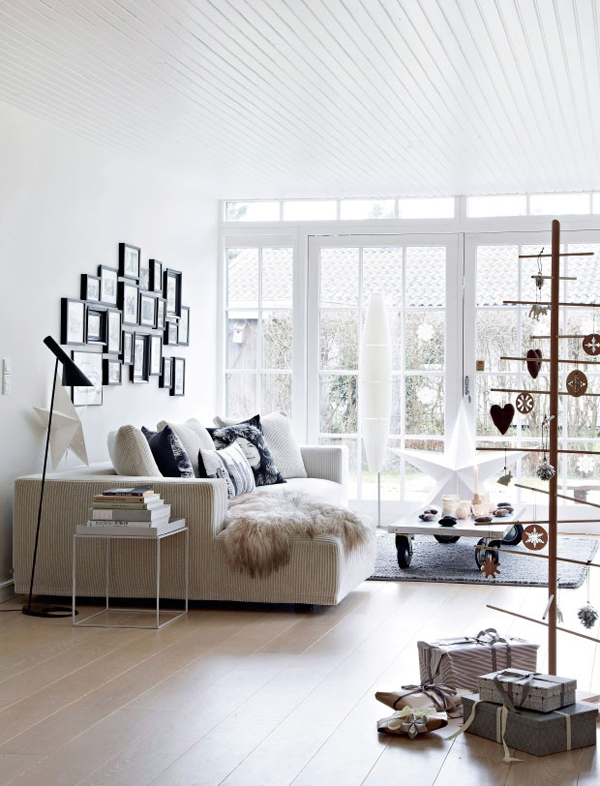 A white living room with a touch of neutral makes one space more Nordic than most spaces – I like this small space because of how lovely this space looks!
13. Minimalist Christmas Living Room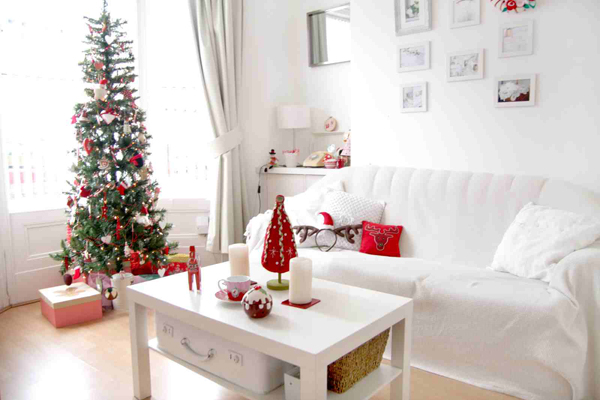 This is one white contemporary living room space with cute red and green decors.
14. Tuscan Farmhouse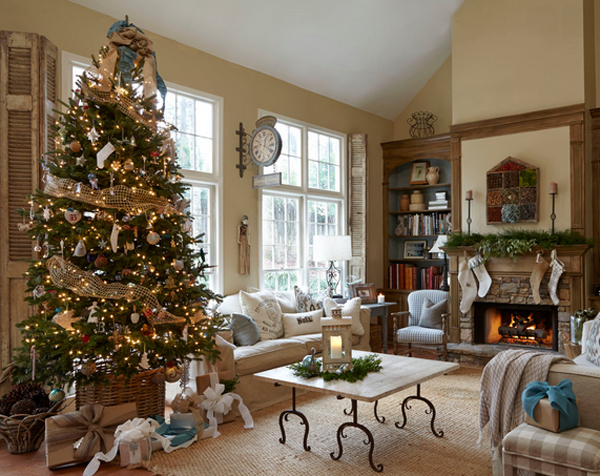 Although this great room has 20′ ceilings, it feels comfy and cozy thanks to the neutral colors, natural textures, architectural elements, and mix of vintage furniture.
15. White Christmas Living Room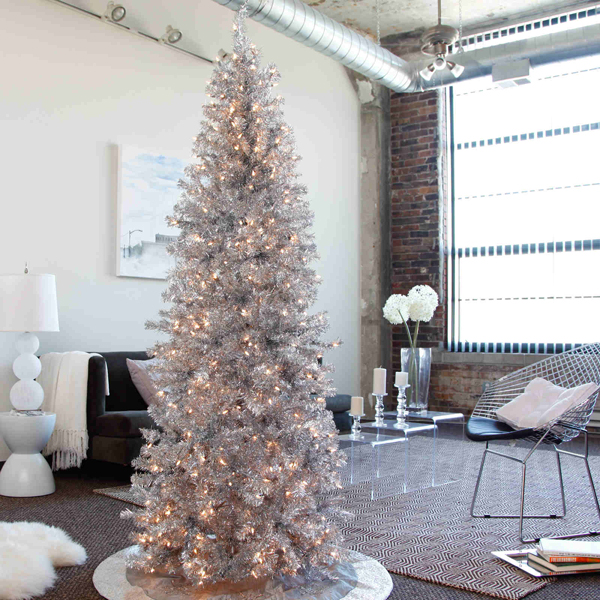 How do you like this white Christmas tree? Super stunning right?
16. White Christmas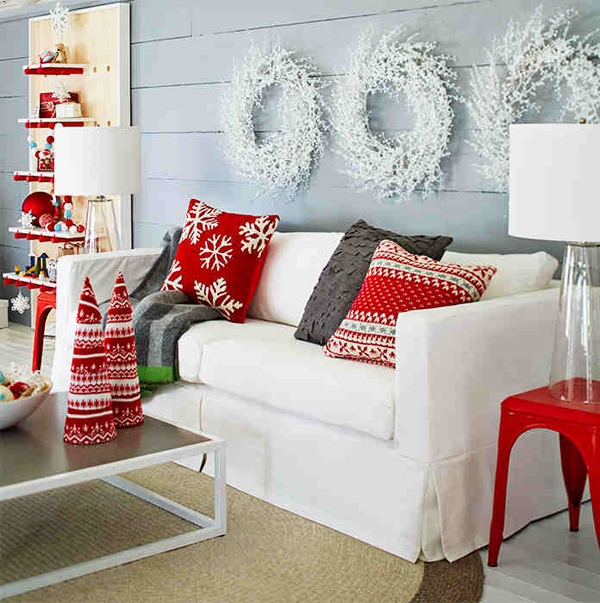 Love the throw pillows on the white sofa and the cute Christmas tree decor in the table.
17. Mixed Metallics Christmas Living Room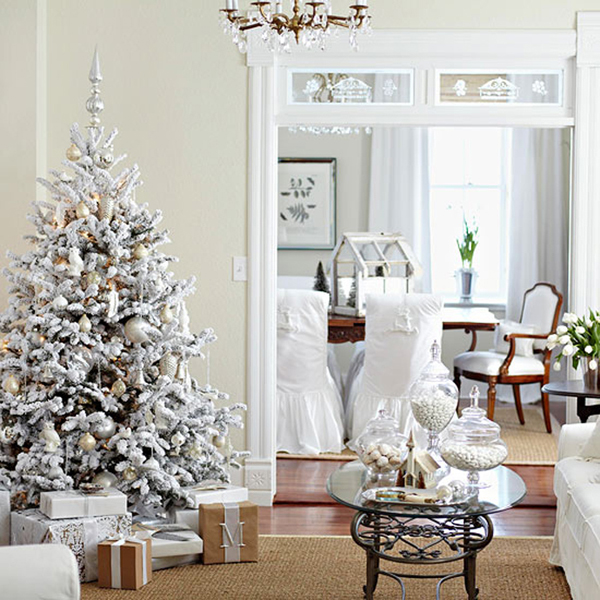 Glamorous living room which anyone would love to stay especially during Christmas morning. How do you like the Frozen feel of this Christmas tree?
18. Log Home For The Holidays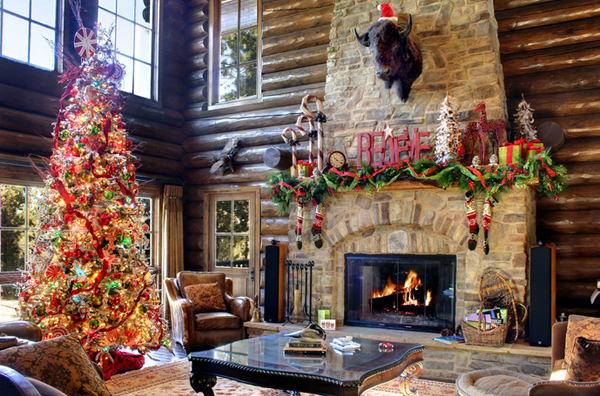 The living room, with massive floor-to-ceiling rock fireplace, boasts a 14 ft. tree decorated in a candy-land theme, and the mantle is adorned with whimsical accents.
19. Modern Nordic Living Room
I like the figurines on top of the mantle, I think they are angels beside the candles – they're stunning and look great!
20. Small Nordic Christmas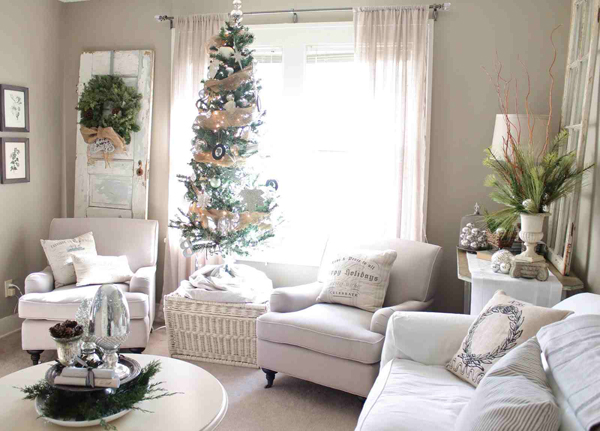 Here is another white living room a bit shabby and Nordic all at the same time!
This list can go home, but truth be told, pictures for Christmas is a lot and choosing photos for this list is kind of tough but fun! The options I saw for Christmas is just lovely. Even when it's just my parents and me this Christmas, I made sure that our home would totally feel a happy Christmas. More to come in Home Design Lover!