20 DIY Spook-tacular Halloween Mantel Ideas
It's time to decorate your mantel for Halloween! Be creative with your own designs and be inspired with this list we have for you.
Halloween is just around the corner. It is the time of the year again where we can see bats, skulls, and other that are related to this occasion. Aside from the fun parties and trick or treats, one thing that is also exciting about the event is the home decors. Many people are decorating their front yard, entry ways, mantles and others. Others are even planning for Halloween themed dinners and are making sure that their tablescape could give that spooky yet inviting feel.
Since you are already starting to decorate for next month's event, we have collated some ideas that you can get inspiration from for your home's mantels. The list below shows mantels that make use of various items that you can DIY. You might even have this stuff in your house already and all you have to do is to put them together. But if you do not know how to do it, you will surely get ideas from this list of awesome and spook-tacular Halloween mantel designs. Scroll down and be amazed of what these creative people were able to create to give their mantel that creepy yet very artistic appeal.
1. Styling a Halloween Mantel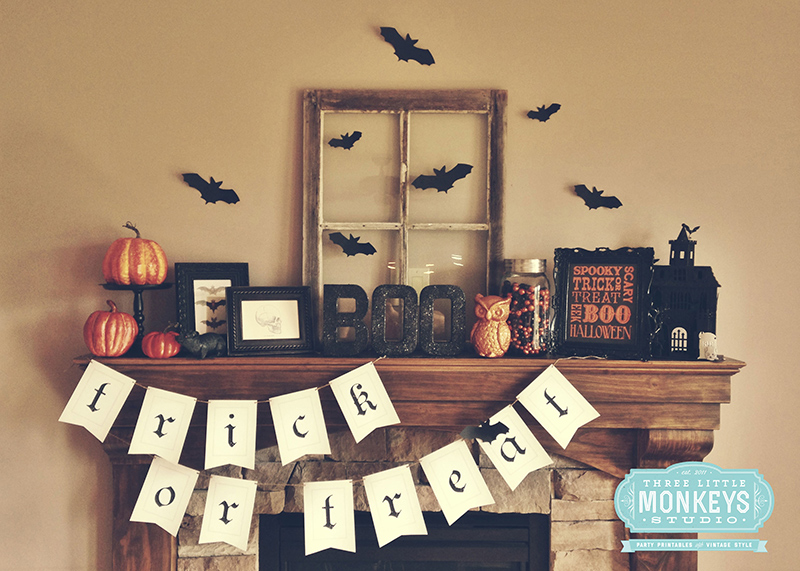 Get an old window and cut out some bats from black paper then you will get this look. Put together things that are black, white and orange. Aside from that, print letters for your banners. If you have a talent for lettering, then letter it on a white paper and hang it similar to this manner.
2. Halloween Mantel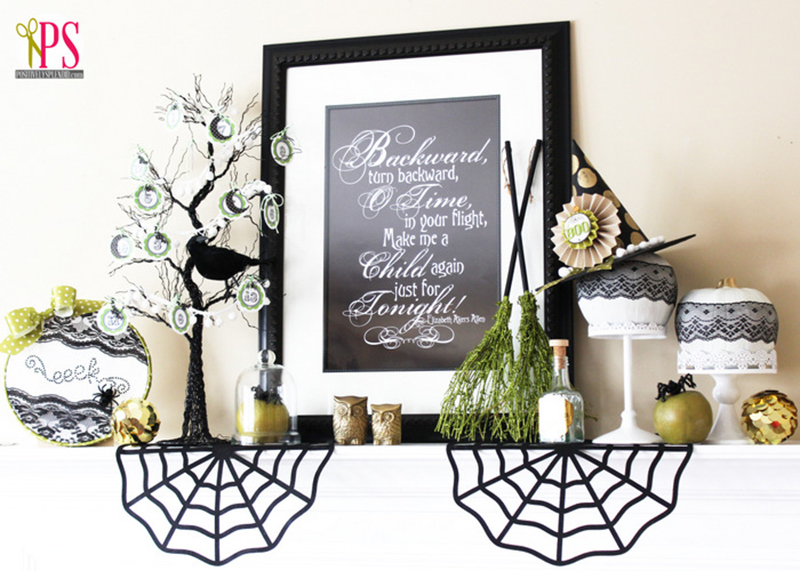 Love the details of this one and that tree as well as the white pumpkins with black lace and golden top. You can also use this idea by adding a framed photo as the focal point of the design.
3. A Spooktacular Mantel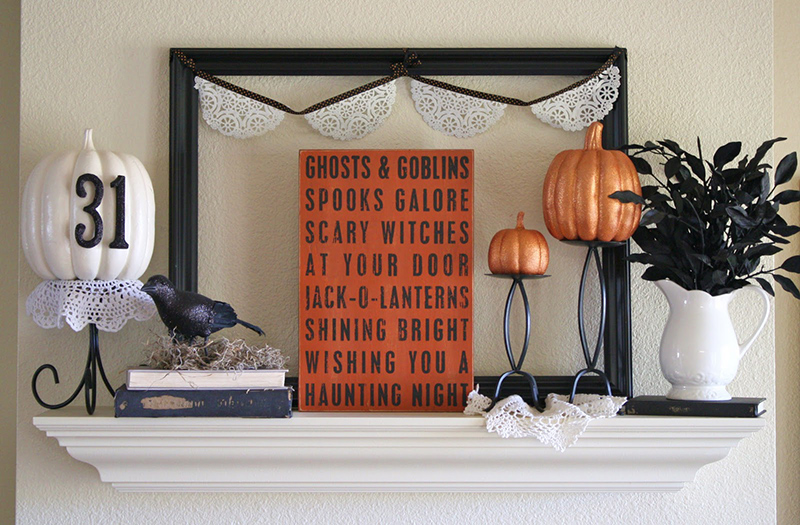 Another one with a white pumpkin and black numbers. Aside from the white pumpkin, there is also a brass colored pumpkin with a color that matches that typographic artwork. You can see that it also used doilies here too.
4. Halloween Mantel – Do you believe in Magic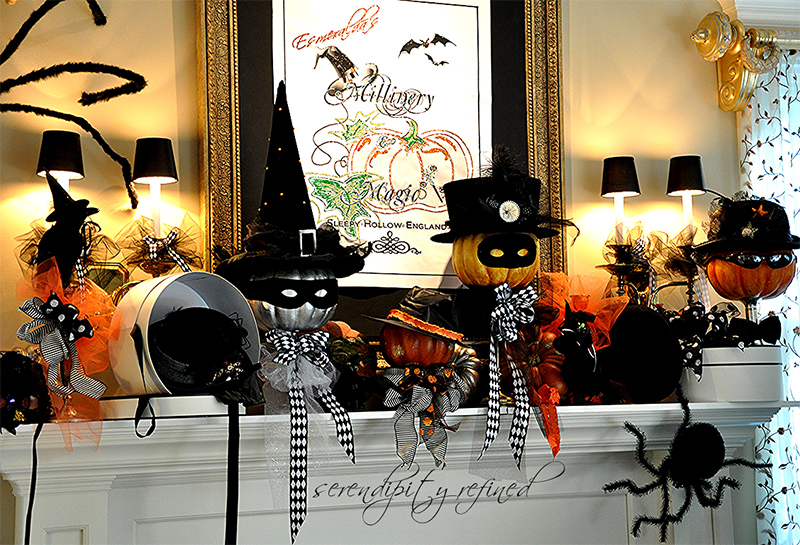 A festive Halloween mantel with a magic theme that is why the pumpkins have eye masks on them to give that magical look. I like how different materials were used and were put together from ribbons to tulles.
5. Spooky Halloween Mantel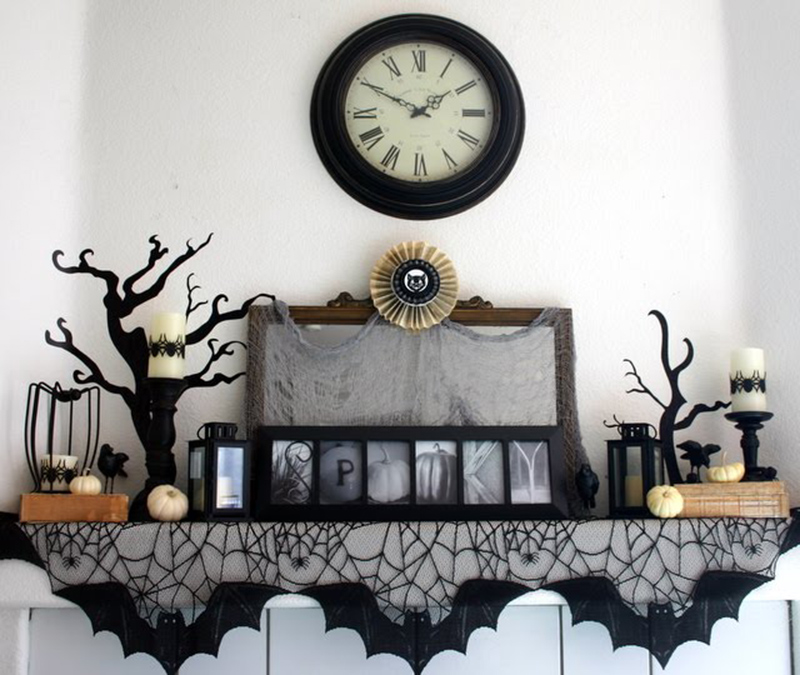 If you want a black and white mantel, then this is what fits you. You can merely cut out a tree or even the bats too.
6. Garden Pond Rydal, Pa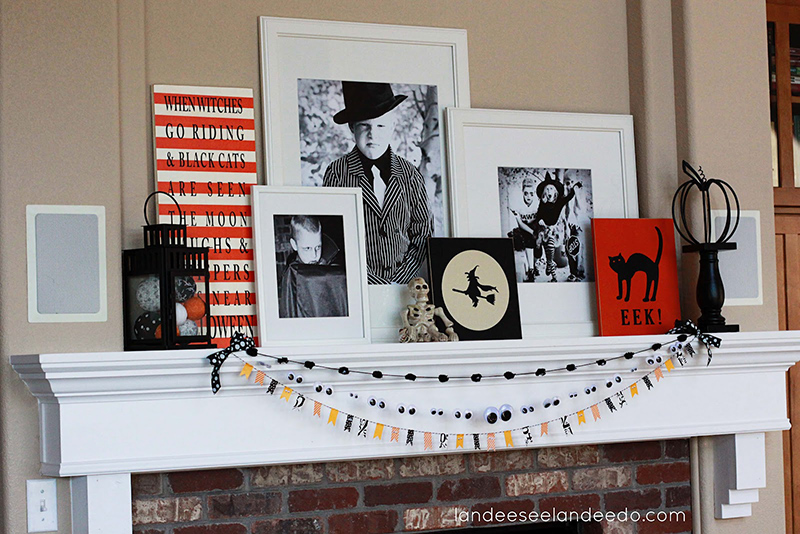 This is a lovely idea! Use your own Halloween photos and frame them. Add other pretty framed photos too and let it be you decors for the mantel. And add some googly eyes too. You can also use washi tape to make a teeny-tiny banner of various designs.
7. DIY: Halloween and Fall Mantel Inspiration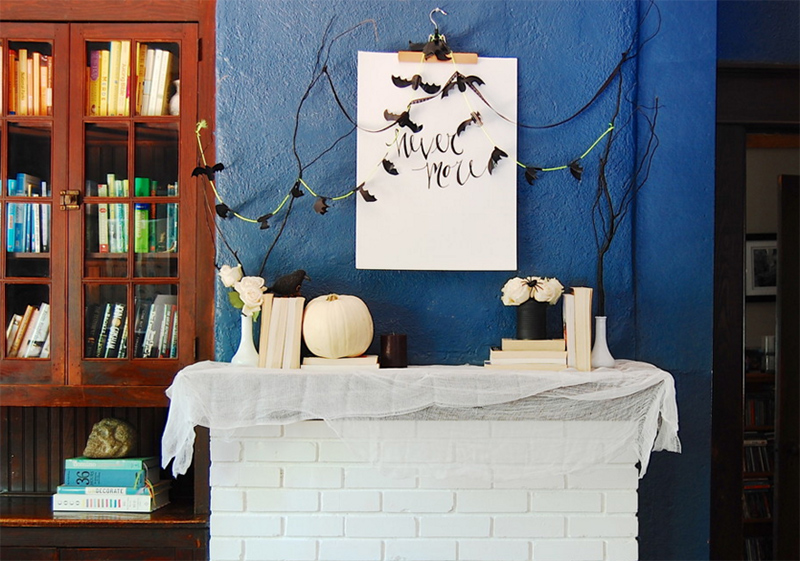 A simple way to decorate the mantel with white decors and some bat designs hanging on it. I like the typographic wall art that is held by a hanger. You can also paint some branches with black and put it on white vases.
8. Halloween Mantel & Costume/Decor Ideas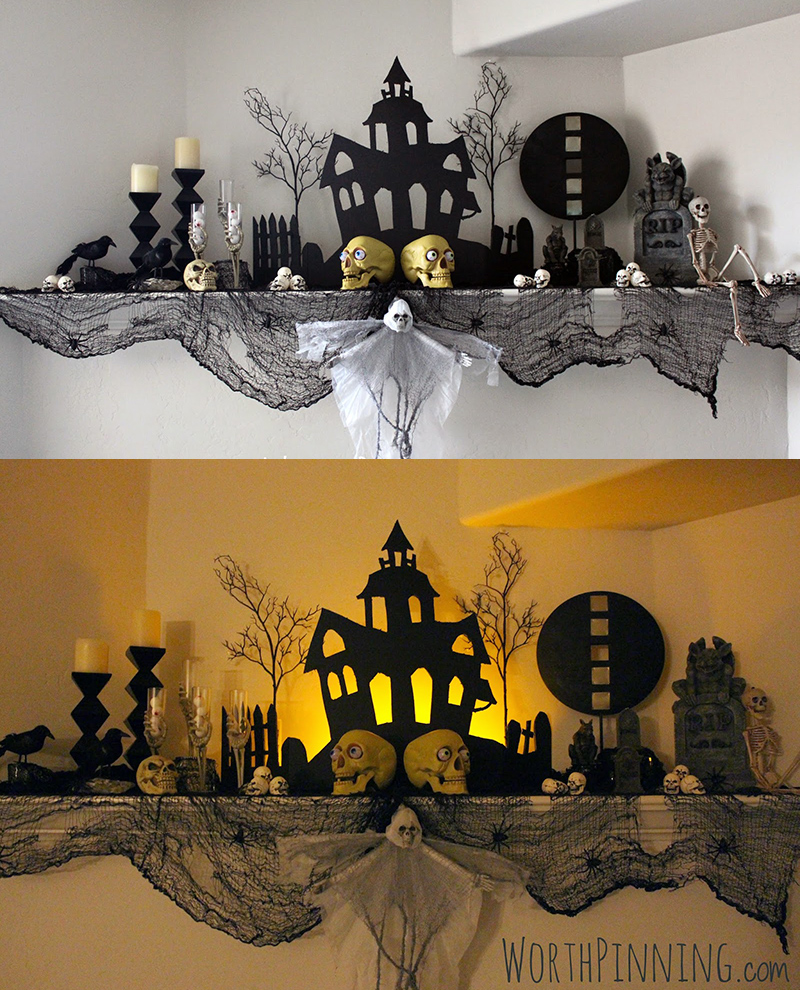 The focal point of this mantel is a haunted house cut-out which you can also do. Then decorate it with skulls. But what makes it nice is when the light at the back of the haunted house is already on, completing the drama!
9. Gothic Style Haunted Halloween Mantel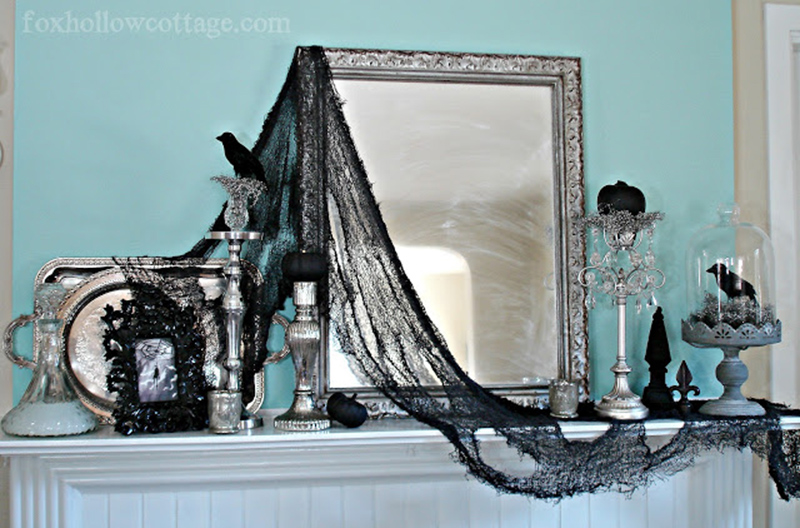 If you want a gothic style for your mantel, this is something you can try. Just add some silver candle holders and other silver items then add black decors, laces and others.
10. Halloween Mantel Makeover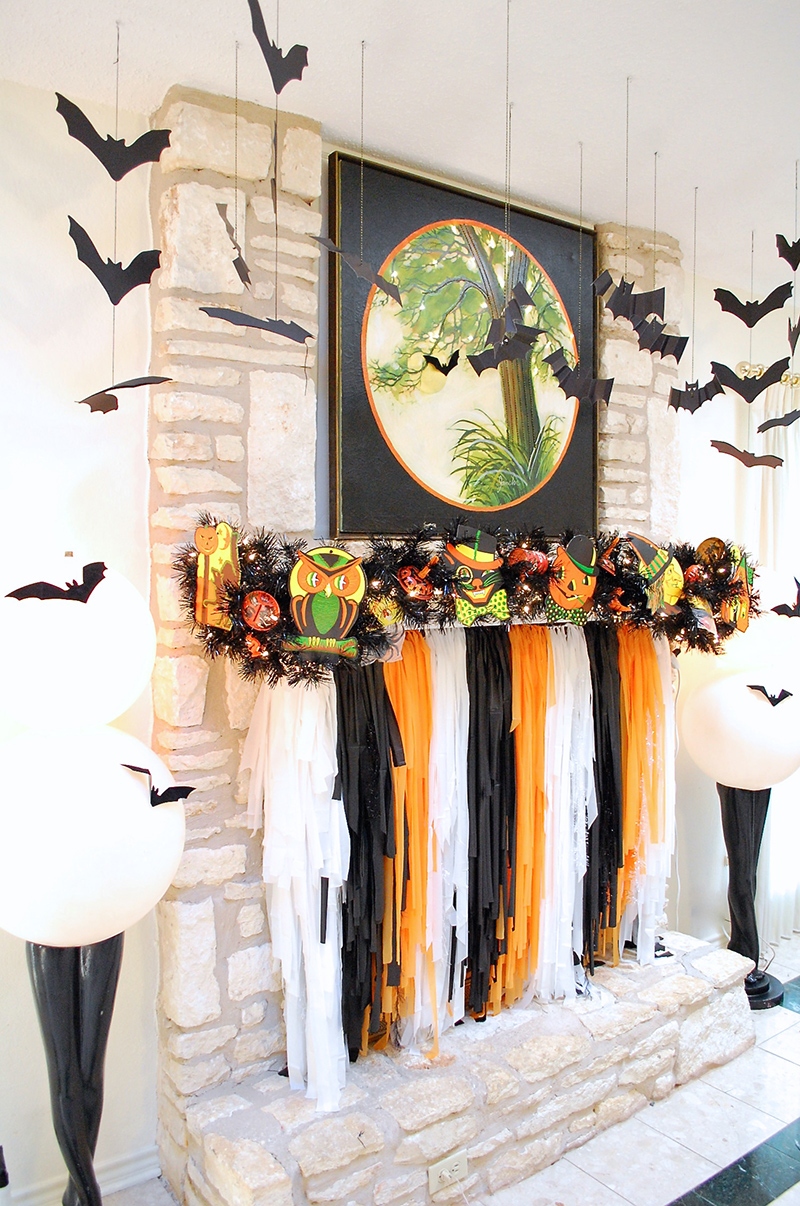 A fun way to decorate the mantel with hanging bats and beautiful prints of owls, witches, cats and others that were pinned on Christmas leaves and lights. Another feature that I like here are the black, white and orange fabric scraps.
11. Halloween Mantel for $5!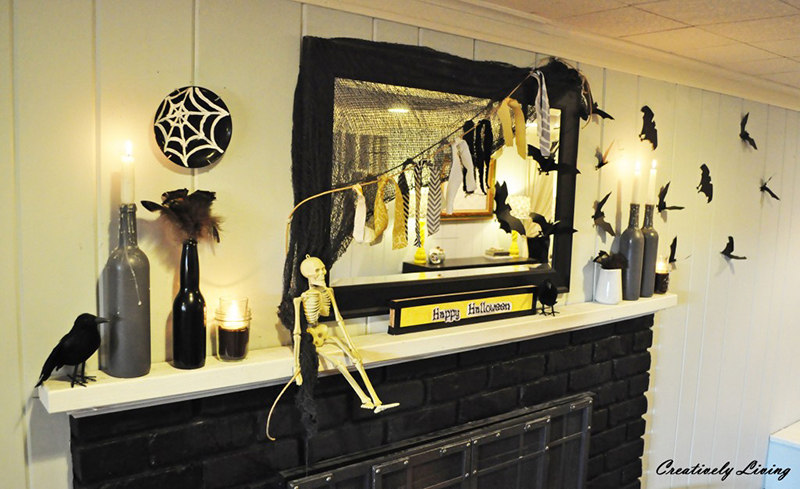 This one has yellow pops on it and also used scrap fabrics as well. The decor is just simple but I guess it is the bats, skeleton and black birds that made it look creepy.
12. Halloween Decorating: Black and White Polkadots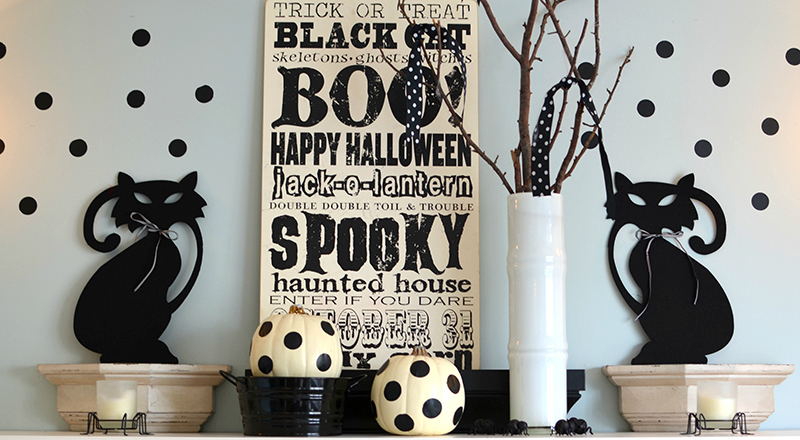 I love polkadots! Aside from the polkadots, what I like here is the typographic play of words as well as that pumpkin with black dots. And of course, the cats look charming too.
13. 2014 Halloween Mantle
I like this colorful mantel with dried leaves and that glittery pumpkin! It is a good idea to make those paper flower designs and let it stand on a bucket.
14. Dallas, TX: Mark & Priscilla Rieves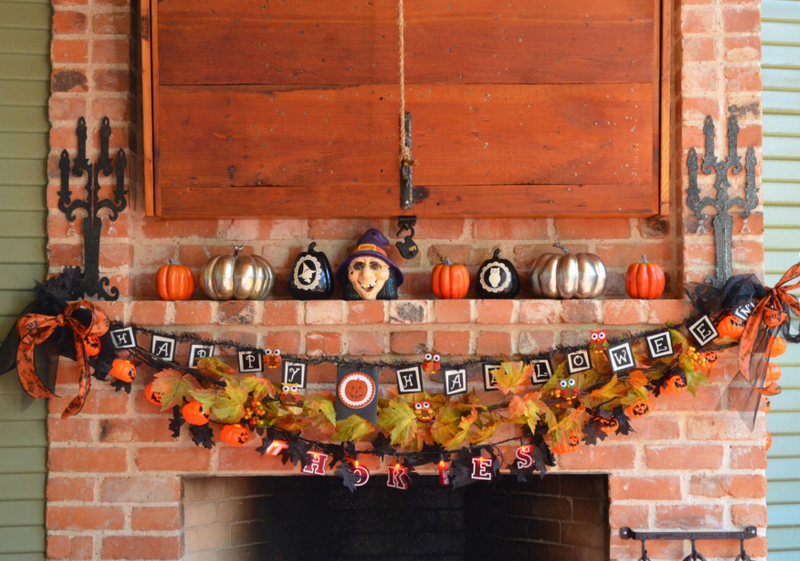 That witch head looks creepy! The banners used printed letters with hanging pumpkins and leaves. You can add lights on it too. On the mantel, there are different colors and designs of pumpkins placed on it too.
15. 'Things That Go Bump In The Night' Haunted Halloween Mantel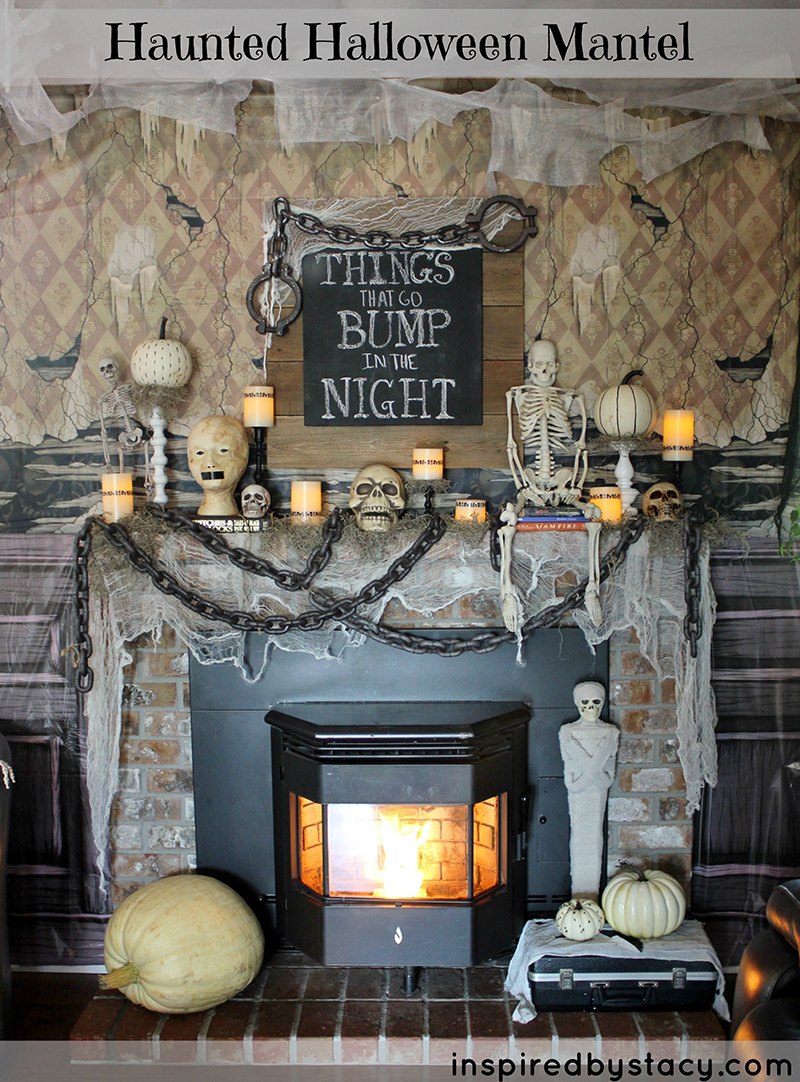 For this one, they really exerted much effort on the design because even the ceiling had those white tissue papers on it as well as on the mantel. Notice the creepy looking display added here as well as chains too!
16. Halloween Mantel 2014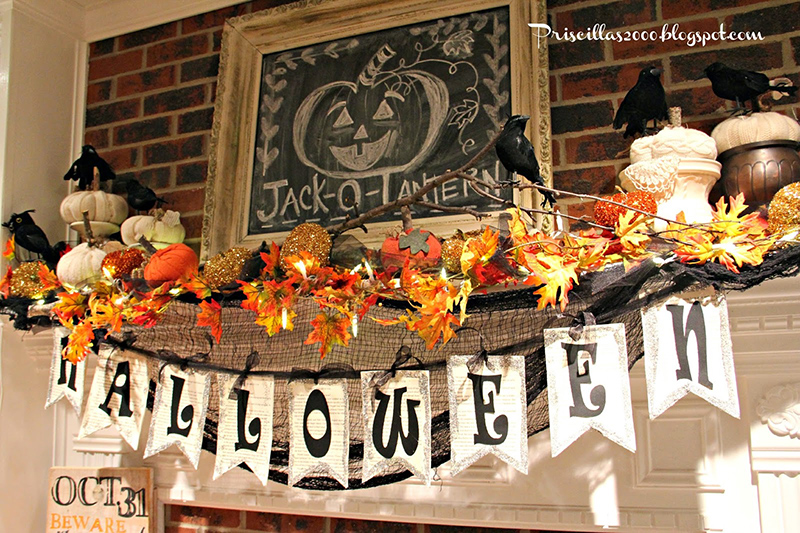 You can also get a board and make your own drawings on it then print some words to make a banner. But what made this look pretty are the fall foliage as well as the white pumpkins too.
17. Candice's Halloween Mantel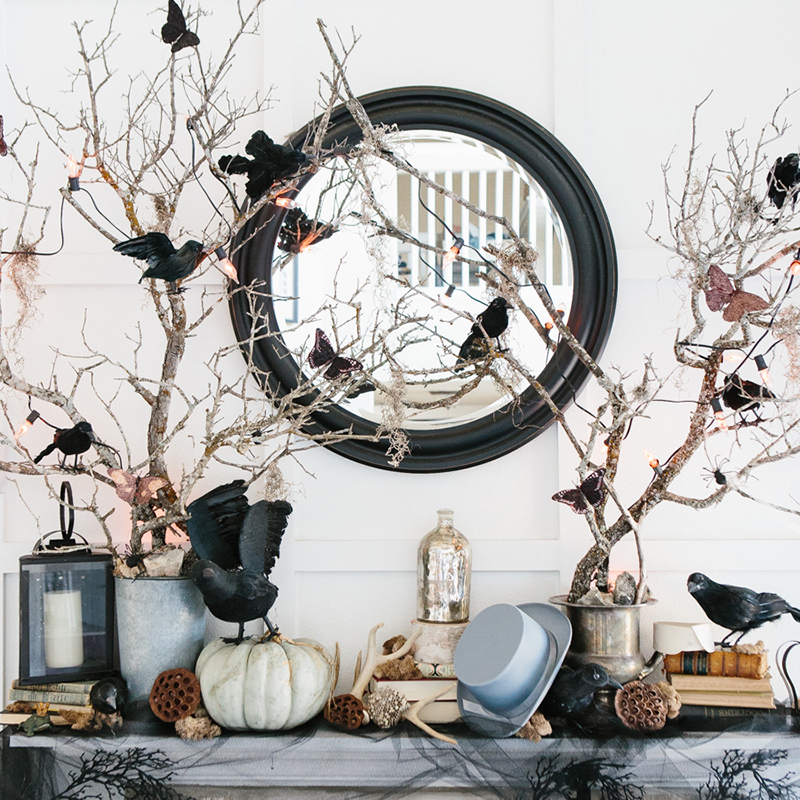 Black birds are everywhere in this mantel as the rest on branches with lights. Don't you love this look? Various items were also added on the mantel that is covered with black tulle and branches. There are books on the mantel as well.
18. Noosa Little Cove Australia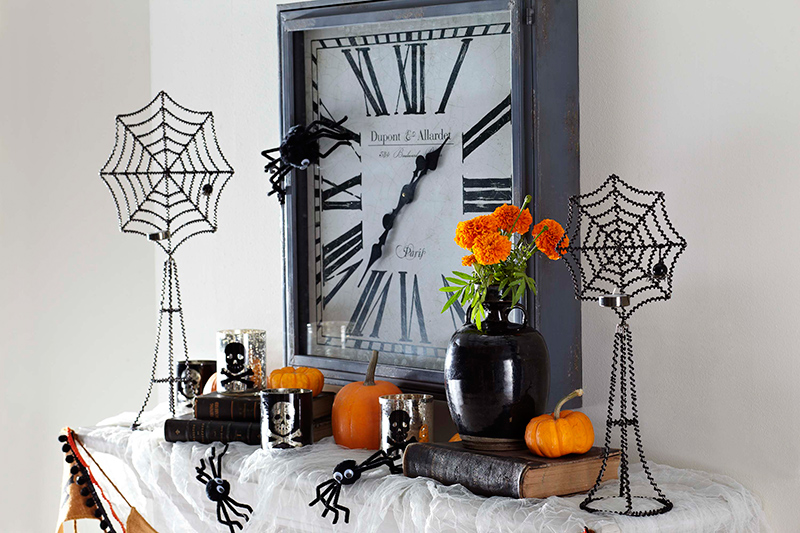 If you have a big old clock, you can put it on your mantel and ad some spiders on it that looks like really crawling from everywhere. You can DIY those votives with skulls and then add orange flowers.
19. Halloween Mantel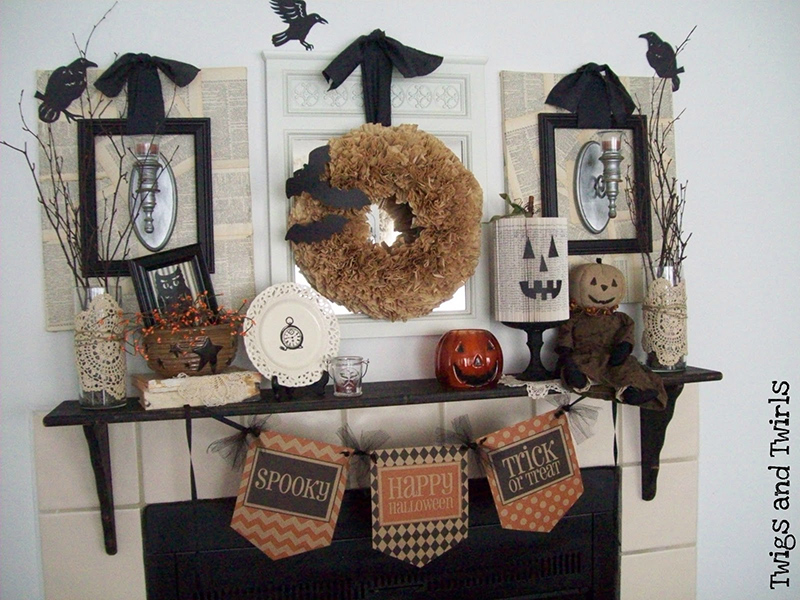 The wall of this mantel is covered with old book pages. Looking, nice, right? Black frames were put on top of it with a wall candle holder. On the center is a simple Halloween wreath with bats.
20. Halloween Decorations Part 1 + Free SVG Files
You can be creative with your banner using scrapbook paper of various patterns. Print letters and cut out some skulls to complete the look. Then add pumpkin decors to it too.
Like the above mantels, you can also be creative with your own mantels too. You see, there are many ways to give your home that Halloween feel by not being so scary and creepy. You can actually make it look fun and you don't need to spend a lot of money for it. The Halloween mantels shown above are artistically done with the use of scraps and other items that we can find in our homes. Nice, right? You can even make cut-outs too like what other mantels used. How about you, do you have your own mantel in your home too?