20 Nature-Inspired Centerpiece to Boost-Up your Table Tops
Centerpiece is an important display item usually seen in a table setting. These are usually placed at the center of the table that serves as decorative tool and also enhances the theme of decoration. Generally, they are the major piece of the decoration during many occasions like birthday, weddings and other parties. But also, this gives an additional beauty for our houses. And these are made from a variety of materials. Often made from flowers, candles, fruits.
On the other hand, centerpiece must not be of great sizes that it would occupy the whole top of the table; this is avoided so that conspicuousness around the table is maintained and also for an easier serving of the dishes. You must also consider that the design or your centerpiece would depend on the whole ambiance of your area. To uplift the design of your house try to accent your tables with centerpiece made from natural materials most likely from plants, trees, fruit and others. Scroll down to get some ideas from here.
1. A Simple Touch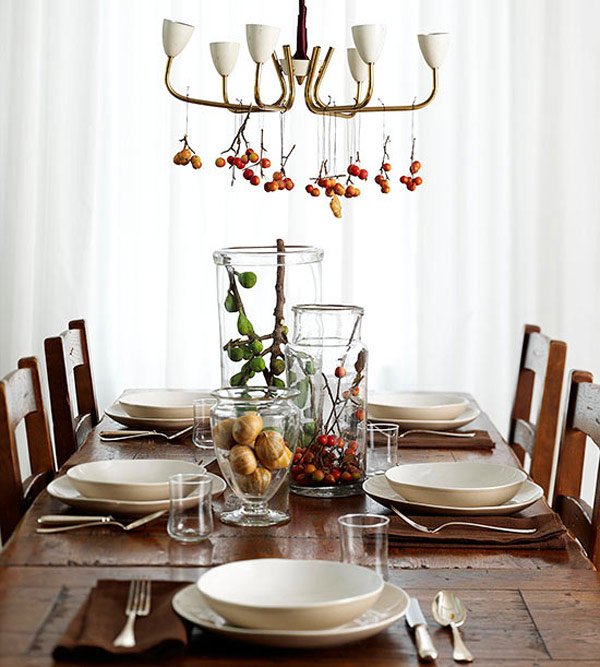 Simple idea of using fruits placed inside the vase or hung by the chandelier.
2. Driftwood Centerpiece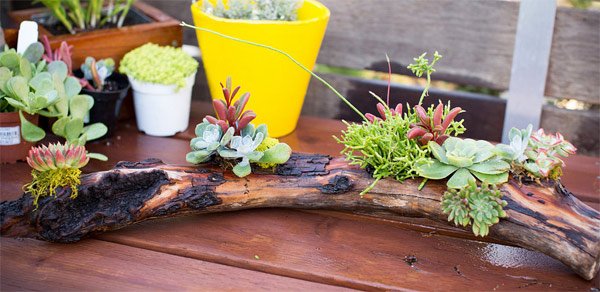 Bring beauty indoor with this driftwood that you add up a color and pretty flowers that will make the wood livelier.
3. Show Stoppping Fall Centerpiece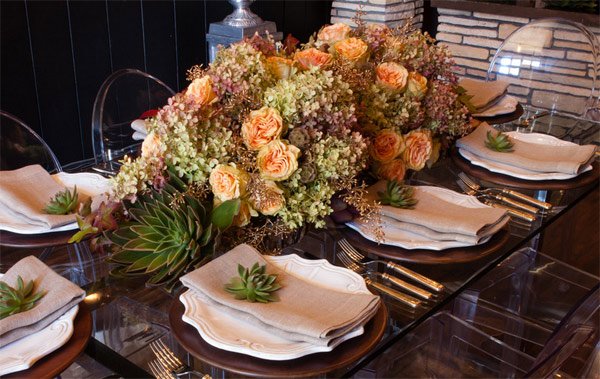 You can have a glamorous table landscape made with fresh flowers and succulents arranged beautifully in a chopping wood.
4. New Leaf Greeny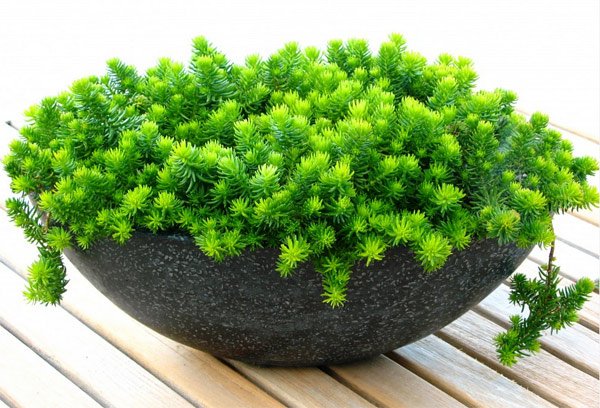 A bucket of fresh new grown leaves bring a glowing bloom into your rooms.
5. Simple Arrangement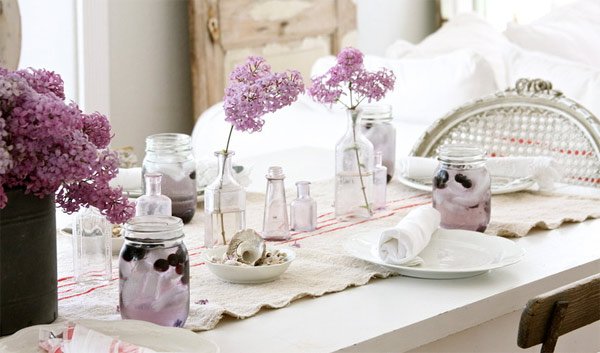 This simple arrangement of lilac blossoms on an apothecary bottle will also give an additional beauty to tables.
6. Seashells and Moss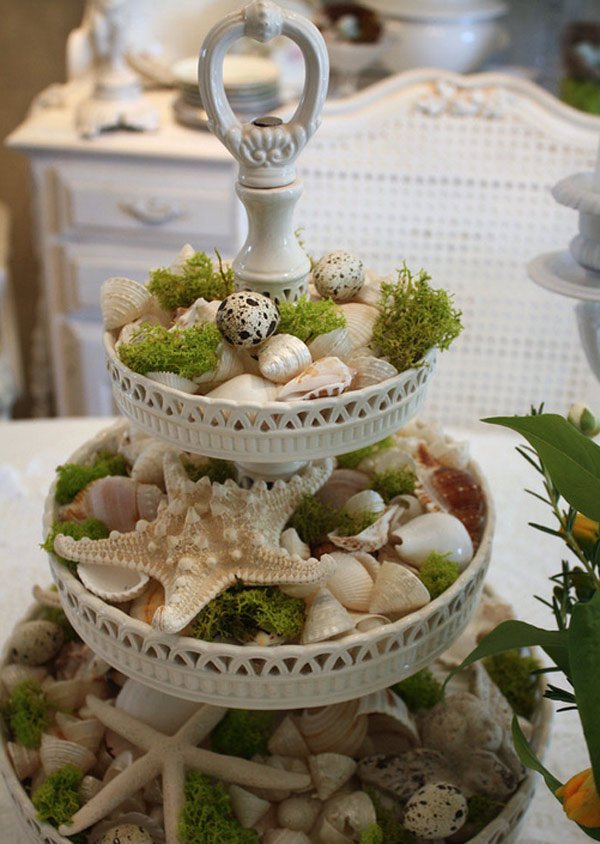 You can do creative centerpiece like seashells and moss arranged in a pastry stand for a seaside party.
7. Orchid Stem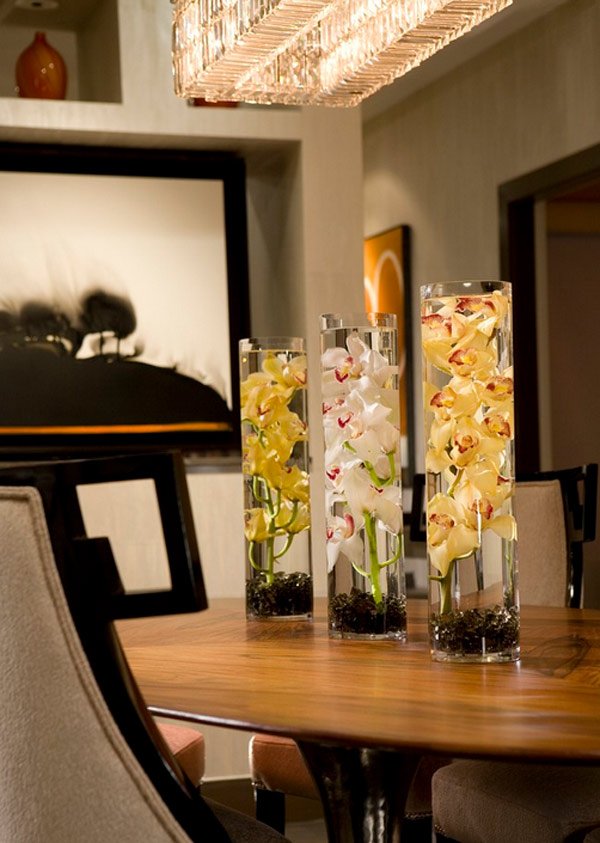 Tables will never be boring. Orchids are perfect accent placed inside a long tubular vase filled with stone and water.
8. Geometric Lines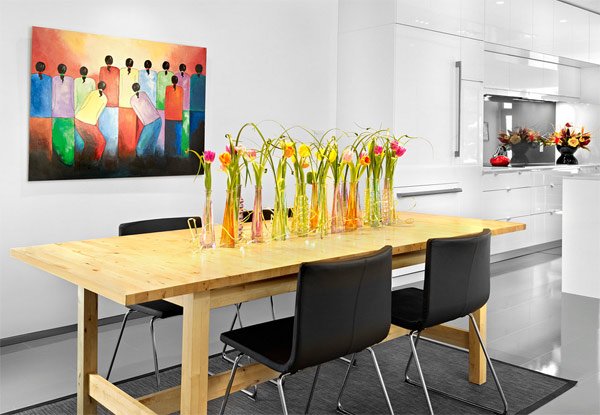 For a modern look, get out some blooming, stems cut it out and place it on a tubular vase arranged in a straight line at the center of the table to bring a catchy look.
9. Rustic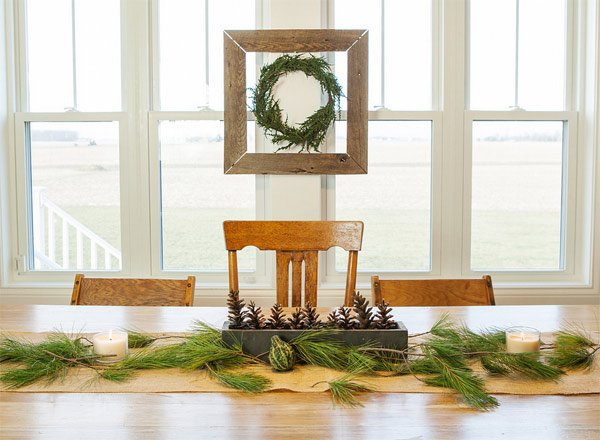 To enhance a more rustic style in your old barns create a centerpiece out of an empty flea market frame that is filled with simple green wreath.
10. Bonsai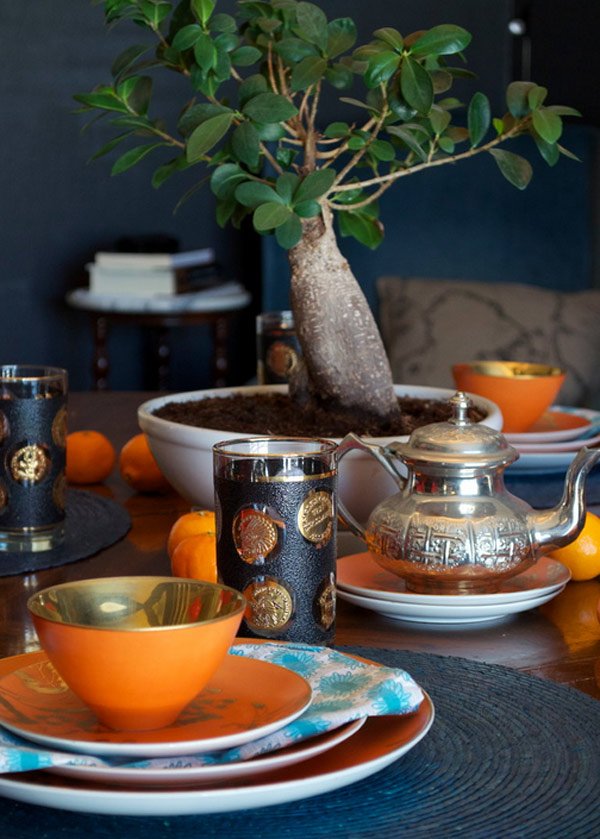 Bonsai plants makes an exotic centerpiece is even more dramatic in a dark setting accentuated with bright colors.
11. Fresh Fall Tablescapes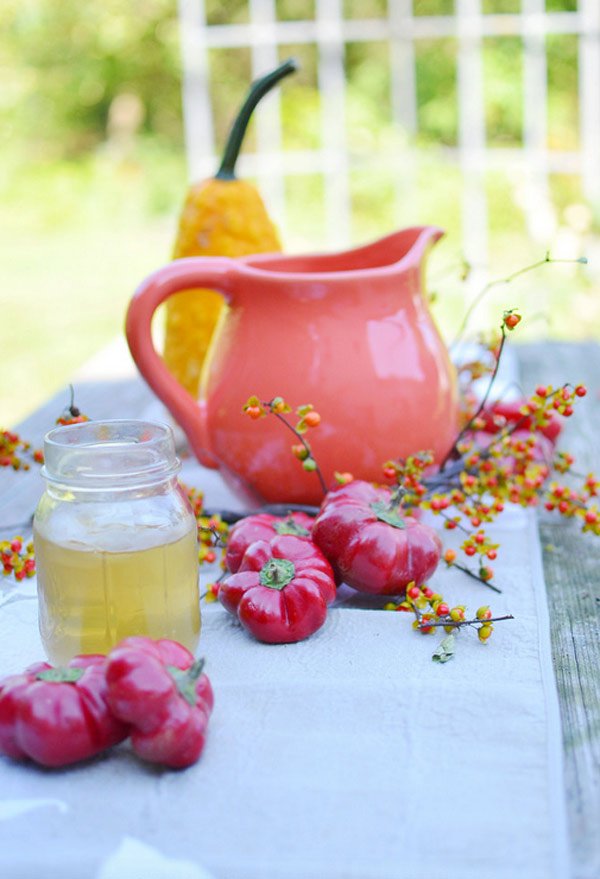 Achieving a fall theme is never too hard, intertwined bittersweet stems serves as the base mixing up with kitchen items such as small pitchers and for the final touch is the peppers.
12. Indian Corn Candle Holder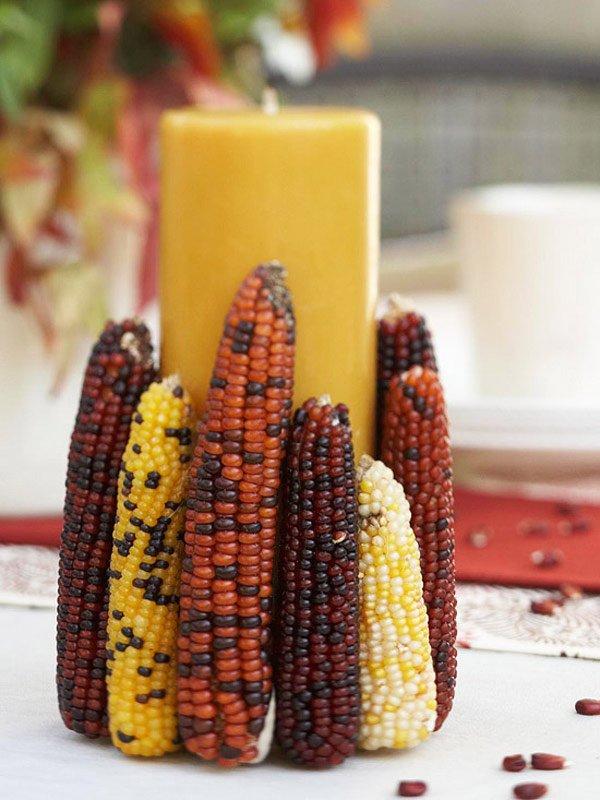 Candle at the center of your tables can be decorated with corns that represent a perfect color palette of nature that makes a pretty table top decoration.
13. Tall Grass and Feathers Table Top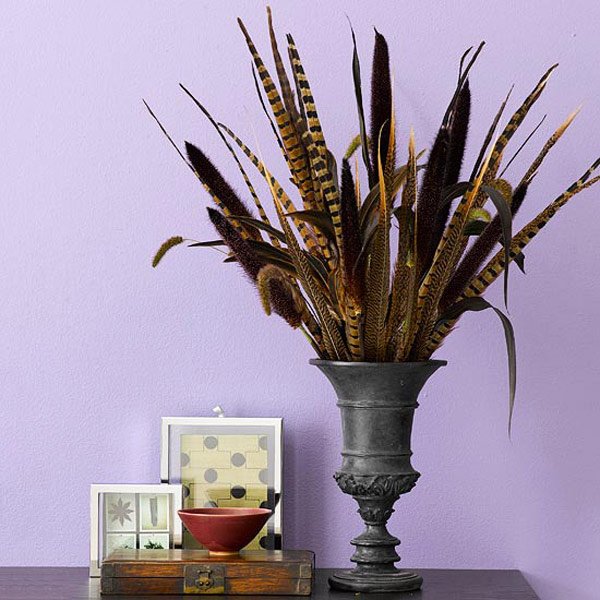 Decorative arrangements of cattails, pheasant feathers and ornamental millet give also a one-of-a-kind decor.
14. Pumpkin Flower Arrangement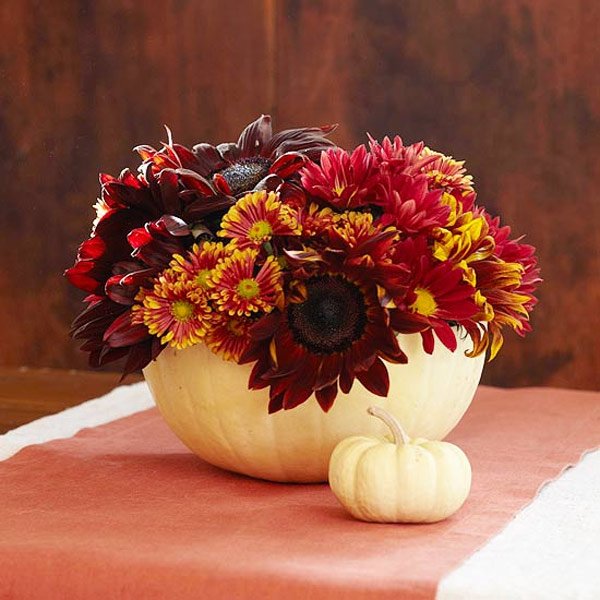 For a pretty centerpiece that is inexpensive, use a large pumpkin to display richly color flower blooms.
15. Expanded Palette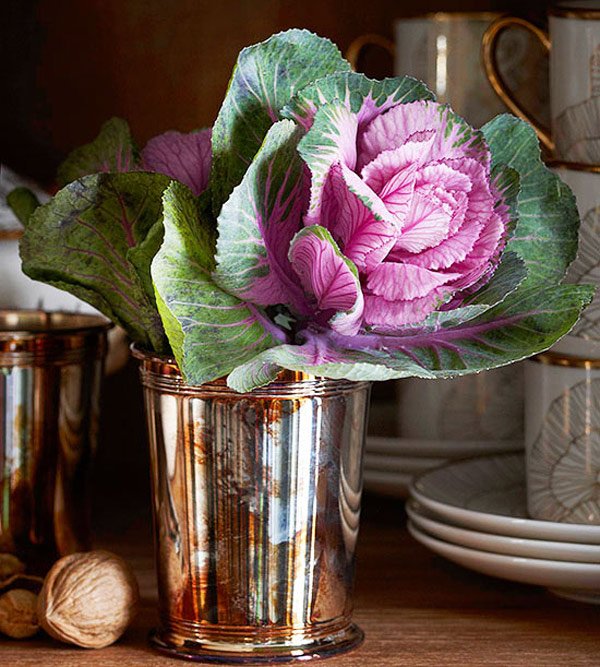 Flowering cabbage arranged inside antique cups bring a dimension and unexpected color to your kitchens.
16. Filled Up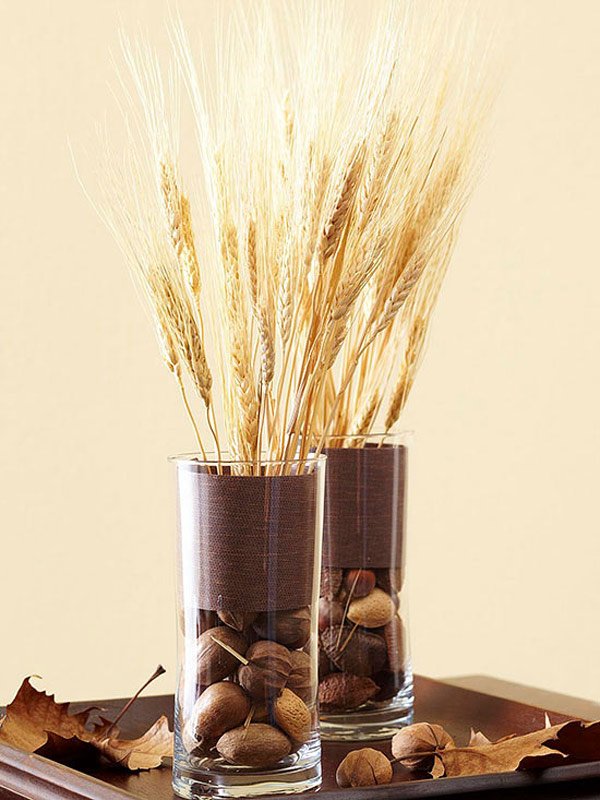 Arranging and incorporating items are key to an eye-catching decor just like filling up a vase with shocks of wheat and nuts.
17. Flowers and Candles Table Top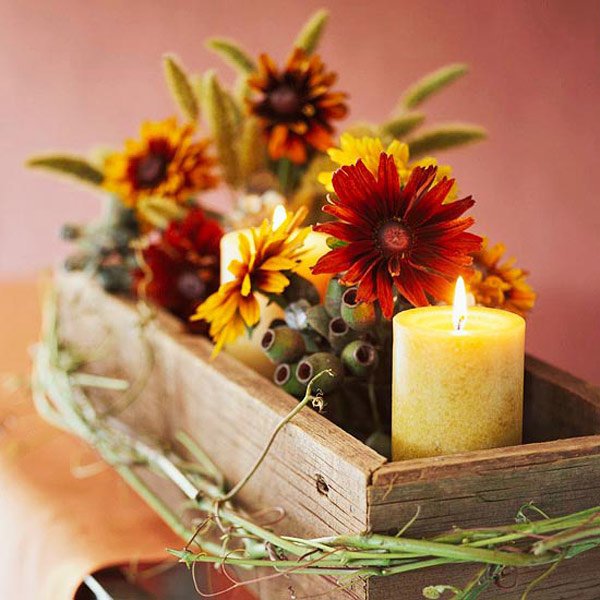 Making a great way to create an eclectic collection of blooms, fall foliage and candles.
18. Bounty Basket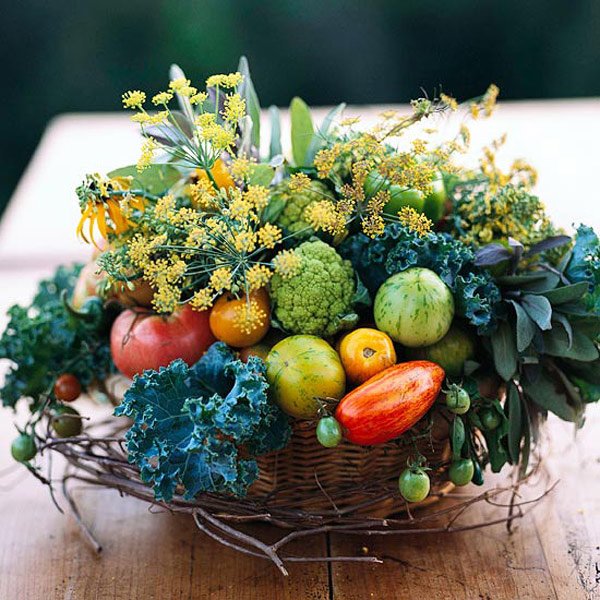 Contain a small basket with floral foam and add a collection of broccoli, tomatoes and other newly harvested fruits and vegetables.
19. Fall Foliage Centerpiece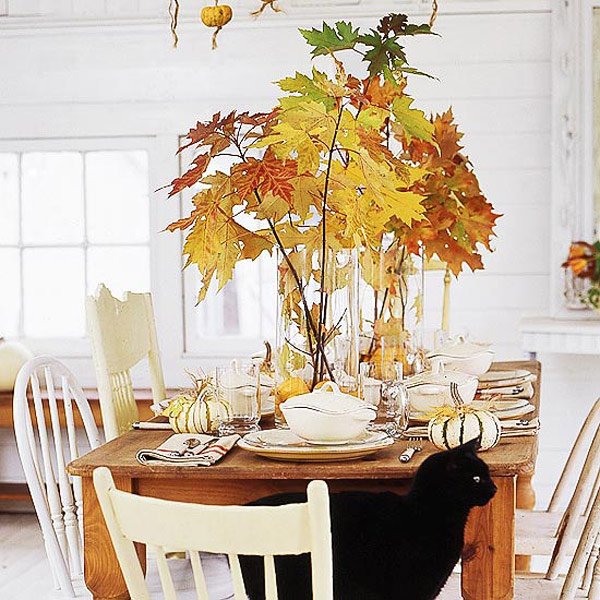 Gather a brightly colored fall leaves with long branches attached in a cluster tall, clear vase for a perfect accent.
20. Go Wild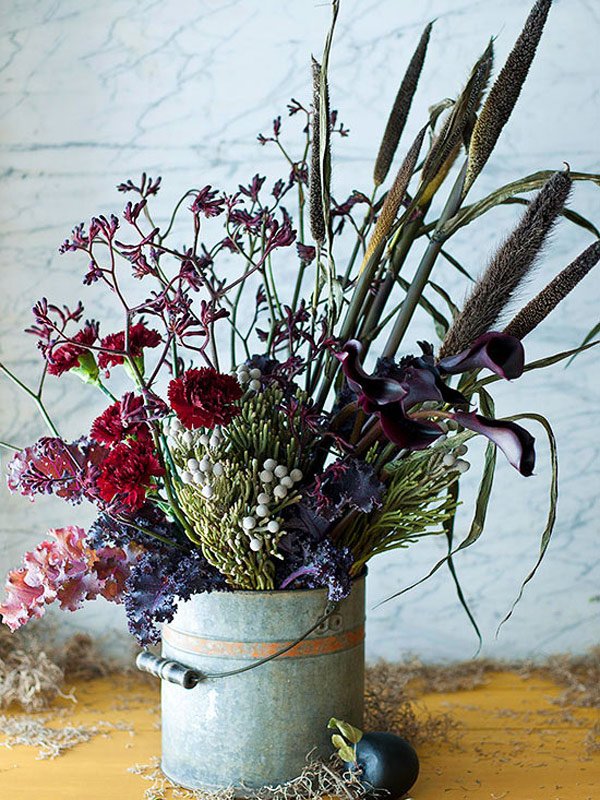 For an organic just out of nature look, gather twigs, fillers, flowers and stems and arrange it randomly. Use a rustic vessel or bucket to complete the look.
Did it look wonderful? Can you just imagine the freshness inside your homes? There are a lot of centerpiece ideas, it comes from a different varieties and styles. But if you were born with creative mind, for sure you can try to create your own design of centerpiece that is going to be an attention-grabbing piece in your house.