20 Vibrant DIY Easter Themed Mantel Designs
It is this time of the year again when most people in the world celebrate the Easter Holiday. We can see bunnies and eggs everywhere. There are different fun activities in line with this but you can also give your home that Easter ambiance by decorating it with anything associated to it. We have shown you some DIY Easter decors yesterday. Today, we will show you something else that is also Easter related.
Some homes have mantels and it became a center of decorations for different events and holidays year round. Each occasion would mean a different dress up for the mantel. Since, Easter is coming, I am certain that some homes have their Easter mantels ready. But if you haven't decorated your mantels yet, here are some lovely ideas for you!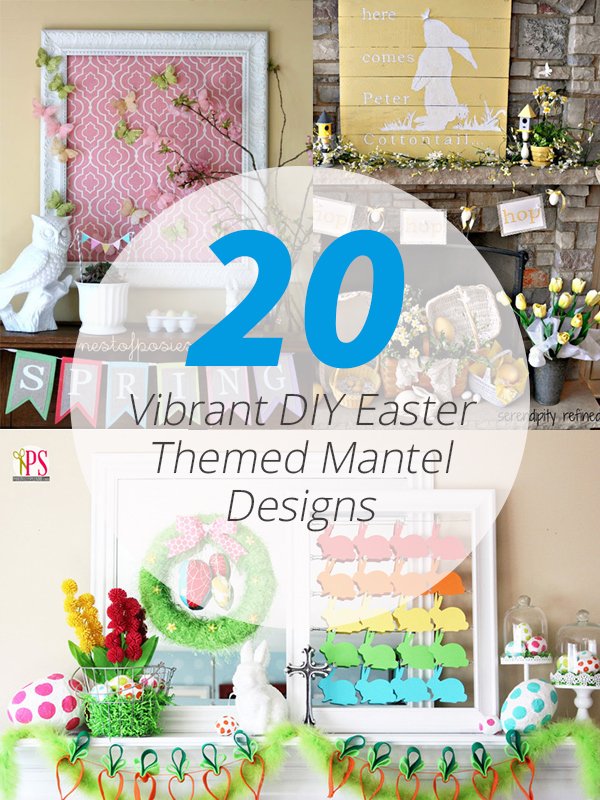 1. My Easter Mantel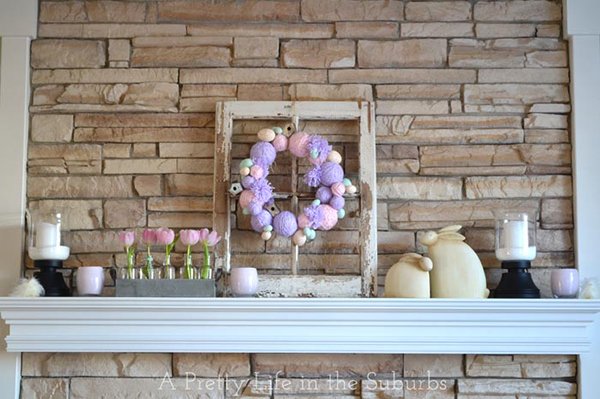 I like that yarn wreath which was actually a garland at first wherein the yarn balls reflect eggs.
2. Easter Mantelscape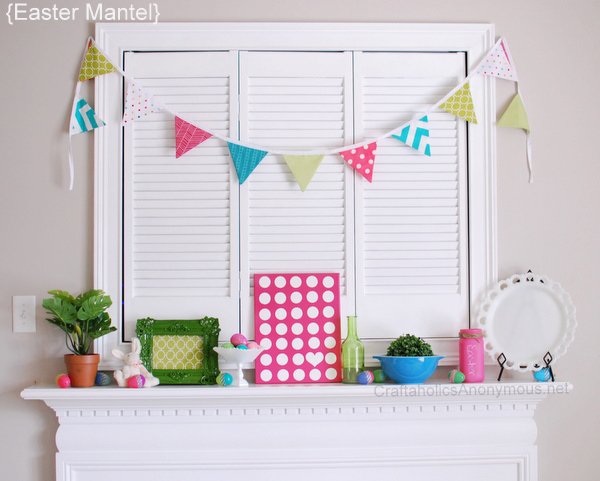 Make colorful buntings with lovely patterns and adorn that to a shutter window in white. Add some Easter features like eggs and others.
3. Here Comes Peter Cottontail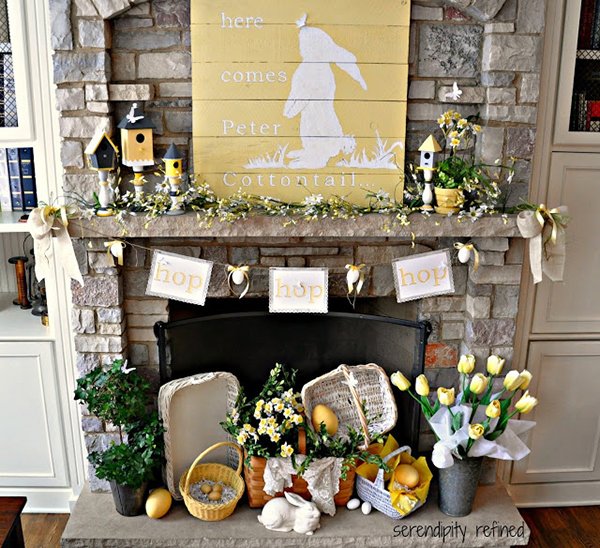 Aside from the top of the mantel, add decors on the bottom part too. That is, if you are not using the fireplace.
4. Our Spring Mantel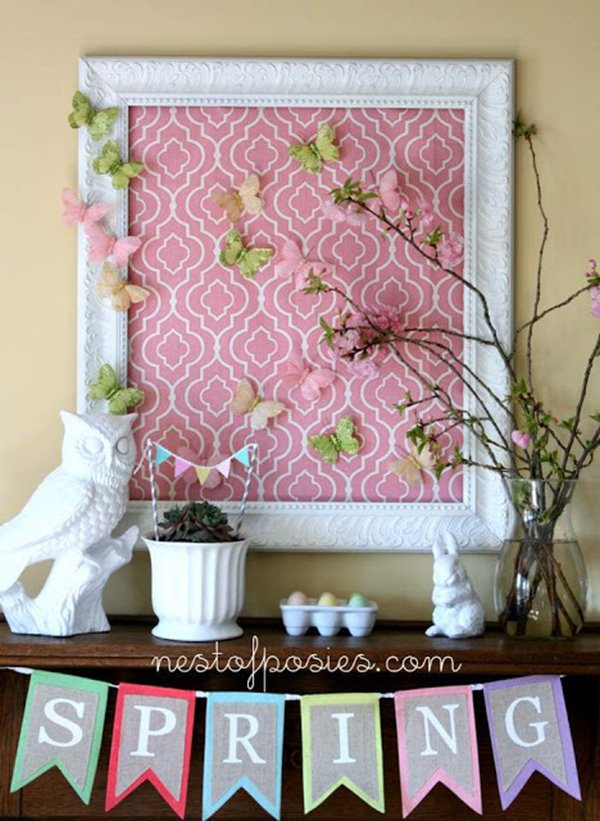 This looks so charming with flowers and butterflies! And that pink framed pattern made this look even more lovely.
5. Easter Mantel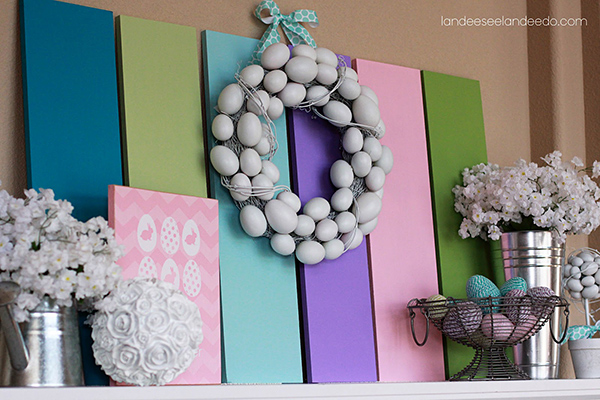 An egg wreath and topiary totally delivers the message for an Easter mantel!
6. Easter Mantel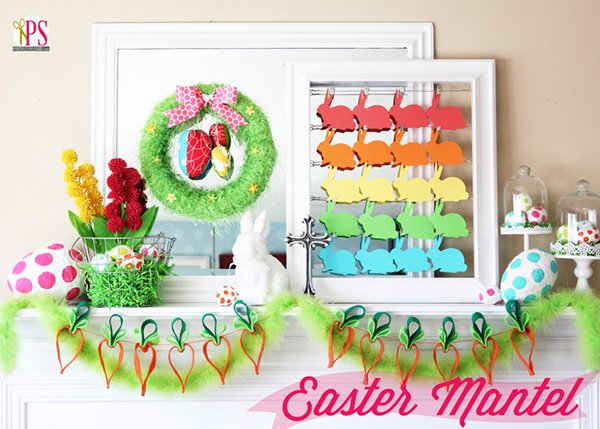 A whimsical mantel with colorful decors! I just love looking at this one!
7. Spring Mantel and DIY Egg Garland
Adding an egg garland made this mantel combine the beauty of Spring and Easter!
8. Vintage Door Spring Mantel 2012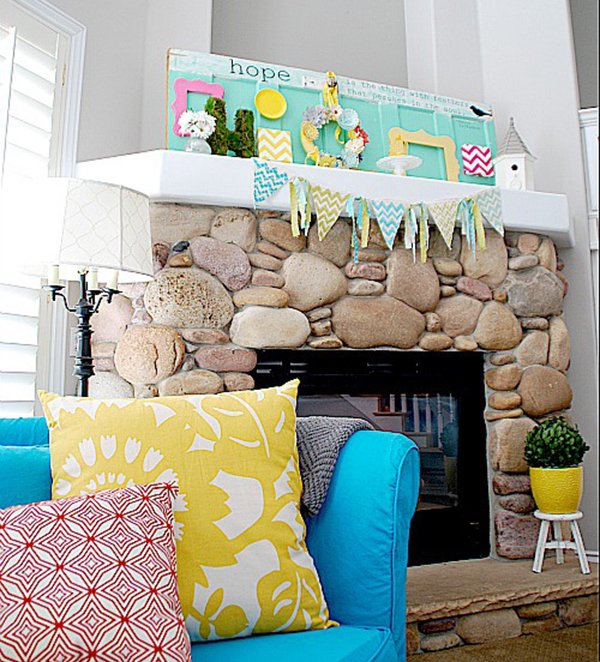 A vintage door held all the lovely decors used for this mantel. This looks very crafty!
9. Around the House [Easter Mantel]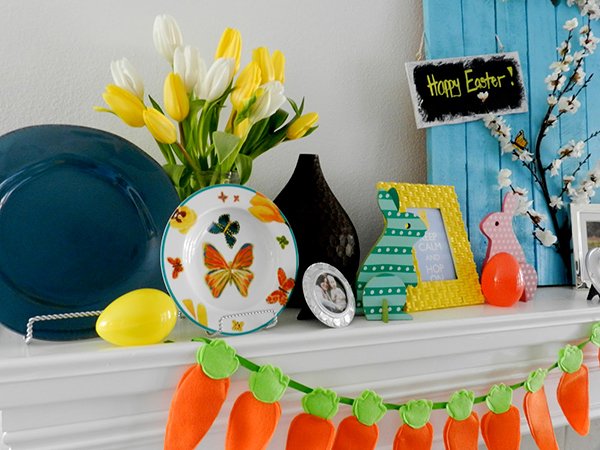 Such a cute and charming mantel! You can check out the blog where the designer got all the stuff in this colorful mantel.
10. Homefront: Shabby White and Bunny Easter Mantel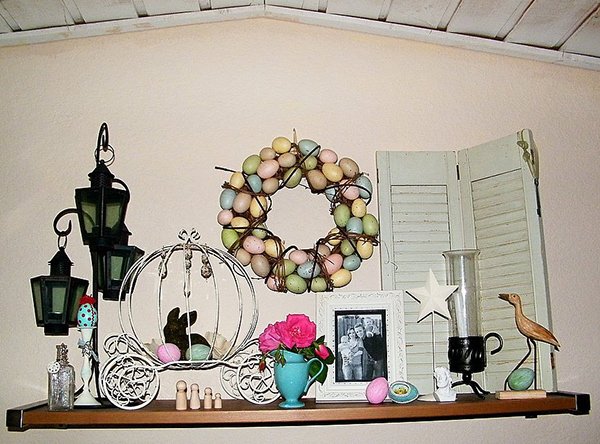 A vintage and shabby chic mantel featuring a bunny who might have felt like it was Cinderella as it sits on a carriage.
11. 2015 Spring Great Room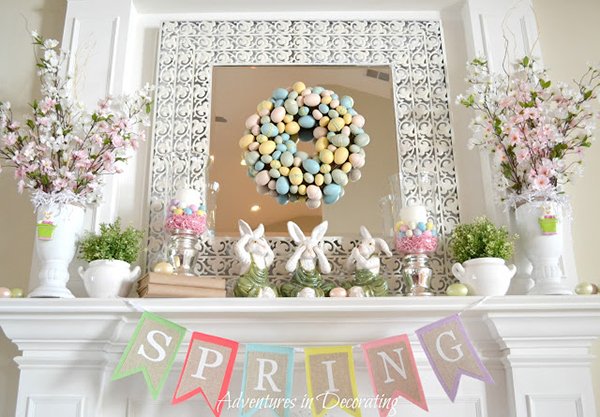 Flowers, eggs and some cute bunny…what more could you ask for?
12. Easter / Spring Mantel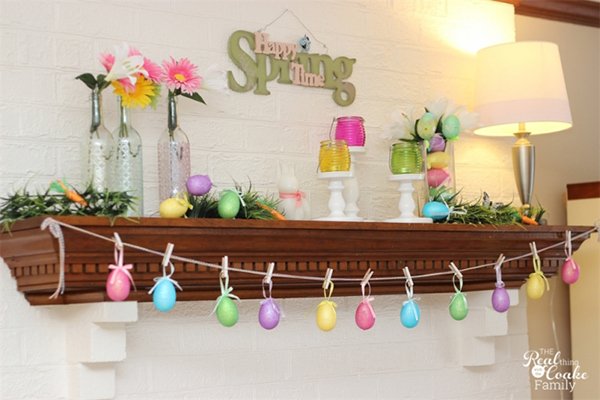 A cheerful and colorful mantel for Easter using a floating wall mounted shelf over the fireplace.
13. Easter Mantel Design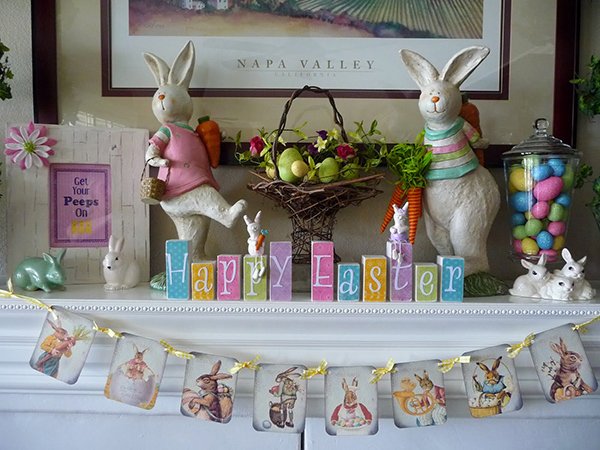 Looks like these bunnies are having fun! I love the use of blocks in here that bears the letters for Happy Easter.
14. Spring Mantel Decorating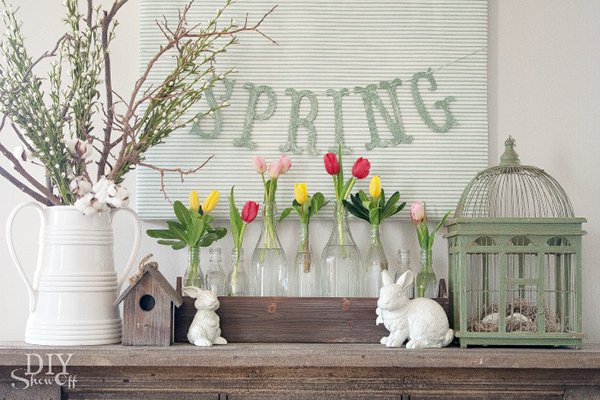 For the backdrop, a canvas was simply wrapped wrapping paper or fabric and other decorations were added.
15. My Easter Decor, A Turquoise Chalkboard Frame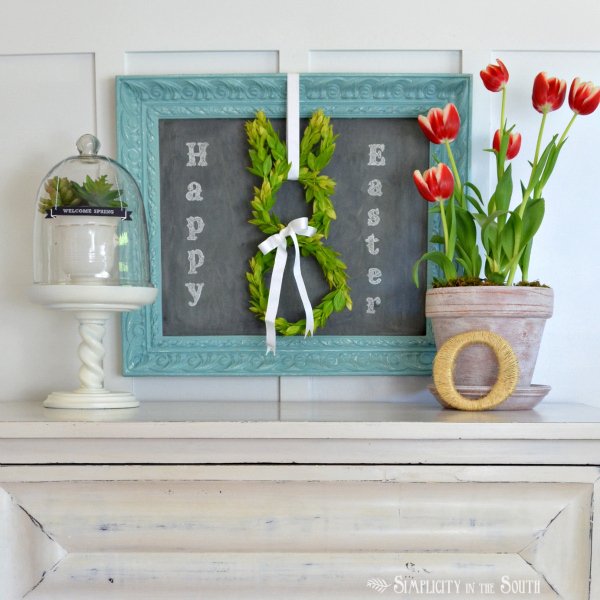 That turquoise chalkboard frame is a pretty feature in this mantel. Isn't that bunny leaf wreath cutie?
16. Easter Mantle|Preserved Boxwood Wreath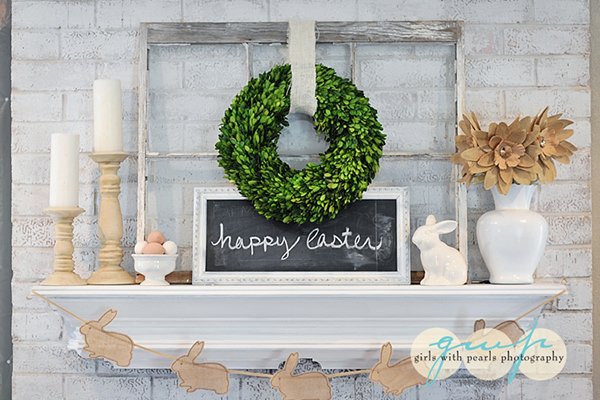 I love the natural look of this mantel because of its colors. It doesn't look dull. It looks even lighter.
17. Easter Mantel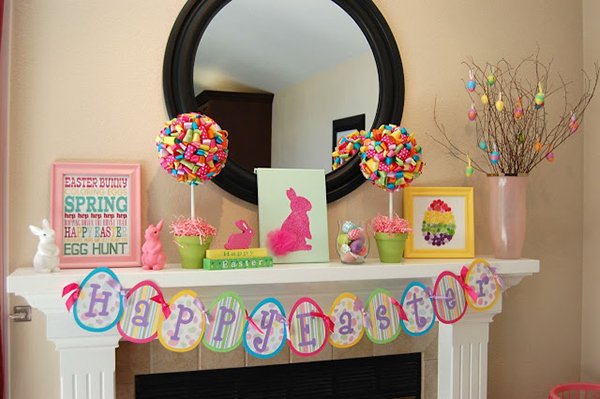 That ribbon ball topiary looks very nice! What a colorful mantel!
18. Vibrant Spring Mantel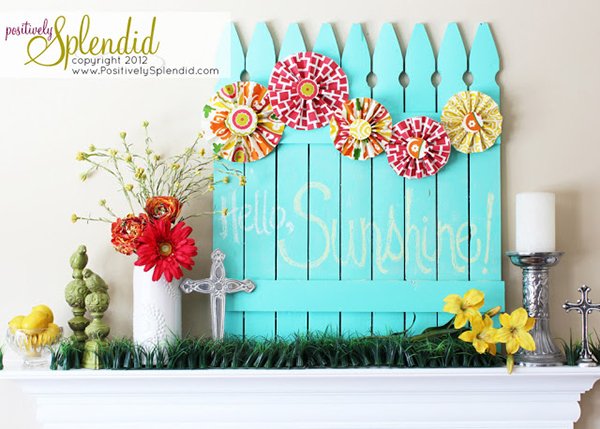 Very vibrant mantel indeed! Oh I love those fabric medallions so much!
19. Simple Easter Mantel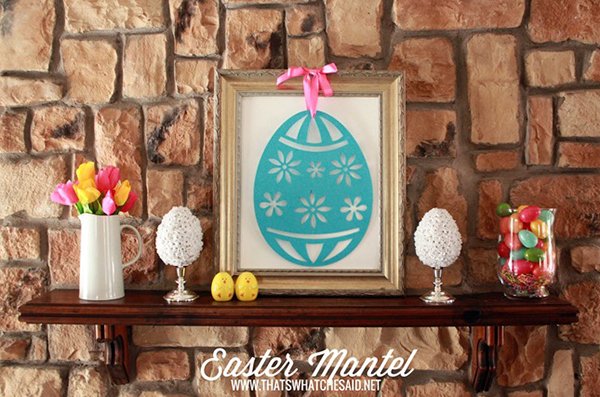 Isn't that an egg-cellent highlight for this mantel? I like how this one was designed.
20. Fancy Frugal Easter Mantel & Decor 2013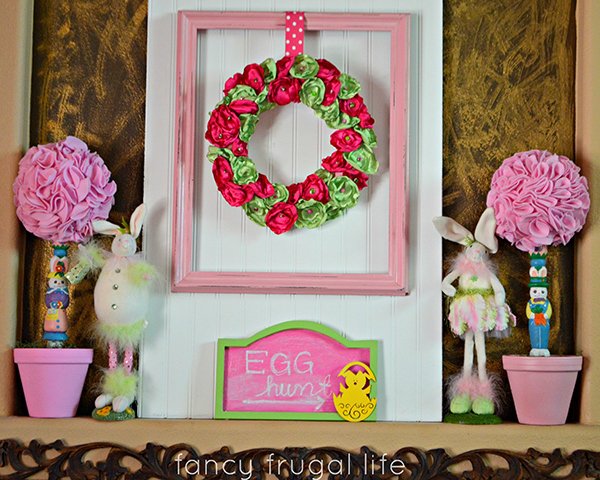 Satin flower wreaths and lovely pink Easter topiaries, such a stunning mantel!
These are lovely! I just like how the owners and designers of these mantels designed them with creativity. It shows us that you can just get some items available in your house and use them for decorating your mantel and other areas of the house. It would certainly be fun to DIY! Agree?