20 Fabulous Christmas Tablescapes
Christmas is celebrating the birth of Christ for Christians; with that comes tons of celebrations created by different organizations and groups to celebrate His birth. So, definitely a lot of parties, social gatherings and more parties. This party I am talking about here is not just parties at work or at school – but also a party at home, may it be big or small.
This list that we have today is a mere preparation for the dining part of the parties – even when food smells so good and inviting, the host of the parties usually do a lot decorating – even when it means covering the entire table. This set up I am talking about is called tablescaping – sort of "landscaping" only that this done on the table, check the pictures below for you to see what I'm talking about.
1. Allston Residence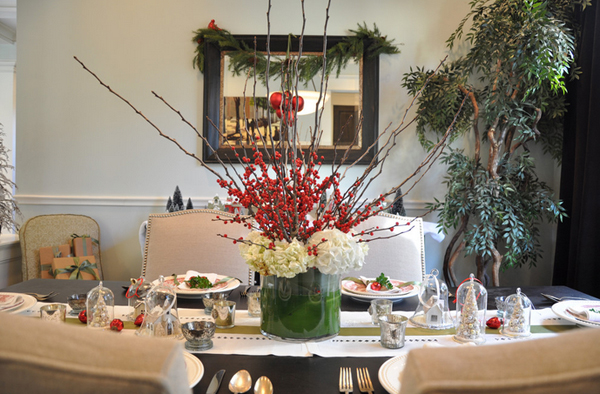 This tablescape is just versatile! Can be dressed up or made to look more rustic.
2. Atherton Holiday House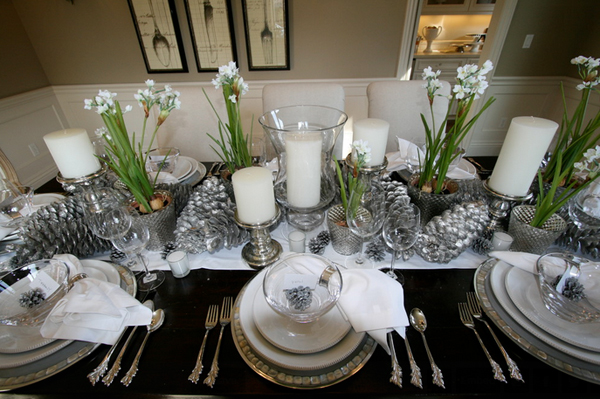 Instead of red, which is traditional for Christmastime table settings, mix things up a little with silver. Crocuses and pine cones were painted to create a monochromatic palette that's modern and elegant.
3. Boho Beach Christmas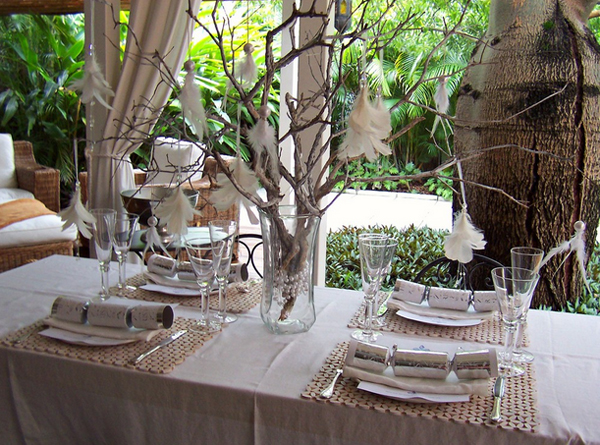 Love the simplicity of the branches as the center piece.
4. Boston Traditional Dining Room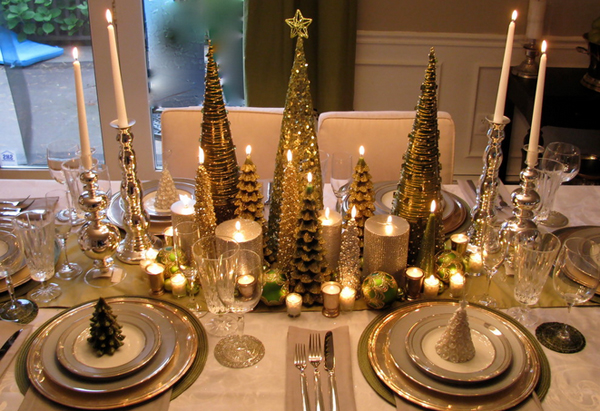 Look at the cute Christmas trees on table – some are candles and others are cute decorations you can simply add anywhere in the house.
5. Canada Christmas Tablescape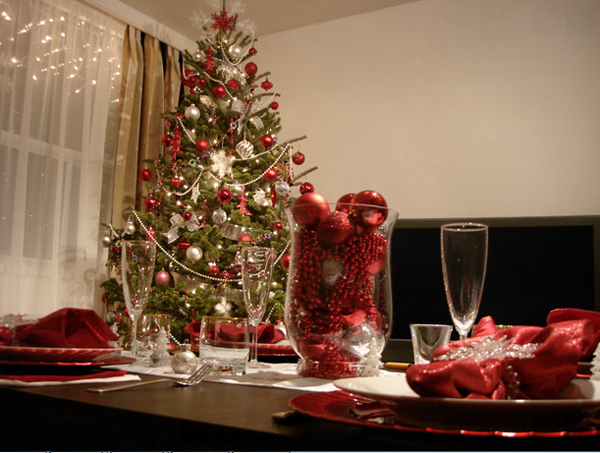 Red is a traditional Christmas color and this works with the tree all the time! Love the vase with the red balls in different sizes.
6. Chicago Christmas Tablescape
Get out those candles you got as a hostess gift all those years ago. Pair them with a beautiful runner and seasonal foliage.
7. White and Silver Christmas Decorated Tablescape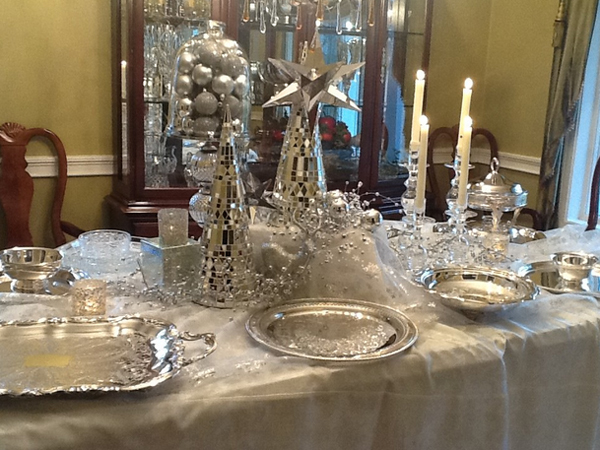 This shiny set up in the table makes it really stunning and bright. I will surely be ashamed to use this silverware in case we have this at home!
8. December Minimal Christmas Tablescape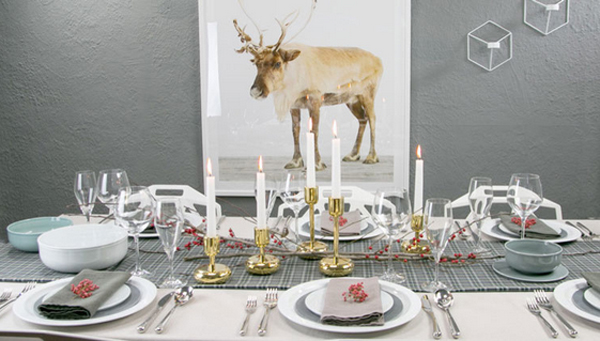 Use one long line of plaid down the table. A simple runner in a monochromatic color palette ties this tablescape together.
9. Festive Dining Decoration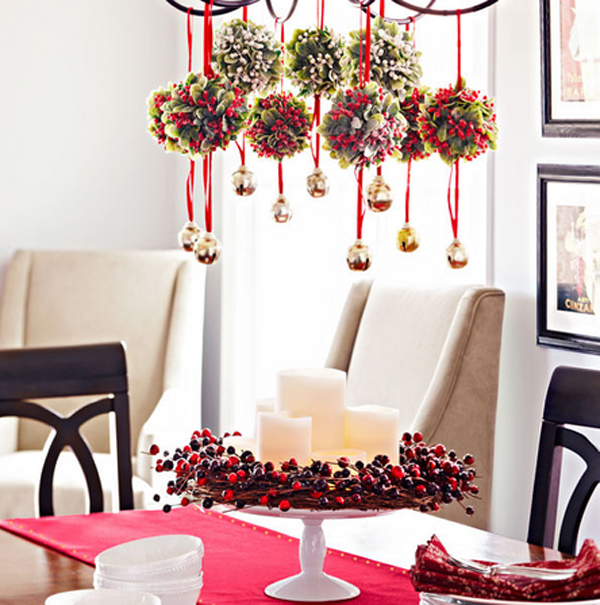 Repurpose holiday decorations to fit the design of your dining area. We placed a colorful berry wreath on a cake stand and filled the center with LED candles. Mistletoe balls with bells hang from the chandelier for an extra festive touch.
10. French Christmas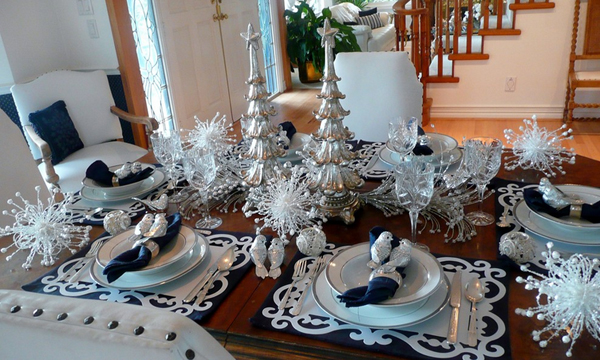 Navy and silver. Navy is practically a neutral and goes well with anything, including Christmas decorations. Mix it with a bit of silver sparkle and white accents for a clean, refreshing look.
11. French Country Christmas Tablescape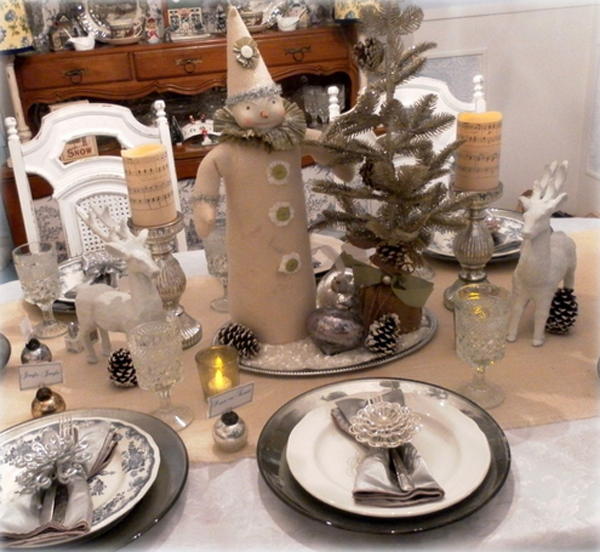 A vintage inspired Snowman, an antiqued glittered Christmas tree, burlap and candles wrapped in sheet music give this Christmas tablescape French Country Flair.
12. Jr. League Park Lane House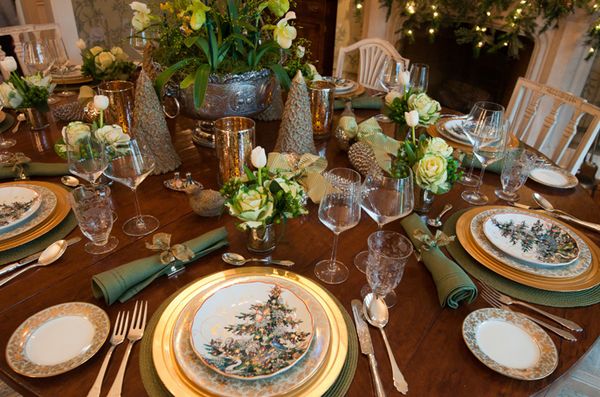 The formal dining table setting takes inspiration from the room's antique-style Chinese painted wallpaper. "I kept the color palette clean and simple, using only green and white," Westbrook says.
13. Miami Christmas Tablescape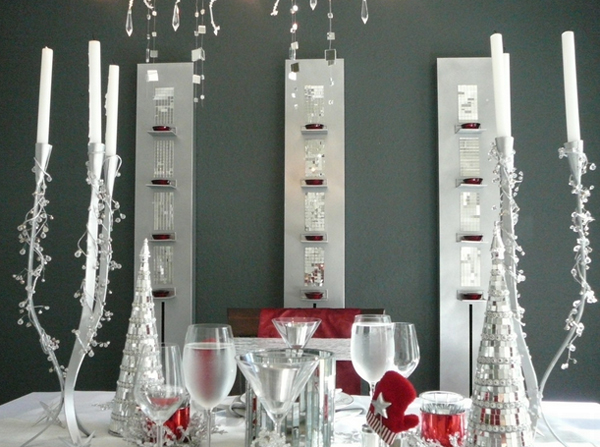 Crystals wrapped around candelabra – totally stunning!
14. My White Christmas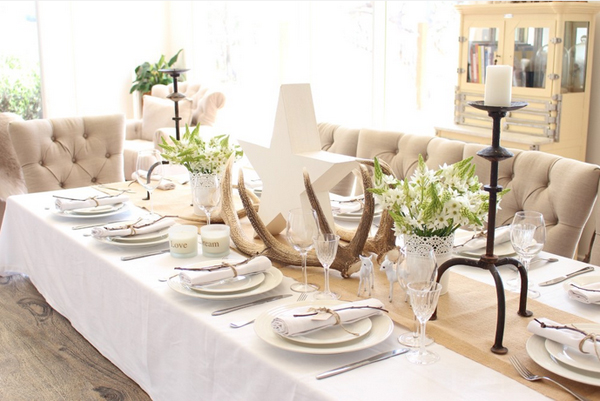 Rustic and classical styles creating visually arresting table decoration look. Don't you just love this set up?
15. Nashville Christmas Tablescape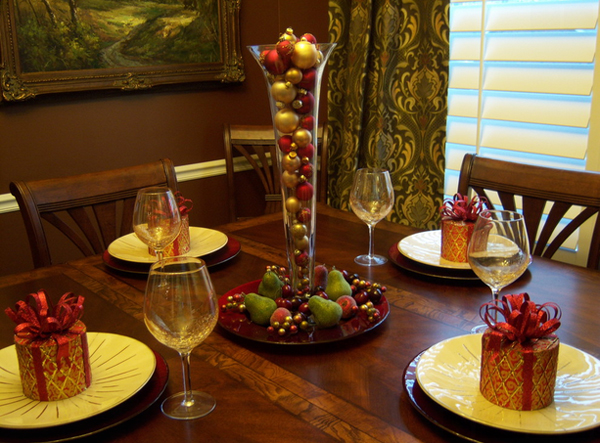 Love the warm colors that were used in this tablescape! This set up just looks comfortable and homey!
16. Jr. League San Mateo House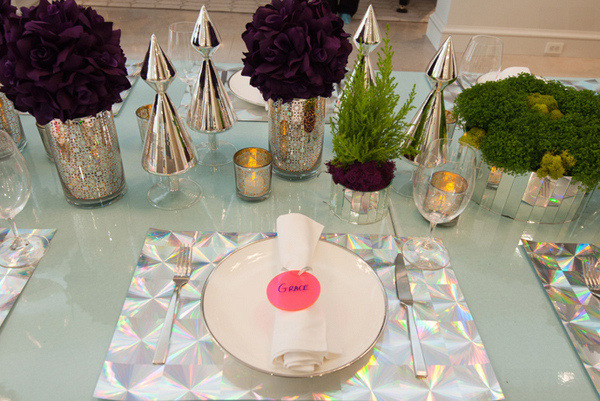 To create the tablescape, Angus and Martinez rested deep purple silk flower balls from the San Francisco Flower Market on mercury glass vases from Crate & Barrel. The metallic placemats are made of cut safety paper from Tap Plastics.
17. Miami Winter Holiday Tablescape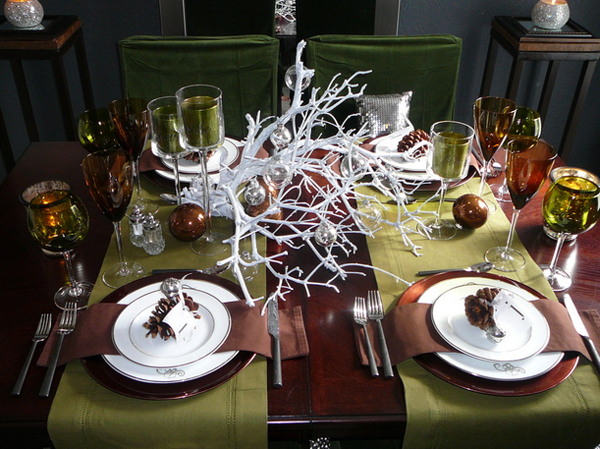 If you're having problems coming up with ideas for your holiday dinner table, try sticking to something simple like this. Sometimes nature provides all the necessary decoration – spray paint a few branches and accent with some found pinecones, and you're set.
18. Rustic Luxe Holiday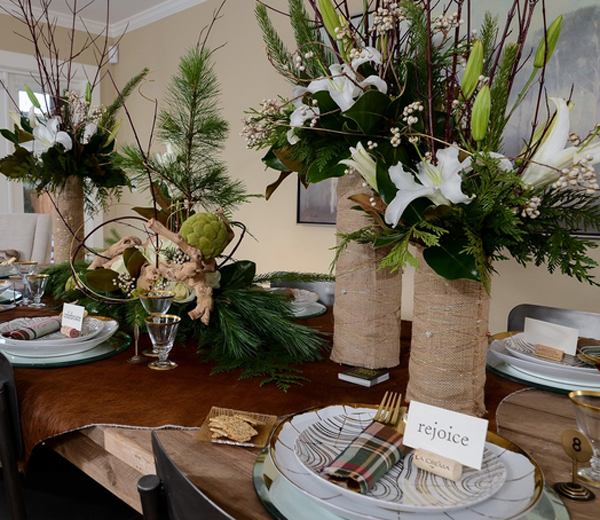 Kelly draped the table with a cowhide rug and topped it with burlap-wrapped vases bound with copper, silver and gold wire.
19. San Diego Christmas Tablescape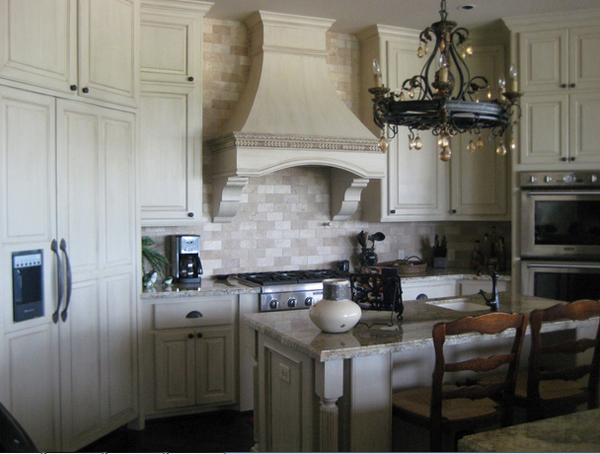 Tree brunch as a candle holder – I mean, how cool is that? This home sure has a stunning silverware and set up!
20. Vancouver Traditional Tablescape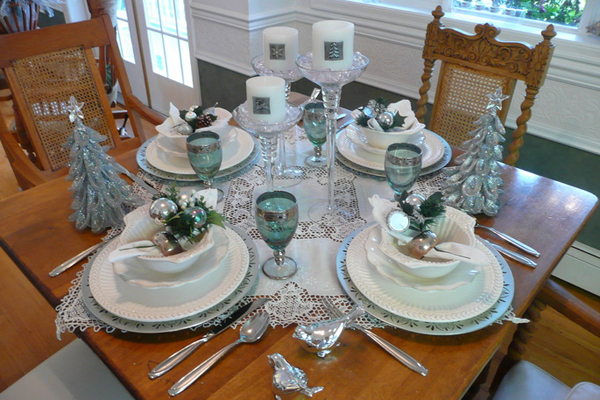 Light turquoise and silver. Bring a calm, relaxed feel to your Christmas table by combining these somewhat coastal tones.
The designs above are totally stunning – some are even fun and easy to do; but believe me, there are times even decorating just a table or a buffet can cause you a lot time, money and energy to put them all together – but when you're inspired an definitely feel the Christmas air, everything is just lovely! Hope you'll have the best Christmas this year guys!