15 Pretty Centerpiece Designs for the Holidays
Beautifying our tables so that eating will seem more pleasurable than usual, especially on the holidays, people thought about tablescaping! Tablescaping is usually done to showcase a certain collection as a centerpiece or plainly beautifying a simple table – either on a daily basis or just during the holidays. Christmas is one of the most loved holiday for designers since it makes them more creative and allows them to match their decorations at home and be totally imaginative about it.
In today's article, we will be showing you photos of some centerpiece decorations that designers use as a focal point for their tablescaping, and pretty samples of tablescapes used in dining tables, center tables, coffee tables and even in porches! Decorations range from live flowers, synthetic leaves and flowers, painted twigs, colorful Christmas balls, candles, miniature Christmas trees and even gift boxes! Take a look at what we prepared for you!
Coffee Table Christmas Centerpiece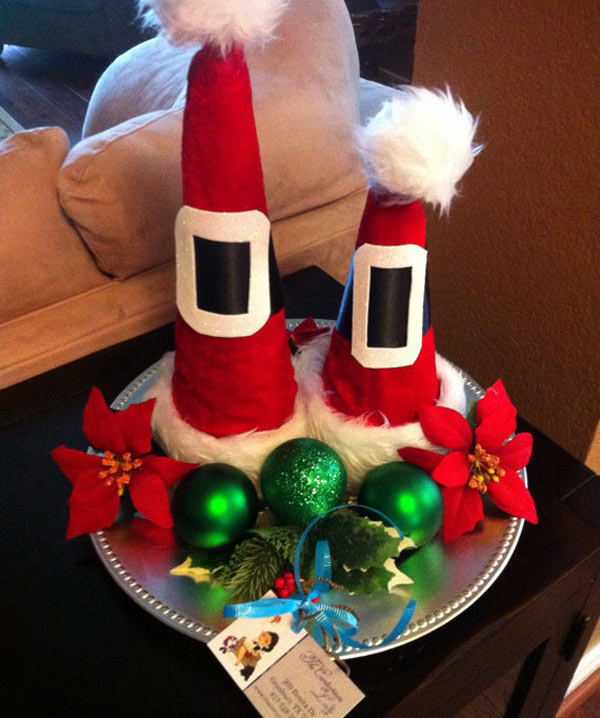 Aren't this slim version of Santa hats cuties? Adding small bits of poinsettia and green Christmas balls made the look complete.
Seaside Interiors Centerpiece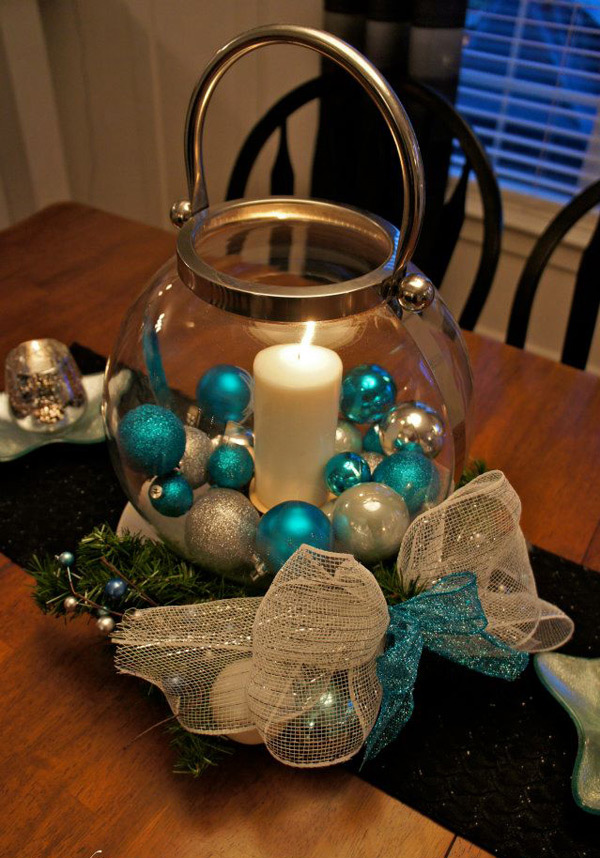 Doesn't this glass lantern like vase look stunning with the sliver and blue balls in it? This is one sample of a simple centerpiece that sure is stunning.
Candy Topiaries for Christmas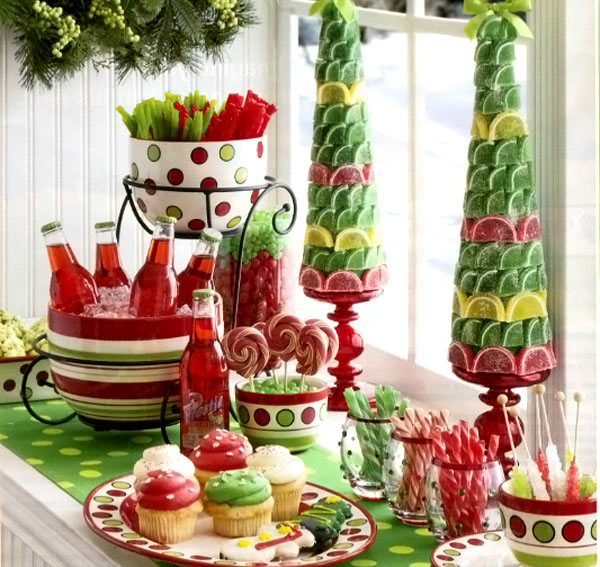 Adding a candy corner in our dining or living area is always a treat! Not only for kids but for the young at heart as well!
Christmas Felt Tree Beauty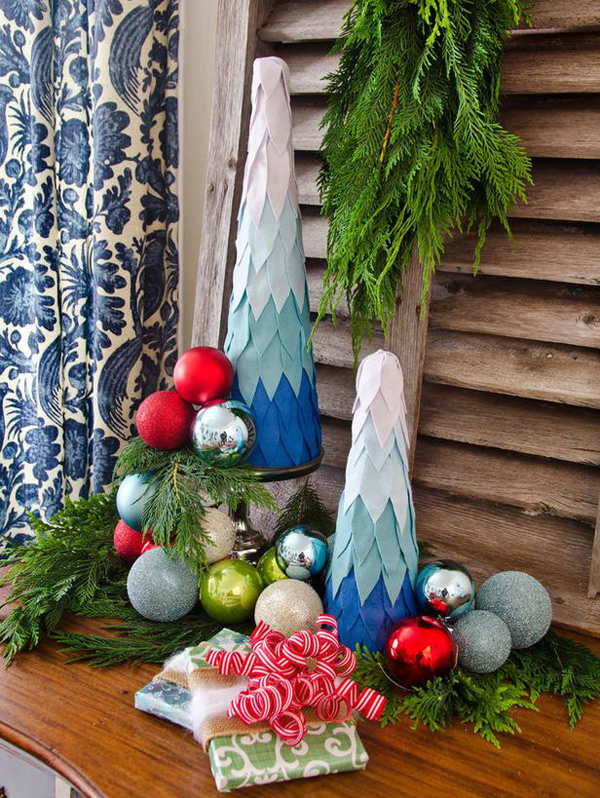 Christmas trees made out of felt paper looks pretty beside the colorful Christmas balls, fern and gifts! Handmade decorations are always an eye-catcher!
Modern Space in Boston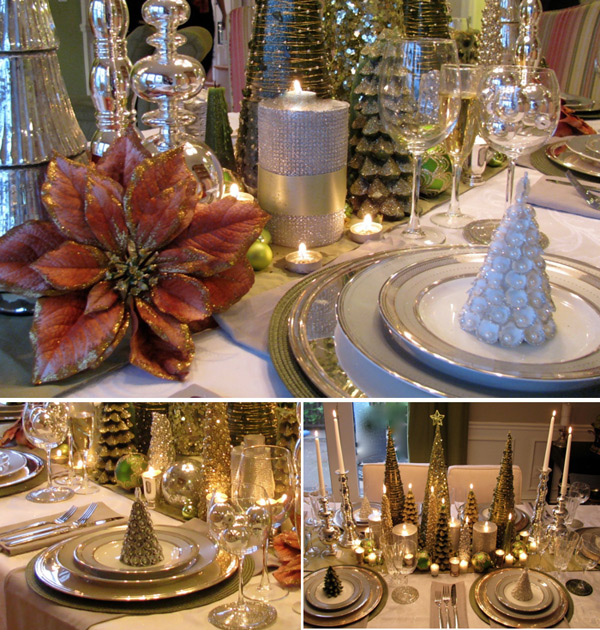 Don't you just love the pretty Christmas tree candles and all the other candles as the centerpiece? We sure love all the glitter which makes the item super classy and sophisticated.
Outdoor Entertaining Space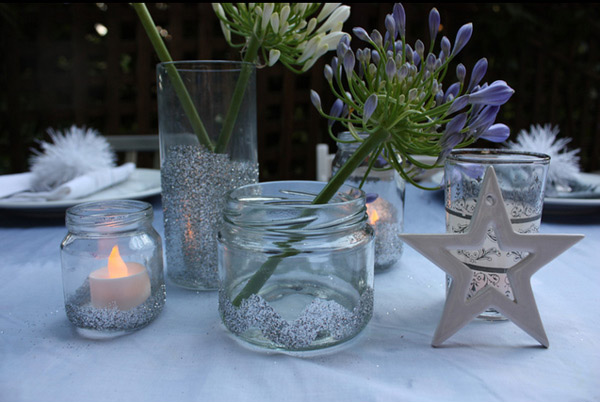 Putting together small items like bottles candles and vases in the same material sure are pretty.
The Old Painted Cottage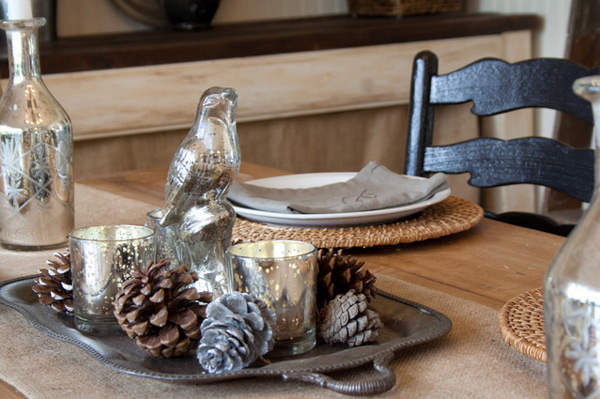 This is one cute centerpiece that was simply thrown out together with random things. It was made Christmas-ish with the painted pine cones.
Traditional Porch in Atlanta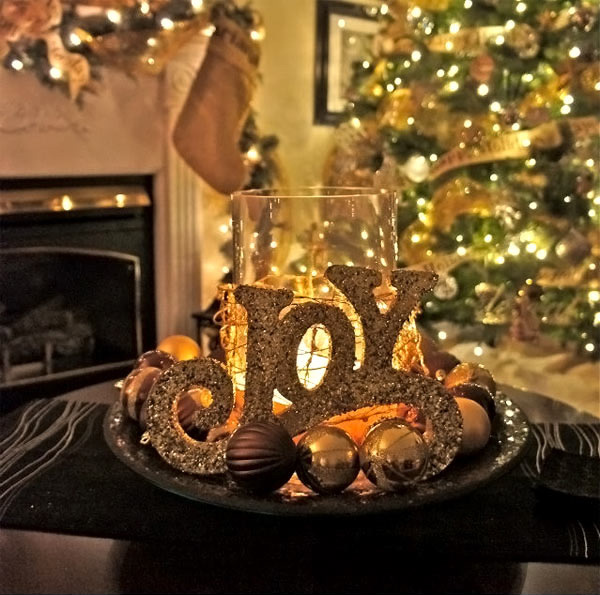 Tablescapes are not only for dining tables, but also for the living room. We love the traditional feel of this set up of this design.
Winter Tablescape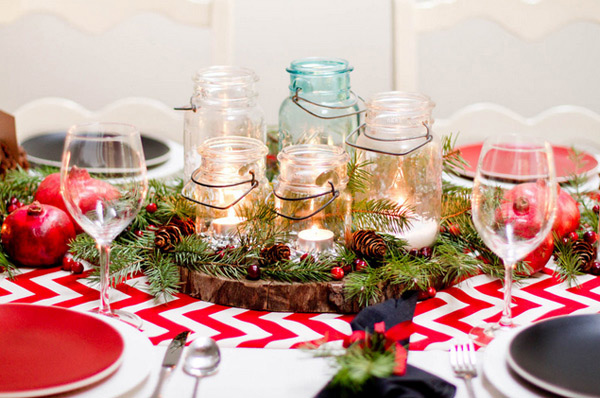 Recycling used jars with candles in it plus small leaves, pinecones and cherries that was placed on a piece of wood gives this set up a rustic feel.
Holiday Centerpiece Purple Passion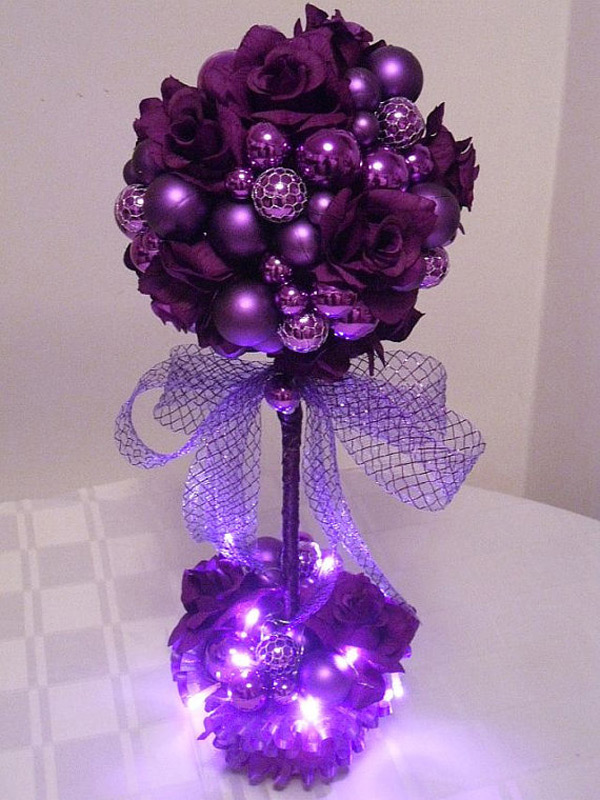 Who said Christmas is just all greens and reds, silver and blues? Well, for Majestic Silk Flowers, purple can also be Christmas-sy! This handmade topiary can sure be used for any occasion!
Christmas Centerpiece Nature Scene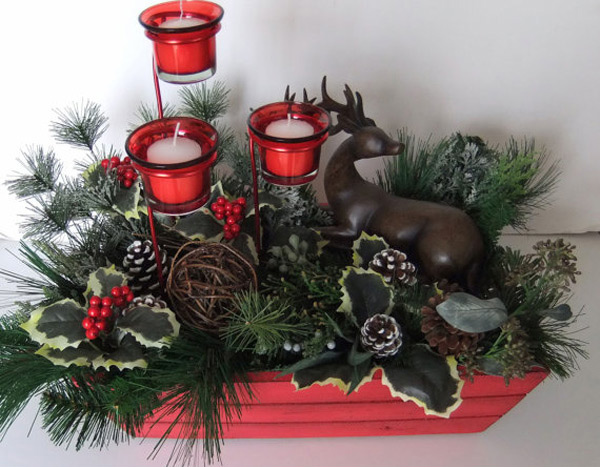 This nature scene is one piece that can serve as a centerpiece for either a dining table or a coffee table, even in a mantle too! It serves 2 ways – a decor and a candle holder.
Atherton Holiday House Living Room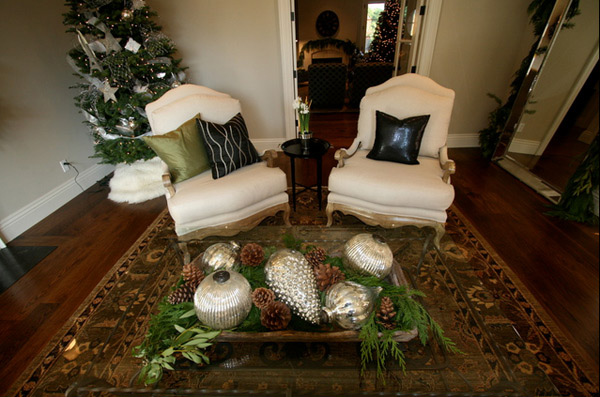 Huge Christmas ornaments can either serve well in a huge Christmas tree or in the center table of your living room! Loved the idea of pairing those silver ornaments with greens and browns!
Home for the Holidays 2012 – Edmonton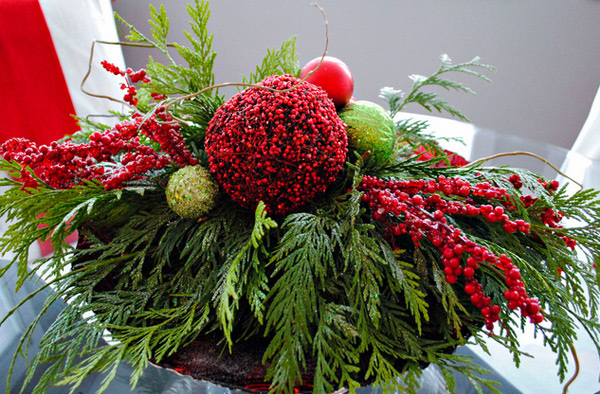 One pretty centerpiece of greens and reds! Putting together shiny balls and berry looking plants in ferns, it looked like food at first glance, but on the second one, we saw how pretty it actually was!
Winter Tablescape Traditional Dining Room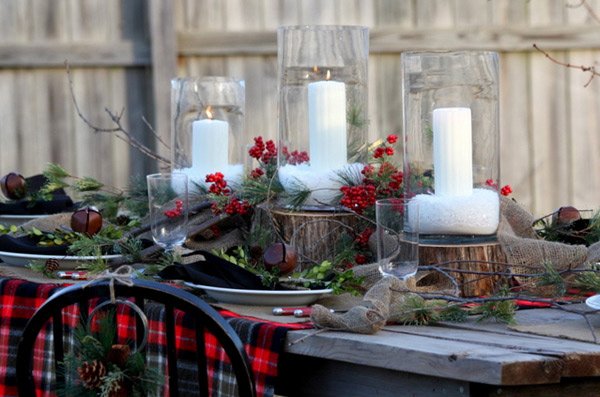 Another example for an outdoor tablescape. Candles atop wooden stands and berries all around makes this space a place for outdoor picnics on the holidays!
Set of 8 Whimsical Fabric Christmas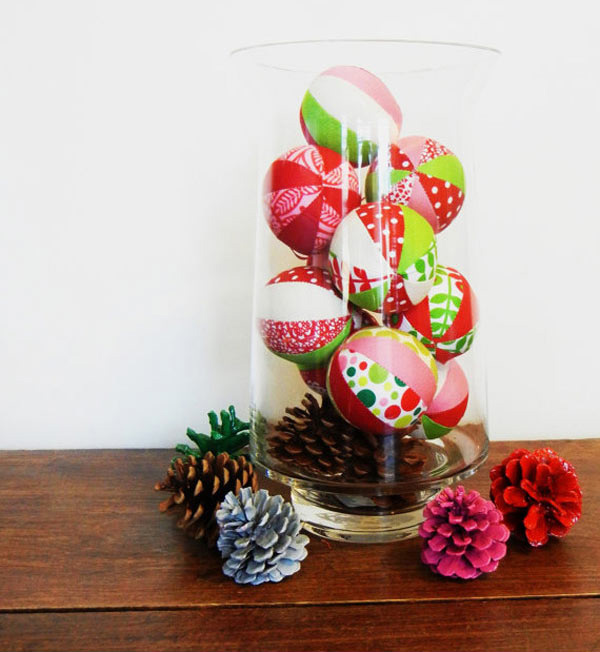 Decorations that serve as centerpiece does not necessarily have to be complicated and expensive. Using a big cylindrical clear vase, and adding cute things inside like balls or beads, it can really be as magical and beautiful as this!
Creating beautiful decorations can never be as hard as they actually seem, some people just buys the ones that are ready made on department stores, but for people who wants to create an original look for their homes prefer mixing and matching maybe old decors, or innovating with whatever trinkets they have at home. But of course, all this is nothing compared to the beautiful memories we are able to make during Christmas and everyday with the people we love and care for! With that, we wanna greet you, Happy Holidays! See also 20 Christmas Table Setting Design Ideas.