21 Stunning Minimalist Modern Living Room Designs for a Sleek Look
Minimalism will always be a trend in our time especially of houses specifically in our home living room interior. That's why providing ideas like this will always come in handy.
Modern design is a trend these days especially for those people whose main focus is the function of their home. Aside from that, the clean look of modern interiors make homeowners love this type of concept which is clutter free and stress free.
What more if you use minimal furniture and accessories? Your living room will surely look light and calming. It would even be a lot easier to clean it.
You would certainly like to go home if you have a minimalist modern living room. You will even invite your family and friends to show them how relaxing your living room looks like.
For today's post, we will show you stunning minimalist modern living room designs that will inspire you to have one, too.
Minimalism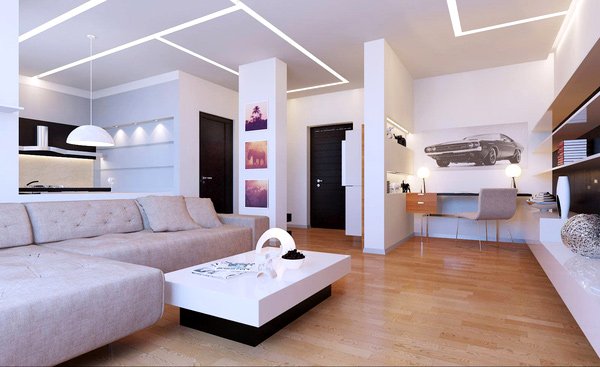 White will certainly give your living room a very light appearance. This even look much better with the good choice of furniture.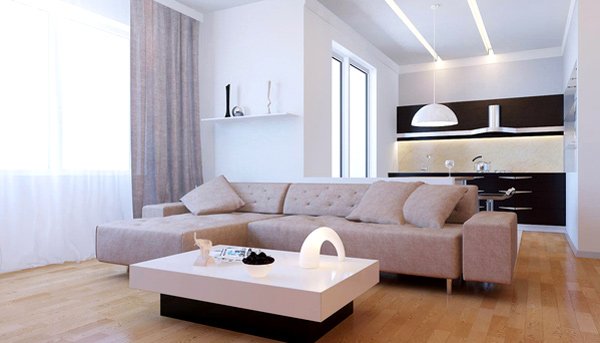 A unique and simple centrepiece is surely an added splendour in this minimalist living room.
House Studio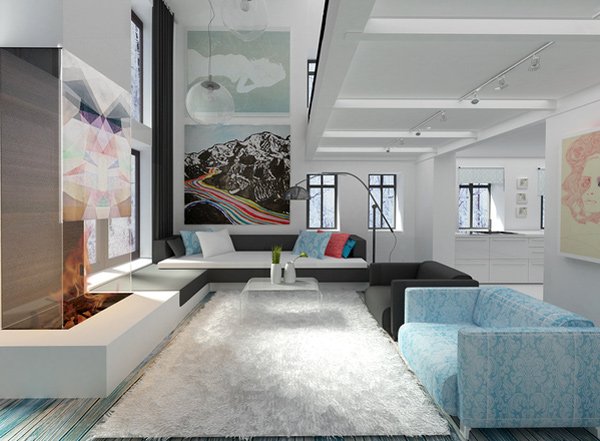 With the dramatic effect of using stained-glass, the living room is given more life especially with the use of natural textile.
Modern Living Room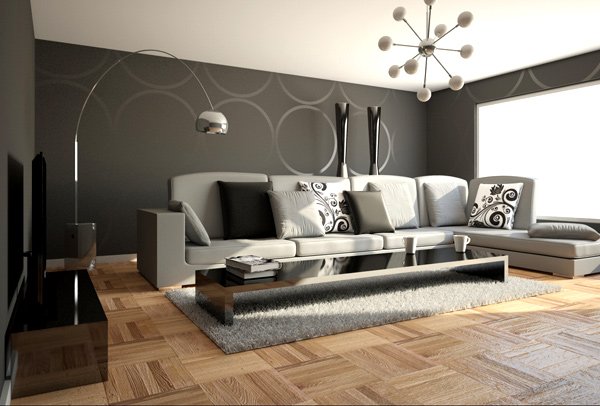 Black, grey and white combined together works well in this minimalistic modern living room.
Jrs Flat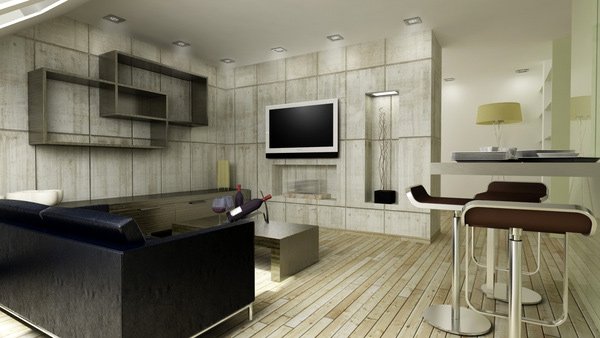 The cost-effective and stylish design reflects success and youth which is the personality of the owner.
Modern Architecture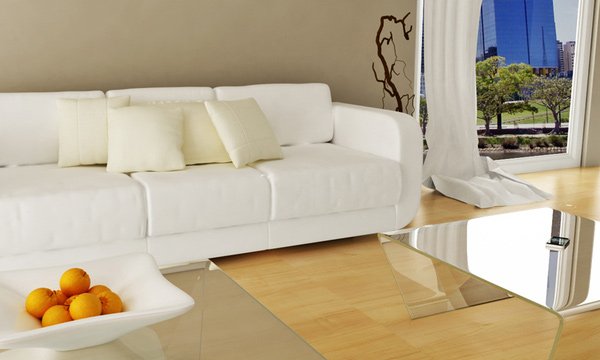 A sleek and clean looking modern living room with a great usage of colors that adds to its neat look.
Modern Living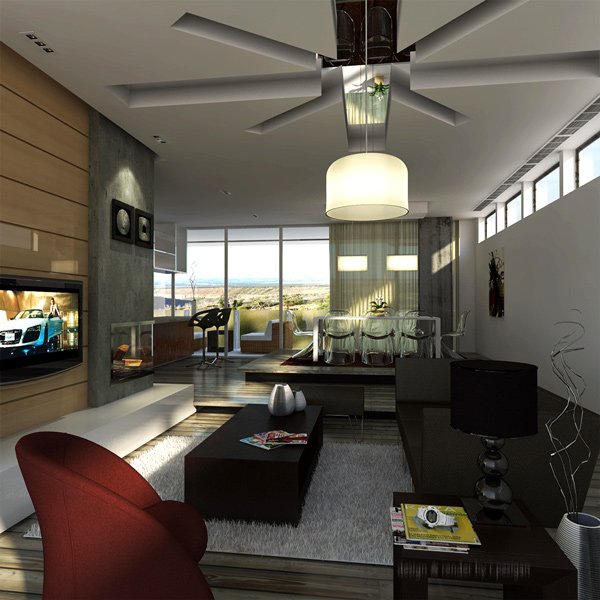 Minimal furniture still looks good especially with the use of black and red furniture that is being emphasized due to the light wall colors.
Simple Living Area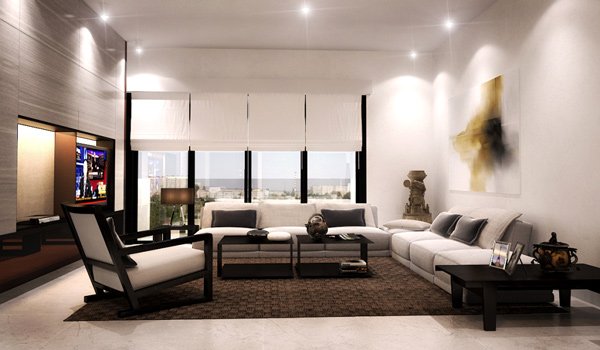 A well lighted living room with the added beauty of accessories that fits the design.
Interior Concept Living Room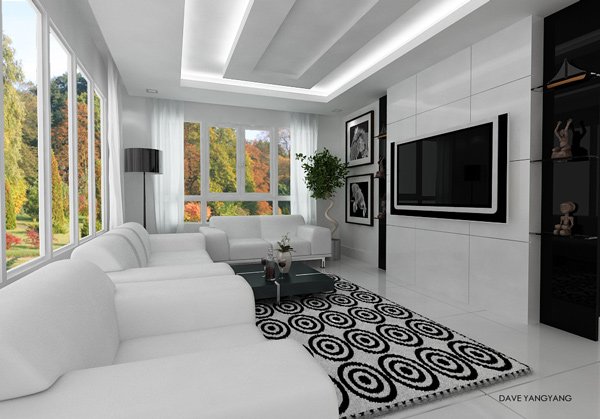 A black and white themed modern living room that appears elegant with the use of a circle patterned carpet.
Rassicurante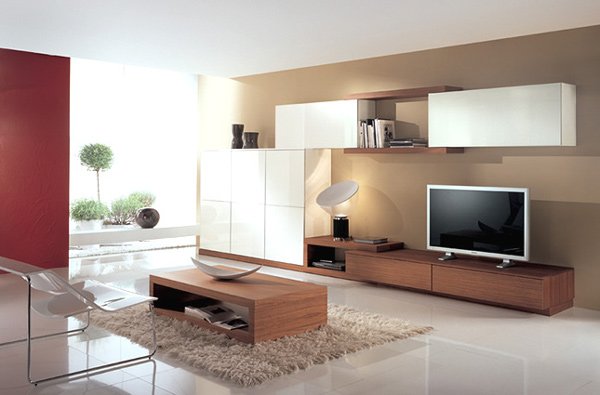 White ceramic tiles allows the beautiful furniture to shine out and be the star of this living room.
Minimal Living Room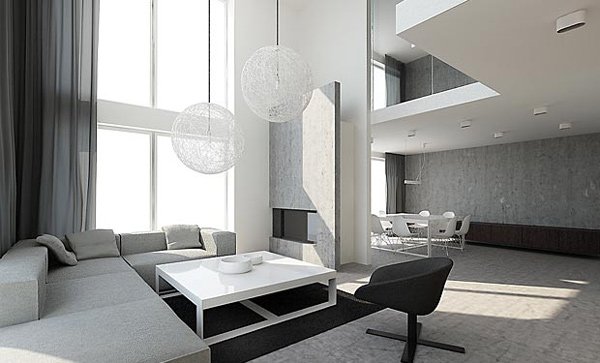 The huge window gives natural light to this minimalist modern living room making it look more inviting.
Tamizo Interior
Neutral colors with a green accent gives this living room a unique look.
Interior Living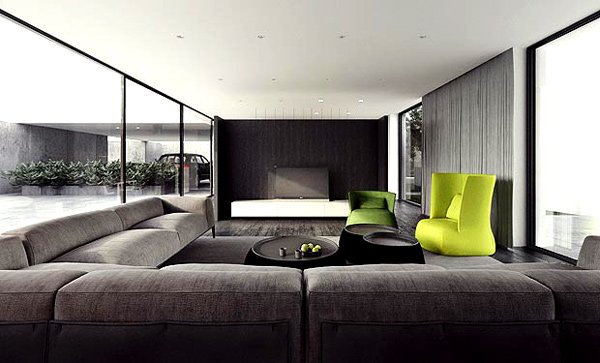 You don't really need to use a single color for your furniture. Choosing a different color can act as an accent,too.
Lilac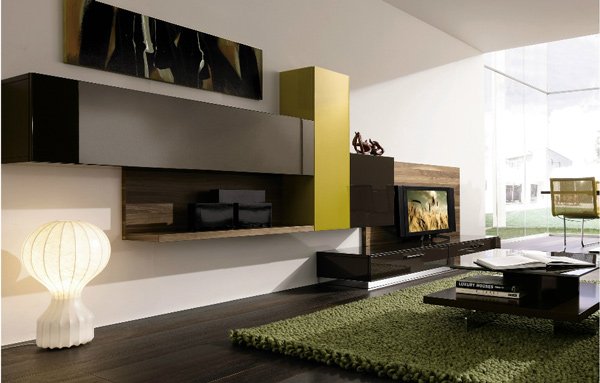 Striking color accents gives this living room a distinct environment.
Simia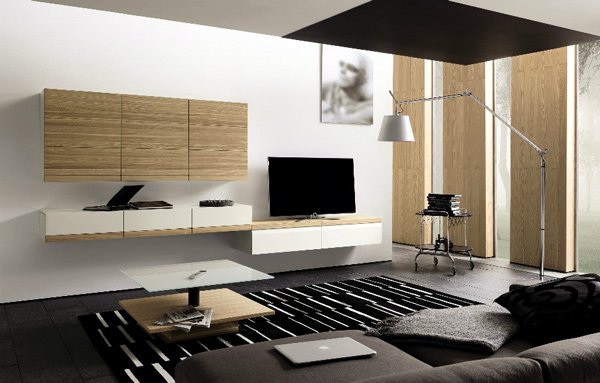 Huelsta combine natural wood elements and matt lacquer to get this truly stunning modern living room.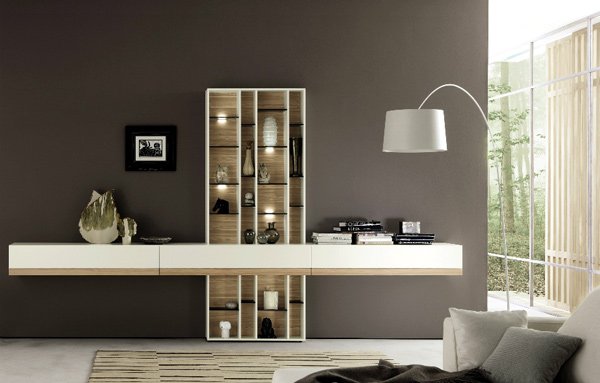 A unique mixture of materials and the use of fine lines makes the living room cosy and welcoming.
Anta Orizzonte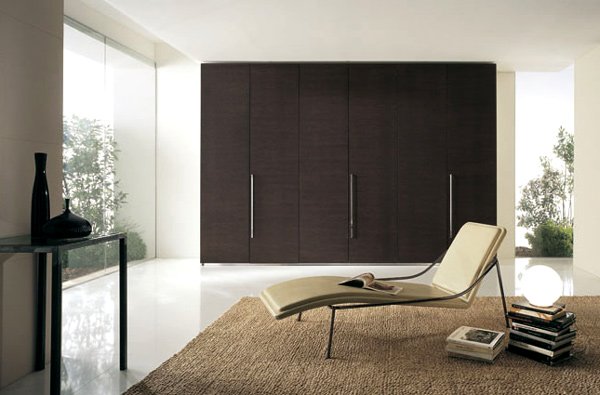 You can certainly sit back and relax in this room where time is yours alone.
Perfectly Aligned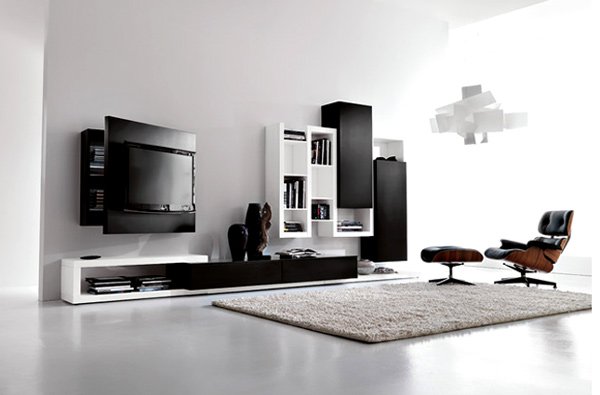 Shoo away your stress from work and be entertained in this neutral colored living room.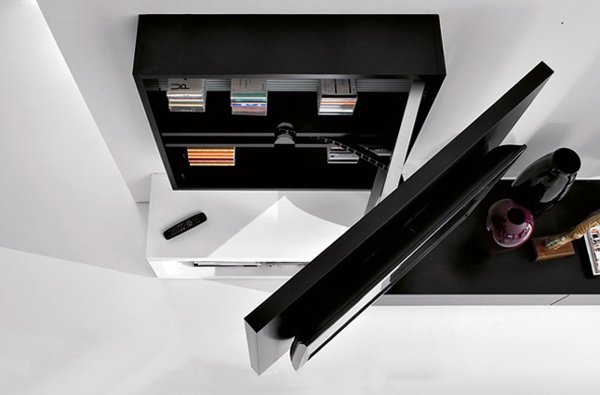 This is the secret why this living room is clutter free. A unique CD storage design that will certainly keep these stuff hidden.
Link 04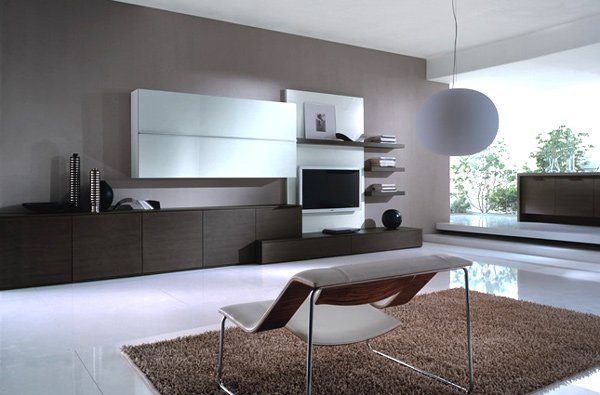 A distinct living area where all your stuff are well-kept in an environment that is also stress free.
Link 06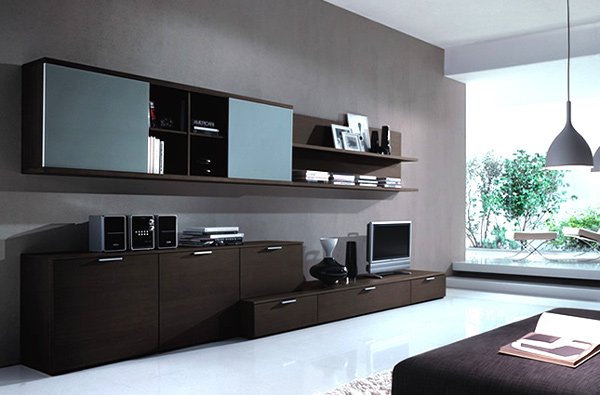 Chocolate brown, grey and white jive well with the added appeal from simple modern accessories.
Link 07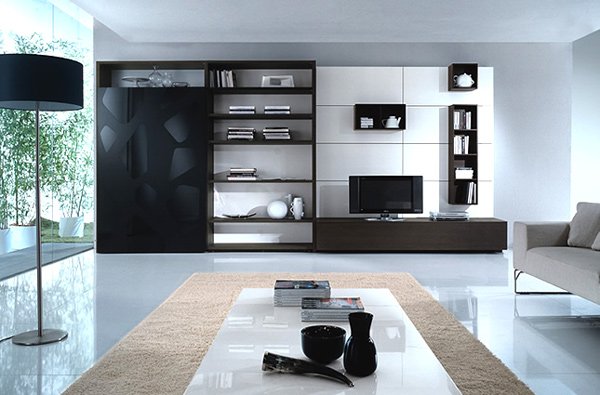 An accent wall next to that well-arranged shelf is a sure glamour for this minimalist living room.
Side System Contemporaneo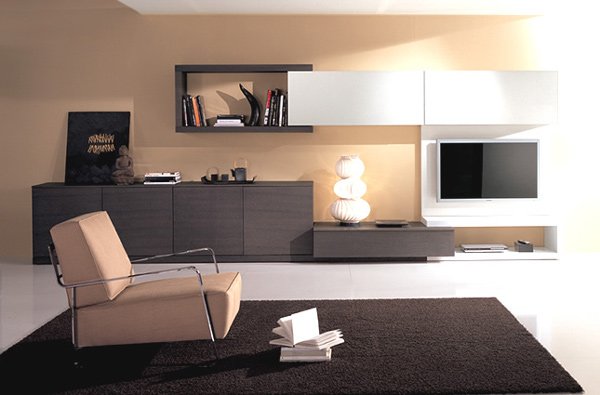 With the right accessories and great storage system, this living room is surely right for those who hates clutter.
After seeing all these minimalist modern living rooms, we would not wonder if you'll end up rearranging your own living area or purchasing those beautiful sleek lined furniture. No doubt, the arrangement of furniture and your choice of such greatly affects to the beauty of the entire room. To complete your minimalist modern interior design, look forward for other ideas in designing other areas of your home here at Home Design Lover.