15 Beautiful Living Room Interior Design Ideas
Here in Home Design Lover, we collect and collate the different designs and styles of the different spaces we have in our very homes. Today, we will be showing you a list of 15 Beautiful Interior Living Room Design Ideas which is a combination of all the different styles we can find. Of course, this list is not complete with all the many design style and we hope you'd like them.
The list we have today for the 15 Beautiful Living Room Interior Design Ideas include an Asian living room, contemporary, modern and so much more. The rooms are pretty much examples of how one space can look like. There will be more lists like this for the different spaces in the house, watch out for it! Let us go ahead and take a look at the 15 Beautiful Interior Design Ideas below. Have fun!
French Colonial Living Room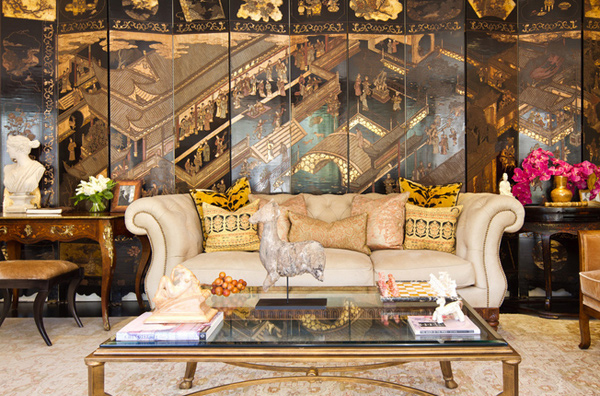 Formal living room in French Colonial Residence in Pasadena, CA. This room features a rare, antique, 12-panel coromandel screen from the 1920's. All upholstered furniture is custom by Charmean Neithart Interiors.
Coastal Loft Living Room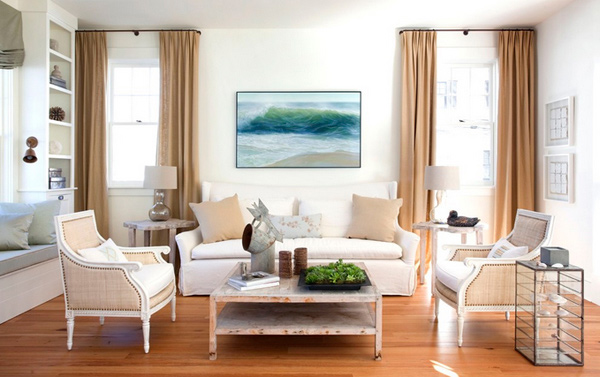 When most of your furnishings are new, funk helps to introduce a sense of age into the room. The patina of rust on this coffee table keeps the space from looking too perfect and pristine. The side table on the right is an old display case for pies.
Mexican-Inspired Living Room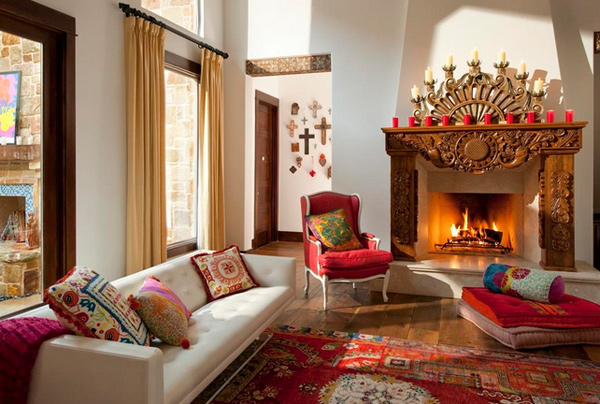 Catholic iconography is a big part of Mexican art and design. This wall of old tin crosses and Milagros, along with the altar-like mantel covered in candles, is reminiscent of an old Spanish mission. Without being somber.
Industrial Living Room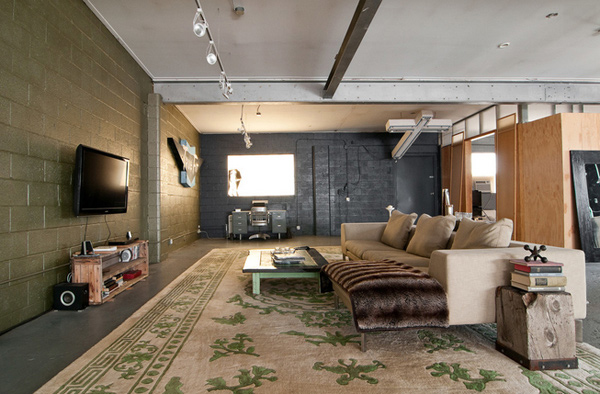 Steed and Tovey salvaged, refinished and repurposed most of the design elements and furnishings from military surplus stores and scrap yards.
Eclectic Living Room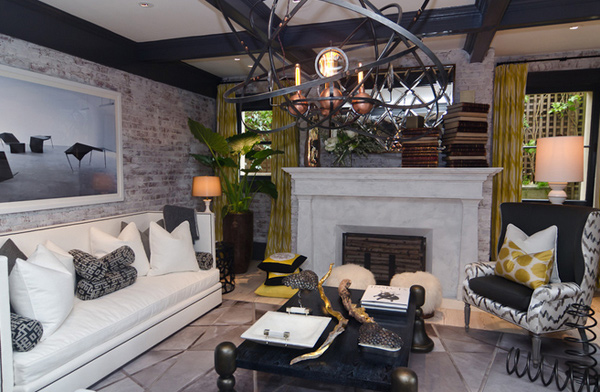 Every grand home needs an indoor-outdoor space, and Green Couch Interior Design made the most of this home's expansive square footage with a combined kitchen and living space that opens up to the outdoor patio. The mild San Francisco weather begs for spaces like this, and neutral furnishings keep the focus on the outdoor view.
Minimalist Living Room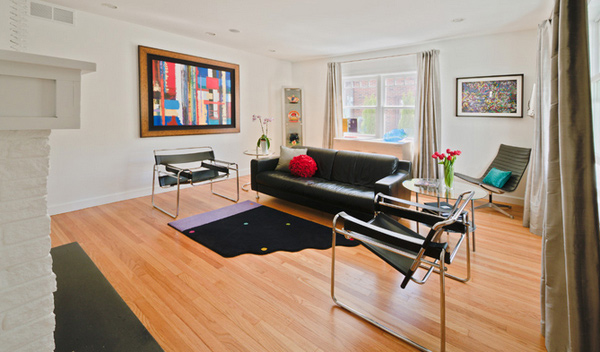 "We were able to use a lot of the furniture that my parents already owned, and blend it with the new pieces," says daughter and project interior designer Lauren King. "It still has the feel of their home, the one I grew up in, but very much new and improved. We weren't looking to get rid of everything and start from scratch in a completely different style.
Contemporary Living Room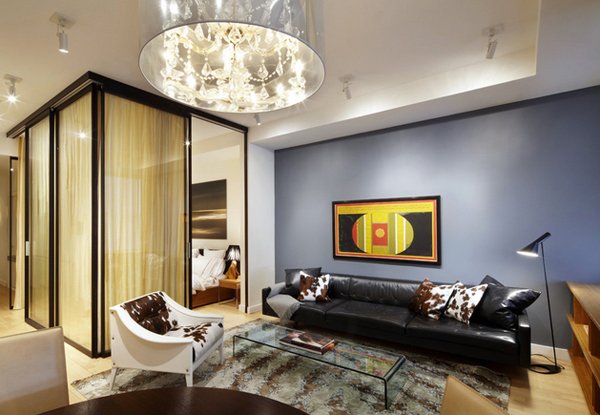 Glam in the living room. Interior designer Jamie Drake had his eye focused on emerald when he put together this dazzling room for the Kips Bay show house in New York.
Modern Living Room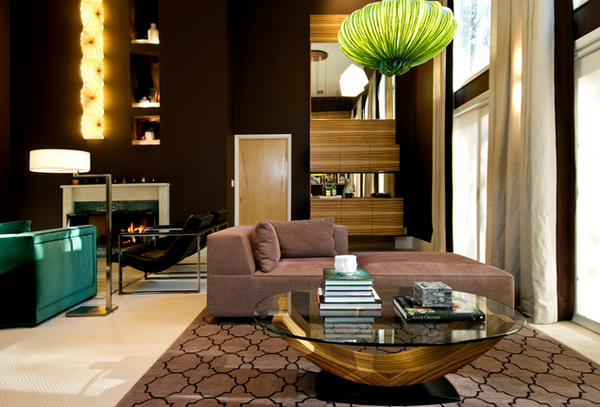 Stack books on your coffee table. Create two stacks of different heights, and add precious mementos on top of each stack.
Beach Style Living Room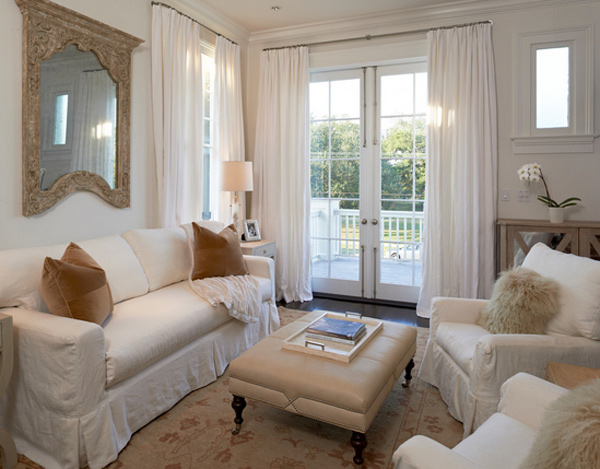 Look at how homey this living room is! All white furniture and drapes – this is like heaven!
Transitional Living Room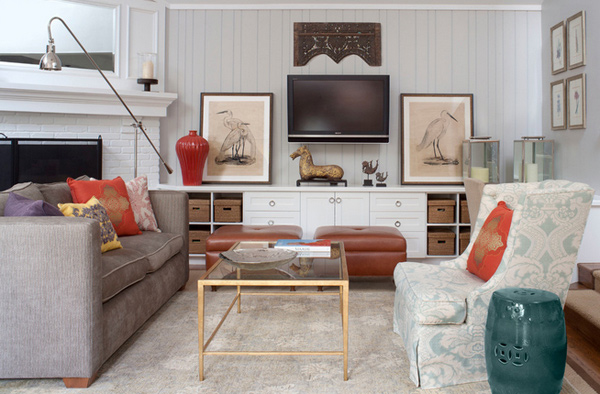 This living room has too much stuff going on here for staging but nice mix of color and texture.
Asian Living Room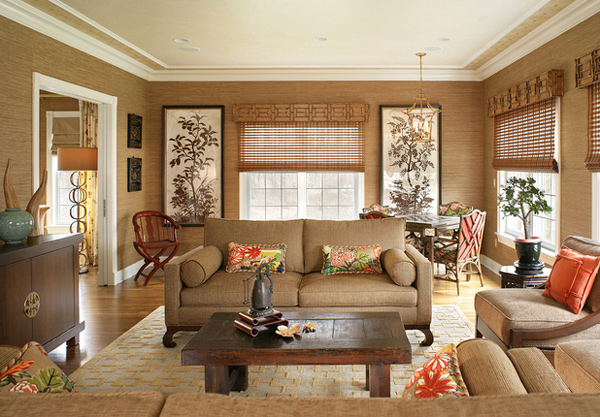 This mocha-colored room features great tone-on-tone detail. Touches of chinoiserie and cinnamon-toned prints provide a great focal point behind the seating arrangement. Pull out your blender and combine milk, vanilla, sugar, instant coffee and ice. Sit and enjoy!
Mediterranean Living Room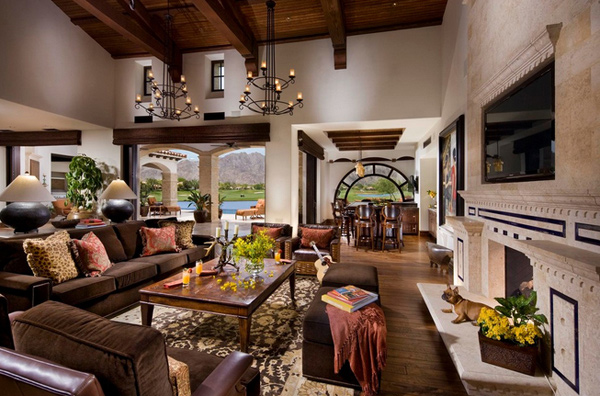 The black trimmings of this living room are really sleek. It's a bit masculine but the browns and the neutrals make this space really special.
Rustic Living Room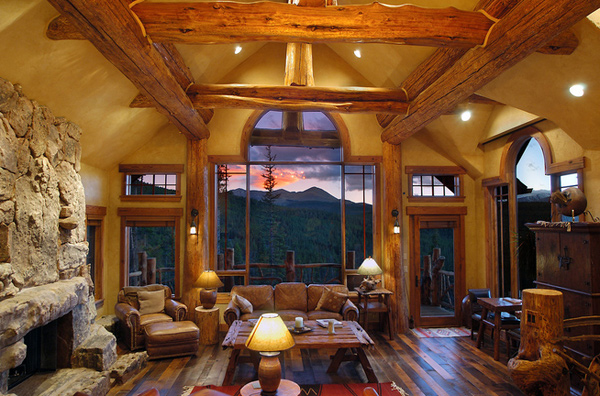 This is the great room of the log hybrid house. The seasoned pine character logs are both structural and add to this mountain home's rustic appeal.
Traditional Living Room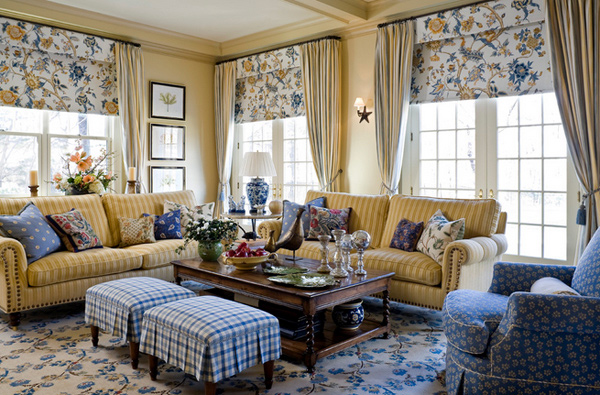 This traditional living room has lots of pattern, but the patterns are all repeated – three floral blinds, two plaid stools – and brought together by the same denim blue and yellow-beige. You can also pick out the small-, medium- and large-scale patterns pretty easily.
Tropical Living Room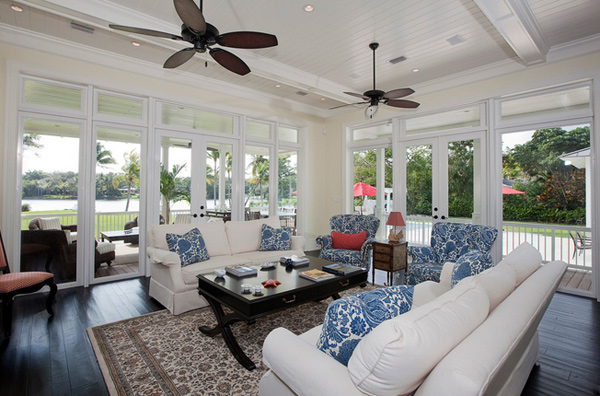 The feel of the upholstery with the splash of the accent color, would want a more transitional rug; but we really like the combination of the whites and the blues.
We have a list of the 15 Modern White and Gray Living Room Ideas which was completed a while back, and we have this list today of 15 Beautiful Interior Design Ideas that we hope inspired you to recreate and redesign the beautiful homes that you have. With that, we hope that your weekend would be great! Have fun!