20 Contemporary Floating Shelves in the Kitchen
Open or floating shelving provides home-owners the opportunity to have additional storage in their home spaces; whether in their bedrooms, living rooms, dining room, bathroom and especially in the kitchen. We all know that aside from our bedroom or closet, we want and need more storage in the kitchen.
If you are wondering why we thought this list is awesome, try checking the following pictures below and see that however simple the floating shelves are, their use and function is definitely warranted in our kitchens! Check the features below and maybe grab some new ideas and fresh inspirations along the way. So, here we go!
1. Austin Residence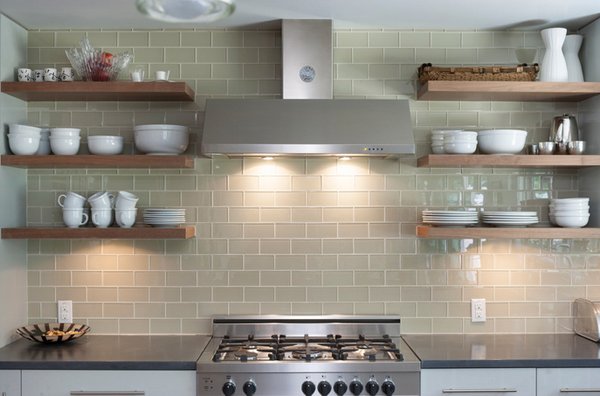 Think about what you use daily. As for the lower shelves, be practical about what you choose to place there. This is a good spot for favorite coffee mugs, everyday plates and bowls, and basic water glasses and wineglasses.
2. Boston Contemporary Kitchen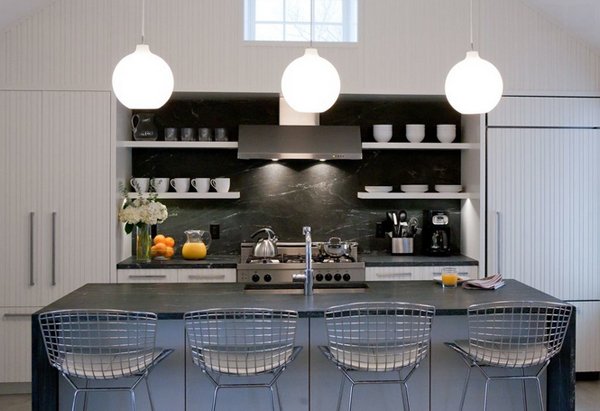 Go for open shelves. If you really need wall-mounted storage, try installing a few open shelves. They're a more efficient way to store items, because you (and your guests) can see where everything is, and you don't have to open and close cabinet doors to access things.
3. Georgetown Showroom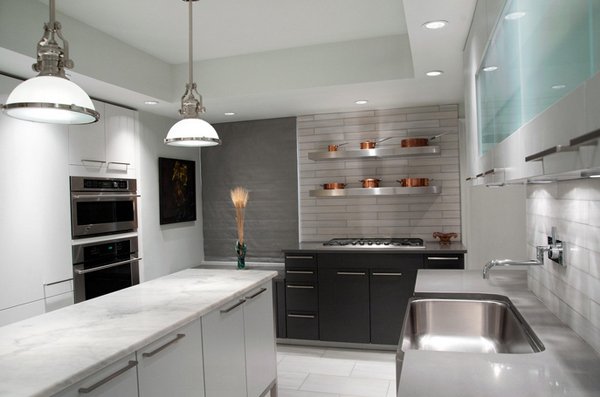 Save on materials by seeking out remnants. It's always worth checking to see if the type of materials you are looking for are available as remnants – you won't know unless you ask.
4. Guest House Design, San Francisco Bay Area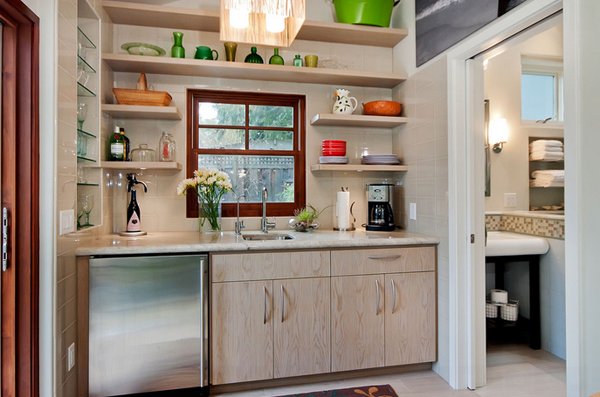 The home has an efficient wet bar, outfitted for grabbing poolside drinks and snacks.
5. Home of Douwe and Marielle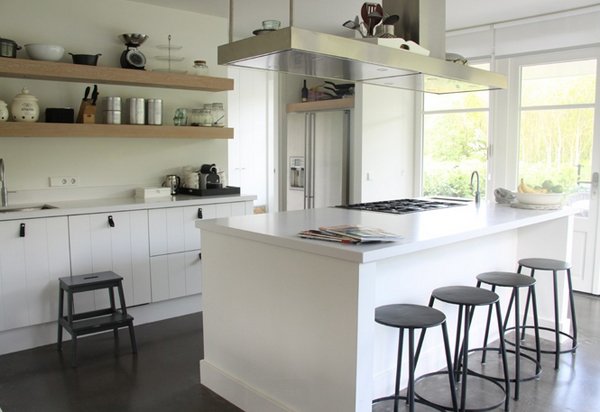 If you don't have a range fan in the kitchen, consider the investment. Cooking can generate ample heat throughout the house, and a range fan can help significantly with venting that hot air back outdoors.
6. Indian Valley Road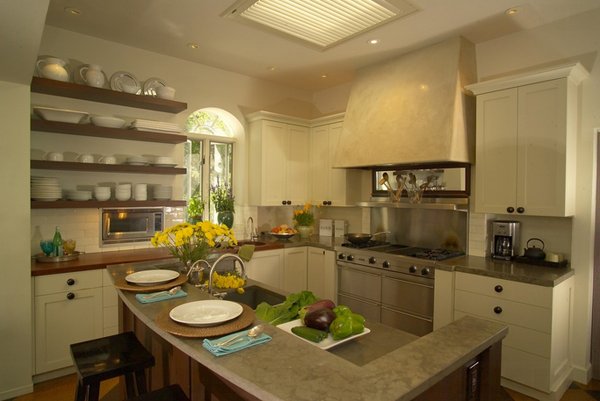 Add multiple floating shelves in the kitchen to display your collection of dishware, pottery or other cookware. Try floating shelves in a finish that contrasts with your cabinets.
7. Lake Cottage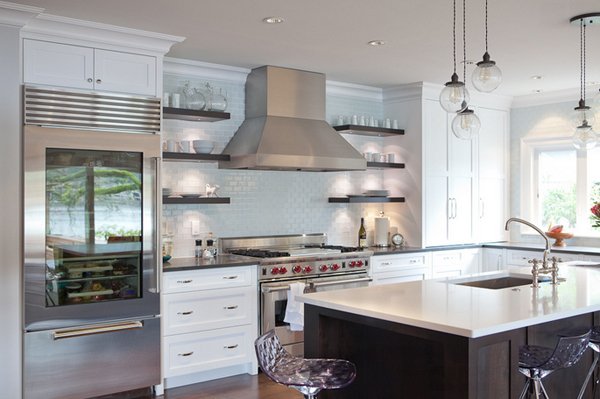 Maybe use less expensive white subway tile in pantry. Like a cafe in Montreal at a hotel.
8. Native Woods in LA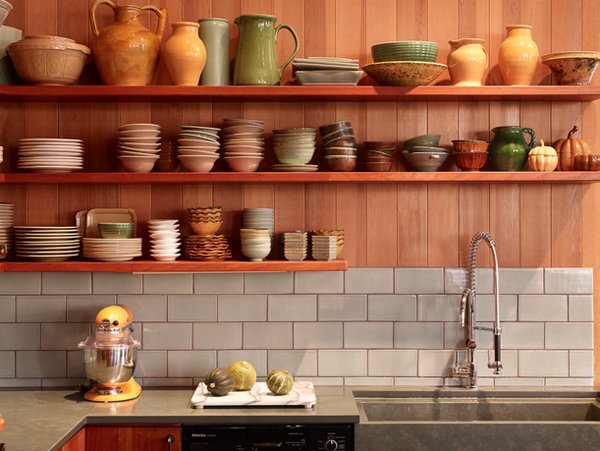 If you're going with a quartz countertop, you have the option of installing a matching quartz sink. One thing to keep in mind with quartz however, is that the darker, more solid-colored quartzes tend to show scratches and dings much more than lighter colors that have more aggregate or patterning to them.
9. New York Kitchen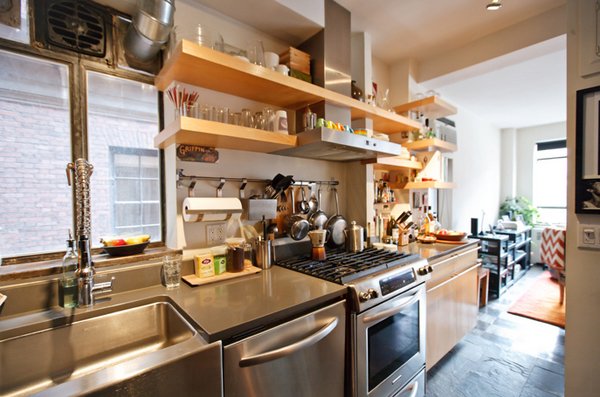 As a designer, Cummings understands the art of display. Instead of boxy cabinets in the kitchen, she opted for open shelving.
10. NYC Home Kitchen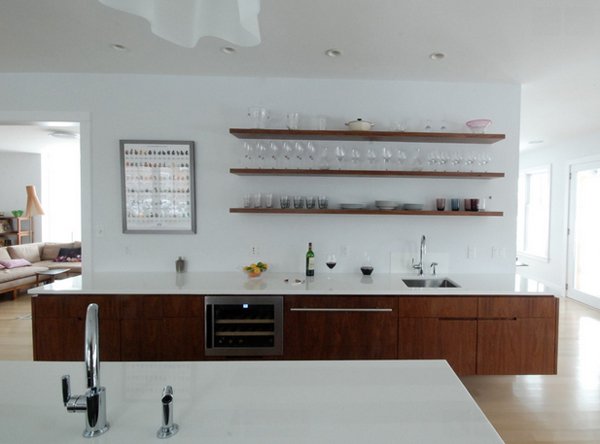 Focus on one or two materials. Wood, ceramics, glass, metal – too many materials in one arrangement can look cluttered and unfocused. Stick with mainly one or two for a sleek, chic look.
11. Philadelphia Contemporary Kitchen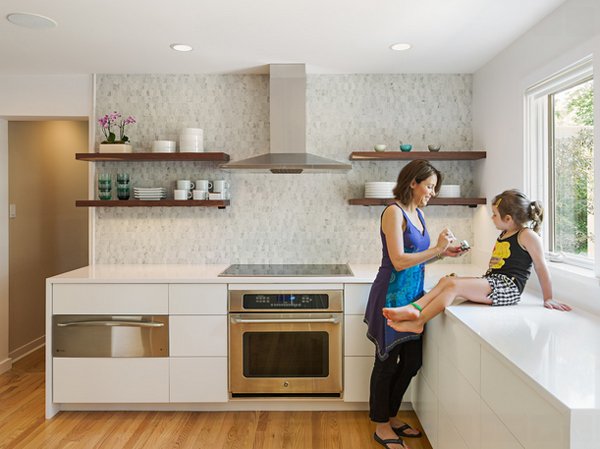 Now there are only a few floating shelves and some under cabinets, freeing up the room. "A big, bright, wide-open kitchen is what they always wanted," Osborne says.
12. Private Residence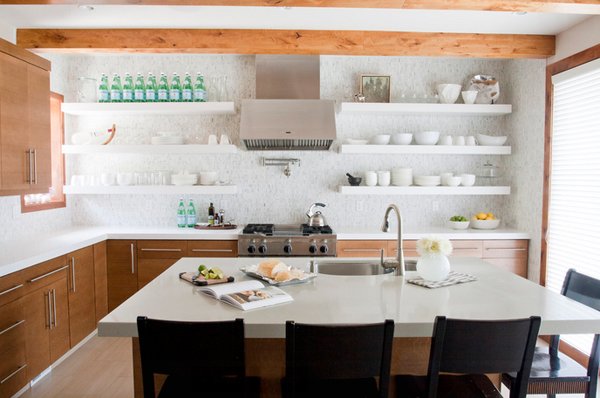 It is simply impossible to see what you are doing if you try to style your shelves when stuff is already on them. Yes, it's a project to completely empty shelves, but it will be worth it.
13. San Diego Rustic Modern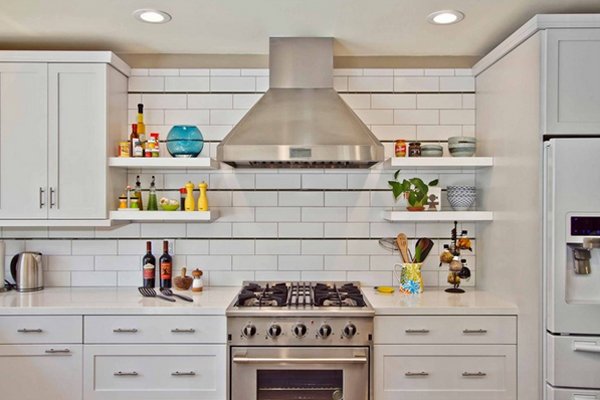 The high quality and style of this DCS range came without a massive price tag, making it a great choice. Olive accents and floating shelves continue the clean lines of the white ceramic backsplash.
14. San Francisco Contemporary Kitchen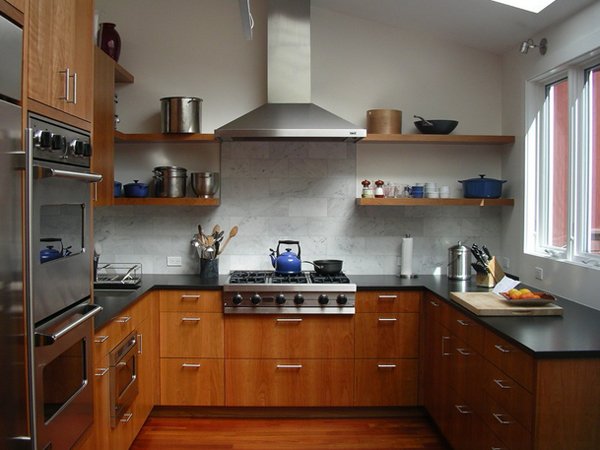 Wooden modular kitchen that is pretty small but sure is functional.
15. San Francisco Modern Kitchen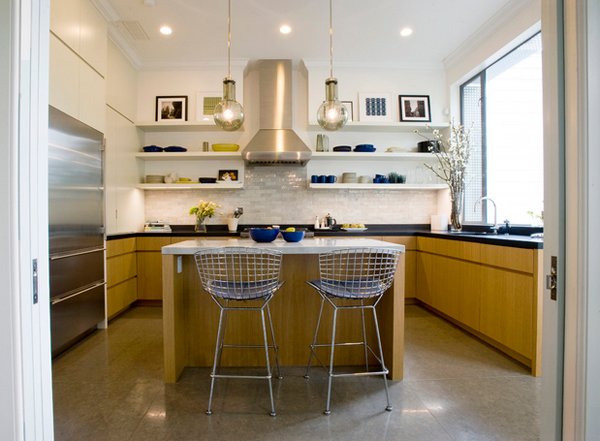 I love the pendant lights, the bar chairs and the open shelving!
16. Seattle Lakeview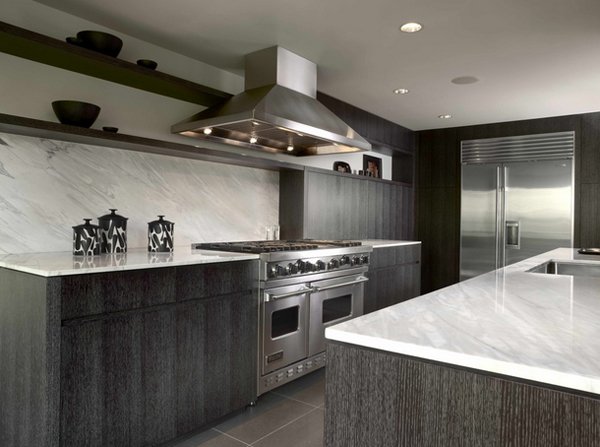 With open shelving and marble backsplash, this is another beautiful example of how to treat the range hood in a contemporary kitchen.
17. Silvertip Ridge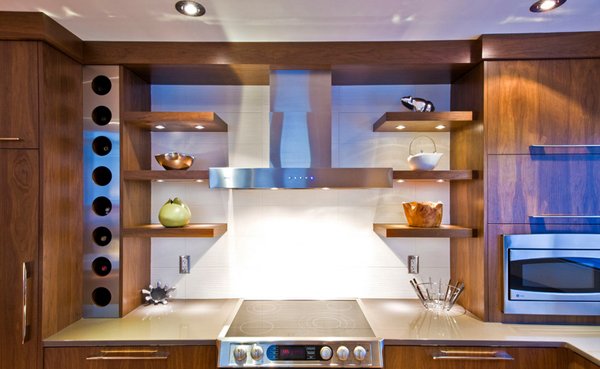 The kitchen's center work island was rotated to create better work and entertaining space and to change the outlook from neighbor's property to the beautiful mountain views.
18. Summerlin Kitchen Remodel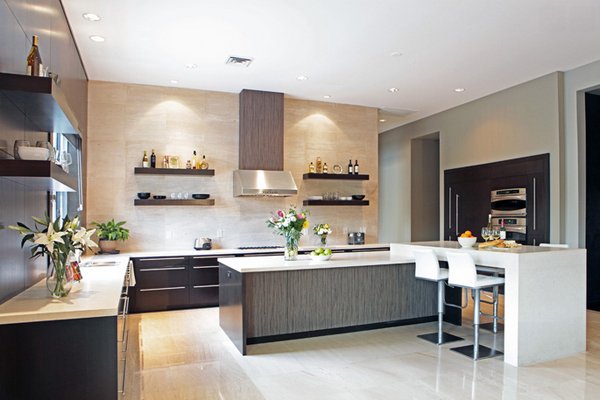 This sleek kitchen was completely missing when we took on this project as the home was a foreclosure sale and the previous owner had stripped it of everything.
19. Townhouse on the Water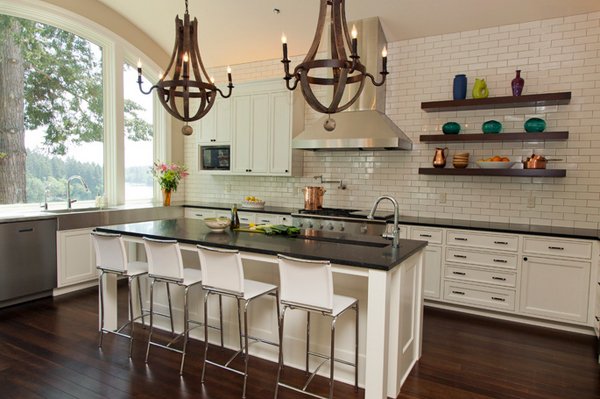 IDr Jenni Leasia hung rustic-style Restoration Hardware chandeliers over the kitchen island and added contemporary bar stools from Duo Modern. The island features a convenient prep sink, and the range holds one of Jill's favorite features – the mounted pot-filler.
20. Windsor Condo Kitchen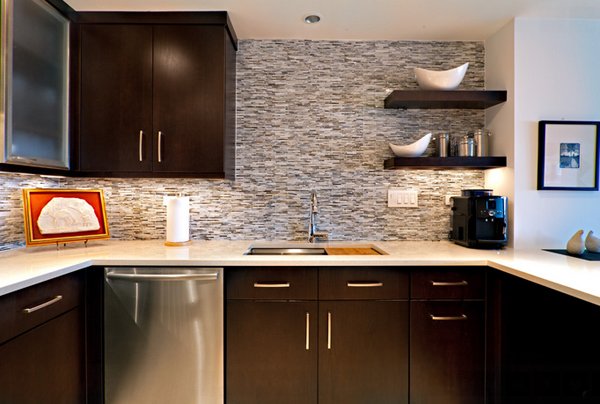 Gorgeous backsplash with dark-colored cabinets and shelves; love this Nashville kitchen.
There is something about this kind of shelves that made it a favorite for most designers. The 20 Contemporary Floating Shelves in the Kitchen that we have created for you today is sure one fun list for you to enjoy and learn from – and did we mention that you can easily buy some of these shelves for you to personally add to your spaces? Well now you know!