20 Homey Kitchens with Reclaimed Ceiling
If you think an old wood cannot be used as a ceiling, you are wrong!
We have already seen a couple of lists here in Home Design Lover that revolve around reclaimed ceilings. Today may seem like your regular day wherein you'll be seeing a list about reclaimed ceilings – but today will be different, not because you'll be seeing different photos, but because these photos are those that focus on one specific thing – ceilings. The lists that we have shown before are about anything reclaimed – today is more specific; and most people prefer that.
Below is a list of 20 Homey Kitchens with Reclaimed Ceiling. The colors of these reclaimed woods are pretty; they are either shabby brown or dry grey. If these colors that I have just mentioned exist – I think those are the right colors of the ceilings that you will be seeing below. Reclaimed wood sure has a far more exposure to wear and tear and that is one of the reasons why they are beautiful building materials, especially to traditional or rustic homes. Do check out the list below and tell us what you think.
1. Northern Wisconsin Bunk House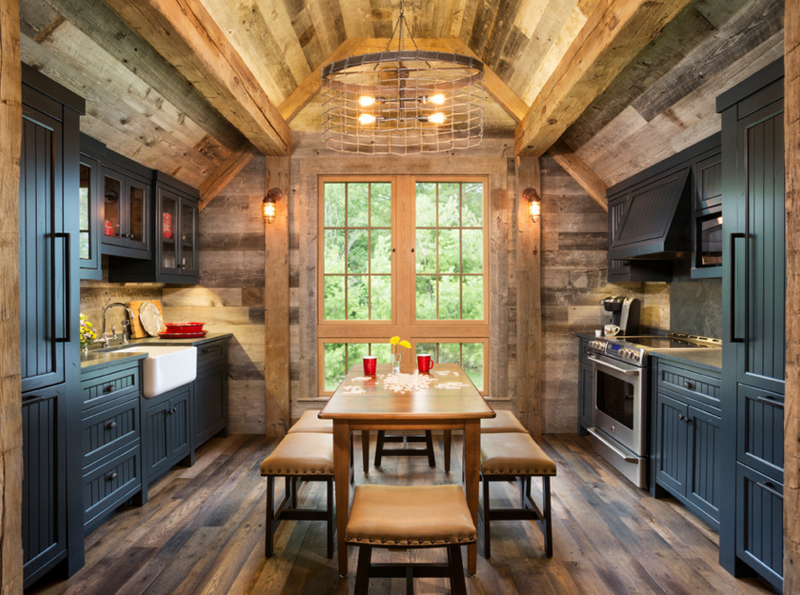 I totally love the color of the cabinets in this kitchen! It looks regal and really expensive. If some people are into making sure that their kitchens are in white to make it really look clean and heavenly, this kitchen somehow do it differently. From the pendant lamp in the middle to the position of the doors – this kitchen sure is special.
2. Rough Luxe Farm House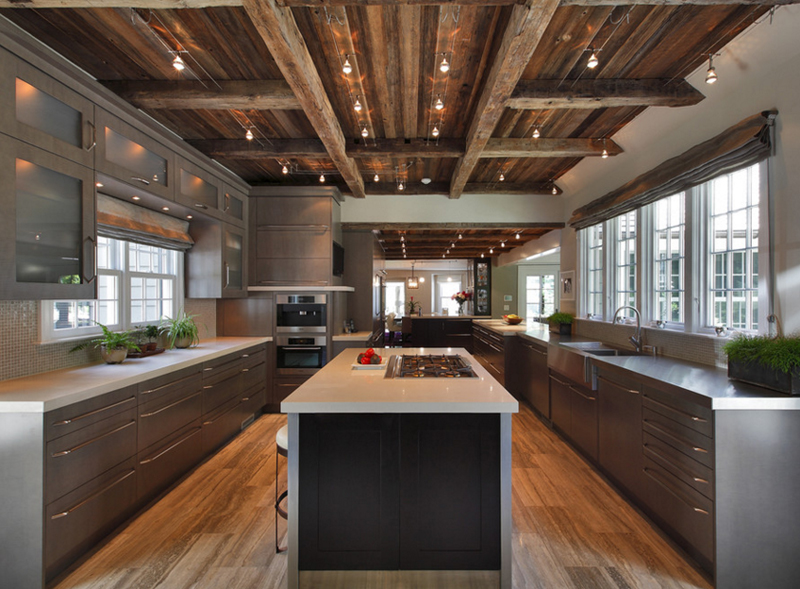 The clean lines and stunning color of the cabinetry in this kitchen sure looks expensive and beautiful. The shiny flooring is quite a treat – but the mere fact that the designer used reclaimed wood for the ceiling is super! The color of the wood is fascinating and really beautiful.
3. Rustic Kitchen Renovation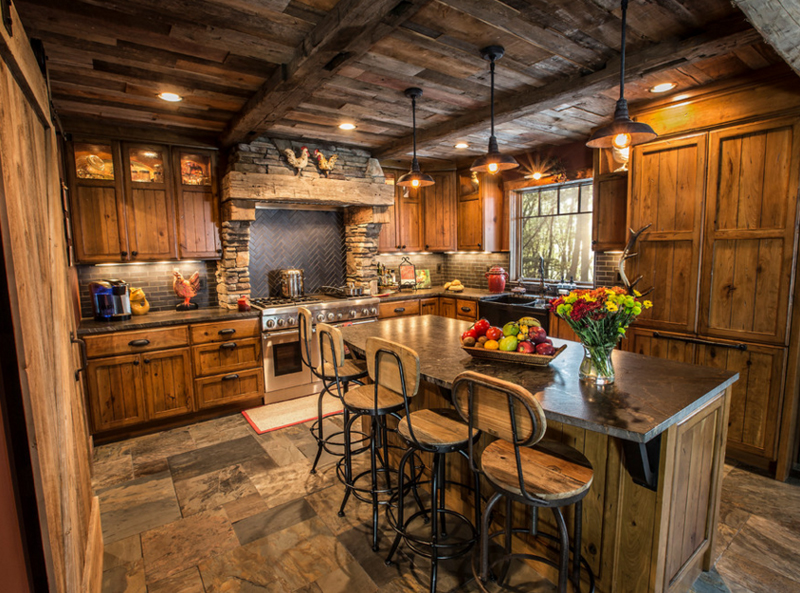 I guess this isn't what I want my kitchen to look like but I love the colors in here. The materials like the flooring, the pendant lights and the stone around the stove is quite something. The chairs in the kitchen bar is nice too.
4. Sheer Rock Residence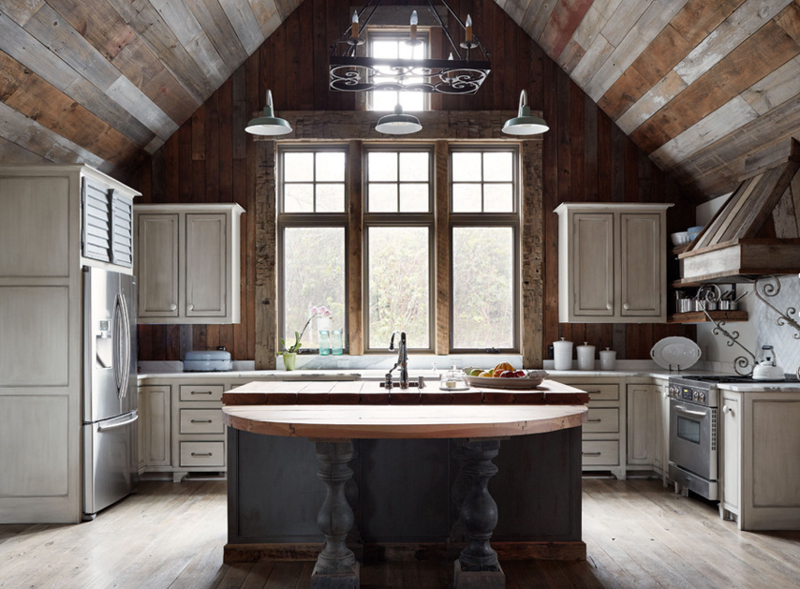 Two things that I guess would be noticed in this kitchen is the shabby look of the cabinets and the very evident angle of the ceiling; but what I like about this one is the multi-colored reclaimed wood used on the ceiling. They're neat and nice to look at.
5. Tahoe Chalet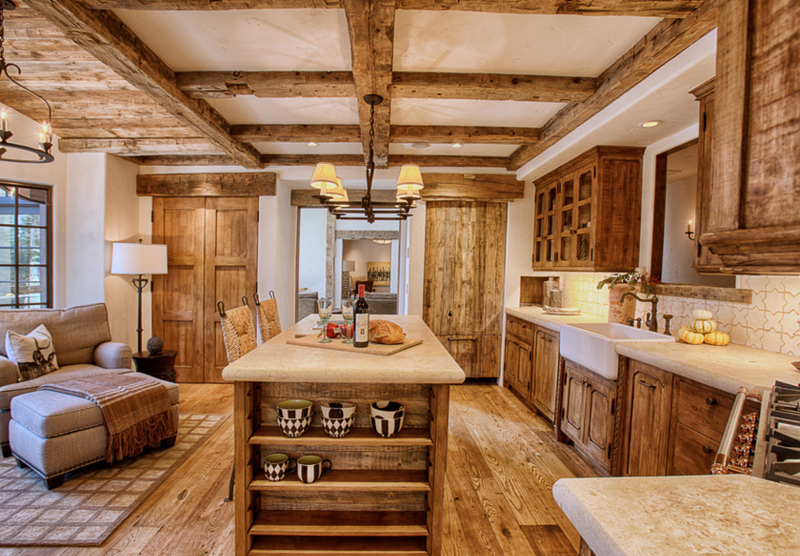 It is not every day that we see a seating area just behind the kitchen bar stools – but for this chalet's kitchen, we see that's actually possible. A comfortable-looking chair with ottoman is gracing this lovely kitchen. I think that the exposed beams wherein reclaimed wood was used is really appealing and interesting. Do you agree?
6. Twin Creeks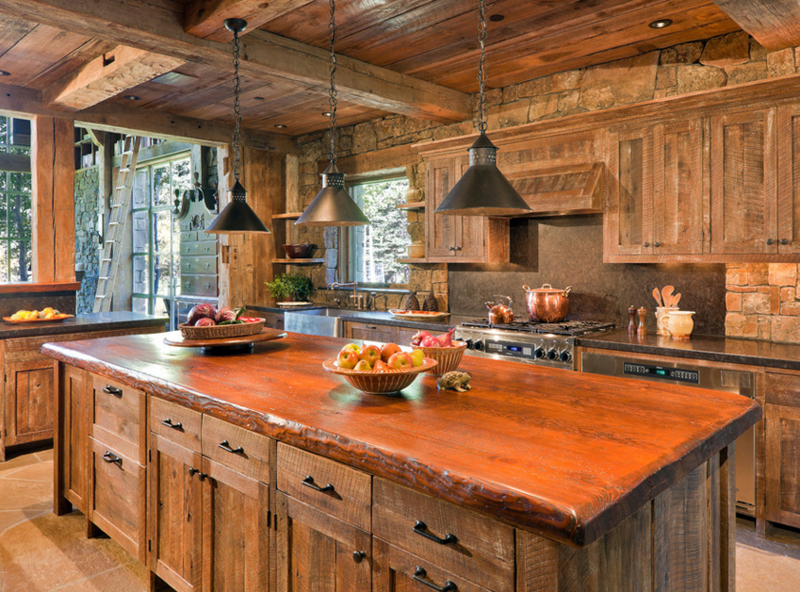 If you have been following Home Design Lover, you'll know that I already wrote a lot of lists about lamps and that it is actually one of my favorite things to write about – if that's the case, you'll know that I love the lamps here in here; they really complement color of the wood used in this kitchen.
7. Chestnut Hall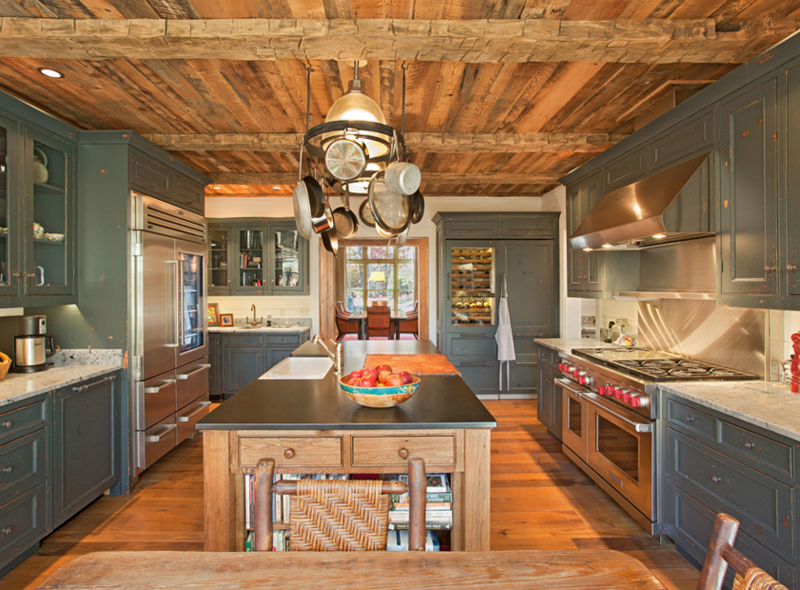 The reclaimed wood used for the beams and the ceiling of this kitchen is quite a treat. It is opposite the shiny floors in here but you know that they complement each other. With cabinets of this color, this area is really fascinating – even that thing that holds the pans is fun to look at; it's not something I see here in our country as a practice since we usually keep them under the kitchen island or inside the bottom cabinets.
8. Cold Springs Farm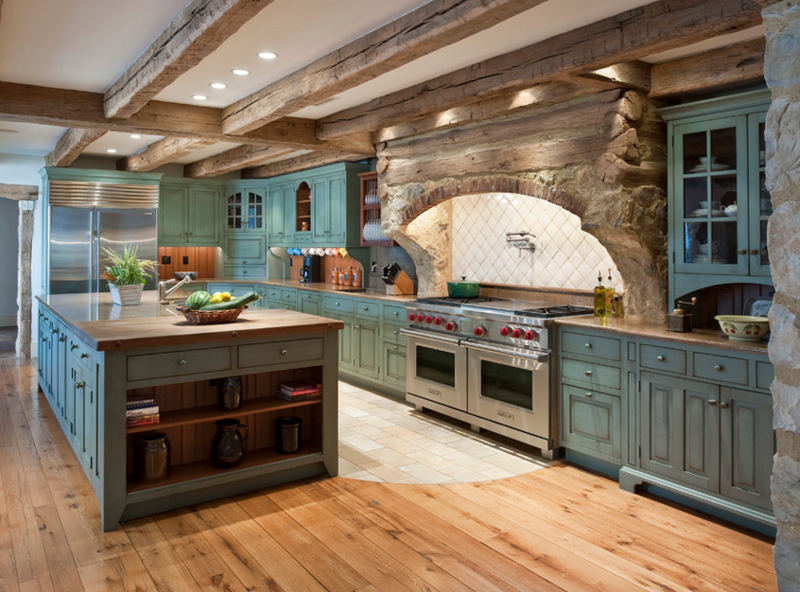 This is one fascinating kitchen located in Malvern that showcases both a functional kitchen and a stunning piece of accessory to this lovely home. The building materials used in here are lovely; plus the colors play well with the wood and stone present in here too.
9. Erie Loft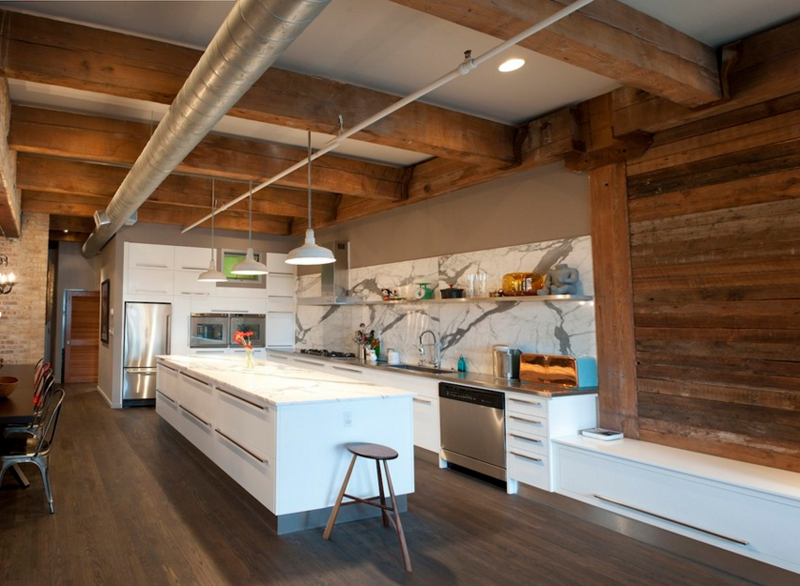 This kitchen somehow reminds me of Yellow Cab wherein we see the exposed large tubes – whether they are really functional or decorative; they're large and quite something you won't easily miss. Pairing it with industrial lamps and large pieces of wood makes a perfect combination.
10. European Cottage Kitchen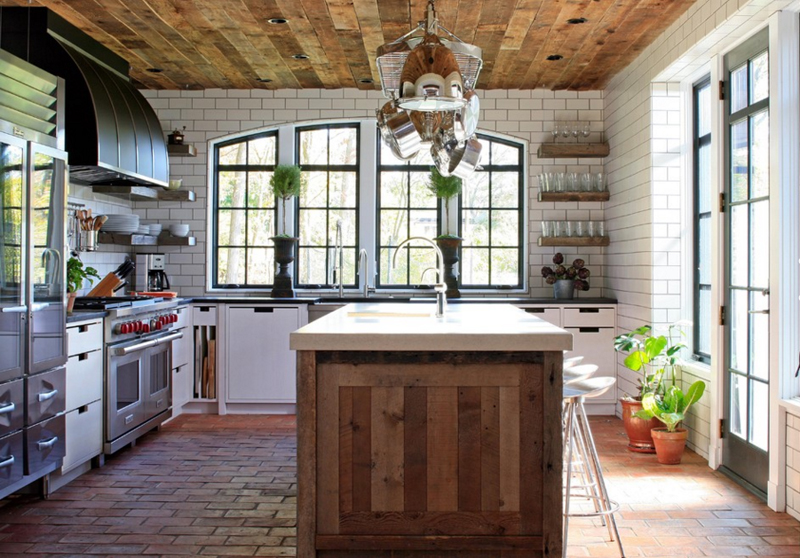 A beautiful European kitchen, the color combination and material combination seen in here (of wood and bricks), this is one kitchen to aim for especially in tropical to warm countries. The play of colors is quite nice too. What do you think about it?
11. Homestead Pioneer Ranch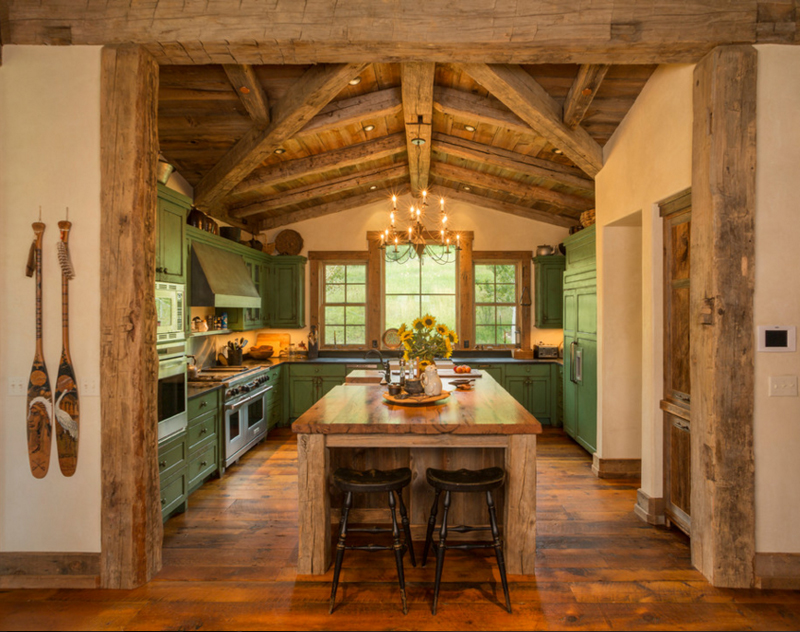 I have seen this photo before and I'm still quite fascinated with the decor that is on the side of the large wooden column before you enter the green and brown kitchen. As you can see, the ceiling of this kitchen is reclaimed and recycled wood – I mean, even the two columns are reclaimed too.
12. House in Dardeien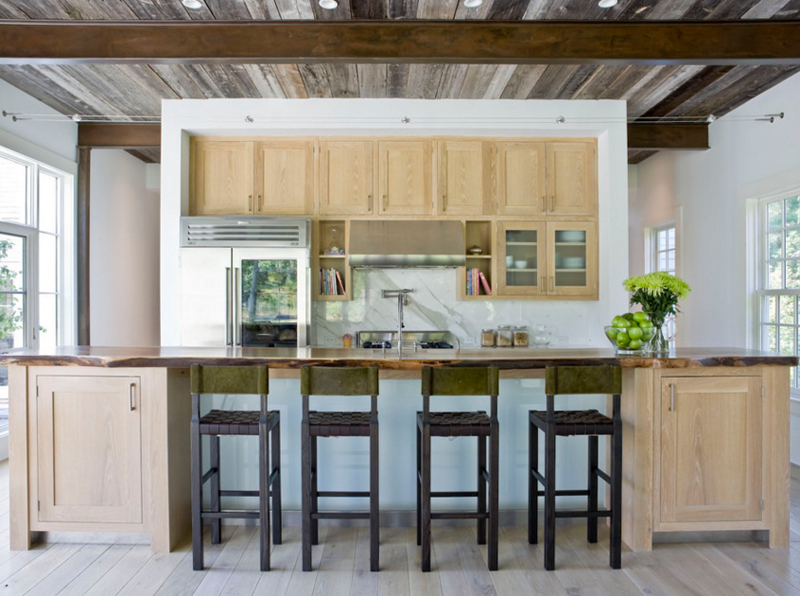 How do you like the combination to this home in Darien? The white and beige look is easy in the eyes; adding black chairs and a black beam created a bit of drama – but more than that, the color of the reclaimed wood in the ceiling is what I actually really like for reclaimed wood.
13. House on Compo Mill Cove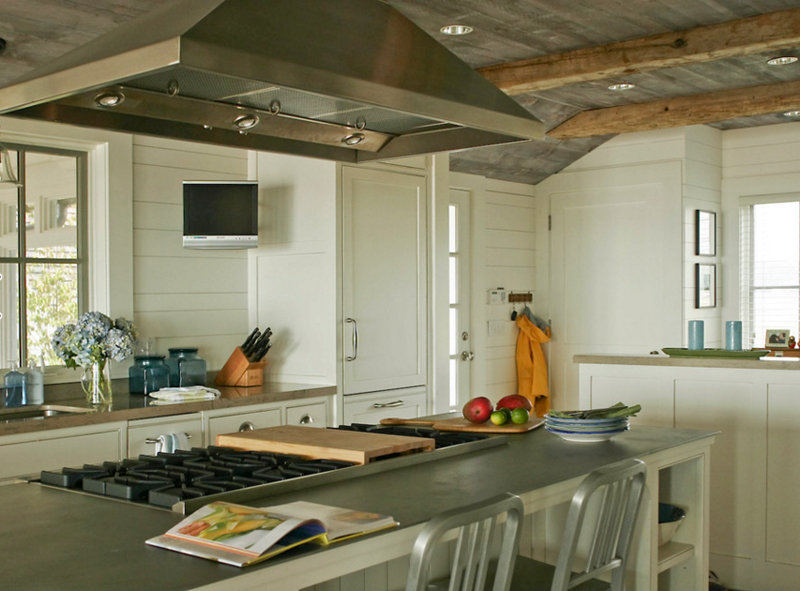 This is one beautiful kitchen space with a beautiful look and feel to it. The color combination is simple and common, but it always work and you know how much prettier a space is when you see it clean and this stunning. I love the Pinterest feel to this kitchen space in Compo Mill Cove!
14. Kayne/Ehrlich Residence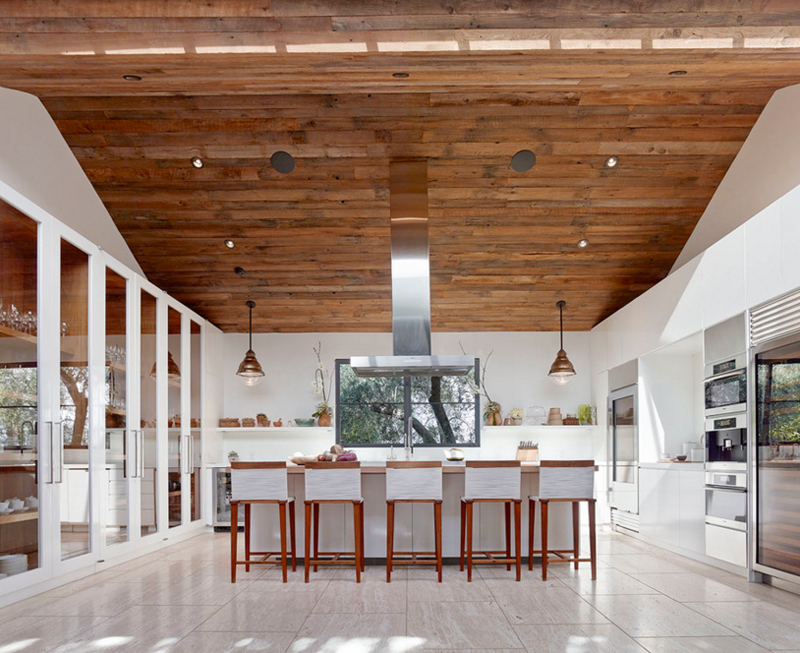 This home sure looks stunning! As seen in this picture, we see how much symmetry is used in this space. The angles on each side is perfect and really beautiful. I love the flooring and the color of the walls – and more than all that, I love the reclaimed ceiling in this home.
15. Modern Mountain Kitchen Design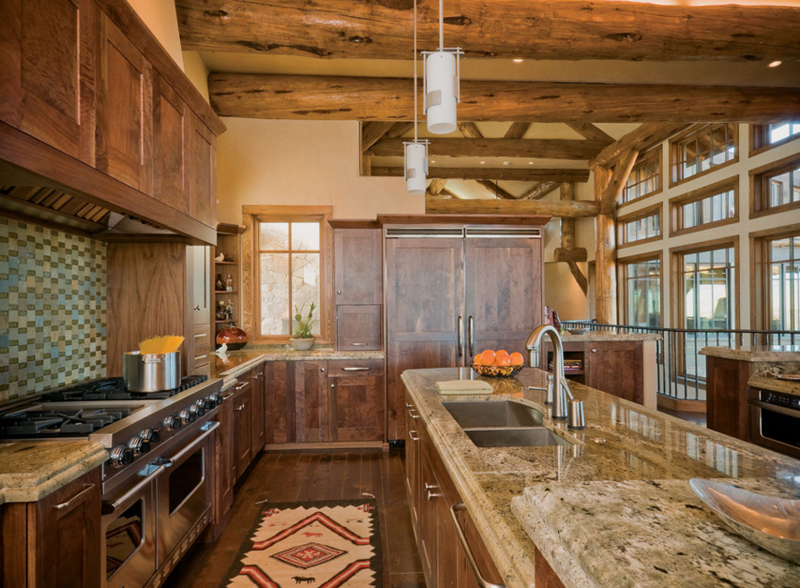 This is one traditional kitchen with exposed reclaimed beams and has the best cabinetry and tile work. The lighting fixture is a bit contemporary already, but I think this still looks great. The modern windows have a nice finish from this angle and point of view.
16. Old Greenwich Residence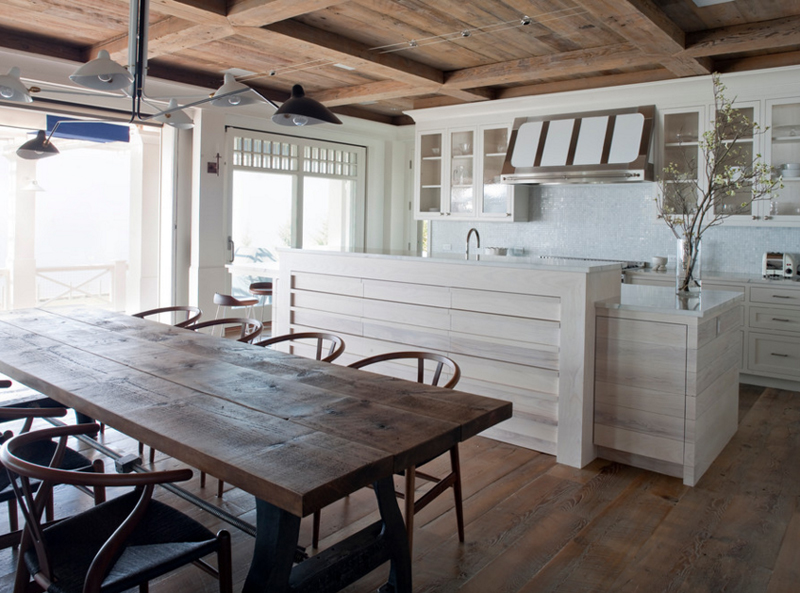 A white and brown color combination is one of those popular combinations that you can see in rustic or shabby spaces. It's nice, it's clean and somehow refreshing. In here, we see how much cleaner a kitchen is if it is colored white – and the additional wood in here created a more homey space for me.
17. Refined Mountain Rustic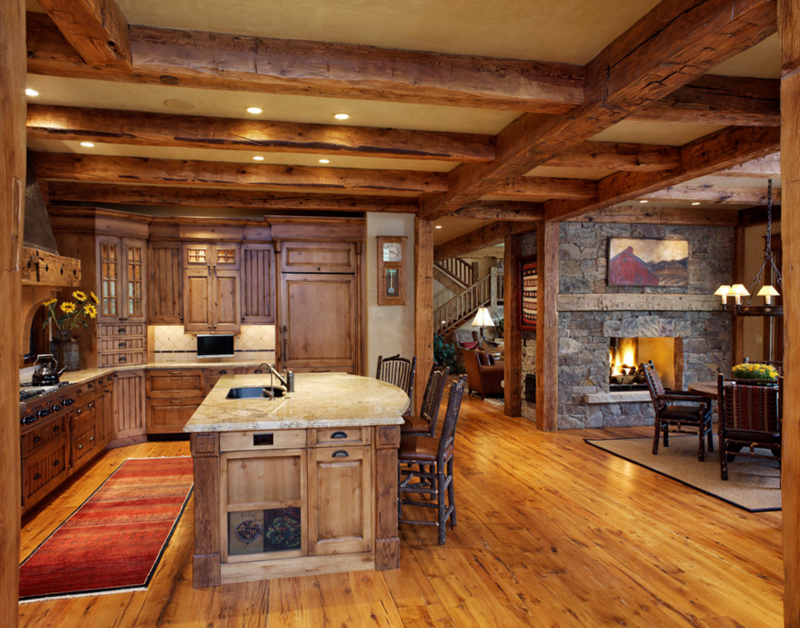 The exposed reclaimed beams in this rustic kitchen sure is nice. As the name of this home says, this is one refined mountain rustic kitchen – as well as the dining space seen in this picture. The clean lines seen on the floor boards make for a beautiful flooring, ideal for a starting home.
18. Rustic Kitchen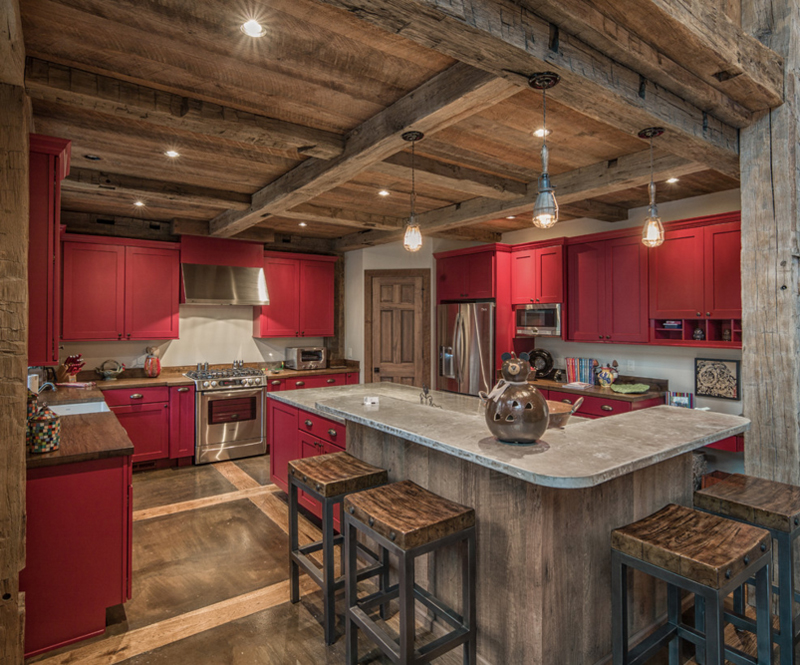 The color combination seen in this rustic kitchen is quite homey. The wood color and disposition blends well with the reds seen in the cabinets and drawers. I personally like the design of the lighting fixtures evident by the kitchen bar area.
19. Seattle Contemporary Kitchen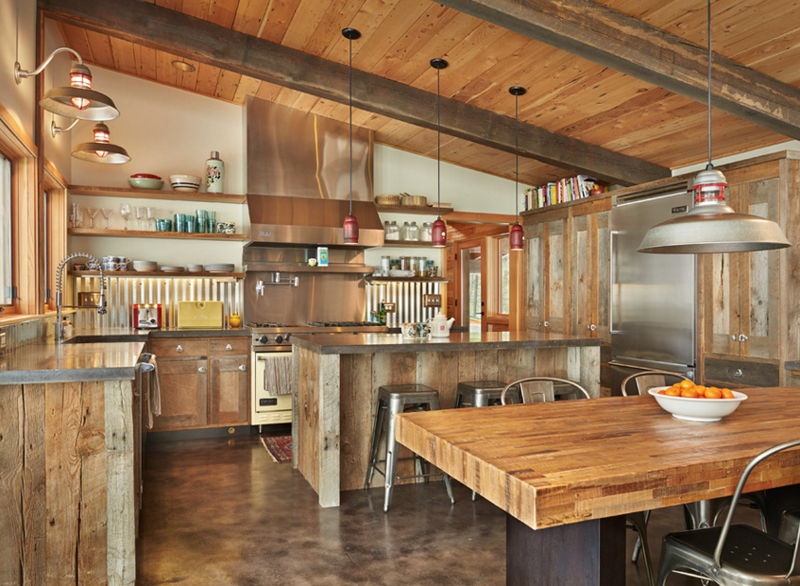 I love the cabin look and feel of this contemporary kitchen in Seattle. Lawrence Architecture made sure that they were able to use the best wood available in the area – also, they used reclaimed wood especially seen in the ceiling and in the kitchen counter and island.
20. Bovina House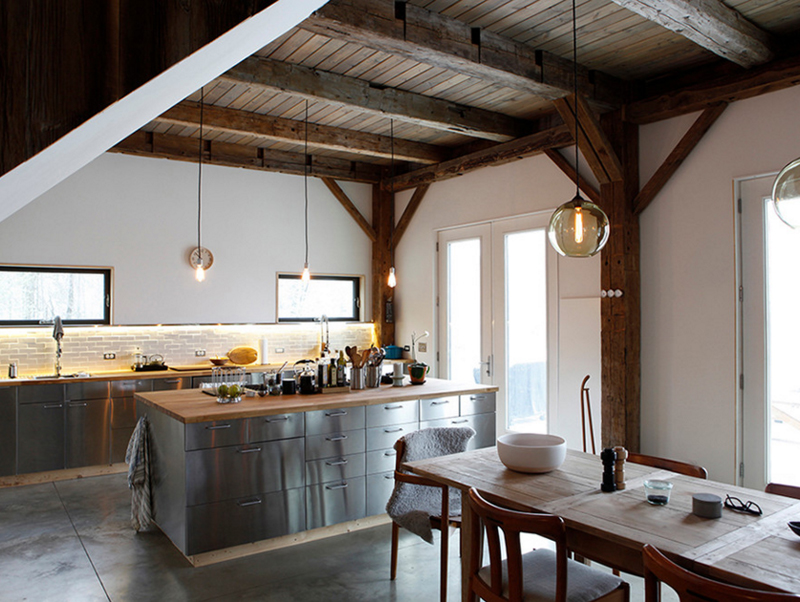 With or without a reclaimed ceiling, this kitchen sure is rocking this awesome loft and eclectic look. The cute trinkets seen in this kitchen-dining area set-up sure is a good benchmark for other recent kitchen designs.
Well, what do you think about this list? More than anywhere in the house, it is in the kitchen that we love seeing those exposed beams because it somehow reminds us of some fast foods or restaurants that show off their exhaust or their beams. The designs above does not really appeal to everyone but it's a nice thing to know that there are options like this for us if in case we would like to redecorate or something.