20 Modern Kitchen Backsplash Designs
We have already compiled a couple of lists with different archetypes of backsplashes – but this one may be my favorite of all because the designs that we have for you today are simple but glamorous, modern and stunning! The designs range from single-colored tiles, stainless ones, metallic tiles to glass subway tiles!
Check out the modern kitchen backsplash designs we have prepared for you today – this list is fascinating because there are kitchen owners that does not mind having or not having a backsplash – but when you think about it – adding a backsplash in your kitchen not only makes it more pretty, but it saves your walls from stains from cooking. Let's take a look below.
1. Calgary Contemporary Kitchen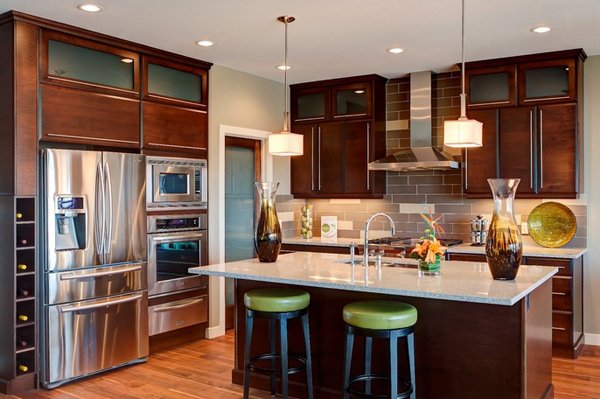 The pattern of the backsplash in this Calgary kitchen may be simple, but look at how stunning it looks in this space!
2. Camden Lofts Residence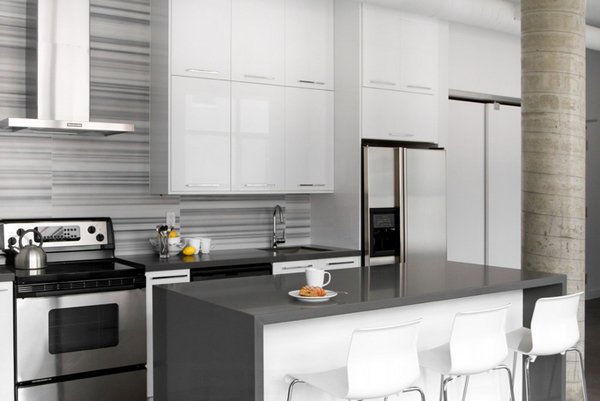 The color scheme of this Toronto kitchen is lovely – white and grey never really fails anyone who wants to work on a contemporary to modern homes!
3. Cherry Hills Remodel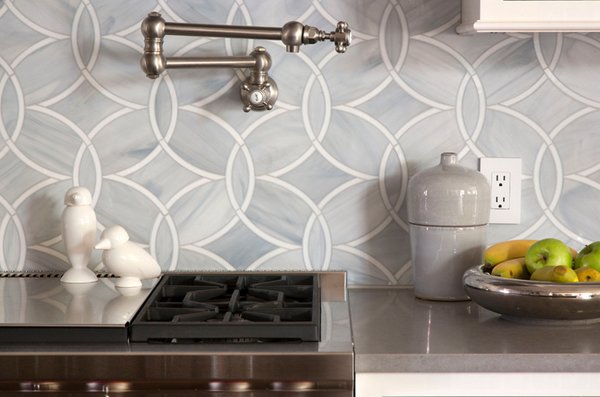 If you have a small kitchen and wanted to have a stunning backsplash, getting a wonderfully designed tile will do the trick!
4. Dallas Townhouse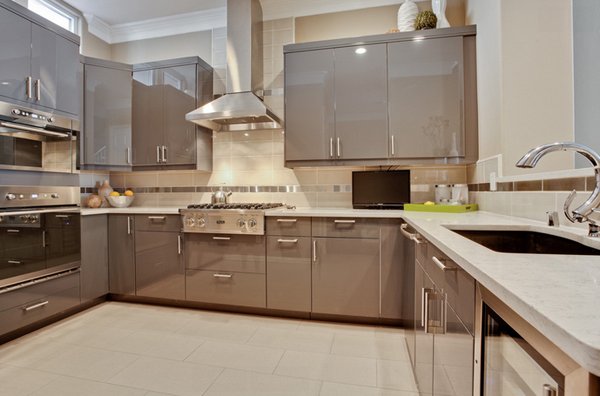 Incorporating stainless tile around the perimeter would be nice. But all in all, this Dallas kitchen is beautiful and really unique.
5. Detroit Contemporary Kitchen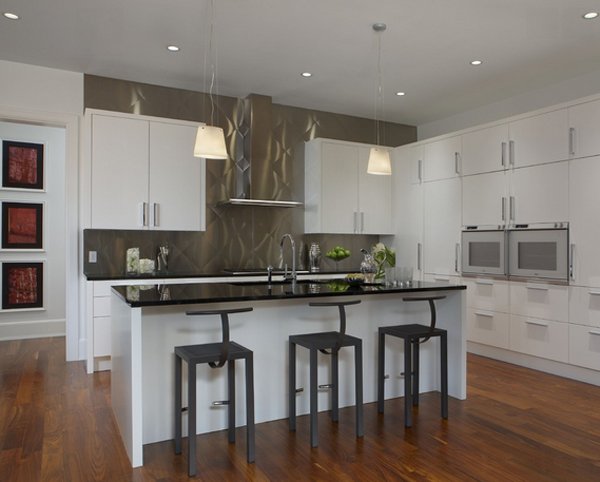 The white cabinets and drawers in this kitchen sure is stunning; but the stainless backsplash makes this kitchen stand out more!
6. Erin Mills Project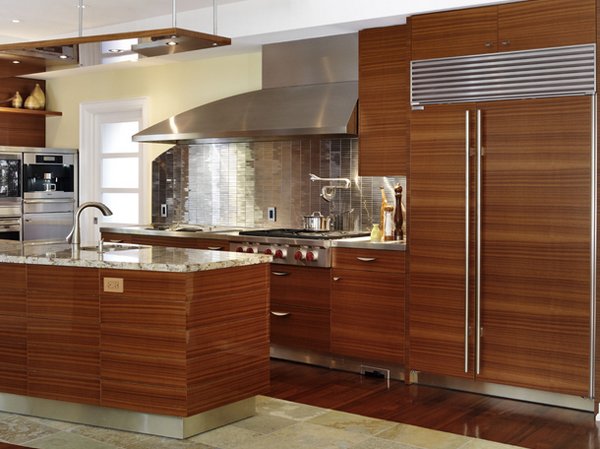 The floor is mixed with wood and stone – and not to mention the wonderful and shiny backsplash!
7. Harlequin Kitchen Backsplash Project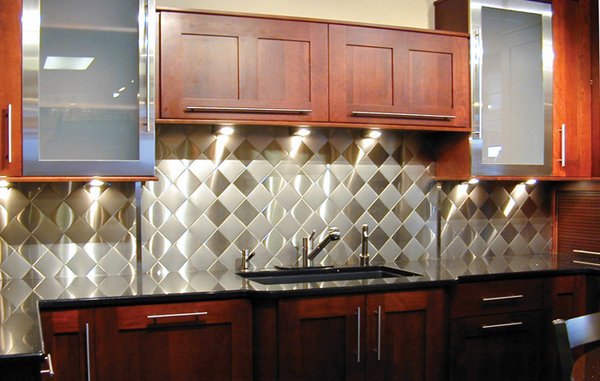 This two-tone harlequin patterned stainless steel back splash system was custom designed to fit with existing cabinets and counter.
8. Kitchen Accent Tile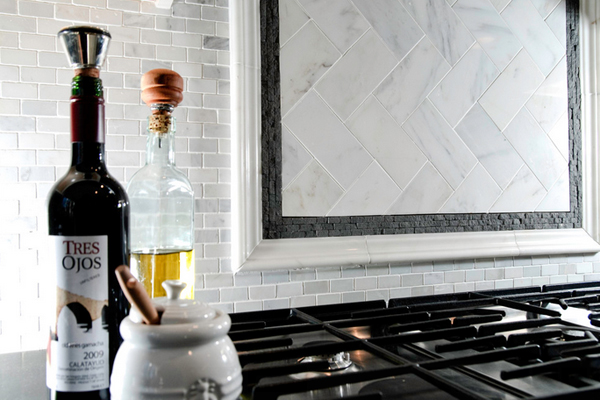 Combining two or more tile arrangement in the right amount will make one backsplash as lovely as this.
9. Laurelhurst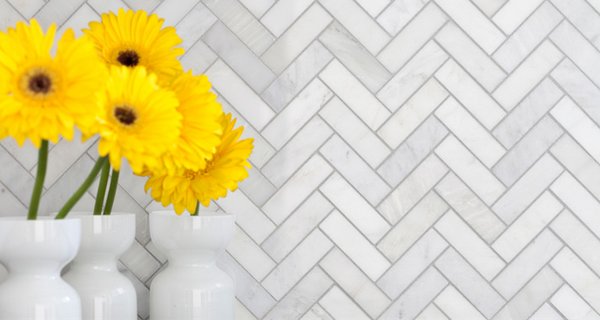 The beautiful tiles you see in this picture is CarraraVenato 1×3 herringbone. Do you like it?
10. Mandeville Canyon Residence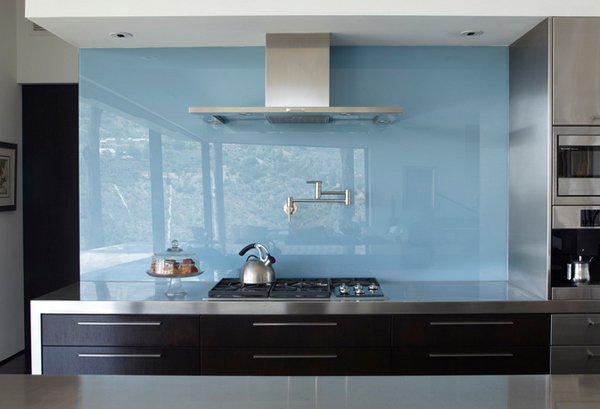 Glass tiles took off in the first decade of this century. For the California kitchen shown here, Griffin Enright Architects used Starphire glass, which doesn't have the green tint normally present in glass, so the color reproduction is much truer.
11. Manhattan Beach Remodel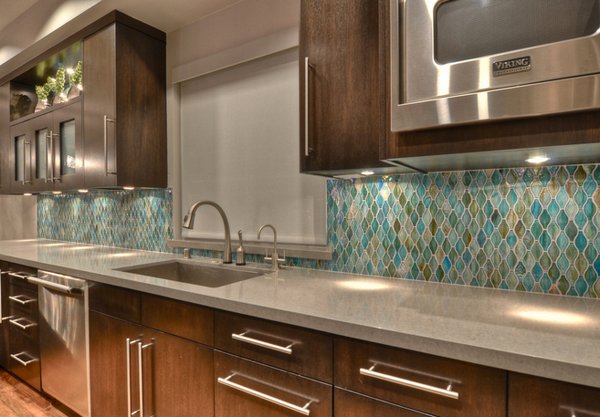 Contemporary kitchen remodel in Manhattan beach. colorful backsplash, Caesar stone quartz countertops, oak cabinets.
12. Modern Kitchen – Decatur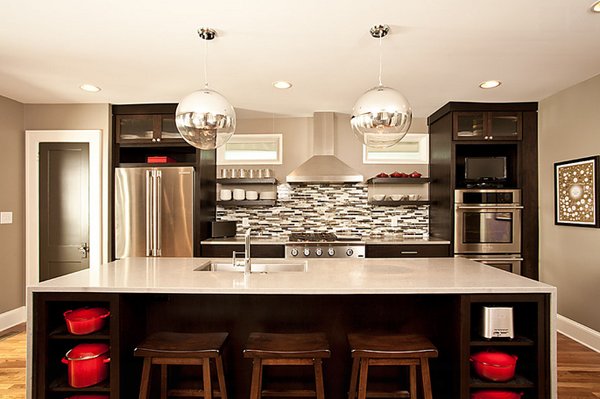 I don't know about you, but I love this Atlanta kitchen! From the appliances to the cabinet works and the pendant lights!
13. Northern Michigan Treasure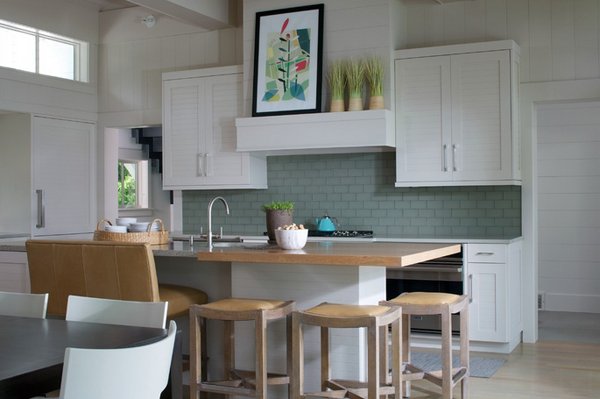 Note the beautiful glass subway tiles for the backsplash!
14. OceanAve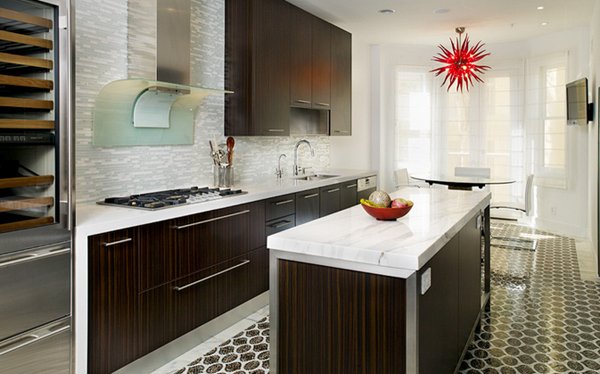 Gorgeous slab of Calcatta on center island which sits on a custom mosaic floor. Good mixture of natural & man made materials.
15. Penn Valley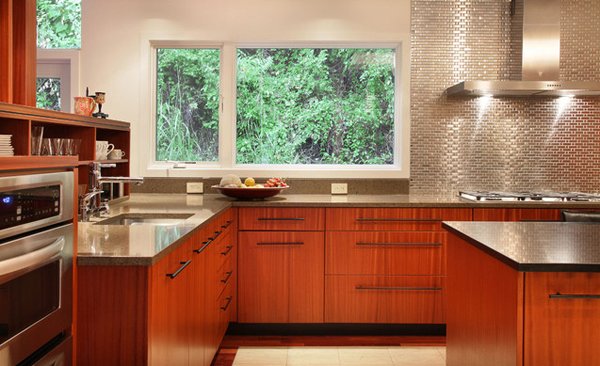 Contemporary kosher kitchen in sapele mahogany in a mid-century home in Philadelphia's Main Line.
16. Point Residence
Ample storage, open shelves and durable Hanstone countertops makes for a no-fuss family-friendly kitchen island.
17. Russian Hill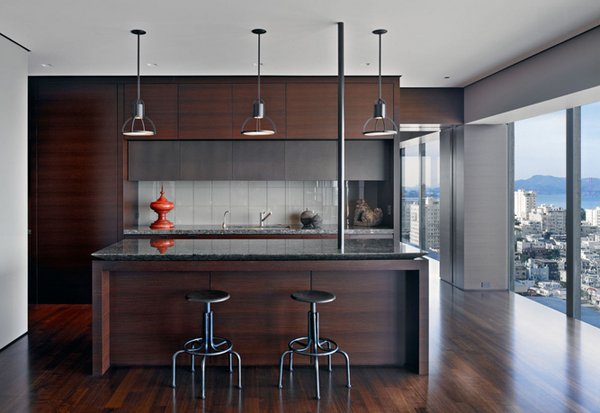 The pendant lights, bar stools, and gray-hued granite countertops give this contemporary kitchen a dash of industrial flavor.
18. San Antonio, TX Home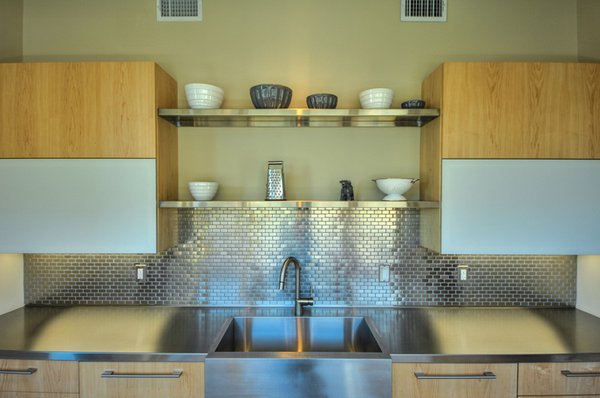 In partnership with Joubert Design-Build, BKC designer Jennifer Rogers designed and implemented Crystal Cabinet Works Inc. cabinetry throughout this spacious San Antonio Parade Home. Butler's Pantry: Springfield door style, Natural Maple, with flip-up doors.
19. Toronto Contemporary Kitchen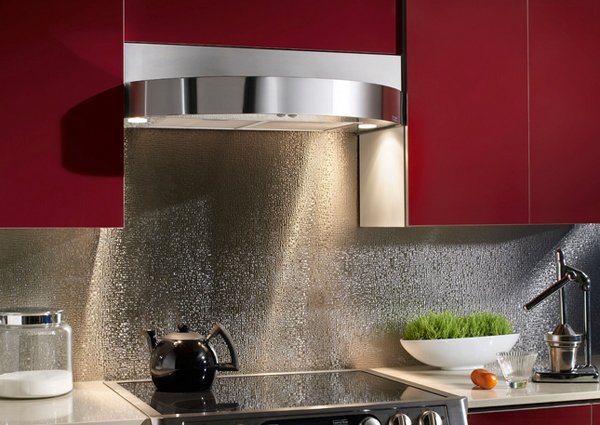 A beautifully textured stainless steel backsplash systems, custom fabricated for a modern kitchen. Unique pattern that will elevate the beautifully austere look of the modern kitchen.
20. Toronto Modern Kitchen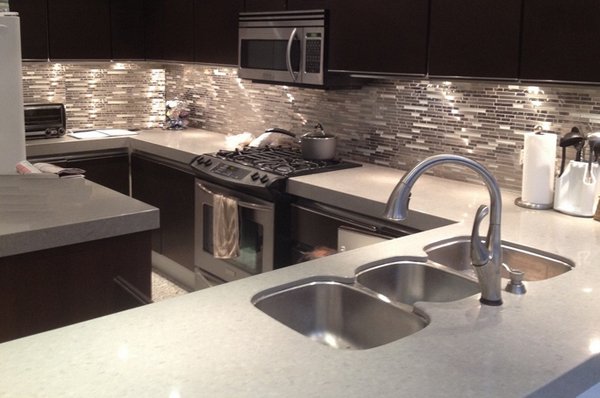 Metallic backsplashes are surely stunning and modern! The color scheme of this kitchen complements well with the tiles from Keramin Tile!
The list above about the modern kitchen backsplashes was totally an awesome list to see because of the wonderful materials and design we saw that is available in the market now. Either you want to replace your current backsplash or is redecorating your kitchen, this list sure will be useful.