15 Interesting Backsplash Tile Designs
We are not sure if you were able to check out the article we had about Backsplash Ideas yesterday, but if you were wondering how we thought of doing a follow up on it – all we can is, they are plain gorgeous and we know you'd like to see more of this cutesy tile works we can put in our kitchens.
Yesterday's list had more designs to them. More prints maybe, even unique materials used for the backsplash, for today, we will be showing you 15 Interesting Backsplash Tile Designs that might interest you even more if you decide changing the old ones you have at home. Check out our list!
Bruce Avenue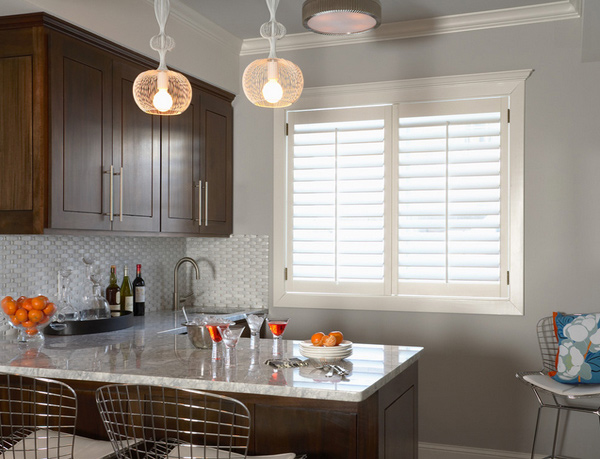 This beautiful kitchen has a Benjamin Moore Silver Chain 1472 for the wall color and a metal backsplash tile that is sure interesting.
Caesar Stone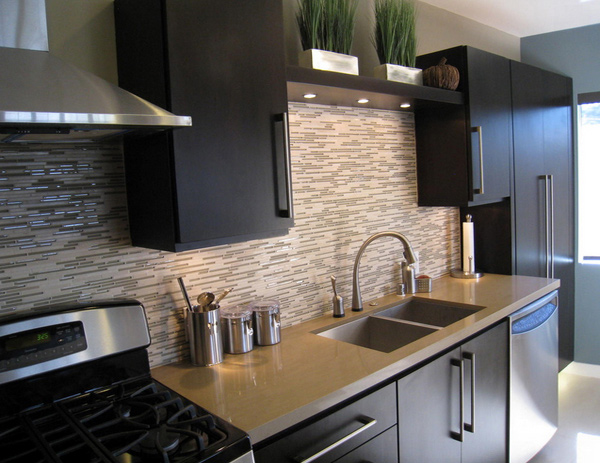 This wonderfully decorated kitchen makes us wonder how the entire house actually looks like. From the silver vases to the stainless canisters, Caesar stone countertop and lovely arranged glass mosaic tiles for the backsplash.
Condo Kitchen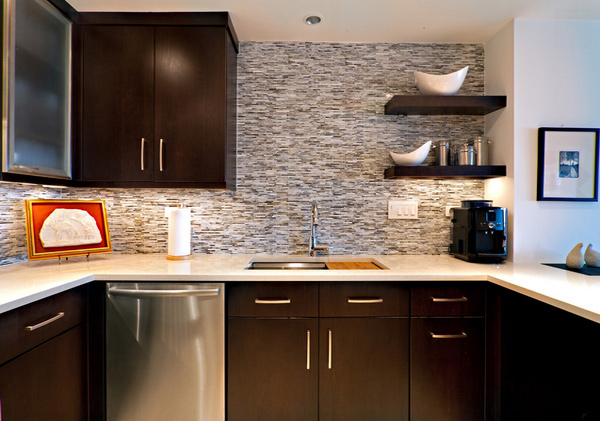 Don't you like the stained cabinets and drawers? The dark color is great which complements the lighter tiles used for the backsplash.
Contemporary, Custom-Designed Kitchen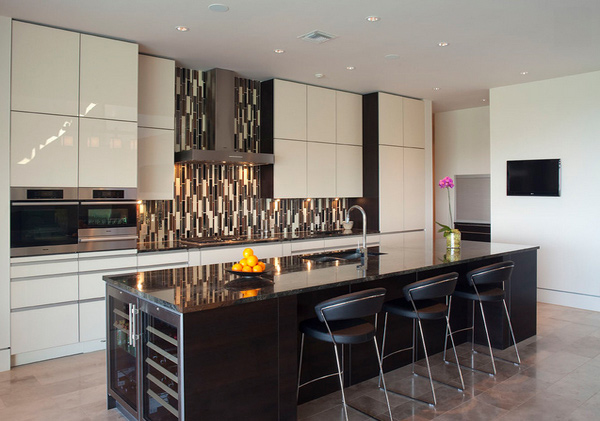 This clean, modern space gives us a vibe of modern-contemporary feel in one space. The shiny white cabinets and drawers with clean seam is sure eye-catching! The counters like the backsplash is definitely an eye-candy!
Dyna Kitchens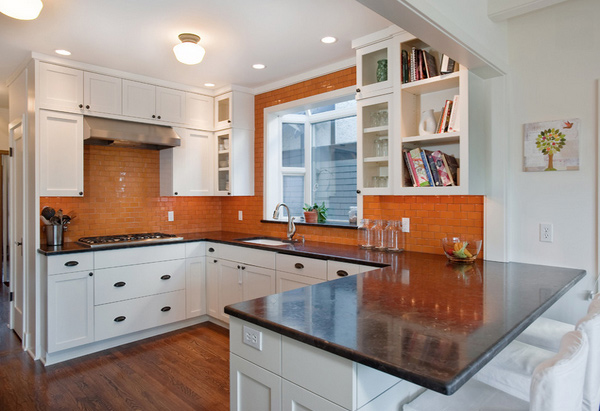 Here is a sample of a home wherein the use of white and orange brought about life to this space. White for the cabinets and orange for the backsplash. Tell us if you wouldn't even notice it!
Edwardian Flat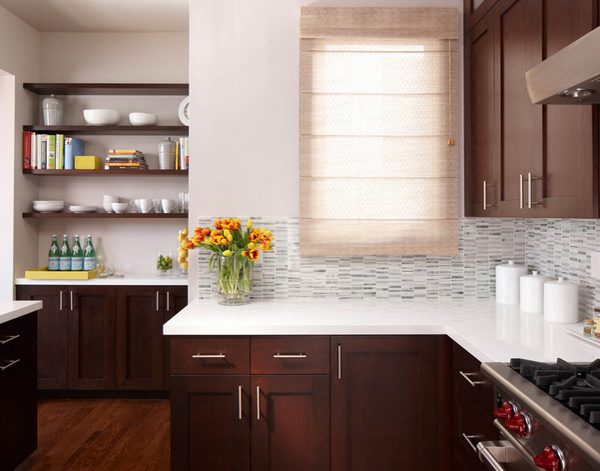 We were not able to find the specific name of this beautiful backsplash tiles, but they sure bring out the beauty of the white granite countertop this kitchen has. Don't you agree?
Fougeron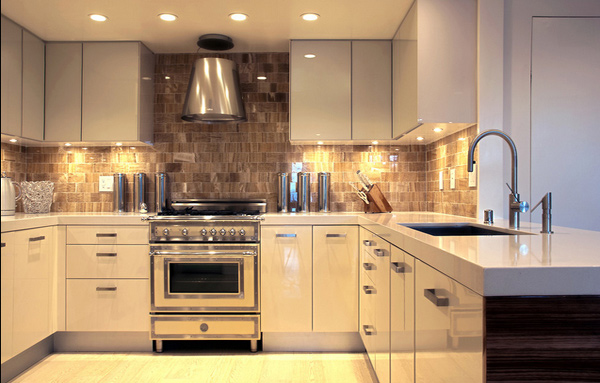 Look at how the lights made a great impact in making this kitchen more enticing and really charming. Even using a unique hood made a lot of difference.
Hyde Park Kitchen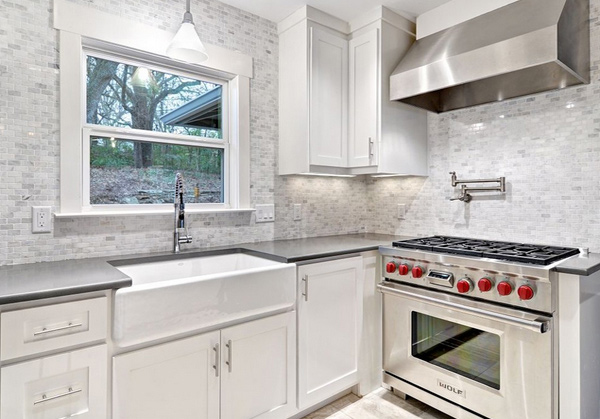 This wondrous counter to ceiling backsplash is made of 1×2 Cararra tiles. They complement well with the ash-colored counters.
Lady Fern Circle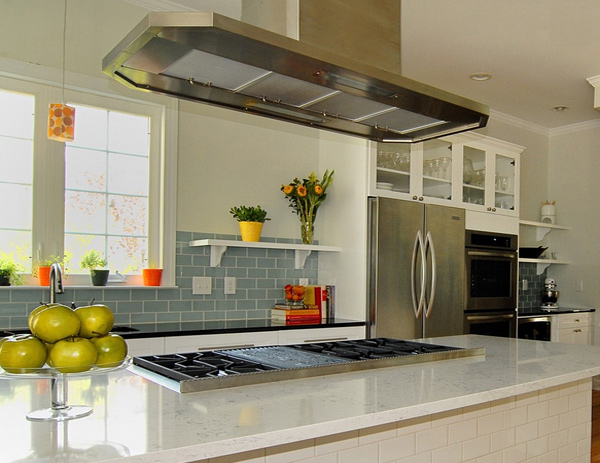 How fascinating it is to know about the names of the tiles, or the colors of the paints used for different spaces? In this case, the color of our backsplash design is Glass Reflections Whisper Green from Daltile.
Piedmont Perfect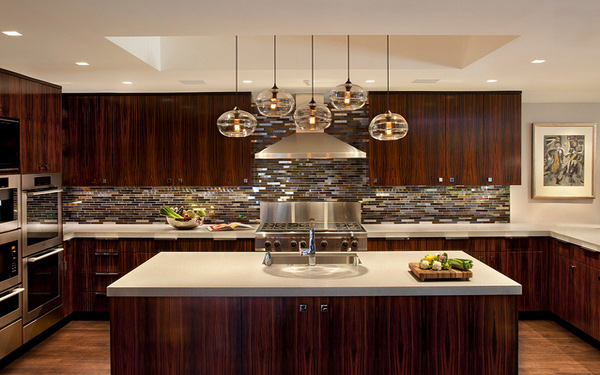 At first glance, it is actually the pendant lights that catches our eyes, and behind that is one custom made mosaic reflective glass from WaterWorks which definitely completes the entire contemporary look for a San Francisco home.
Silestone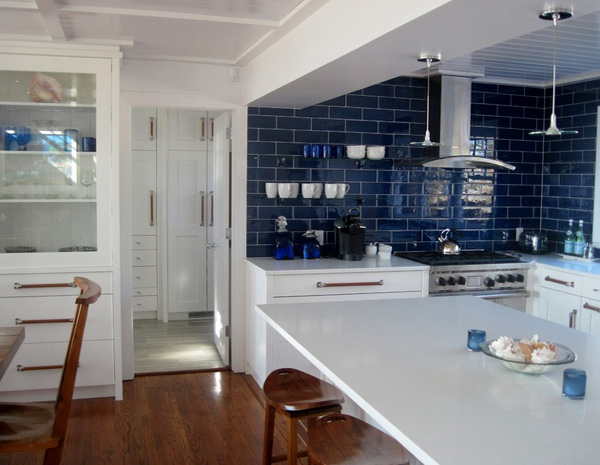 The blue subway tiles used for the backsplash is definitely the way to go! It goes great with all the white material used for walls, counters, cabinets and drawers and even the ceiling! Adding the cool pendant lights finished the look!
Stayner Renovation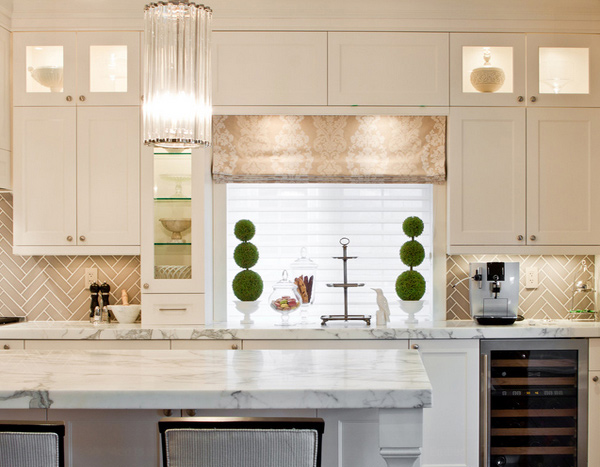 Stone Tiles is selling this wonderfully cut and lovely tiles. They did not come in a herringbone pattern when it was bought – it was the designers who made it that way. Using a mesh is also a great alternative for easy installation.
Stinson Beach House
We think you will be excited to know that the backsplash used for this kitchen is actually cast concrete, although we have no record what the color was used, we sure was amazed ourselves. You can check Concreteworks in Oakland, CA.
Victorian Update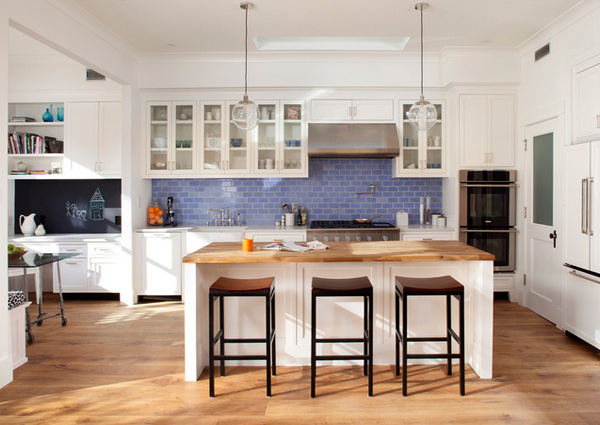 From a distance, the tiles looks like blue-colored bricks, and it sure is. It was indeed a great job for Feldman Architecture to pair them with the white cabinets and drawers, doors and even the island!
Waveline Glass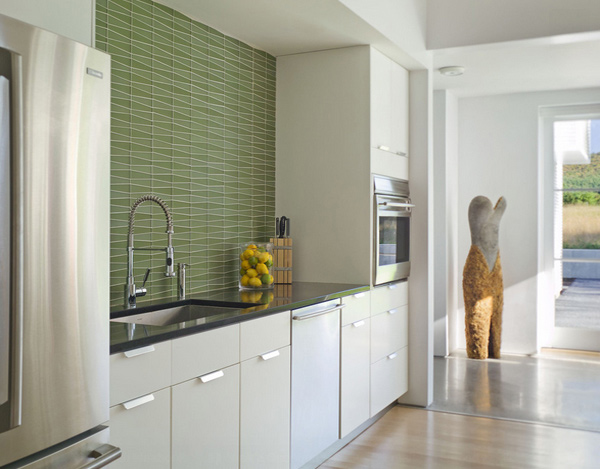 Check out this bowtie and diamond tiles from Heath Ceramics! We definitely like the color used for this one. We think you'd do too!
That was yet another beautiful list we have about tiles. The 15 Interesting Backsplash Tile Designs came in obviously unique materials, shapes, sizes, cuts and even installation. They are really interesting because if we can't achieve the artsy type like yesterday, we can definitely go to our local hardware shops and pick up the best tiles they have and install them like the ones we have on this list! Check the article we had yesterday about kitchen backsplash ideas and tell us what you think!