15 Beautiful Kitchen Backsplash Ideas
When we search about kitchen designs in the internet or in magazines, we are able to see how kitchens are arranged, how kitchens are painted, what materials were used for the island, the cabinets and drawers placed and even the flooring design.
As common as they are, backsplashes are not quite talked about that much. We have them in our own homes, but for some reason they don't get the same attention as the other elements of the home.
Today, we will be showcasing 15 Beautiful Kitchen Backsplash Ideas that may serve as inspiration and a study for home owners who are considering re-tiling.
Backsplashes should definitely look pretty and eye-catching, just as much as our countertops and unique faucets. Take a look at the list we have for you and tell us what you think!
Ansley Kitchen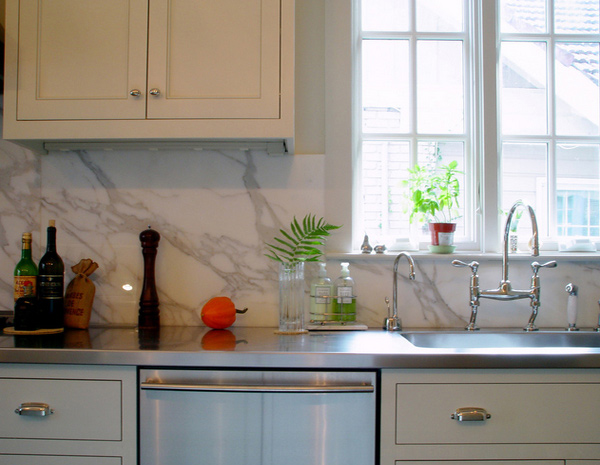 This backsplash is made of Calcatta marble wherein the patterning is predominately larger and thick than the Carrara marble. This one is unique because it was made in one chunk rather than in tiles which is more common on backsplashes.
Bianco Antico Granite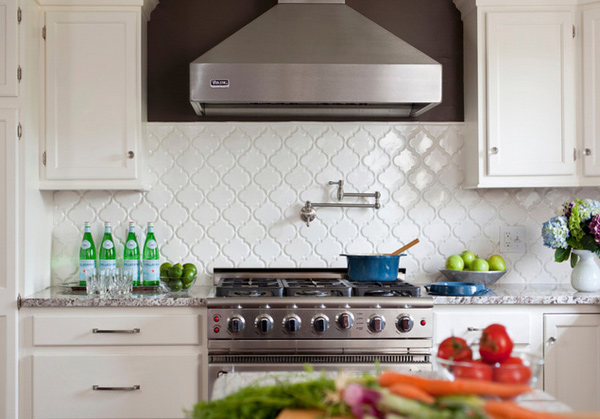 The backsplash is another unique set since according to the designers, this actually won a tile contest from Mission Stone and Tile. This is made of bevelled Arabesque tile, wherein each is individually set in place and then grouted.
Bling Bling Kitchen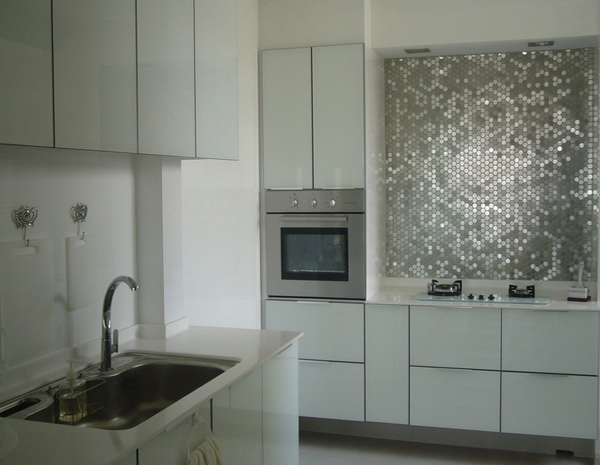 This sure is one shiny kitchen! The backsplash is made of hexagon shaped, ceramic tiles. One pretty item that made this entire kitchen shine bright like a diamond! We're quoting Rihanna for this one!
Breezy Brentwood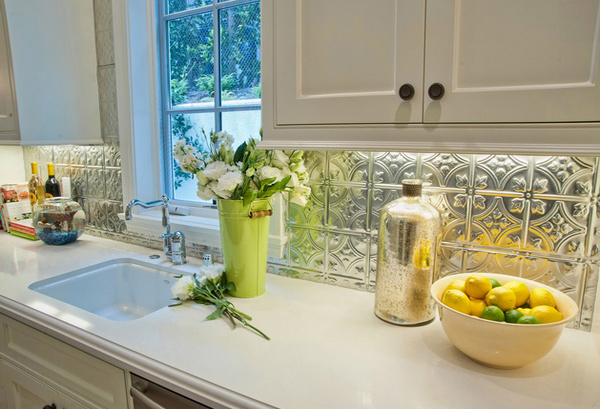 Jill Wolff used organic white for the countertop and a backsplash made of tin! A sealer will be used in installing it and it is cleaned with a multi-product cleaner. Imagine how backsplashes does not necessarily have to be made of ceramic. This is one perfect sample.
Chestnut Hill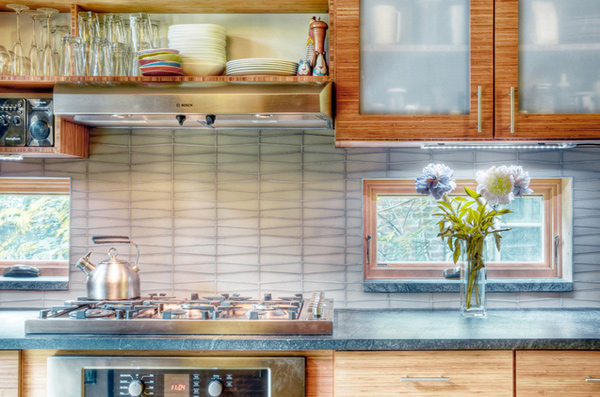 How are you guys loving the bamboo Plywood cabinets? They sure look stunning and definitely Earthly – matching the cabinets and window frames is the backsplash made from Island Stone. Love the contrast with the colors browns and slightly beige.
Druid Hills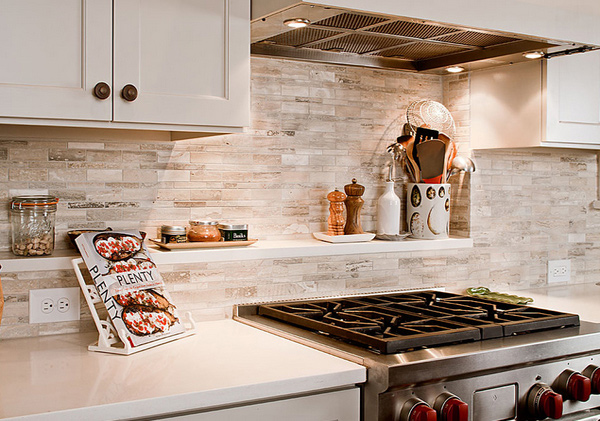 Looking at all the comments this kitchen has, we are able to determine that people are definitely loving the limestone backsplash that Renewal Design – Build used for this home. Full of class and style.
Dryden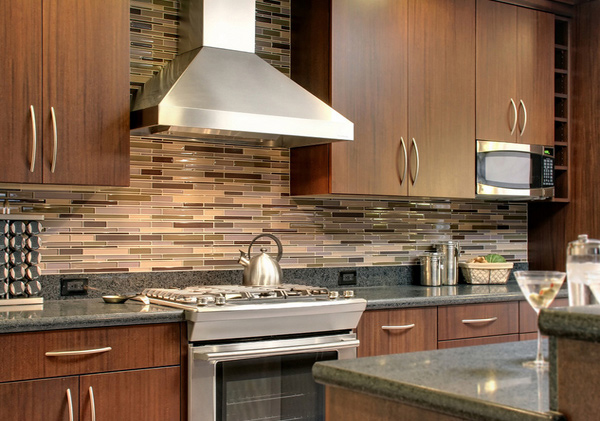 The backsplash in this photo is The Diva Blend Stilato from Artistic Tile. People consider it a waterfall tile which is usually installed horizontally like in this sample because it proves to be more modern than putting it vertically.
Rosenthal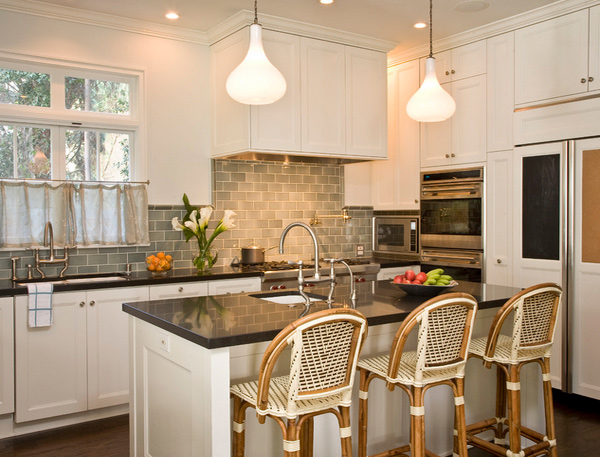 The backsplash tiles are Caesarstone tiles and they do not stain, do not chip easily and has no maintenance. A great piece of material anyone would love to have.
Honua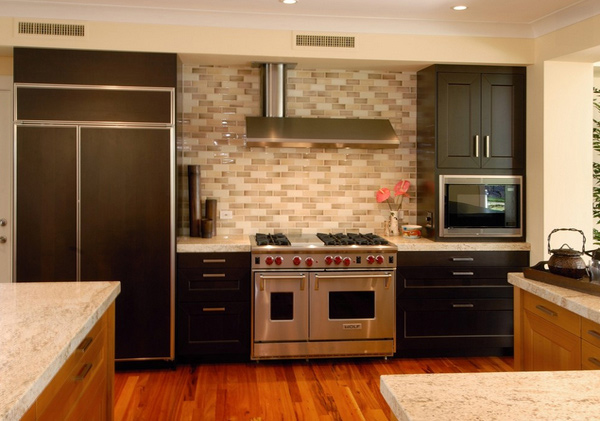 We are not sure about the information on the backsplash but it seems like these are actually brown and tan subway tiles. According to the designer, these tiles were provided by the clients – it's their personal choice.
Kensington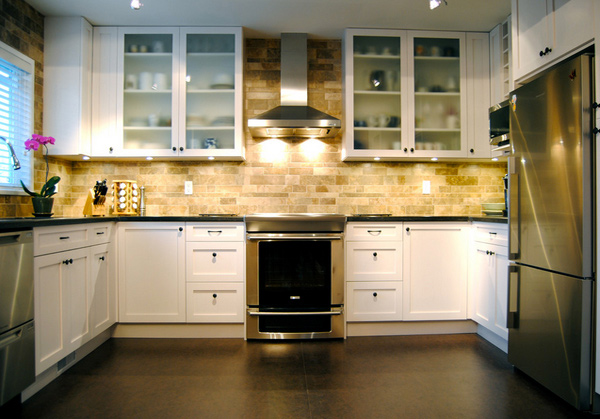 The charming backsplash is a Julian tile – part of the Pianeta Series. We like how this color may be common, but is still loved by home owners!
New York Kitchen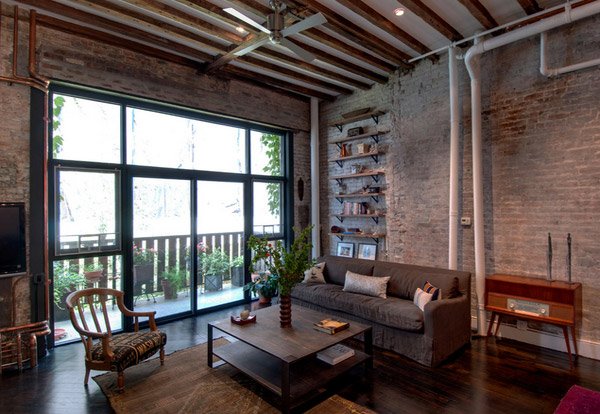 Florano tile supplied these thin rectangular and round glass mosaic tiles which turned out to be really georgeous.
Paton Terrace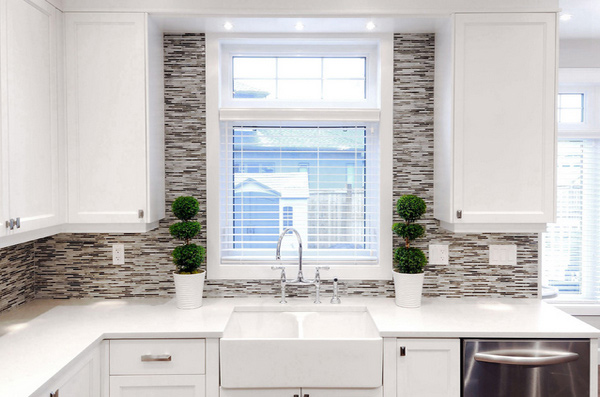 The Jersey Mix tiles looks really stunning. They seem earthy yet really modern and class. The designers of this kitchen is made a good job!
Peak 8 Penthouse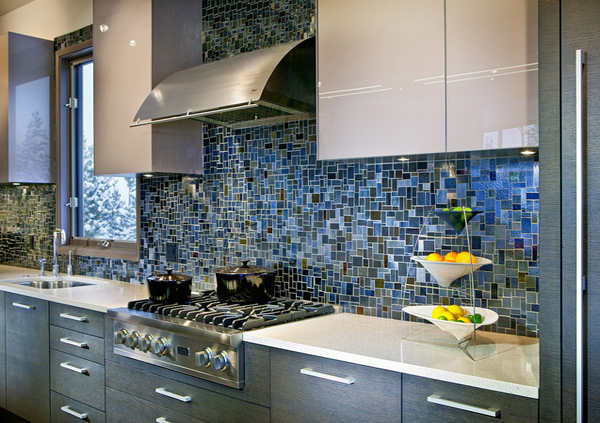 This backsplash is definitely one great example of using a variety of shades for a single color – in this case, blue – can really be so pretty. These are glass mosaic tiles that were made by artisans from handmade glass. Totally lovely!
Penn Valley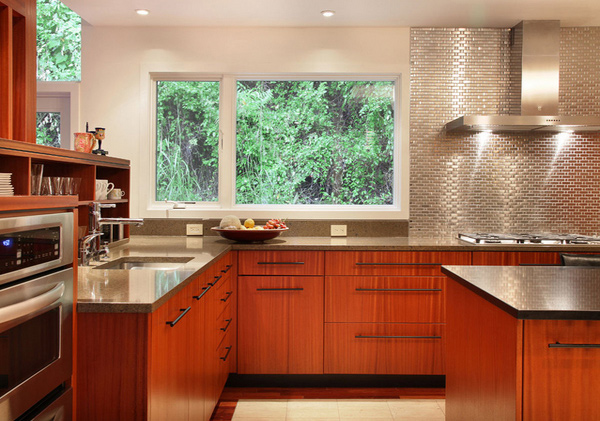 The backsplash is a stainless steel brick tile from Stone and Pewter accents which made this kitchen super stunning and really shiny!
Robbs Run Residence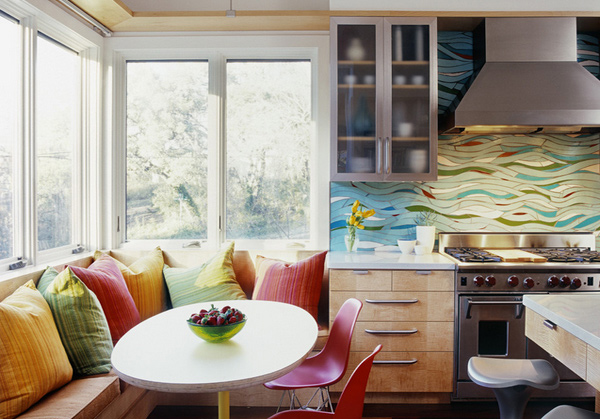 The custom glass back splash was designed and installed by local artisan, Laura Garanzuay.
What a fabulous way to start the day! That was our 15 Beautiful Kitchen Backsplash Ideas that sure created a fuzz while making it. Check out the 15 Unique Striped Kitchen Ideas
and tell us what you think!