16 Stunning Kitchen Storage Ideas
In our own homes, we usually have questions about how we can manage or organize our kitchen storage and can't find good answers to.
Today, we will be showing you pictures of kitchens or kitchen areas wherein we can see contemporary to modern ways of organizing kitchen utensils and many more. We even have a few pictures that showcase a more traditional and eccentric way of keeping their things at home.
You will be pretty amazed at the 16 Stunning Kitchen Storage Ideas we have in line for today. They showcase a whole new way of keeping things, making life pretty much comfortable for people who loves to stay in the kitchen in most times of the day.
We have pictures that brag their material, color, and the technique. Go ahead and take a look at the pictures below.
Boise Modern Kitchen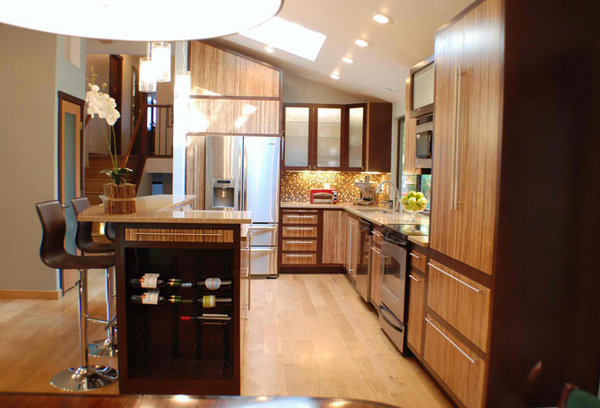 An easy and space-saving way to make your typical "under-the-island" wine storage stand out is to display free-floating bottles horizontally. This is an especially efficient method for those who have a lack of space, a lack of wine, or both.
Bratislava Apartment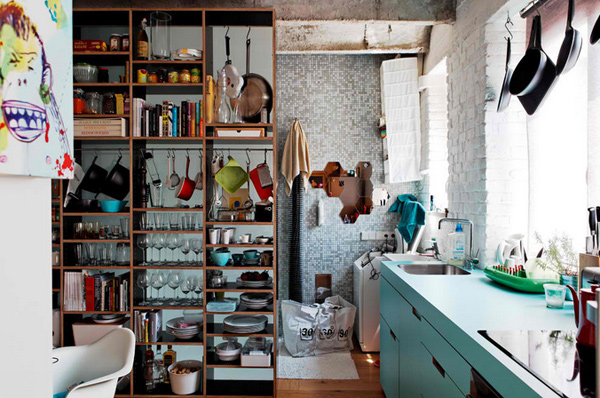 Designer and homeowner Lukas Kordik created an impressive unit of floor-to-ceiling shelving to hold essentials and decorative items.
Dallas Cozy Kitchen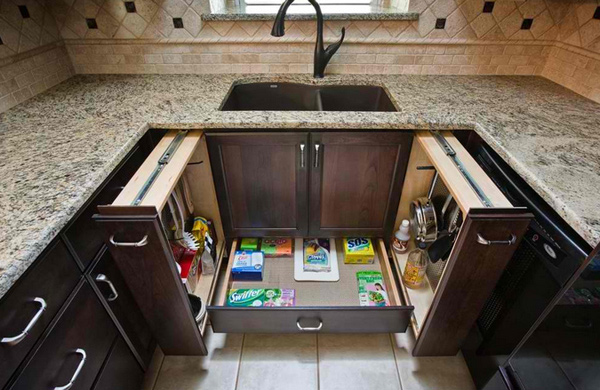 See how kitchen storage has been revolutionized in our day and age. Slim drawers are new in the biz but looks like it's going to stay a while.
Harlem Apartment Kitchen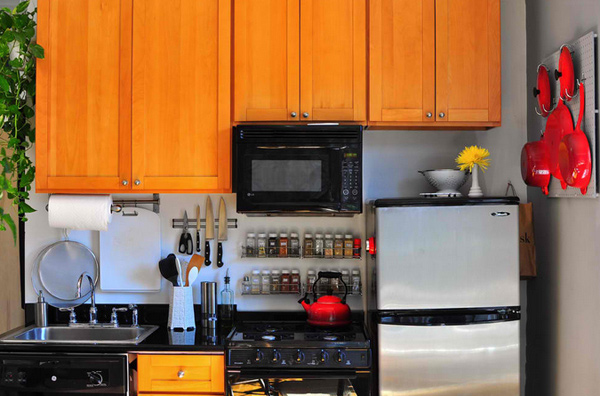 Limited countertop surface. As with cabinetry, countertop space in an L-shape kitchen is precious. Consider a small portable island that you can pull in when you need more prep space, or use your dining table as a worktable.
New America from QCCI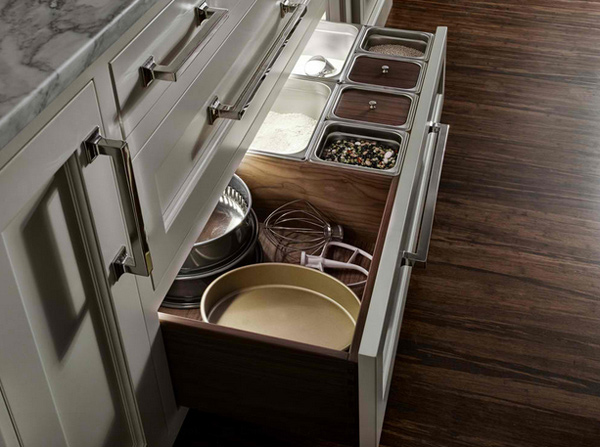 Beautiful mix of painted and wood cabinetry mixed with stainless access and gorgeous veneers now available at Heartwood Kitchen Danvers MA.
Nick + Stephanie, Austin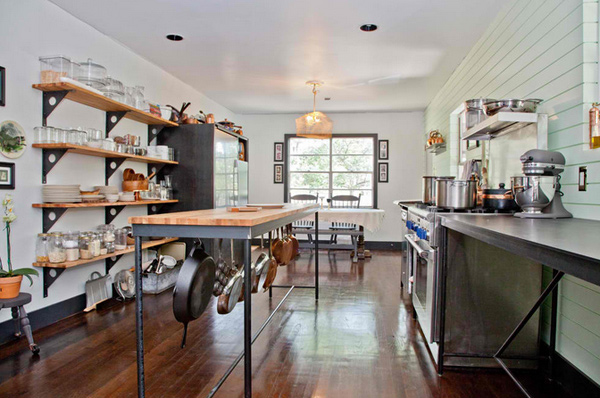 Hung under the island. We are not sure if you want pots and pans hanging prominently, but don't necessarily want to store them away in a cabinet? Here's a nice hybrid option – hang your cookware underneath the island.
Oak Park Kitchen III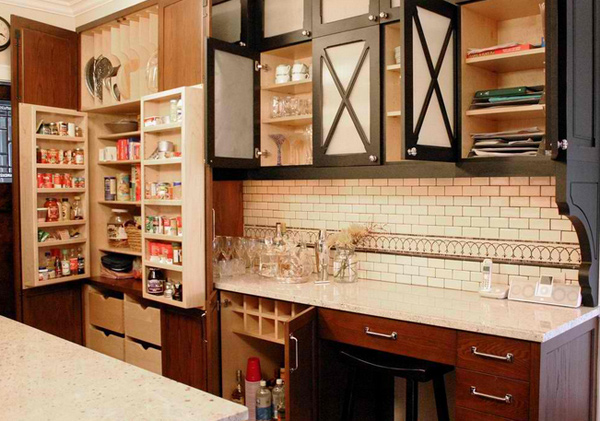 This desk area includes a home for an extra island stool and doubles as a bar, including wall storage for glassware, tall liquor bottles and wine cubbies. The upper section of the pantry is a great spot for tray dividers that store cookie sheets and serving dishes.
Paz Kitchens-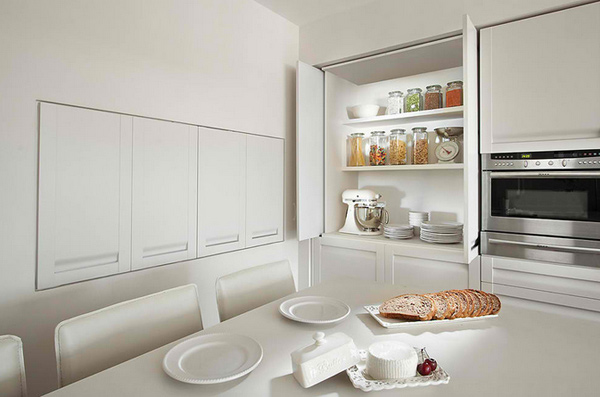 There is a European nuance to a small and highly functional kitchen done all in white, down to the tableware. No colors to distract from the purpose of the space. Methodical and collected.
Santa Ynez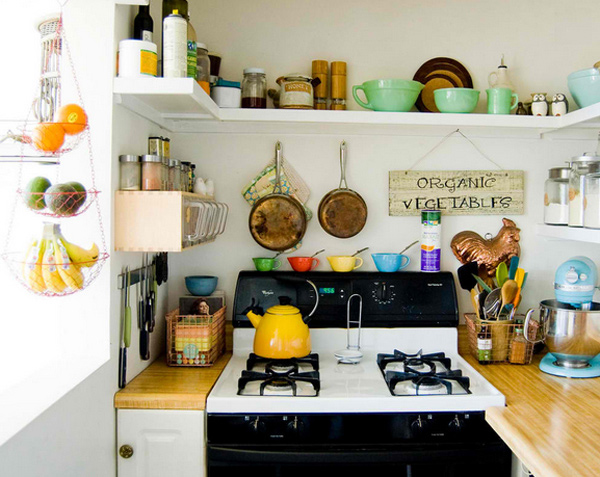 Exposed shelves, hanging fruit and playful color reflect the laid-back cottage spirit of the converted barn house.
Shack Attack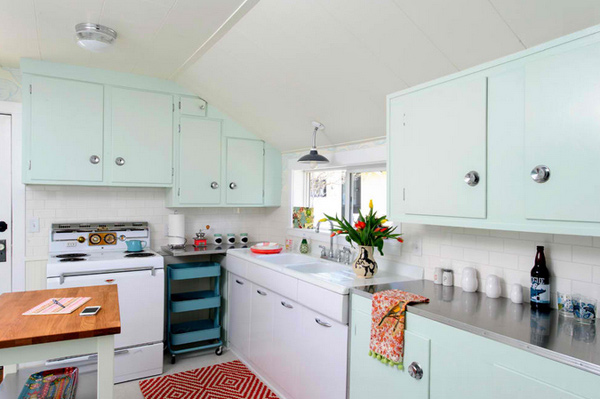 The cabinetry was in good shape, so the designer cleaned them up, repainted the outside and relined the inside with contact paper. A new subway tile backsplash transitions between the cabinetry and new stainless steel countertops.
Shorewood Kitchen Storage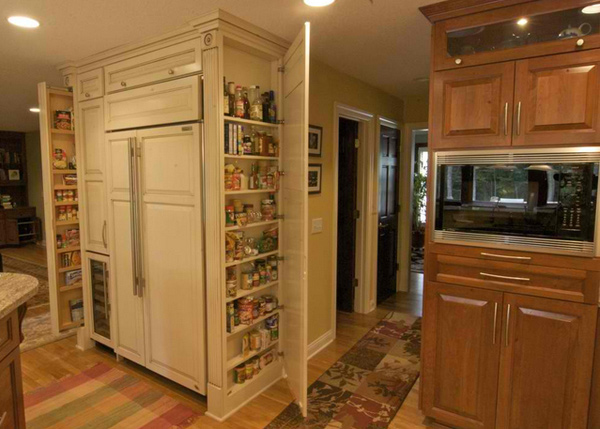 Look at this tiny wall which will pass for a secret storage where you can keep food and condiments from your kids!
South Sydney Kitchen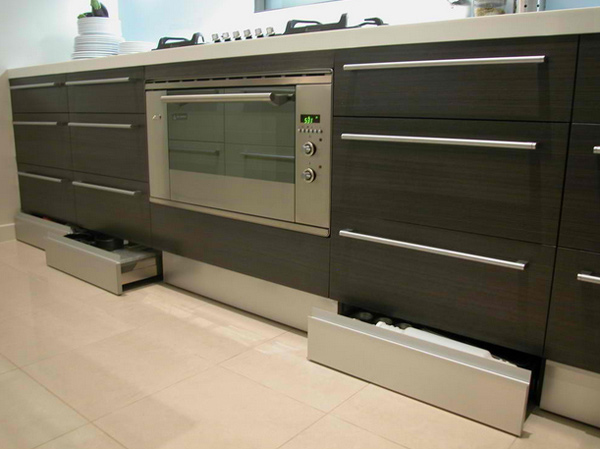 We love the bottom drawers which is partly hidden because it matches the bottom of the oven. Note the chrome and the black combination for this area in the kitchen.
Storage Solutions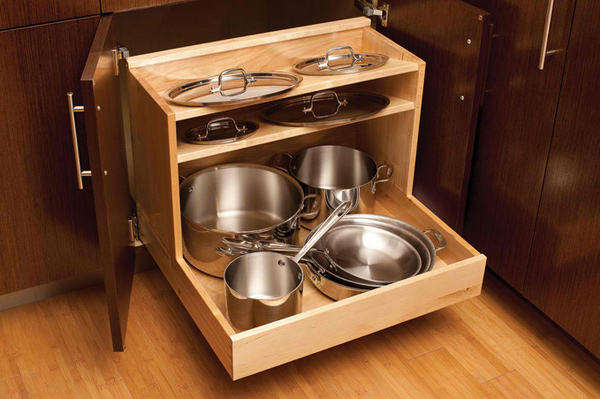 According to Dura Supreme, this kitchen features Moda cabinet doors with vertical grain, which gives this kitchen its sleek minimalistic design. Lofted design often starts with a neutral color then uses a mix of raw materials, in this kitchen we've mixed in brushed metal throughout using Aluminum Framed doors, stainless steel hardware, stainless steel appliances, and glazed tiles for the backsplash.
Sublime Storage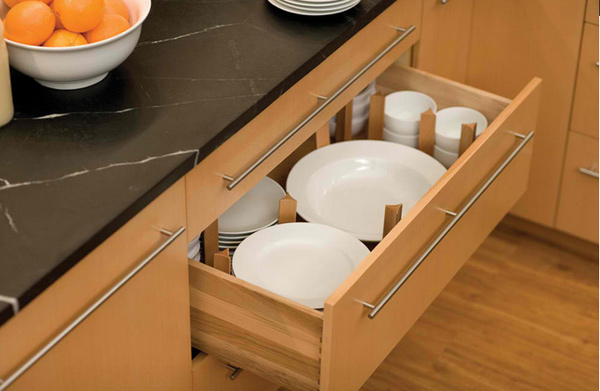 This kitchen dignifies its downtown digs with clean, contemporary lines and its uptown mix of sleek, natural materials. The featured stainless steel and Aluminum framed doors give this kitchen its modern edge.
The Home Of Yvonne And Boris
The mantle that is actually a bookcase in kitchen and the platter placement above mantle is super stunning! Note the pretty colors and shabby chic design used in this kitchen. We love it!
White Cottage Styled Kitchen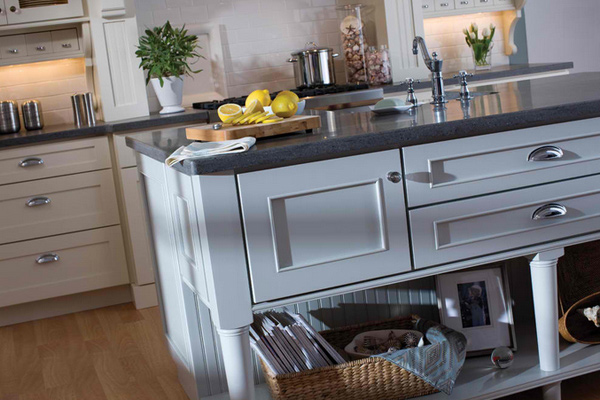 This cottage kitchen features Antique White and Mineral painted cabinetry. These soft hues bring in the clean and simplicity of Cottage Style. As for hardware, bin pulls are a popular choice and make working in the kitchen much easier.
With the photos we have shared above, it's safe to say that every home has its own way of keeping things; every home has its unique technique in making sure that they are able to keep their spaces as homey and as wonderful as it was the first time they set foot in it. The 16 Stunning Kitchen Storage Ideas are just samples of the more modern way of how designers are doing them now. Also check out the 15 Stunning Kitchen Nook Designs we have shared a few weeks back. Have fun!