15 Black and Gray High Gloss Kitchen Designs
Sophistication and class is usually associated with Black.
But today, we will show you that even the rather close relative of Black – Gray is up to the challenge of being in this department. We will be showing you some kitchen designs that will define these two words in the most regal sense.
The color scheme for today may be somehow be deep and gloomy, but when you get the chance to take a better look at the designs, you will surely be amazed at how these designs define class and sophistication.
These features display clean lines and modern fixtures that will definitely awestruck you in your very seats. So, sit back and relax and look at these 15 Black and Gray High Gloss Kitchen Designs that will make you wish they were yours.
Lucido Black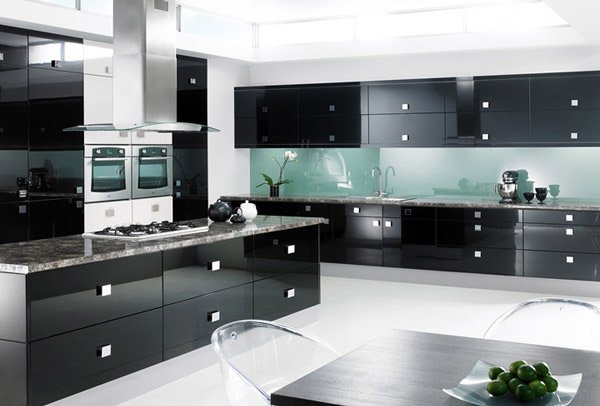 Look at the sleek lines and clean black tone that this kitchen has. Ultra modern kitchen must-haves and state of the art cooking areas. Who wouldn't want to have this?
Image Black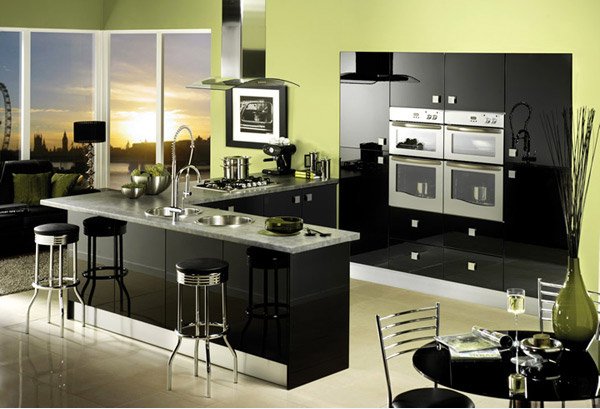 This room sure looks like a cotton candy waiting to happen. The wall color sure looks tangy and tasteful – definitely a good way of painting your kitchen – somehow yummy even before the cooking.
Image Grey Zebrano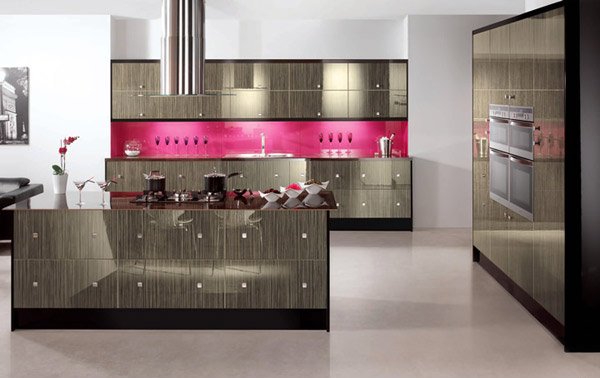 This color looks like brown at some point right? But hey, KBBC Inspirational Designs wouldn't really name it grey if it wasn't right? Anyway, the pink colored backsplash sure makes this space girly and really pretty.
Metropolitan Lava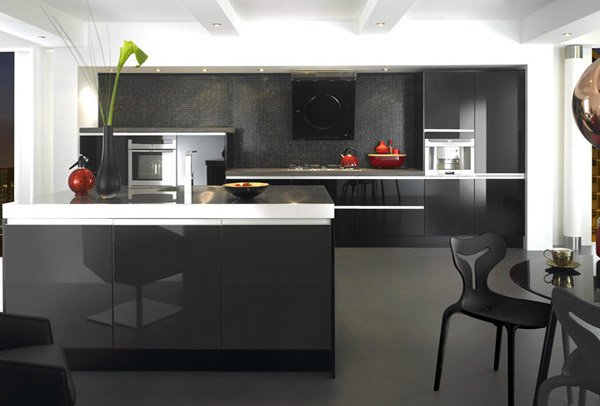 This shade of black sure is tricky. It is one example of when a client would want to have a black kitchen, but not all too black – get the picture? This sure is the baby those type of clients would want to have.
Image Lava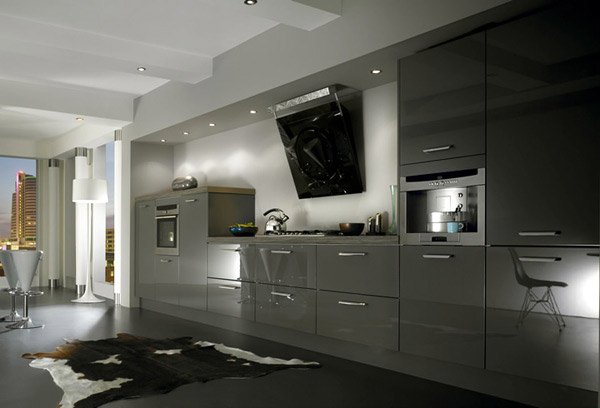 Don't know if you have already seen dried lava from the volcano, because we sure have! This is how it looks like – well the color of course, but adding that extra shine sure changes the mood volcano leftovers to a classy kitchen!
Image Ebony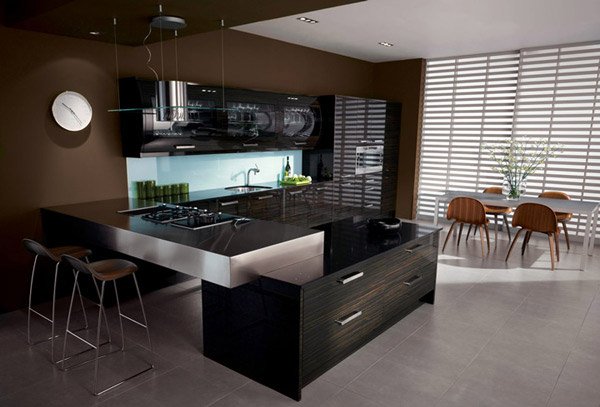 The kitchen bar looks like stainless steel from this angle – sure looks really modern and classy, don't you think? This glossy kitchen shows us more than what it actually looks like.
Metropolitan Black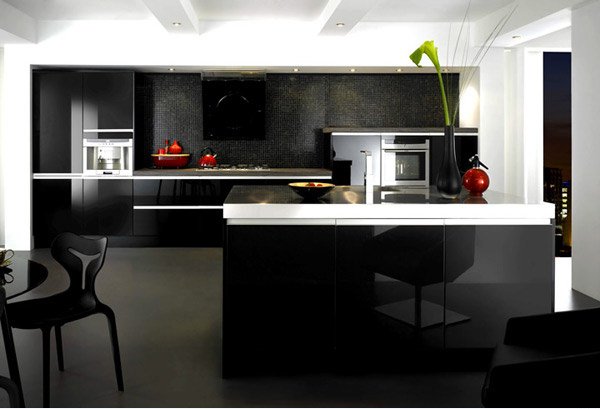 Another charmer from KBBC Inspirational Designs! This is something we can definitely call Black Beauty! Sleek, clean lines, high gloss finish and modern kitchen appliances, this will surely entice home-owners.
Orange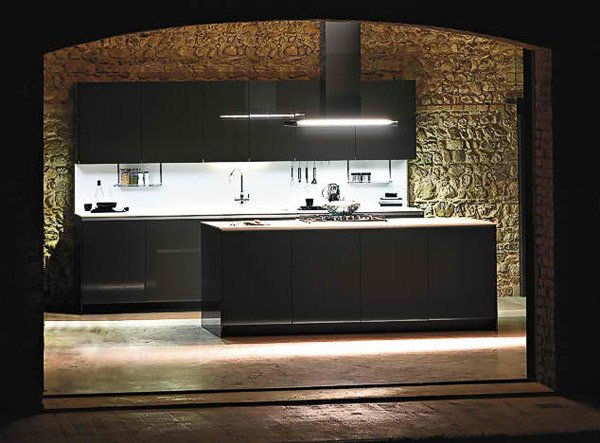 Pretty medieval right? The underground feel of this kitchen contradicts with the modern cut of the kitchen in it. Whether this place feels like Batman's cave, it still sure feels cozy to be in!
Scenery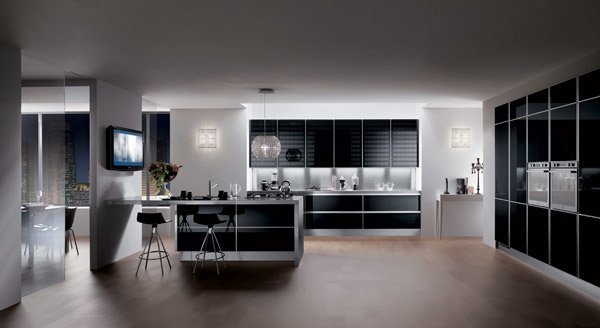 This indeed looks like a scenery from our angle! This kitchen looks really amazing – black kitchen cabinets and drawers, even bar stools! The flooring sure gives a homey feeling for this one!
Akiro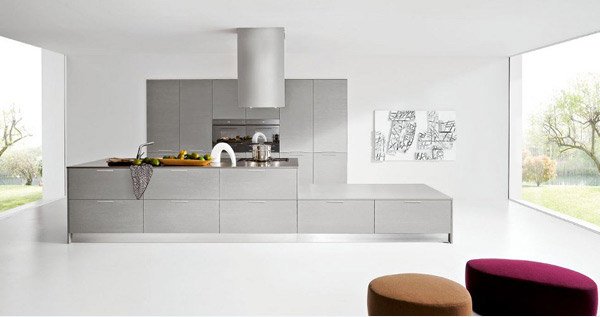 This is what you call – impeccable cleanliness! With light colored walls, floors, and even the kitchen area itself, you can't seem to help but feel bad messing this place up! This ineffable beauty is sure to break your hearts.
Nobilia Glassline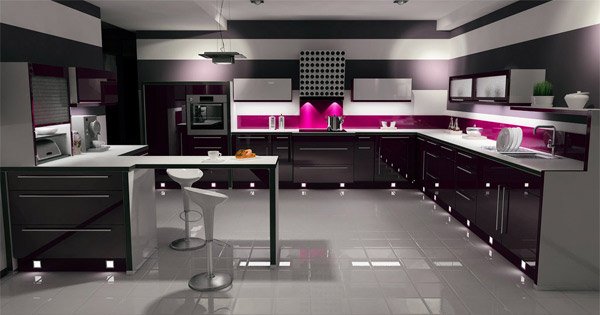 At first glance, this kitchen may actually have like a dash of violet in it, but when you look closer, its just the backsplash and the cove lighting that plays with our eyes in this picture. Pretty impressive right?
Glassline Compact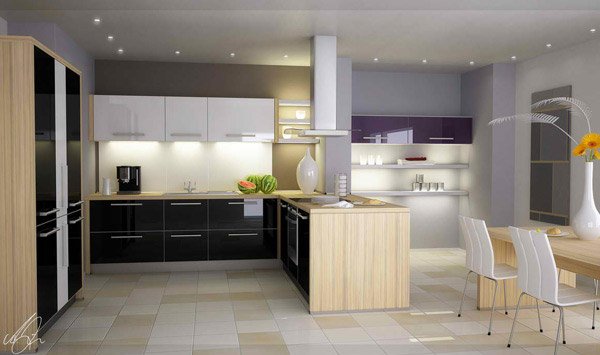 One homey kitchen with a touch of class and sophistication. Mixing it up with wood, stainless steel and modern kitchen stuff, this homey kitchen is one modern catch! The color palette sure is simple, but really charming.
Alenquer Kitchen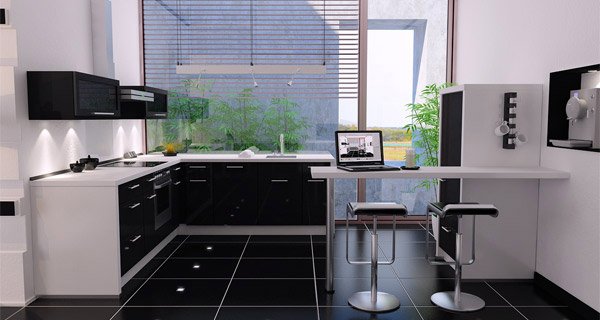 A black and white kitchen can never be missed whenever we show off black kitchen designs – they are like a match made in heaven that is admired by almost everyone who sees them! This modern kitchen is one space, people will never get tired of.
Flirt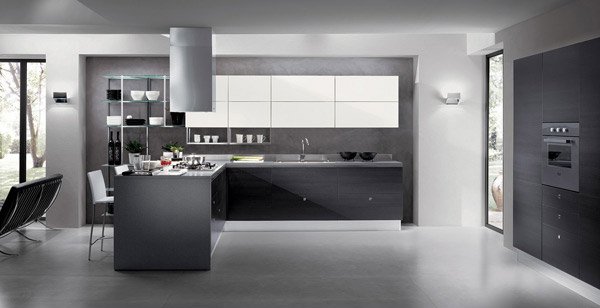 The name of this modular kitchen does not begin to describe how beautiful and enticing it looks. Clean lines and white ensemble here and gray ensemble there – this sure is one big hit for consumers!
Black Kitchen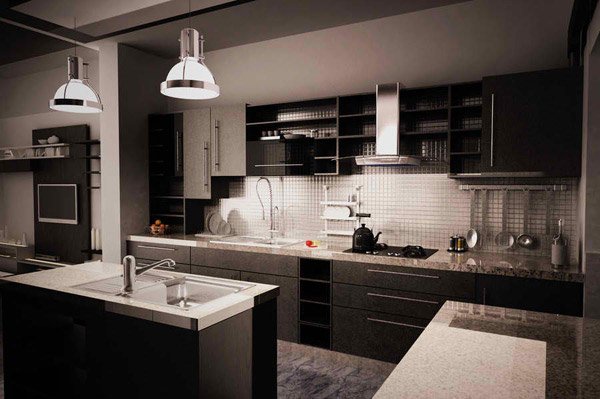 This design is one industrial look that surely is admired by a artists who likes mixing and matching modern look with the industrial era – stainless steel and industrial pendant lamps – perfect combination.
How did you find the photos above? We sure hope you loved them and that you can't wait for the next topics that we will be showing you here in Home Design Lover. The collection was inpired by a dress a friend saw in the mall that looks really perfect – a black and gray dress. And like how we saw the kitchen designs above – you can never go wrong with black and gray! You can also look into Bold and Black Kitchen Designs.