15 Functional Double Basin Kitchen Sink
If we check the internet to define what a kitchen sink is, we will be told that a sink can also be called a wash basin or in some instances, a lavatory.
A sink is a plumbing fixture that we use for washing our hands, clean our dishes and for other cleaning related purposes. This fixture usually comes with a faucet, either supplying cold or tap water, or in some homes, it can supply us with both hot and cold water.
Today, we will be showing you pictures of 15 Functional Double Basin Kitchen Sink that comes in different shapes, sizes, style and color. Featuring only the best like what we did with kitchen designs on corners.
We have the manufacturers to thank for since these fixtures come in unique designs that we can hope to make sure that the one we have at home is not the same with the one our neighbors have. The photos that we have here come in 2 or more compartments for more function and use for home owners. Check them out!
A Perfect Blend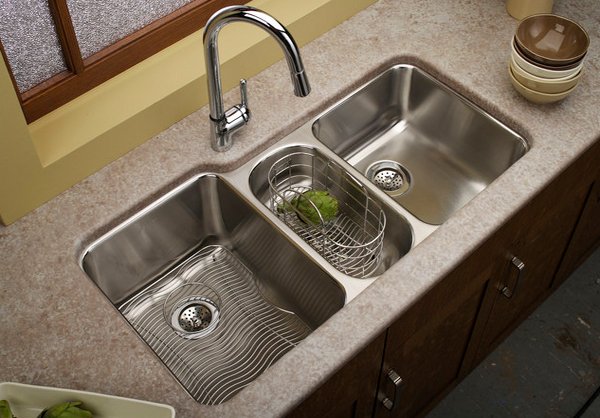 This transitional kitchen sink is wonderful because it comes with a middle compartment that can be used for holding things or even food while you do the dishes on the right side and drains the others on the left side.
Baldwin Double Bowl Fireclay Farmhouse Kitchen Sink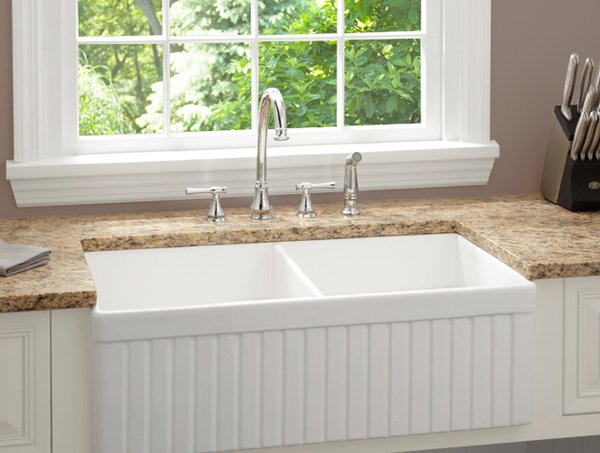 The vertical lines on the front of this farmhouse sink will really catch your eyes. They give it a real touch of class and remind us of beadboard, which everyone seems to love.
Blanco Silgranit Kitchen Sinks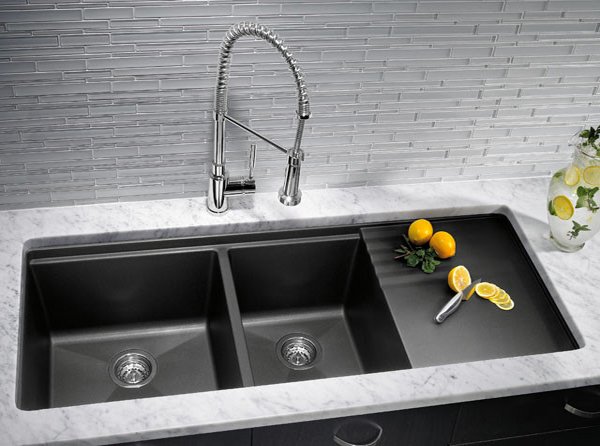 One interesting feature of this undermount sink is actually the pull out faucet which is flexible for any use.
Dawn New Dual Mount Square Sinks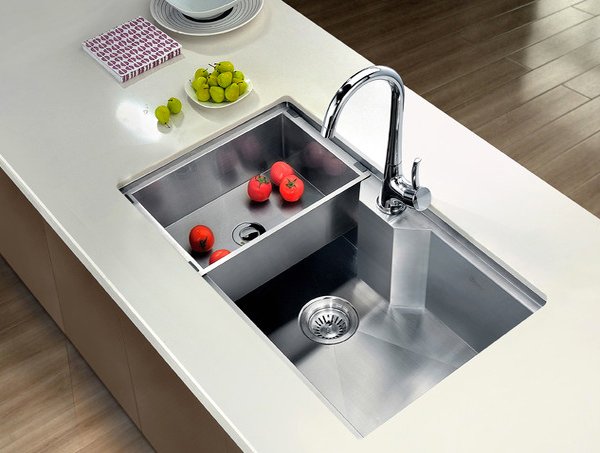 This dual mount sink has zero radius corners that create a chic, angular look and it definitely maximizes useable basin space.
DP Transitional Kitchen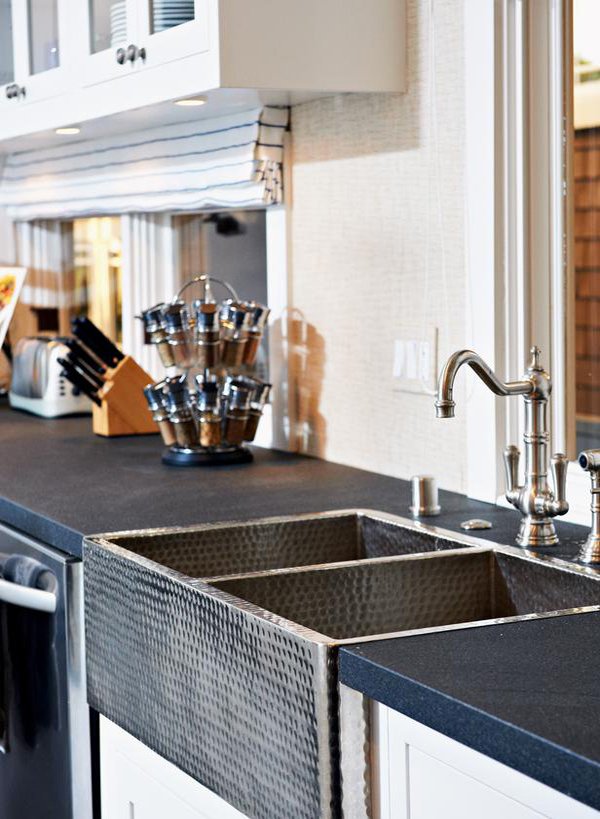 An interesting transitional kitchen sink that can definitely pass for vintage and contemporary. The color of the basin itself is stunning and so is the faucet.
E-Granite Sink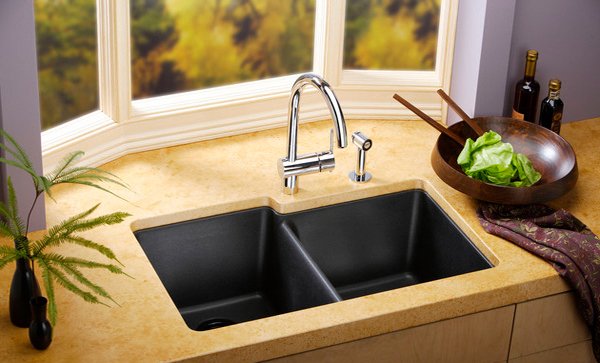 We know of a few people who actually like composite granite for their countertops – although the color of the granite that we have here in this picture may not really be a best seller compared to the darker ones, this sure is a charmer and looks extremely fascinating.
Kohler Vault Double Kitchen Sink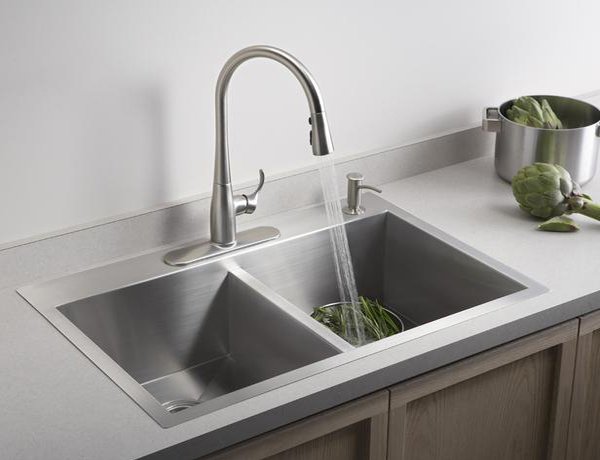 The sink's weight is supported by a rim that extends above the countertop surface. Durable, affordable and easy to clean, stainless steel is the most popular material for kitchen sinks.
Kraus Double Sink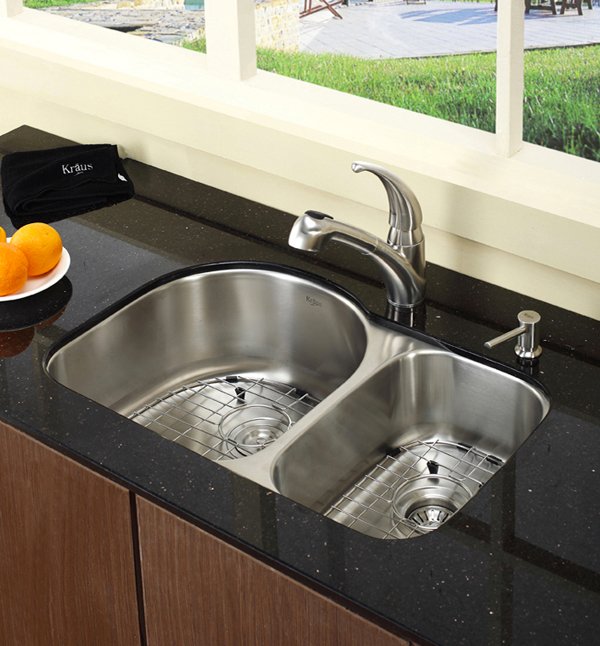 Having two different sizes for the basins of your kitchen sink is ideal since there are some items that do not fit in regular sized sinks.
Kraus Sink
According to the manufacturers, this kitchen sink boasts 16-gauge premium grade T-304 stainless steel construction with an 18/10 chromium/nickel composition and scratch-resistant commercial-grade premium satin finish.
Trapezoid Undermount Sink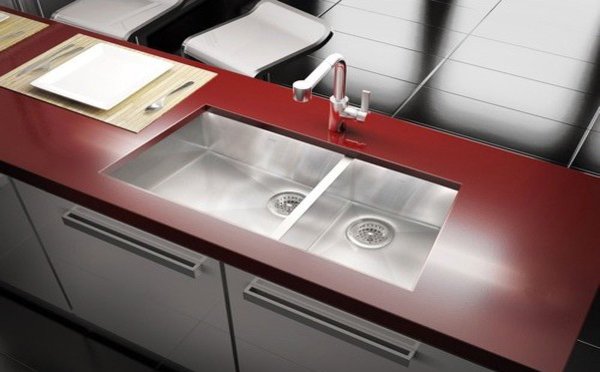 The Trapezoid collection is bringing kitchen sinks to a higher level while maintaining the precision and detail only found in a Julien sink. With its unique design, this collection offers a perfect geometry making it beautiful and functional as it maximizes your kitchen cabinet space.
Modern Kitchen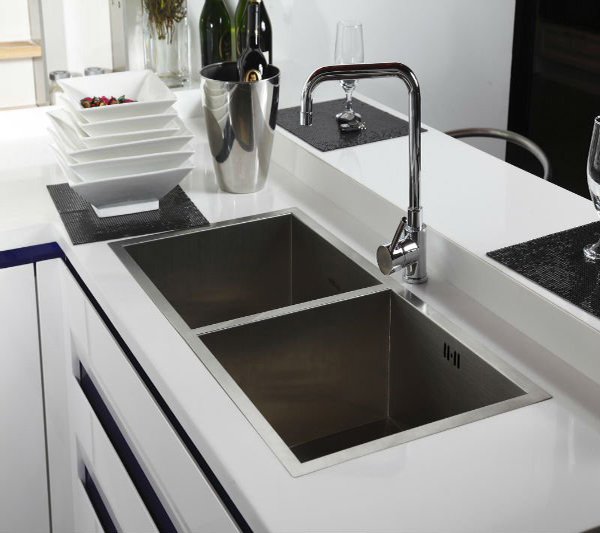 Here is one example of a kitchen sink with two equal basins. Thanks to the contemporary design of the counter and the cabinets, this area sure is stunning!
New York Modern Kitchen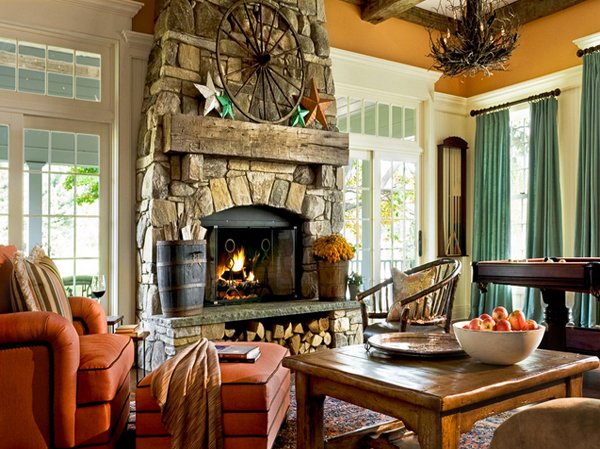 In the current designs of modular kitchens, we see a soap dispenser like the one in this picture – although not all owners prefer this, we can say that it's better than putting another container of some sort for bar soaps.
ROHL Kitchen Sink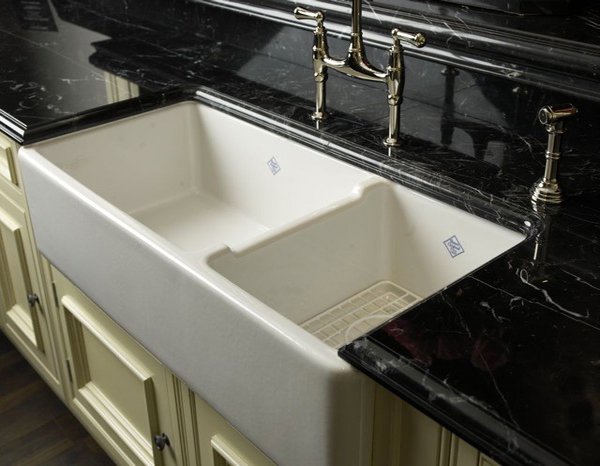 They said that since 1897, every Shaws Original Fireclay Apron Sink has been finely handcrafted in Darwen, England, with the same distinctive design and fireclay construction. The artisans stamp their name directly into every sink they create – a symbol of pride that lasts as long as its beautifully resilient fireclay surface.
Sink Pros Double Sink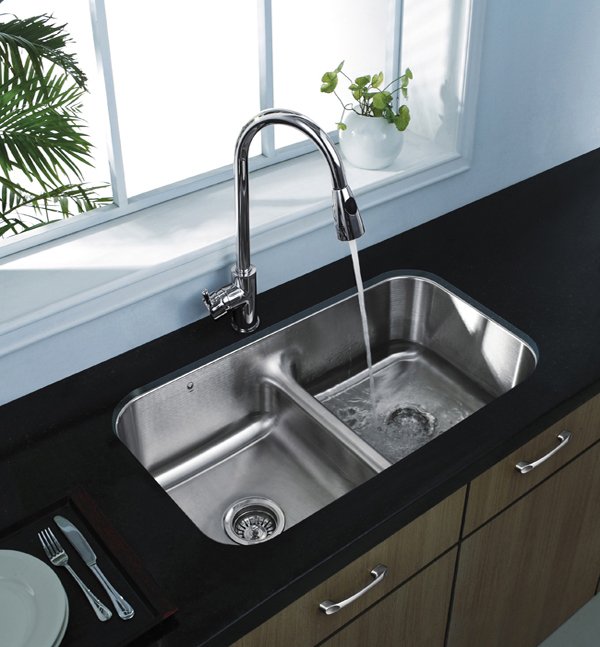 Fabulous counter top paired with this awesome stainless double kitchen sink. The white wall goes well with them as well.
VIGO Platinum Series Topmount Kitchen Sink Combo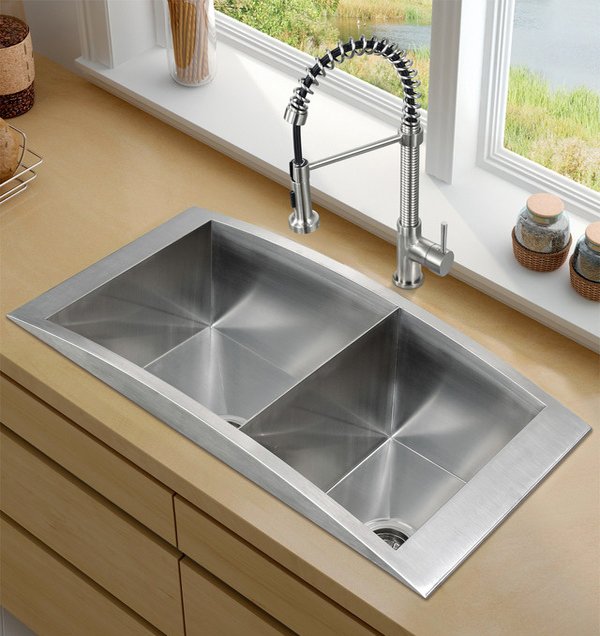 This top-mount kitchen sink is a favorite because of it 12 gauge sink, spiral faucet and awesome stainless steel material. Even the design of this basin is pretty!
That list was indeed a fabulous one! From rectangular basins to angled ones, we can say that the designers and manufacturers of these 15 Functional Double Basin Kitchen Sink did a great job in making sure that they will be as convenient for the users as it was intended. In more ways than one, double basin kitchen sinks can come in different material depending on the manufacturer, designer or end-user. As long as the fixture fit the design for your kitchen, we are sure you will be having fun in your kitchen when cooking! Also, take time in checking out How to Choose the Right Kitchen Sink for your homes!