25 Unique Lighting Over Kitchen Tables
Adding a unique light above your kitchen table will enhance its appeal.
Every time we look at pictures of kitchen bars, we usually see unique pendant lights or lighting that is both functional and decorative. This pictures showcase different designers of lighting fixtures that show off their beautiful designs – they come in different colors, designs, sizes and even material; of course, this is to highlight the look of the kitchen.
Today, we will be showing you a list of 25 Unique Lighting Over Kitchen Tables that will magnify the already lovely kitchen designs the creators provided for us. I am sure that you will be able to pick one or more unique lighting fixtures that fascinates you and might serve as inspiration in the future.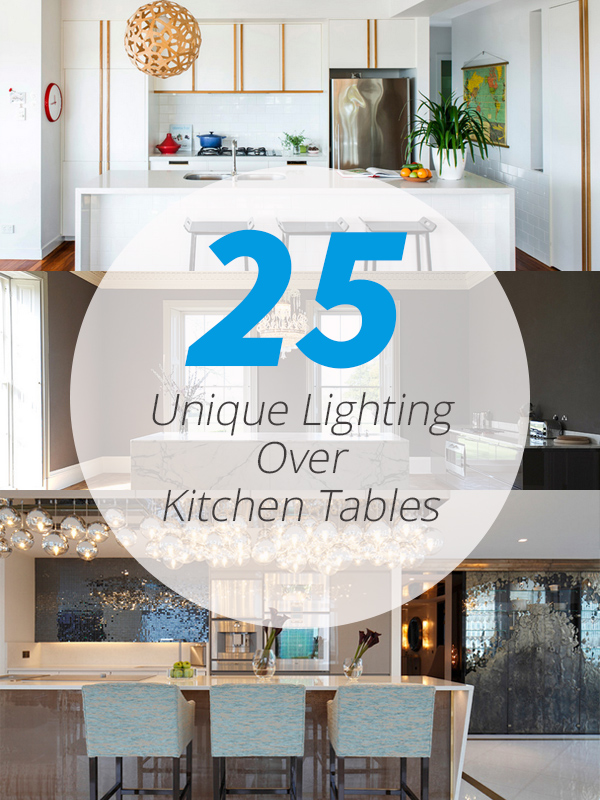 1. 1190 Royal York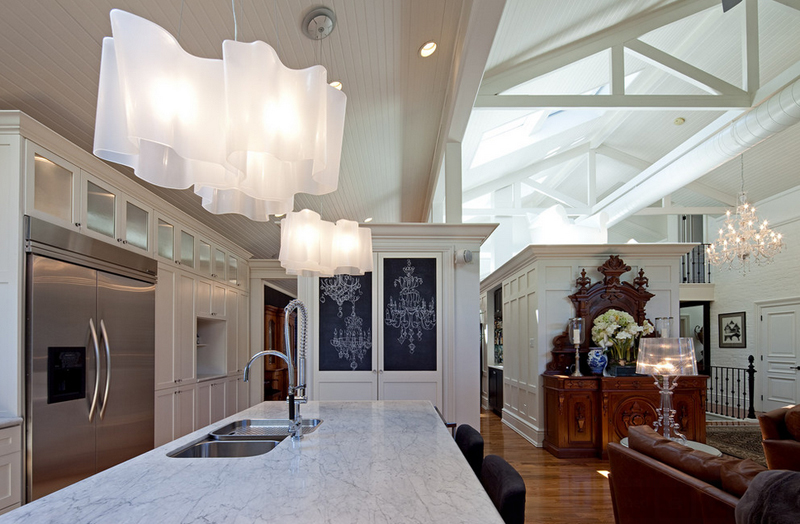 Notice that there are a couple of lighting fixtures in this New York space? Of course this is primarily because we need the lights; and second, they are really beautiful! Pieces of lighting in our homes reflects our taste and budget, so make sure they look sweet.
2. Adelaide St. House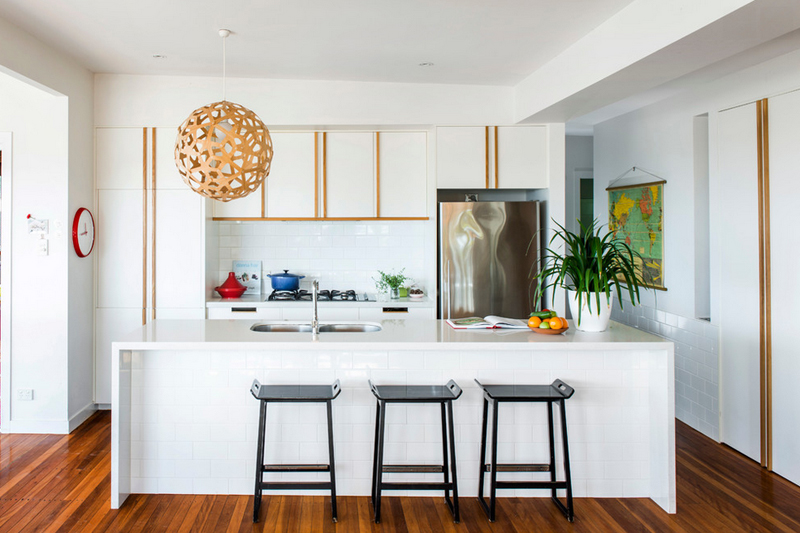 I can't be certain, but it seems that this pendant light might either be wooden or plastic. The design is unique and really pretty. It complements well with the white kitchen accented with golden or brown strips on the cabinets.
3. Bespoke Urbo Matte Lacquer Kitchen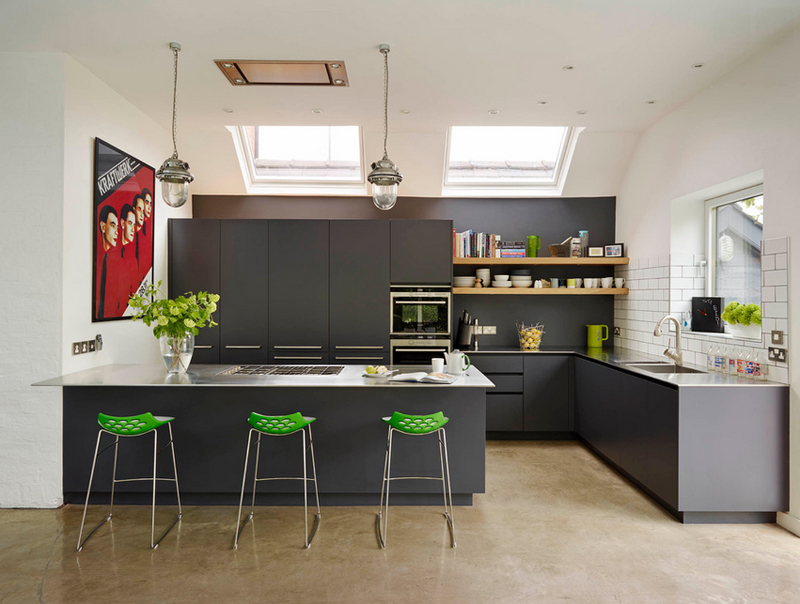 Industrial design pendant light is a usual choice for lofts and contemporary kitchens – for this space, we can see that it has this lovely grey cabinets that blend well with the lights.
4. Best of East Meets West Kitchen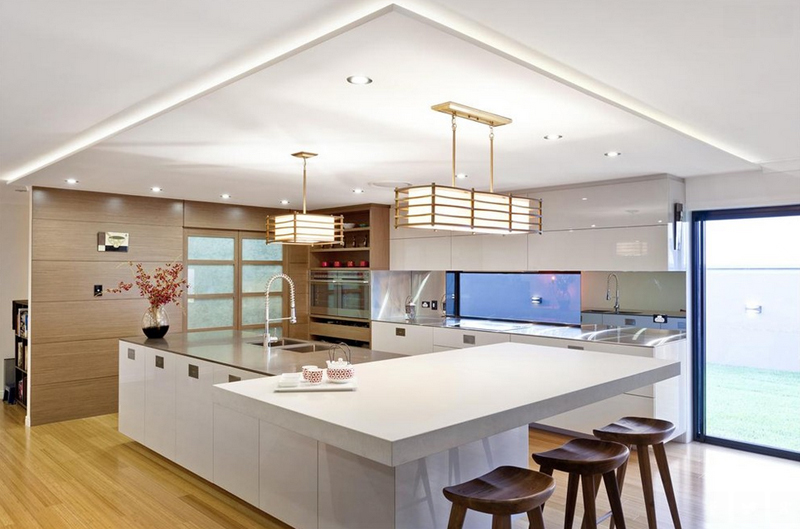 The lighting fixture present in this Asian-inspired kitchen is a blend of contemporary-designed lights that is encased in metal. This point of view makes it look really Asian.
5. East Malvern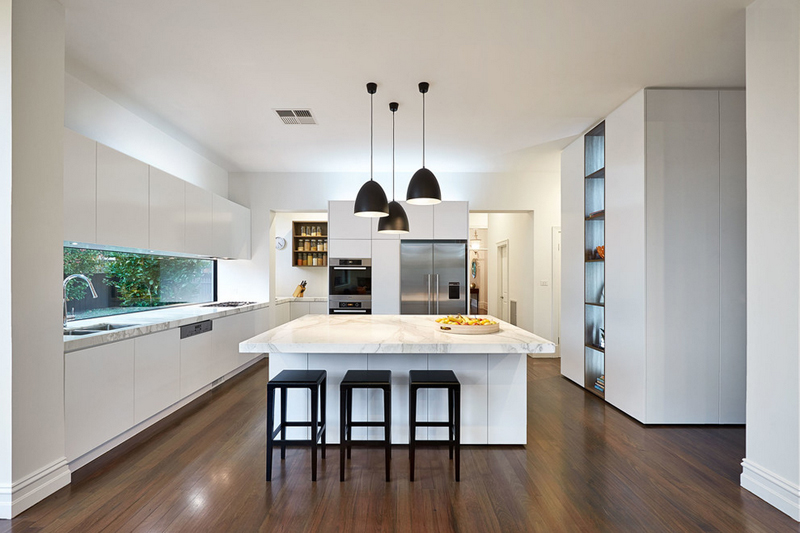 With a white kitchen like this one, you can always play with colors and materials, but as you can see in this picture, the designer did the classic look with the use of black accents like the lighting fixture and the bar stools.
6. Edina Mid-Century Modern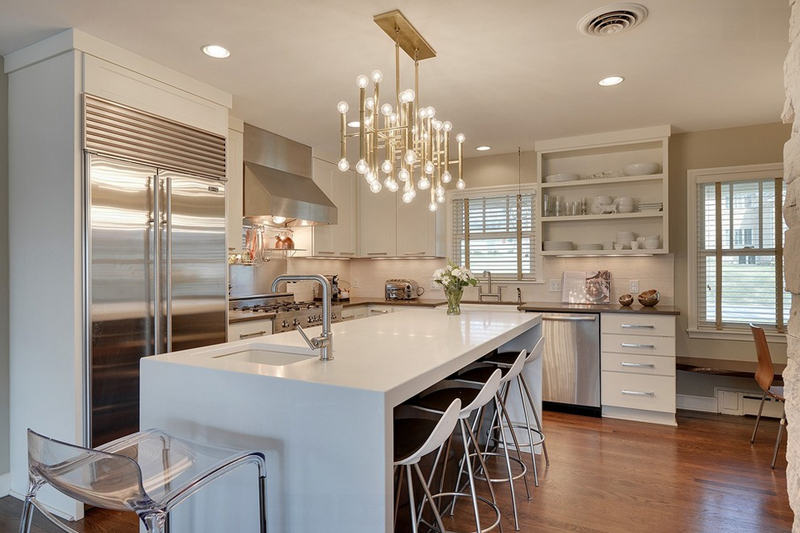 The pendants lighting in this kitchen somehow looks like cotton swabs or Q-tips, right? Haha. Only that they are far more glamorous than the ones I just mentioned. No, really, they are fancy and extravagant.
7. Family Contemporary Kitchen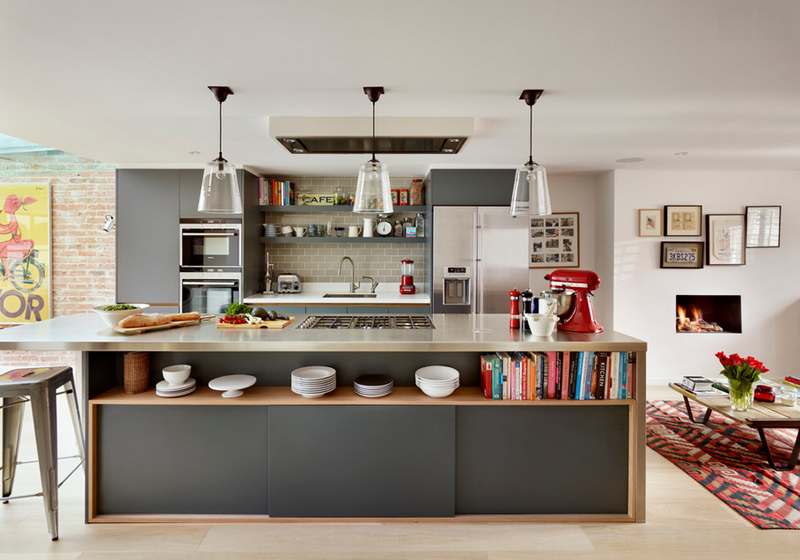 Oh! I love the design of the pendant lights that this kitchen has! Transparent glass is a great way to go when you do not actually know what you want! It goes with everything; looking at this space, I know you get what I mean.
8. Gold Coast Kitchen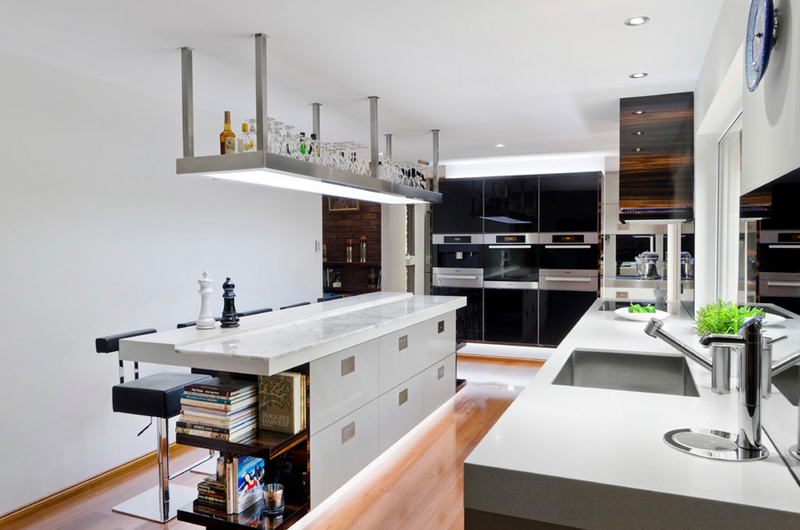 Pretty interesting way of keeping your lights, right? The designer created a lighting fixture that the home owner was able to use to hold things in the kitchen, in this case, wine glasses.
9. Hampton House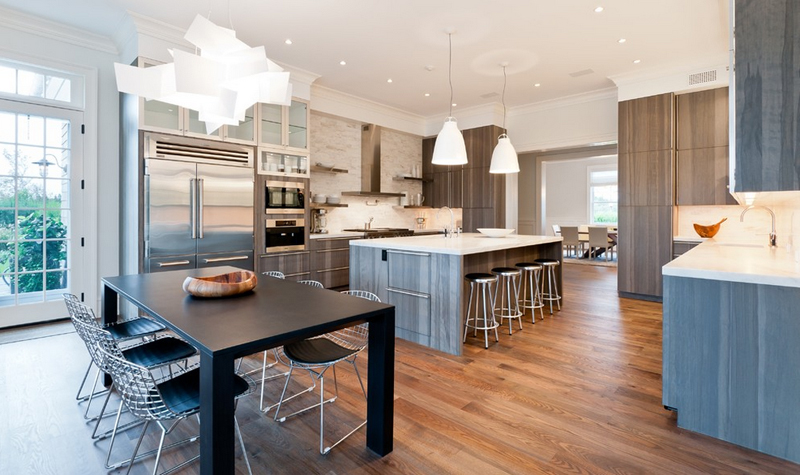 You see two types of lighting in this picture – one above the awesome dining table and the other pair above the kitchen island. Well, for one thing, I chose this picture because of the lighting above the table – but still, the other pair just as interesting and lovely.
10. Kitchen by Design First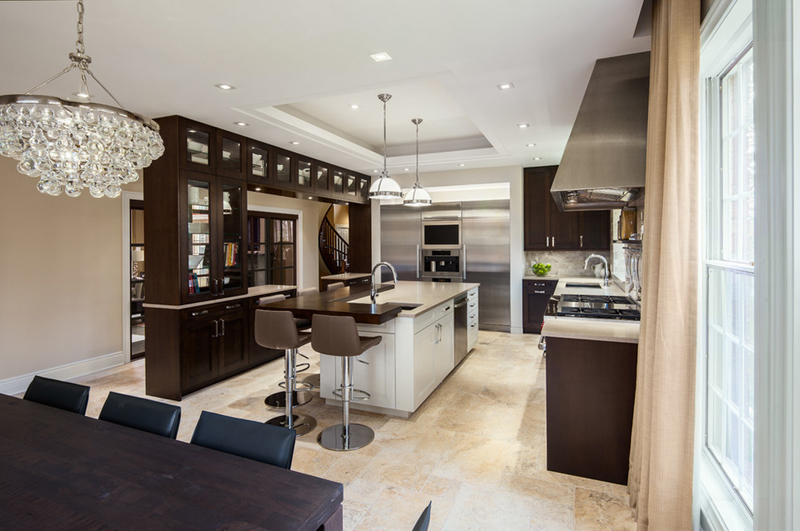 Like in the picture before this one, there are two different sets of lighting fixtures. Notice that the pair above the kitchen island is a bit industrial while the one above the table is all classic glass. Since the light by the kitchen is part glass, they mix well together.
11. Kitchen Peninsula London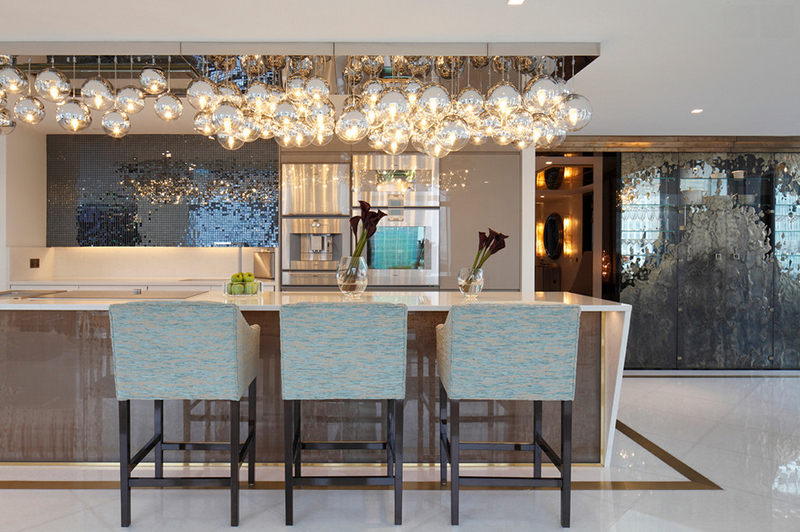 I don't have much to say with the lights that this kitchen has except that they are just fabulous! Too fancy but just enough to make this lovely kitchen much more lovelier.
12. Knightsbridge Penthouse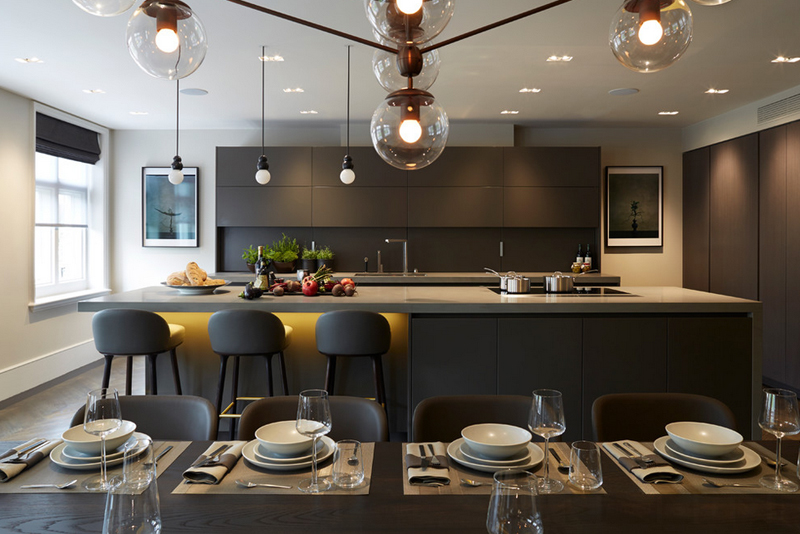 Whenever I see kitchen lights, it usually comes in threes and believe me, there are a lot of things that really look great in threes. The small lights may seem to blend well with the black kitchen cabinets, but still stands out because of their cool look.
13. Northwood Kitchen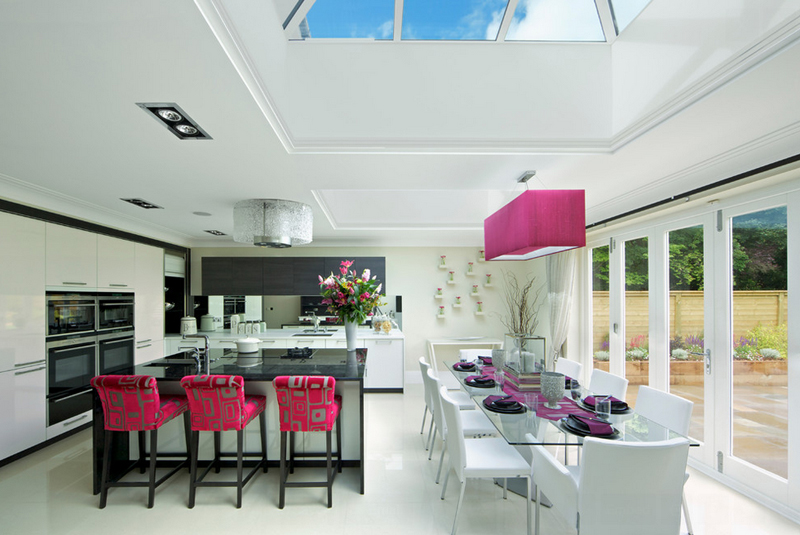 What a catchy color for a white kitchen to use this kind of pink! Note that the lighting fixtures in this picture contrast each other, but they still blend well because of the white and glass combination; plus the shapes contrast each other too.
14. Notting Hill Townhouse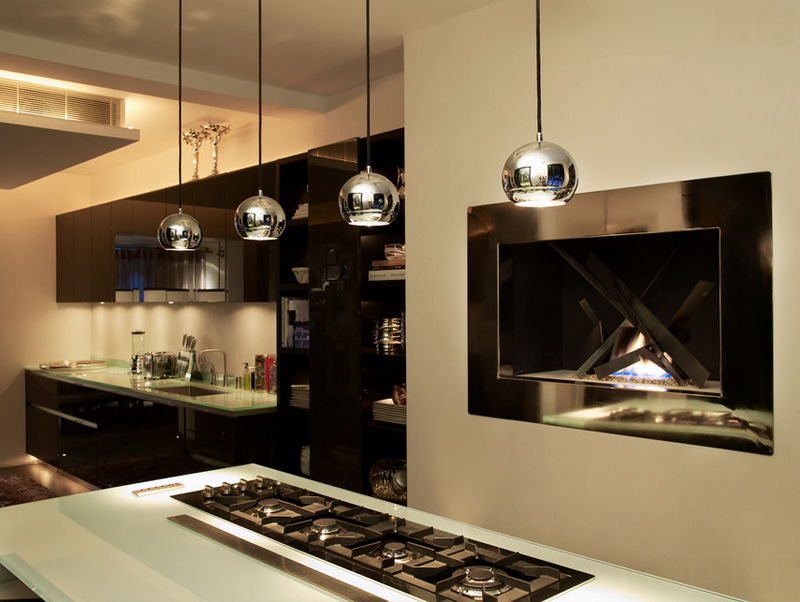 Shiny and round, these pendant lights is revelation! It is definitely matchy-matchy with the stainless appliances in the kitchen.
15. NY Loft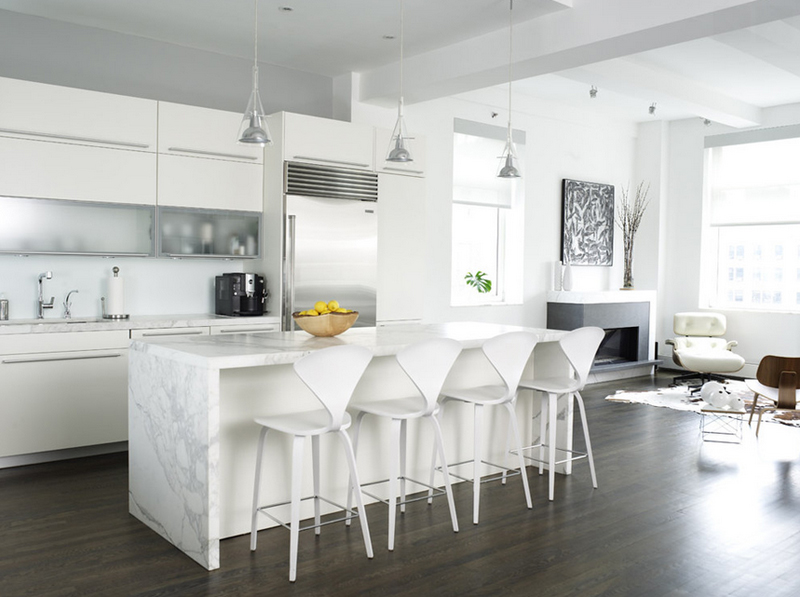 White is a usual color choice for a kitchen and like anything in black and white, a white kitchen is a classic; however long it takes, it will still look great and fabulous! Industrial lighting fixtures always suit a kitchen because of all the steel present in the area.
16. Pavilion House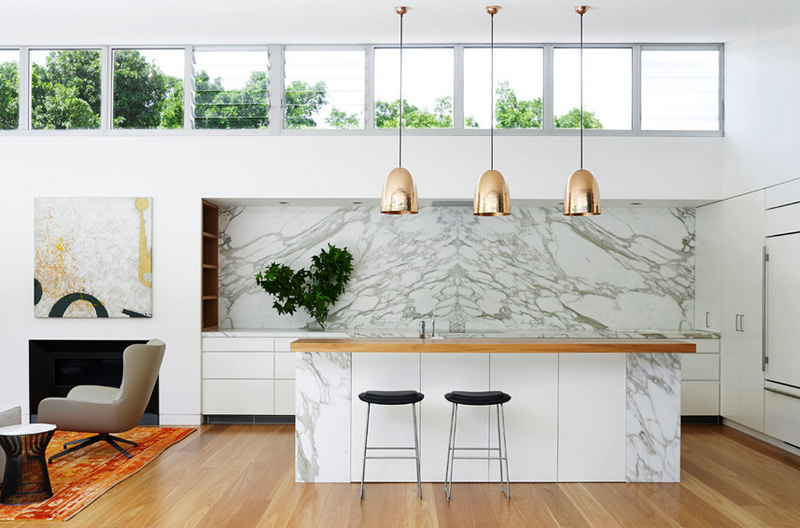 Woah! This is one awesome set of pendant lights! The color somehow matches the wooden island counter because of how related the colors are. Notice the marble wall on the background – well, it sure looks way to cool!
17. Queen Anne Modern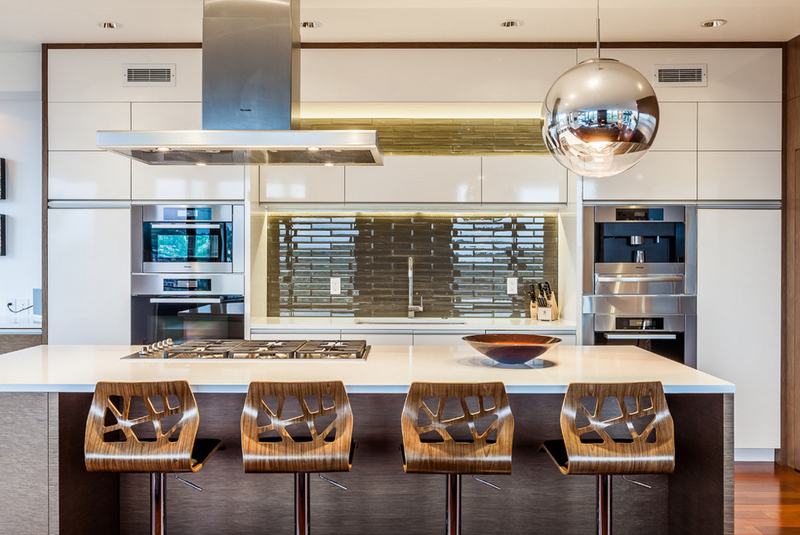 I kind of like the design of the bar stools and I am quite impressed at how subtlely it complements all the stainless items in this kitchen space. The circular lighting fixture somehow distracts me because of how huge it is but still, it caught my attention which I think was its main goal, good job!
18. Regency House Kitchen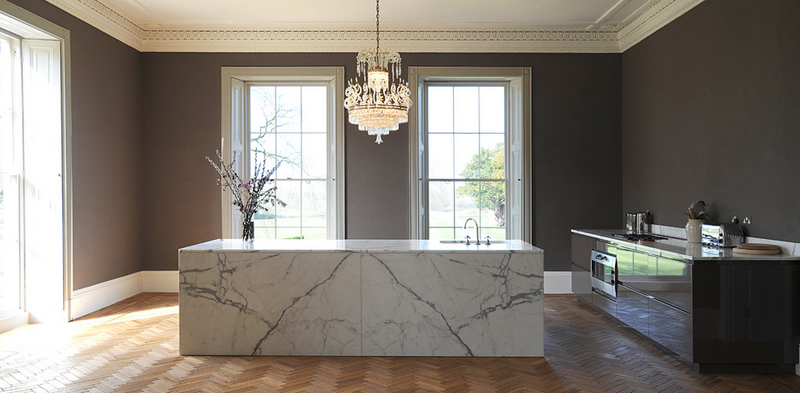 I am not sure if this kitchen is staged for the purposes of a photo shoot or what, because it looks so immaculate that using this space for any purpose feels like a crime. Notice the glamorous chandelier in the center that completes the look.
19. Sara and Ben's Kitchen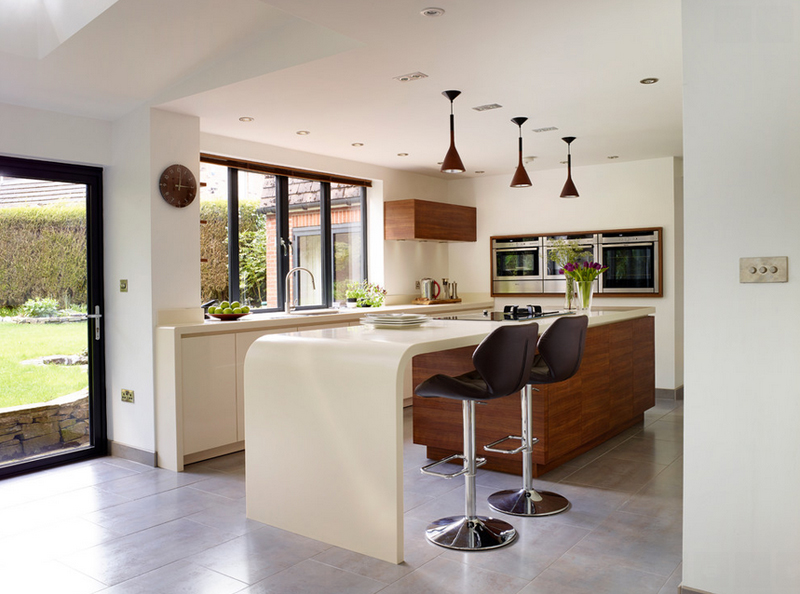 One small yet funky kitchen space that sure looks fantabulous in white and wood combination! The twin bar stool complements the color scheme just fine. Looking through the glass windows will surely make the home owner's day complete in a second.
20. Seavue Luxury Home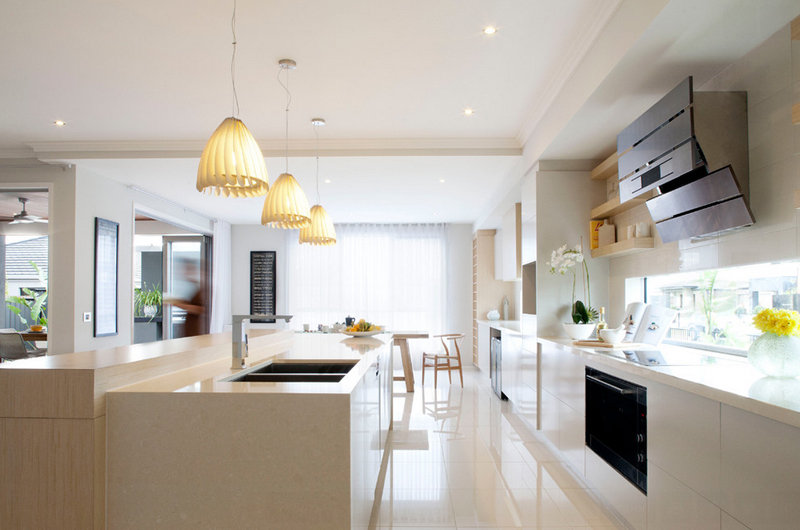 This contemporary-modern home is equipped with state of the art appliances, furniture, furnishings and fixtures – just like the awesome pendant lighting trio present in the kitchen.
21. Southeast Contemporary Kitchen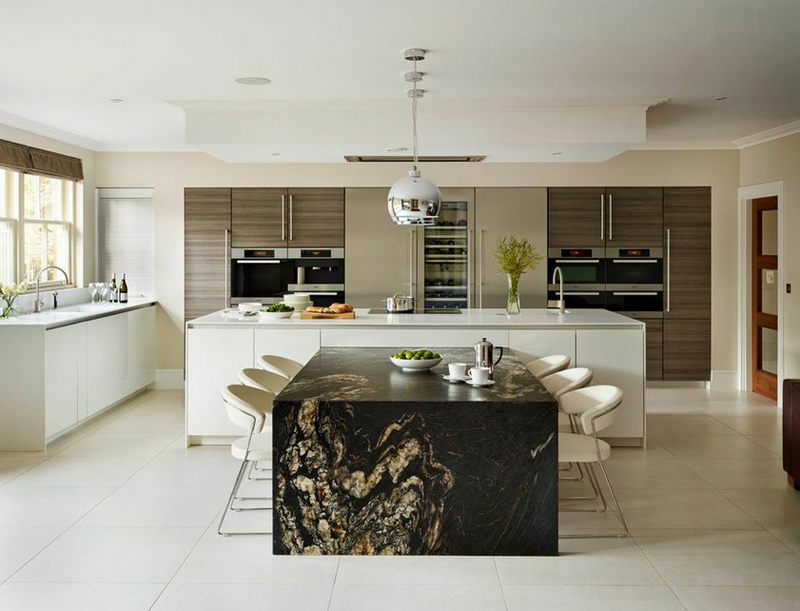 I know that you might think that the table is enough to complete the look of this kitchen; but if you take a look at the pendant lights, you'd think again and say, it sure is the center of this symmetrical space!
22. Stanford in Pewter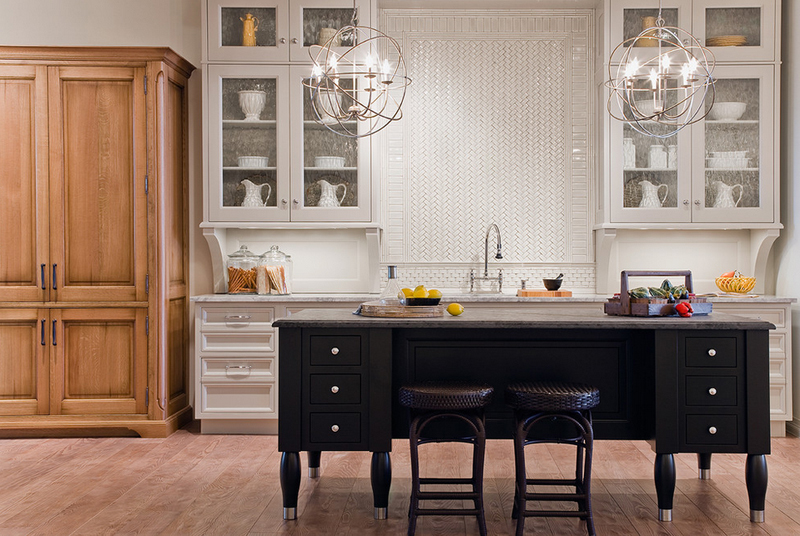 If you have seen any of our lists about pendant lights, I think you'll remember the lights in this picture. I like how much this space look like it's contemporary and vintage at the same time.
23. Trinity Hall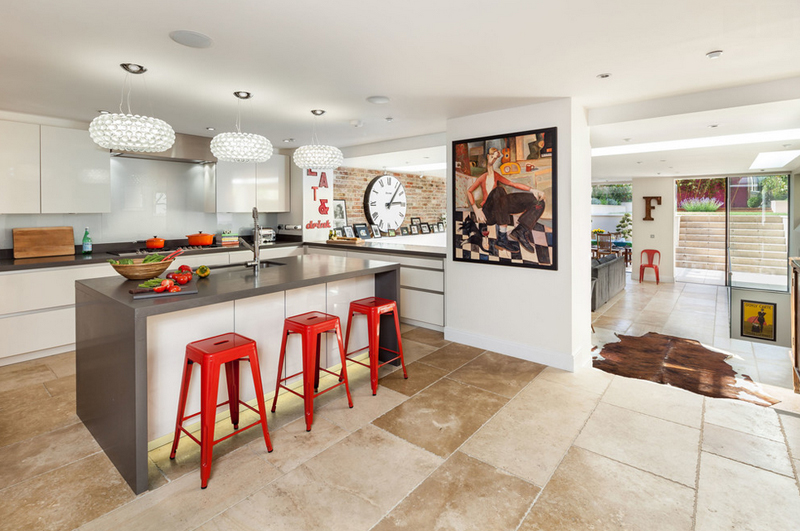 See, I told you about the thing of pendant lights that come in threes? This is one of those samples and I think you would agree that this eclectic kitchen is just enough to tantalize our minds with the type of decor it has.
24. Wanborough, Swindon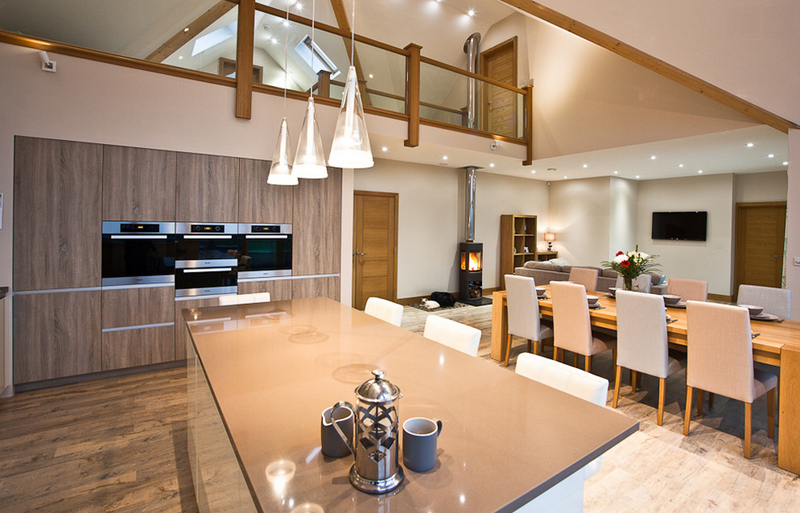 These pendant lights shaped as cones are cute and actually quaint. The light they give to this kitchen island may be small but it sure looks rather promising since it somehow brings out the beauty of this kitchen.
25. West Seattle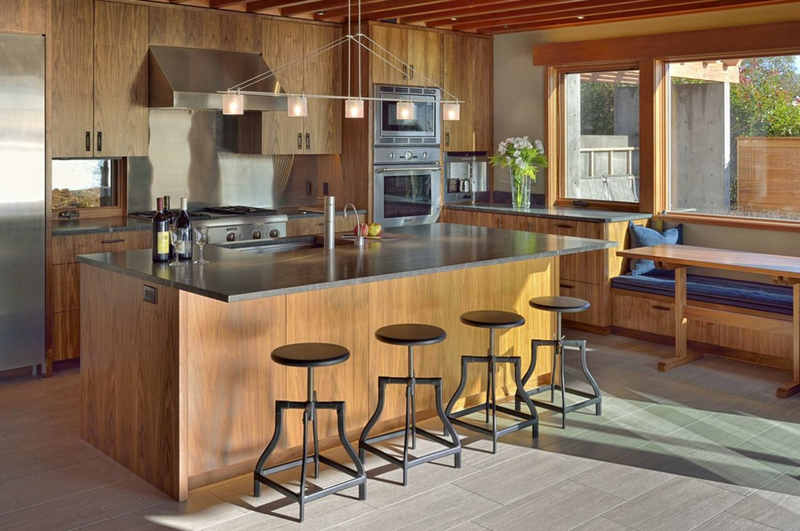 Colleen Knowles created a log home feeling to this kitchen primarily constructed with wooden different shades; the industrial stools also complement greatly with the pendant lights.
If the 20 Amazingly Designed Mini Pendants to Buy Right Now sort of encouraged you to purchase new pendant lights, well, I'm guessing that this list of 25 Unique Lighting Over Kitchen Tables will entice you into redecorating too! The design of the kitchens are simple but really pretty and eye-catching – some of the things that we all want our kitchens to be right?