23 Different Outdoor Kitchen Cabinets
We've had a couple of lists about cabinets before, only this time, we are bringing it outdoors – the cabinet photos that you will be seeing in the next few slides are either wooden, stainless steel or both. Interesting part is when they combined the two because it looks nice and at the same time, foreign. That's just for me though; but I'm betting you'd love this list as much as I do.
Below are photos of outdoor kitchens that we have collated wherein we focus more on how the cabinets look beyond the conventional indoor setting. I'm sure you've seen awesome kitchens with not so impressive kitchen cabinets and there are those simple, little kitchens where we see fancy and well-designed kitchen cabinets – we all have that in this list, check it out!
1. Brighton Outdoor Kitchen
An outdoor kitchen with a nice wooden roof for protecting both the homeowners and the beautiful kitchen!
2. Chesterfield Addition/Outdoor Living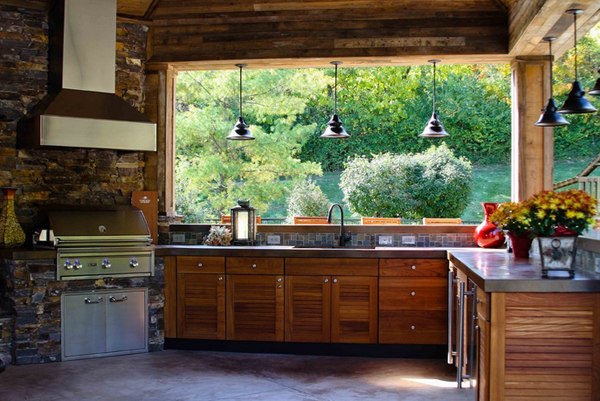 The designer of this St. Louis patio incorporated a bar seating into kitchen area for a more wonderful dining outdoor experience.
3. Deephaven Craftsman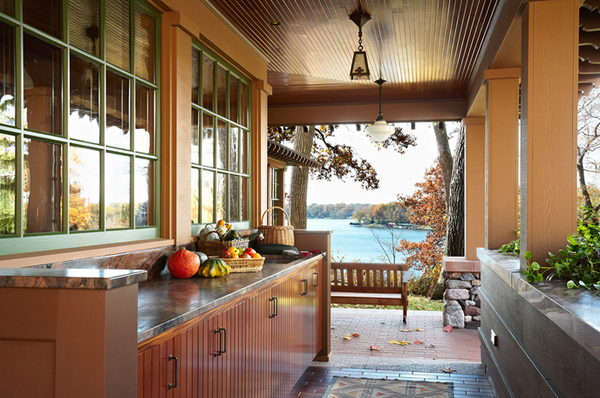 Who doesn't love outdoor kitchen area and under cover porches?
4. Glencoe I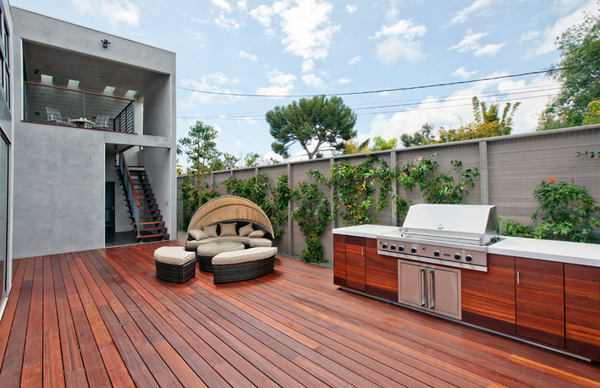 Look at the segmented fence highlighting each plant; plus the wonderful furniture as well. Note the modular grill area on this stunning patio.
5. Grilled to Perfection
These cabinets are made from weather-sustainable Perma Panel. It is a heavy duty solid polymer material that is moisture resistant, fade resistant, rot resistant, etc. It comes in a variety of door styles and colors.
6. Houston Transitional Patio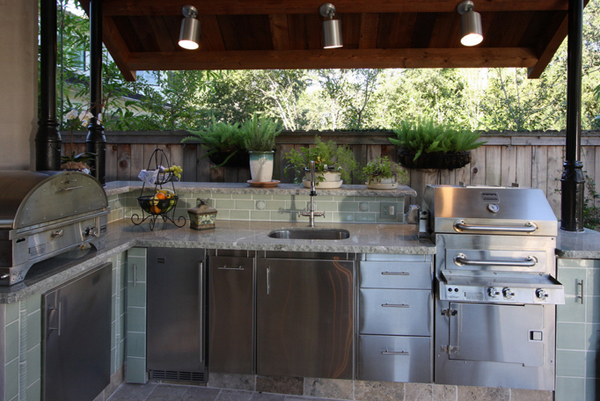 "Those cabinets are from Kalamazoo Outdoor Gourmet. We build the only complete line of weather-tight outdoor kitchen cabinetry available. Our newer line features full overlay doors for a nice, seamless appearance. The Hybrid Fire Grill and outdoor pizza oven are also by Kalamazoo."
7. Island Estates Residence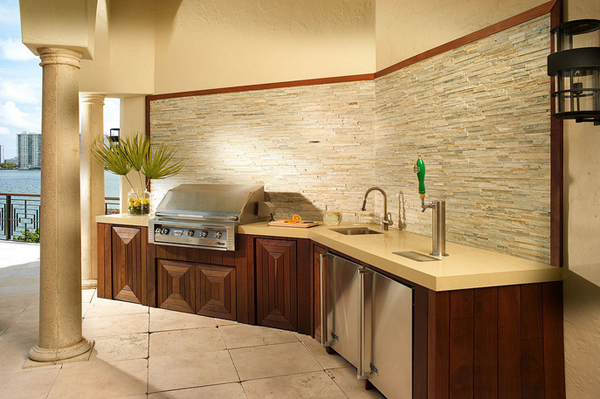 Proper placement of the mini fridge is important, too. You don't want too many people in the kitchen, and keeping these types of appliances at the end of the bar will control where people congregate near the kitchen.
8. Louisiana Life on the River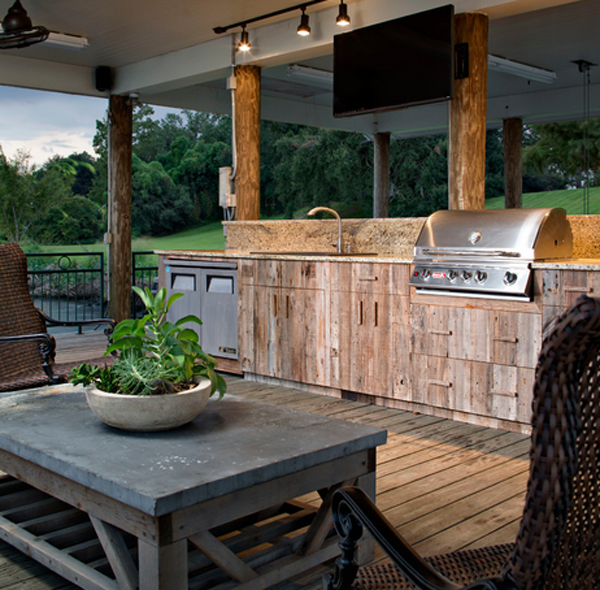 Using rustic design in patio kitchens is a common thing but this one is cool – it matches the columns of the space too!
9. Miwa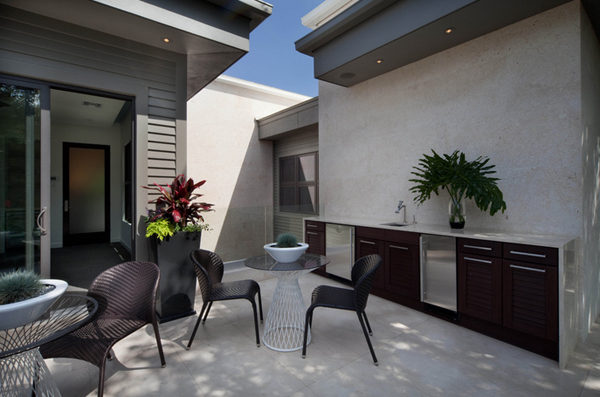 This contemporary home features clean lines and extensive details, a unique entrance of floating steps over moving water, attractive focal points, great flows of volumes and spaces, and incorporates large areas of indoor/outdoor living on both levels.
10. Morningside Estate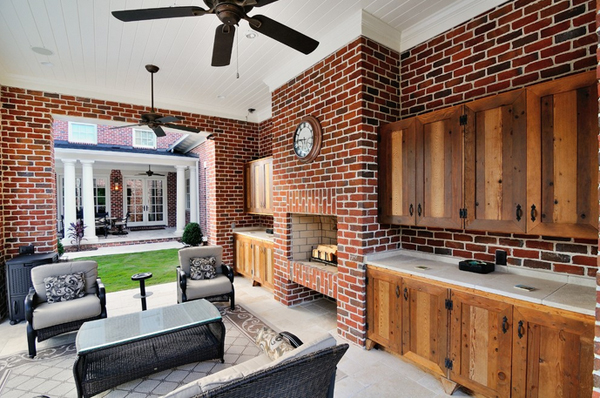 The black wicker grey couch and chairs are simple and really beautiful in this traditional Atlanta patio. Look at the fireplace and the lovely cabinet doors!
11. New York Traditional Patio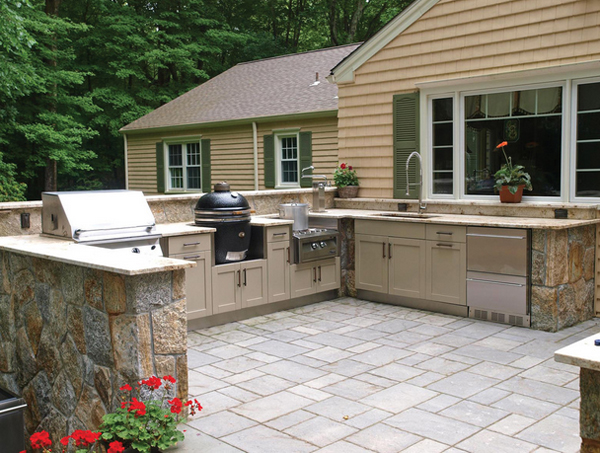 I like how the designer lowered the cooking surface which would actually help if used for large pots; and also, look at the cream colored cabinets.
12. Notting Hill Gate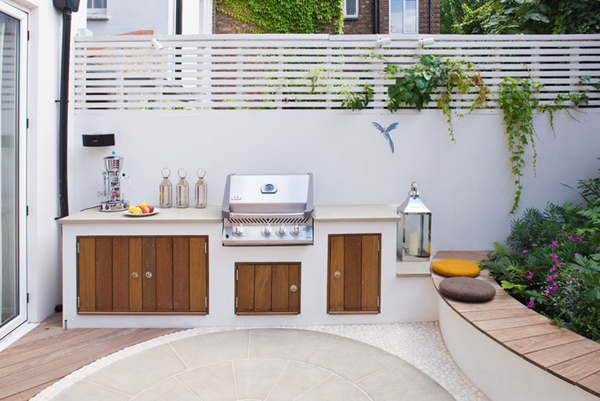 The color palette used for this outdoor kitchen simple and very contemporary. The contrast in the colors and the material of the cabinets is so sophisticated and chic.
13. Pacific Heights Remodel and Addition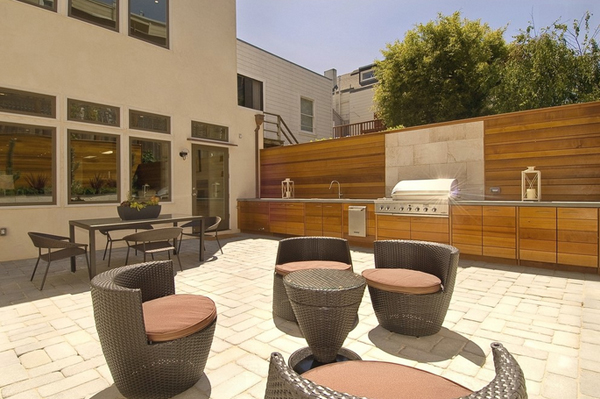 Blue stone paved courtyard – or exterior room – with raised limestone planters, outdoor kitchen and privacy random-pattern cedar fence and cabinetry.
14. Phoenix Outdoor Kitchen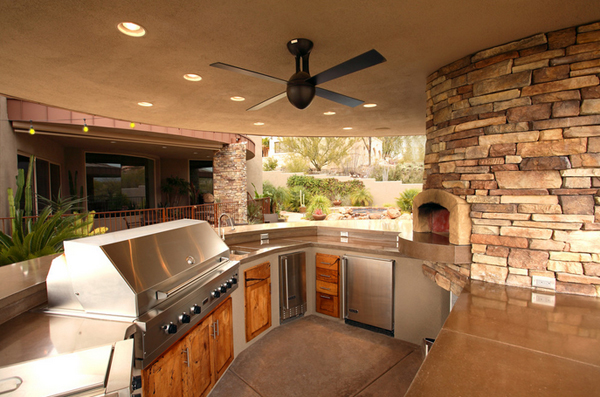 This kitchen space may be limited, but notice how each thing inside this space looks and creates a rich and classy vibe!
15. Picacho Mountain Custom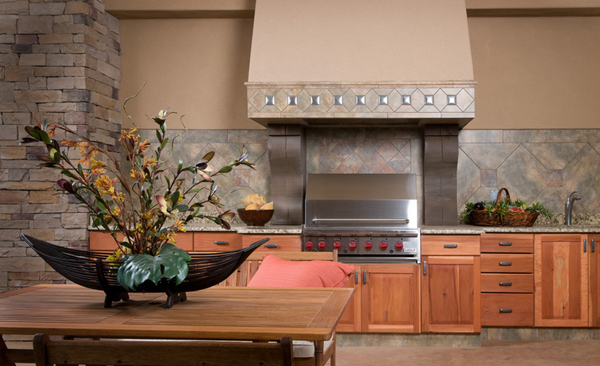 I love the table display I am making decorations out of palm pods at home too! But of course, notice the classy cabinets on this one!
16. Pye Residence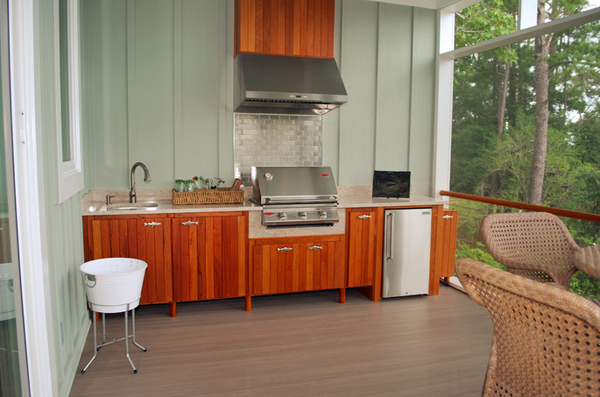 17. River Home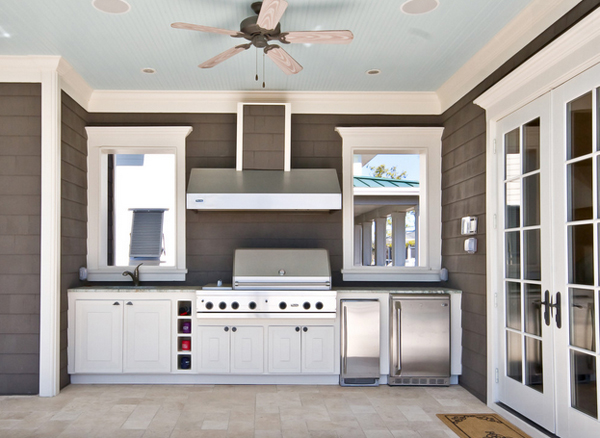 This outdoor kitchen is filled with fabulous architectural details. Crown molding, Arts and Crafts trim and a blue painted ceiling combine for the wow factor.
18. Runaway Farm Renovation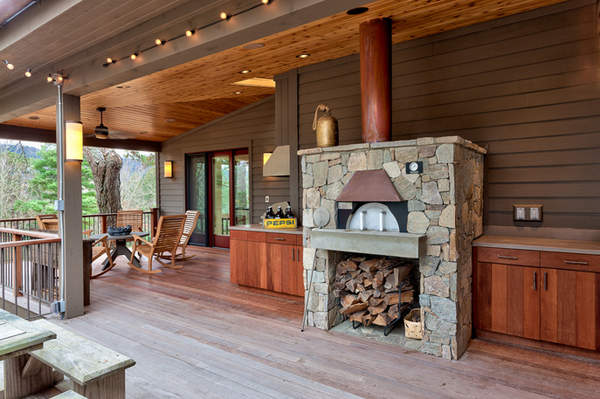 Make sure your outdoor kitchen has all the essential spaces: prep, cook, serve, clean. This will make it easy for you to do all the work outside.
19. Rural Homestead 3-Season Porch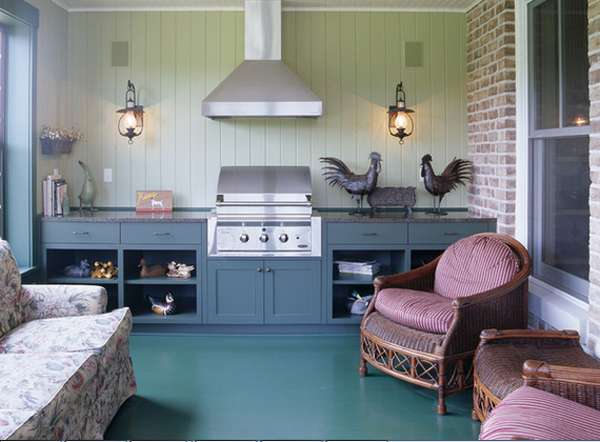 This custom farmhouse concept is a traditional four-square main structure with 12-foot porches and outer rooms wrapping the entire home. The overall aesthetic is stately and uncomplicated.
20. Sacramento Outdoor Kitchen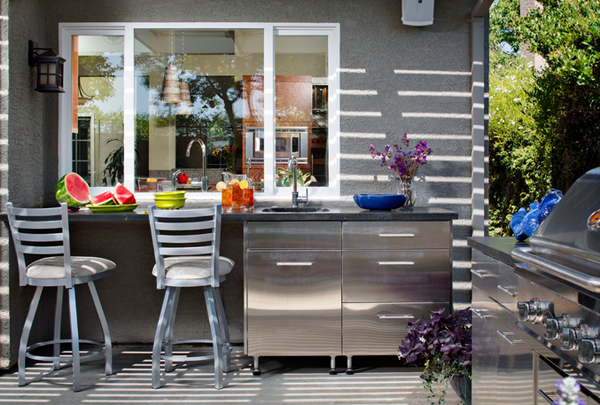 This is a great place for the kids projects. Inside is the main kitchen sink, outside is a handy outdoor sink. Things can be passed through the slider windows.
21. Saratoga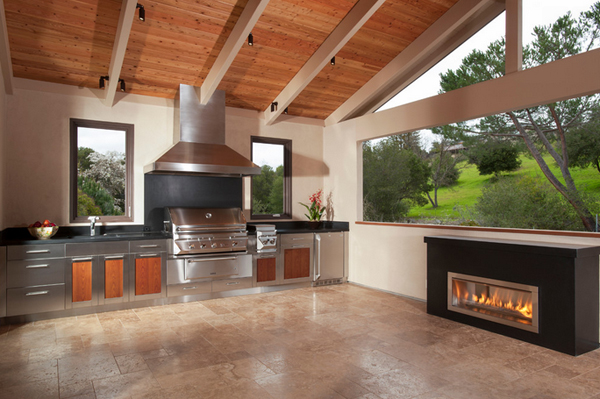 Steel cabinets with wood inset. I haven't seen that!
22. United States Outdoor Kitchen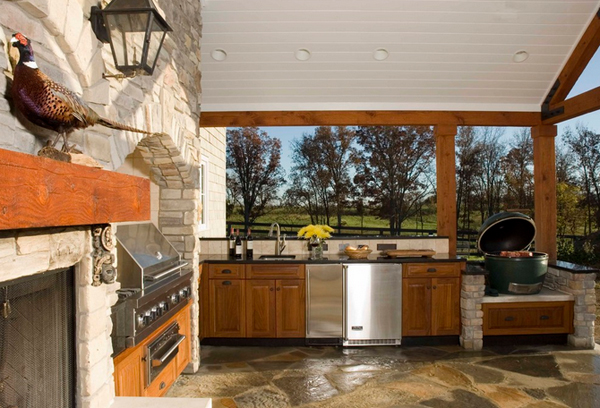 With a roof and its own fireplace, this country kitchen has nothing surrounding it except unobstructed views of the countryside. If you have a setting like this, take advantage of the landscape and position your equipment accordingly.
23. Vancouver Outdoor Kitchen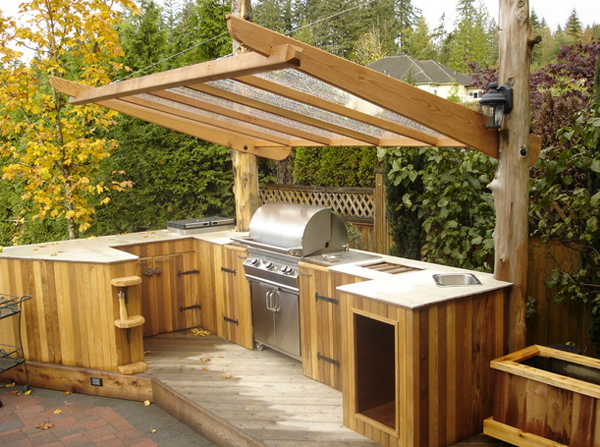 Most straightforward retrofit for side posts.
There you have it guys, the stunning outdoor kitchen cabinet list that we have collected and shared with you guys, if you have other pictures or links that you think have stunning cabinets, post those links below so that we can see them too! Sharing is always a good thing, right? And by the way, if you are interested in checking out outdoor kitchen designs, do check the 15 Awesome Contemporary Outdoor Kitchen Designs and tell us what you think!