20 Lovely Porcelain Tile Kitchen Floors
Whenever I get across porcelain decors in the internet or in home depots or in malls, I see how expensive they are! I mean, for sure most of the decors and items deserve their prices because they sure are beautiful and uncannily enchanting – so using porcelain for your floors is one expensive yet glamorous move for the client and the designers too.
The only time I usually see porcelain flooring is in large churches and big coliseums – and most of them really I just knew were made of porcelain because of the description listed on the opening of the said coliseum or were told by the tour guide. More and more people are using porcelain as an alternate for granite to create a more regal look for their flooring – let us see the images below and enjoy the stunning pictures.
1. Casestudy Remodel Kitchen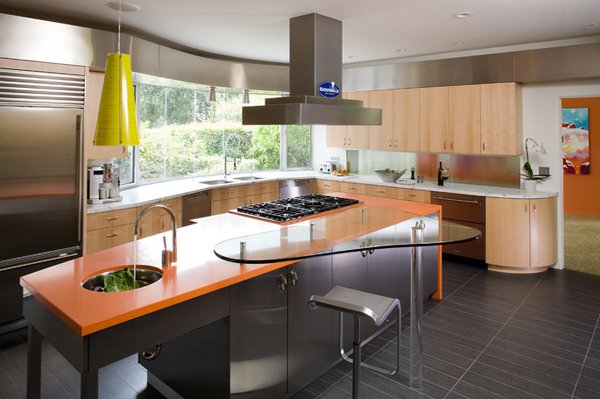 A no-slip grip and incredible strength make porcelain a common flooring choice. It's an extremely durable and water-resistant material that can even be used outside.
2. Chicago Modern Galley Kitchen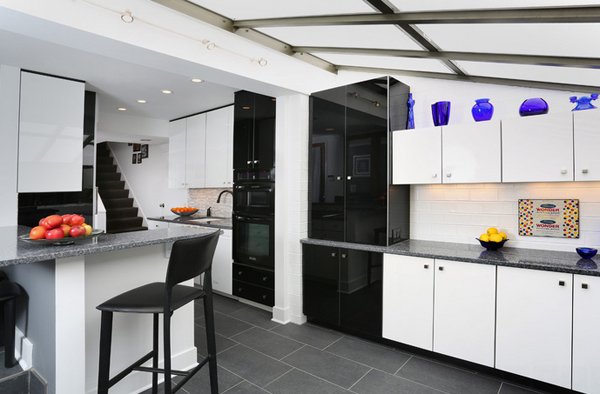 This modern kitchen design features a mixture of black and white high gloss overlay cabinetry with blue accents throughout to add drama and interest to the minimalist space. This open concept galley kitchen is able to act as an ideal space for entertainment.
3. Classic Family Kitchen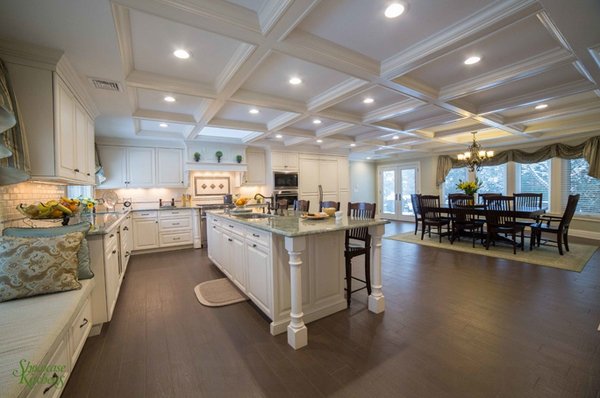 By adding the coffered ceiling, refitting the skylight into the new contours presented a structural challenge. Ultimately it was decreased in size yet is perfectly placed symmetrically in front of the Wolf range.
4. Coverings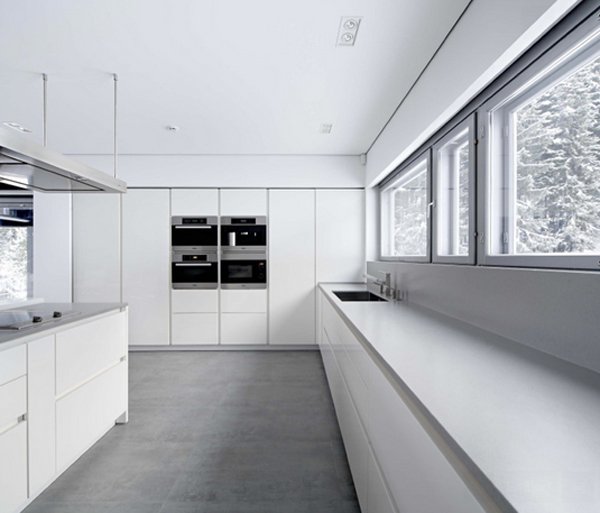 Porcelain floors and concrete countertops are popular in today's minimalist kitchens.
5. Divine Kitchen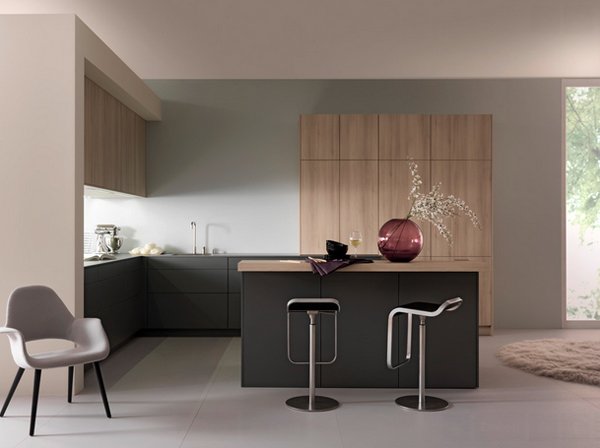 Something this serene and simple is not only tough to pull off, it most likely takes pockets so deep, they reach China. Although I'm kind of good with the design stuff, I think I would hire a kitchen designer to pull this off. This is not just a kitchen, it's an A-List star.
6. Frangipani Residence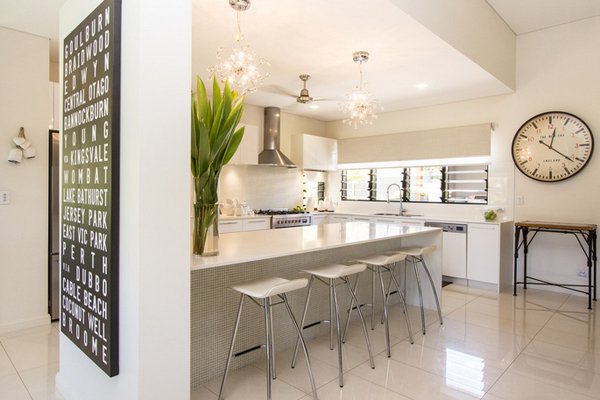 When I saw the large vintage clock, I loved it already – but of course, never forget the awesome porcelain flooring!
7. Jackson Ave
The Aurora red large pendant above the counter sure accents the entire New York kitchen.
8. Los Angeles Contemporary Kitchen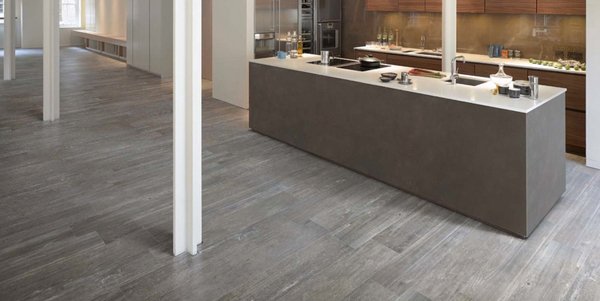 The warm appeal of wood combines with the functionality and resistance of porcelain stoneware in the Larix collection, inspired by larch wood and widely used in traditional alpine architecture.
9. Marin Avenue Residence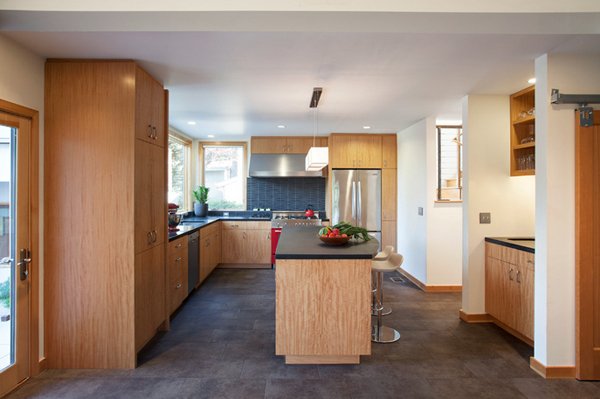 I believe this porcelain tile floor with slate-like variation in color is really nice. What do you think?
10. Modern Kitchen in Piedmont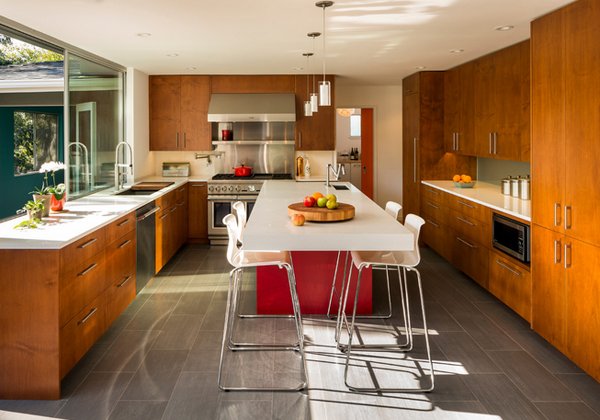 This San Francisco kitchen is totally stunning except I think the colors of the cabinet and the bottom of the kitchen island needs to be lighter.
11. Naperville Whole Remodel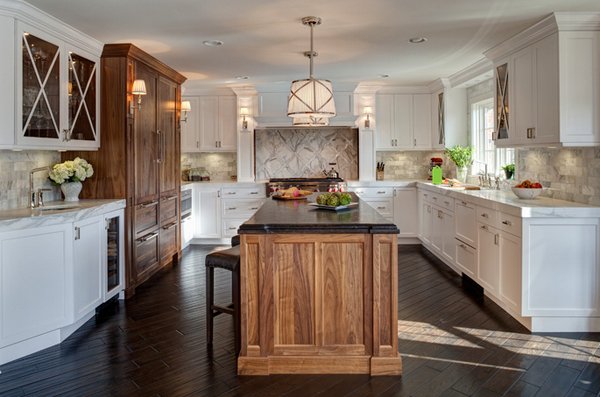 A returning client found a house with the perfect setting and asked us to turn it into the perfect home. By removing walls and adding windows, we achieved a dramatic, open floor plan. The kitchen contrasts walnut wood with white marble countertops also features restaurant-quality appliances.
12. Portland Kitchen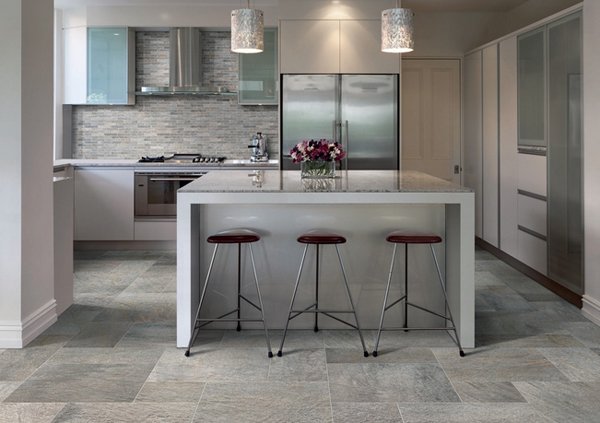 Italian full body porcelain with the look and feel of natural stone. Suitable for residential and moderate commercial applications.
13. Red Hill House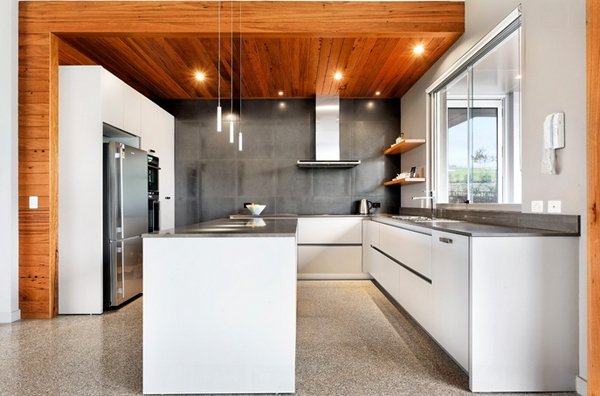 This Melbourne kitchen is a mix of modern materials and the use of natural materials too – love the flooring which complements with the wooden ceiling.
14. River House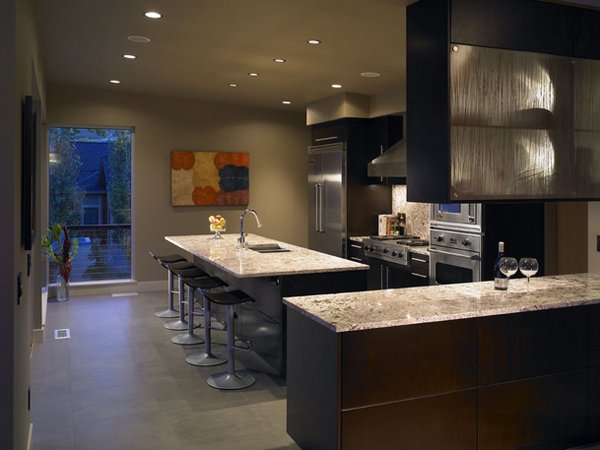 Tile floor is porcelain tile from Pental Time and Marble I Seattle. Product is called BSP – color Naturale.
15. SD House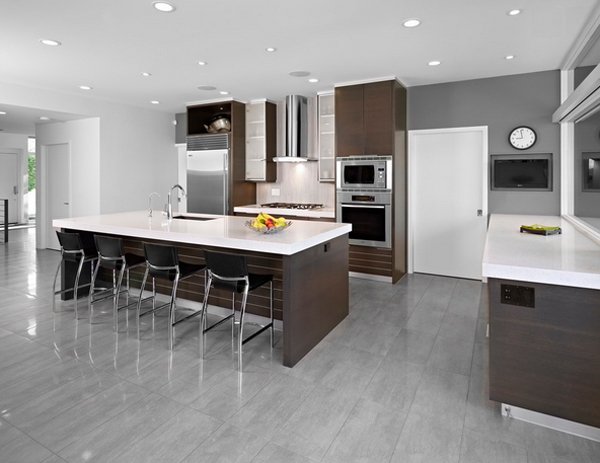 The contrasting colors of the cabinets and the island and the flooring is just divine.
16. Seattle Traditionally Elegant Kitchen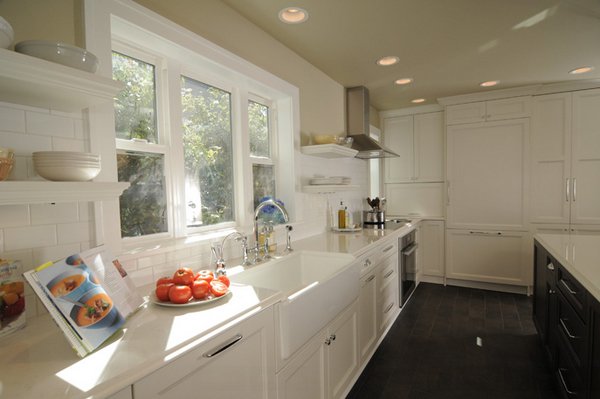 I like the floating shelves in this kitchen but most importantly, the flooring – it is just stunning.
17. Skyline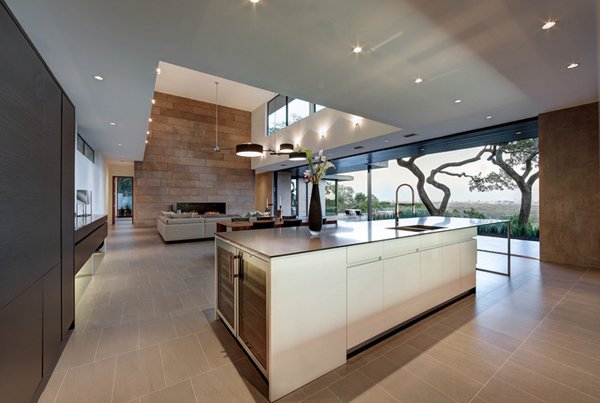 The porcelain floor pattern in this Austin kitchen is simple and artistically done – we love it!
18. SV Kitchen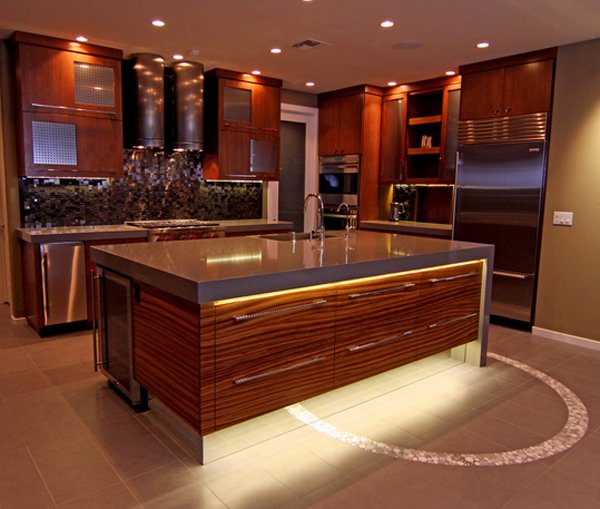 The lighting under the island counter is way too cool – but more than anything we love the porcelain floors.
19. United States Custom-made Kitchen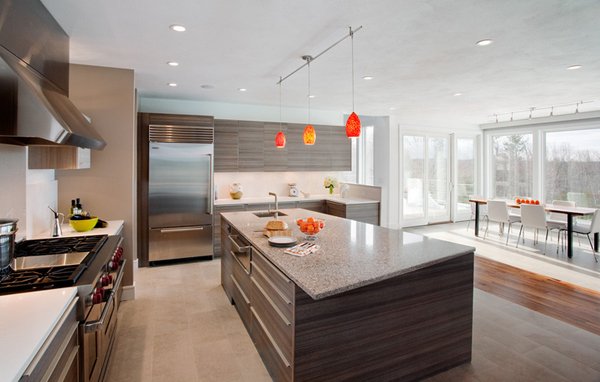 Porcelain tile flooring mixed with walnut hardwood complements and strengthens the contemporary feel of this space, while large windows in the dining area offer unobstructed views of nature and invite the light to flood the kitchen. Designed using a seamless blend of domestic and professional style elements, this kitchen is a culinary haven that highlights both functionality and beauty.
20. Wyld Street Residence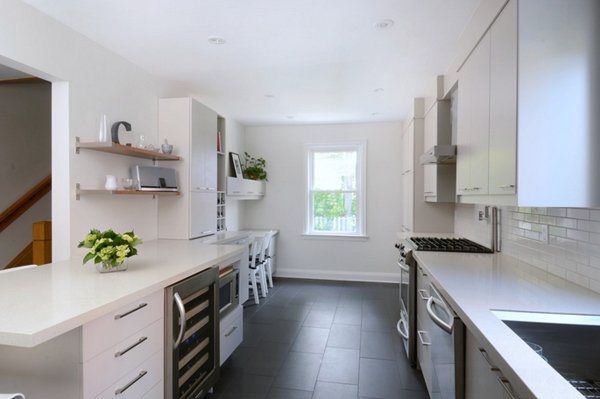 "Engineered stone countertops are highly resilient, but high temperatures will damage the polymers and can also damage your counters," says Lichlyter.
However stunning granite or regular tiles, having porcelain flooring at home, whether at the living room or just in the kitchen – I'm pretty sure your space will lighten up and be breath-taking like the kitchens above. Also, check out the other kitchen flooring and tell us what you think about them guys!