20 Flashy and Interesting Retro Italian Kitchen
Retro is associated not only to fashion and furniture – we seem to know that by now, only this time, we are talking about it in the kitchen perspective. Designers and manufacturers alike created kitchen layouts wherein they incorporated retro furniture and appliances to make stunning designs.
Below are a couple of retro Italian kitchens that we know will get your interest in the process. I am personally a fan of retro because of the designs – it is fun, eye-catching, and somehow traditional which gives them a vintage flair. Take a look at the designs below and tell us what you think about them!
1. 70's Inspired Kitchen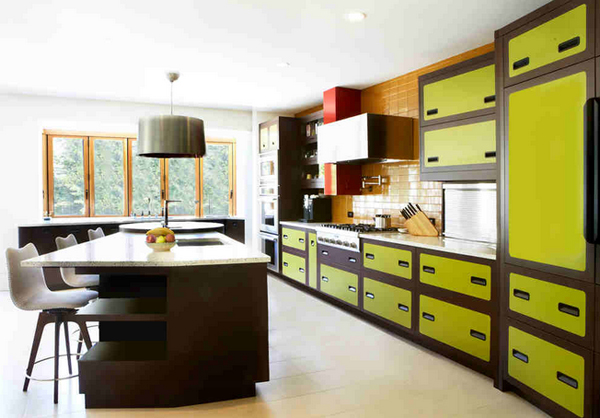 This is one sleek retro-esque kitchen that has lovely kitchen cabinets and classy kitchen island.
2. Apt Pinheiros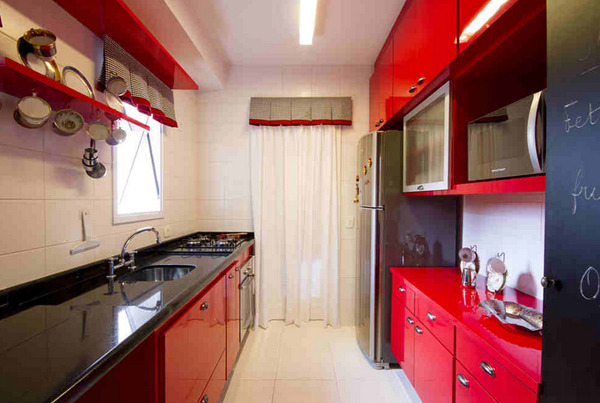 Wow!! This is one kitchen I won't say no to. I love the shinning of both black and red colors.
3. Burlington Retro Kitchen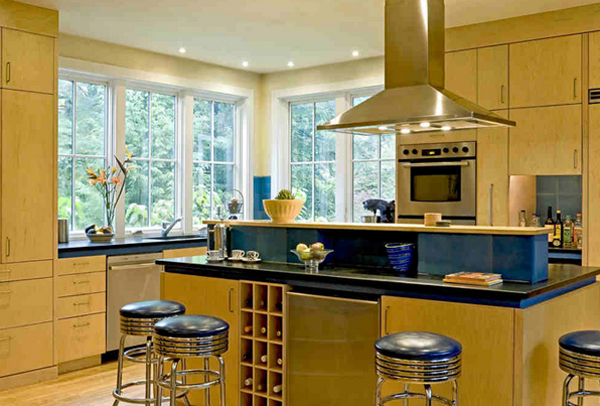 This kitchen's layout is rather interesting. I love the kitchen stools the most!
4. Chartreuse Kitchen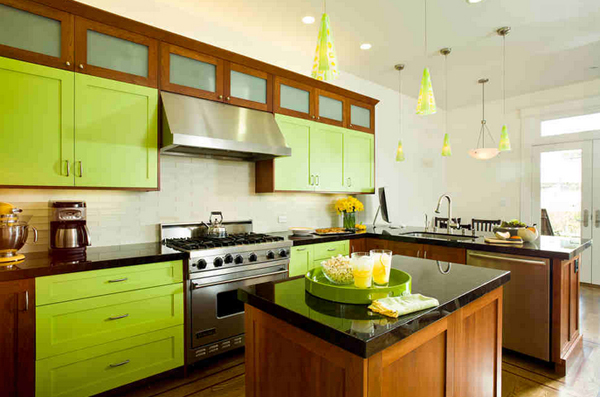 I love electric chartreuses and lime greens, and they are fun hues to use in a kitchen. If you are a fan of clean, modern, uncluttered interiors, a bright green will keep your space from appearing too sterile or dull – just know that a little of these assertive colors goes a long way.
5. Colorful English Farmhouse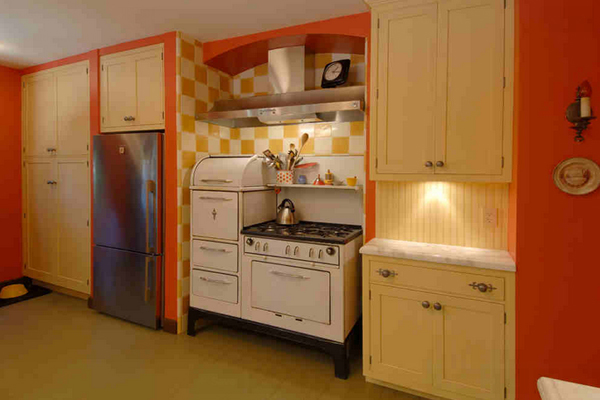 This kitchen was designed around a Wedgwood stove in a 1920s brick English farmhouse in Trestle Glenn. The concept was to mix classic design with bold colors and detailing.
6. Gadel Kitchen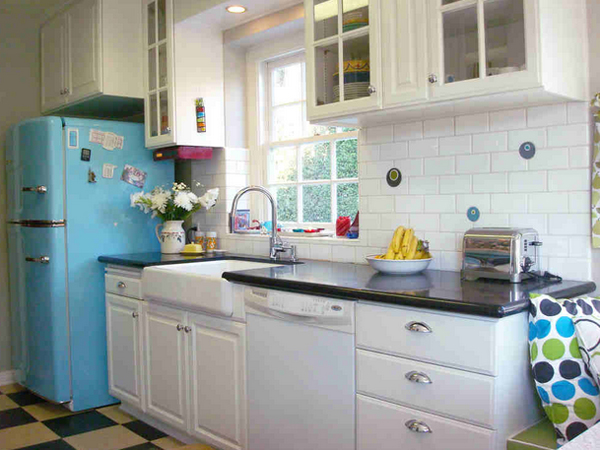 We absolutely adore this retro kitchen. The bright appliances and checkerboard floor make this the perfect place to just "chill". Top it off without handmade Bubbles tile as a focal point behind the stove and as "floating" accents in the field tile and we don't think kitchen could get any better.
7. Lone Oak House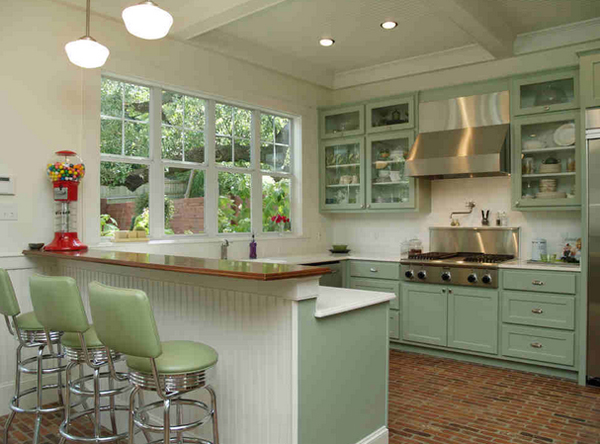 Good kitchen design with a big open window which brings in as much light as possible to the kitchen.
8. Mai New York Kitchen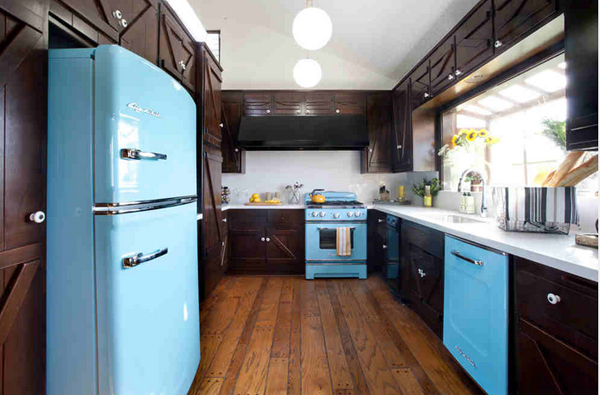 Rustic meets luxe in the home of a fashionista and hunter couple. Wood paneled cabinets, hardwood flooring, and wood paneled walls play the more masculine counterpart to white snakeskin counters and backsplash.
9. North Salem, NY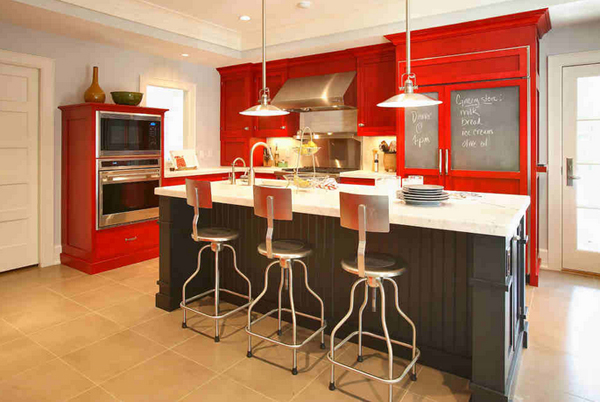 Stimulating shades of red have are purported to up the appetite, which makes it a great kitchen color for families who love to cook. But should you use a warm red or a cool red?
10. Philadelphia Retro Kitchen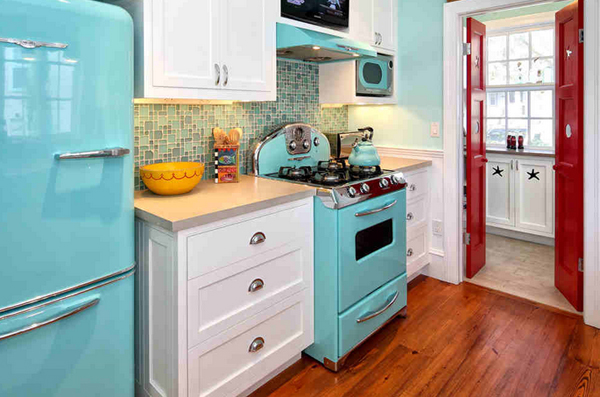 Elmira Stoveworks is a great resource for retro appliances, including the fridge and stove shown here. Its Retro Northstar collection has the classic curves and fun colors of vintage 1950s appliances.
11. Remodeling of San Jose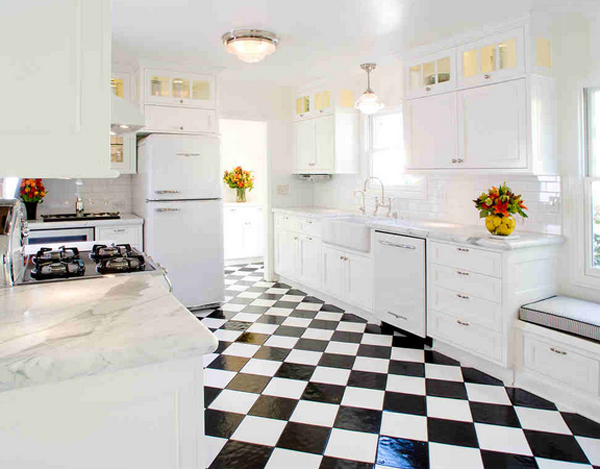 This retro kitchen offers the clean lines and look of white on white but then allows for the pop of color on the floor and on the opposite end the lit upper cabinets where you can add another pop of color.
12. Russell Project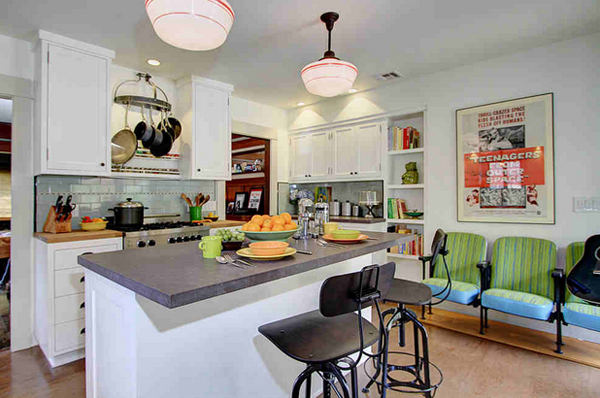 I am crazy about how pretty and bright this is. Simple and fun!
13. San Francisco Eclectic Kitchen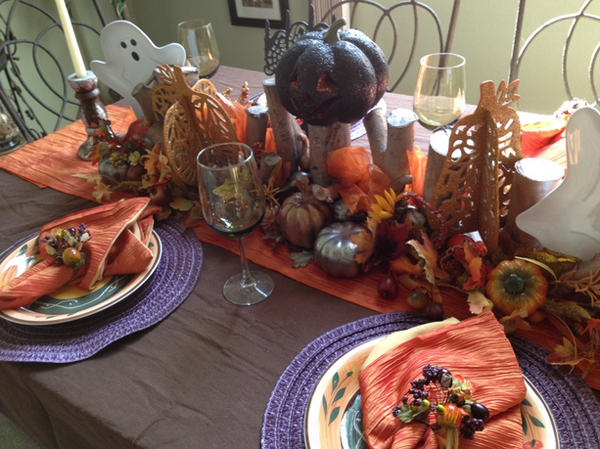 This bright blue stove is such a pleasant surprise in this otherwise pretty traditional creamy white kitchen.
14. San Francisco Retro Kitchen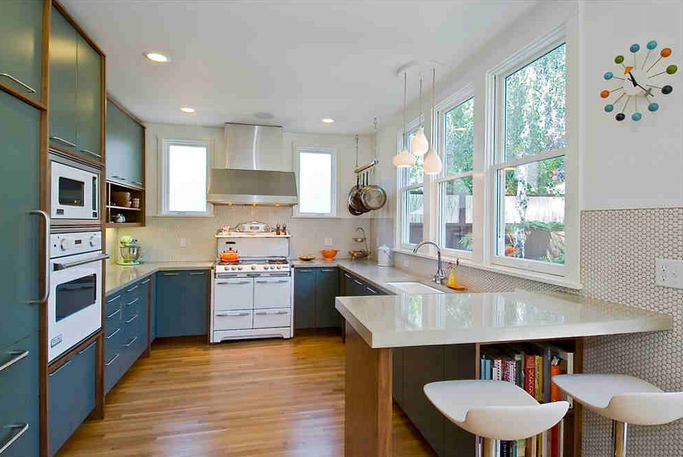 Contemporary/mid-century modern with sleek colored cabinetry.
15. Santa Barbara Retro Kitchen Remodel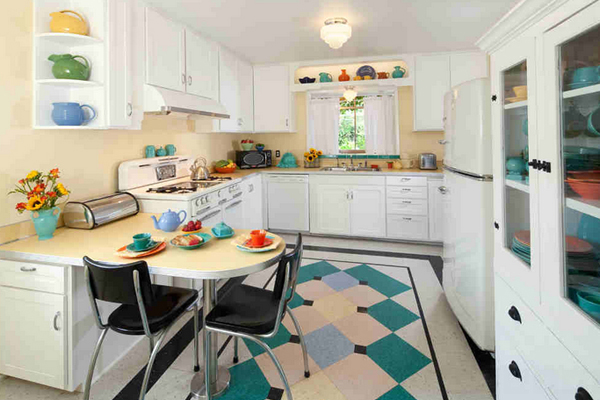 We decided on a retro look for our new kitchen with lots of display shelving, happy colors, laminate counter, a chubby old stove, period details and linoleum flooring.
16. Shack Attack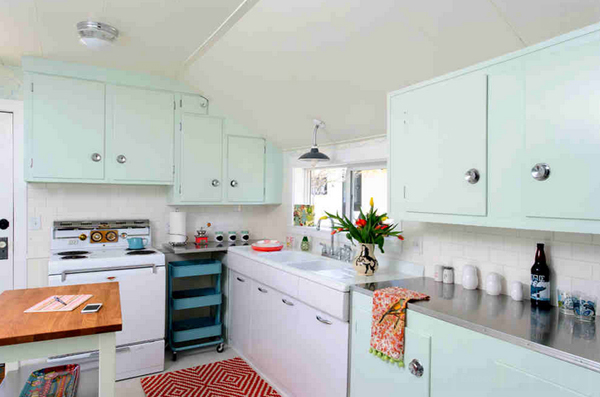 Liven up the kitchen with pastel cupboards. Why stick with plain old white when pale mint or pink is so much more fun? True pastels in the kitchen will give a retro vibe; if you are looking for something more sophisticated.
17. Sunny Yellow Retro Kitchen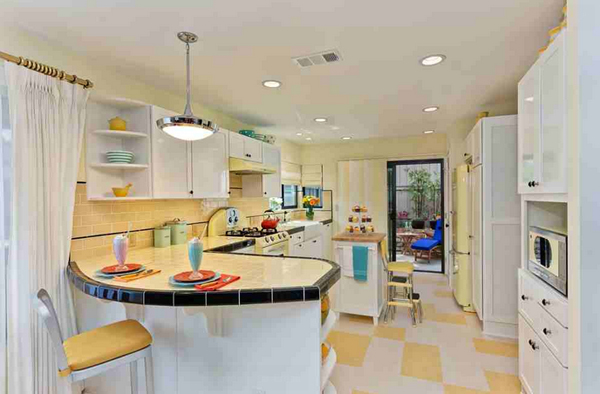 New custom dark wood cabinets and a lime green backsplash nod to the home's roots, while an expansive new entertainment deck and turf field in the backyard bring the party into the 21st century.
18. Vancouver Retro Revival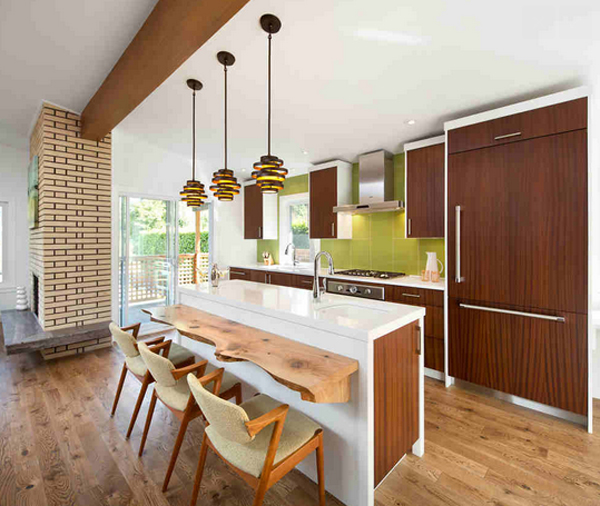 For a client with an enthusiastic appreciation of retro design, this sunny ode to kitchens of the past is a cheerful and comforting retreat for today. The client wanted a kitchen that creatively expressed her fun, unconventional taste while providing all the modern conveniences of a contemporary home.
19. Retro Country Kitchen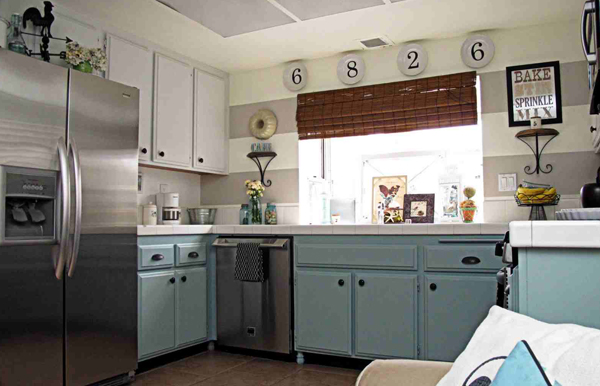 I'm pretty sure the numbers on the plates on the wall means something. This kitchen has a wonderfully planned layout. I like the colors too!
20. Retro Kitchen in Blue and White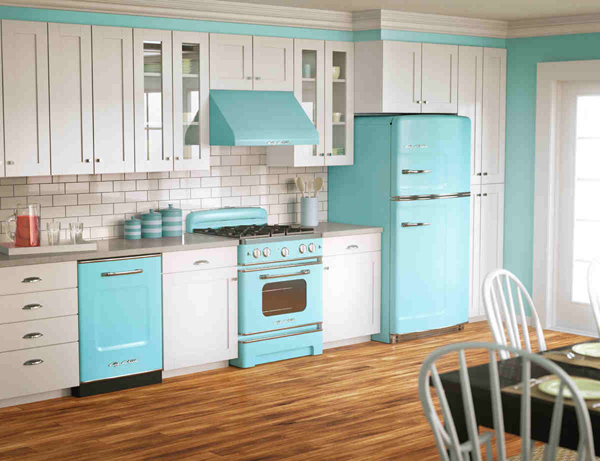 Aren't we all fascinated with appliances in different colors? Because I sure do. The use of appliances like this makes a light-colored kitchen brighter.
Fun kitchen designs were available above and we are sure that other kitchen designs will also interest you. This is a list of kitchen designs that cater to most of the designs available there is. Archetypes may differ but the aim of making one functional space is always the priority in designing spaces like them.