How to Add a Mid-Century Modern Style to Your Home
You can add a traditional and modern twist to your homes through ten easy tips!
We live in the modern times where everything in the house is either modern or contemporary. Some would also have a fusion of other styles from industrial to rustic. Still others combine traditional and modern design which creates a twist that is gorgeous while bringing a nostalgic pull of the past to today's modern design. We can actually do that with mid-century modern home design style which many people are looking into.
Yes, there are homeowners who are flocking into the market to acquire mid-century modern items from furniture to decors. And we cannot blame them because there is a distinct beauty for using decors and furniture with this style. Another good reason why homeowners choose to get mid-century items is that they are tired of the same mass-produced items that they see in most homes. Well, you can get unique stuff if you want to and create a mid-century interior with a fusion of traditional and modern features. If you want to know how to achieve that, here are some tips we have for you: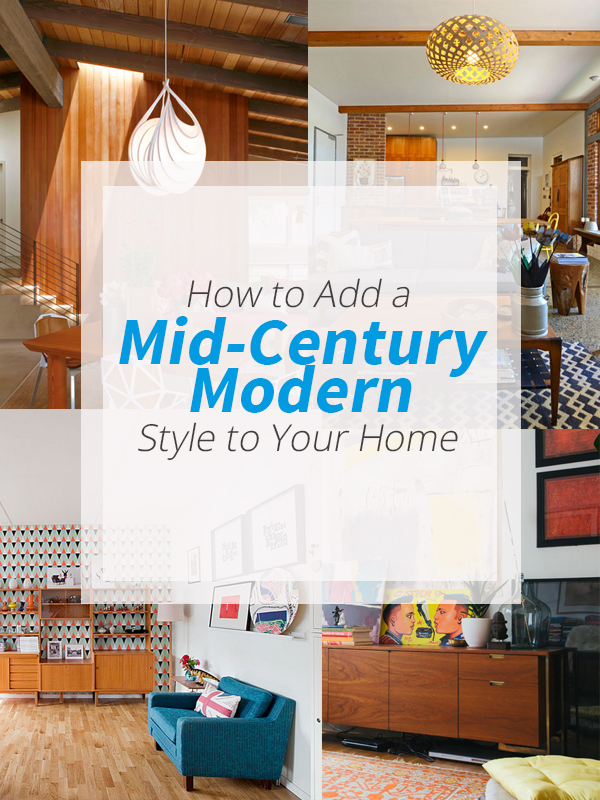 1. Bring in wood details.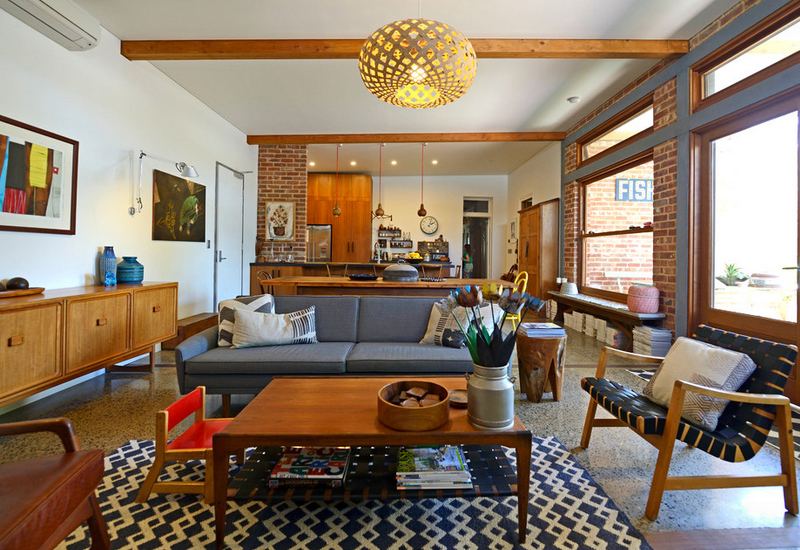 One apparent feature of a mid-century home are wooden details. You can get some furniture that made use of wood or some wooden sculptures and other items that are made from wood. High-quality furnishings that are made from 1950's would be a lovely piece to use. Most mid-century pieces have clean lines using various materials from teak, oak, walnut and rosewood. Do not hide wooden details, instead, let them take center stage. Use neutral tones to pair with them too. If you can't find authentic ones that are made years ago, then try getting replicas or redoing your own furniture.
2. Get old furniture with clean lines.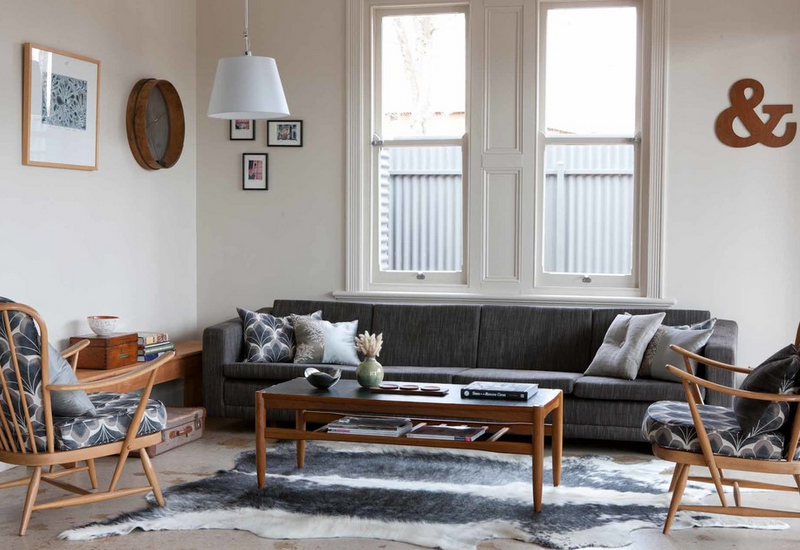 This is the trend for mid-century furniture. It would have clean lines that look unique from those that are mass-produced. Or you can try to update some furniture that you already have. For instance, if you find something in the market that can be added to old furniture, you can bring that home and update the look of your chair, tables or other furnishings. Adding unique furniture is actually the easiest way to bring in the mid-century vibe to your home. You can check flea markets, vintage shops and other furniture stores for items like this.
3. Add sculptural lighting fixtures.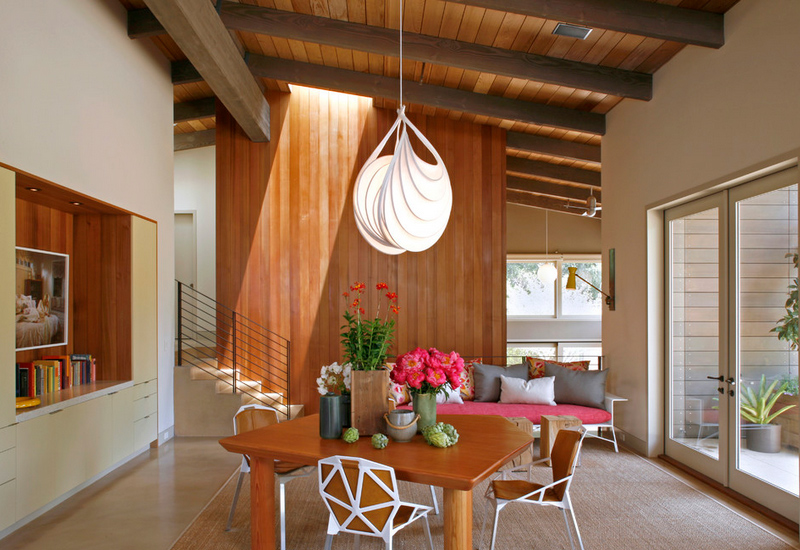 Most mid-century homes use lighting that are dramatic. The lighting fixtures doesn't just illuminate the space but are also added decorations. Hence, choose chandeliers or pendant lights that have gorgeous unique designs. You can add this to wherever space in the interior that you want. You can find them in vintage stores wherein most of them has some curvy and simple yet sophisticated designs. Get lamps curvy bases in bold hues as well as those that are tall and slim. You can actually find a lot of lamps and lighting fixtures that will fit in this style. Don't forget that mid-century decorating isn't about matching stuff, hence, you don't need to get an entire set of lighting like identical buffet lamps.
4. Place beautiful mirrors.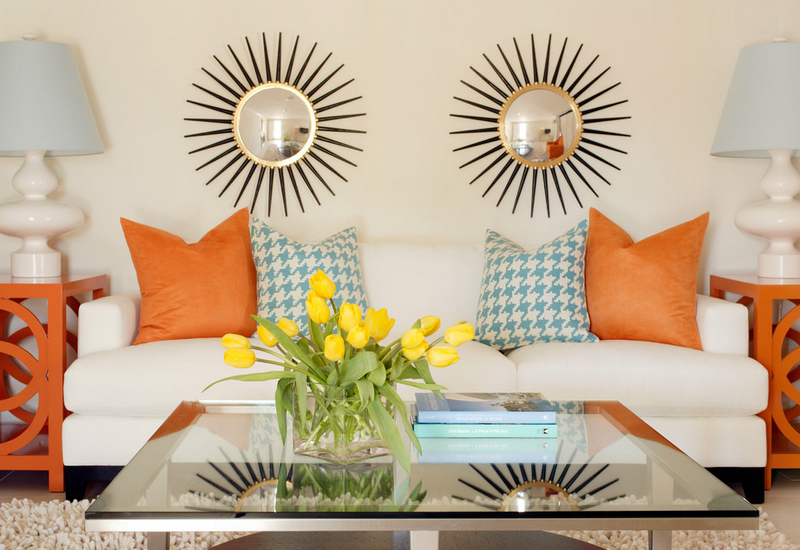 You can either add these to your wall or let it stand on a table or a console. Choose those with decorative and creative frames. A sunburst mirror is an icon for mid-century design which means it is smart to get one for your interior. And hey, you can make one for your home too. Aside from being a decoration, mirrors can also give the room an airy feel and would spread light all around it. It would be better if you add a mirror on an area that faces the window with a view of the landscaping or the beautiful outdoor surrounding.
5. Add a bar.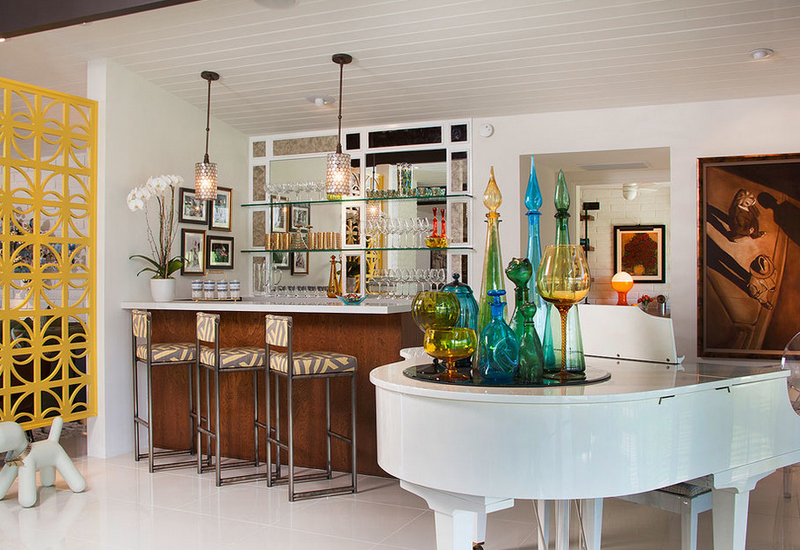 A built-in bar or a bar cart can both bring you back to the 1950's. Buy some vintage glasses and expensive liquors and wines so you can place them on your bar. If you do not have enough space for a built-in bar, you can always use a bar cart that can be moved from one place to another around the house where the party is being held. Aside from that, it is also a lovely accessory that could bring a mid-century modern style to your home.
6. Use white for the walls.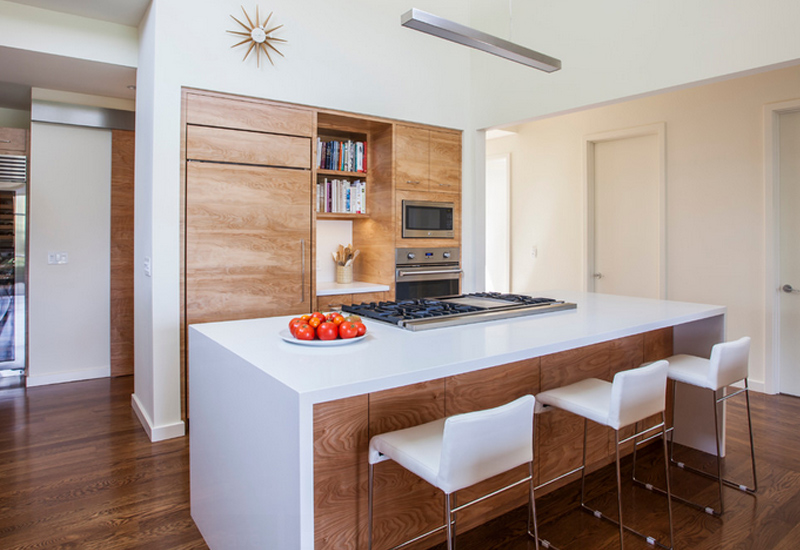 Most mid-century homes use white for the walls. With this, the furnishings and decors are being highlighted. Most homeowners are proud of the craftsmanship of their home and furnishings which can be given more attention when the walls are white. This sure is a simple tip to add mid-century modern style to the interior.
7. Add retro art.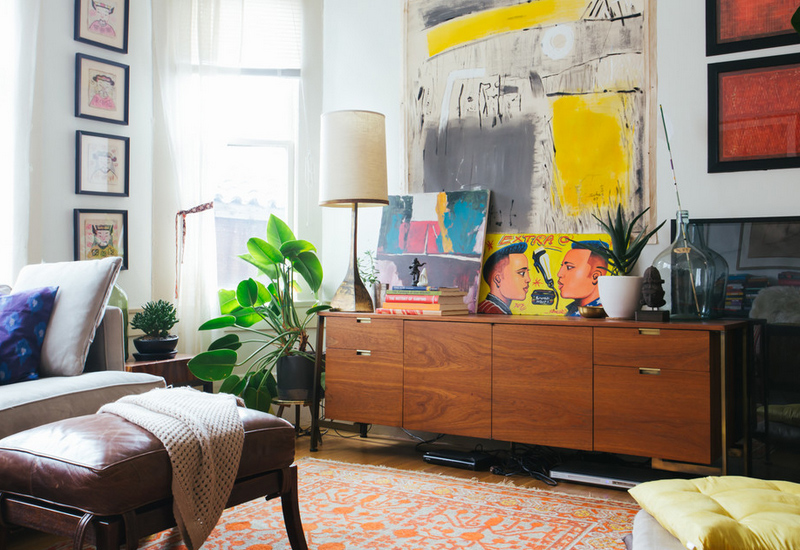 Your home will look even pleasing when you add some unexpected vintage and retro pieces into it. An example is a graphic wall with squares and circles on it. Or you can frame a vintage-inspired print. You can also design your coffee table with some vintage inspired accessories like sculptural vases, gold-chain link bowl and others. An abstract wall art could also be a lovely addition to the walls. But avoid too much decors because it will look cluttered in the space.
8. Use wallpapers for wall accents.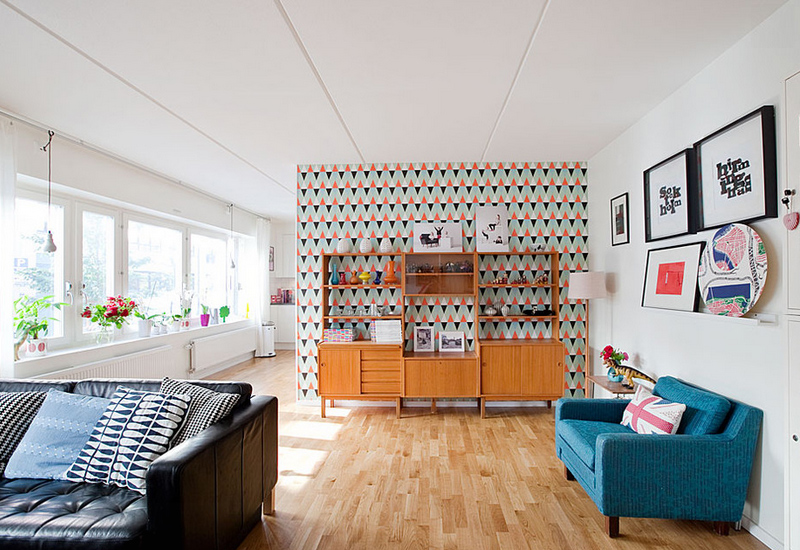 We have mentioned that the walls has to be white but it won't hurt to add some patterns on the walls through wallpapers. You can get one with bold graphic pattern. Pay attention to the colors of the wallpapers too so that it will fit in the look of your interior and would be integrated to your color palette.
9. Opt for a modern kitchen.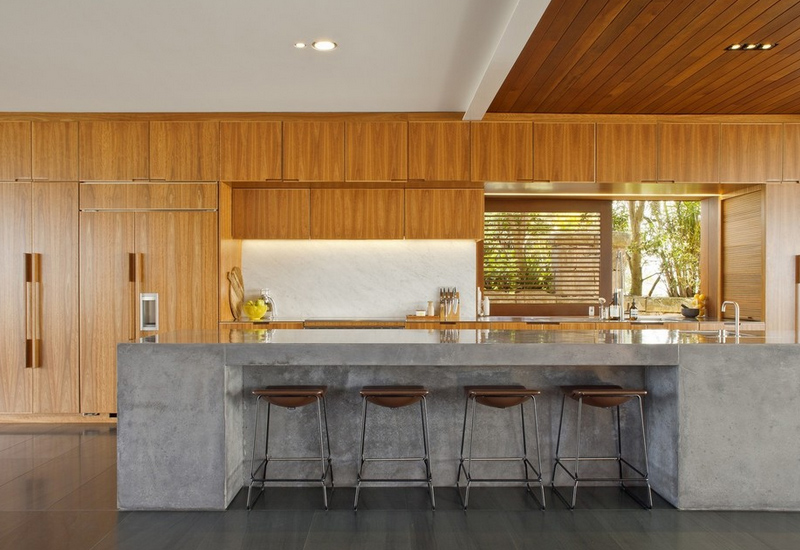 During the mid-century movement, homeowners wanted to bring a modern and futuristic feel to their spaces. That is why, adding a modern kitchen to your home is a good idea. Use extremely clean lines in the kitchen with flat wood cabinet faces. You can also use sleek stainless and marble countertop to surfaces. For the flooring, you can use laminate or cork. Keep the kitchen clean, simple and uncluttered.
10. Remodel your home.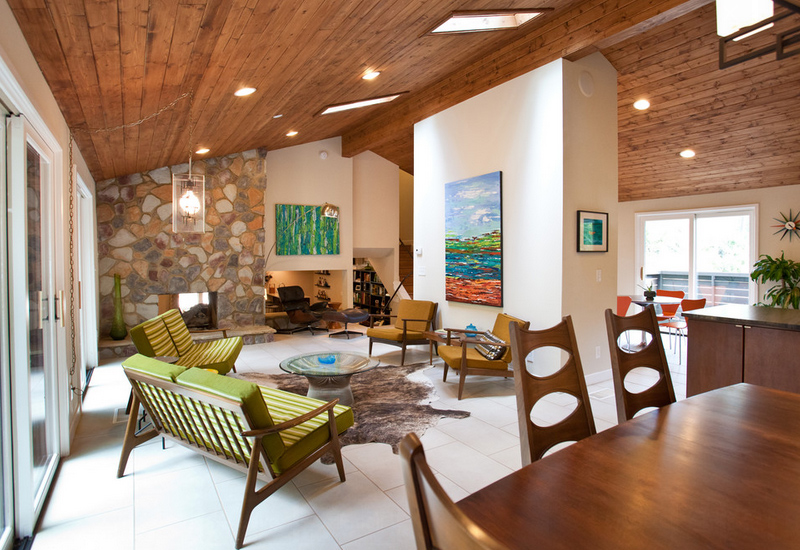 This is a more expensive option. If you aren't satisfied with merely having white walls and bringing in old furniture, you can always hire an architect or interior designer or a team of builders to do the job. You can open up the spaces in your home to create an open and airy floor plan. You can also add a floor-to-ceiling fireplace that is made of natural stone.
A mid-century modern style would seemingly take us back in time without the need of a time capsule. Wouldn't it be nice to sit on a comfy sofa while staring at a vintage looking piece of furniture or a retro designed wall decor? It would definitely be wonderful! And with the tips we have given you above, you will know that achieving a mid-century modern home isn't that hard at all. As a matter of fact, it would even be fun while decorating. Also do not forget to stick to the adage, "less is more" to avoid over decorating and crowding your home with decors and furnishings.