A Teardown 1950s House in Massachusetts Turned into a Cozy Modern Home
Renovations are awesome. It could magically turn any place into a cozy home even if it already looks old and not suitable for dwelling. I have seen many houses that underwent major renovations and it would always leave me in awe. I was wondering why some people love to do renovations even if it would cost them a lot. When I saw this house that we will feature today, I realized that it isn't really just about the house. But it is also a matter of location, views and outdoor ambiance. I think, this is one thing that encourages people to renovate old homes because location cannot be duplicated.
A 1950s midcentury modern home with harbor views was a teardown when it went to the market. But family who lives in a traditional house, wanted to have a modern house of their own. So, they immediately bought this modern house in Hingham, Massachusetts despite its bad condition. The Hammer Architects even said that because of the very bad condition of the house, they couldn't show lots of before photos. They saved a large area of the house but tore down those that didn't work. Let us get a glance of the new house and a few before and after images.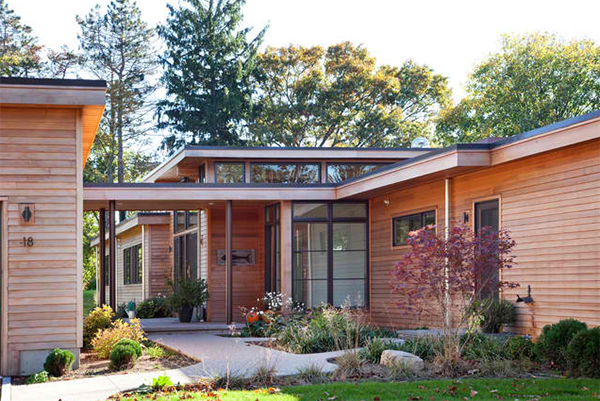 This area was once a garage. But since its location is not good as it is tucked the back of the house, a new garage was built and a new breezeway leading to a new main door.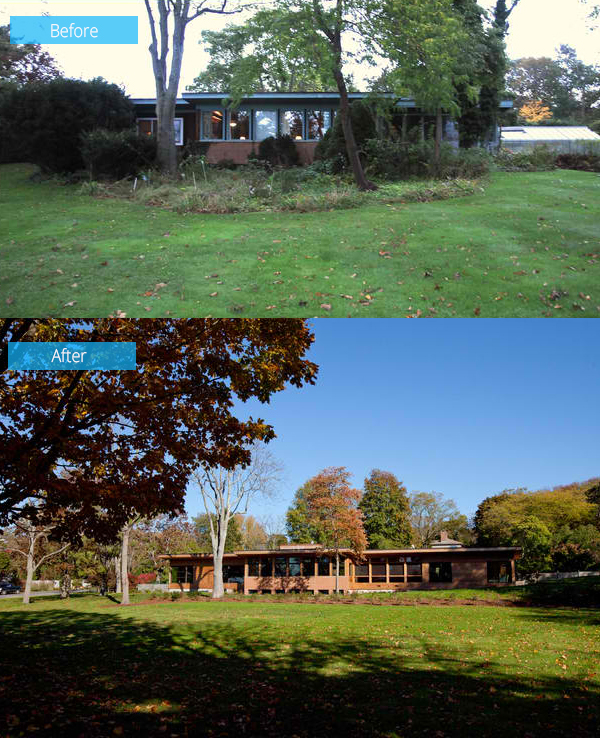 A series of intersecting gable roofs was a problem for the old house since it causes leaks. It is dark and did not take advantage of the harbor views. The new house used as much glass as it can to allow natural light to come in and to get a good view of the water. The greenhouse seen on the before photo was donated and carted away. You will now see a master suite and a screened-in porch on the right.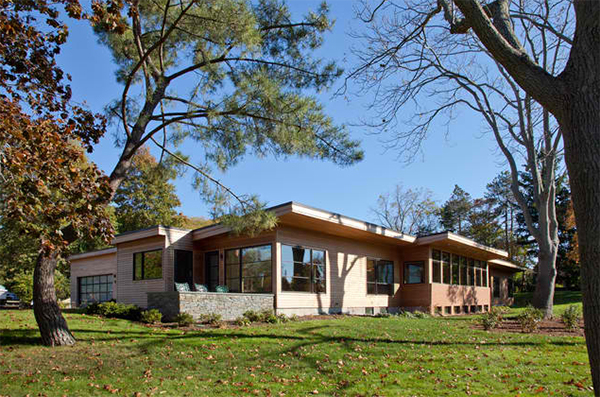 Large windows are already added to take advantage of the water views. Exterior doors from the office and living areas connect to the patio.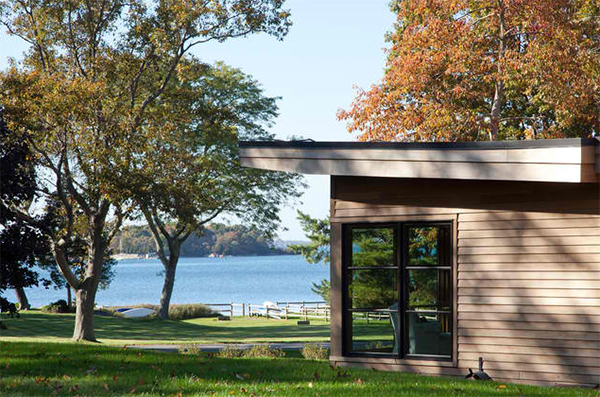 A corner master bedroom has 6- by 3-foot windows with a view of Hingham Harbor.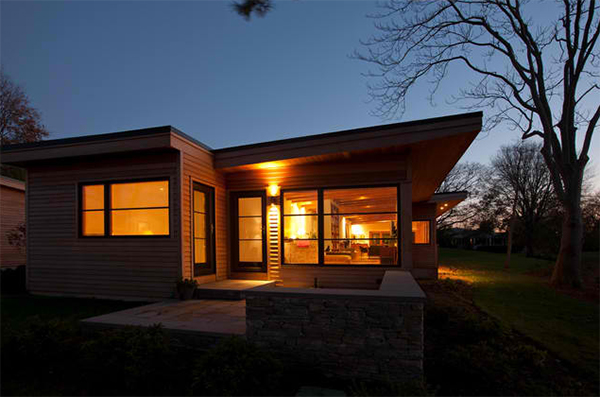 Used in the exterior are red cedar tongue and groove clapboard siding with natural stain to stand up the sea air and harsh climate.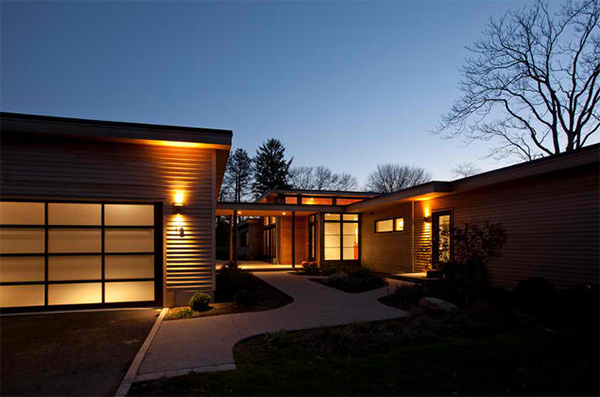 A Japanese lantern-like glow is seen from this translucent glass on the garage doors.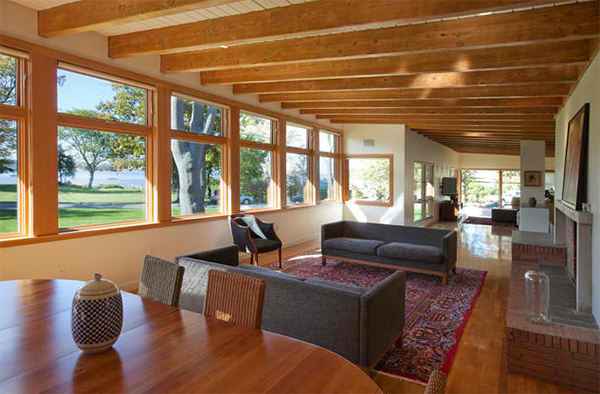 The interior renovation is even more impressive. This is a saved part of the house where you can see a long dining-living room that extends to a sitting and entertainment area. The windows are new and are larger than the original.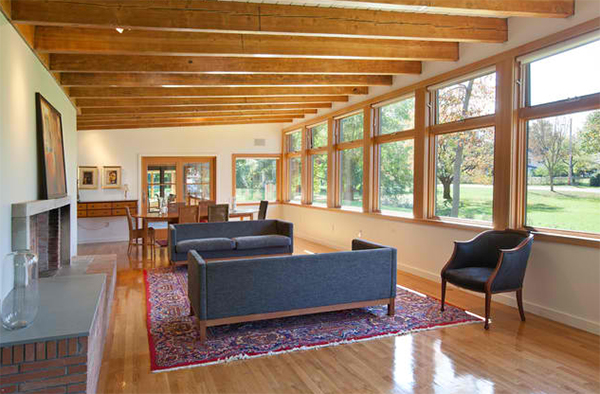 Minimalist furnishings are used for the house. Another area that was saved was the large chimney and hearth on the left.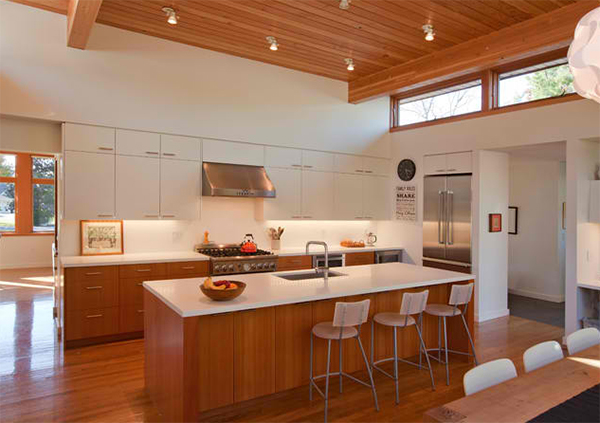 This kitchen is a new addition to the house. Since the wife is a chef, she wanted a large working table and enough space to hold classes.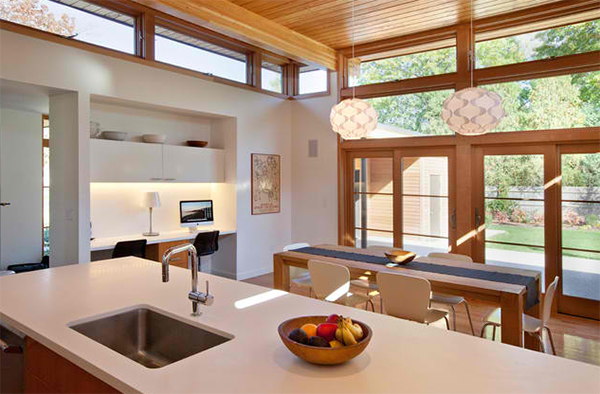 There is a multipurpose table here which isn't merely for dining but it is also used by the kids to do homework. This area is a great hub in the house and so it has a high volume to provide an airy feel.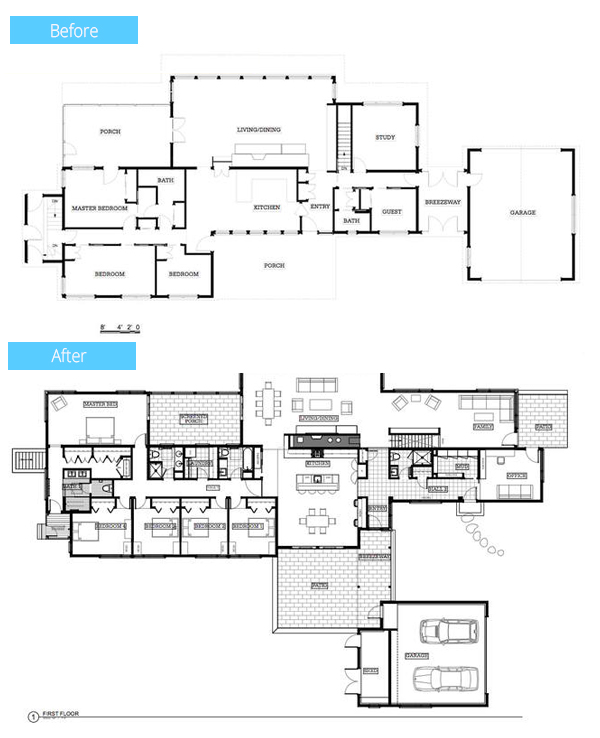 You will surely notice the change of the house through this floor plan. What a huge difference!
I could say that Hammer Architects was faced with a challenging house makeover. But they did really well in the project making it a cozy place to live in. The location of the house was really a plus because aside from the wonderful views, it is just near the city and the kid's school. This house has 5 bedrooms and 4 bathrooms and other interesting spaces that made it a favorite hangout even for the friends of the kids.