A Small Contemporary Guest House with Compact Living
You'd be amaze with this lovely small guest house design!
When you have a home that sits on a spacious lot, you will surely feel blessed to have that privilege to add other structures and features in your area. You can choose to expand your garden with a swimming pool and a beautiful landscape. Aside from that, you can also try to add structures like a pergola or a gazebo where you can spend night time gatherings with family and friends. Or you can add a shed where you can work or you can turn into a guest house. If that sounds too big for you, this post will surely change your mind.
A homeowner wanted to add something to his property- guest houses which will make his guests feel at home. With that, they contacted Avava Systems to work a small guest house that has a very beautiful contemporary design. This contemporary 264 square foot guest house was pre-fabricated and brought to the client's property as just 64 flat-packed components. Since it is pre-fab, it was built at once and the result is really stunning. Well, for me, this can actually be a home already. I could live in a house like this one! If you wonder why I was able to conclude that, take a look at the structure below and for sure, you will love it too!
Location: Russia
Designer: Avava Systems
Style: Contemporary
Type of Space: Guest House
Unique feature: A small guest house situated in the homeowners property. It is designed as a beautiful contemporary shed complete with everything one needs from a bedroom to a bathroom.
Similar House: Main Stay: A Contemporary House Designed for Inside and Outside Living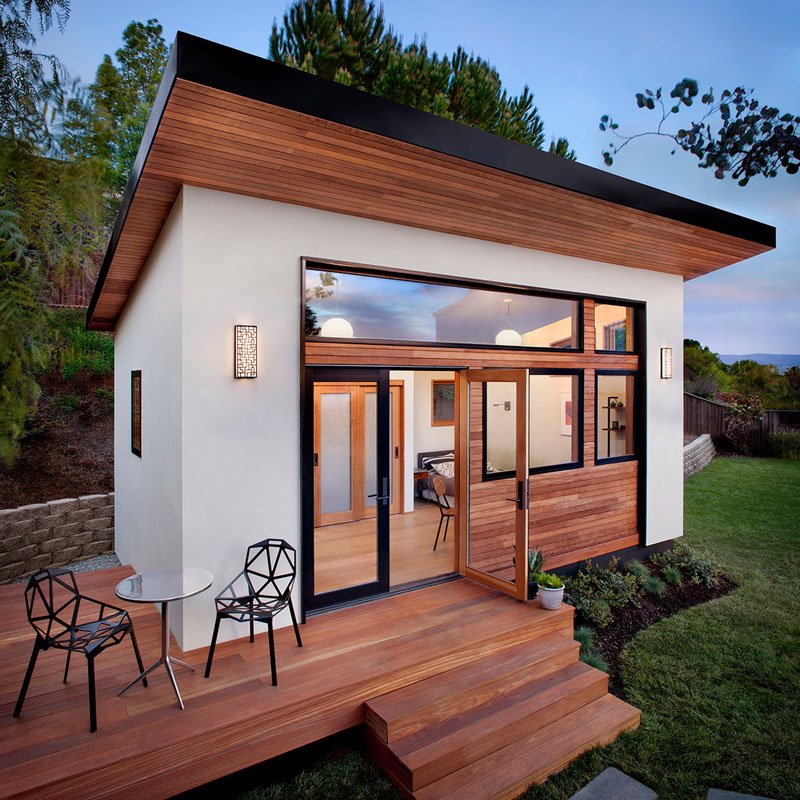 If you have seen other shed designs, you might expect that this is something like them and that it could be intended for some work just like how others would have their own artistic shed or a craft shed. But this one is complete with everything one needs in order to live because this is a guest house- and not just an ordinary guest house because of its sustainable features.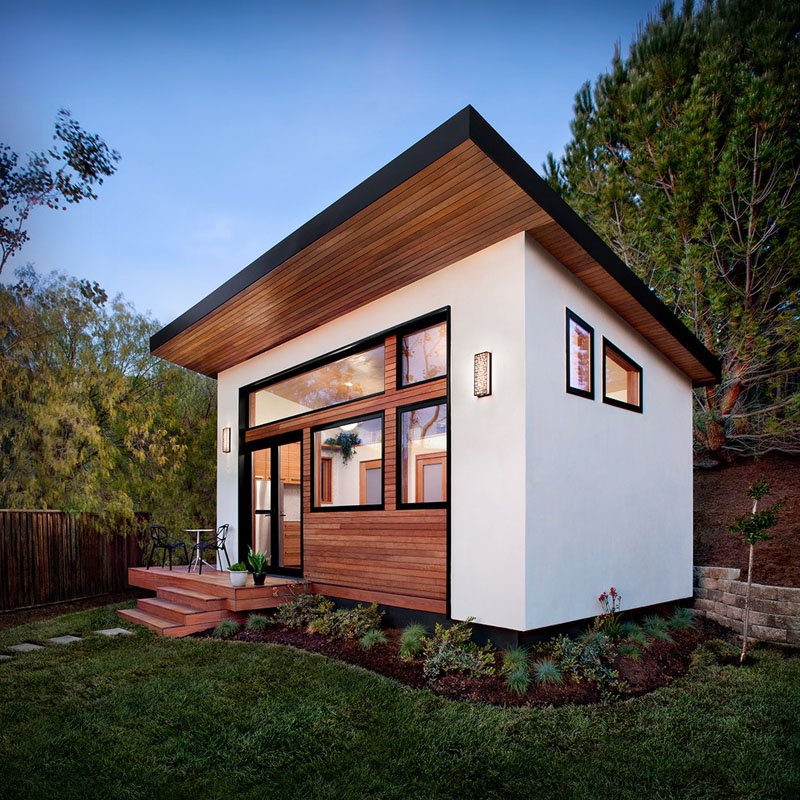 This small guest house is assembled from start to finish in just six weeks. It has a kitchen, bathroom, and bedroom. Yes, all of that were integrated into the small area. Amazing, right? Yes, it sure is amazing! Aside from that, the design is very nice as well with a combination of white and wood.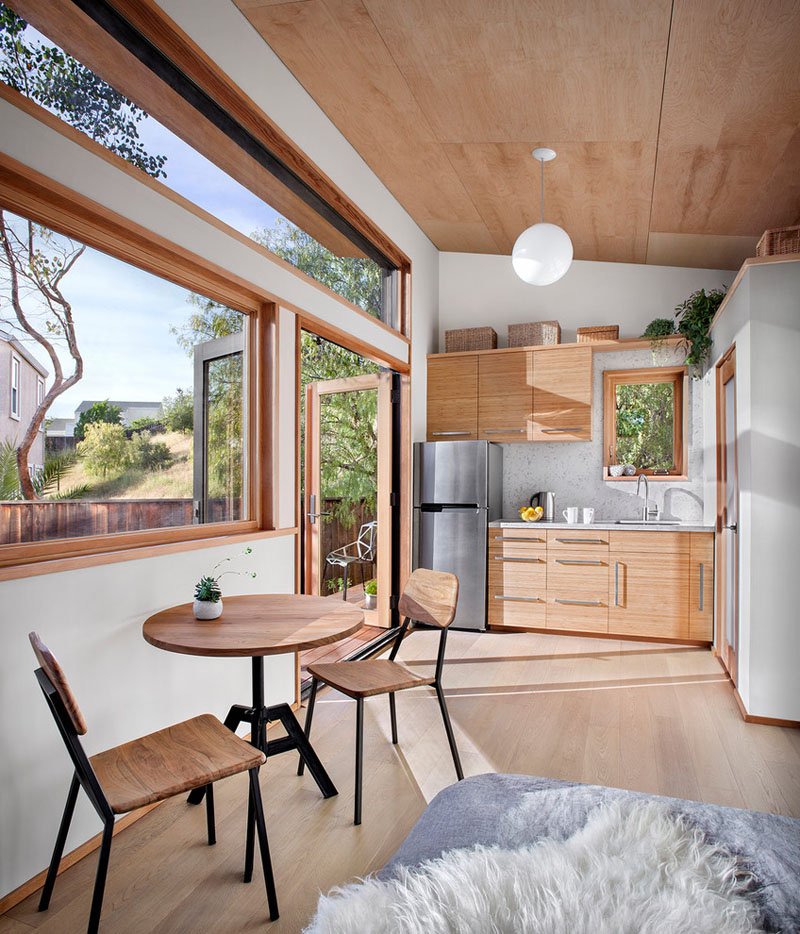 Inside, there is also enough space for a small wooden dining set for two guests. With its kitchen, one can also prepare their own food. Aside from that, it has storage areas for some grocery items and even a refrigerator. From this area, the outdoor deck can be accessed.
Read Also: Pleated House: A Contemporary House with a Green Roof in Wisconsin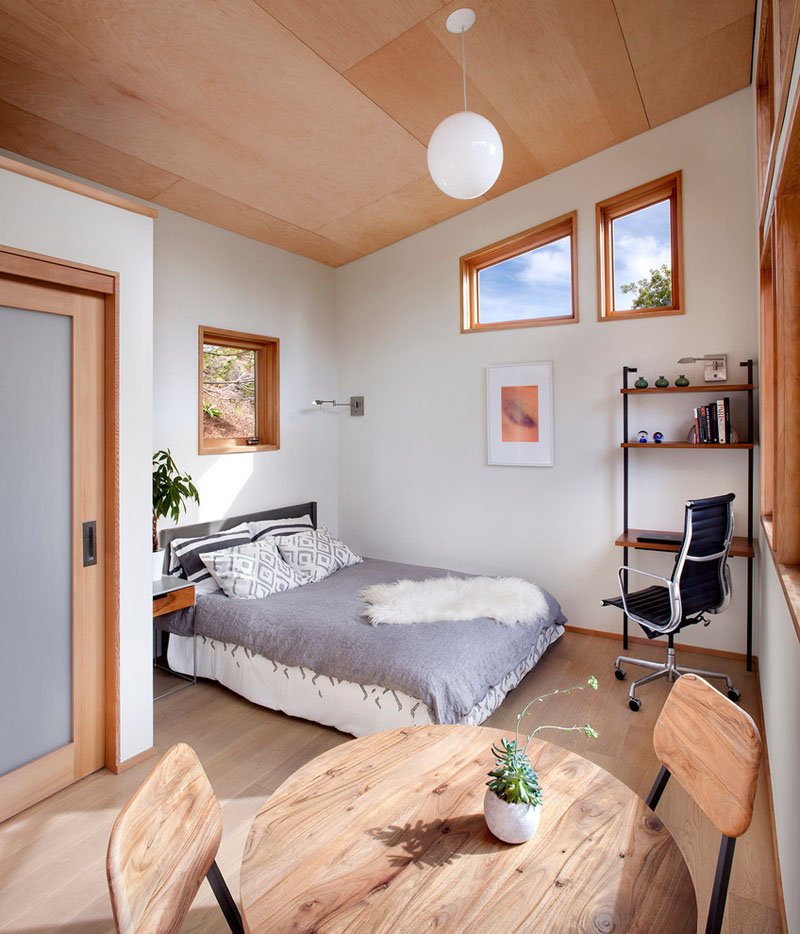 You can see that the guest house has its own comfy bed with gray bedding set. It is nice that it have pillow covers of different designs and also a white fur on top of it. It also has a small side table with a drawer where you can store some of your belongings. It also has an ergonomic office chair which can also be perfect for reading and of course for some work. It goes with the work desk that is tucked in the corner.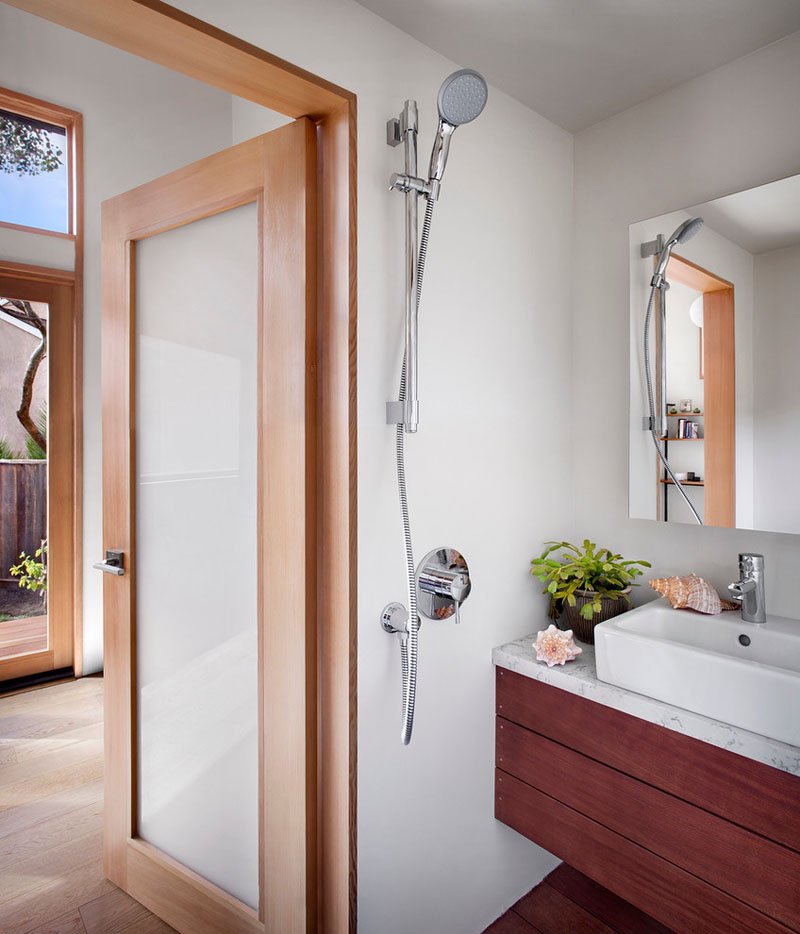 The guest house will not be complete if there isn't a bathroom and it definitely has one with a beautiful design. It has modern features in it with a combination of materials from wood to glass.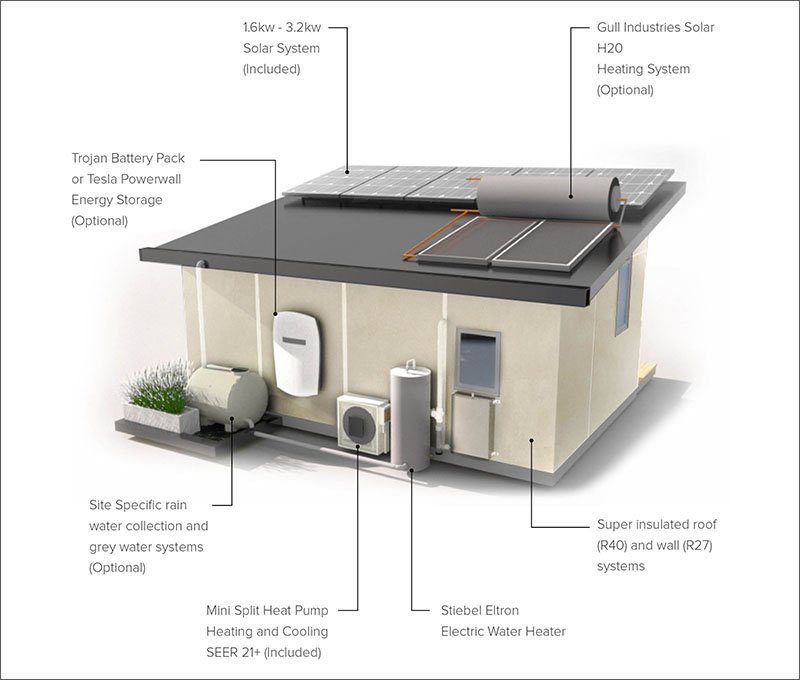 Apart from looking like a great tiny home, this prefab structure also has plenty of sustainable design features as seen in the image. It has a solar system, a heating system, energy storage, a rain water collection and grey water system, a heating and cooling pump, an electric water heater and an insulated roof and wall system. Now that appears like everything one needs to hear when it comes to a home!
After seeing this shed, this makes me think that we can actually live in a small space like this one. Well, I know that this is just a guest house but it does contain everything needed for a simple home. With that, the guests will surely feel very welcome and very comfortable while in the area. This is a project by Avava Systems who did an amazing job for the space. They also made sure that aside from its appeal and function, it is sustainable which makes it even more impressive. I like the idea that it has a solar panel and that rain water can be collected for usage in the small guest house. How about you, what certain features do you like about this structure? Would you love to build one like this on your own property?