Pleated House: A Contemporary House with a Green Roof in Wisconsin
A house in the woods features a green roof and a lovely interior.
I have seen many homes that appears like boxes placed on top of each other. Well, that is how modern homes would look like but of course, not all. Design varies too especially that many designers are actually very creative and imaginative! So today, we are going to show you another house that has wooden finishes and glass windows all around it that allows light to enter the home. It is also located in a beautiful area which adds more value to the house. I would love to live in a home like this. It appears that you could relax and just be one with nature in this house.
This new home that is designed for a Wisconsin couple who lives in the forest is very beautiful both in the exterior and interior. Johnsen Schmaling Architects have designed the house that is owned by a graphic designer and her husband. Well, not all artistic people want to see plenty of colors in their home. It appears that the owners of the house which sits on the heavily wooded eastern shore of Wisconsin's Door County, a narrow peninsula on Lake Michigan, just want a simple yet sophisticated home. You will see that in the usage of sleek lines for the home's architecture and the neat interior of the entire home. Let us take a glimpse at the house below.
Location: Wisconsin
Designer: Johnsen Schmaling Architects
Style: Contemporary
Number of Levels: Two-storey
Unique feature: A house with different volumes features a green roof and a clean interior. It is also located in a wooded area which brings more appeal to the home.
Similar House: The Extraordinary Glass House in Lakefield Ontario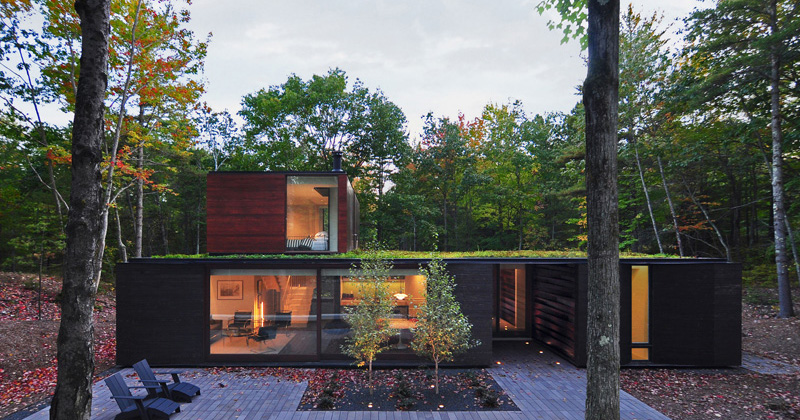 You can see that this house looks really nice with that green roof and it has different volumes in it too. Aside from seeing the interior through the glass walls, you can also see that it has a lovely outdoor space with a seating area and some trees around it.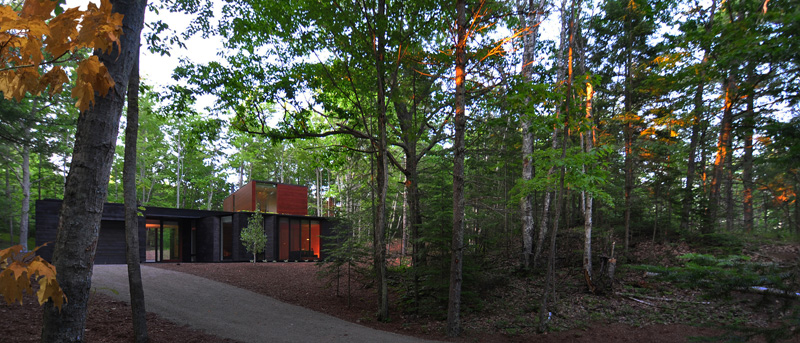 Trees surround the house which adds to its appeal and makes it a nicer place to stay. Whenever it is near nature, it would always end up very beautiful and relaxing. Just imagine yourself jogging in this area early morning!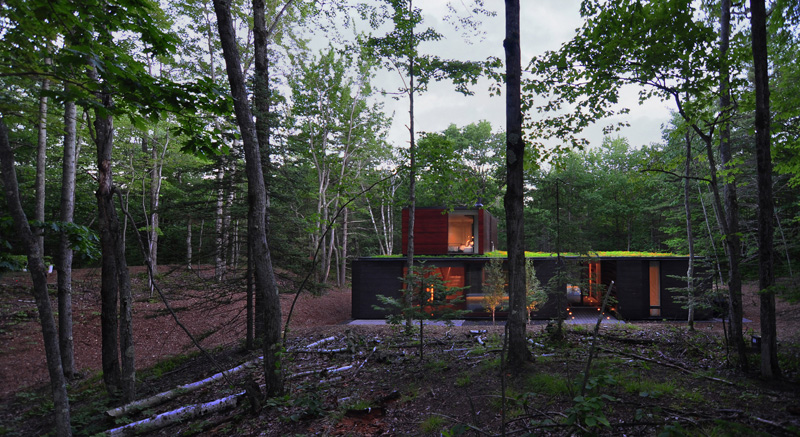 The house is surrounded by a dense forest which doesn't merely bring a relaxing aura to the space but it also provides privacy for the home owners.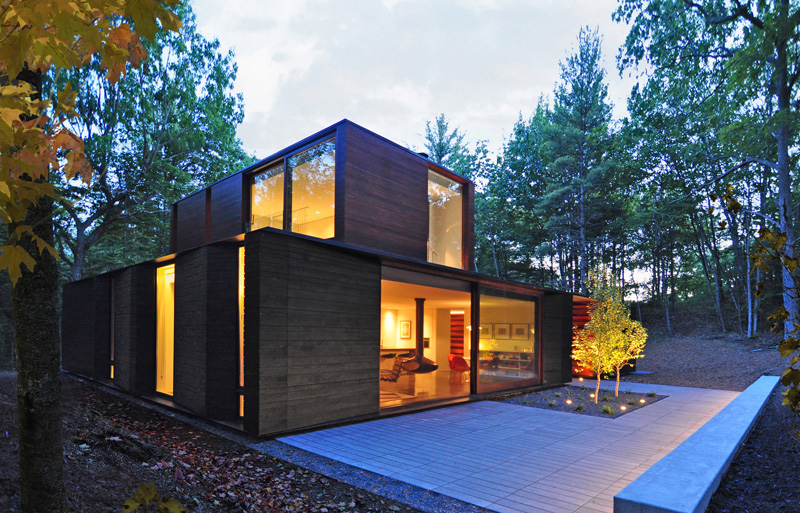 The exterior of the house uses a variety of materials like charred cedar siding from Northern Wisconsin, varnished clear cedar, dark-anodized aluminum, and glass. And the result of that combination is no doubt very stunning!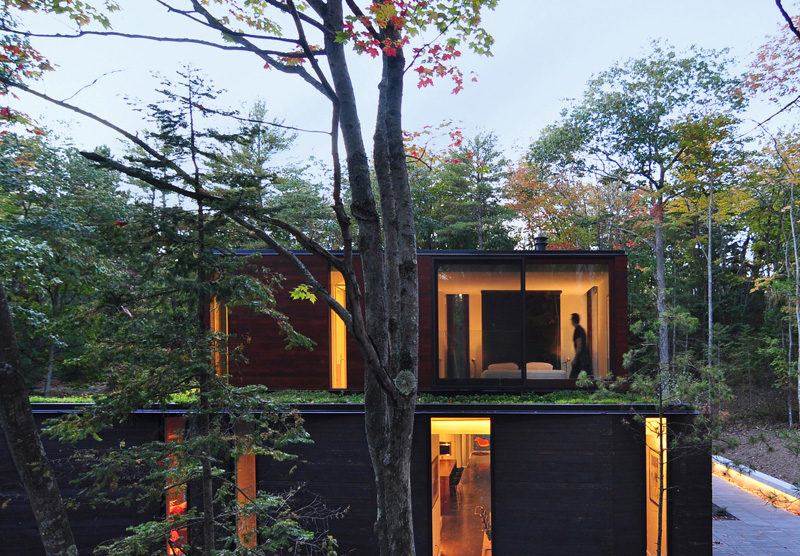 Included in the design of the house is a green roof which is visible from the bedroom. It would be nice to step out of the bedroom on a green ground, right? It is like you are still in the garden!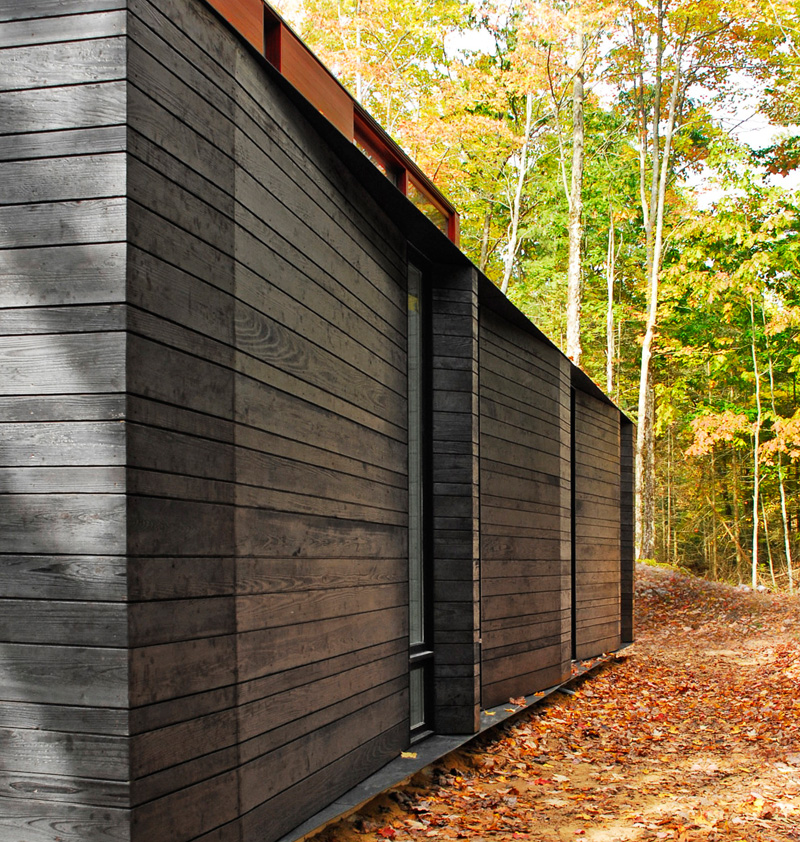 In this photo, you will get a close up look at the charred cedar siding of the house where you can also see the windows of the house. Isn't it nice to look at this house with trees and leaves all around it? It has a dramatic appeal on the subtly elevated portion from the ground.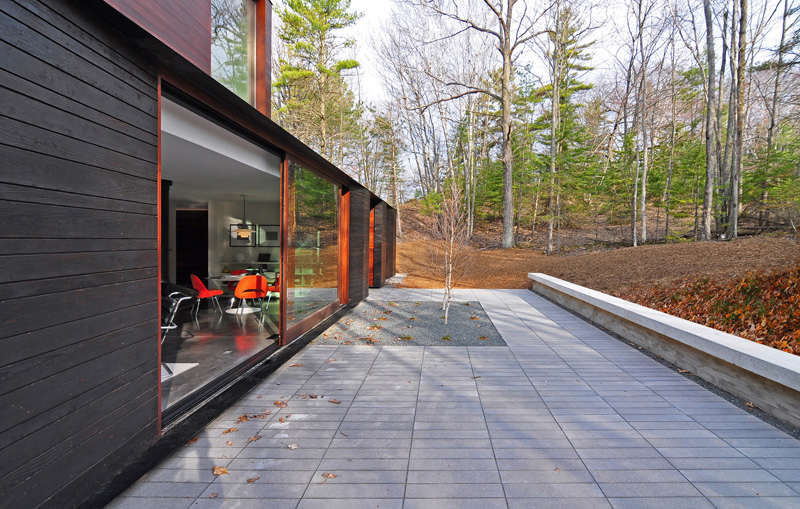 Off the living area of the home is a paved patio which seems to extend the living space. It would be nice to add more chairs here when it is time to party!
Read Also: Cliff House in New Zealand: Beautiful Glass House Overlooking a Gulf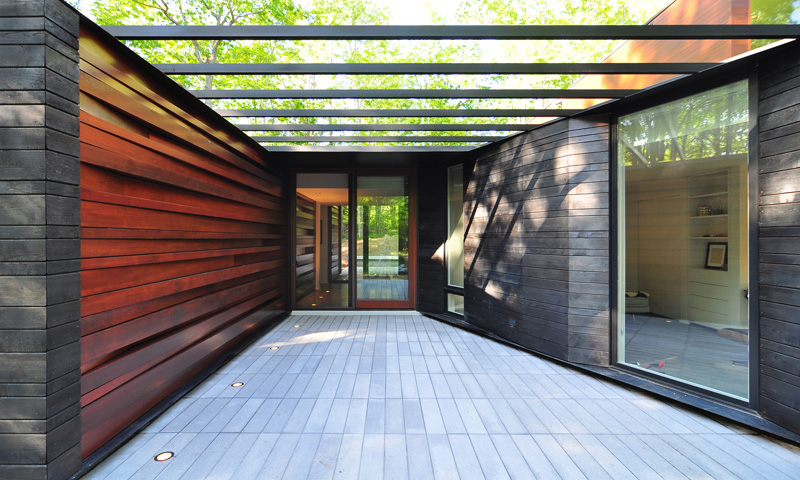 A continuous wall of milled lumber, that has been stacked at slight angles, and finished with a lustrous varnish guides guests to the entrance of the house. Isn't this a nice spot to welcome guests?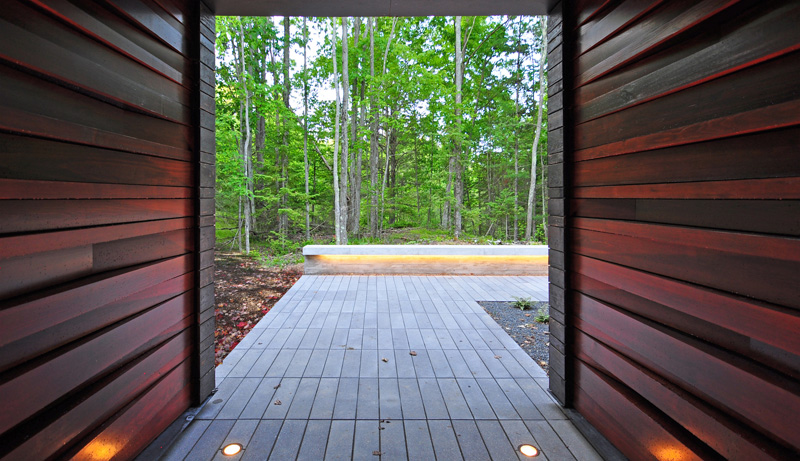 This folding ribbon-like design on the walls of the entrance is also featured at the rear of the home which surrounds the door leading to the patio. From here, one can get a very beautiful view of the woods. And another good feature I can see here are the lights on the flooring and on the concrete bench.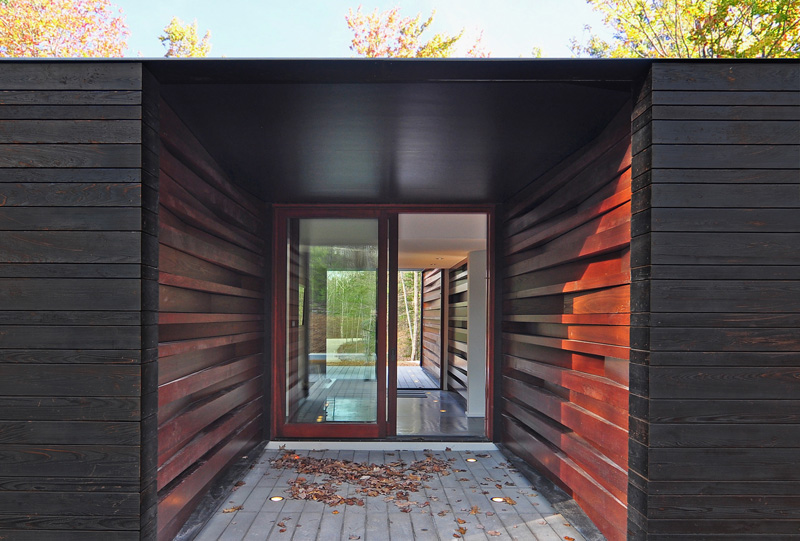 Large sliding glass doors are used in the house to promote cross ventilation and to keep everything cool. It also allows natural light to get into the house as well.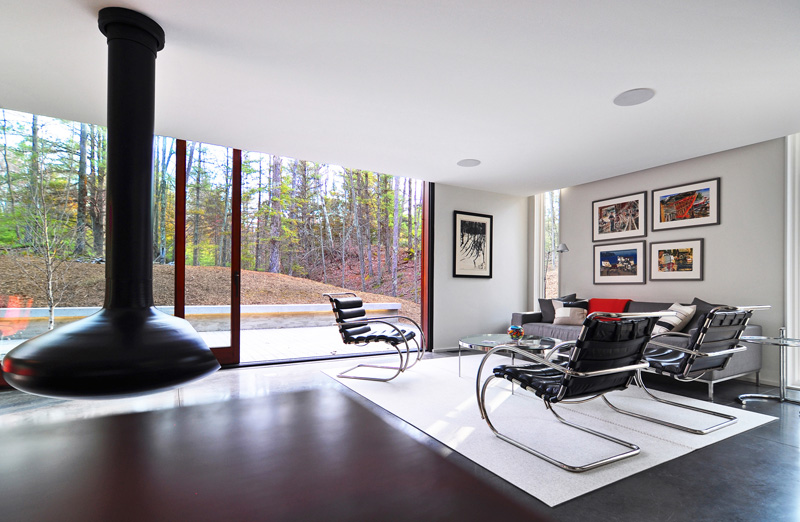 Inside the house, you will see an over-sized sliding glass door system that provides access to the patio. In the living area, it has some modern furniture in black and gray. Its central highlight is a hanging modern fireplace.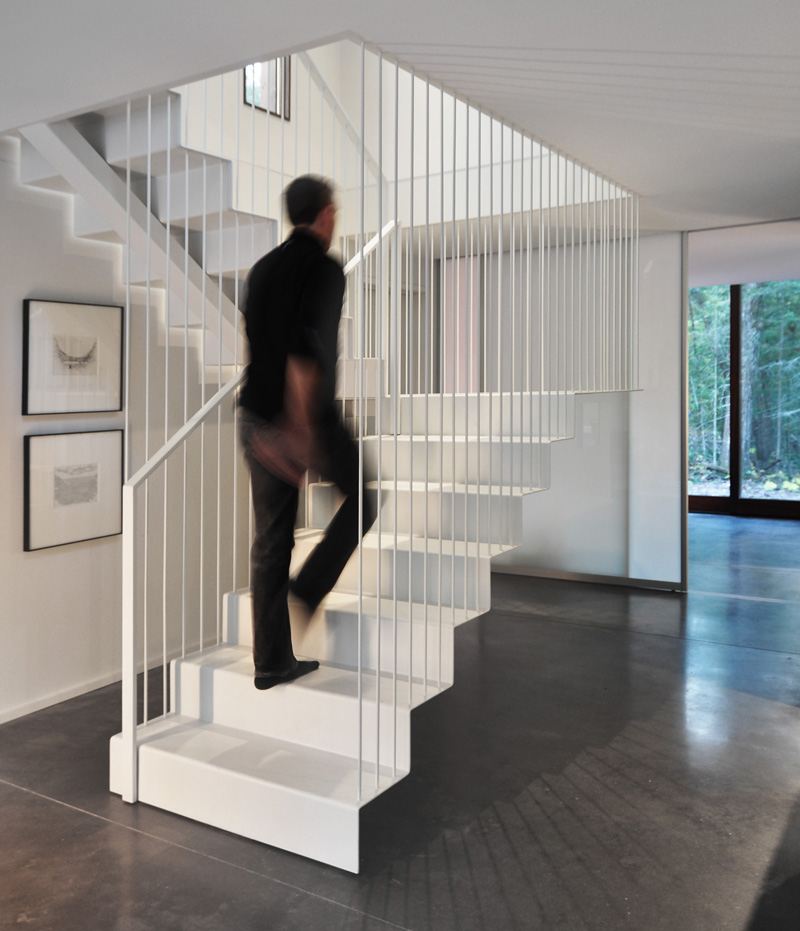 The house also has a delicate sculptural steel staircase that is supported by vertical rods. It also anchors the living space and leads to the bedroom.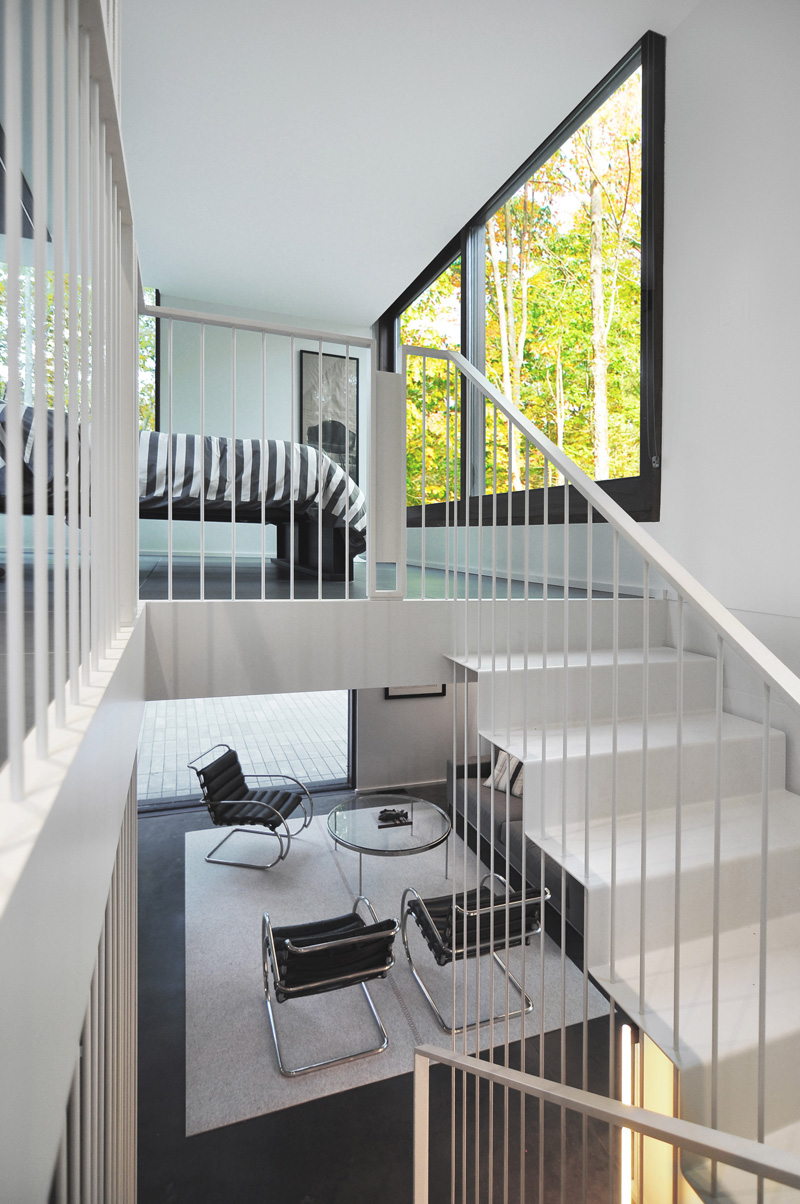 Seen in this picture is the dining area downstairs as well as the bedroom upstairs that has large windows positioned to take advantage of the forest views. It would be really nice to sleep in this area, right?
Isn't this a beautiful home? I know you will agree with me that this is indeed one stunning residence that combines, wood and glass. But what I like most here is green roof. Very gorgeous! And it brings the beauty of nature into the house. This is no doubt a stunning design from Johnsen Schmaling Architects. Aside from the exterior, the interior of the house looks really nice as well. It looks neat with modern furniture in it and all the white colors inside it.