Paris Home Features Unique Flooring That Turns into a Table
Check out the unique feature of this modern home that will definitely surprise you!
There are so many ideas that we can find online when it comes to designing our home. For sure, you will never run out of inspiration for your home's exterior and interior but it is still challenging to determine what is really perfect for you. We can't just decide on applying something that we saw in another home because it might not fit your needs. That is why many designers consider what their client wants and they always find a way to achieve that. A good example of that is how spaces are being maximized by using transforming furniture or utilizing staircases and others. Since the design preference of the homeowner is always placed number one in the list, a home turns out unique because of varying needs.
Today, we are going to show you a home which is located in Paris. The home has a unique feature that is very interesting and might even look good for your home. Hardel+LiBihan Architects were tasked to design a home in Paris wherein they had to deal with two different height levels in the same area. At one end of the room was the living room, and at the other end was the kitchen. In order to connect the areas, the designers decided to extend the wooden flooring of the living room so it can be used as a dining table. The result looked really nice and unique especially that they added a tree in the middle. Take a look at the home below and tell me what you think about it in the comment section.
Location: Paris
Designer: Hardel+LeBihan Architectes
Style: Contemporary
Type of Space: Multi-storey home
Unique feature: To connect the living area to the kitchen, it extended the flooring so it can also be used as a table.
Similar House: The Invisible Kitchen Seems to Disappear But is Totally Functional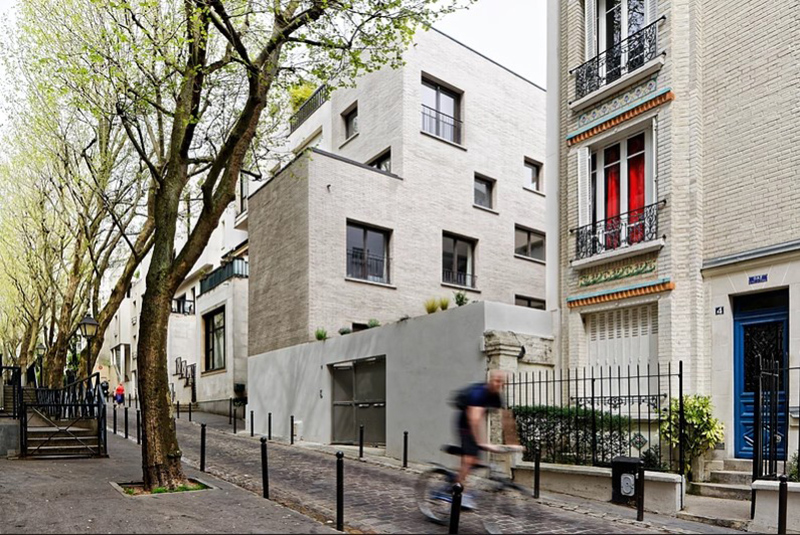 This looks like a peaceful place, right? What you can see here is the tall building that contains the space that we are going to feature today. You won't expect to see a lovely and unique interior from urban buildings which would usually use the minimalist and modern style.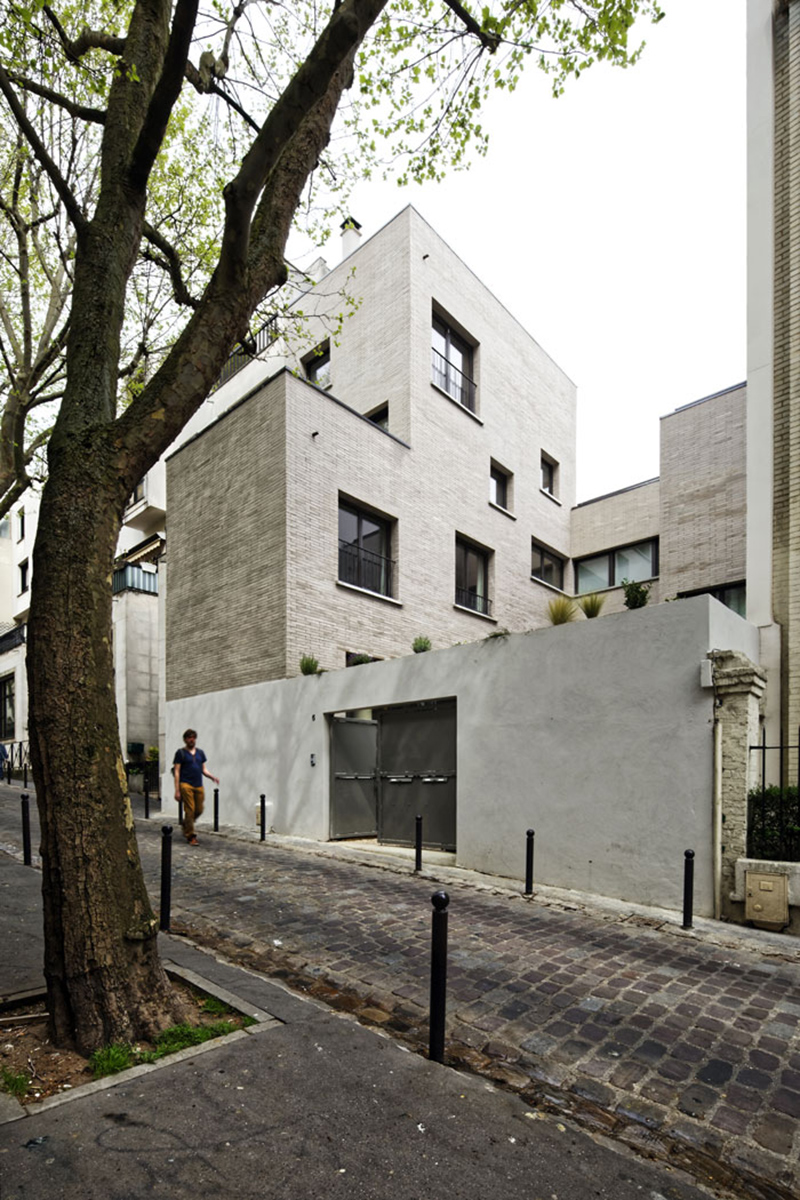 A closer look at the home which has a front gate to secure the area. It does look like a commercial space but it is actually a residential building.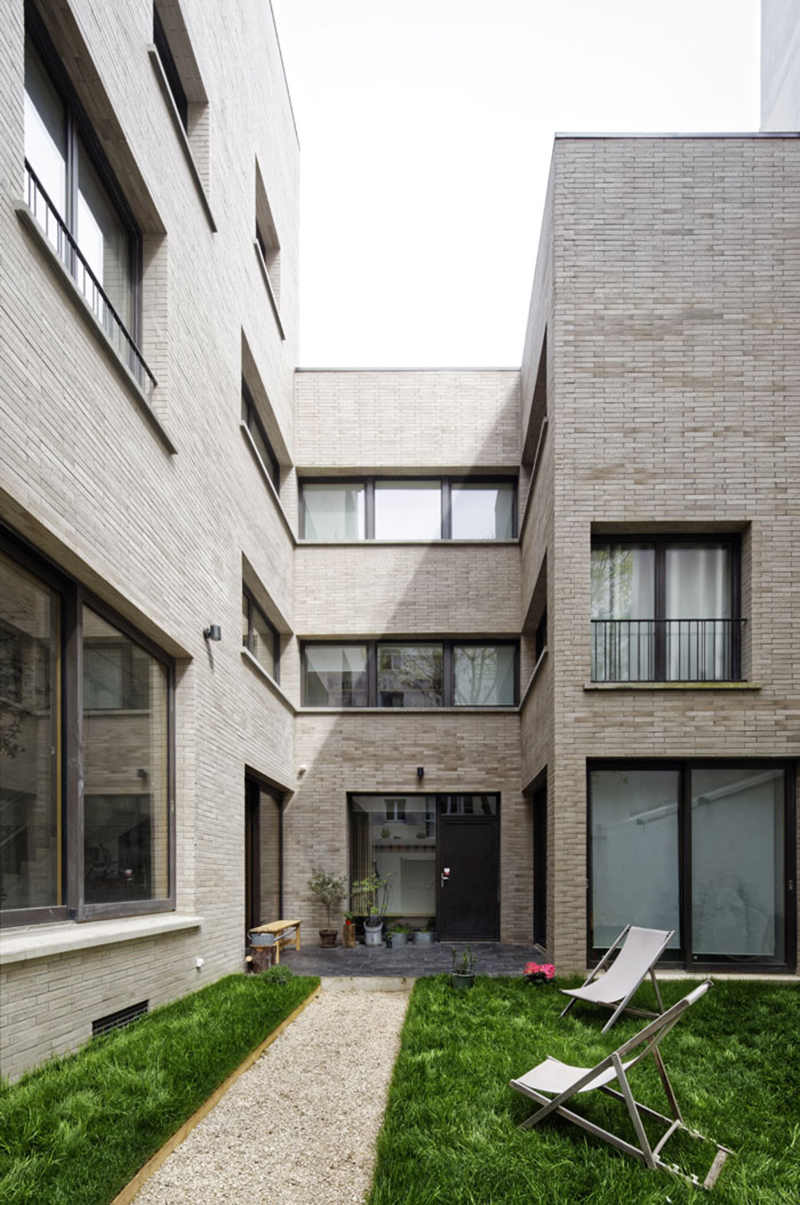 Seen here is a courtyard with a green lawn and some outdoor furniture. Not sure how big the space is but what matters is that there is some space to see some greens and unwind while under the sun.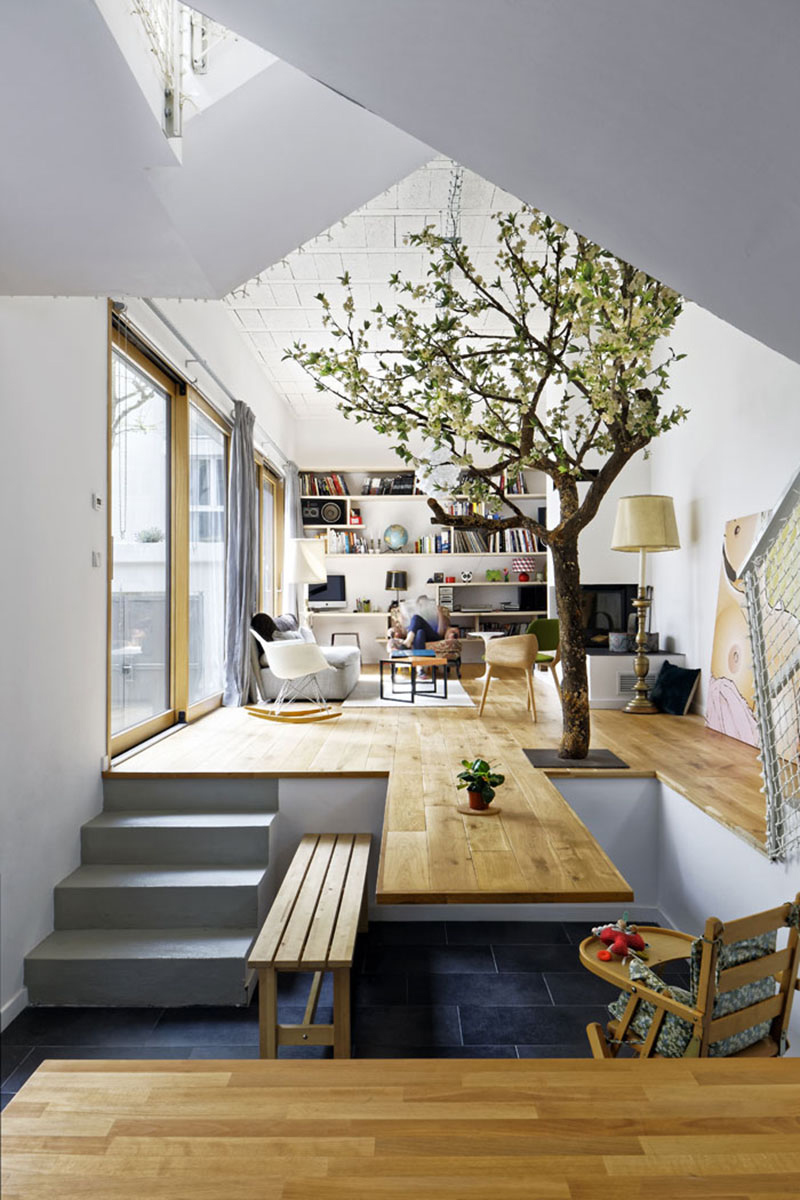 Now, this is the interior that we are going to highlight. To make the living room and kitchen area work together and to provide space to dine, the designers decided to extend the wood floor from the living room and made a cantilevered dining table. Isn't this nice? Aside from that, the interior looks nice as it used a combination of different furniture styles.
Read Also: Apartment M Features Creative Ways to Define a Space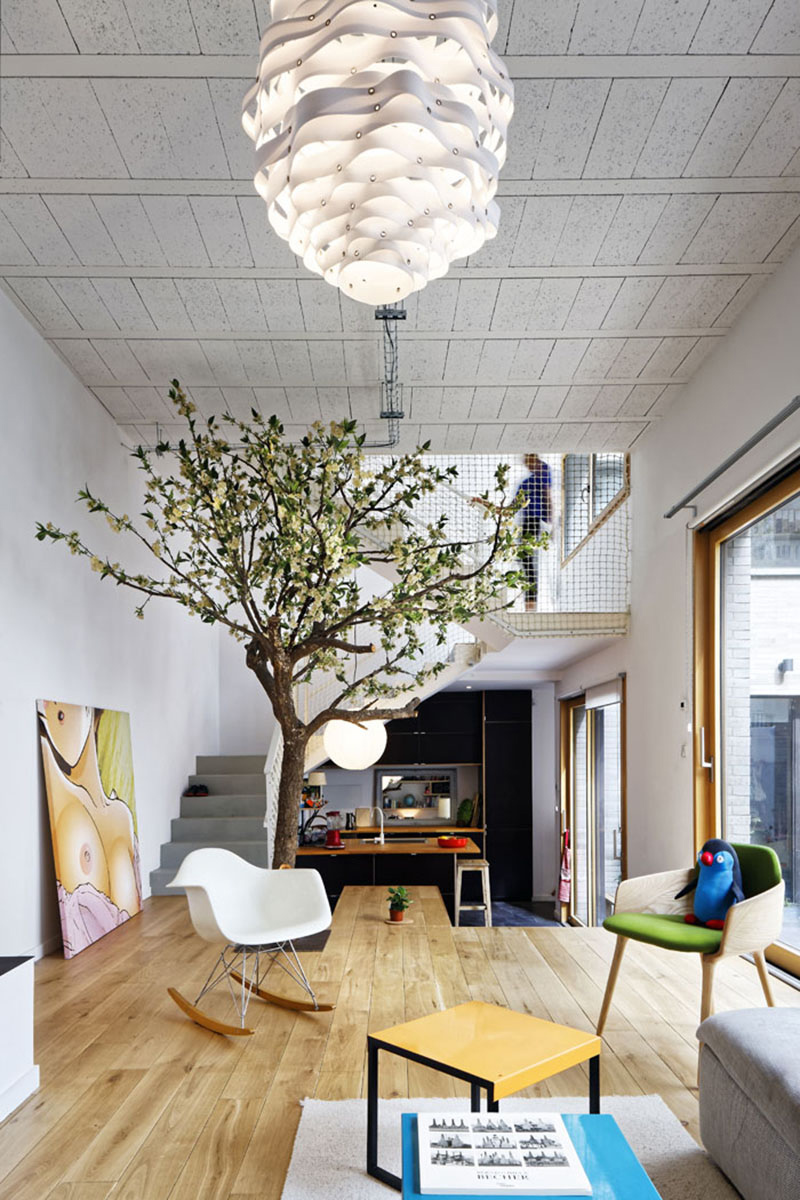 In this photo, you can get a glimpse of the staircase that leads to the upper area. You can also see the kitchen on the other end as well as the dining space with extended flooring. Well, I think they need to make sure that the flooring is always clean because it is also used as a table. I also love that tree that they added in the interior as well as the pendant lights both in the living space and dining area.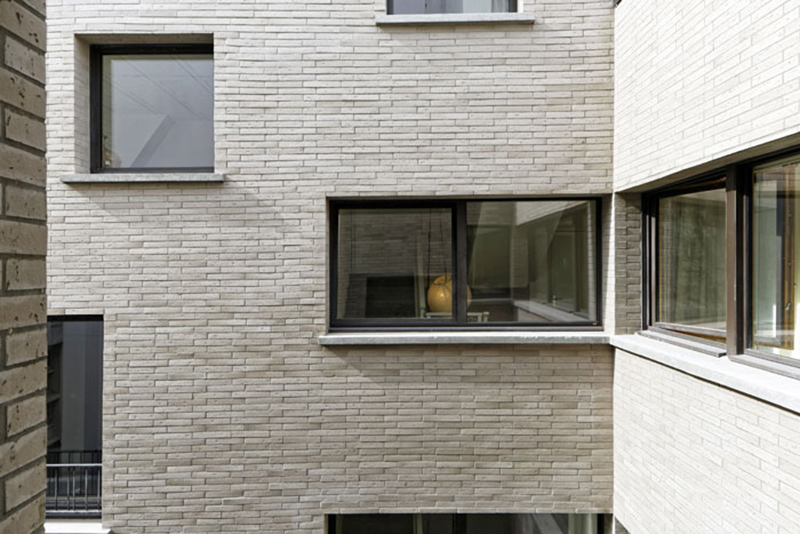 The exterior of the home is covered with grayish stones. The design of the windows is simple but it added appeal to the home's architecture.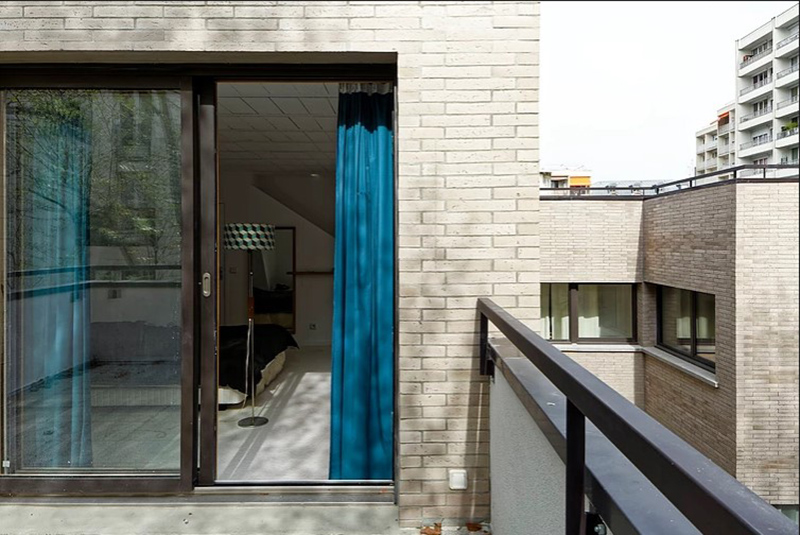 You can see here a bedroom which has a sliding door that leads to the home's balcony. The bedroom has a simple minimalist design and blue drapes are added to ensure privacy in the area.

This is a floor plan of the home. There are still other rooms in the house but were not featured by the designers.
Although there are limited photos of this home, we can still appreciate its beauty. You can see from the images taken by Camille Gharbi that Hardel+LeBihan Architectes managed to come up with a home interior design that is beautiful, functional and unique. Their usage of wood is very stunning but what is more impressive is how they considered creating a table that extends from the flooring. A very distinct idea, indeed! It is also nice that the apartment has an outdoor space as well as a balcony where the family can get a good view of the outside world and enjoy nature. Can you tell me what you like about this home?