20 Refreshing Wooden Floor Tile Designs
Wooden materials used at home are the ones that remind us how close to nature each one is – they came from big trees that were once part of mother nature and now belong to us – the homeowners. Today, we will be seeing homes that use a part of those trees to their homes, specifically with their floors! An essential part of the house that definitely makes a great impact in making a house look more homey and livable!
The list that we have today is 20 Refreshing Wooden Floor Tile Designs that will give us an idea how wood planks – whether they are authentic wood or something copied to look like one will make one's home more pretty than using ordinary or common ceramic tiles for more glamorous space. Take note, even when a house designed to be contemporary or even modern can maintain their style when wooden planks are used as materials, whether it'll be on the walls or on the floor. Today, you will see more of these things we are talking about once you see the photos below.
Aparici Sonar
How do you like the rustic feel to this living room? The floor tiles are battered and were made to have different colors which would probably match any type of room design.
Brookfield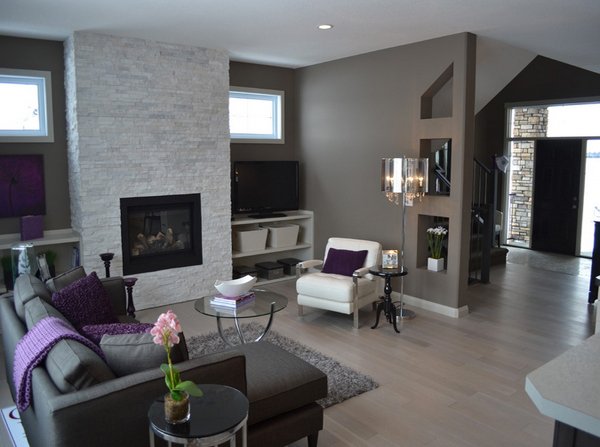 Don't you just love the colors that were used in this living room? Browns and greys and whites. The two things that give texture to this space are the fireplace wall and the flooring which is evidently glam!
Cat Mountain Residence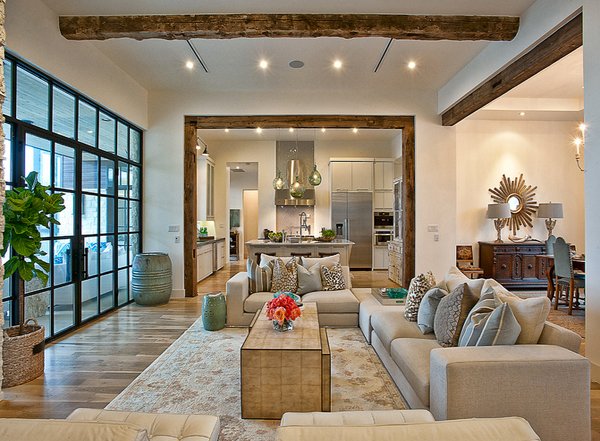 Cornerstone Architects did a great job in making this living room a grandiose space with all the furniture and decor it actually has. But obviously, they did a great job as well with the choosing of the flooring in this living room – totally uncalled for since most glam homes like these have ceramic tiled floors!
Classic Loft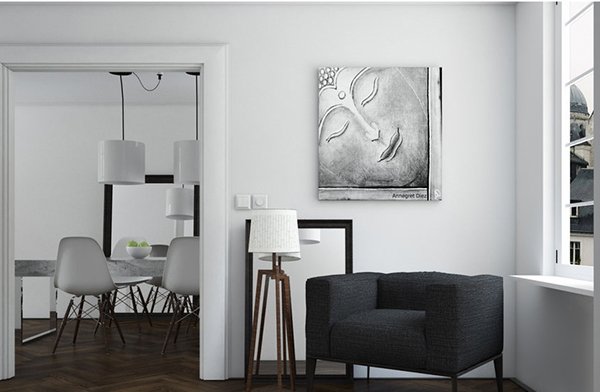 A classic black and white home with a touch of earth through the wooden floor tiles used – one good thing about the tiles that were used was making a pattern out of it to add more texture to this home.
Classical Living Room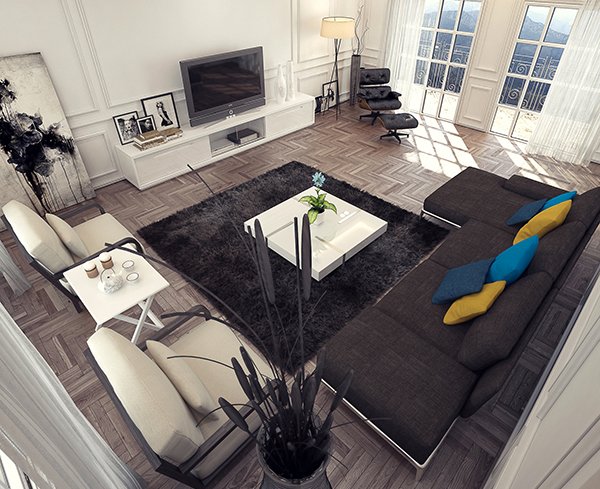 This living room is a sample of a space with raging beauty – simple and definitely elegant. Classic furniture and decor with charming flooring which accentuates this rather use of plain materials.
Delta Coastal Revival Renovation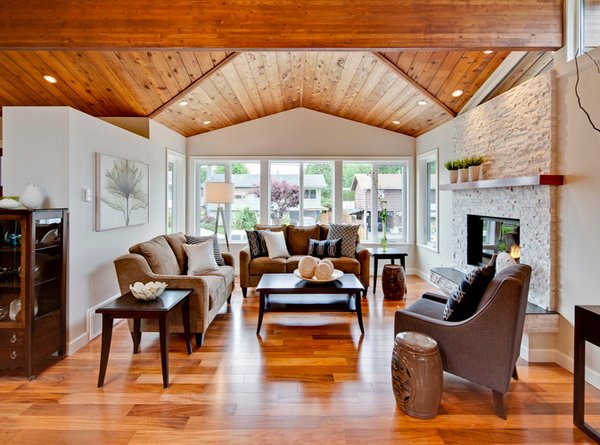 A traditional living room with vaulted ceiling made of wood sure complements it having wooden flooring too! The furniture is contemporary and so are the decors, but the flooring and the ceiling sure made it a traditional home through and through.
Erie Loft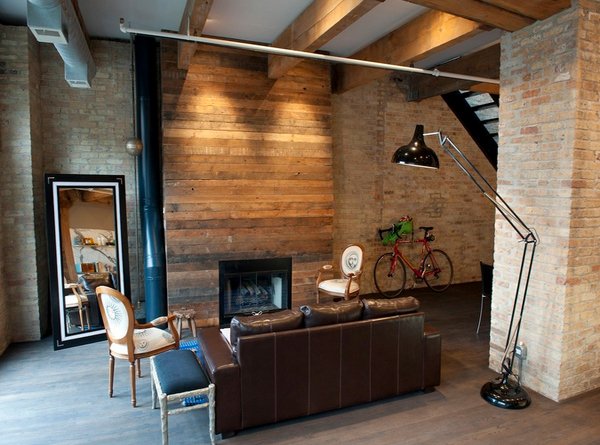 The designers sure loved textured walls and columns as evident as it is in this photo. This living space has tons of lovely angles anyone would love to take for photography classes and such. Eclectic and really classy.
Family Room Addition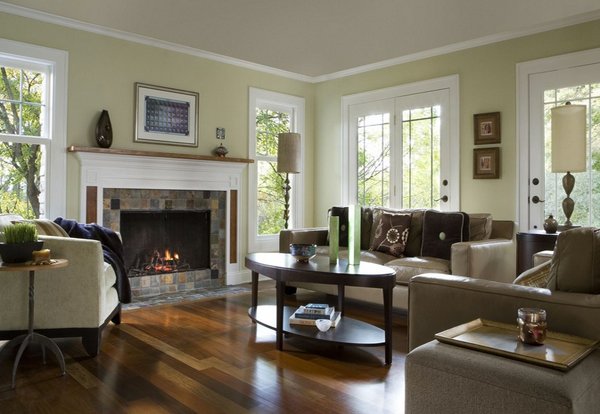 Another lovely home from Detroit with a contemporary touch. Who wouldn't love the white and grey furniture matched with a light yellow wall? All these are pretty much overshadowed by the lovely flooring that surely shines for the entire room!
Greene Street Loft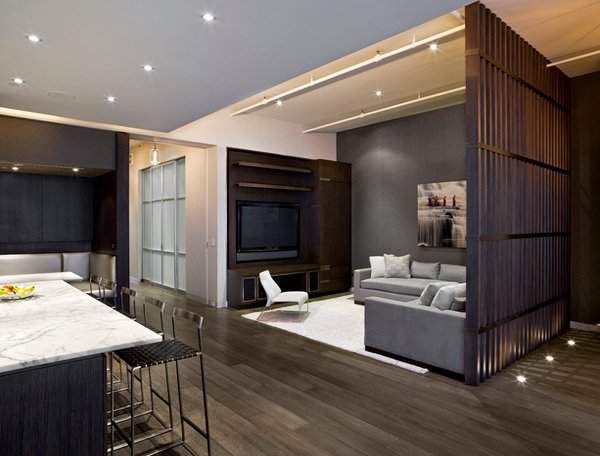 This New York home is another one to beat! A lovely set of furniture was used and a unique divider too! But what strikes us the most is the wooden flooring that almost match the color of the divider and the television console.
Mid-Century Modern Remodel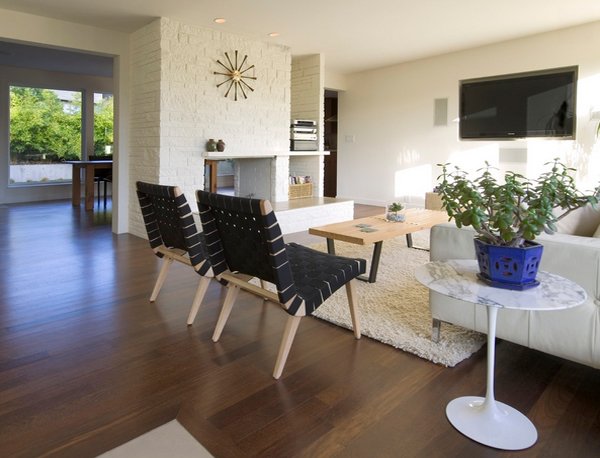 This Seattle home remodel sure looks fab and sleek with the materials used – for the furniture and the decor and definitely the walls and the floor! Astonishing, don't you all think?
Mill Valley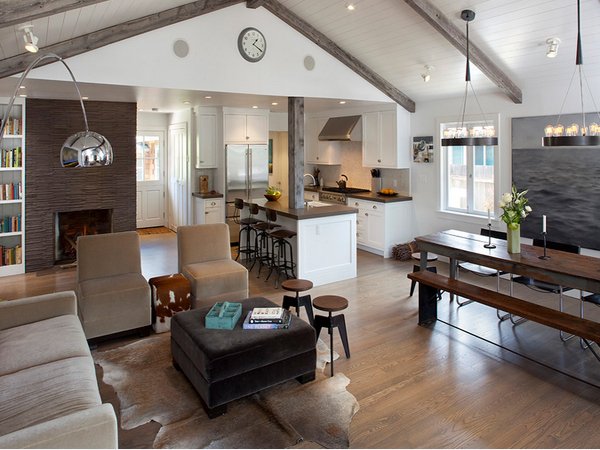 This San Francisco home sure maximized the use of wood – from the ceiling, to the furniture to the floor! This home will definitely keep anyone warm during cold season!
Modern Cape Cod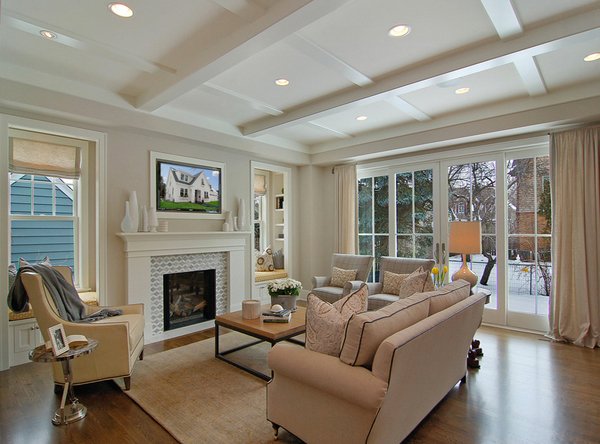 A quaint place to live in – with all the cute and comfy furniture, linens and decor! This sure seems a woman's home to us! We like how the floor is darker than the rest of the house for it sure complements them!
Modern Living Room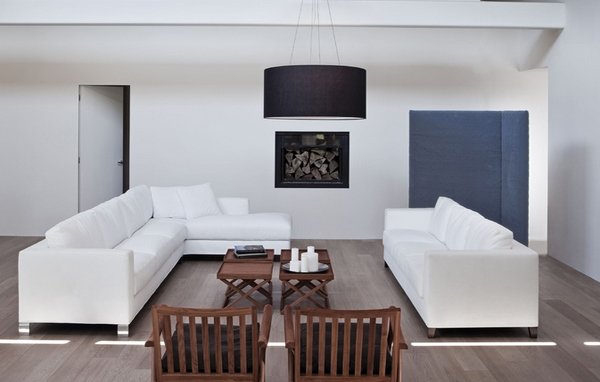 This modern living room looks comfortable because of the large furniture it has. They have light-colored furniture and decor and a bit light colored wooden floor to accent it with. A classy space to live at!
Moraga Residence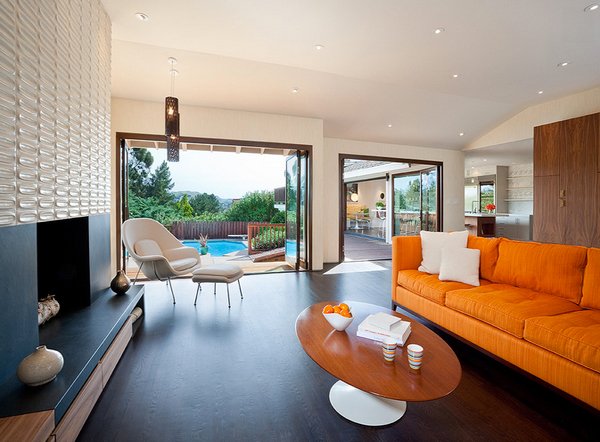 How do you like the dark floors that does not seem like the usual flooring we have seen above? It looks like it was constructed to look one whole piece of wood rather than others we have seen that was cut in small pieces and glued together. Black never seems to lose its style.
New American Home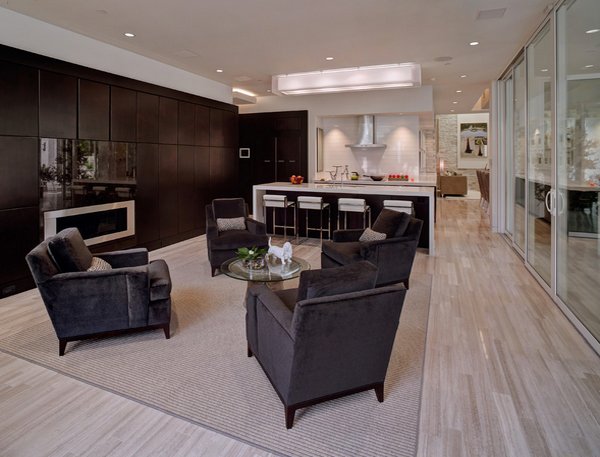 A typical American home that can simply pass for a contemporary home anywhere in the world. Comfortable furniture with a lovely area carpet with wonderfully attached wood flooring that makes any home closer to earth!
Olive Tree Lane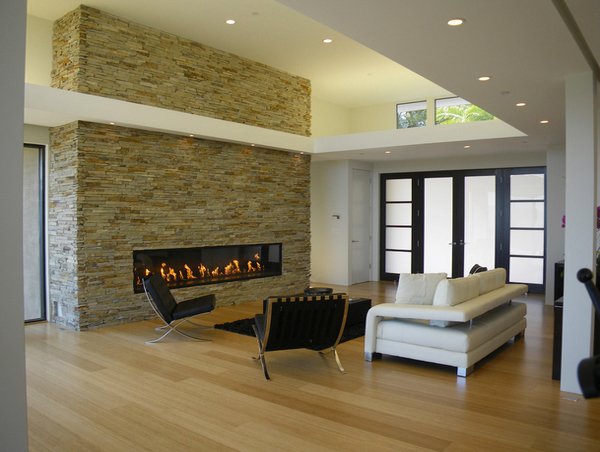 Another example of a minimalist home, with classy furniture in black and white plus a glamorous fireplace! All these are made more and more captivating because of the lovely wooden floors!
R Living Room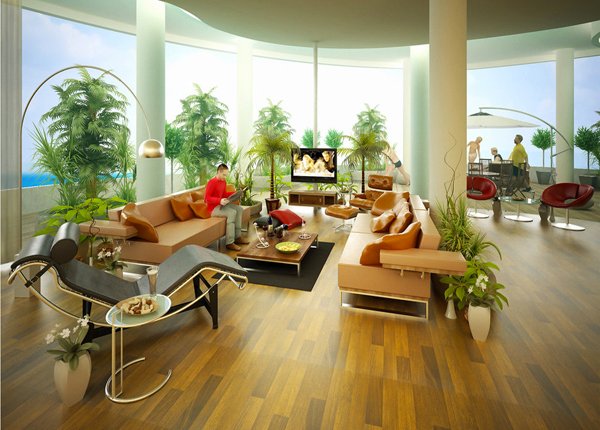 This render of a lovely living room is sure stunning! From the color palette that was used to the lighting! It sure painted a whole lot more than what this living room could have actually looked like.
Rox Residence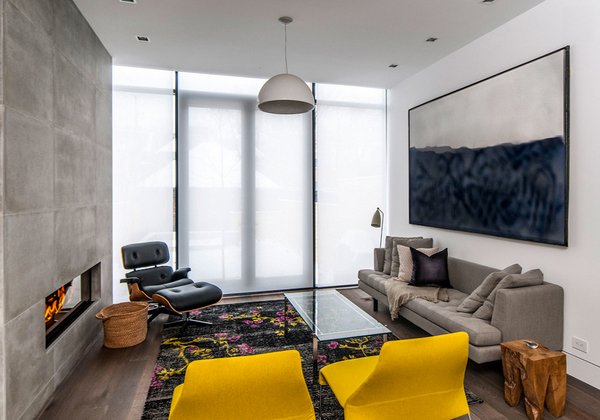 We definitely love the yellow accent chairs and the lovely area carpet! This Toronto living room chose the best furniture and decors that were used plus a pretty flooring material to fit the entire look!
Signum By Coem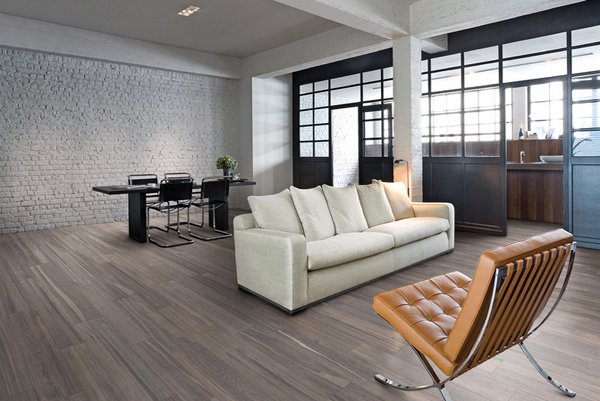 This living room sure is minimal – literally! One cozy sofa paired with a customized accent chair and a small dining table on the side and a tiny kitchen on the farther right. Grey-colored brick wall and lovely brown wooden flooring! Really minimal – but very pretty.
Tribeca Loft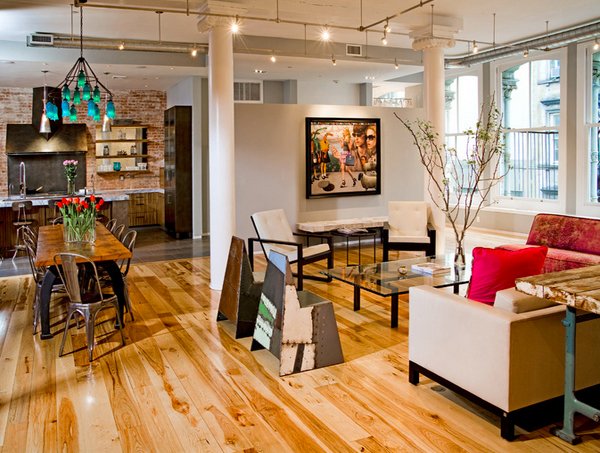 The flooring for this living room is definitely a favorite. It brightens the entire room and gives an earthly vibe to this contemporary living room.
How was that for a list of 20 Refreshing Wooden Floor Tile Designs? There is definitely more samples than what we have showed you above. Although most of the times, wooden floor tiles are really in planks of different sizes and lengths, we can always opt to have bigger cuts that would make the floor look like an entire floor made of wood and hide the cuts in them to maintain a clean look. The list that we have above definitely is a favorite. Hoped you liked them too! When you have the time, please check 15 Classy Living Room Floor Tiles and tell us what you think!